October 30th, 2017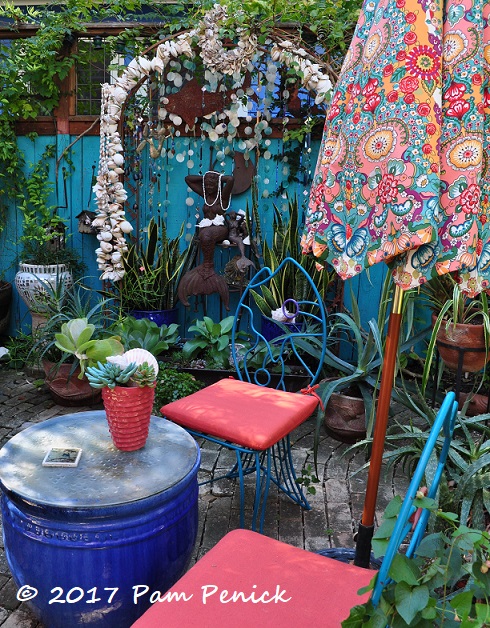 A visit to Lucinda Hutson's home and garden always feels like being at a party. Brightly colored walls and accessories, garden rooms with playful themes (like the mermaid garden pictured here), and Lucinda's own excitement at showing you what's flowering or fruiting create a feeling of festivity.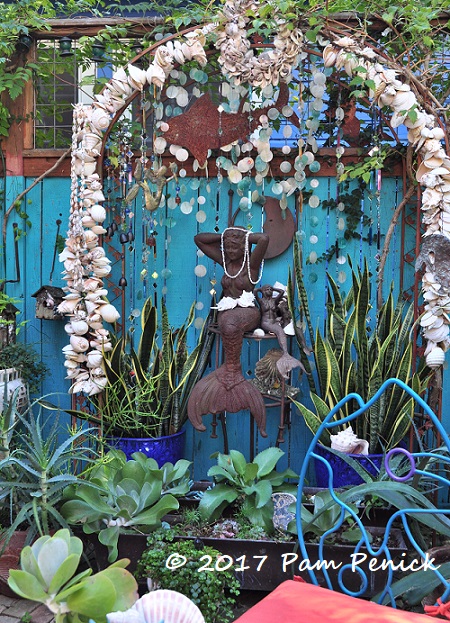 An under-the-sea theme suits Lucinda's mermaid garden
Lucinda kindly opened her garden gate to me and Seattle author/designer Karen Chapman, who was in town for my latest Garden Spark event and to get photos for her upcoming book about deer-resistant gardens. Lucinda doesn't contend with deer herself, but she was in the midst of decorating for Dia de los Muertos, and I was eager to see her garden again and share it with Karen.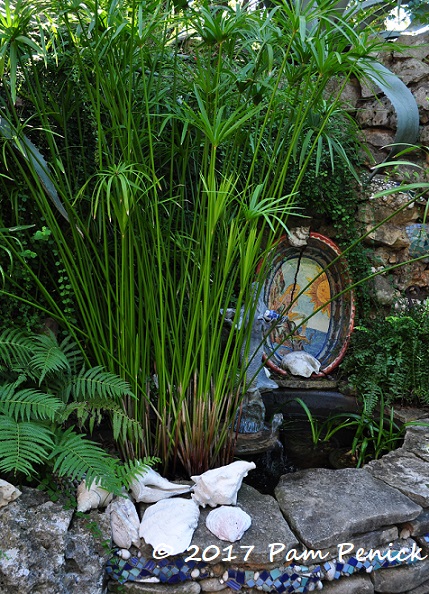 In the mermaid garden, Lucinda's mermaid grotto consists of a tiny pond backed by a rugged limestone wall, adorned by a large mermaid bowl and statue. Water-loving plants green up the scene.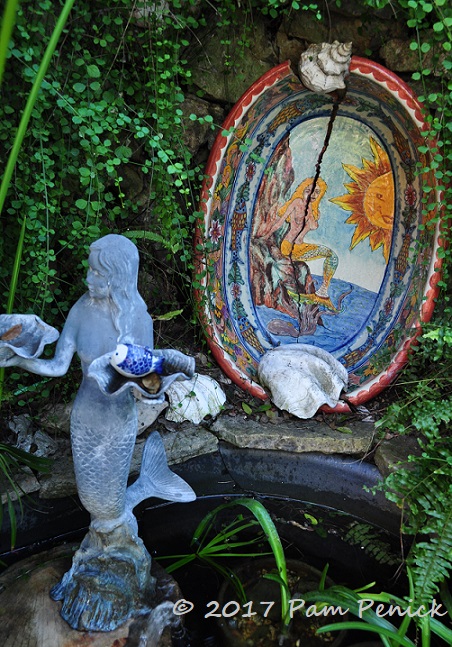 Seashells accent the bowl, which, even with a deep crack, makes a charming focal point.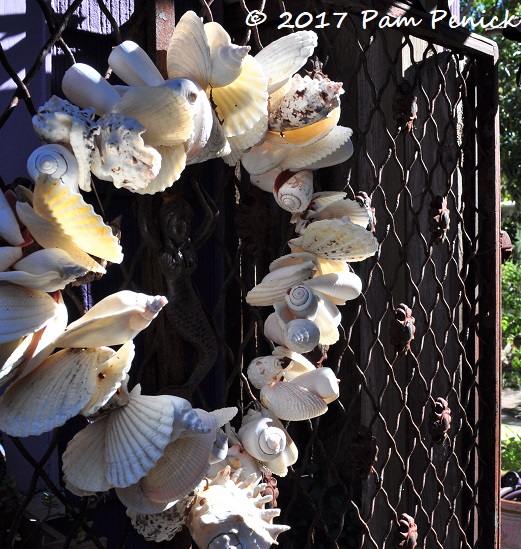 A seashell wreath sets the tone on the garden gate. It's hard to see, but the wreath is hung around a mermaid on the gate.

A fishy stepping stone continues the theme.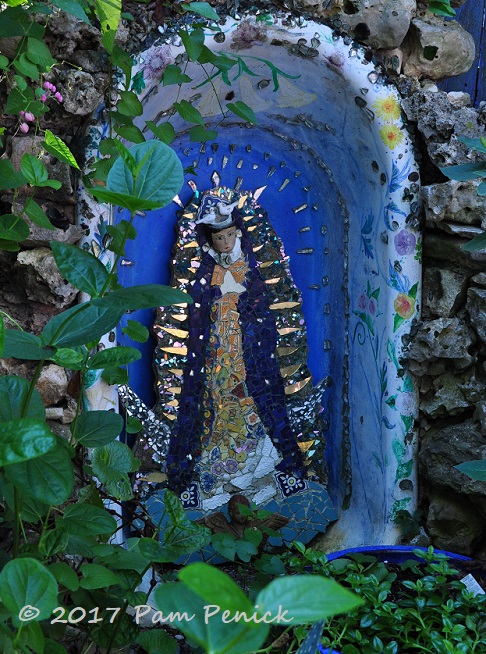 In the next garden room, La Tina — Our Lady of the Bathtub — is mosaicked into an actual bathtub set upright in another limestone wall.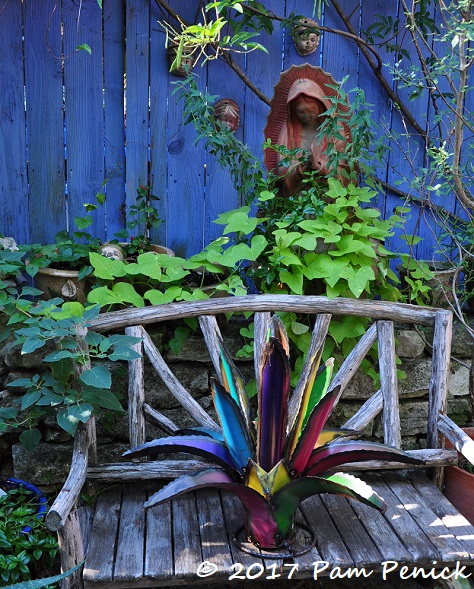 A colorful metal agave occupies a cedar bench, with chartreuse sweet potato vine contrasting with a blue-painted fence.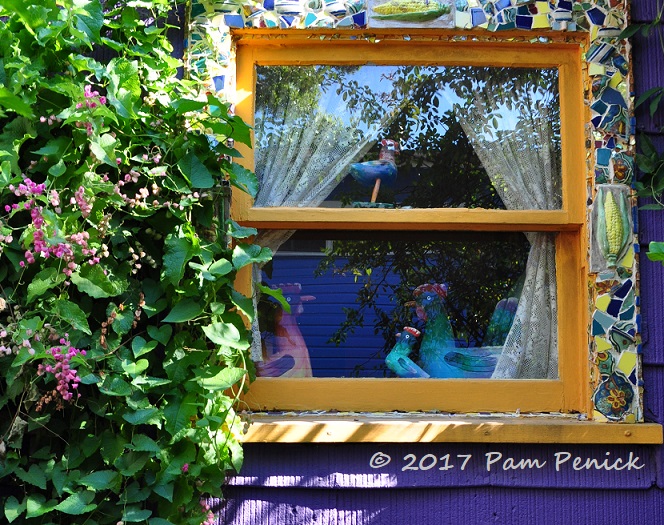 A mosaic of colorful tiles — including ears of corn! — decorates the exterior of Lucinda's kitchen window, while painted wooden chickens on the windowsill give us the side-eye. Pink-flowering queen's wreath vine clambers up the purple wall.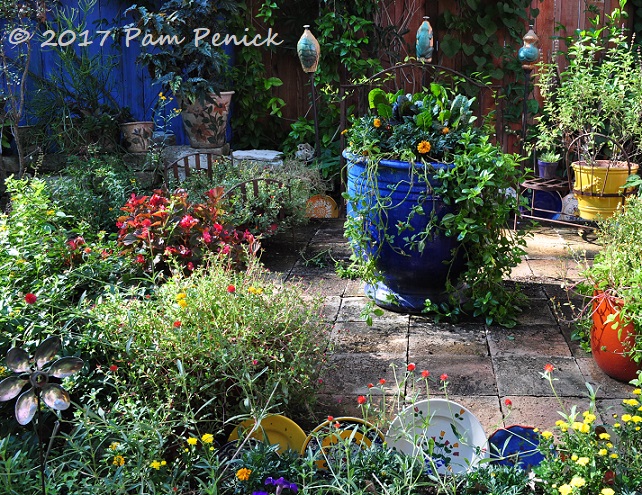 Colorful pots and plates in the vegetable garden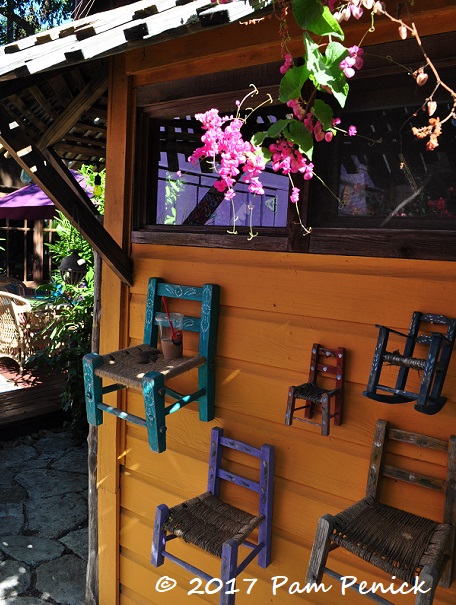 A saffron-colored wall holds a collection of painted children's chairs from Mexico.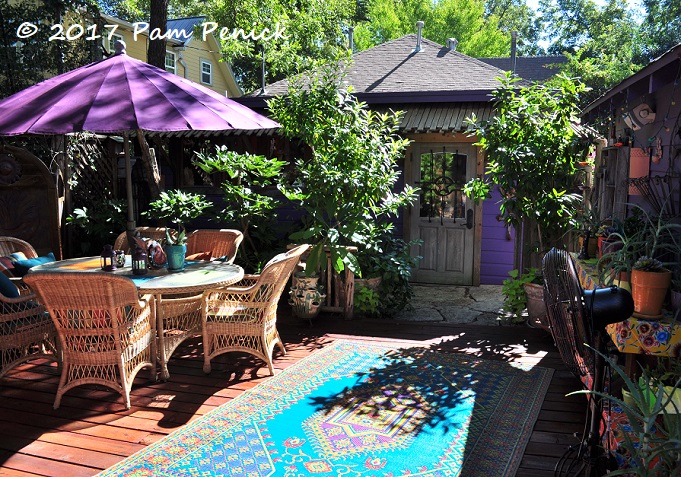 Behind the house is Lucinda's party deck, with an umbrella-shaded table…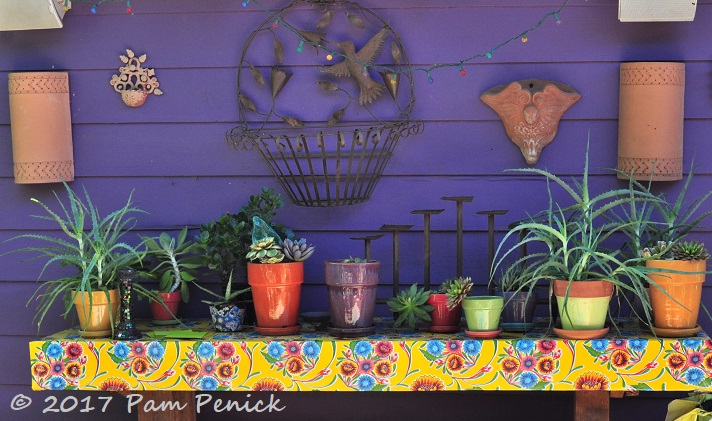 …an oilcloth-covered buffet table with succulents in colorful pots…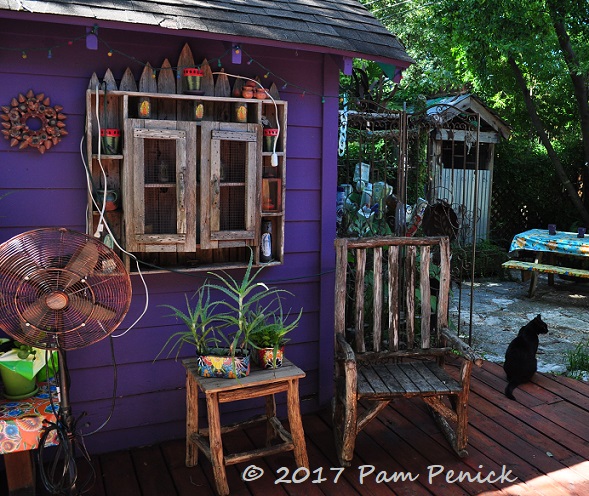 …and rustic cedar chairs and wall display shelves.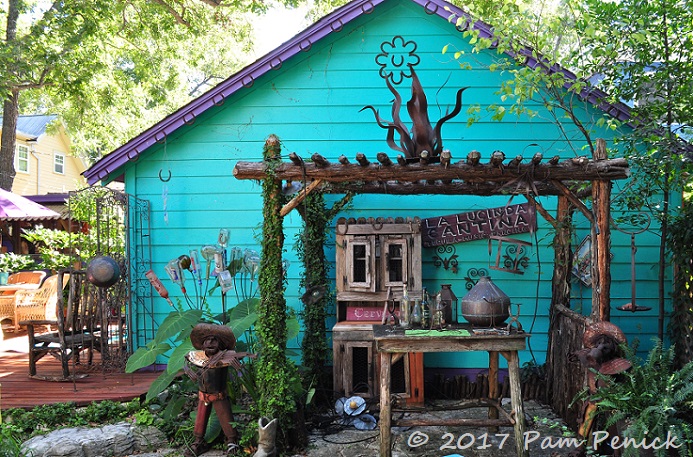 At the very back of the garden, behind the garage, is Lucinda's tequila cantina — a rustic "cantina" for tequila tastings under a cedar pergola topped with a flame-like metal agave.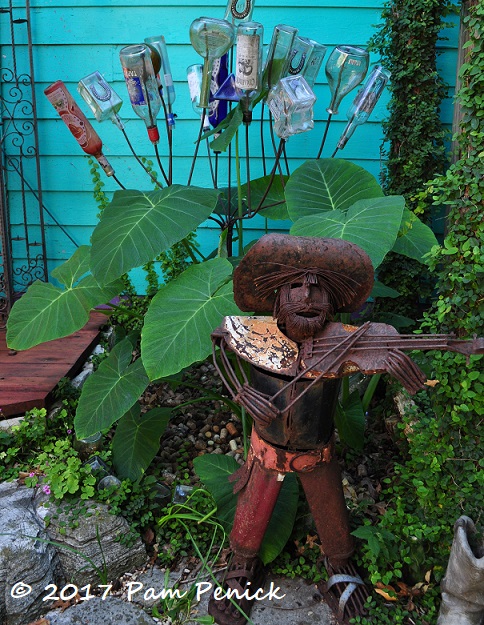 A metal mariachi saws away at his fiddle, with a tequila bottle tree making a fun accent behind him.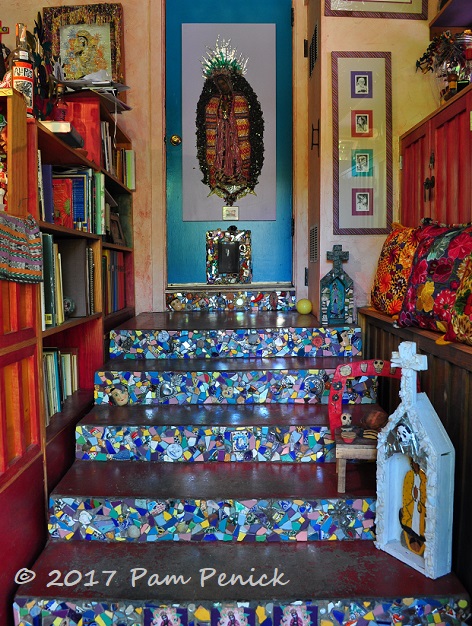 A tiled stairway leads through an enclosed porch and into the house.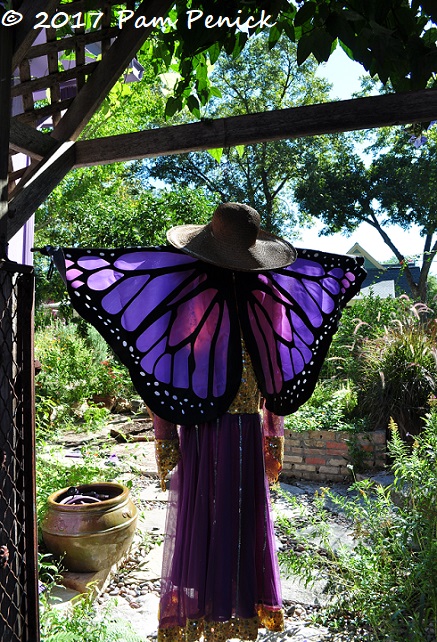 Lucinda had already hung up her Day of the Dead lady monarch, her purple wings glowing in the sunlight.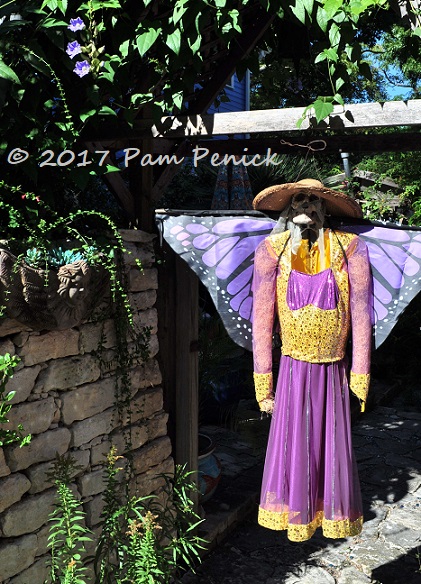 From the front, a gentle (not scary) skeleton face welcomes you to the party that is Lucinda's autumn garden.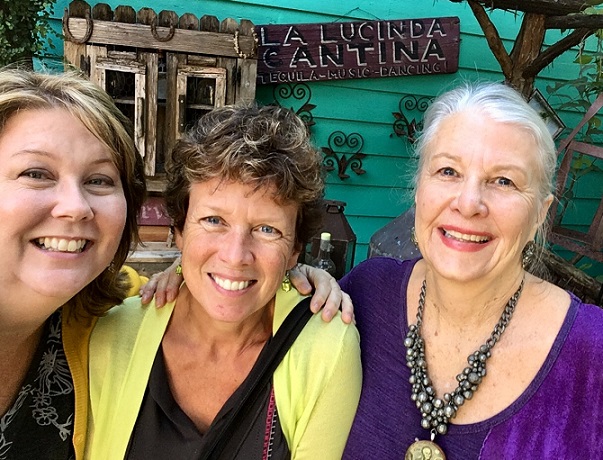 Me, Karen, and Lucinda
Thank you, Lucinda, for the lovely tour around your garden, and may your Dia de los Muertos be filled with sweet remembrances of dearly departed loved ones.
To see Lucinda's garden in full Dia de los Muertos glory, click here for a peek at last year's adornments.
I welcome your comments; please scroll to the end of this post to leave one. If you're reading this in a subscription email, click here to visit Digging and find the comment box at the end of each post.
_______________________
Digging Deeper: News and Upcoming Events
Don't miss the Austin Open Days garden tour sponsored by the Garden Conservancy on November 4.
Join the mailing list for Garden Spark Talks! Inspired by the idea of house concerts, I'm hosting a series of garden talks by inspiring designers and authors out of my home. Talks are limited-attendance events and generally sell out within just a few days, so join the Garden Spark email list for early notifications. Simply click this link and ask to be added.
All material © 2006-2017 by Pam Penick for Digging. Unauthorized reproduction prohibited.
posted in
Agaves
,
Arbors
,
Birds
,
Bottle tree
,
Butterflies/Moths
,
Cats
,
Color
,
Containers
,
Decor
,
Edibles
,
Fish
,
Garden art
,
Garden tours 2017
,
Gates
,
Paths
,
Patios & decks
,
People
,
Ponds
,
Seating
,
Signs
,
Succulents
,
Water features
,
Water gardening
,
Windows