December 29th, 2007
Looking over this year's posts, I see that as my garden grew, so blossomed new friendships, experiences, and even a bit of publicity for Digging. A retrospective reminds us of changes, both in the garden and in life, and I hope you'll enjoy looking back with me before ringing in the new year.
January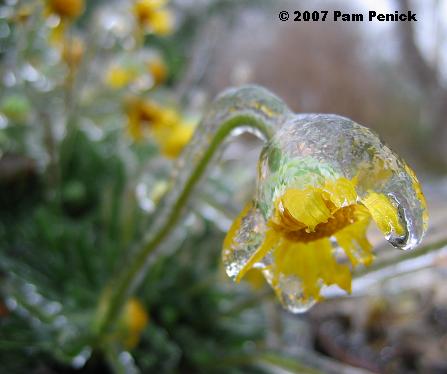 Nearly a year ago, Austin experienced some real winter weather when an ice storm encased early blooms in "fairy bubbles" (my daughter's phrase), broke a few limbs on the shrubs, and froze back semi-tropicals like the Barbados cherry. A few days later, the ice had melted away, and for the most part the garden looked no worse for wear.
February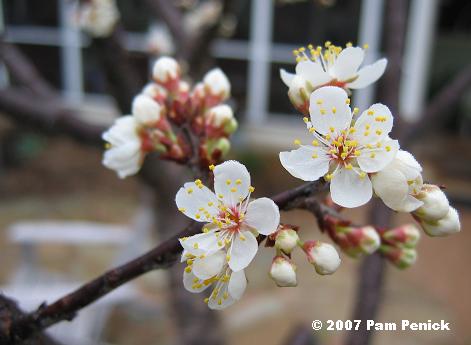 Spring arrived in earnest this month. On the 16th I marked my one-year blogiversary at Digging with memories of the two women whose gardening spirit I inherited. And when Amy Stewart came to town to promote Flower Confidential, four of the Austin bloggers attended her reading—and went public for the first time with a group photo.
March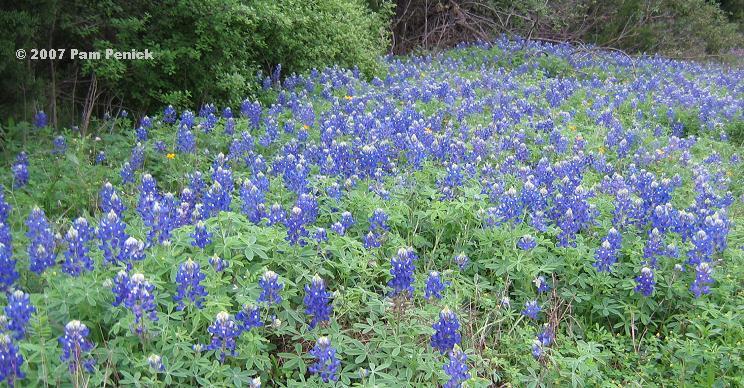 High spring in the Austin garden! During this busy month, I made a wildflower pilgrimage to the Hill Country to see the bluebonnets. Guest blogging at Garden Rant, I advocated the use of cacti, agaves, and other spiny plants, especially in combination with cottage-garden classics like antique roses. Back at Digging, I was mooooved to tout cattle-trough planters, cow-nted the ways these stock tanks can be used, and created one of my own.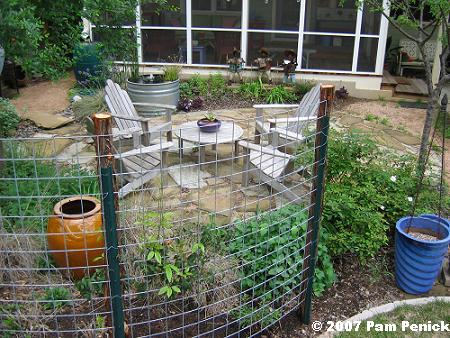 Frustrated with an in-my-face view of the kids' trampoline, I built a trellis screen out of a cattle panel, fencing stakes, and cedar posts and planted a crossvine on it. Immediately it reframed the foreground and kept the eye from drifting to the back of the garden where the trampoline hulks. I look forward to seeing the crossvine bloom next spring.
April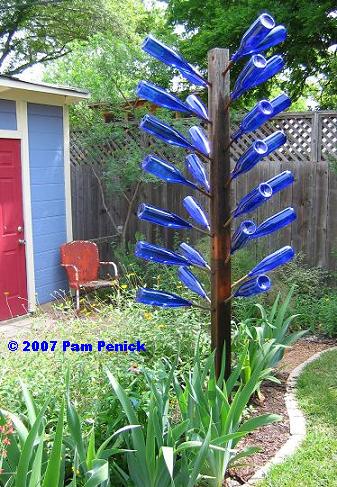 Along with a flush of new growth in the garden, the bottle tree flowered bigger and bluer than ever thanks to the donation of MSS's bottle collection.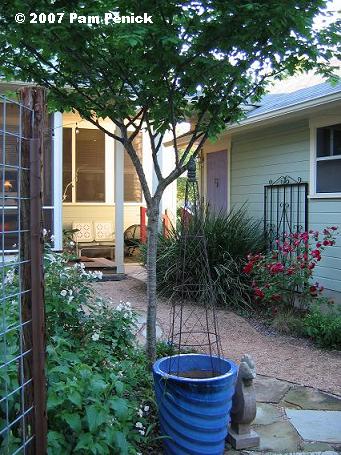 On the heels of my one-year blogiversary, I mused on the garden of my childhood and wondered which plants from my own garden would elicit memories for my children one day.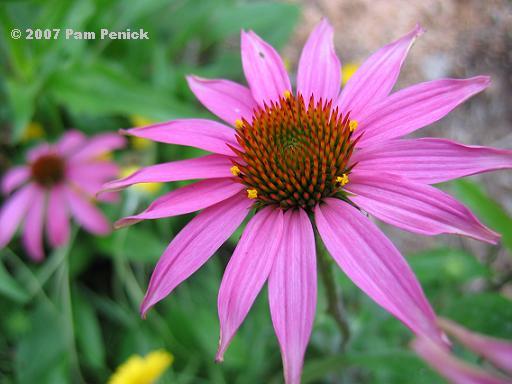 My socks were blown off when I learned on the 15th that Digging was a Mouse & Trowel finalist in six categories. A week later, having met in the blogosphere, the Austin garden bloggers socialized in person during a garden-tour party we nicknamed a Ground Robin (like round-robin). I remember being so enthused that there were 8 of us. Well, less than a year later, there are now 15 of us! For a full list, see "Gardens in Austin" on my sidebar.
May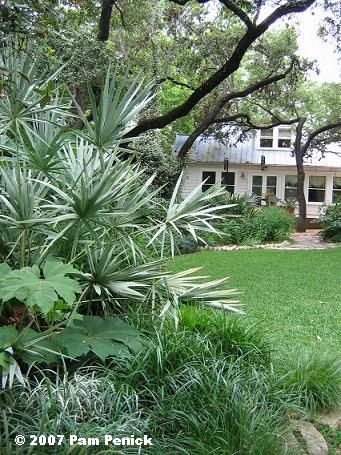 Regular readers know I love a good garden tour. This month I posted about each garden on the Wildflower Center-sponsored Gardens on Tour 2007. Garden blogging in Austin (and in general) got a little press when my article "Locals Reap What They Sow, then Blog" appeared in the Austin American-Statesman on May 5. Accompanying the article was a photo of eight of the Austin bloggers posing in Susan's garden, taken the day of our Ground Robin.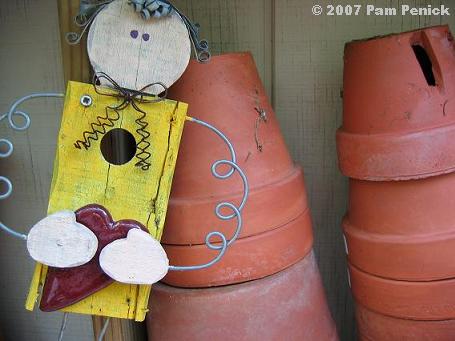 On the 13th readers kindly awarded Digging three Mouse & Trowel awards, for Best North American Garden Blog, Best Photography, and Best Design. Wow, I still can't get over that. Interested in learning more about those who regularly read Digging but don't comment, I invited my lurkers to drop me a line—and received a record number of comments from many wonderful readers I'd never heard from before. It was so great to "meet" them at last.
June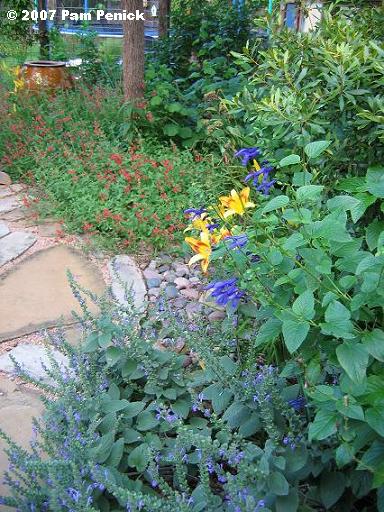 The garden grew more vibrant, colorful, and lush, leading me to rhapsodize about pink. Summer arrived late, and it didn't really get hot and sticky until June—our first indication of the unusually mild and wet summer to come.
July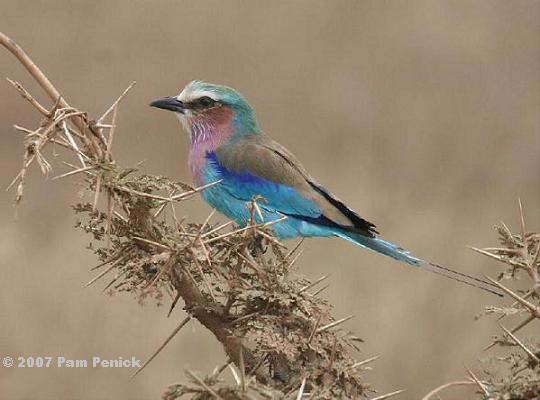 I returned from an adventure of a lifetime—an African safari—early this month. Gardeners who love watching birds, as I do, would go wild over the variety and colors of the birds that populate the savannahs of Tanzania. Above is a lilac-breasted roller, one of the most beautiful birds I've ever encountered.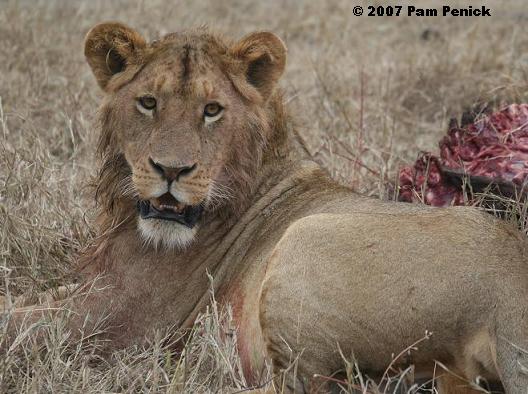 But I was really there to see the big cats, elephants, and big game animals in their natural habitats in Ngorongoro Crater and the Serengeti.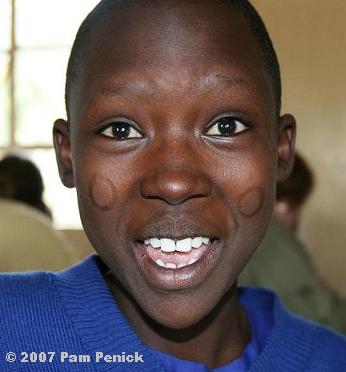 The Tanzanian people were equally fascinating.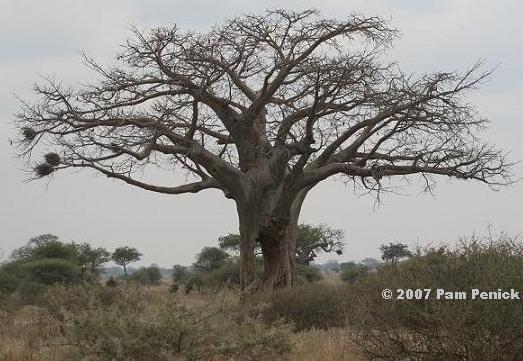 I even posted about the plants I saw in East Africa.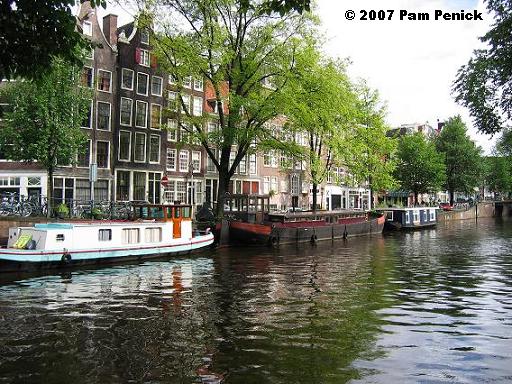 On the way home, I stopped over for a few days in the beautiful city of Amsterdam.
August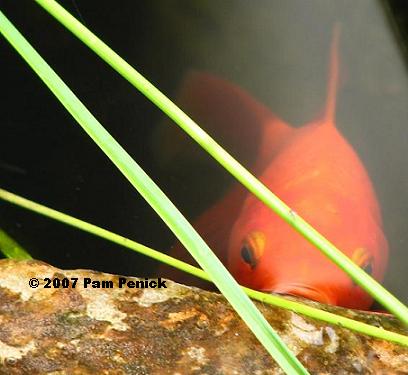 My old camera died on me, giving me the perfect excuse to get a new and better one. I was able to get clearer shots of the moon than before, inspiring me to start a series of full-moon posts. This month I mused on failure in the garden, confessing to killing dozens of plants over the years, and I posted about a dear neighbor whose memory lives on thanks to a scarlet passionflower.
September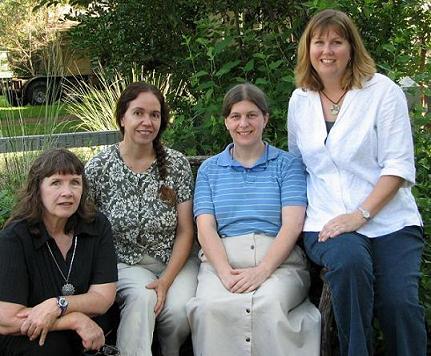 Cold Climate Gardening's Kathy Purdy braved 100-degree temperatures to visit the Austin bloggers on her way to the garden writers' conference in Oklahoma City. After reading her blog for so long, it was wonderful to be able to visit with her in person. Also this month I took a walk in my neighborhood, visited San Antonio Botanical Garden on an amazingly cool summer day, and investigated the rights and responsibilities of photographers as it pertains to blogging. On the 1st, I celebrated Austin's famous bat colony at Batfest 2007.
October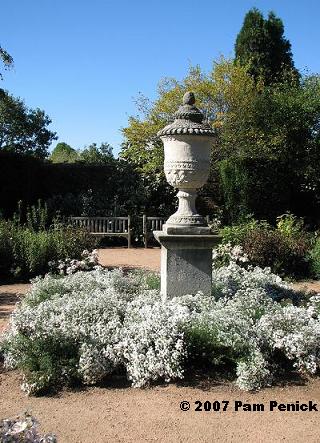 A Chicago visit early this month culminated in a beautiful fall day spent at the incredible Chicago Botanic Garden, which I posted about over the course of several days.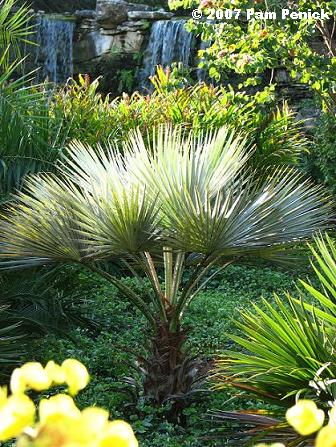 Austin's own Zilker Botanical Garden deserved a visit too, particularly its beloved Japanese Garden and unique prehistoric garden. But the highlight of October was the filming of my garden for KLRU's "Central Texas Gardener."
November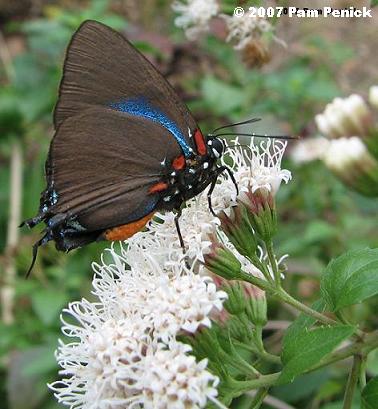 Autumn truly arrived this month, making for delightful hiking at Lost Maples State Natural Area. I documented two changes in my garden: the removal of the vitex tree and the addition of garden lighting.
December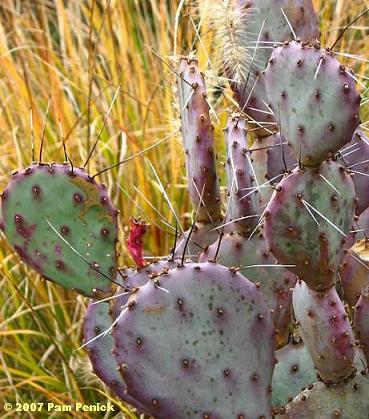 December means planting time in Austin. This month also saw the reroofing of my house (and happy survival of the garden), a visit to the Wildflower Center, distress over Blogger's comment changes (all fixed now, thank goodness), and Christmas ornament stories.
How quickly a year slips by amid the hustle and bustle of the routine. Stopping to revisit my posts from the past year brings home the many changes, new friendships, and adventures that occurred in my garden and daily life. What fun! I look forward to seeing what 2008 will bring.
All material © 2006-2007 by Pam Penick for Digging. Unauthorized reproduction prohibited.