February 16th, 2007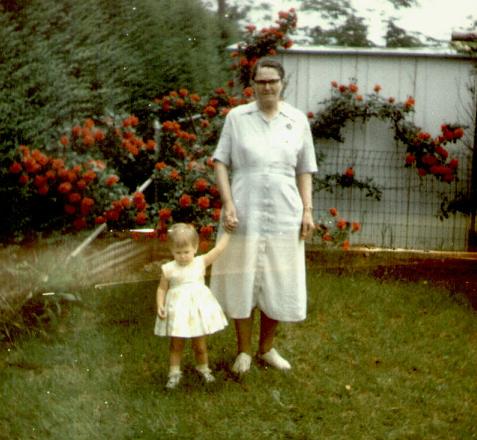 My grandmother and I in her garden, circa 1969
A couple of months ago, Carol at May Dreams posed the questions, "What makes a gardener? Do you consider yourself a gardener? How did you decide you were a gardener? When is the first time you referred to yourself as a gardener? Where and how did you learn to be a gardener?"
I answered in her comment section:
Though I've been gardening for 12 years, I don't believe I ever referred to myself as a gardener until about two years ago. People who came over to my house might say something nice about my garden, and I'd say, "Thanks, it's a hobby of mine." What I didn't admit—and what must have been obvious to the visitor—was that gardening was a compulsion for me, and that I loved it.

I began to realize that my interest was more than a hobby when people would see me reading a book like Stearn's Dictionary of Plant Names for Gardeners or Jill Nokes's How to Grow Native Plants of Texas and the Southwest , and they'd raise their eyebrows. One day I was going on about some plant or another to someone kind enough to listen, and she said, "So, are you a gardener?" Without hesitation I said, "Yes!"
A year ago today I started blogging here at Digging. At first I posted my best photos of my prettiest plants, adding notes about the plants' habits and the weather. To keep a record of my garden's changes and growth, I posted a backlog of photos and notes from earlier years (these comprise the 1st–4th years on my blog). I wrote to my favorite garden bloggers to ask if they would visit my blog. They did, and even commented, and I felt like I'd joined a club that I'd been wanting to get into.
Garden blogging connects me to a like-minded community. It's social. It's informative. It's fun. It makes me think about gardening, the world, myself.
But it isn't much related to being a gardener.
What makes a gardener? It was Carol's first question, and I didn't answer it. But what else could it be? You just want to grow things.
Maybe it's in the genes. My mother has always gardened, from simple sweeps of annuals when she was younger to the exuberant cottage garden she tends today. And her mother—who scraped by in rural southeast Oklahoma—gardened as well, planting roses on her fence, moss rose in troughs, annuals in tire-lined flowerbeds. A quiet, mild-tempered woman, she'd shout at us kids to climb down out of her prized mimosa tree that smelled heavenly, worried that we'd damage the limbs. I understand that now.
My mother was her last child, a late-in-life baby. To me, my grandmother was always old and frail, her back eventually bent nearly horizontal from osteoporosis. Yet I remember her regularly hoeing and weeding her garden, wearing a faded dress and an old-fashioned sunbonnet like a pioneer woman.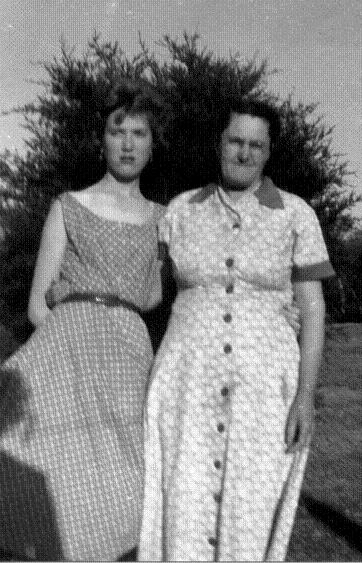 My mother and grandmother, circa 1960
My grandmother died years ago. Her gardening legacy carries on though. My mother's garden is a tumble of old favorites like hollyhocks, irises, lilies, and roses. When I talk to her on the telephone, I often picture her in the garden, checking on her plants or resting in the shade of a jasmine-covered trellis.
As they say, blood will out. Probably I owe my love of plants and digging to them both. And so, on my first blogiversary, I dedicate this post to my mother, June, and my grandmother, Demma, who taught me a love of gardening.