November 11th, 2016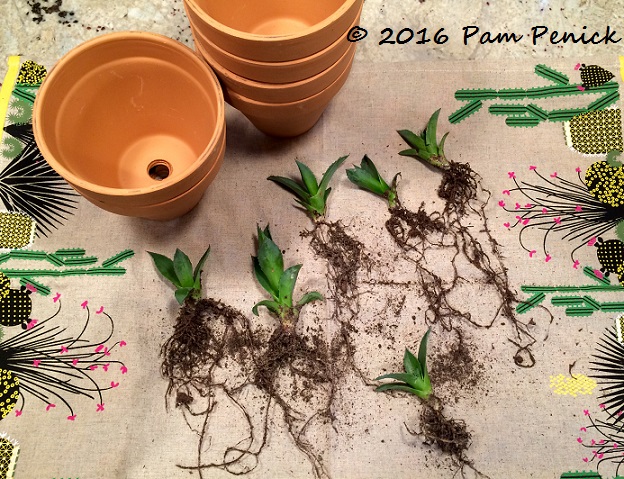 Two months ago Moby, my big whale's tongue agave (Agave ovatifolia), bloomed and sent up a tree-sized flower stalk, on which hundreds of bulbils (baby agave clones) eventually formed. You can read all about that here and here.
I kept them misted through the last weeks of summer, but lately it's turned cool and rainy — something agaves don't like very much. Now that they've had time to root, I've given many of them away to friends near and far. One of those, Jenny at Rock Rose, told me she unpotted hers and found long roots circling the 4-inch pot, so I knew it was time to replant those I intend to keep. I selected 6 nice ones and gently shook the damp soil from their fragile roots. I bought 6 Italian terracotta pots from Shoal Creek Nursery (Italian terracotta doesn't crack when it freezes like Mexican terracotta)…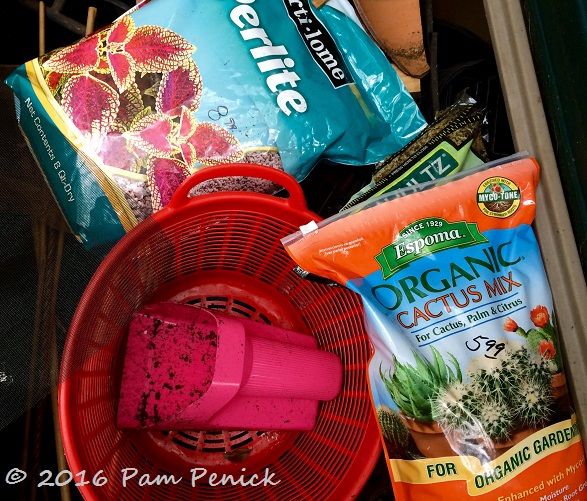 …bagged cactus potting soil, and perlite to improve drainage and avoid root rot. (Pumice would be preferable to perlite, which floats, but I didn't have any on hand. Next time I'll order in advance.) The sales guy at Shoal Creek advised washing the perlite in a colander to flush out excess fluoride and to keep it from blowing around, which was easy thanks to this handy plastic colander and scoop from Tubtrugs, which I won as a door prize at this summer's Garden Bloggers Fling.
Next I mixed one part cactus mix with one part perlite and filled the terracotta pots, first placing a small square of fiberglass mesh screening material over the drainage hole in the bottom. This is optional but helps keep out ants and hold the soil in place while still allowing water to drain freely.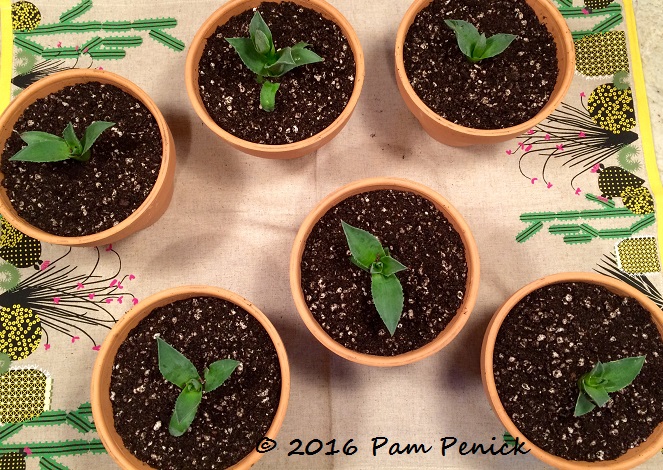 With each pot filled partway, I placed a baby agave in the pot so the roots were spread out and down and then added more soil, gently pressing it around the plant.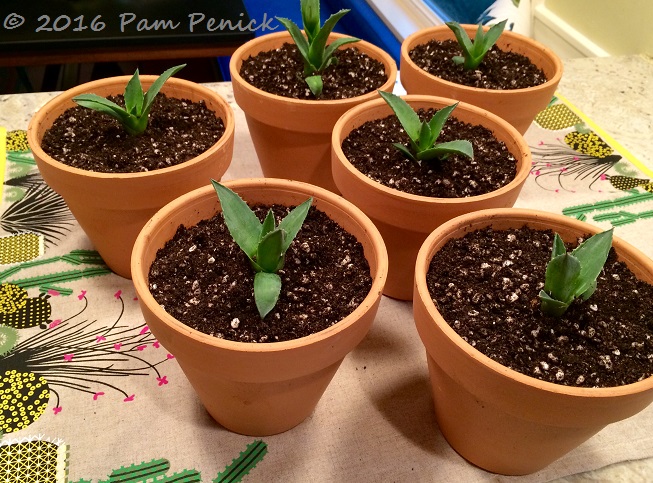 Here they are, all potted up.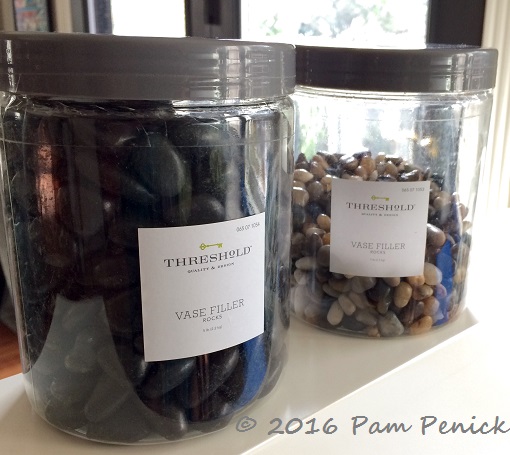 Gravel or rock mulch keeps the perlite from floating to the top of the soil when you water, plus it insulates the soil and gives a finished look to container plants. I bought vase-filler river stones and gravel at Target and spread a layer of black river stones atop each pot.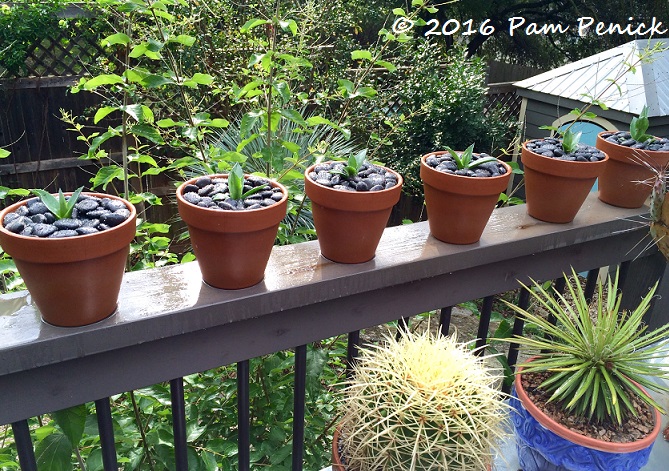 That's better! For now they're basking in the gentle autumn sun on the deck rail. Grow, Moby spawn, grow!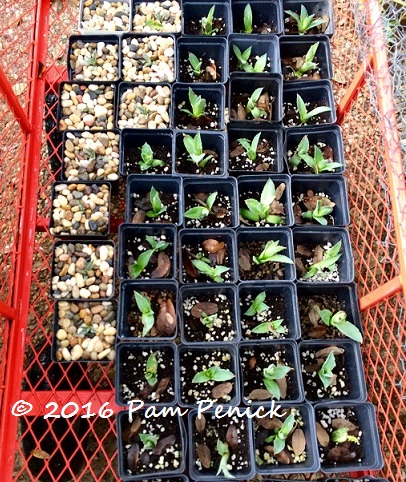 I still have some Moby babies left in my mobile potting station (a Gorilla Cart that I've covered with metal screening to keep out squirrels). Most of these are going to friends who've called dibs on a pup or two. But I hope to have a few leftover next spring to give away to a lucky reader or two! But wait — what's that on the left?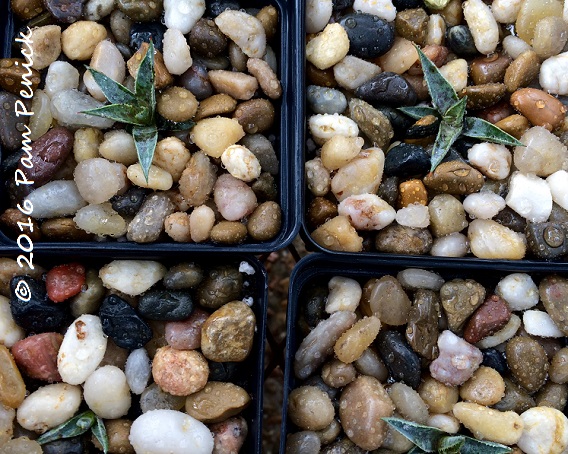 Babies from a 'Bloodspot' mangave that bloomed months ago and finally produced bulbils of its own! Yes, I'm officially addicted to potting up bulbils. Grow, mangaves, grow!
I welcome your comments; please scroll to the end of this post to leave one. If you're reading this in a subscription email, click here to visit Digging and find the comment box at the end of each post.
_______________________
Digging Deeper: News and Upcoming Events
What's hot in garden design — or about to be? I interviewed designers and retailers across the U.S. to find out! Natural dye gardens, hyperlocalism, dwarf shrubs, haute houseplants, sustainability tech, color blocking, and more — check out my 2017 Trends article for Garden Design and see if anything surprises you.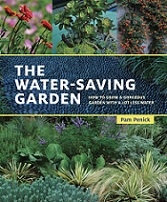 Do you review? Have you read my new book, The Water-Saving Garden? If you found it helpful or inspirational, please consider leaving a review — even just a sentence or two — on Amazon, Goodreads, or other sites. Online reviews are crucial in getting a book noticed. I really appreciate your help!
All material © 2006-2016 by Pam Penick for Digging. Unauthorized reproduction prohibited.