April 6th, 2016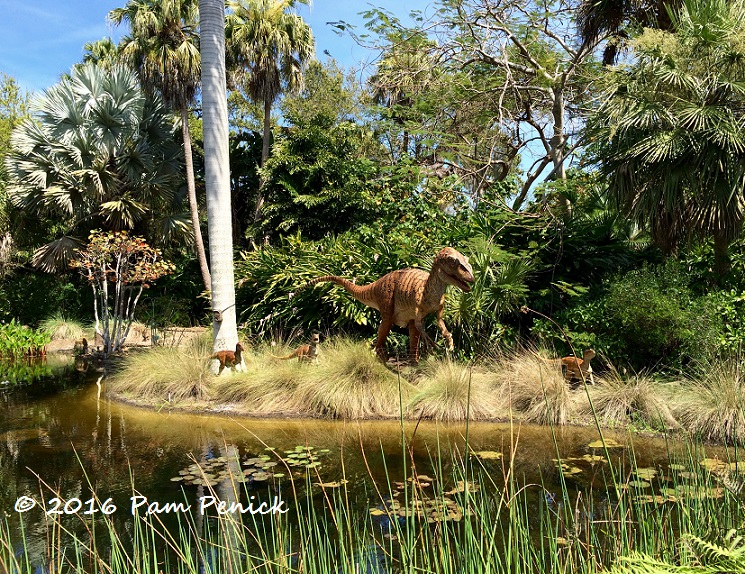 Two weeks ago, in mid-March, the family and I drove to Orlando for spring break. Before heading home, we stopped in Vero Beach, Florida, for a day at the shore and to visit McKee Botanical Garden. Yes, those are dinosaurs in the garden. Roar of the Dinosaur, featuring the life-sized creations of Guy Darrough, are displayed throughout the garden through May 1. Fun for the kids, no doubt, but I found them distracting. Still, I'd just enjoyed Orlando's theme parks, so why not?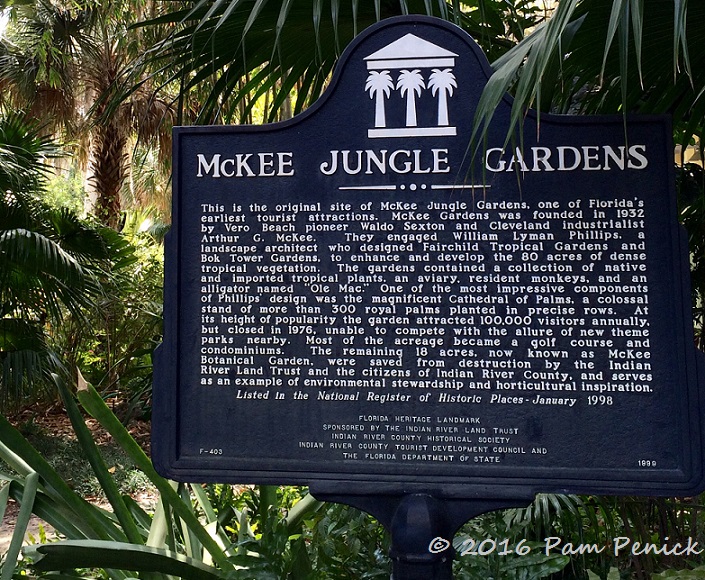 Happily, there's plenty to see other than dinosaurs. This small public garden is a resurrected fragment of an 80-acre garden park that attracted droves of tourists from the 1930s through the 1960s. Operated by Waldo Sexton, an eccentric builder and nurseryman, and Arthur McKee, a Cleveland industrialist, McKee Jungle Gardens was famous for a "cathedral" of 300 royal palms, an extensive orchid collection, waterlilies, monkeys, and an alligator, Ole Mac. (The dinosaurs would likely have fit right in.) Disney World stole away its tourism base, however, and the garden was closed in 1976. Developers tore out most of the garden to build condos and a golf course.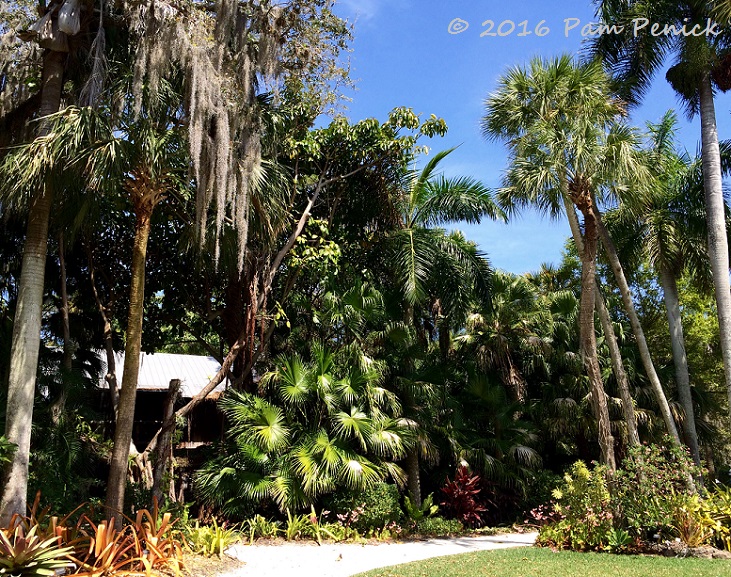 Today, thanks to the efforts of locals and a land trust, 18 acres of the garden have been restored, showcasing palms, bromeliads, waterlilies, and other native subtropical and tropical plants.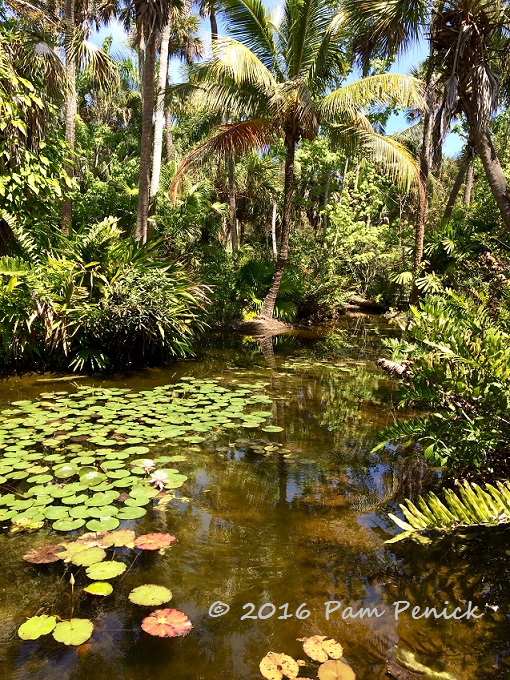 The place does look a bit Jurassic, doesn't it?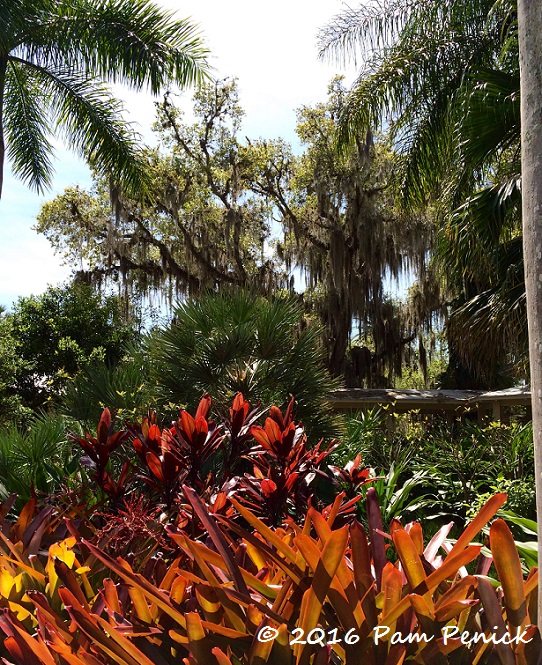 Richly colored bromeliads glowed in the sunlight during our late-morning visit. In the background, Spanish moss hangs from a tall, spreading oak.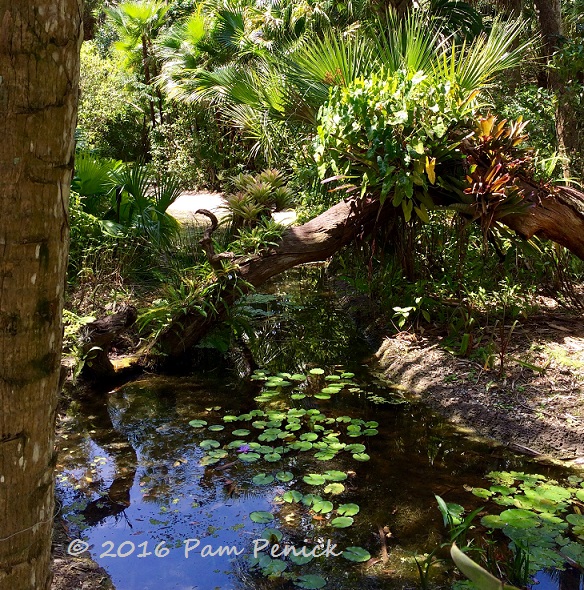 A fallen tree trunk, arched at the edge of a pond, hosted an artful display of bromeliads and other plants.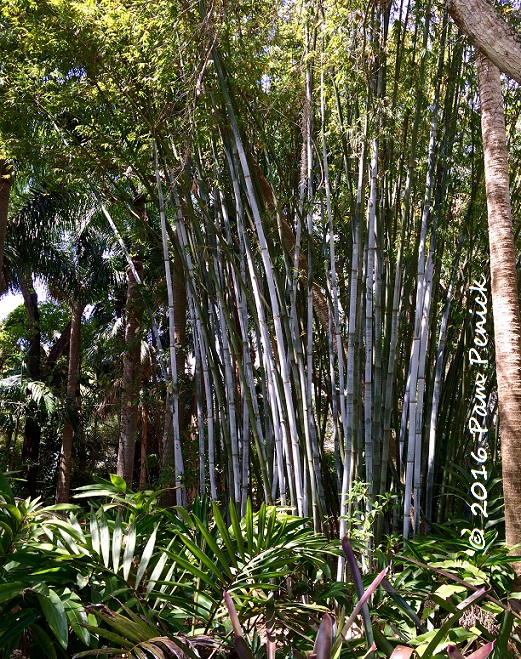 Powdery blue culms of a beautiful Bambusa chungi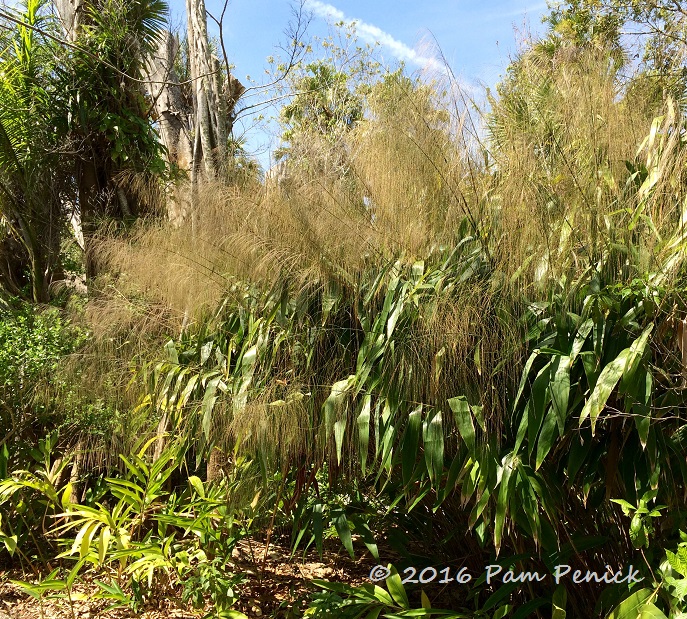 The silky plumes of this tall, grass-like plant caught my eye as well. Anyone know what it is? It's tiger grass (Thysanolaena maxima). Thanks, Max!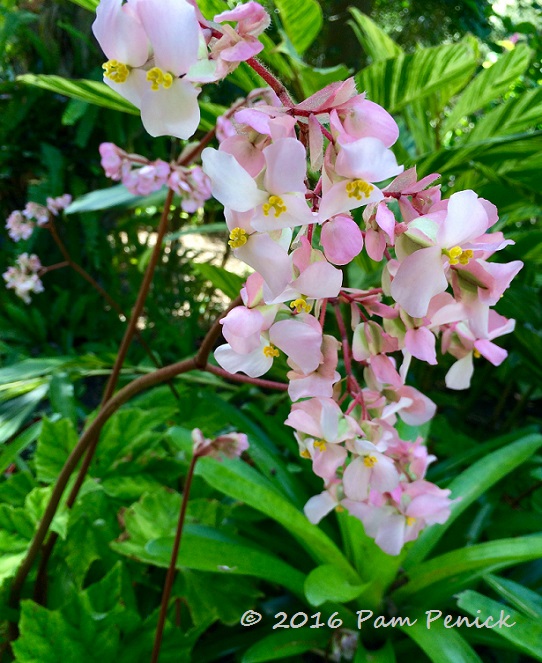 Or this long-stemmed cluster of pink flowers — some sort of begonia?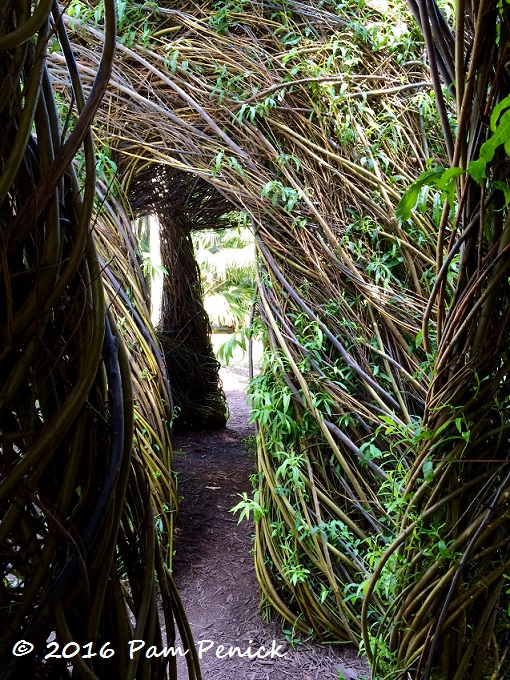 Another temporary exhibit on display in the garden is a large-scale "stickwork" by artist Patrick Dougherty. Dubbed The Royals and sited amid the remaining royal palms, it's like an oversized playhouse made of pliable willow branches, many of which showed signs of green-leaved regrowth. Dougherty's fantastical stick structures last only until weather and time bring them down.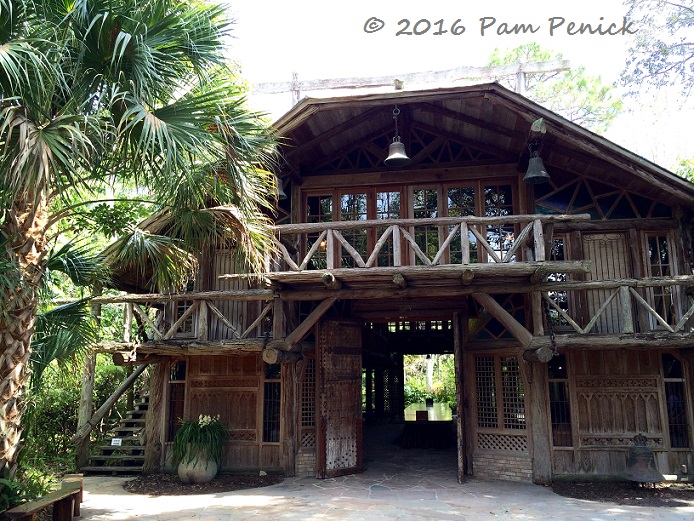 One of Waldo Sexton's creations is The Hall of Giants, a 2-story wooden clubhouse that resembles something the Swiss Family Robinson would have constructed. A ruin after 20 years of abandonment when the garden shut down, it's been restored to man-cave glory thanks to a grant from Florida's Division of Historic Resources.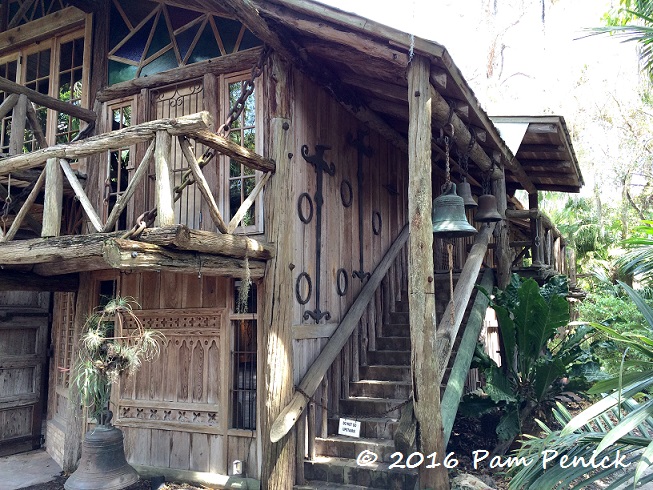 Sexton's old bell collection is displayed along the porch eaves.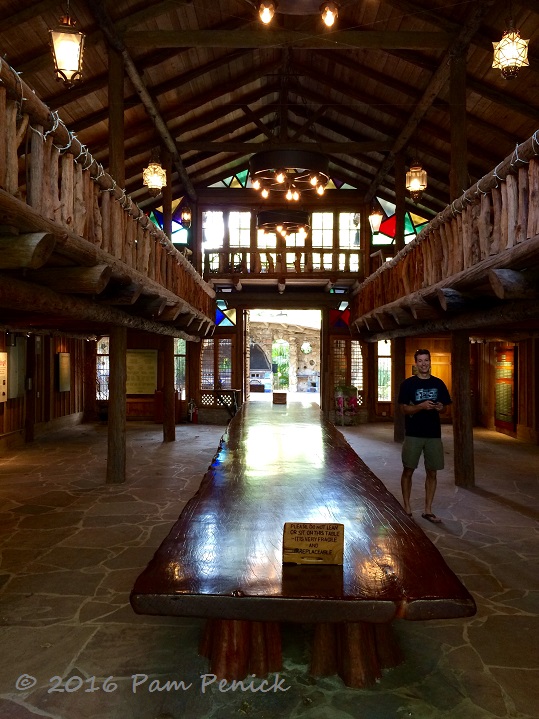 Inside it's all elk-lodge timbers and iron lanterns. The crowning feature is a gleaming, 38-foot banquet table made from a single slab of Philippine mahogany. What a tree it must have come from!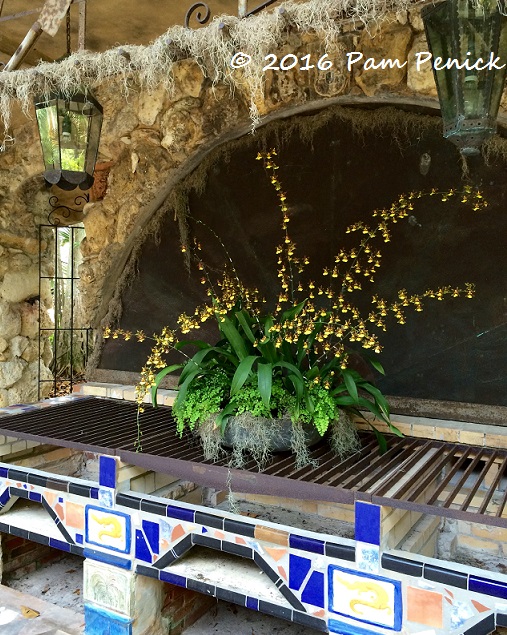 Just outside, Sexton's enormous Spanish Kitchen has also been restored, with room to grill 100 steaks at a time, according to garden lore. Those guys must have had some kind of parties here back in the day. Today the hall and outdoor kitchen are rented out for weddings and other events.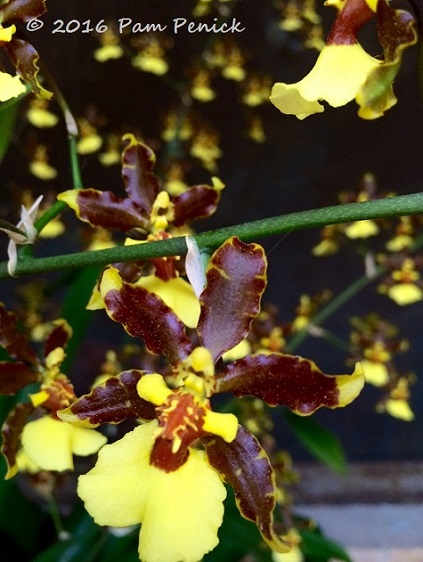 McKee Garden is small enough to see in about an hour, and even though I'm not especially into tropical plants, I enjoyed our visit.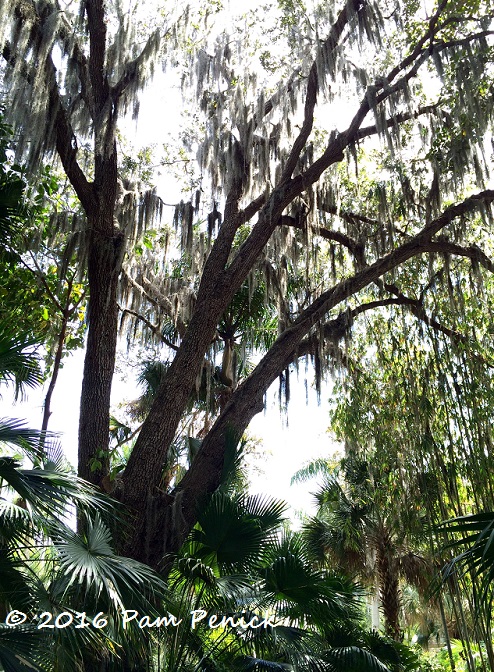 It gave me a sense of Florida's history, the costs of its rapid development, and the commitment of today's residents to restoring some of what was lost.
I welcome your comments. If you're reading this in an email, click here to visit Digging and find the comment link at the end of each post.
_______________________
Digging Deeper: News and Upcoming Events
TODAY AT NOON: Join me for Coffee with the Author at noon, April 6, at Holy Grounds
KUT's Jennifer Stayton will interview me about water-saving gardening and host a Q&A with the audience — which I hope will include YOU. Afterward I'll sign copies of The Water-Saving Garden and Lawn Gone!. I hope to see you there for this intimate, lunchtime event. Holy Grounds coffee shop is located in downtown Austin in the main building of St. David's Episcopal Church at 301 East 8th Street. You can park in the surface lot in front of St. David's main doors.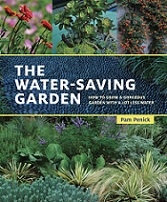 Do you review? Have you read my new book, The Water-Saving Garden? If you found it helpful or inspirational, please consider leaving a review — even just a sentence or two — on Amazon, Goodreads, or other sites. Online reviews are crucial in getting a book noticed. I really appreciate your help!
I'm on Instagram as pamdigging. See you there!
All material © 2006-2016 by Pam Penick for Digging. Unauthorized reproduction prohibited.