August 13th, 2013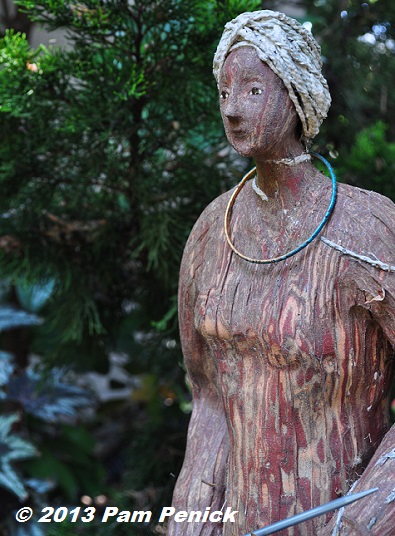 Peering from the shadows of an exuberant, densely planted front yard, artist Marcia Donahue's turbaned and hooded figures — exotic wood sprites? — give a sense of mystery to her Berkeley, California, garden.
On July 1st, the day after the San Francisco Garden Bloggers Fling ended, I joined bloggers Jean of Dig, Grow, Compost, Blog and Melissa of Houston Garden Girl, tooling across the bay in Jean's rental car to Berkeley for lunch at famed Chez Panisse. Which was delicious, by the way. Afterward, we drove a few blocks to Marcia's home and garden on Wheeler Street, which Peter of The Outlaw Gardener had told me about during the Fling.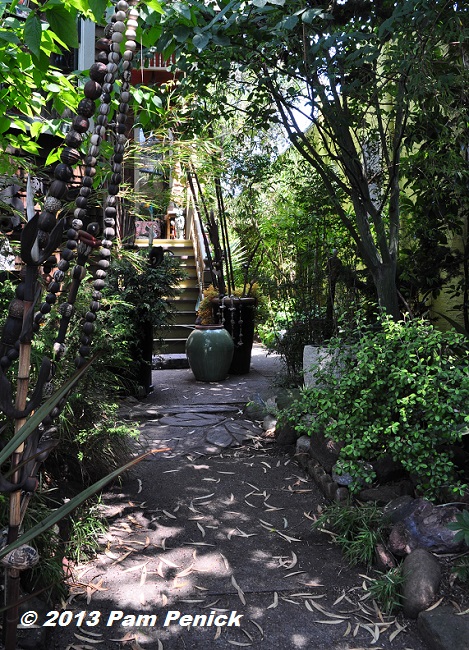 Marcia generously opens her garden to the public on Sunday afternoons. This was Monday. Still, I knew that Peter had arranged a Monday visit with her (little did I know the BART strike would keep him from getting here), so while Jean parked at the curb I stepped hesitantly into the leafy bower of her front garden to go knock on the door.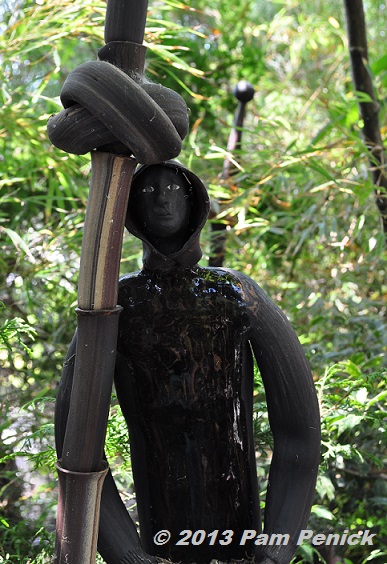 I noticed I was being watched.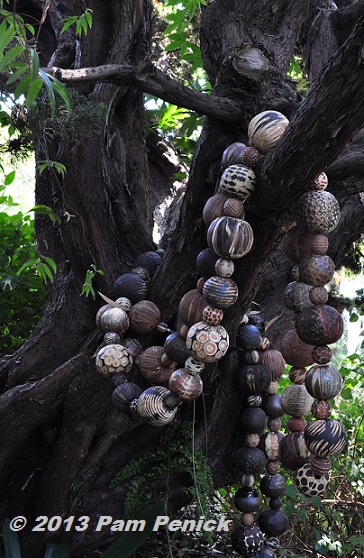 Heavy necklaces of carved and stained spheres hung casually from tree branches, as if a giantess with tribal tastes had draped them there after a party.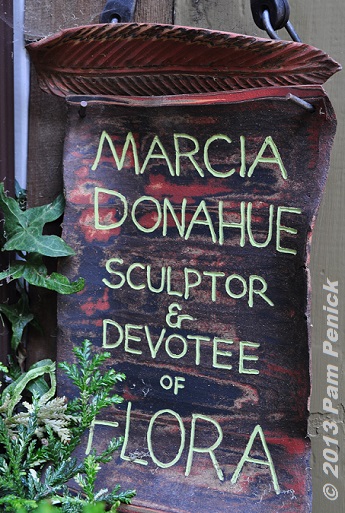 At the front steps, a sign announced the owner's devotional leanings.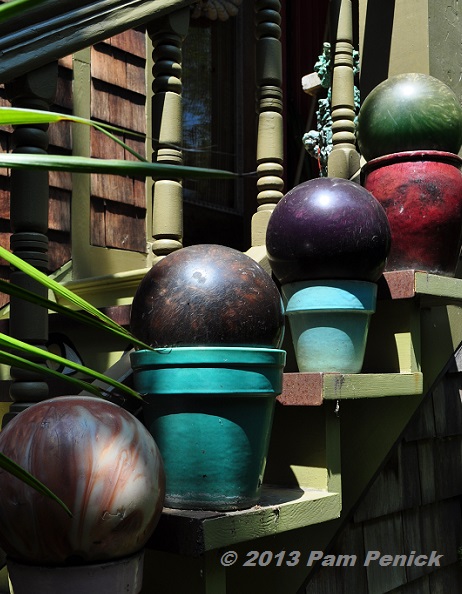 Marcia is also into bowling balls. A potted collection decorates her front steps…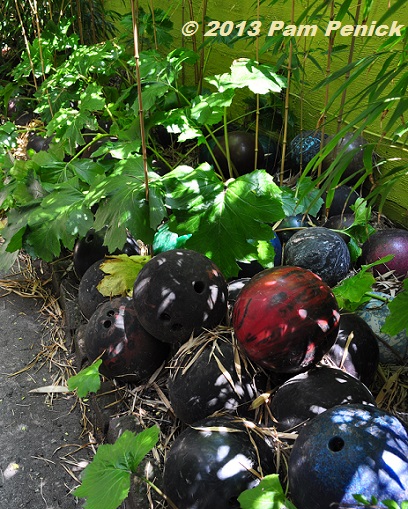 …and dozens more create a lumpy, colorful mulch in her planting beds.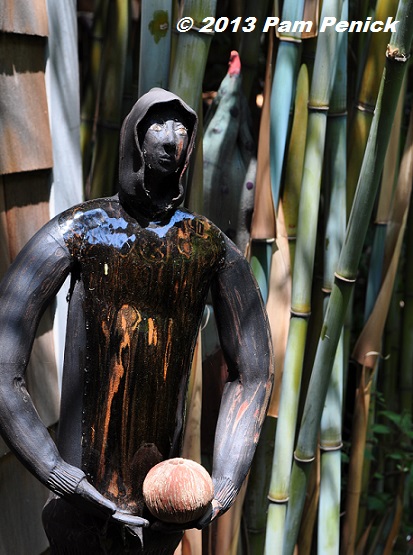 But it's her haunting figures that really grabbed me.
So I knocked on her door, and Marcia answered, and she very kindly agreed to let the three of us see her garden. "Go ahead," she said, "I'll be out in a few minutes."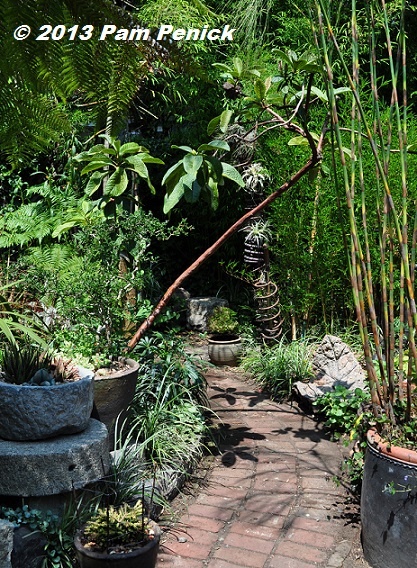 With meandering, narrow paths and tall, overhanging plants shoehorned into an average-sized yard behind her two-story home, and with sculptural discoveries around every bend, it truly is a garden of exploration. It's not traditionally "pretty," but it's wonderfully fantastical.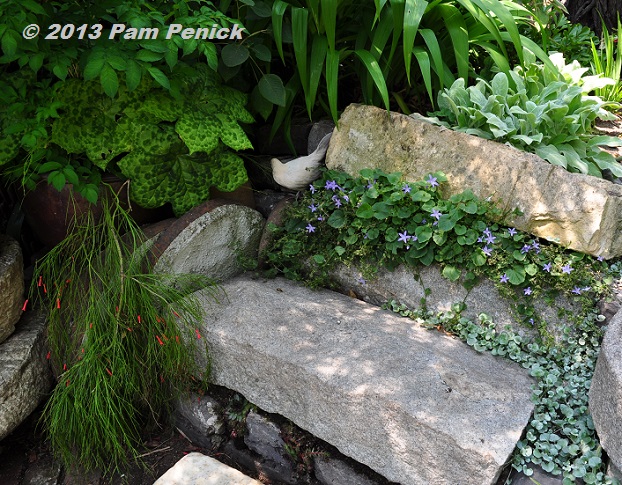 Of course, there are quite a number of pretty vignettes, like this stone bench softened with creeping plants…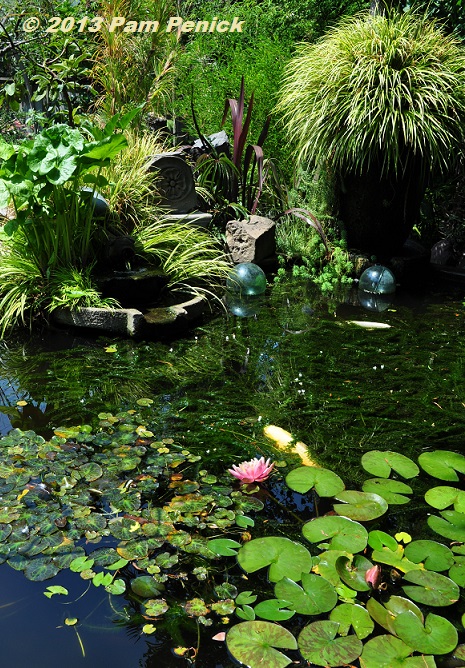 …and this surprisingly large pond hidden behind a wall of plants.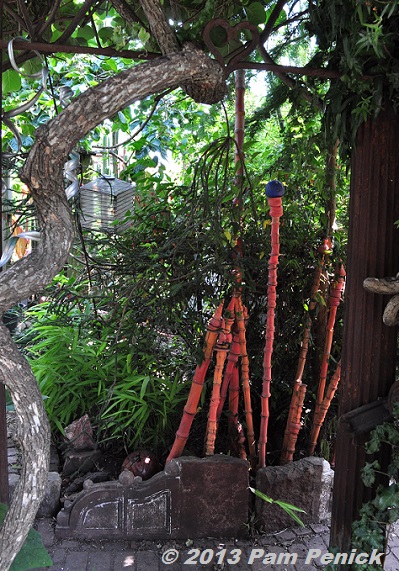 Aside from the sunny pond, much of the garden is shady and mysterious with dense plantings, repurposed castoff objects, and fanciful, organic-looking sculpture.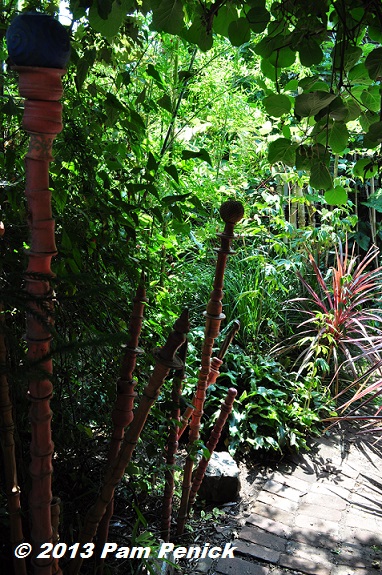 Red, leaning, ceramic poles — reminiscent of bamboo culms and also strangely phallic — line this transition from shadow into light.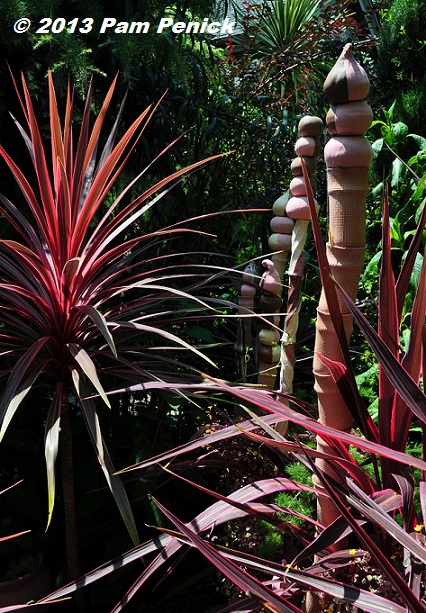 More jointed "bamboo" sculptures, in a color that echoes the hot-pink cordylines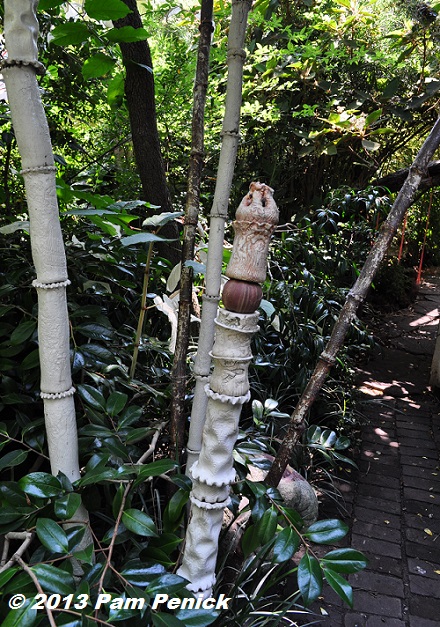 Marcia makes them in white too, which I like as shade-brightening accents.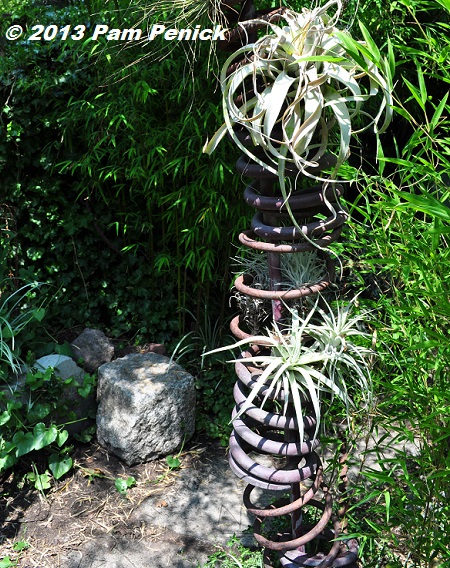 She playfully incorporates found objects into her garden, like this gigantic spring, which holds a collection of tillandsias and larger bromeliads.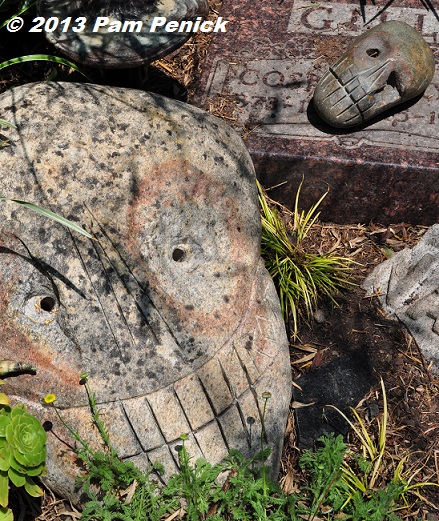 Stone skulls grin up at you from ground level, and inscribed gravestones are laid as paving and bed edging. Marcia told us she got the gravestones at the dump from a tradesman who was closing his business and dumping his inventory. The stones and skulls definitely add a macabre vibe.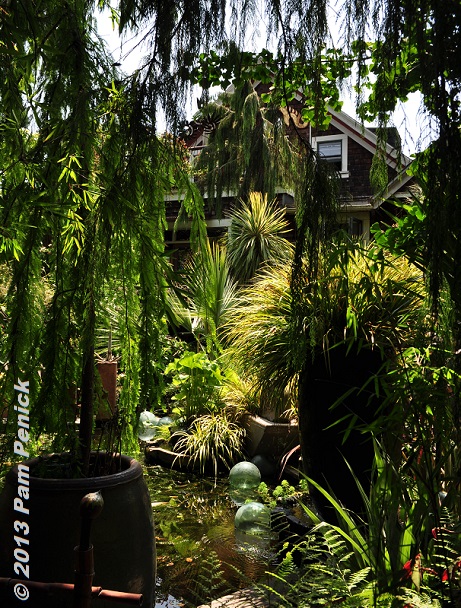 Short of flying up to the roof for a bird's-eye view, this is the widest shot I was able to get of Marcia's densely layered garden. I took it from the back corner of the garden, peeking out from under a tree and across the pond toward the back of the house.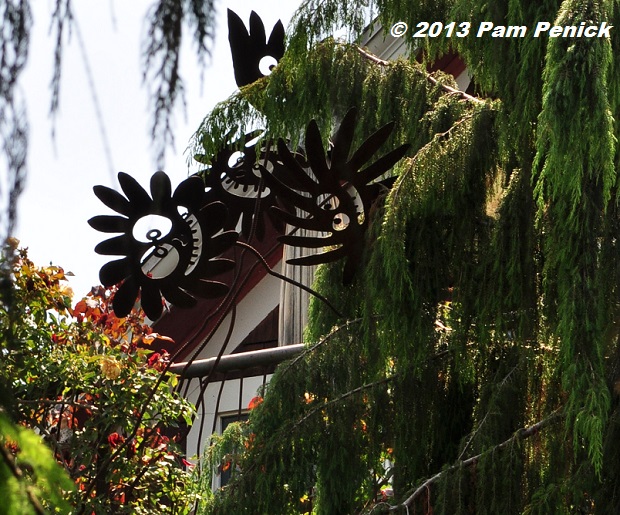 A telephoto view reveals crazy daisy faces peeking out from the treetops.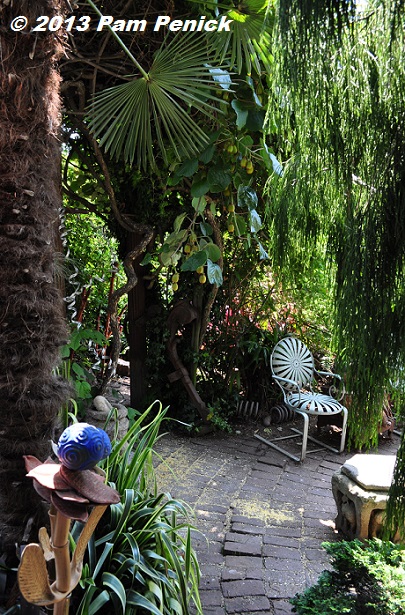 Amid the mysterious, macabre, and zany, there are also peaceful vignettes like this…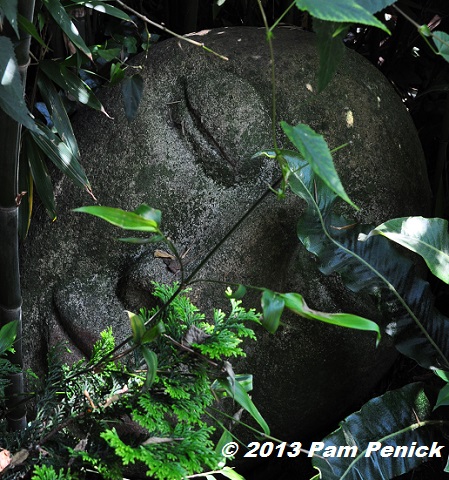 …and this.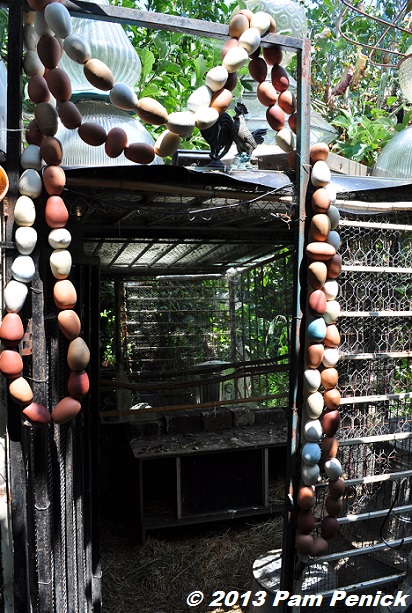 A chicken coop made of salvaged materials is half hidden at the back of the garden, adorned by a whimsical necklace of ceramic eggs. Do you think it encourages the hens?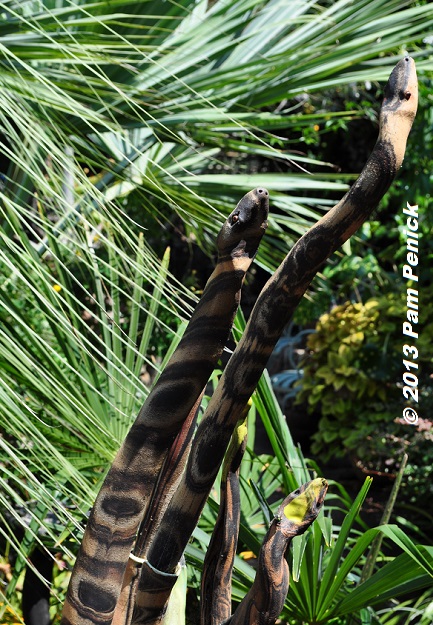 This might dismay them — except the snakes are harmless if realistic creations of Marcia's. Nature informs all of her work, and each sculpture or other creation fits seamlessly into the garden.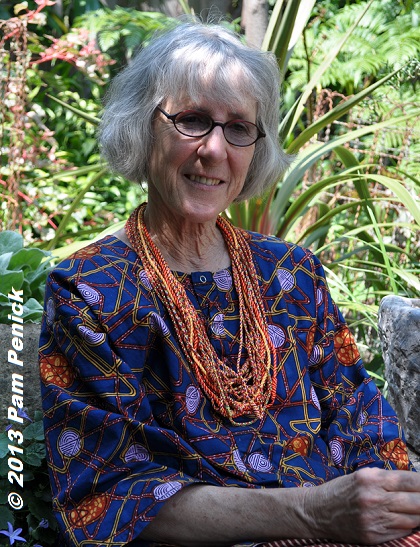 It was a pleasure to meet a creative artist and fellow devotee of Flora. I'm grateful to Marcia for generously sharing with three strangers her garden, which is clearly a personal space, filled with plants and objects that have special meaning for her. I've admired her work in gardens across the country, from Chanticleer in Pennsylvania (she sculpted several pieces for the Ruin Garden) to the Dunn Gardens in Seattle, but I didn't really have a sense of who the artist was until this visit.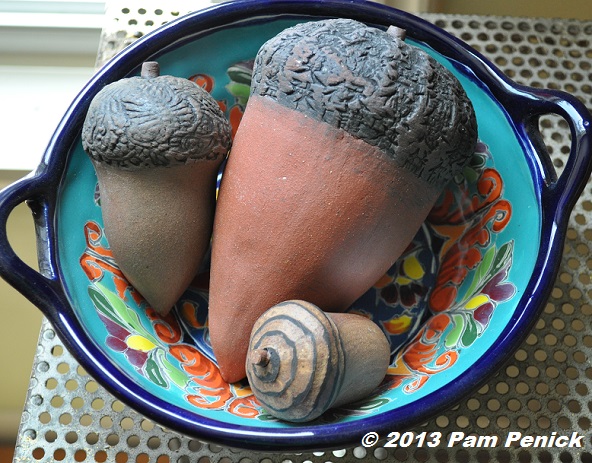 I couldn't leave Marcia's garden without choosing a few small sculptural pieces as a souvenir for my own home. Marcia has a marvelous assortment of clay bulbs and fruits offered for sale, and I wish I'd thought to take a photo of them.
But I fell in love with her clay acorns and chose three. Each acorn cap is unique, and the biggest has Korean letters or words etched into it. I wonder what this acorn says? I didn't think to ask, so I guess it'll be a fitting reminder of Marcia's mysterious, creative garden.
All material © 2006-2013 by Pam Penick for Digging. Unauthorized reproduction prohibited.
posted in
Bamboo
,
Chickens
,
Containers
,
Decor
,
Garden art
,
Garden tours 2013
,
Grasses
,
Paths
,
People
,
Ponds
,
Sculpture
,
Seating
,
Snakes
,
Travel
,
Water features