March 8th, 2013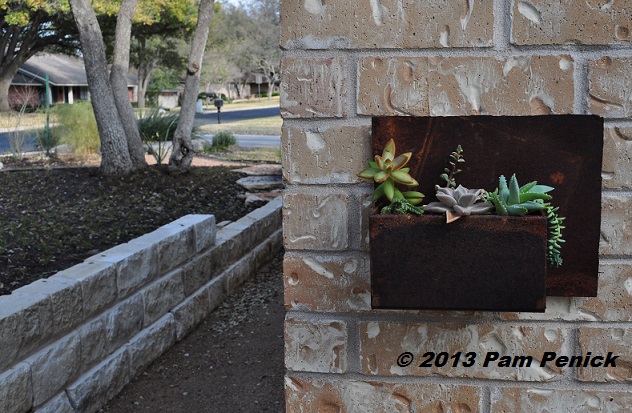 Ooh, I am so excited to show you my two steel wall planters that I commissioned last fall from talented metalsmith and Austin blogger Bob Pool at Gardening at Draco. It's taken me all this time to hang them and plant them, but that was just as well since I wanted to stuff them with succulents, and needed to wait out any freezes.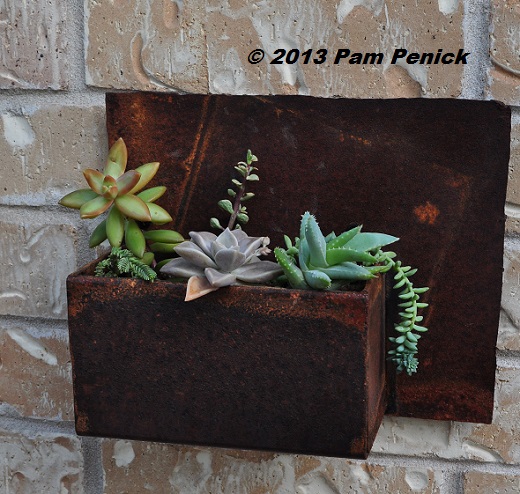 If you're a fan of Potted, the fabulous L.A. garden boutique and online store, you'll see a resemblance to their iconic City Planter. Indeed, I had Bob riff on that design for me. His interpretation is a bit more rugged, less polished, but equally tactile and simply stunning when filled with succulent cuttings and hung on a wall or fence. (I hope Potted doesn't mind! I love that store and have one of their Circle Pots.)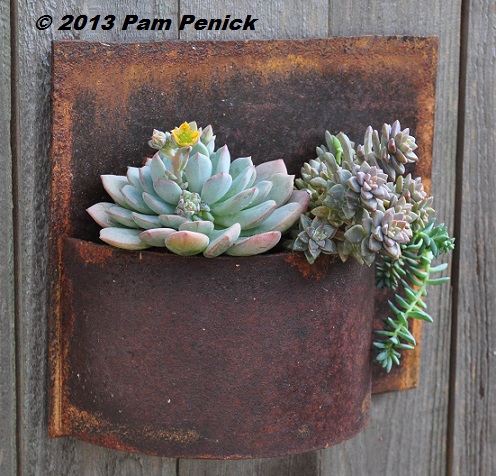 Bob made these out of scrap steel he had lying around. On this one he used a semicircular piece for the planter. Isn't it great?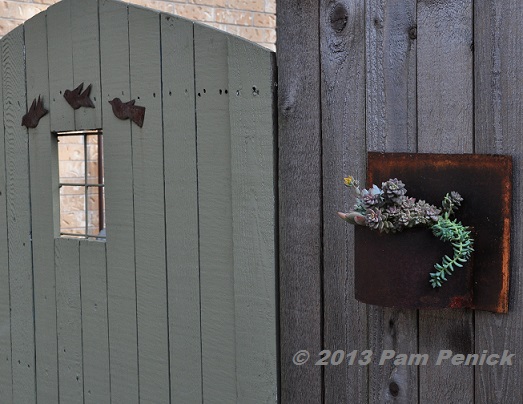 Bob welded it all together and drilled drainage holes in the bottom and hanging holes in the back plate. My husband helped me cut pieces of plywood slightly smaller than the back plates, and we hung the planters with the plywood in-between the wall or fence in order to prevent rust from dripping down the wall over time (I hope!). We used masonry screws to attach the rectangular planter to the garage wall, and wood screws to attach the semicircular planter to the fence by the back gate.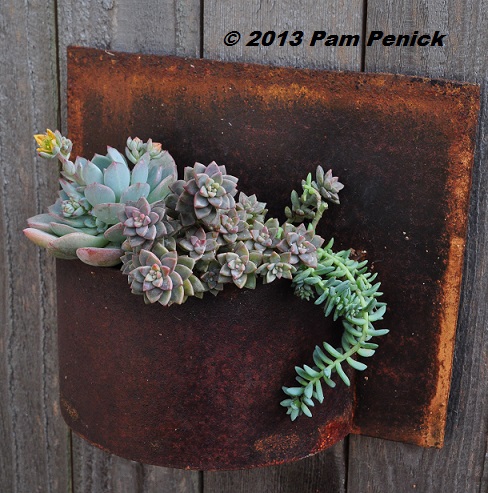 I'm in love with these planters. The deer better leave them alone!
And don't forget: The Lawn Gone! Book Party is rockin', and you're invited! Seven bloggers are hosting 7 cool, alt-lawn related giveaways this week. Find all the links on my giveaway post, and leave a comment on each one for your chance to win!
All material © 2006-2013 by Pam Penick for Digging. Unauthorized reproduction prohibited.