October 26th, 2006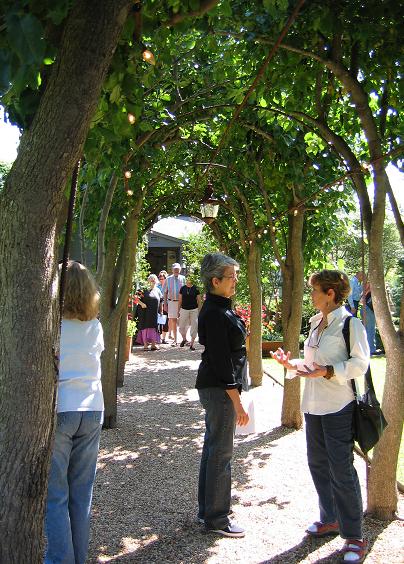 A pear allee is the highlight of Hornickel's garden
Warm, accessible, personal, with striking plant choices and a Gardens-inspired feel, this Bryker Woods garden, located within walking distance of James David and Gary Peese's famous garden shop, is Gardens on a budget. And I mean that as a compliment.
Deborah Hornickel acknowledges her debt to David's style (he's a friend of hers and advised her on portions of her garden, according to a feature in Cottage Living magazine), and she's not afraid to divulge her tricks for getting this style on the cheap. Generously, she provided a handout explaining how she constructed her fish pond, stone dining table, and pear allee. Judging from the oohing and aahing I heard, I'd say this was one of the more popular gardens on the tour.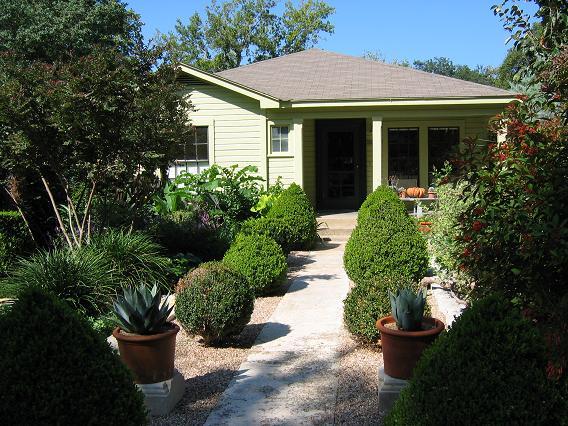 The sun was high by the time I got there, and my shadowed photos don't do her garden justice. Actually, I don't know whether she does her front garden justice either. Her (self-written?) entry in the Open Days Directory downplays the curb appeal by saying, "Don't let the rough and natural appearance of the front garden fool you," noting that the entry to the garden is at the end of the drive, in back of the house.
Well, I think her front garden has much to recommend it too. Formally clipped boxwoods mulched in pea gravel decorously escort visitors to the front door. But on either side of the sidewalk, the "rougher" part of the garden bursts out of that corset with colorful natives and tropicals like canna, Mexican bush sage, firecracker fern, firebush, agaves, and tall grasses in an exuberant jumble. Now here's a gardener who loves plants!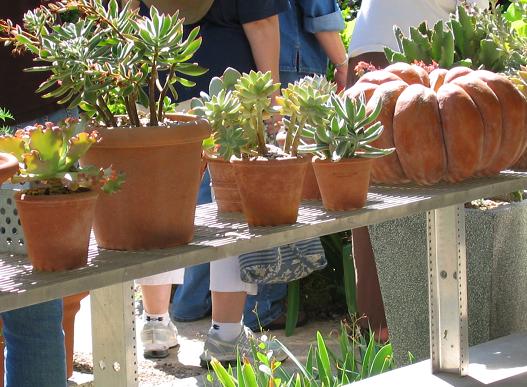 She doesn't stop at her front door either, lining a steel bench on the porch with potted succulents and pumpkins.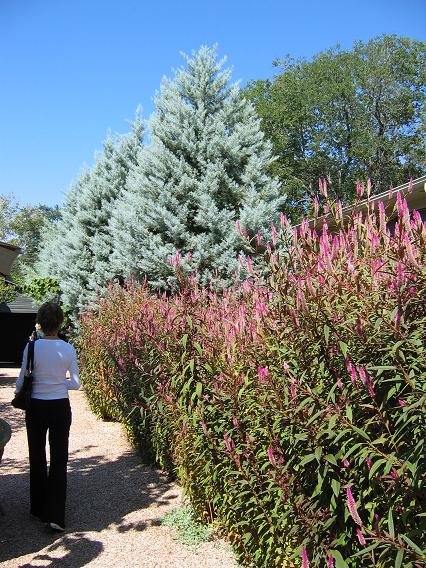 The gravel driveway is a scene-stealer. A hedge of amaranthus screens the neighbors and looks stunning paired with a line of Arizona cypresses. If only I had room for that combo in my garden.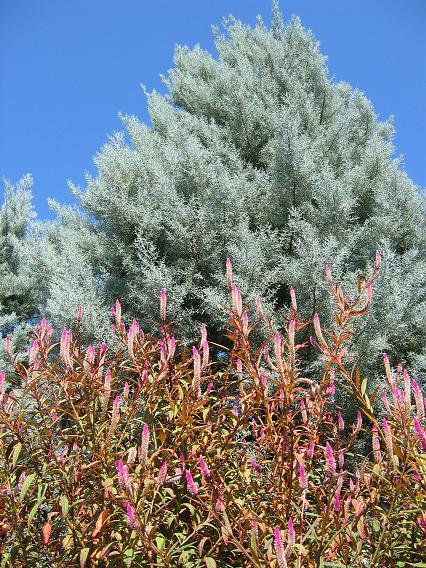 Another angle. As a nice touch, generous bags of amaranthus seeds were on offer for a dollar at the ticket table.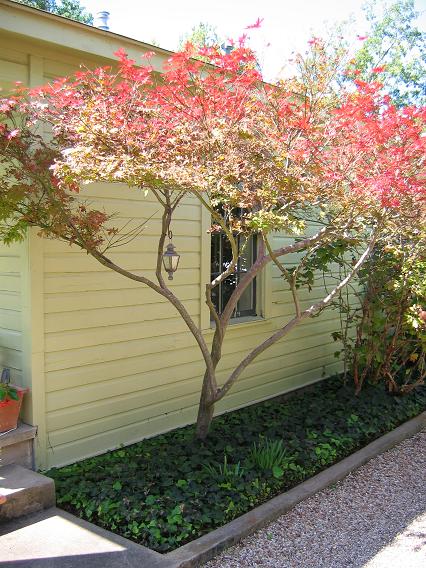 I might be skeptical of Hornickel's decision to use a Japanese maple (like azaleas, they don't usually do well in Austin without a lot of pampering) if it didn't look so darn good. The red fall foliage against the pale yellow of the house is pretty, and look at the English ivy trimmed neatly at its feet. Lovely.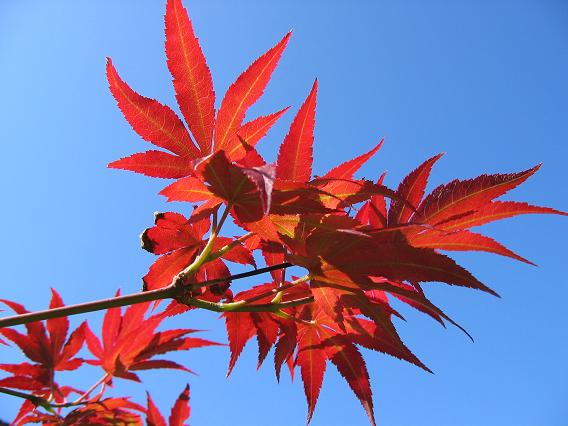 A close-up of the Japanese maple's red leaves—unusually bright fall foliage in Austin.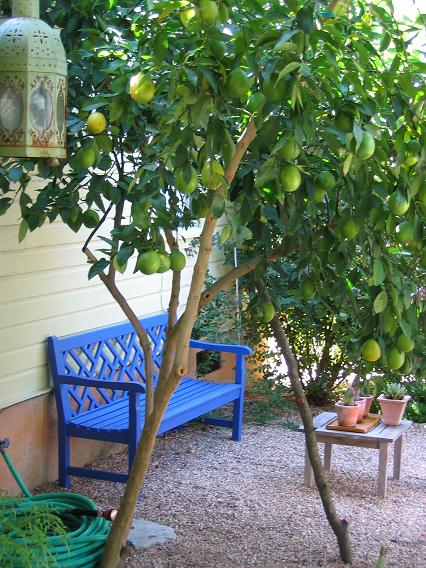 A narrow, covered passage between the garage and the house leads to this little sitting area. The playful blue bench under the Meyer lemon tree is one of the few shots of color in the rear garden.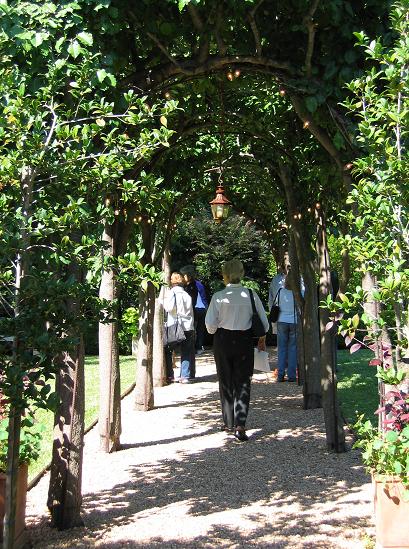 This green, formal garden is bisected by a Bradford pear allee, strung with party lights, and bordered by a precisely rectangular "lawnette" on either side. I would love to see the allee in the springtime, covered in white blossoms.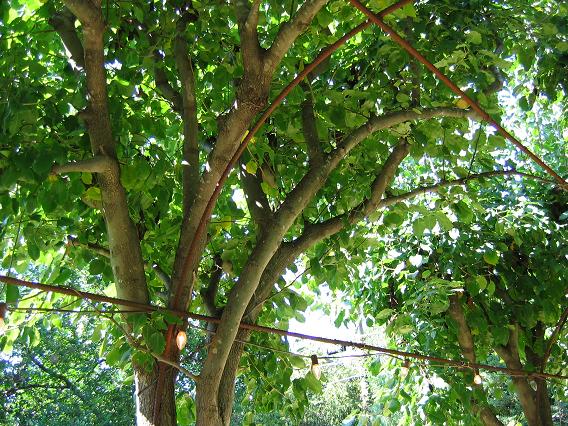 As she explains in her handout, Hornickel planted the allee with 10 ($18) Bradford pears in 1991, measuring precisely for placement. By 1994 they were ready to be espaliered on the rebar frame a welder constructed for her.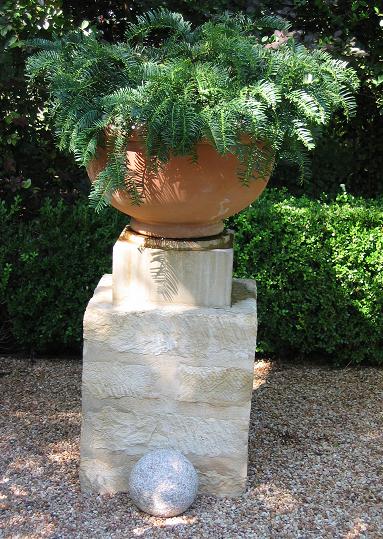 At the end of the allee, pulling you along the path, a potted yew sits on an attractive limestone pedestal.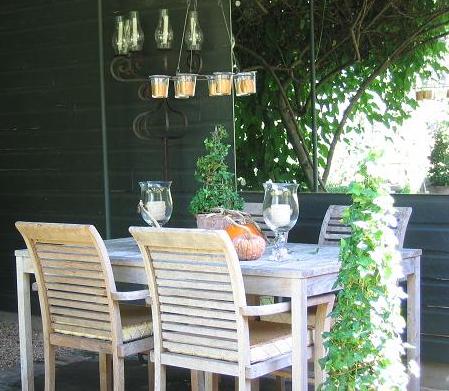 Behind the garage, an arbor draped by a sky vine shades a dining table. The mirror brightens the area and reflects candlelight beautifully, I imagine.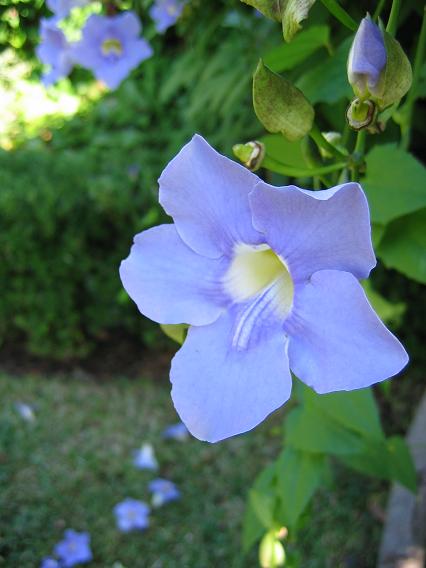 Sky vine (Thunbergia grandiflora)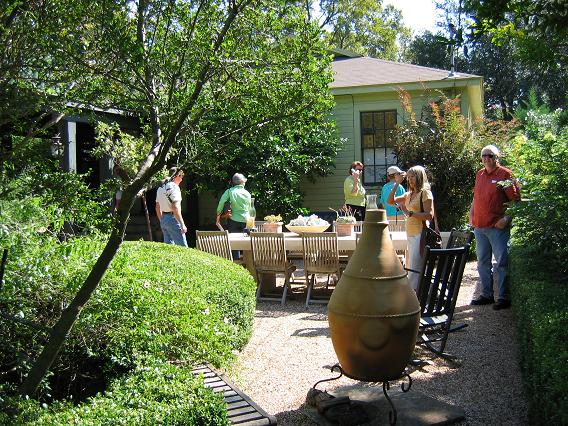 Heading back toward the house you come to a Provencal-looking dining terrace. The crunching gravel underfoot, the lemon tree laden with fruit, the gorgeous, simple limestone-slab table—ahh, I could sit here a spell.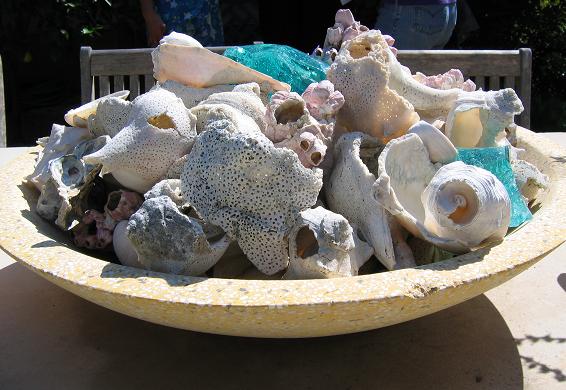 A bowl of shells and slag glass adorns the table.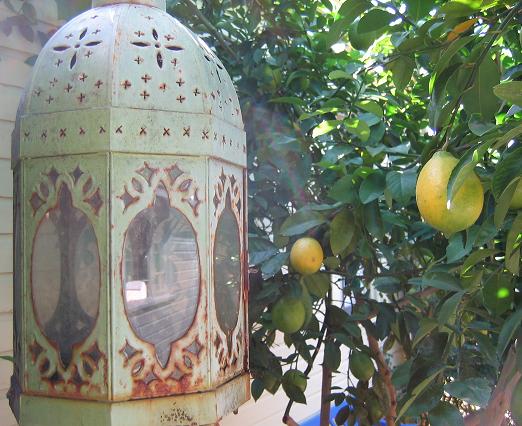 Moroccan lantern and lemons
At the end of my tour of her garden, I found Deborah Hornickel holding court by the limestone table, thoroughly enjoying herself. It was nice to see the gardener in her element, having fun and making visitors feel welcome. I left with my head full of plant combinations and design elements I'd like to try someday.
Click here for my post about the Harris Boulevard garden. Tune in tomorrow for the Poth-Gill garden.
All material © 2006-2008 by Pam Penick for Digging. Unauthorized reproduction prohibited.
posted in
1st garden--2006
,
Arbors
,
Containers
,
Decor
,
Garden tours 2006
,
Groundcovers
,
Lawn Gone!
,
Lighting
,
Paths
,
Patios & decks
,
Porch
,
Seating
,
Shrubs
,
Succulents
,
Trees
,
Vines