October 20th, 2010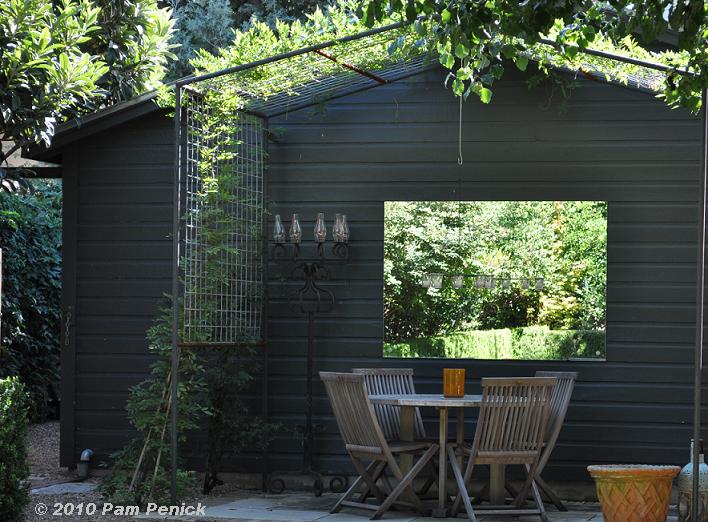 Deborah Hornickel added on to her charming Bryker Woods home a couple of years ago, extending its footprint into her back garden, which you can see pre-remodel in my Open Days 2006 post about Deborah's garden. Visiting post-remodel on Saturday's Open Days tour, I found it to be more cleanly delineated and even more inviting as a result.
Pictured above, as before the remodel, a relaxed dining set is sheltered beneath an arbor against the back of the garage. Notice how the arbor echoes the angle of the roofline. A large mirror adds light and openness against the dark wall, and a candle chandelier hangs over the table, positioned so that the mirror reflects its glow. The wire-panel arbor is new, but the effect is very similar to what Deborah had before.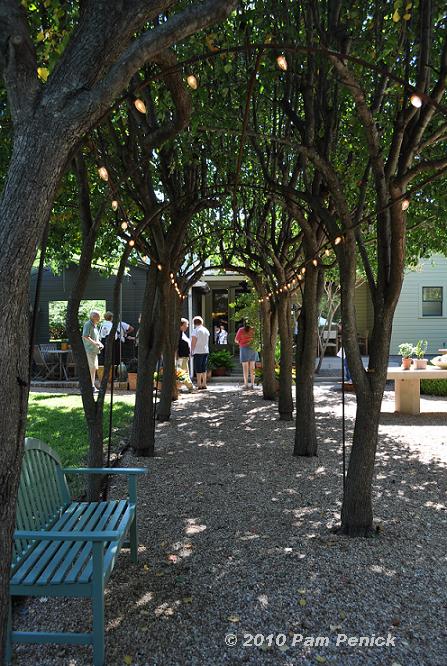 The defining feature of the garden is this Bradford pear allee, which divides the garden into two halves. On one side is a formal rectangular lawn. On the other, the lawn has been replaced with a pea-graveled space that contains a new, contemporary-style raised pond and a massive limestone table. The table used to have chairs around it, but now it stands solo, perhaps as a buffet table for parties. A boxwood parterre surrounding a Texas mountain laurel has been removed from the right side also, helping to open the space.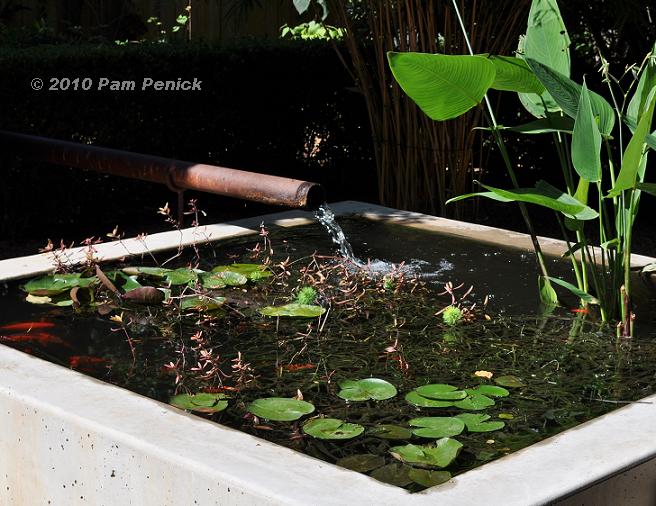 The new focal point for this side is the concrete pond with metal-pipe fountain. This style of pond looks great in a formal or contemporary garden.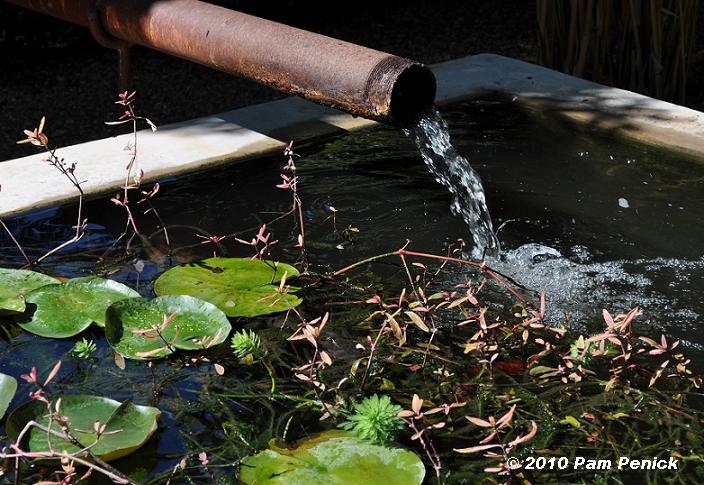 A closer look reveals a delicate copper-leaved plant intermingling with lily pads.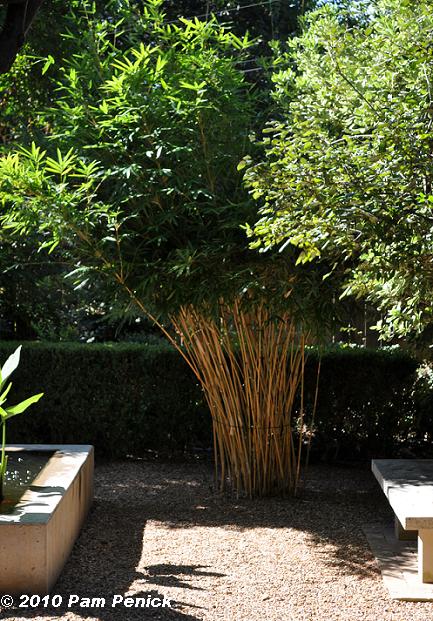 Behind the pond, a tight stand of bamboo adds a lovely accent.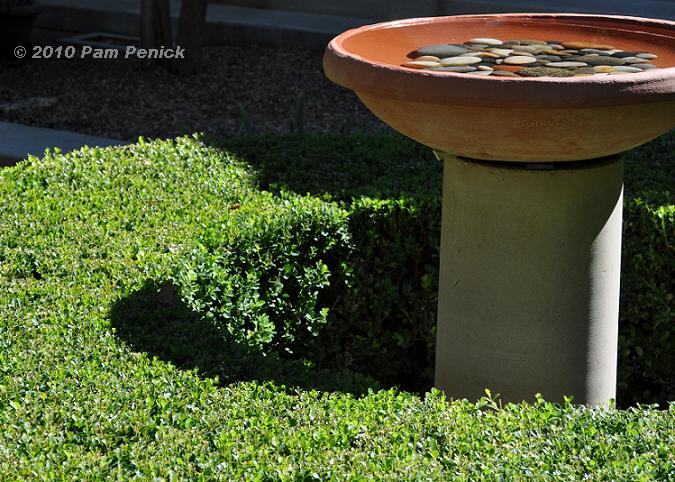 Closer to the house, boxwood encircles a deep birdbath set on a concrete pillar. A sunken stock-tank pond used to be here. But after about 10 years it began to corrode, Deborah told me, so she "bit the bullet" and had her new pond built. The old tank was left in place, holes were drilled in the bottom, and the birdbath was placed there instead.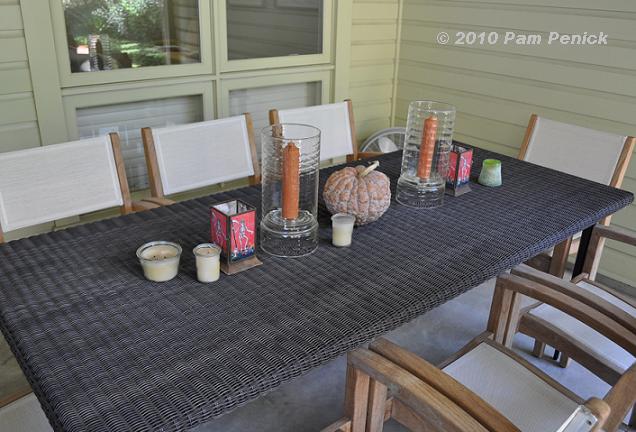 A new back porch offers a garden-friendly transition between indoors and out. Deborah pointed inside through a glass door to indicate where the house used to end and said she loved having a covered porch.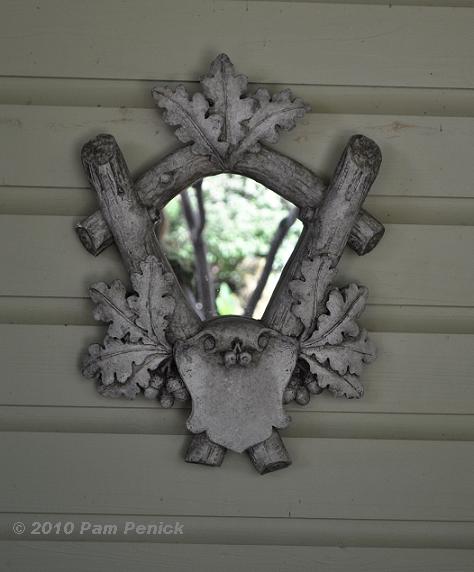 Her decorating touches are always lovely.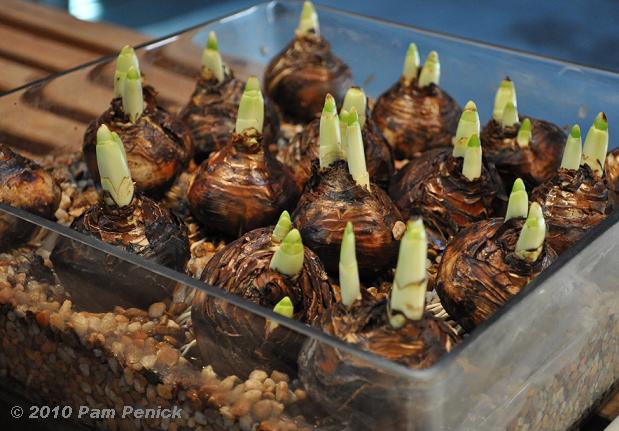 Inside the garage, a potting table by the window held a grid of bulbs just beginning to sprout.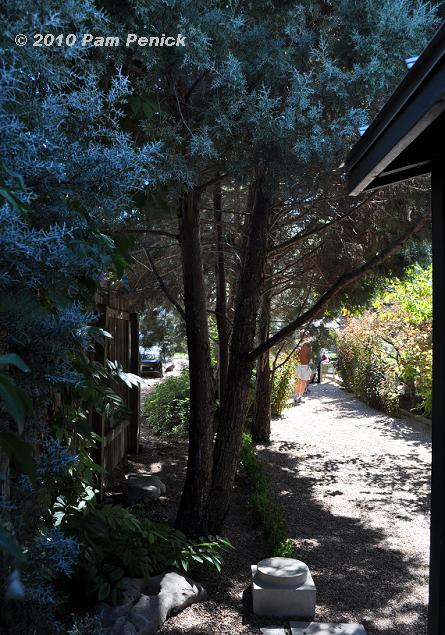 A narrow side path leads past a line of blue Arizona cypresses to the driveway and front garden.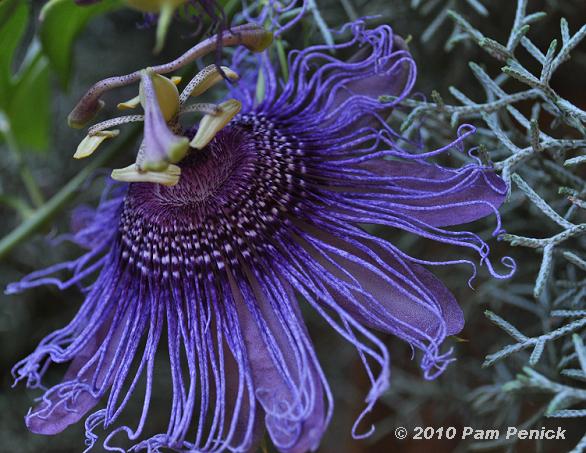 I spotted a passionflower blooming next to the cypresses.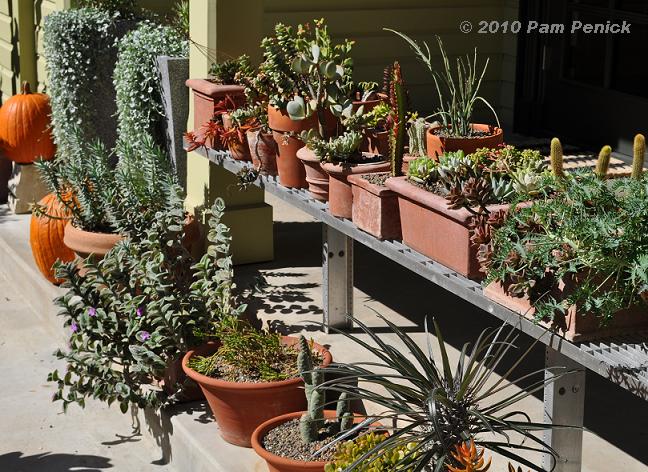 Her front porch displays a collection of succulents in terracotta pots…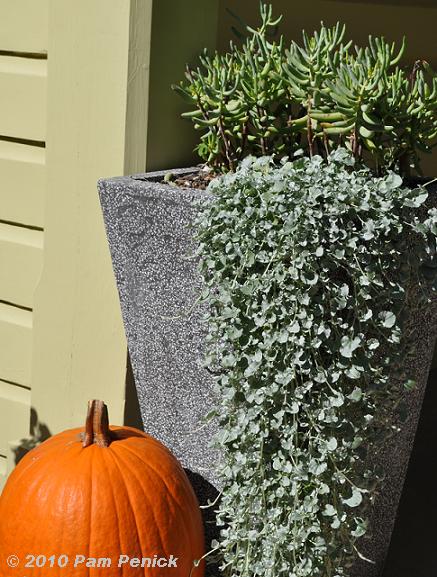 …plus this planter with silver ponyfoot cascading down its side.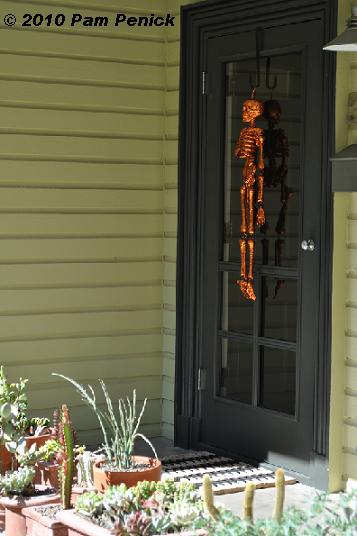 Pumpkins and a glittery, orange skeleton on the door added fun seasonal color.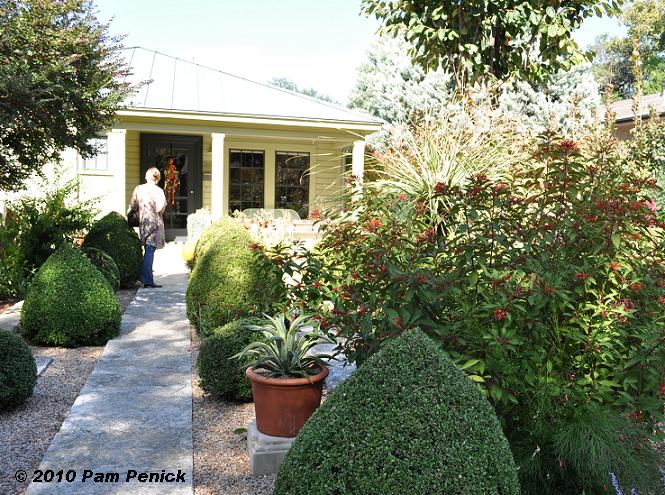 Deborah's formally lined front walk breaks free from rigid lines closer to the driveway, on the right, where firebush and ornamental grasses provide a looseness, hot color, and movement that contrasts with the clipped boxwood.
Tune in tomorrow for a tour of the Jones garden overlooking downtown Austin. Click here for a look back at the Pemberton Heights Courtyard garden.
All material © 2006-2010 by Pam Penick for Digging. Unauthorized reproduction prohibited.
posted in
Arbors
,
Bamboo
,
Containers
,
Decor
,
Doors
,
Fountains
,
Garden tours 2010
,
Ponds
,
Seating
,
Succulents
,
Vines
,
Water features
,
Xeric plants