July 16th, 2010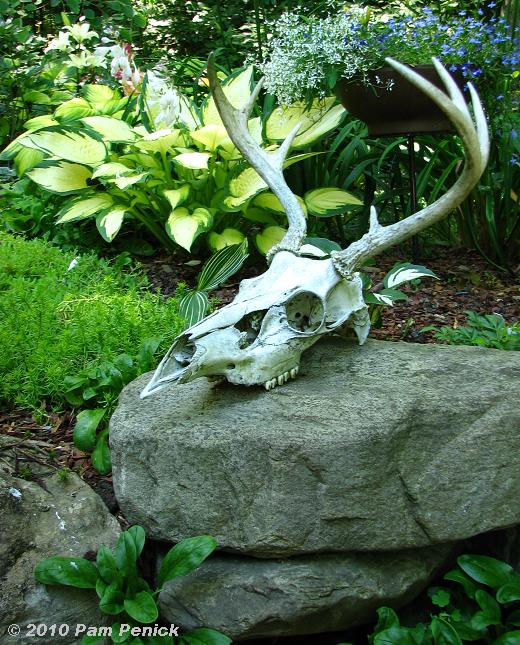 Two buses carrying the garden bloggers of Buffa10 jounced slowly down a long, skinny driveway in the woods near Hamburg, New York, to deliver us to the creekside glen that is Kathy and Mike Shadrack's garden. A former London bobby with a sly wit, Mike has authored several books about hostas. Both he and his wife are aficionados of miniature hostas and daylilies.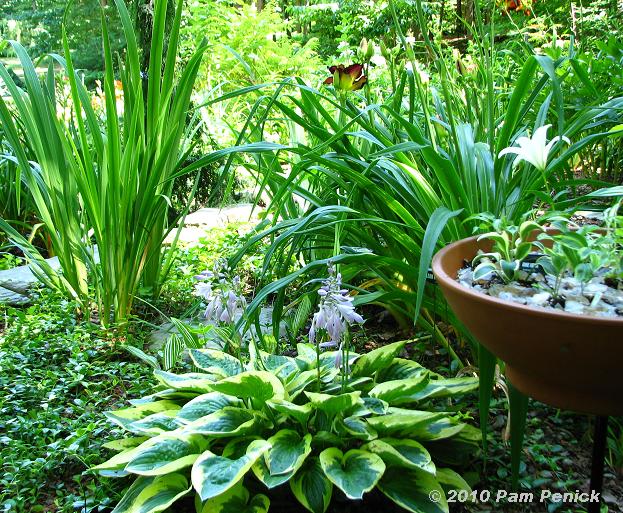 Their remarkable home is built directly over a creek that tumbles down a steep hillside. I wish I had photos, but the deep, shady ravine straddled by the house was impossible to capture from the safe vantage point of the surrounding decks. Take my word for it: it was dramatic.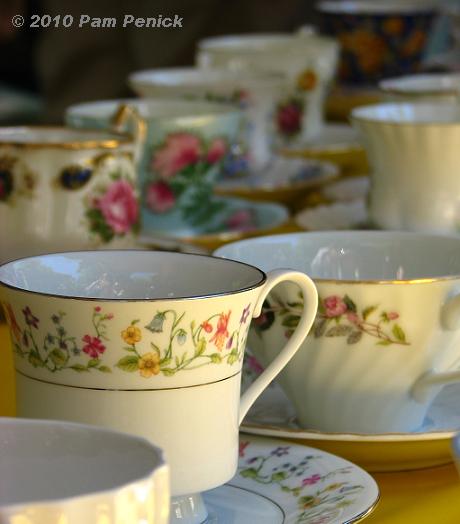 Kathy and Mike and several helpers welcomed us in style with a covered table laid out with dozens of pretty teacups—enough for all 75+ of us to partake of English high tea, with homemade scones, jam, and clotted cream.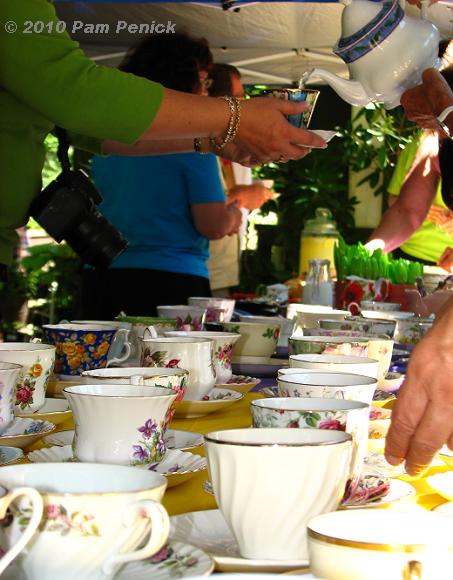 This was the real deal, and oh my, was it good!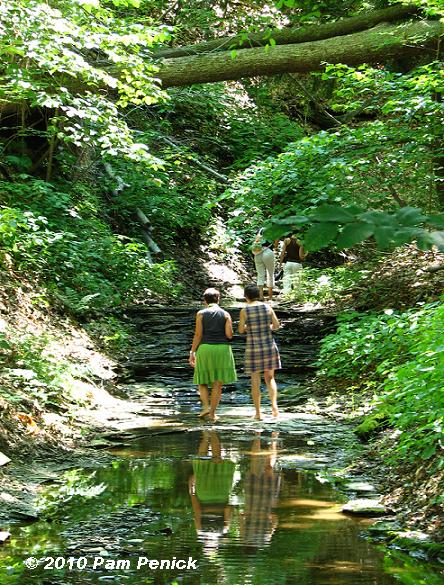 Afterward, a few bloggers took off their shoes and cooled their heels in the creek on the uphill side of the house.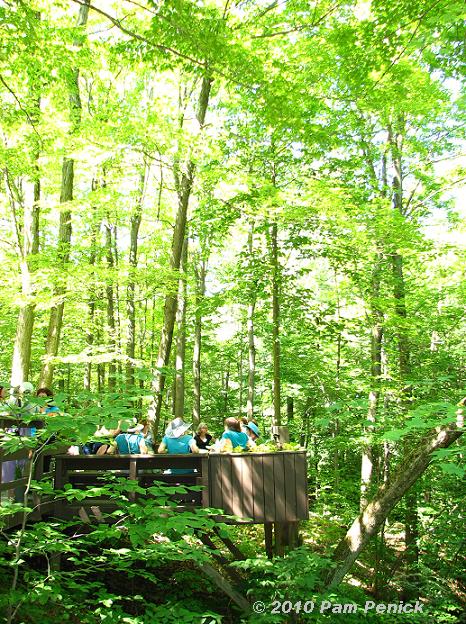 Others enjoyed a bird's-eye perch on a deck built amid the trees, overlooking the downhill side of the creek in its steep ravine.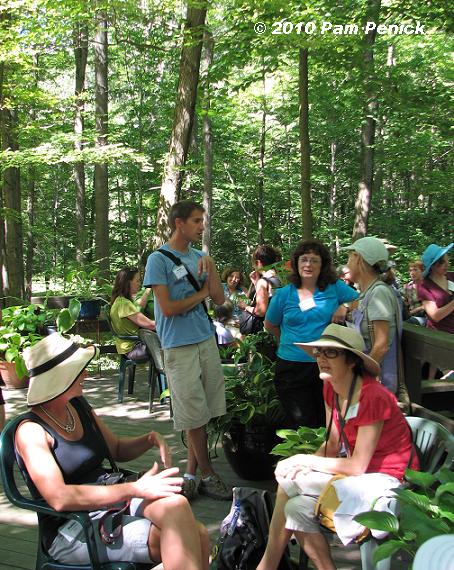 There was no lack of space in this rural garden, with plenty of places to sit, stroll, or explore.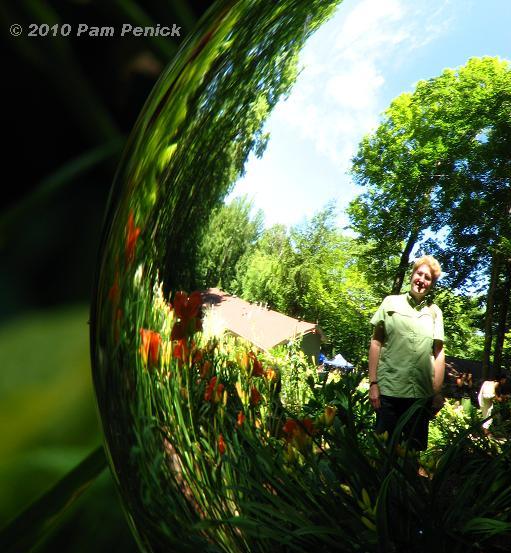 I found Carol of May Dreams Gardens reflected in a gazing ball.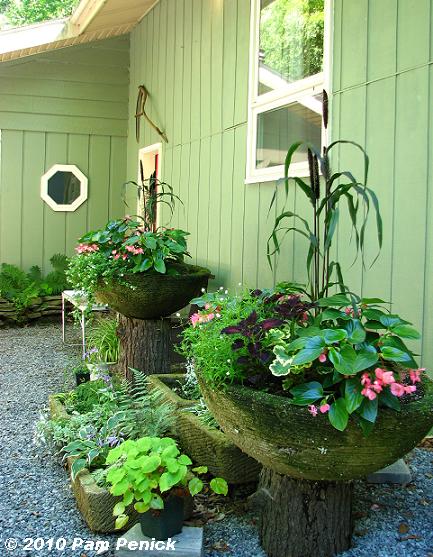 Containers added interest and color up against the house. Notice how the area around the house is terraced with gravel, not planted with grass or foundation shrubs. In fact, the entire perimeter of the house was hardscaped with either gravel, decking, or stone, with the surrounding gardens and woods pushed a dozen or more feet outside the perimeter. It gave the house breathing room in the woodsy setting, I thought.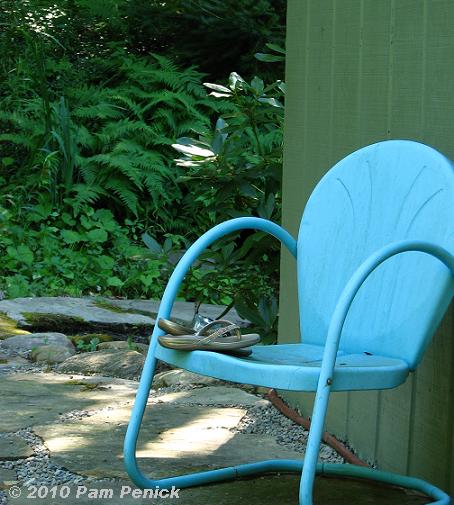 The Shadrack garden is a lovely space made remarkable by the natural beauty of the surrounding forest and creek. Add in the welcoming generosity of the owners, and it was a highlight of the trip.
FOLIAGE FOLLOW-UP Update: Playing catch-up after my trip caused me to forget all about Bloom Day and today's Foliage Follow-Up. I hope you'll still participate in the latter by showing off your July foliage in a post on your blog and linking to Digging so that I can find your leafy celebration.
All material © 2006-2010 by Pam Penick for Digging. Unauthorized reproduction prohibited.