July 13th, 2010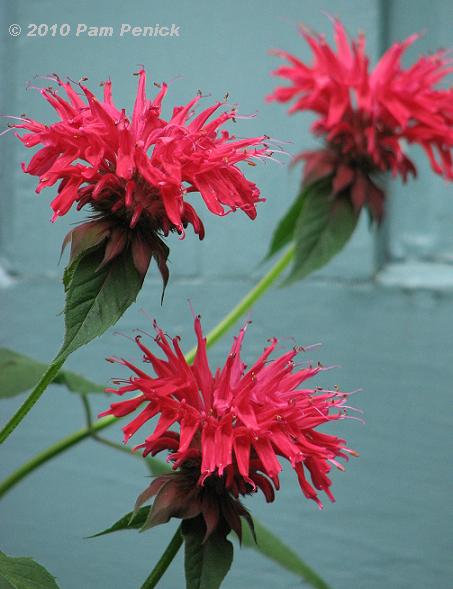 Sweet-smelling, freckled lilies. Crimson bee balm as tall as myself. Soft-textured lawn grass spangled with white clover, so different from Austin's coarse, shaggy St. Augustine and so much more inviting. Tall, brick Victorian homes standing shoulder-to-shoulder on streets shaded by goth-cloaked Norway maples. A city eager to shake its reputation for snowbound winters and rust-belt decline, optimistic about rebranding itself as a destination for garden tourism thanks to the success of its annual Garden Walk. Friendly homeowners inviting us into their matchbox-sized, bursting-at-the-seams gardens, so creative in their use of raised beds, containers, espaliered trees, and trellised vines to pack in the maximum number of plants, always saving room for at least one small patio to sit and enjoy the view.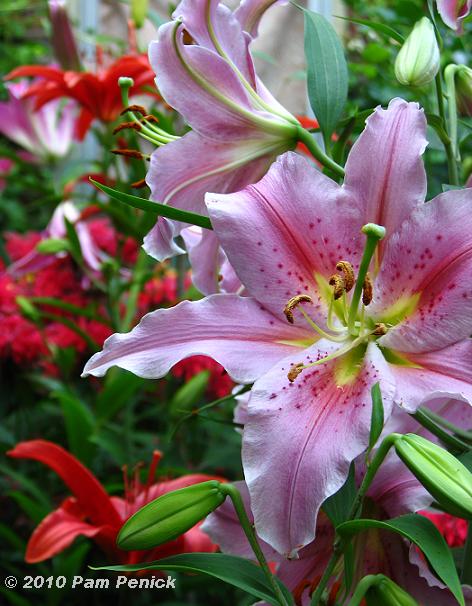 These are my impressions after four days in Buffalo, New York, where this year's national garden blogger meet-up, Buffa10, was hosted courtesy of Elizabeth Licata (Gardening While Intoxicated and Garden Rant) and Jim Charlier (Art of Gardening).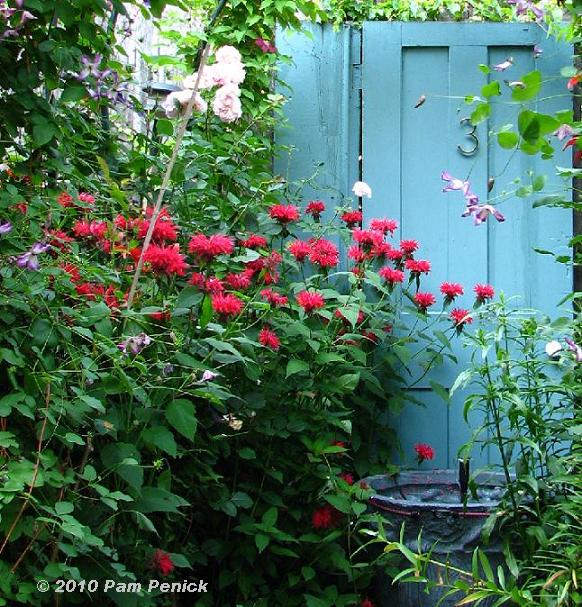 Without further ado, let me share with you a few pictures from my first afternoon and evening in Buffalo, which included a happy hour visit to Elizabeth's garden; a stroll down her lovely street to see a neighbor's garden; hug-happy reunions with bloggers befriended at previous meet-ups in Austin and Chicago and cheerful greetings with bloggers newly met; and dinner in the sunken patio garden of the stately Twentieth Century Club.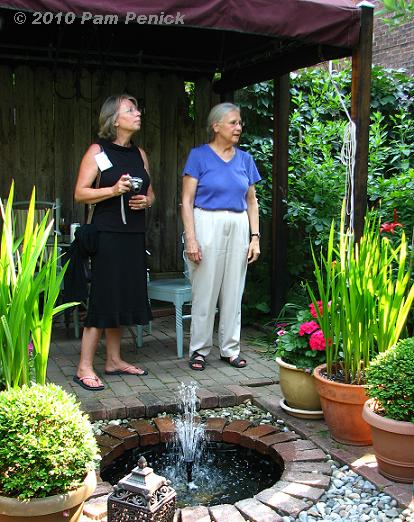 All photos above are from the charming (and much less crowded with bloggers) garden of Elizabeth's neighbor, pictured here admiring the view with Frances of Fairegarden (on the left).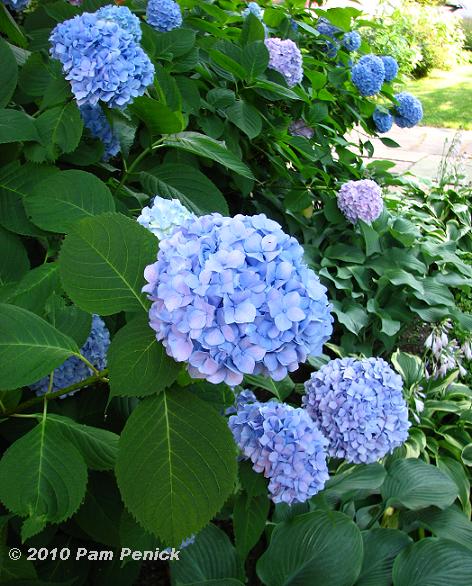 Another neighbor's front garden enticed with these enormous blue hydrangeas.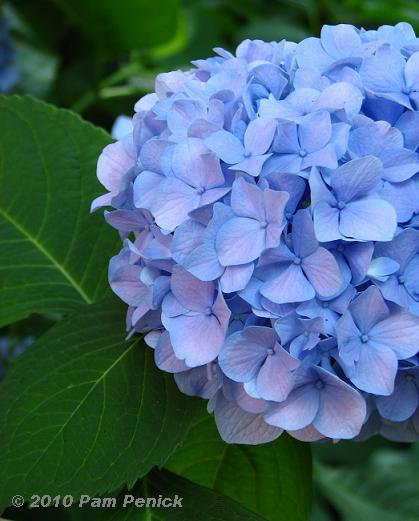 Blue heaven!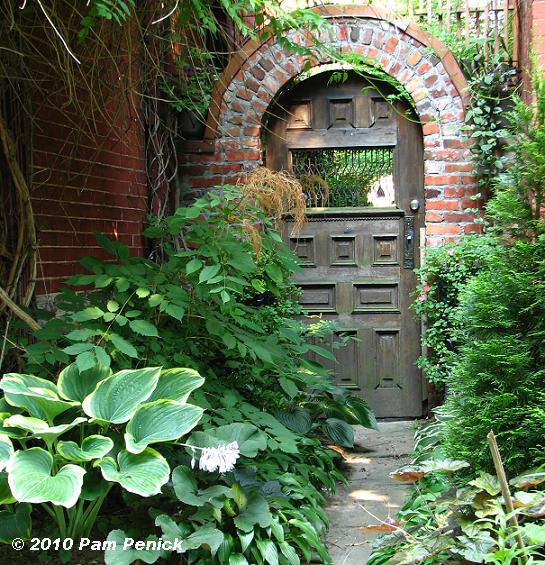 At yet another house, this arched gate tantalized with the promise of a hidden garden. Can you imagine living on a street with so much garden goodness? Lucky, lucky Elizabeth.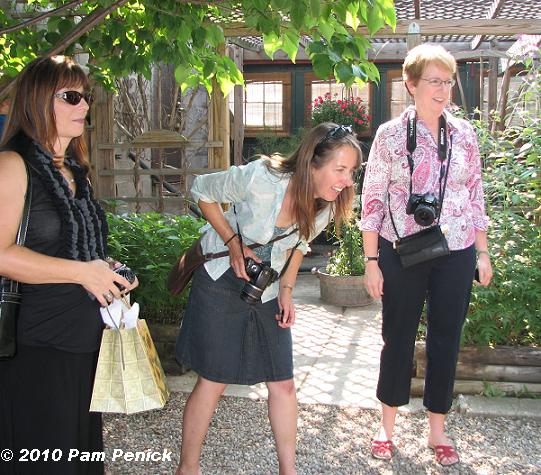 Of course, garden blogger meet-ups are really all about fellow bloggers (the gardens are an enticing bonus). My travel partner Diana (Sharing Nature's Garden), Kris (Blithewold and A Trench Manicure), and Jean (Dig, Grow, Compost, Blog) check out something just beyond my frame. I wonder what it was?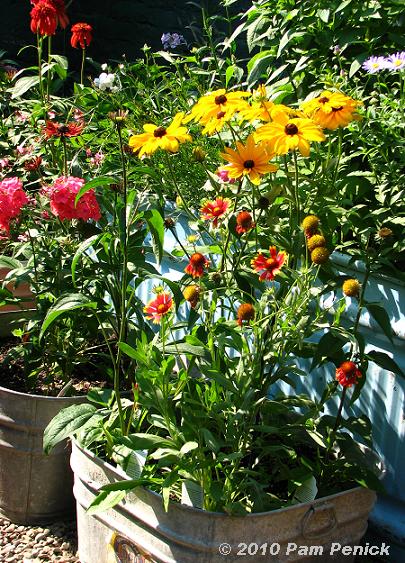 Despite the shade cast by tall houses and narrow lots, the gardens contained plenty of flowery color in every pocket of sun. This one even had planters improvised out of a stock tank and galvanized wash buckets. How Texas of them!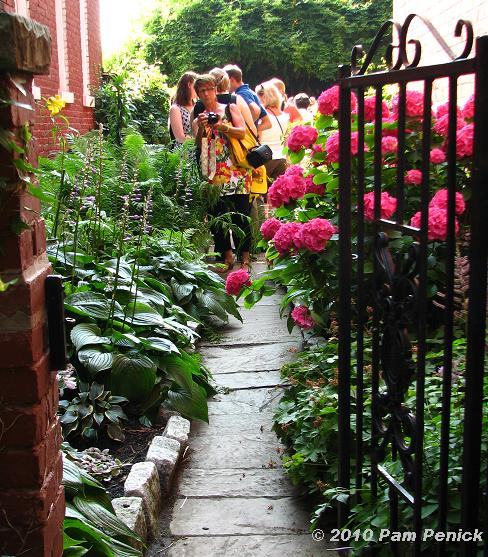 The delightful Meems (Hoe and Shovel) taking a picture in Elizabeth's side garden.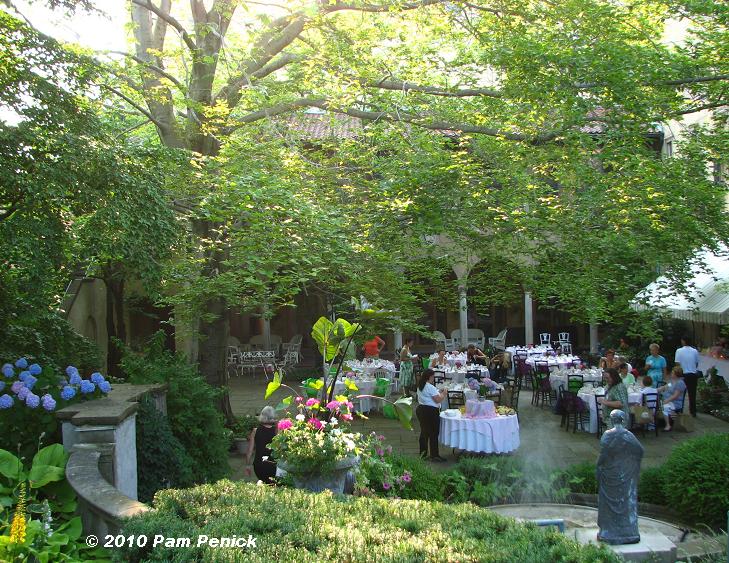 Only a couple of blocks away from Elizabeth's house, our dinner destination on Thursday night was the Twentieth Century Club. Many of us were a little wilted (yes, even we Texans; we stay indoors with the A/C on in summer, you know) thanks to sticky, 90-degree temperatures; ironically, Buffalo was hotter than Austin that day. But the club's shady sunken garden—and about five chugged glasses of ice water—immediately cooled me down.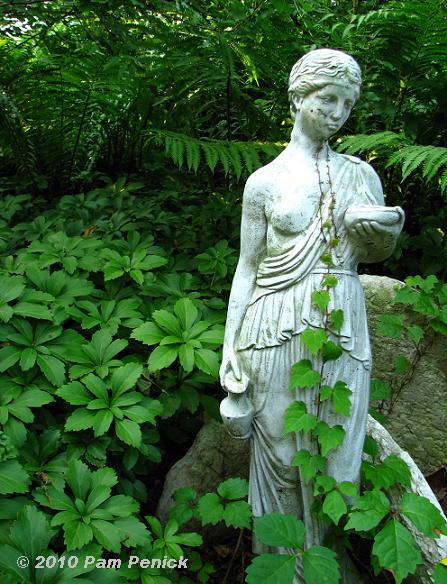 The surrounding garden? Lovely.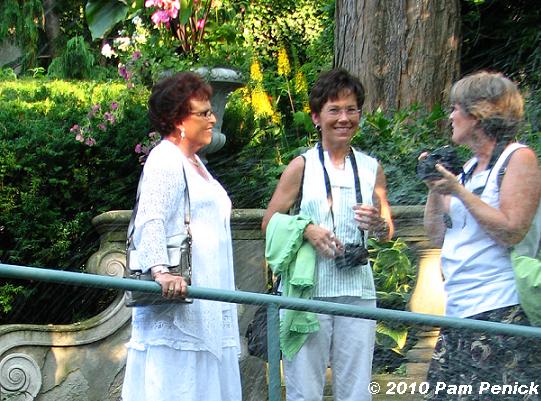 Kylee (Our Little Acre and The Soil Sisters), pictured at center, always has the biggest smile on her face. Her mother, Louise, who traveled with her, is pictured at left. Barbara of B Wise Gardening is on the right. Look at those cameras, poised to shoot. Garden bloggers are a camera-happy group.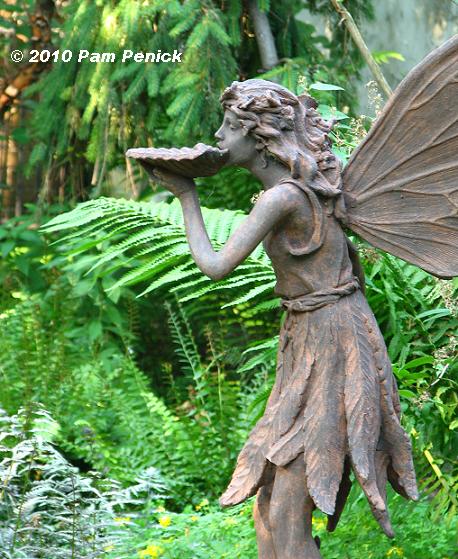 Wishes do come true, and one of mine was that the first garden bloggers meet-up in Austin would grow into something bigger and better each year. Having gone to Chicago and now Buffalo, with Seattle likely poised to host next year, I am happy to say that wish has been fulfilled. Thank you, Buffalo!
More to come soon…
All material © 2006-2010 by Pam Penick for Digging. Unauthorized reproduction prohibited.
posted in
Containers
,
Doors
,
Fling Buffalo
,
Flowers
,
Fountains
,
Garden art
,
Garden blogging
,
Gates
,
Patios & decks
,
Sculpture
,
Seating
,
Shade garden
,
Sunken garden
,
Travel
,
Trees
,
Water features