May 14th, 2008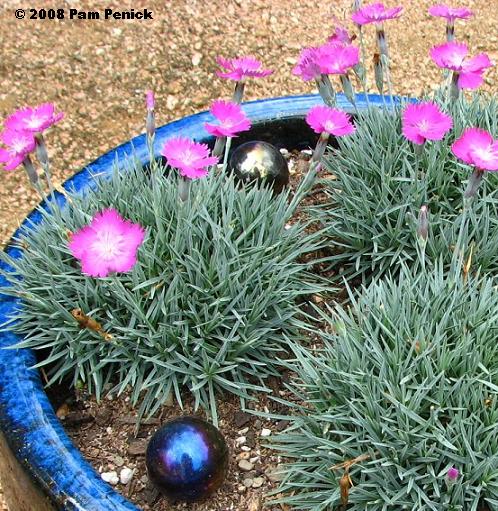 Blue pot with dianthus
Can a garden you've visited only three times, briefly, seem almost as familiar as your own? It can if it's Tom Spencer's. At Soul of the Garden, Tom has been chronicling his garden—and "exploring the garden of life"—with stunning photographs and introspective essays for eight years. So last Saturday, when my husband and I made Possumhaw Hollow our first stop on Gardens on Tour 2008, I found myself leading my DH from garden room to garden room, telling him the names of each space and explaining the meaning behind Tom's design. (It was a little weird, actually. That feeling of intimacy, while not really knowing, is both the delight and the downfall of reading someone's garden blog, but that's a subject for another day.)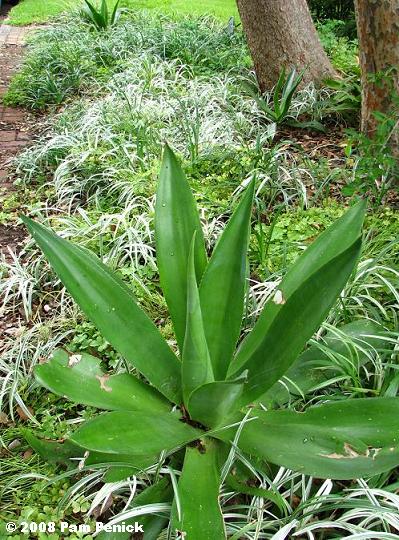 Tom has an attractive and shady front garden…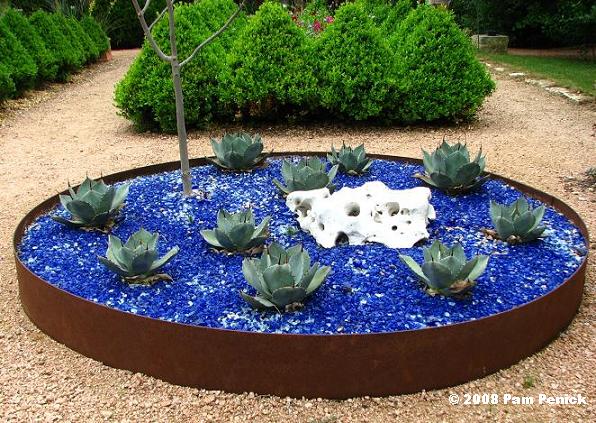 …but the back garden is where most of the action is. Passing through the back gate, you step onto a checkerboard granite-and-limestone patio (see MSS's post for a photo) that sits several steps above the garden for a sweeping view of the extra-long lot. Taking in the view with us stood a man in a Mr. Smarty Plants t-shirt. Of course, I had to ask if he was Mr. Smarty Plants, a Wildflower Center gardening expert who answers readers' questions online, and to my surprise he said he was, with assistance from several others. He introduced himself by name, but I see on his webpage that his identity is meant to remain a mystery, so I won't reveal more. Suffice it to say he was very nice and expressed interest in the Austin garden-blogging community (yes, I plugged it).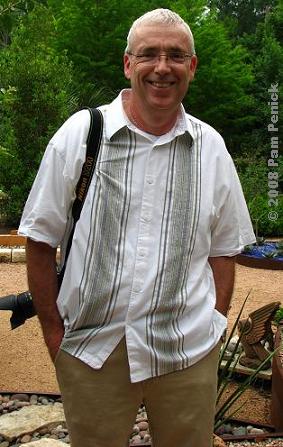 At that point, we spotted Tom, his camera dangling from his shoulder, and he came over to say hello. He looked excited yet relaxed, and I hope the day went well for him. It can't be easy to welcome 750 visitors into your garden on one day (see Tom's post about the tour ; you must scroll down to May 11–evening), but his garden's generous layout and linear design make for good flow, which surely helped.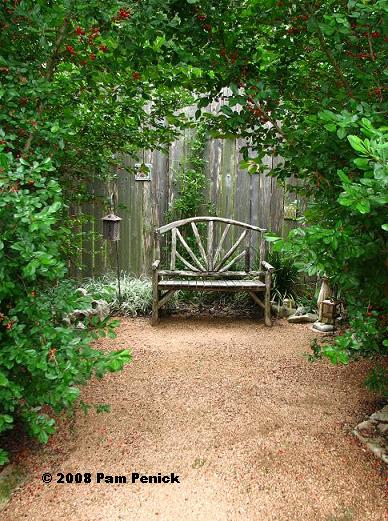 This hideaway nook, created with a semi-circle of possumhaw hollies, gave the garden its name, Possumhaw Hollow. It anchors one end of the transverse axis of the garden.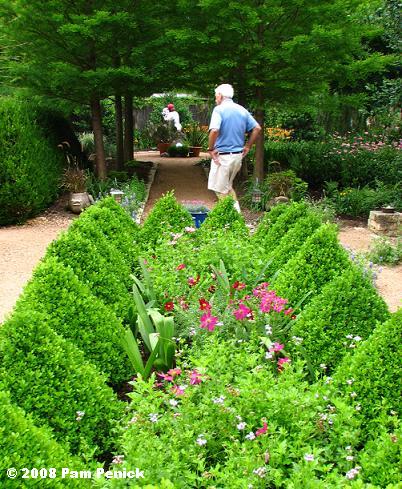 Just outside the hollow, this pyramidal boxwood parterre and the bald cypress allee behind it exert a magnetic pull from the elevated vista of the patio. Explore me, cries this path.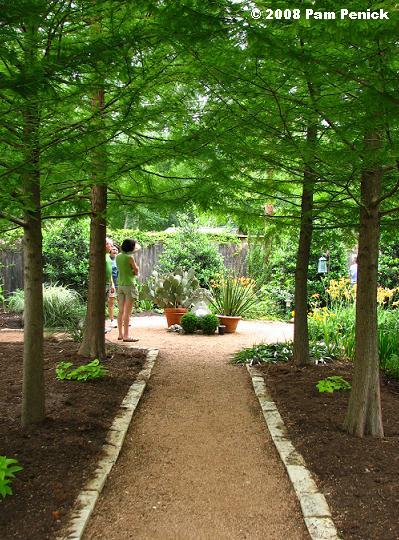 Obligingly, we strolled down the allee as I explained to my DH, like a tour guide, that Tom planted the double line of bald cypresses to evoke the beauty of the cypress-lined Hill Country rivers he fell in love with when he moved here. We marveled over how much the trees had grown since we'd last seen the garden a couple of years ago.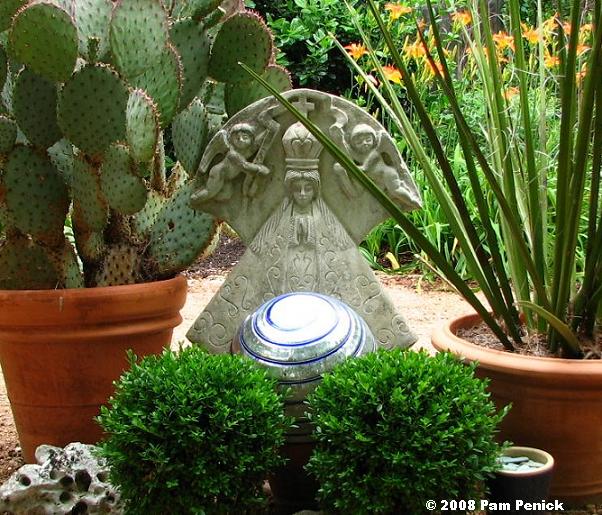 In a circular node at the end of the allee, this vignette begs you to pause for a moment to observe.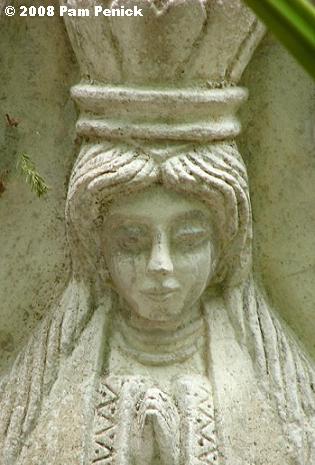 One of the garden's beautiful collection of religious statuary, from Mexico, I'm guessing.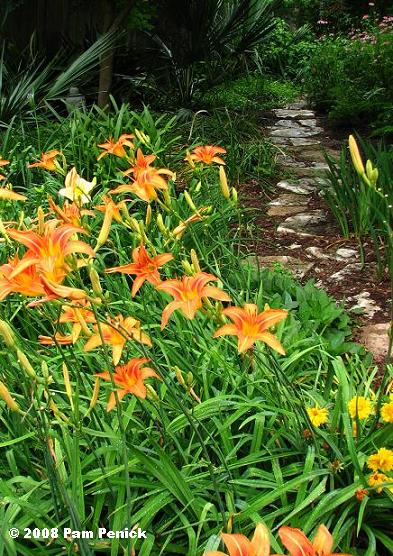 To the right, orange daylilies brightened a side path that led back toward the possumhaw hollow.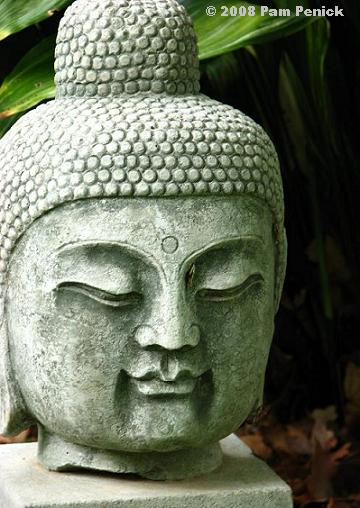 Tucked among lush native palms, a Buddha head contributes to a tropical feel along the south fence.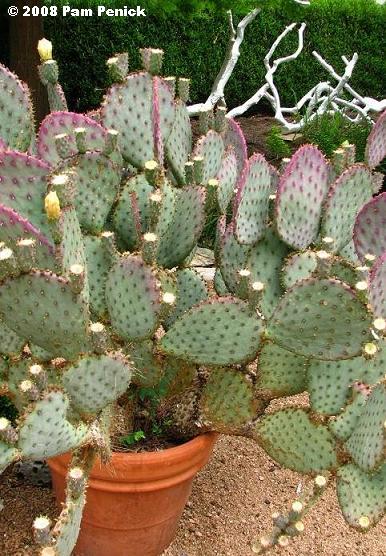 We backtracked to the circle node, however, to continue along the back of the garden. Visible behind this 'Santa Rita' prickly pear, writhing, white-painted branches constitute a sculpture called "Tree Bones" by Hank Waddell.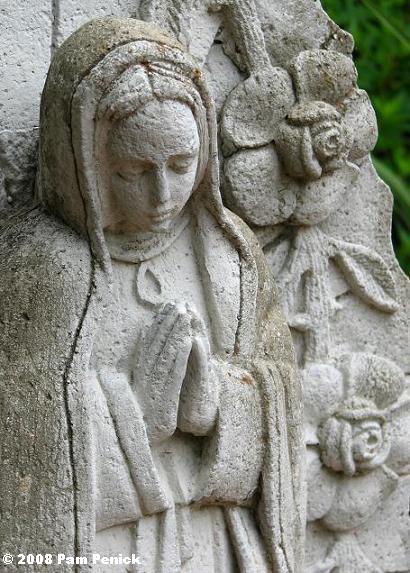 Another sculpture in the labyrinth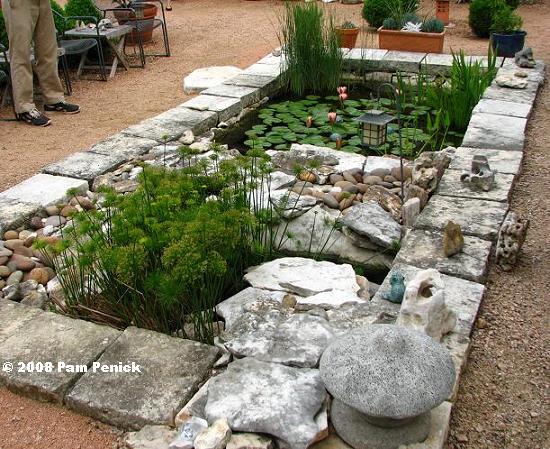 Emerging from the labyrinth through an arched trellis, the path draws you toward a long, rectangular pond, centered along the same axis.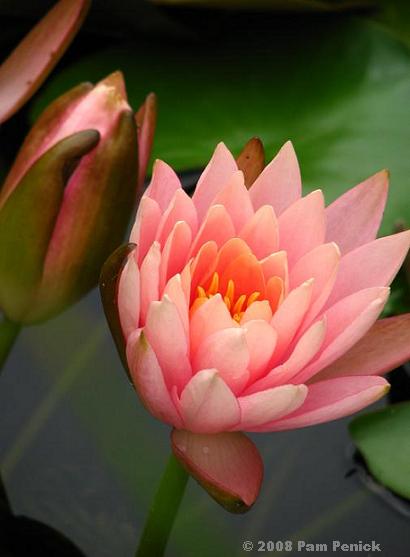 Water lilies were blooming.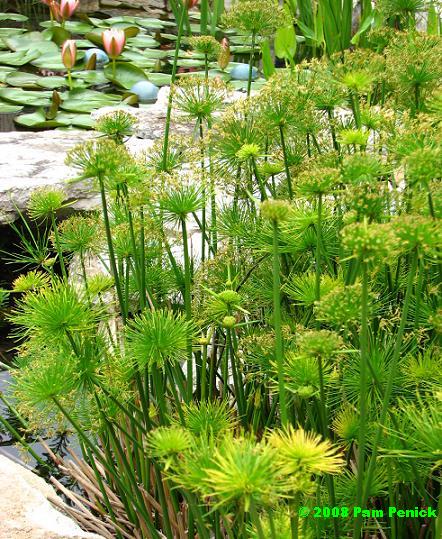 Dwarf papyrus added its pretty chartreuse green and pincushiony texture.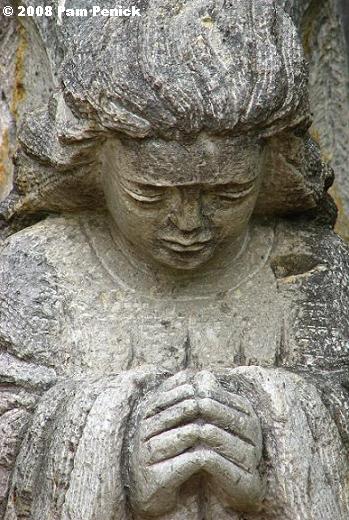 Another meditative sculpture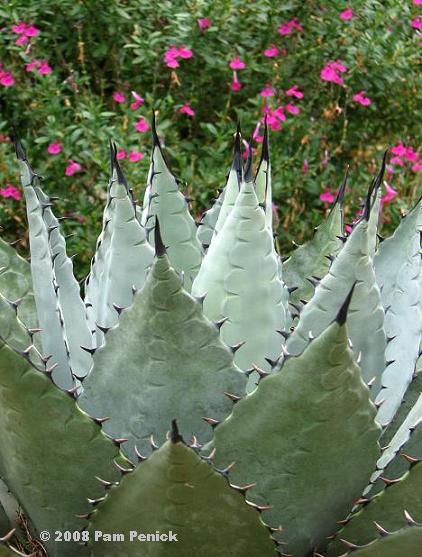 Working our way back to the center of the garden, we found the conversation room, as Tom calls it. This beautiful agave backed by pink-blooming salvia grew nearby.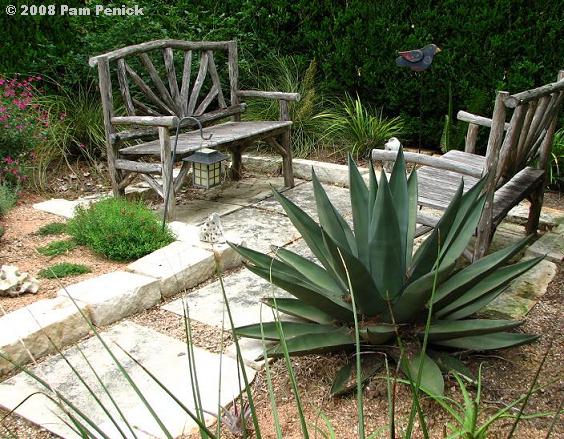 The conversation room and a sharkskin agave (I think)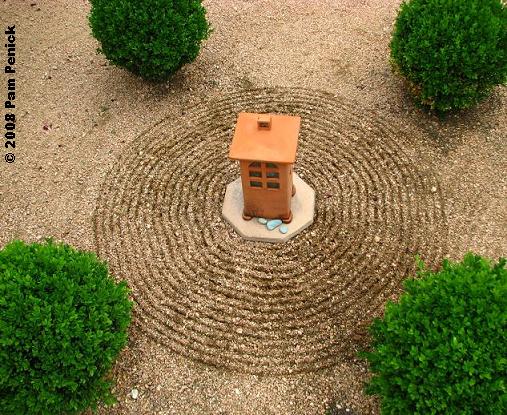 A miniature Zen garden amid the southwestern natives. Contemplative spaces and vignettes abound in Tom's garden.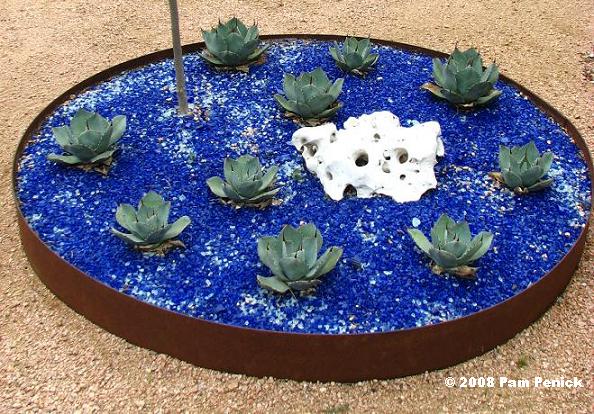 As do circles and other geometric shapes, imparting a sense of order. Here's another look at the agave bed deliciously mulched in blue glass. It's mesmerizing.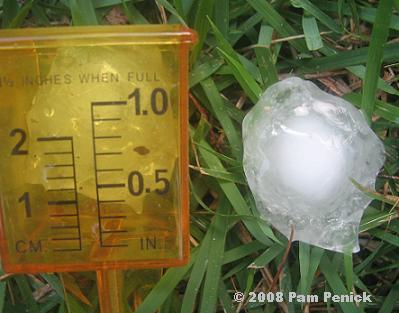 We went on to see all the private gardens on the tour, and I'll have a few images from some of them in a later post. By mid-afternoon, when we called it a day, the temperature was a muggy, sizzling 95 degrees F. But after dinner, a hailstorm hit our neighborhood, chipping golf-ball sized chunks of ice into my own garden. By some miracle, nothing was damaged, not even our cars. A lovely north wind followed the storm, and by Sunday morning we had cool, dry temperatures and perfect weather for Mother's Day.
All material © 2006-2008 by Pam Penick for Digging. Unauthorized reproduction prohibited.
posted in
1st garden--2008
,
Agaves
,
Berries
,
Cactus
,
Color
,
Containers
,
Daylily
,
Decor
,
Garden art
,
Garden blogging
,
Garden tours 2008
,
Paths
,
Patios & decks
,
Ponds
,
Sculpture
,
Seating
,
Succulents
,
Texas natives
,
Trees
,
Water gardening
,
Xeric plants