October 25th, 2017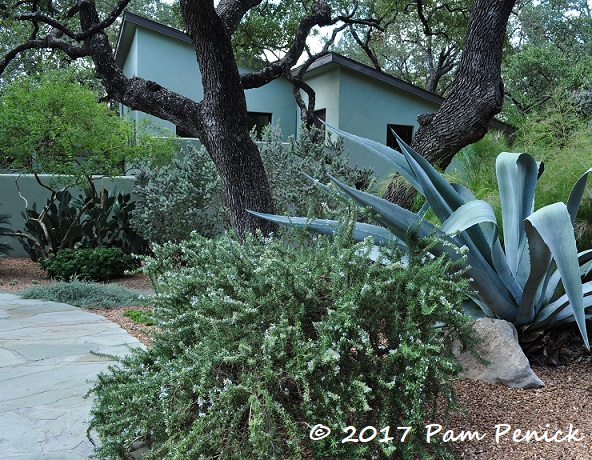 The highlight of the recent San Antonio Open Days garden tour, as I knew it would be, was Linda Peterson's beautiful xeriscape and green-walled courtyard garden. Twice before I've had the pleasure of exploring Linda's garden (in September 2015 and April 2016), and the artistry of her plant combinations, skillful pruning, and integration of garden art always delights.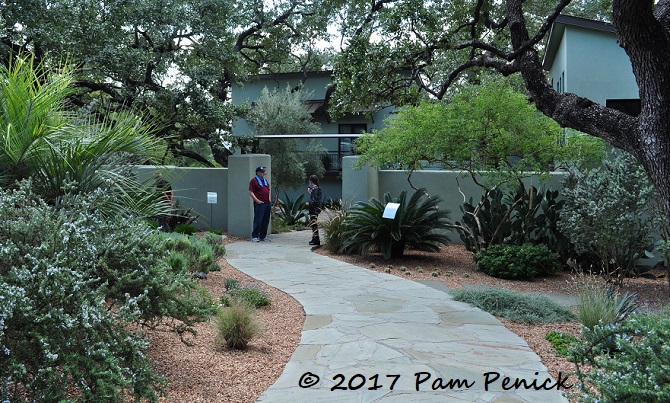 Since I've written about Linda's garden twice before (see links in top paragraph), I won't do a play-by-play of her garden features. Let's just stroll, shall we? First, the front garden outside the gray-green courtyard walls…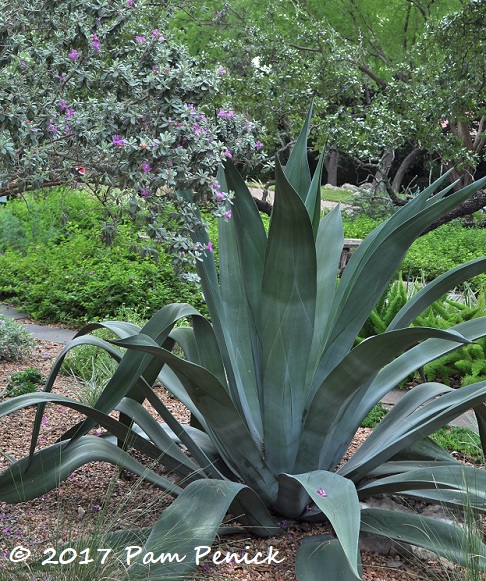 Agave weberi with purple-flowering cenizo. Lucky Linda for having her barometer plant — i.e., cenizo — burst into bloom for the tour! The timing of an ephemeral cenizo bloom cannot be planned since it responds to rainfall and/or air pressure changes.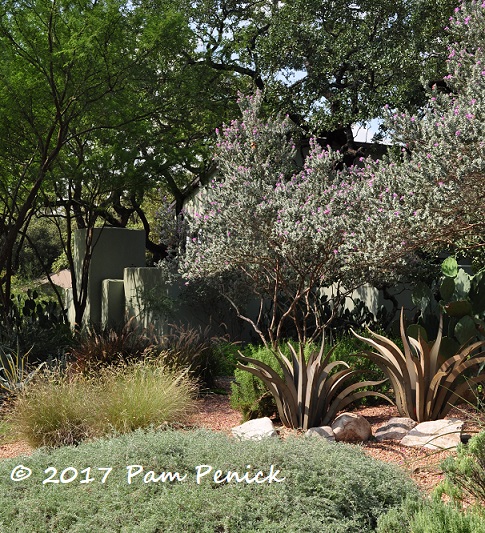 A pair of octopus-armed steel agaves accent a corner planting of cenizo (pruned up like small trees), sprawling dalea, and 'Blonde Ambition' grama grass.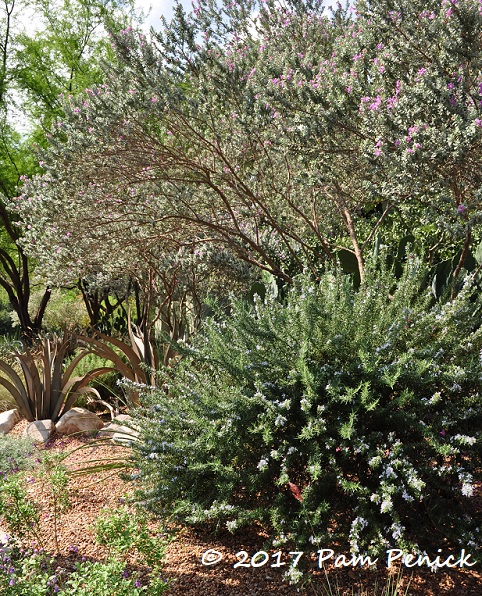 Linda has a knack for artfully pruning plants. She'll prune up foliage to show off trunks or lift a plant's "skirts" above the gravel mulch. Even shrubby rosemary gets neatened up with selective under-pruning.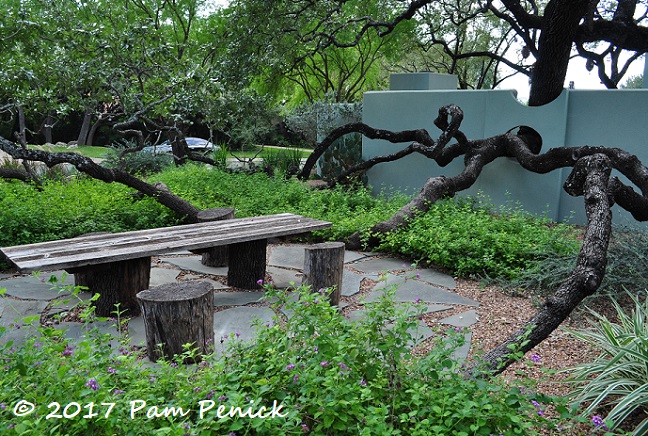 A sinuous live oak's snaky limb reaches out from a hole in the wall to embrace a stump seat and a wood-plank table.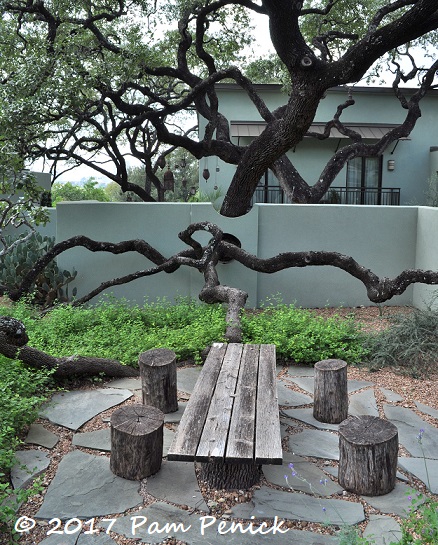 It's wonderful, and a one-of-a-kind feature that epitomizes Linda's embrace of the Texas climate and its natural beauty.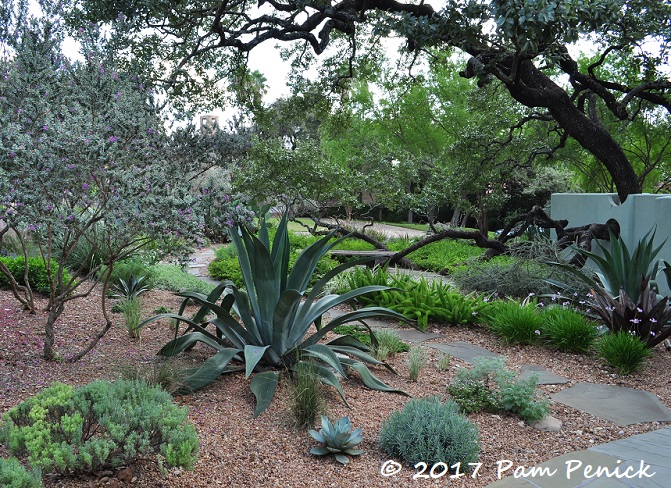 A side view from the front walk, where a stepping-stone path leads around the tentacled live oak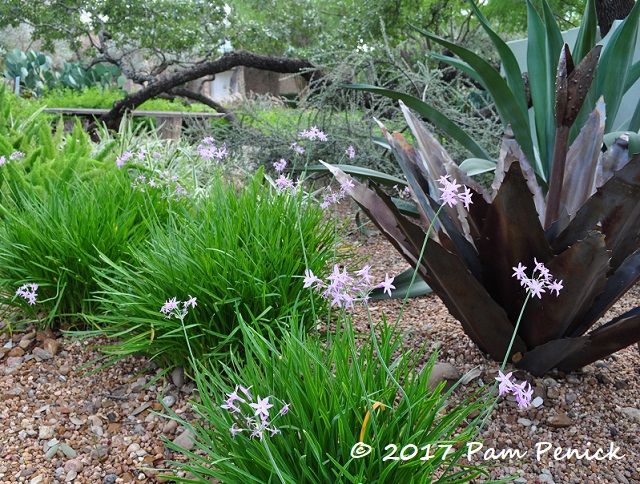 Society garlic blooming alongside another steel agave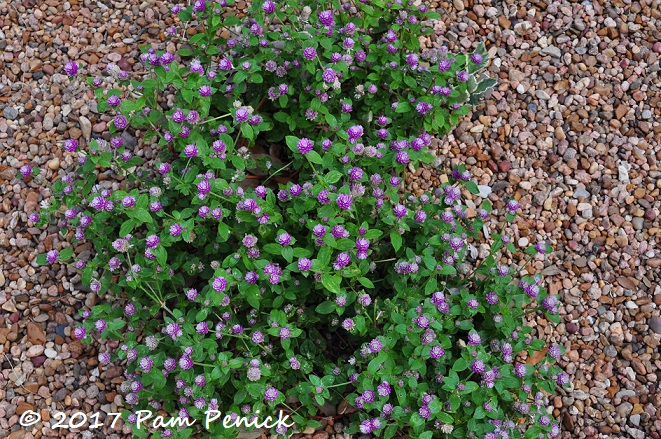 My friend Cat and I both exclaimed over this cute-as-a-button flowering plant, which looks like a compact gomphrena. I can't remember the ID from Linda, but I distinctly remember her telling me she found it at Lowe's. Go figure! Update: It's Gomphrena 'Pinball Snow-Tip Lavender' — what a mouthful.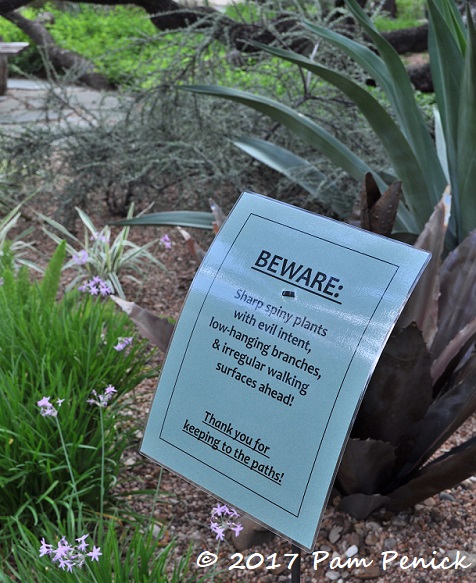 "Beware: Sharp spiny plants with evil intent" — that dry humor is a dead giveaway that Linda made up this sign herself. And of course we gardeners know the real purpose of such a sign is to protect our precious plants, not the people who read it. Mind your feet, people!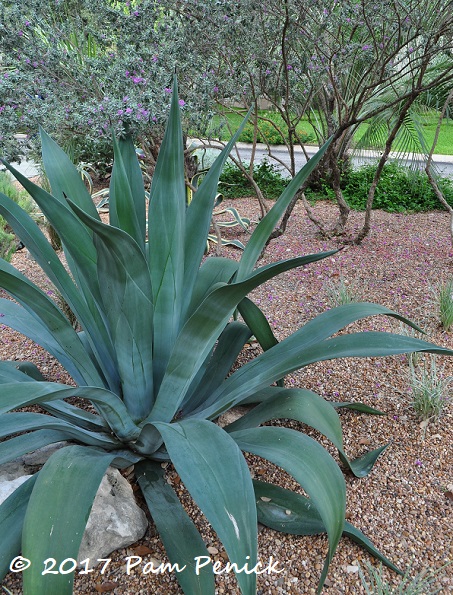 Doesn't look particularly evil, does it?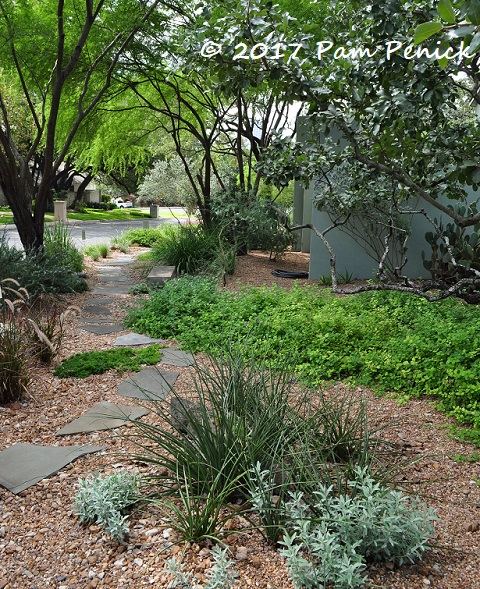 Heading around to the side yard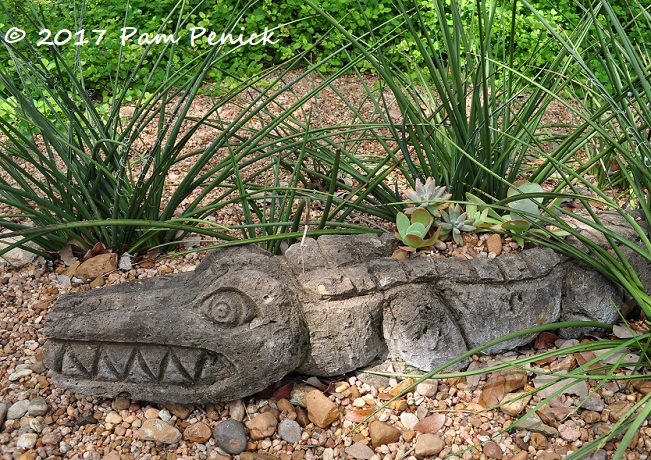 I always get a kick out of this grinning crocodile planter.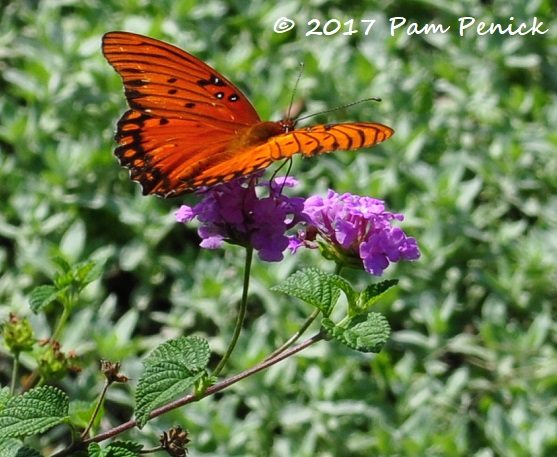 A Gulf fritillary butterfly enjoying purple lantana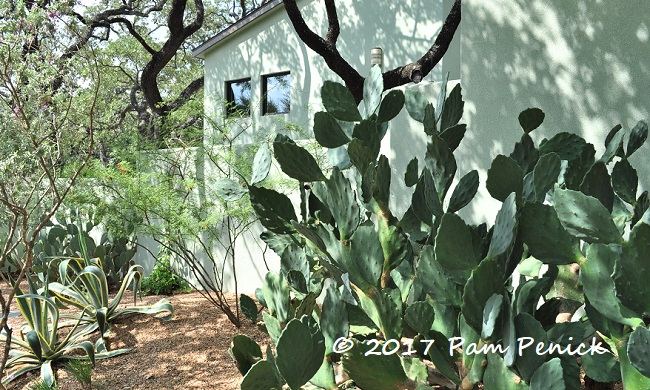 Wavy-leaved prickly pear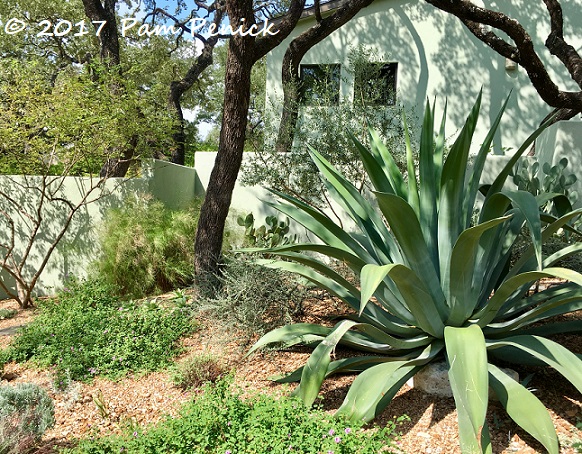 Another big Weber agave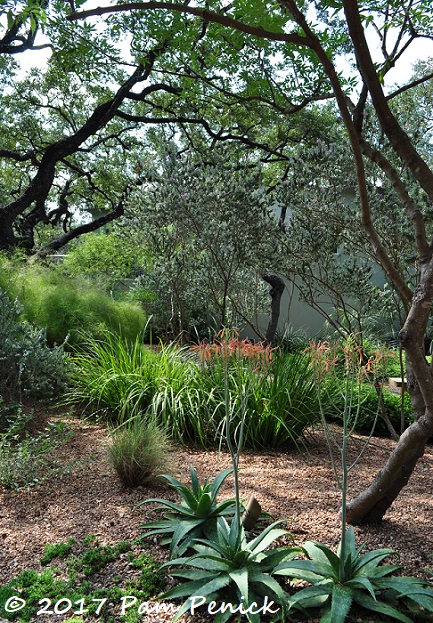 Tree limbs embrace overhead, as soap aloes hoist orange-flowered bloom spikes.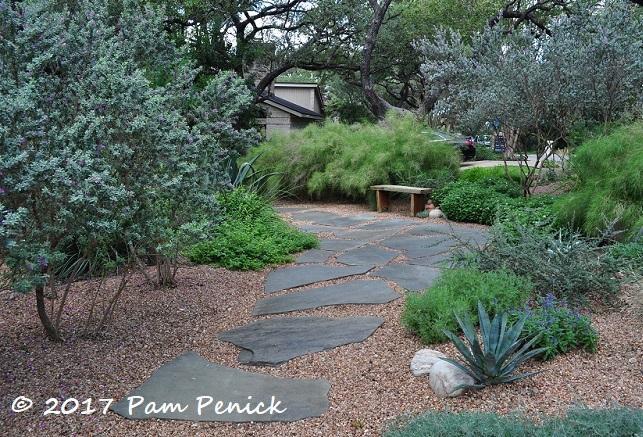 On the other side of the front yard, a side path widens into a small patio with a rustic bench. A green cloud of bamboo muhly grass hides the neighboring driveway from view.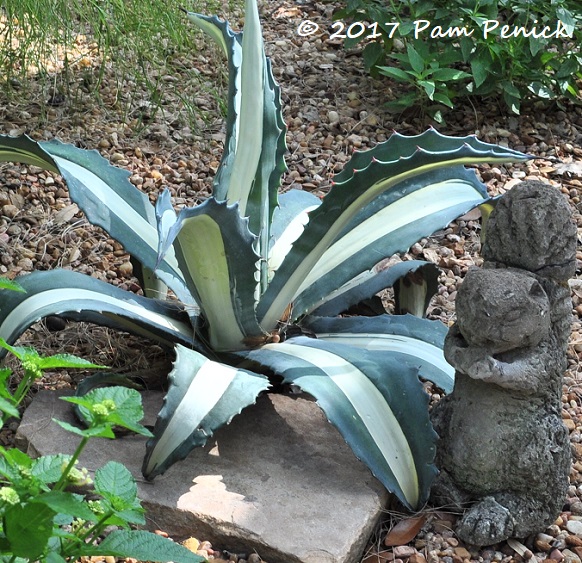 "I'm nuts about you," this stone squirrel could be saying to the Agave mediopicta 'Alba'. (Groan)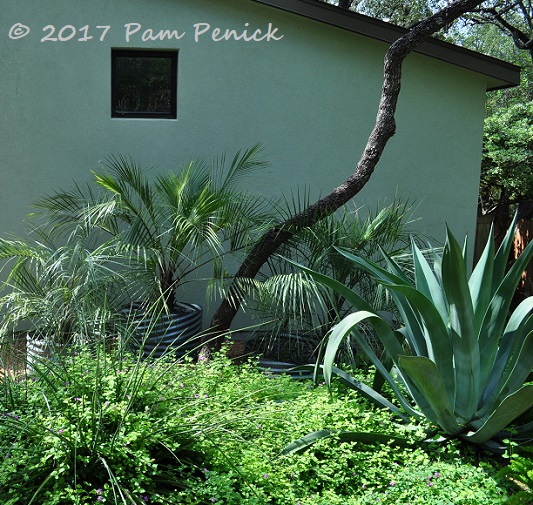 Palms in culvert-pipe planters and a Weber agave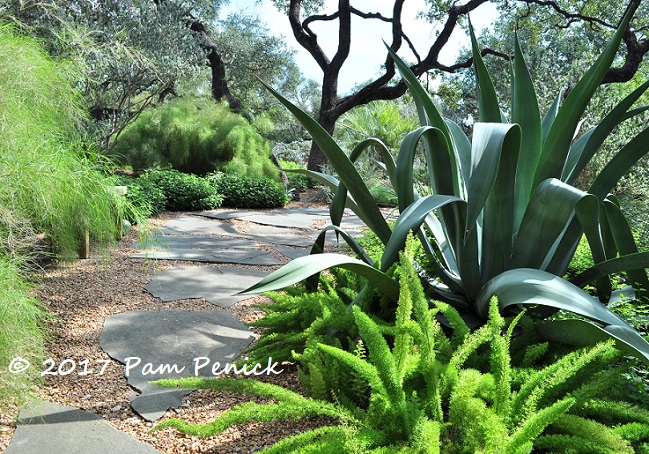 Looking back from the end of the path you get a marvelous view of the writhing arms of the Weber agave underplanted with writhing foxtail fern, backed by writhing live oaks. That's a lot of writhing!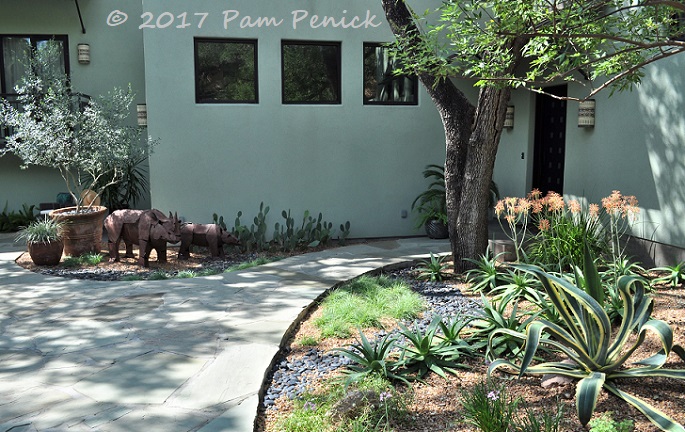 Step into the walled courtyard and you're in Linda's private outdoor living room. A pair of metal rhinos contemplates crossing the patio for a drink at the Mexican beach pebble "stream." A winding river of soap aloes echoes the curving stone stream, and a variegated agave seems to wave encouragingly.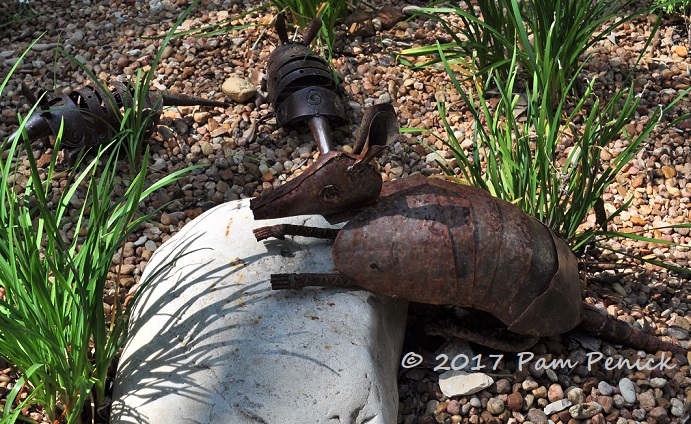 Metal armadillos root around in the garden bed.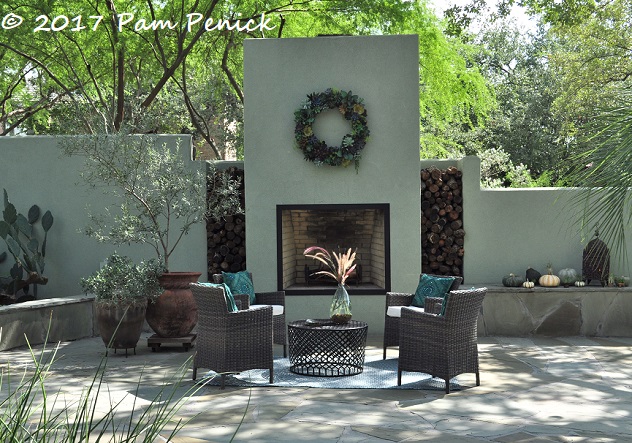 The patio by the outdoor fireplace looks bigger and more inviting than ever. Linda has lightened up this year with fewer chairs and a see-through table.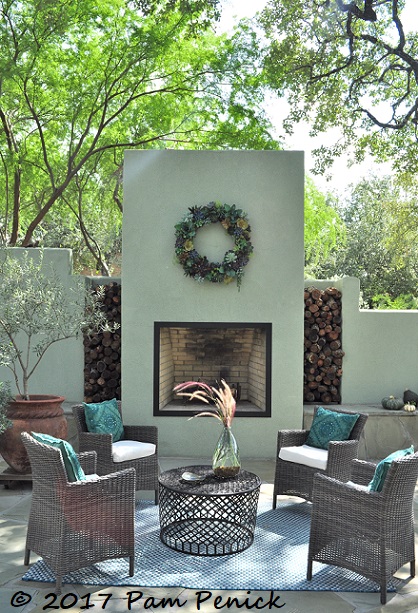 An outdoor rug adds a bit of coziness and definition too.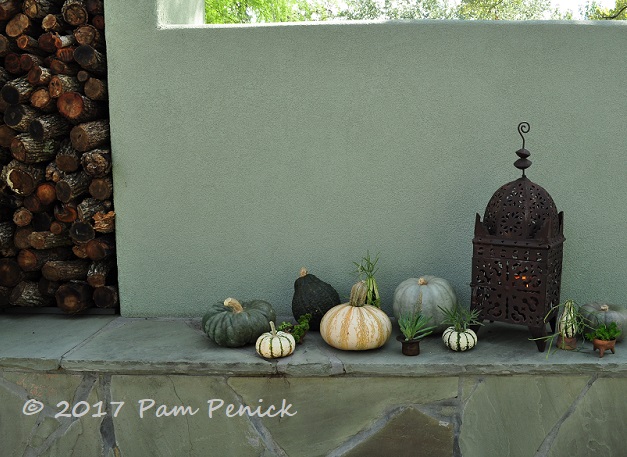 A built-in bench along the wall holds an assortment of pumpkins, squash, succulents, and a candle lantern.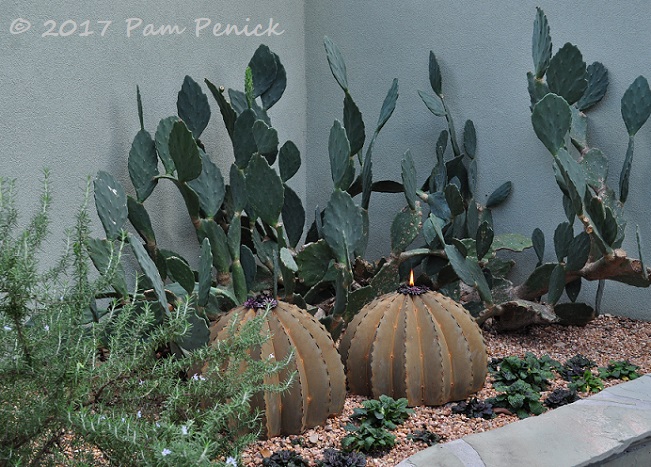 Even the metal barrel cactus were lit during the tour!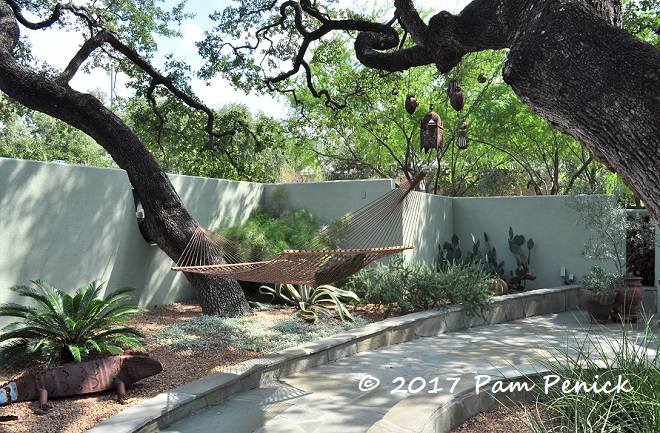 Such a relaxing space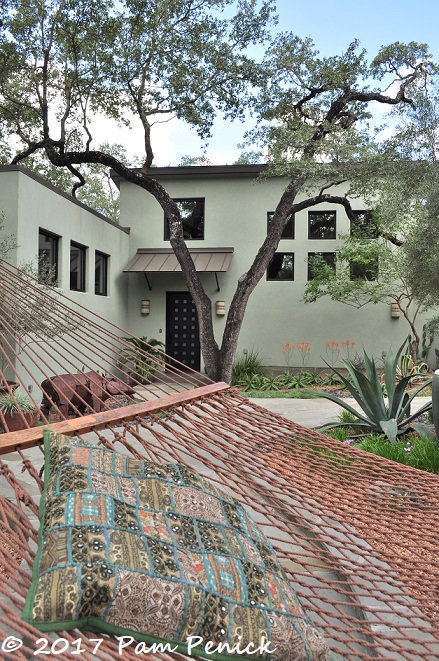 Don't you want to lounge here and take a nap under the live oaks?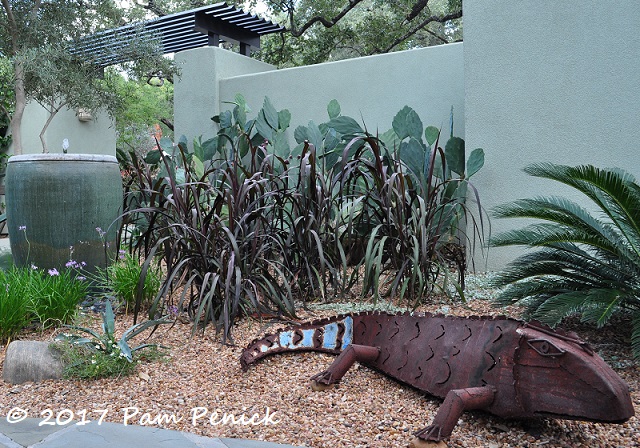 A metal iguana guards a stand of 'Vertigo' pennisetum and a container fountain.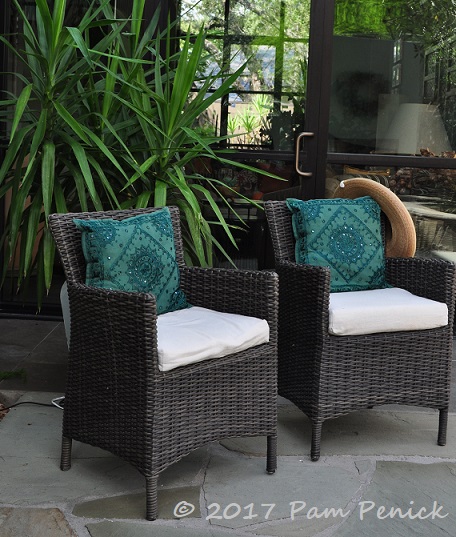 A couple of chairs plumped with pretty teal pillows with small mirrors sewn on for sparkle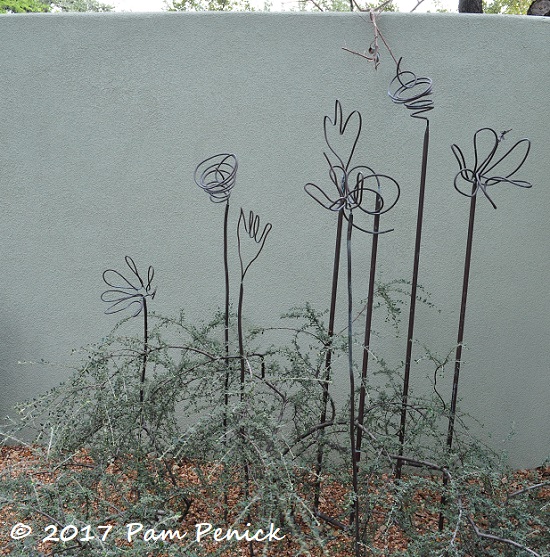 I love Linda's flowers made of bent copper tubing.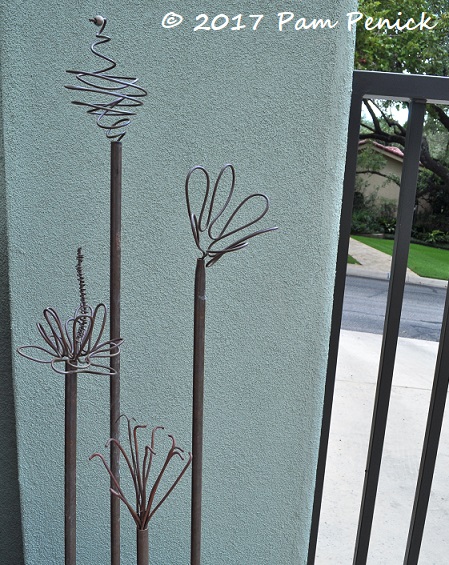 They show up so well against the minty green wall.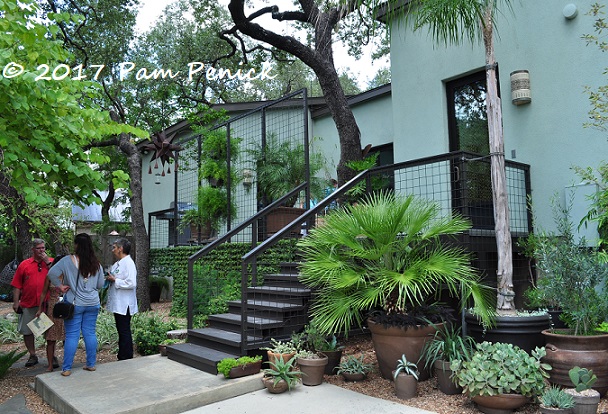 Heading around to the back garden, you stroll past a collection of potted plants and an elevated deck with cattle-panel privacy screening.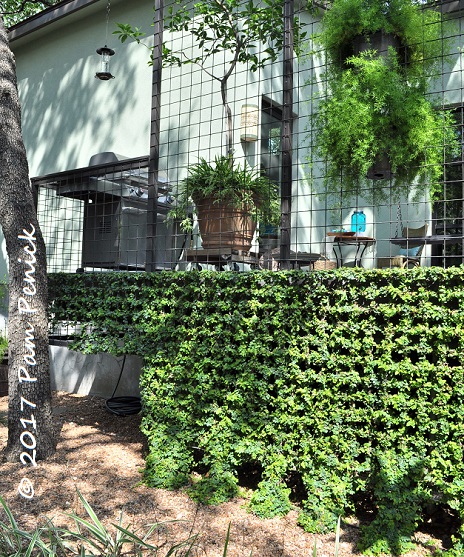 Cattle panel deck skirting is cloaked with fig ivy. No, it doesn't stay this way on its own. Linda trims it to show off the grid pattern of the wire panel.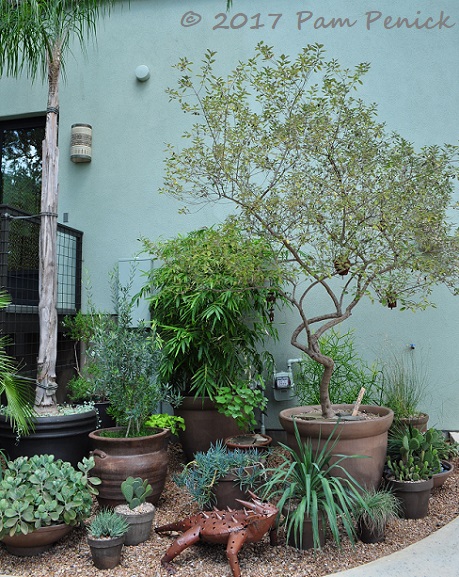 Understated pots in shades of brown are guarded by a metal horny toad — Texas's state reptile, ya know.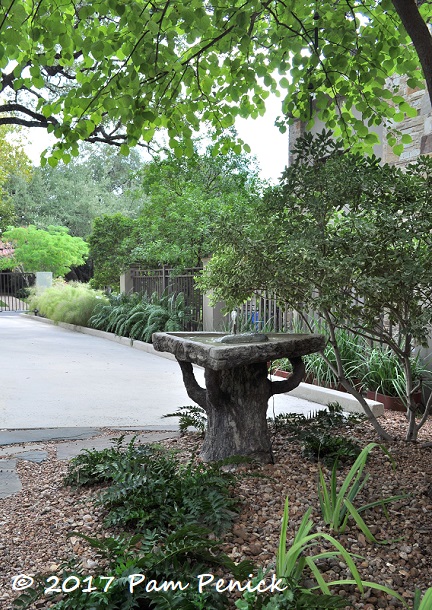 A faux-bois fountain is a focal point at the end of the driveway.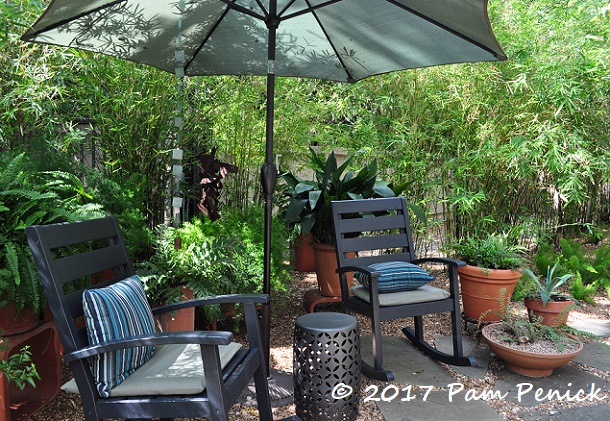 An umbrella-shaded patio beckons where the path curves around the house.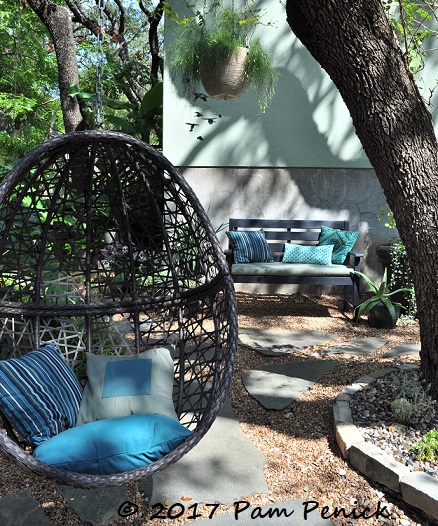 A hanging wicker egg chair and bench offer additional seating.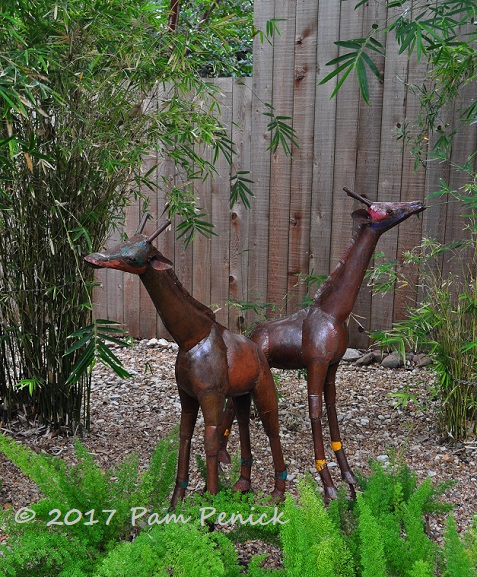 Two metal giraffes nibble bamboo leaves nearby.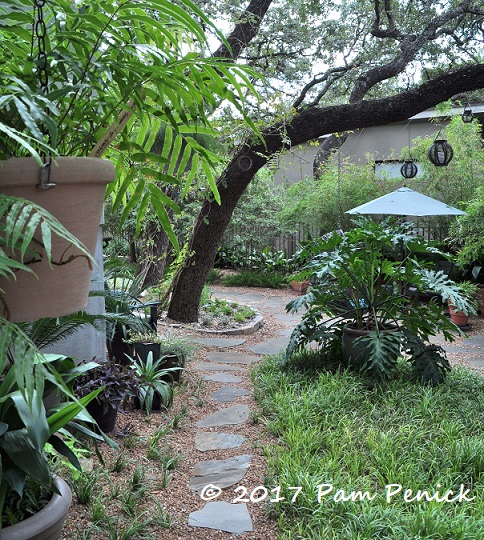 There's not a patch of lawn in this low-water garden, but even so it feels lush and green.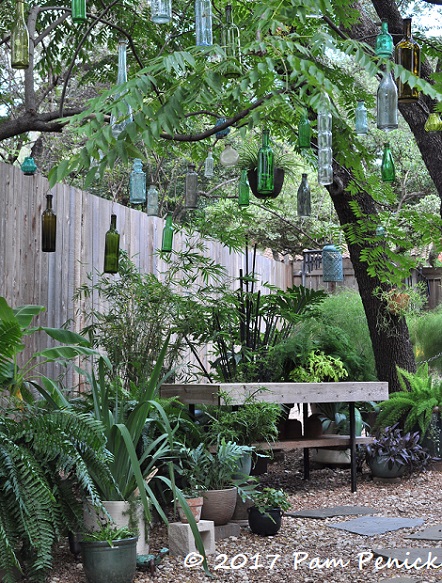 Where there used to be a bottle shrub, Linda now has a hanging bottle tree, a less-common variation on the trunk- or pole-style bottle tree of the South. Linda uses lots of hanging objects — plants, lanterns, bottles — to draw the eye upward into the trees.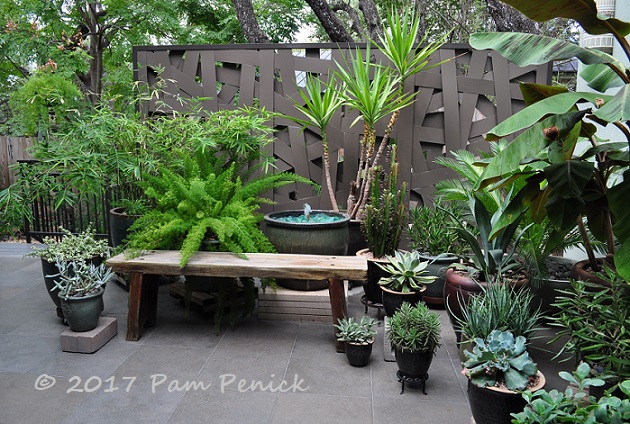 On a terrace off the back of the house, privacy is assured with a striking, contemporary privacy screen, which Linda designed out of leftover scraps of roofing metal (after their standing seam roof was installed) and she and her family riveted together. A bubbling fountain container topped with blue slag glass and a collection of containers completes the appealing scene.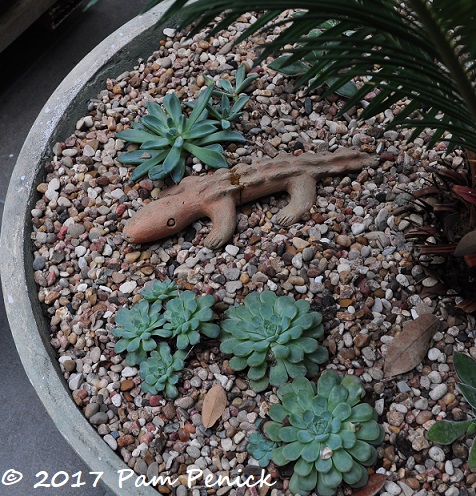 Container detail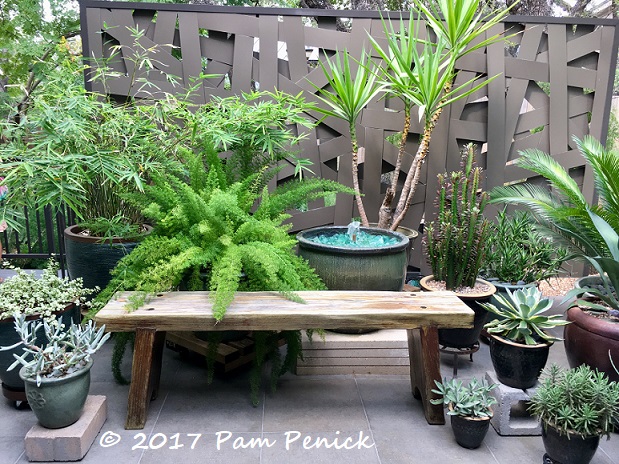 My thanks to Linda for sharing her remarkable garden again and letting us linger there so long!
And thank you, dear reader, for following along on my recap of the San Antonio Open Days Tour. I unfortunately ran out of time to see a couple of the tour gardens, but I enjoyed the ones we saw. For a look back at the old San Antonio style of the Tupper Beinhorn Garden, click here.
I welcome your comments; please scroll to the end of this post to leave one. If you're reading this in a subscription email, click here to visit Digging and find the comment box at the end of each post.
_______________________
Digging Deeper: News and Upcoming Events
Don't miss the Austin Open Days garden tour sponsored by the Garden Conservancy on November 4.
Join the mailing list for Garden Spark Talks! Inspired by the idea of house concerts, I'm hosting a series of garden talks by inspiring designers and authors out of my home. Talks are limited-attendance events and generally sell out within just a few days, so join the Garden Spark email list for early notifications. Simply click this link and ask to be added.
All material © 2006-2017 by Pam Penick for Digging. Unauthorized reproduction prohibited.
posted in
Agaves
,
Aloes
,
Arbors
,
Bamboo
,
Bottle tree
,
Butterflies/Moths
,
Cactus
,
Containers
,
Decor
,
Doors
,
Fireplace
,
Fountains
,
Garden art
,
Garden tours 2017
,
Grasses
,
Groundcovers
,
Lawn Gone!
,
Lizards
,
Palms/Cycads
,
Paths
,
Patios & decks
,
Porch
,
Rock
,
Sculpture
,
Seating
,
Shade garden
,
Shrubs
,
Signs
,
Succulents
,
Sustainable Gardening
,
Travel
,
Trees
,
Trellis
,
Vines
,
Walls
,
Water features
,
Water-Saving Garden
,
Xeric plants