April 18th, 2016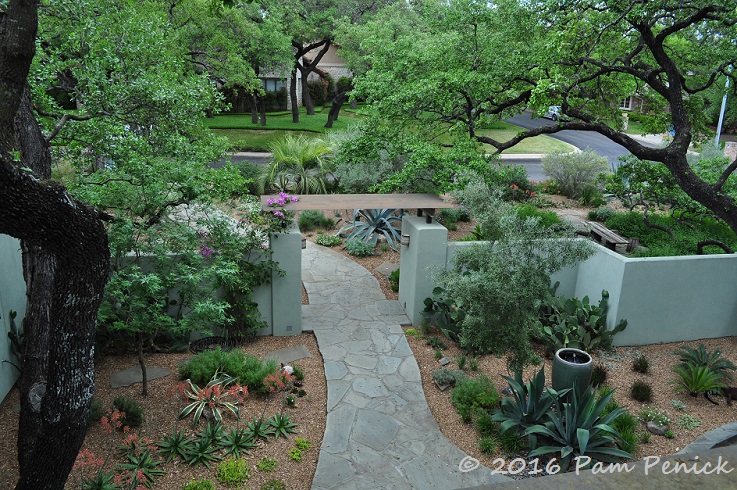 Rooftop view of the walled courtyard and front garden. Not a blade of lawn grass anywhere, nor is it missed.
Seeing one of my new favorite gardens requires an hour-and-a-half road trip to San Antonio, but it's worth every trafficky mile. Linda Peterson, whose dreamy garden I visited last September, invited a few friends over for tea after the San Antonio Watersaver Tour, and I was delighted to be included. Seeing Linda and her beautiful garden again in a different season, plus sitting down to a delicious high tea served by her charming daughters? Yes, please!
Courtyard Garden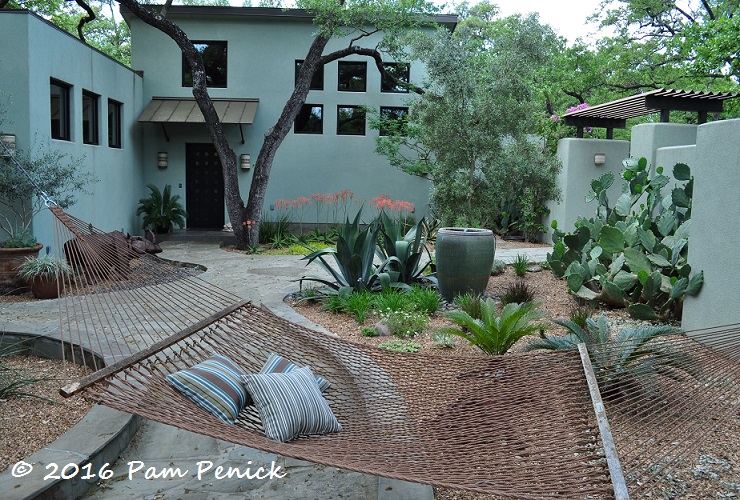 Linda's gray-green stucco home wraps around a large courtyard garden thanks to walls painted the same color. Linda and her husband built their home toward the rear of the property in order to preserve several sprawling, magnificent live oaks. The walls provide back-yard-style enclosure and privacy, and a generous stone patio and curving paths create seating areas and lead you through the space.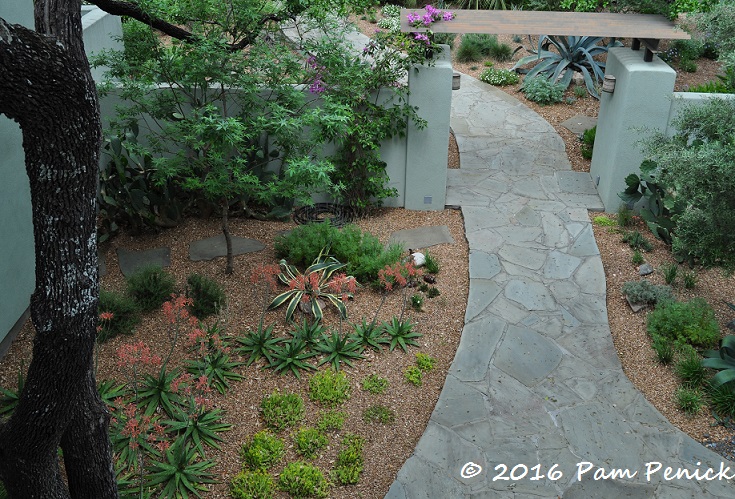 Linda led us up to her home's flat roof via a spiral staircase so we could take in a bird's-eye view. The perspective allows full appreciation of Linda's planting style: massed groundcovers and shrubs, carefully pruned to show off their architectural forms. For example, the soap aloes (Aloe maculata) blooming at lower left are kept tidy by pulling out pups (baby aloes) from around their spiny leaves, leaving star-shaped solitary plants massed in a winding "aloe river."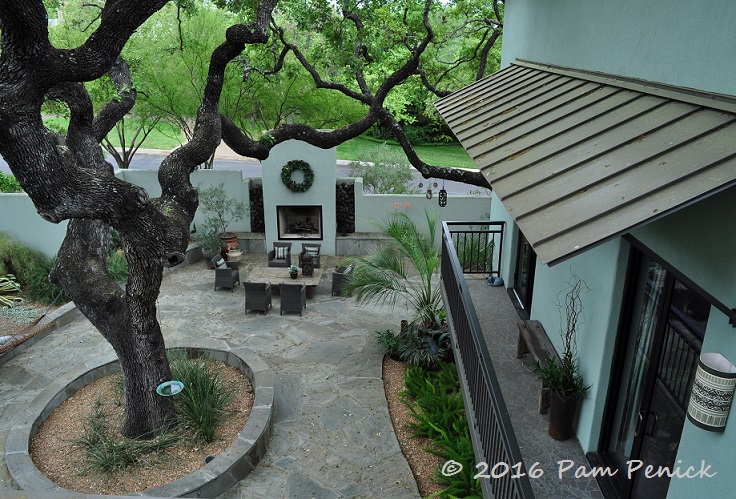 Panning right, you see a table and chairs in front of a focal-point fireplace, with wood stacked in niches on each side.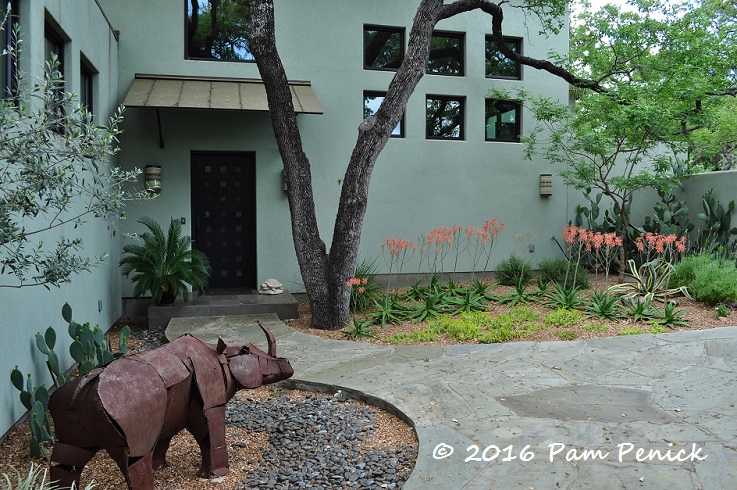 Back at ground level by the front door, a pair of metal rhinos greets visitors. Against the green walls of the house, the coral flowers of the soap aloes stand out nicely. The chartreuse groundcover in front may be Mexican sedum.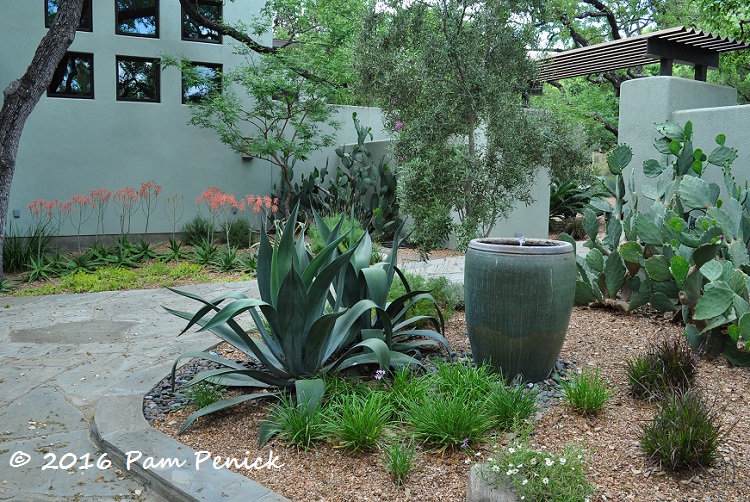 Agave weberi and prickly pear add year-round structure around a pot-style fountain.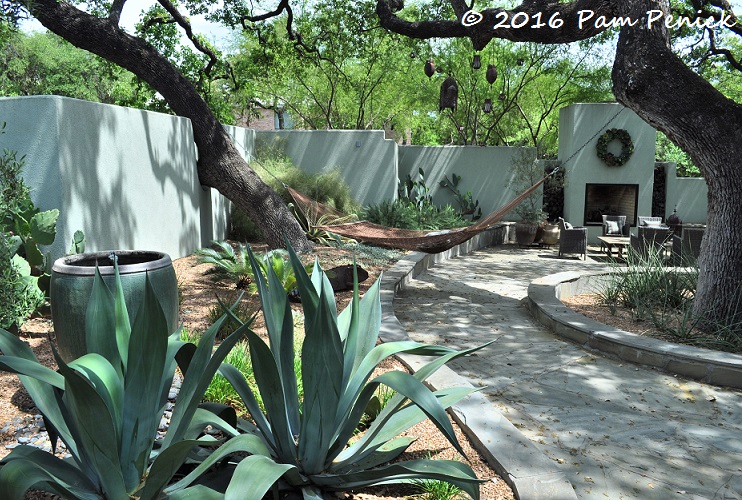 Turning around, here's what you see as you enter the courtyard.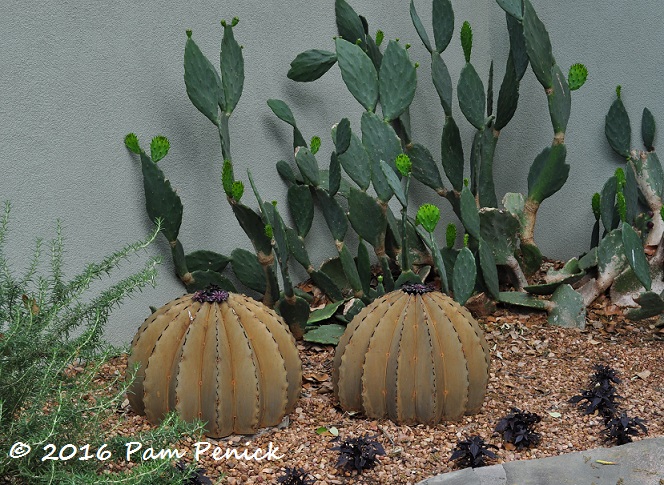 Real and faux cacti mingle in a bed along the wall.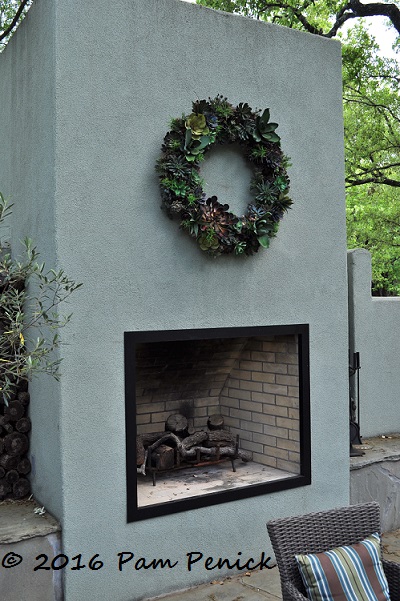 Succulent wreath on the fireplace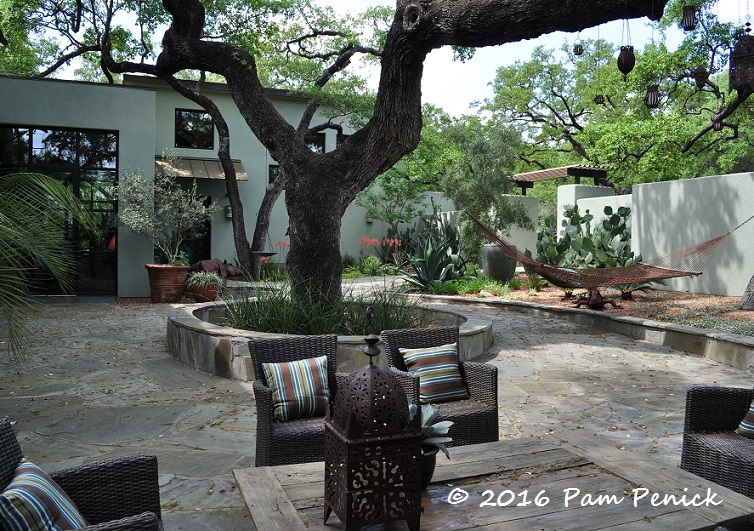 The long view from the fireplace seating. Don't you just want to lie in that hammock all day?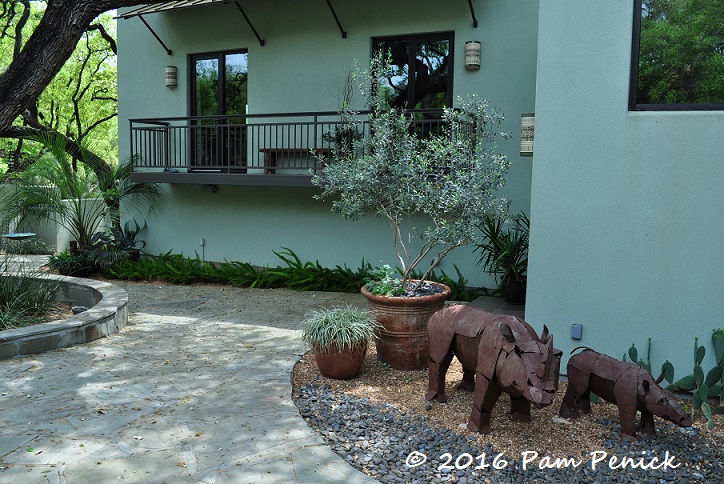 And now we've circled back around to the rhinos. The swoosh of gray river stones is a nice touch, don't you think? It looks like a stream the animals are about to cross.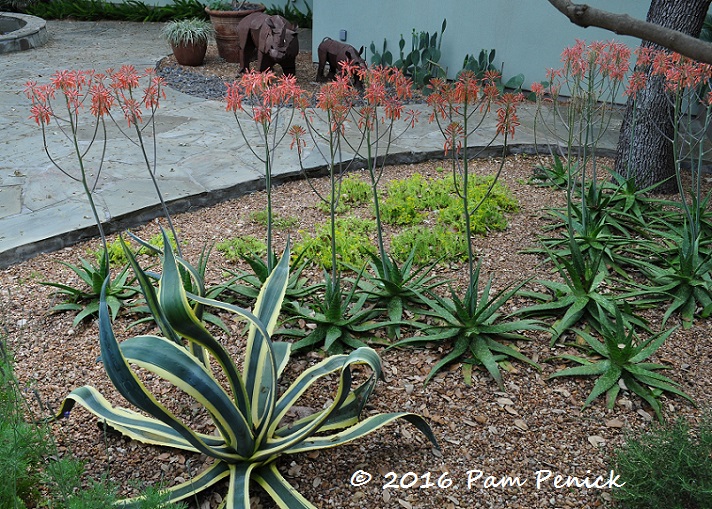 Another view of the soap aloes, plus a wavy-armed variegated American agave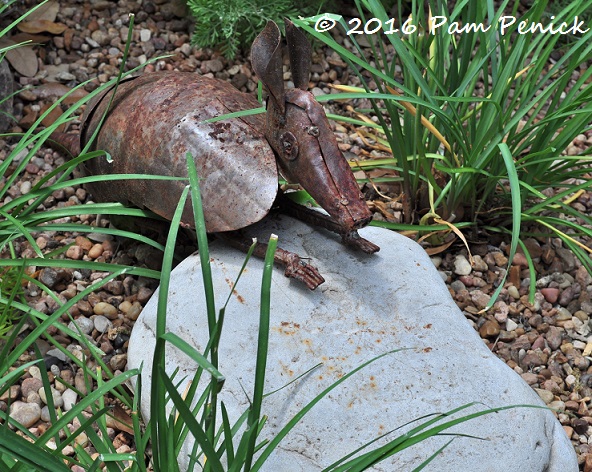 Linda collects metal and stone animals to adorn her home and garden. I don't remember seeing this little armadillo last time I visited.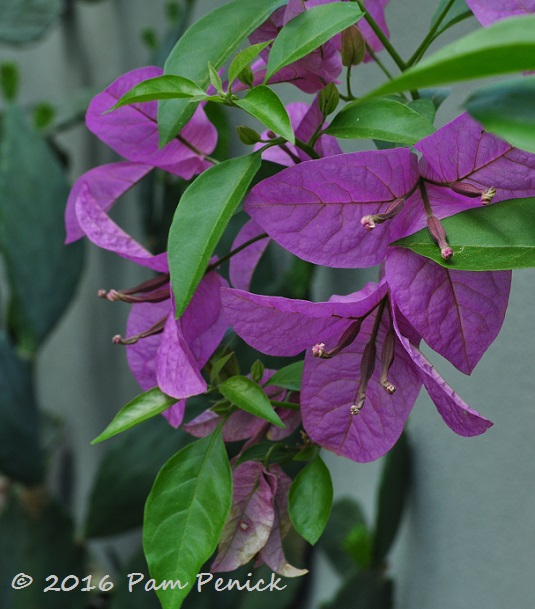 Linda is disciplined with her color choices, sticking with soft gray-green, ivory, and lavender with occasional pops of yellow. This purplish pink bougainvillea was, perhaps, the brightest hue in her garden.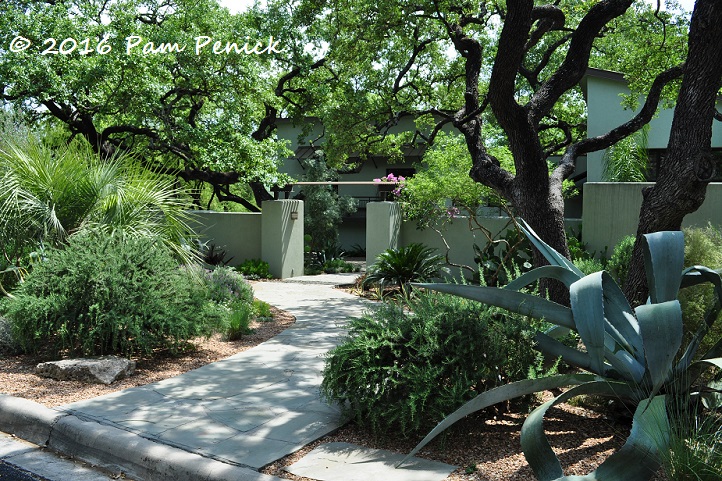 It grows atop the arbor, offering cheery welcome to visitors.
Front Garden, Right of Front Walk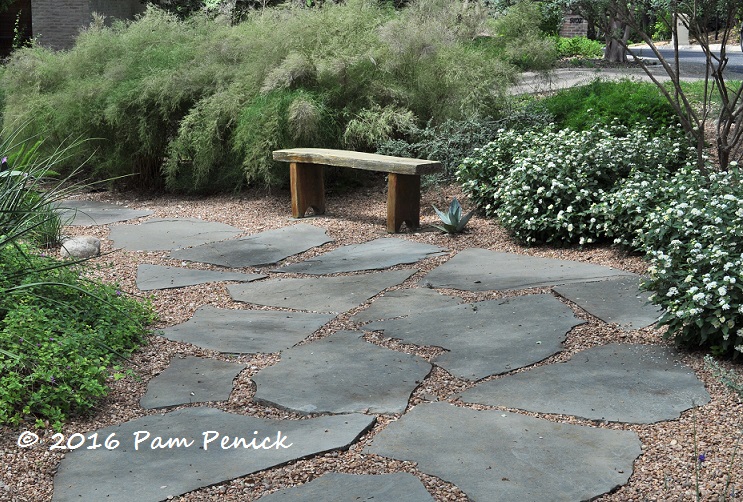 Winding paths lead both left and right into the front garden from the main walk. Turning to the right, a flagstone path widens into a small patio with a simple wooden bench, perfect for stopping to take in the view. Feathery bamboo muhly (Muhlenbergia dumosa) hides the next-door driveway, and a low cluster of lantana blooms frothily.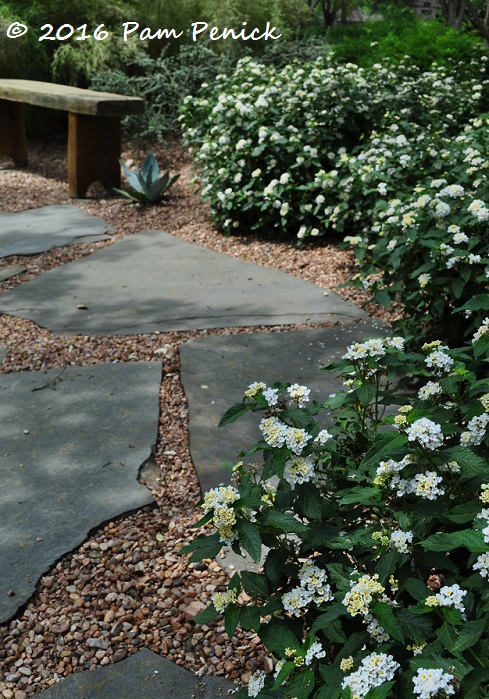 Most lantanas have hot-colored flowers: orange, red, gold. These have white-and-pale-yellow flowers that fit nicely into Linda's restrained color scheme.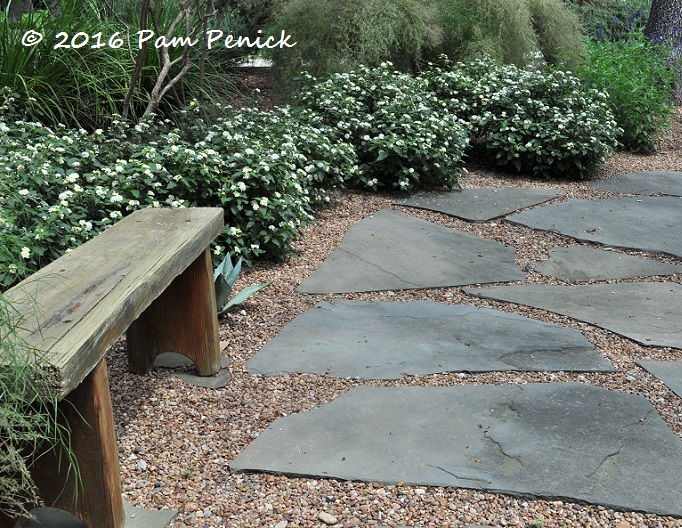 Another view. Notice how the gray-green flagstone harmonizes with the house/wall color and the cool colors overall. Details like these give Linda's garden cohesiveness.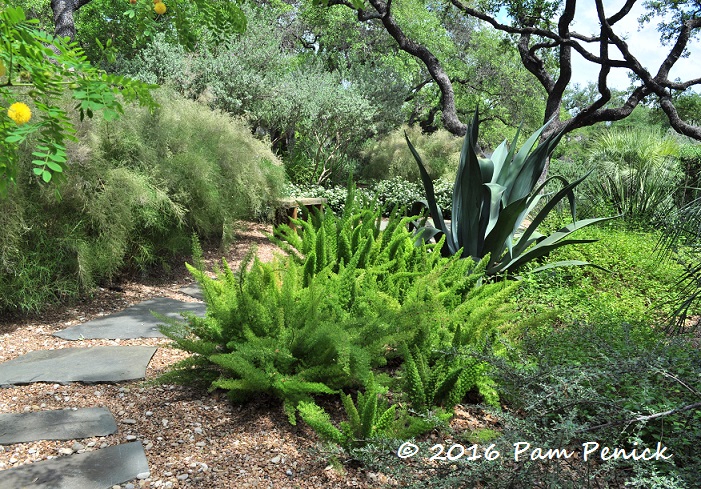 A wider view from the end of the path reveals a mass planting of foxtail fern (Asparagus meyeri), whose foliage echoes the form of a nearby agave.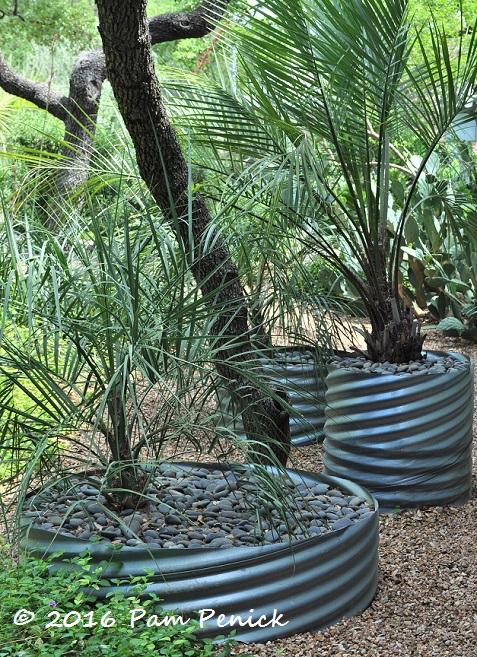 Three culvert-pipe planters along the foundation of the house elevate a collection of palms.
Front Garden, Left of Front Walk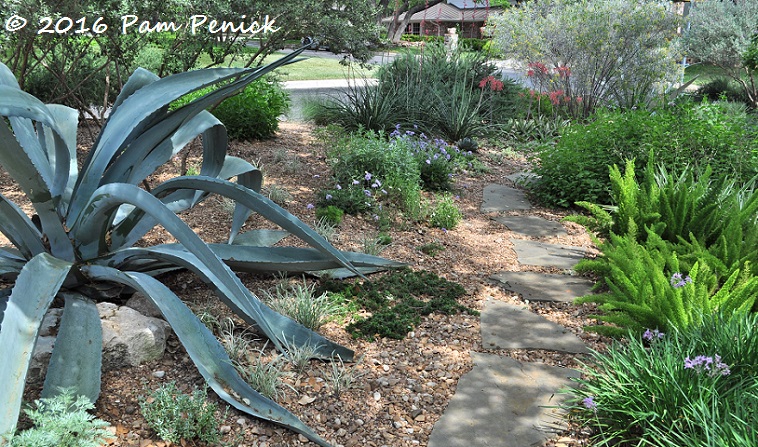 Heading left from the front walk takes you past a large agave, flowering society garlic, and more foxtail fern.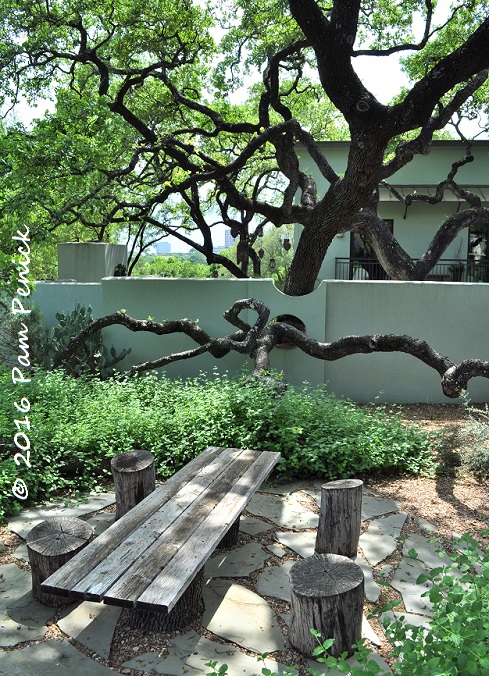 Where the undulating arms of a live oak have been preserved via cut-outs in the stucco wall, a rustic picnic table provides a spot to pause and enjoy the scene.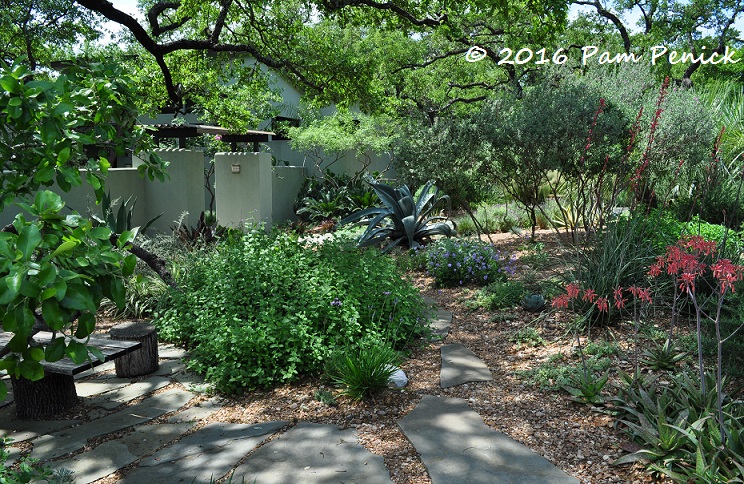 Looking back toward the front walk and arbor, you see more soap aloes blooming. Linda has a lot of different plants, but she also repeats clusters of plants to great effect.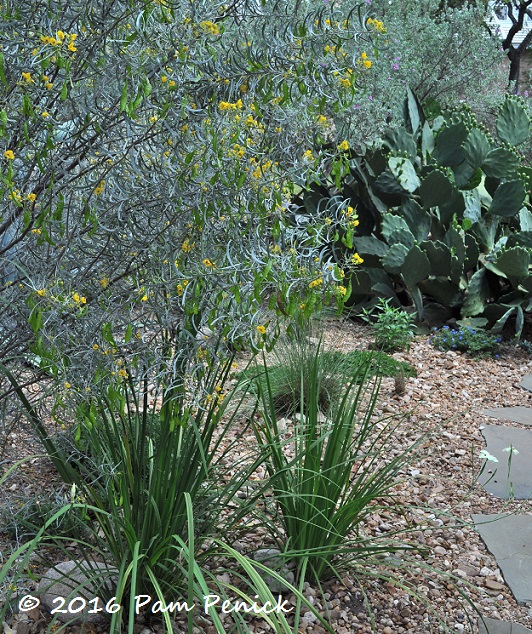 Continuing along the path, a silvery cassia (Senna phyllodinea) blooms in perhaps the sunniest part of Linda's garden.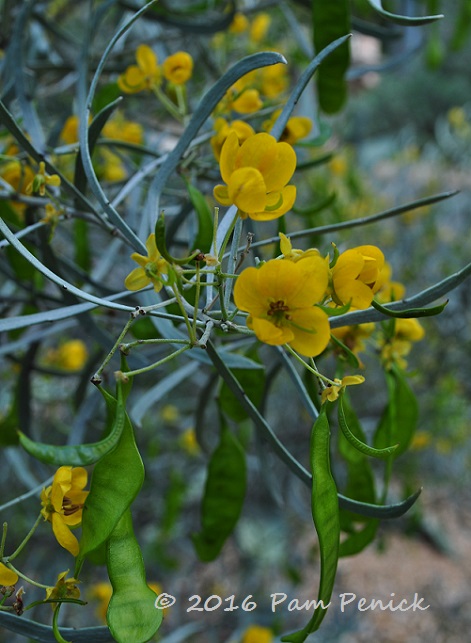 A closeup of the cassia flowers and flat, curled seedpods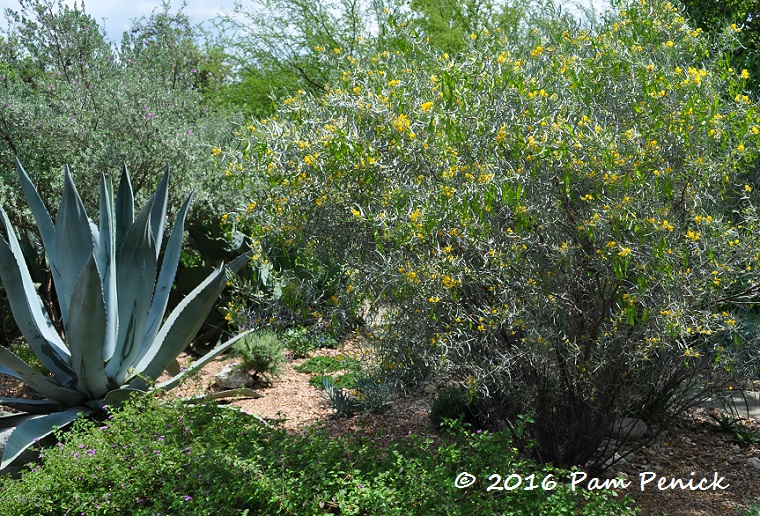 And one more view of the silvery cassia, balanced with a large, architectural agave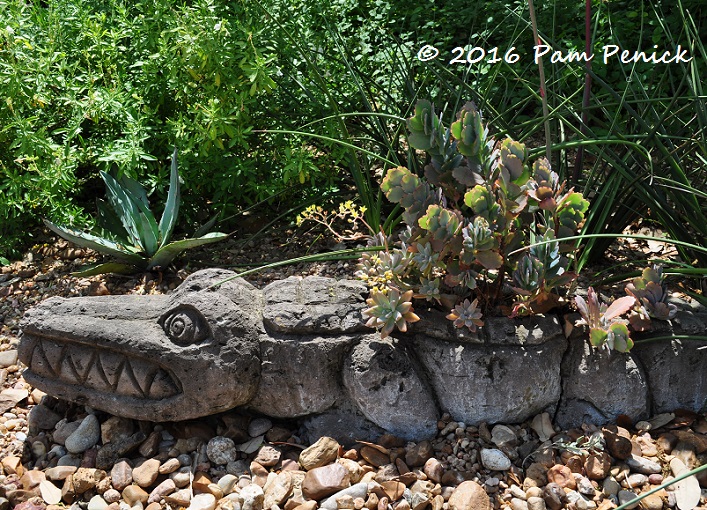 Tucked among the plants, a stone crocodile planter filled with succulents grins like the cat who ate the canary.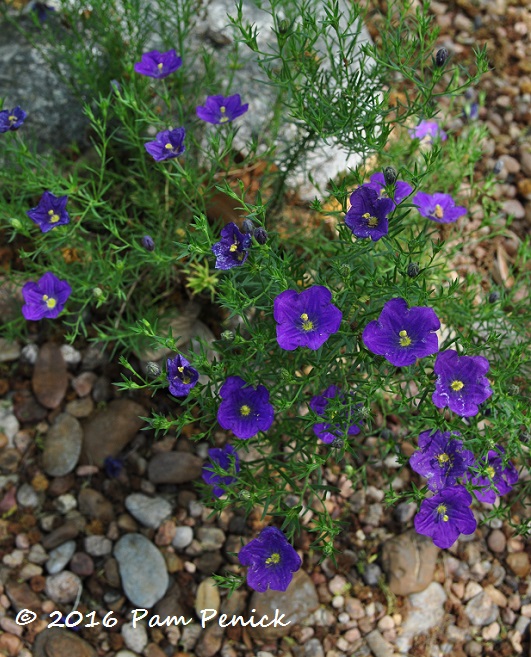 A mystery plant with rich purple flowers. Anyone able to ID it? It's cupflower, or Nierembergia scoparia 'Purple Robe'. (Thanks, Gretchen, and Linda for confirming.)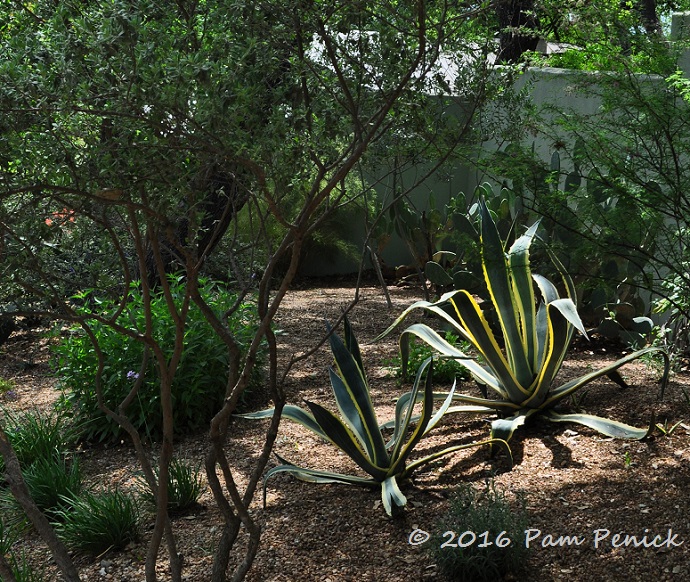 One advantage of a gravel garden — Linda's entire garden is mulched with tan pea gravel — is that it allows you to have open spaces, like the desert. Agaves and other dry-loving plants look very natural in a garden mulched with rock, and open space does too, allowing you to use fewer plants, if you wish. (In contrast, open spaces in a wood-mulched garden never look quite natural.)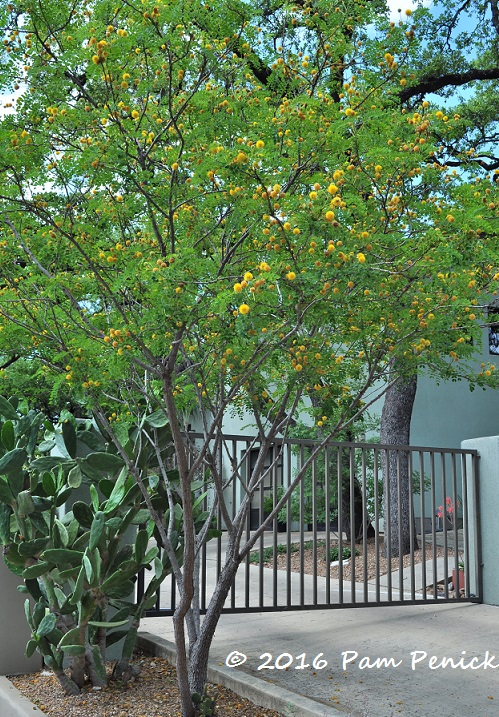 Our native golden leadball (Leucaena retusa) displays its yellow pom-pom flowers alongside the driveway.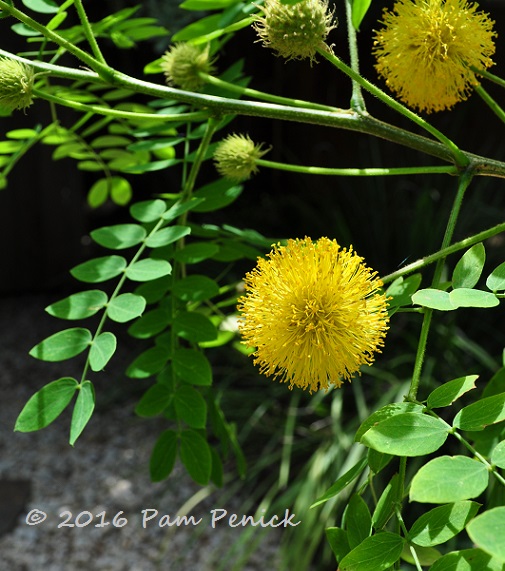 The flowers are eye-catching.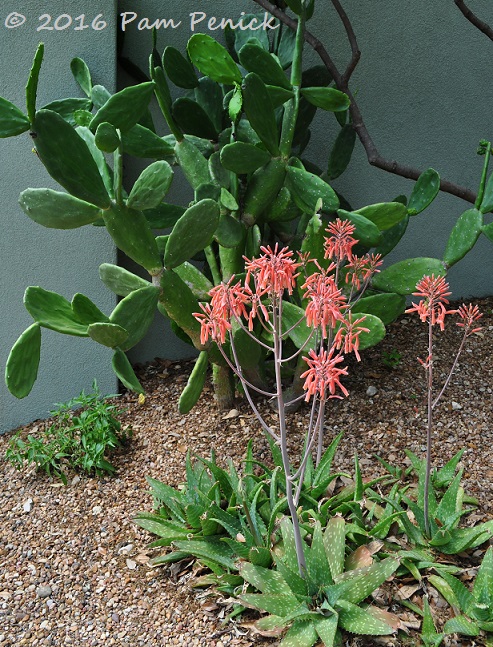 Another cluster of soap aloes, along with a nicely pruned prickly pear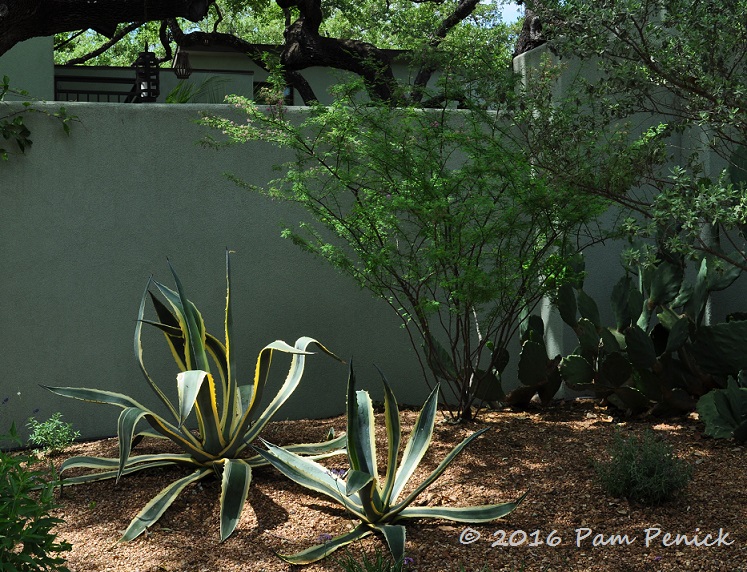 Variegated American agaves catch shafts of light and seem to glow.
Rear & Side Garden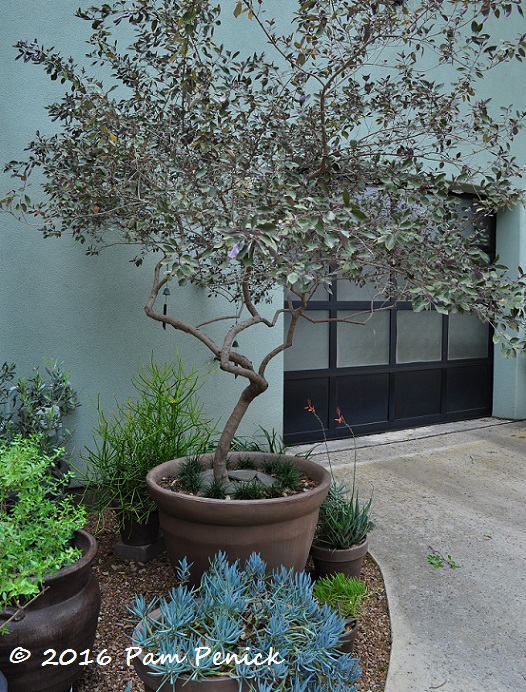 Alongside the driveway, a potted Arabian lilac (Vitex trifolia 'Purpurea') flashes leaves that are gray-green on top and lavender underneath. Potted drought-tolerant plants are a smart choice for a difficult spot with rocky or tree-rooty soil.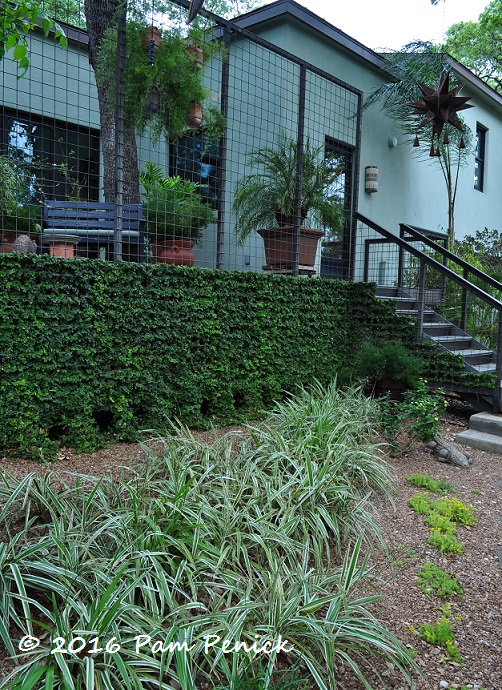 A back deck transitions between the house and the rear garden. I love Linda's treatment of the deck skirting: sturdy wire (the same as on the trellis above) cloaked with fig ivy, which closely follows the wire's grid pattern. At ground level, a swath of variegated flax lily (Dianella tasmanica 'Variegata') makes an easy-care groundcover that lights up the shade.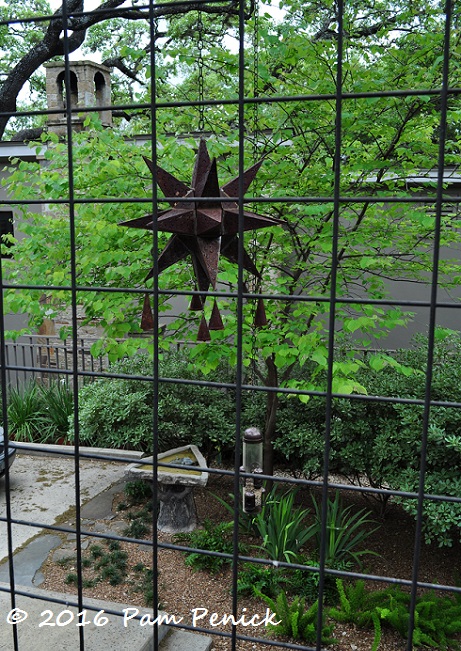 Here's the view from the deck: a perforated metal lantern hanging from a tree, and a triangular faux-bois birdbath below. A Texas redbud effectively screens neighboring houses from view. Linda also strategically hangs pots of asparagus fern from the wire trellis to block undesirable views.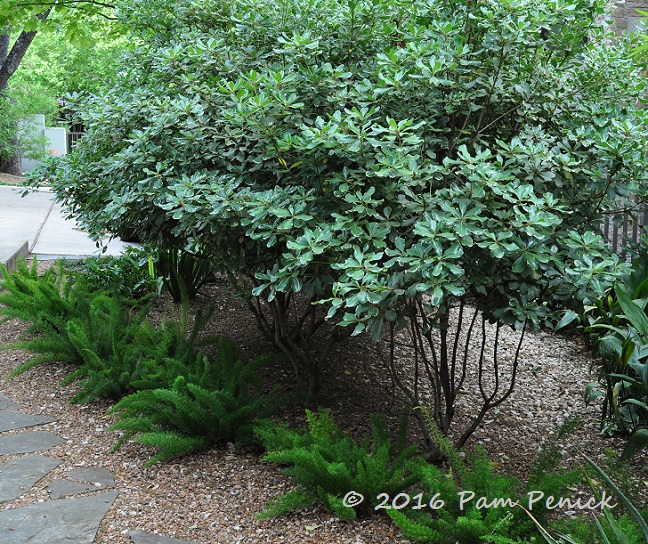 Back at ground level, a pruned-up hedge of variegated pittosporum turns these sometimes unwieldy shrubs into graceful small trees. Linda treats a number of her shrubs and woody perennials this way, including Texas sage (Leucophyllum frutescens) and rosemary, to great effect. It allows for air movement and visual openness, she explains. Foxtail fern adds feathery texture below.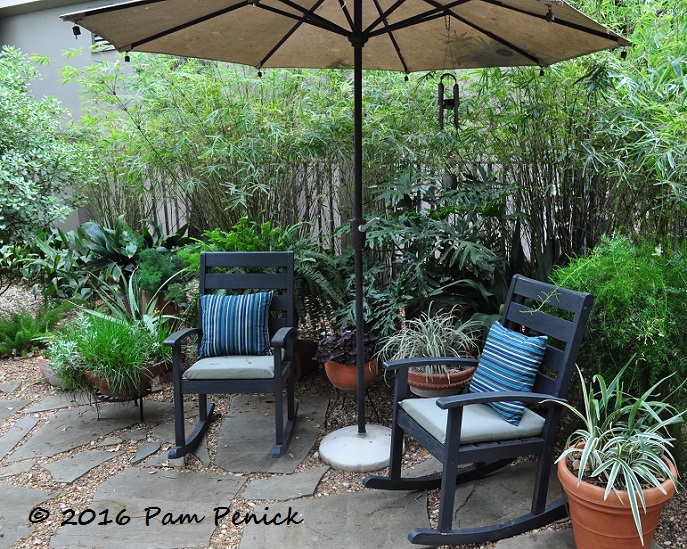 An umbrella-shaded pair of rockers offers a pleasant spot to sit. Clumping bamboo softens the wooden privacy fence and provides extra privacy from neighboring houses.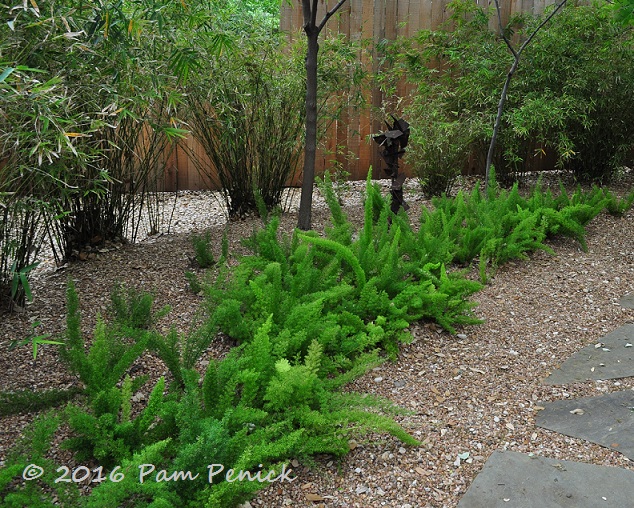 The screen of bamboo continues, planted atop a curving berm that softens the back corner. More foxtail fern adds evergreen, fringey texture.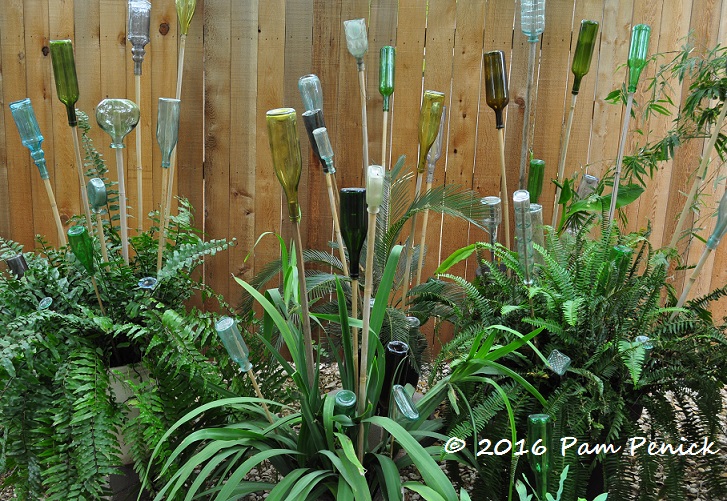 Even a work area at the back of the house is brightened with special touches, like green bottles upended on bamboo poles stuck in pots of ferns and (I think) agapanthus Neomarica caerulea 'Regina' (see lcp's comment below).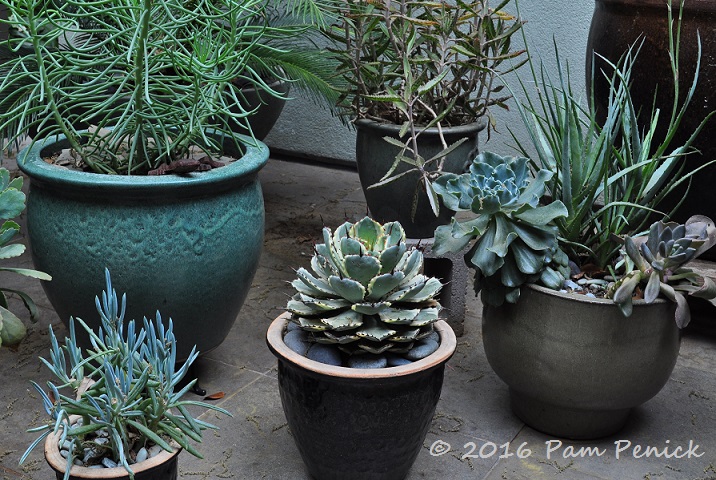 On a back terrace, succulents are displayed in pots glazed blue and brown.
Thank you, Linda — and daughters Demi and Sam — for a very special afternoon! Click here to read about my visit to Linda's garden last September, and here for Rock Rose's post about the garden and tea party.
I welcome your comments. If you're reading this in an email, click here to visit Digging and find the comment link at the end of each post.
_______________________
Digging Deeper: News and Upcoming Events
Come see me at Festival of Flowers in San Antonio, May 28, time TBA. Learn more about water-saving gardening during my talk at San Antonio's 19th annual Festival of Flowers. Get a signed copy of my book after the talk. Tickets to the all-day festival, which includes a plant sale and exchange, speakers, and a flower show, are available at the door: $6 adults; children under 10 free. Free parking.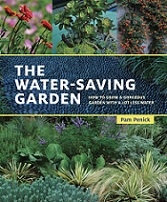 Do you review? Have you read my new book, The Water-Saving Garden? If you found it helpful or inspirational, please consider leaving a review — even just a sentence or two — on Amazon, Goodreads, or other sites. Online reviews are crucial in getting a book noticed. I really appreciate your help!
I'm on Instagram as pamdigging. See you there!
All material © 2006-2016 by Pam Penick for Digging. Unauthorized reproduction prohibited.
posted in
Agaves
,
Aloes
,
Arbors
,
Bamboo
,
Bottle tree
,
Cactus
,
Containers
,
Decor
,
Design
,
Fireplace
,
Fountains
,
Garden art
,
Garden tours 2016
,
Grasses
,
Groundcovers
,
Lawn Gone!
,
Lighting
,
Palms/Cycads
,
Paths
,
Patios & decks
,
Pruning
,
Rock
,
Sculpture
,
Seating
,
Shrubs
,
Succulents
,
Texas natives
,
Travel
,
Trees
,
Trellis
,
Vines
,
Walls
,
Water features
,
Water-Saving Garden
,
Windows
,
Xeric plants