August 20th, 2017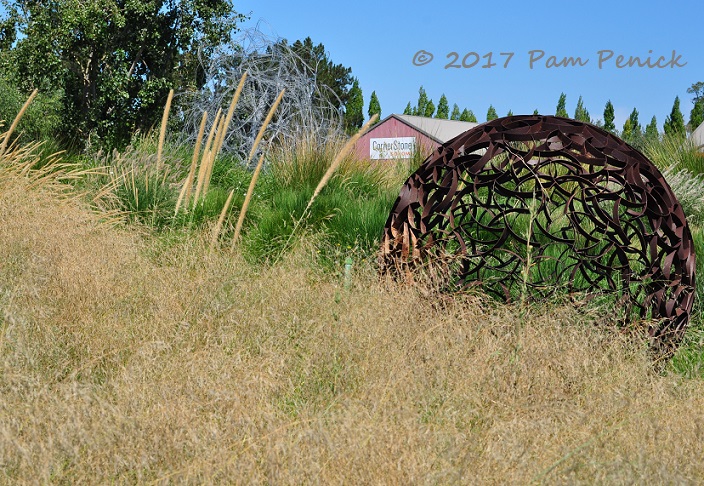 It wasn't easy, but I finally visited the gardens at Cornerstone Sonoma in Northern California, which have been on my bucket list for years. Due to my own poor planning, I first missed them after the San Francisco Garden Bloggers Fling, when I rented a car to explore up to Stinson Beach but inexplicably forgot to push on to Cornerstone. Doh!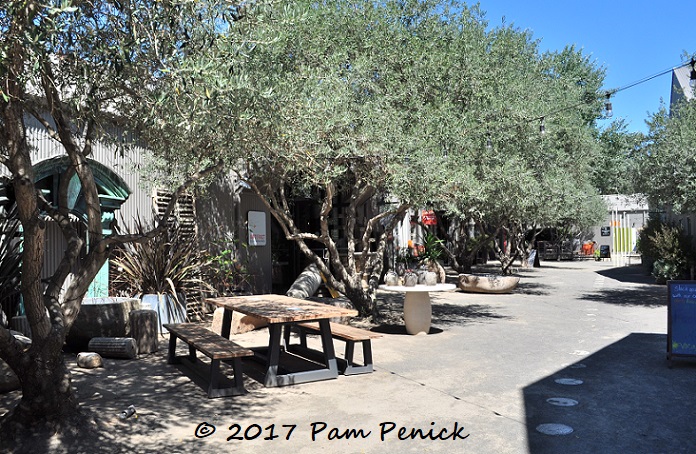 Determined not to repeat that mistake, I planned a visit to Cornerstone during a family road trip from San Francisco to Portland earlier this month. We arrived on a beautiful, sunny day in time for lunch and then poked around in the market's charming shops along olive-lined lanes. As the midday heat eased, I headed eagerly to the gardens — where I learned to my dismay that they were closing in 5 minutes for a wedding! As we were escorted out by staff, I watched the bride, adorable flower children, and elegantly dressed guests heading into the gardens and glowered.
Foiled? Not hardly! The next day, while my husband and daughter went zip-lining among coastal redwoods, I drove an hour back to Cornerstone for a quick visit before my hour-long return trip to pick up my family. Was it worth all that trouble? Yes! Let me show you what it's all about.
Mediterranean Meadow by John Greenlee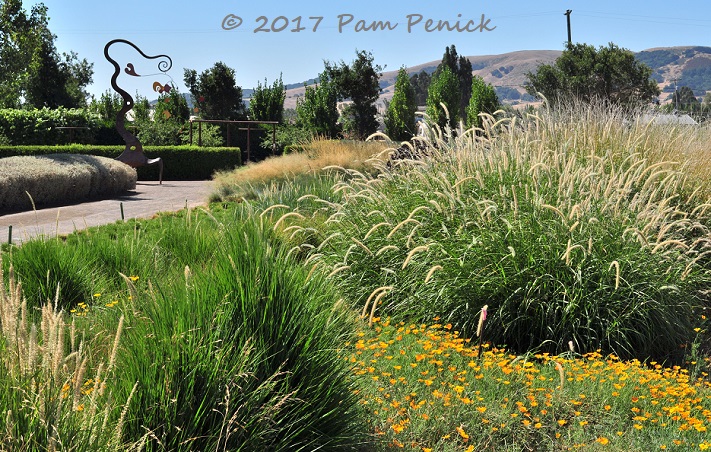 Cornerstone's gardens consist of 9 small conceptual installations created by landscape architects and designers. Each plays off a particular theme, idea, or mood. Inspired by the International Garden Festival at Chaumont-Sur-Loire (also now on my bucket list), the Cornerstone gardens were designed to be temporary and originally numbered 20. However, to accommodate the relocation of Sunset's test gardens in 2016, they were whittled down to the 9 that remain today.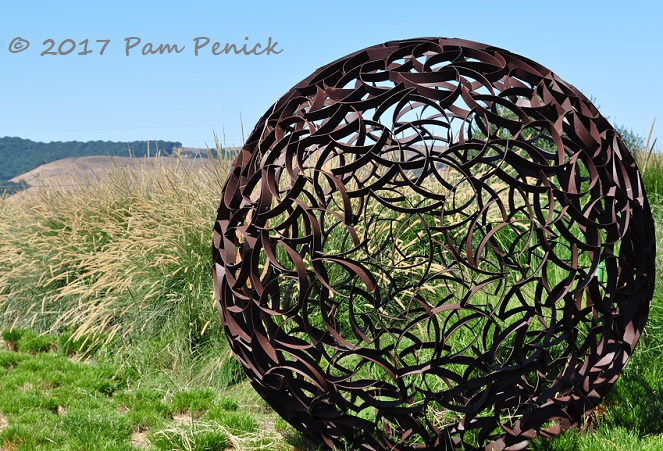 Ornamental grass expert John Greenlee designed Mediterranean Meadow, a billowy meadowscape accented by two striking sculptures: an openwork steel sphere by Ivan McLean, which allows glimpses of the swaying grasses and golden hills beyond…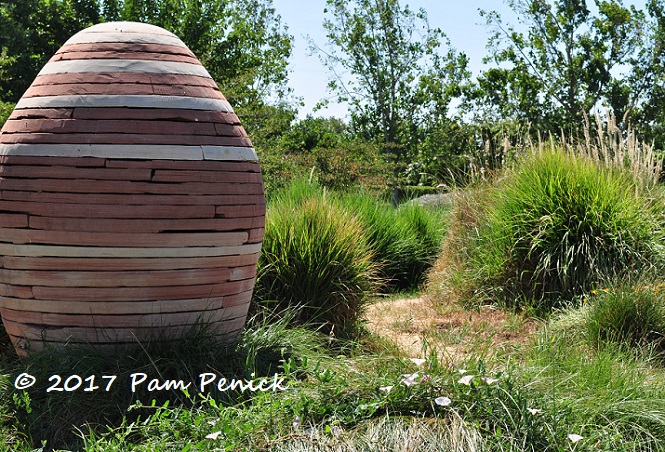 …and a stacked-stone ovoid with bands of terracotta and white.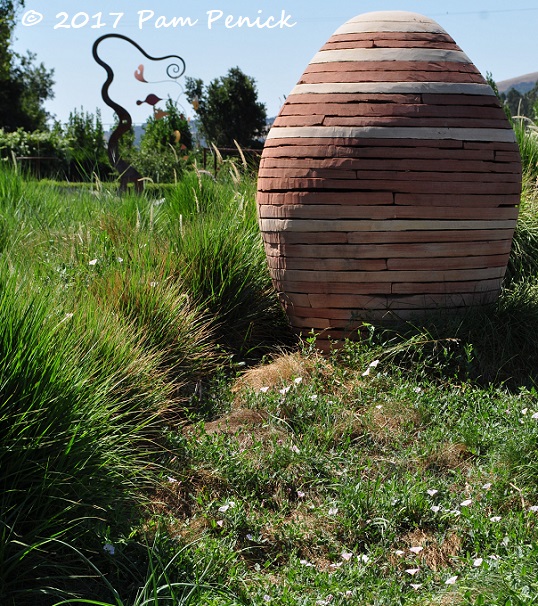 In the distance you see a tall steel mobile sculpture…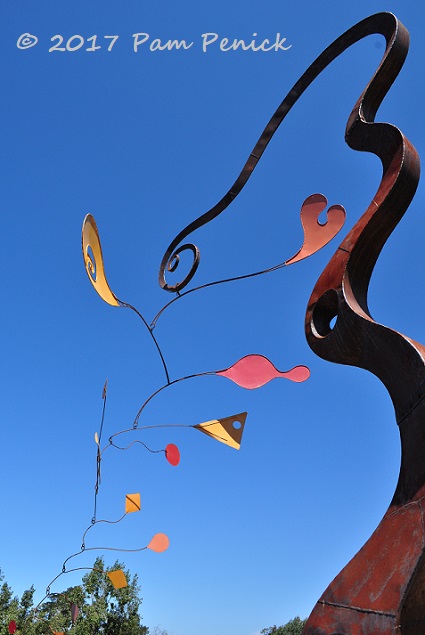 …Time Killer by Diego Harris, which is currently for sale if you have a large space in need of a special something.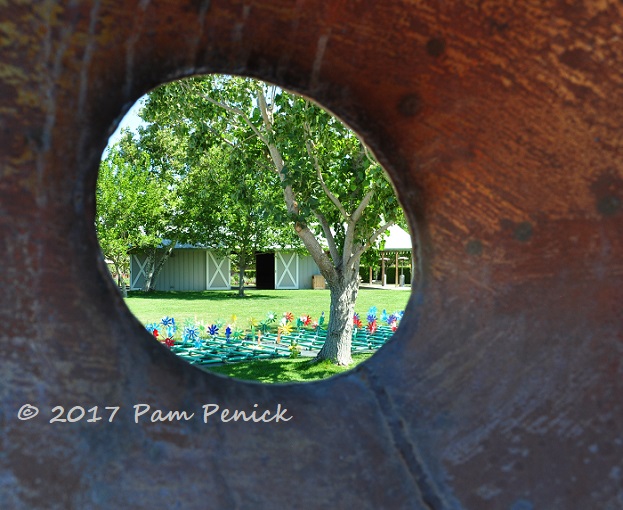 Peeking through a window in its steel base, I spotted another artful installation…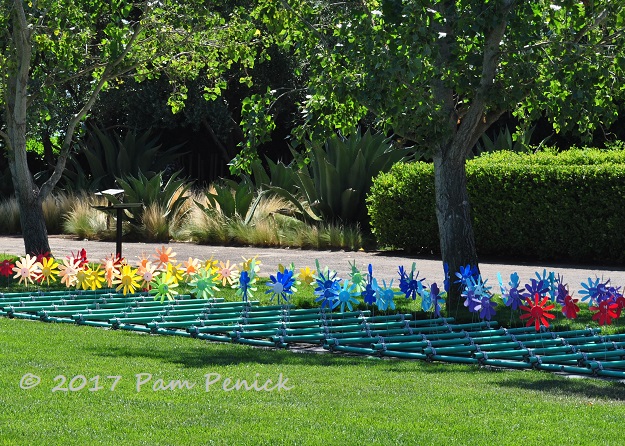 …Daisy Border by Ken Smith. Cornerstone's website explains:
"Composed of classic daisy pinwheels — a common garden decoration on American lawns — the border is at once artificial and natural. Made of plastic, it nevertheless registers sun, rain, and wind."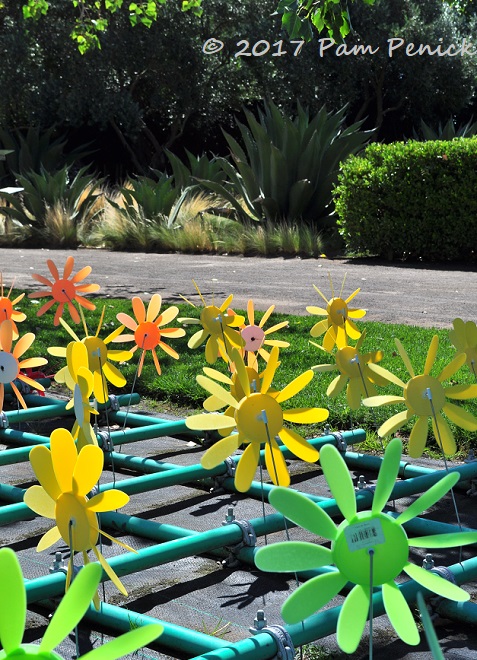 I like the contrast between the colorful, toylike pinwheels and the muscular agaves and tawny grasses in the next garden.
Garden of Contrast by James Van Sweden and Sheila Brady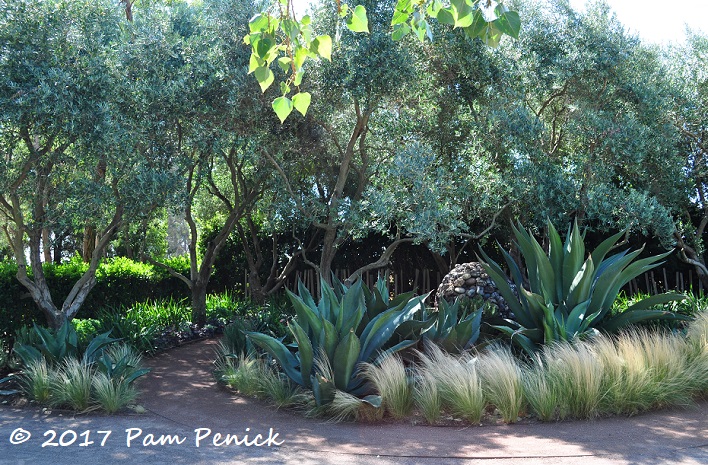 Designed by the late James Van Sweden and by Sheila Brady, Garden of Contrast is maybe the most famous of the Cornerstone gardens. I was happy to see this one! Toothy green Agave salmiana reach up to touch the dusty-green leaves of olive trees, while tawny Mexican feathergrass sways in the breeze below. Three species of plants, all of which grow in Central Texas, planted to perfection!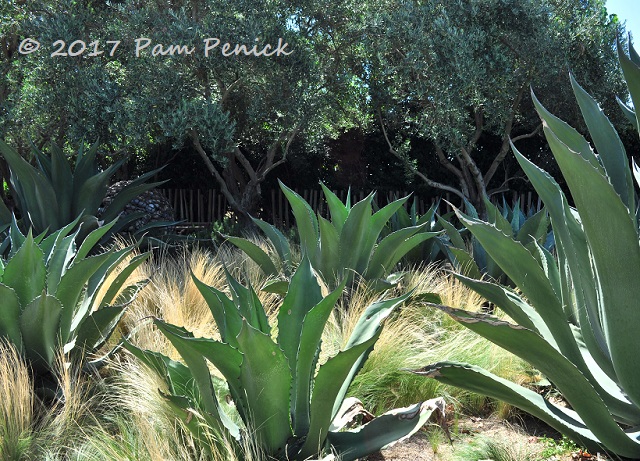 As Cornerstone describes it, "This design offers a new paradigm for the American Garden. The garden's ground plane, a plant tapestry[,] combines texture and form, color and scent, while a canopy of olive trees adds a third dimension that changes in color and opacity as the seasons advance."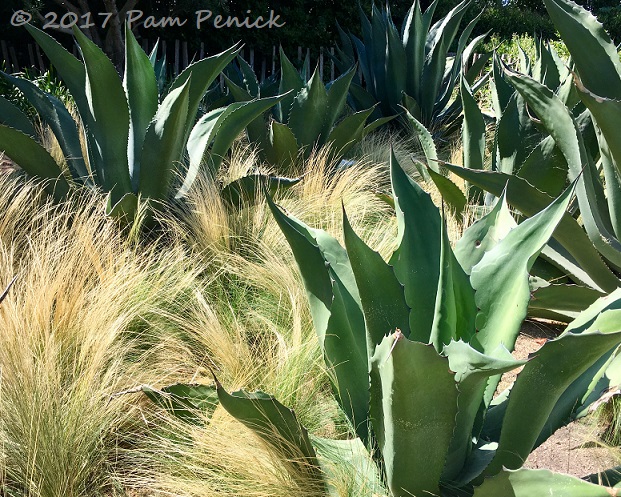 In springtime, wine-colored drumstick alliums and orange California poppies thread through the grasses and agaves, adding sparks of seasonal color. I'd love to see that.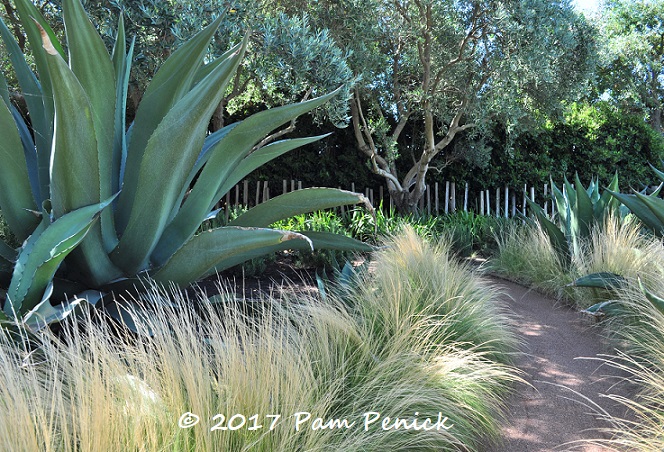 I couldn't get enough of the contrast between muscular, stiff-leaved, saw-toothed agaves and feathery, pliable, strokable grasses. Actually I stroked the agaves too.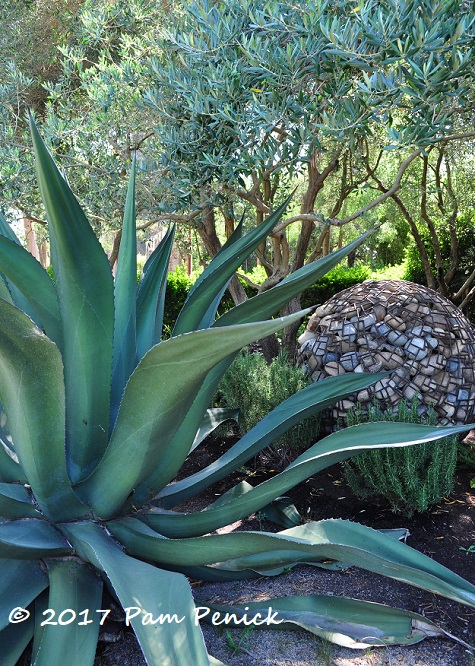 This agave is a monster at over 6 feet tall. Behind it, a diagonal line of rosemary bisects the garden, separating the sunny, grassy side from the olive-shaded, woodsy side.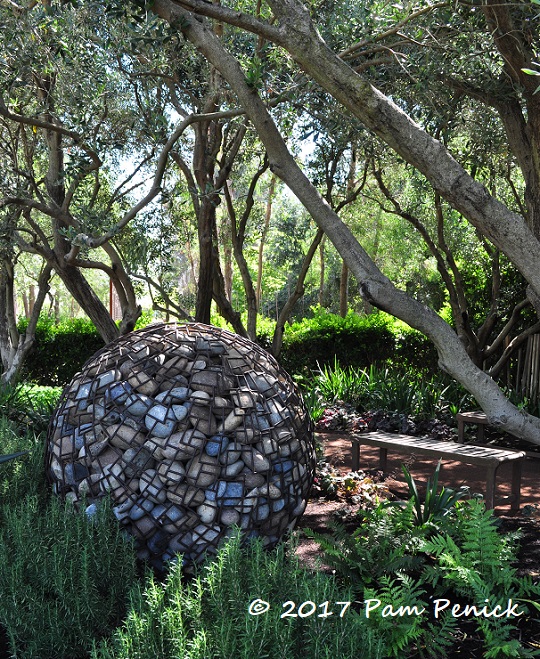 Under the olives rests a huge steel-and-stone sphere, also by Ivan McLean, who writes:
"Noyo cobbles are the name of locally, Sonoma County area, found stones, 4″ to 8″ or so in size. It took 2 yards to fill this 60″ sphere, about 6,ooo pounds. It's placed in a garden whose theme is 'contrasts', so you have the sphere made from squares and rectangles filled with round stones and a very heavy sculpture looking very light, at least that was the idea."
In the Air by Conway Cheng Chang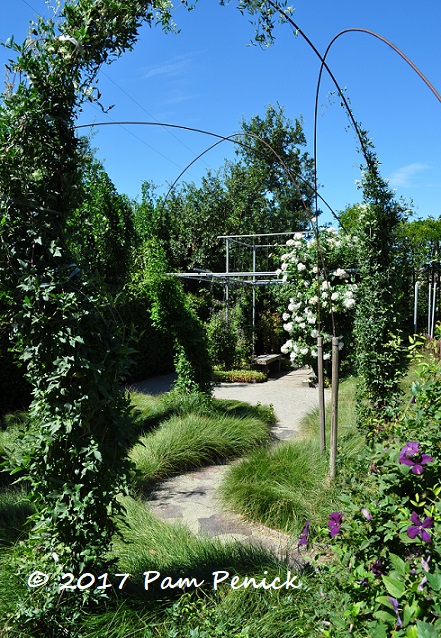 I imagine plenty of engagement photos have been taken in the romantic and heart-adorned In the Air garden, designed by Conway Cheng Chang. Rebar arches help vines clamber over billowy, sedge-lined paths on one side.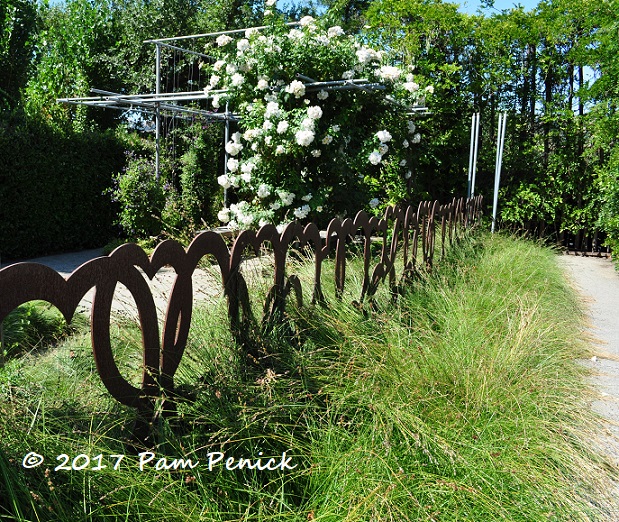 On the other, a geometric arbor supports a cloud of white roses, and interlocking steel hearts playfully divide the garden in two.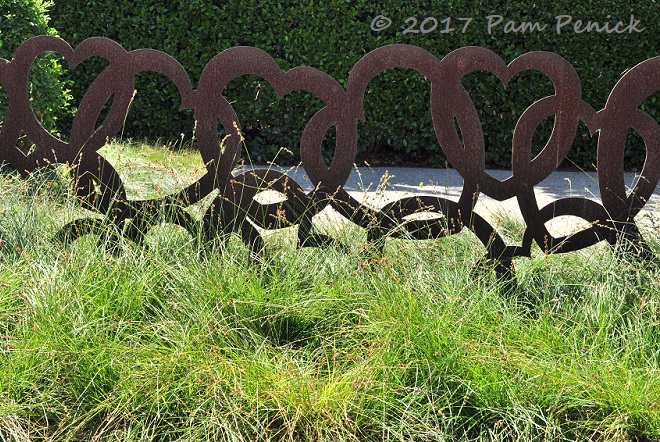 Hearts and sedge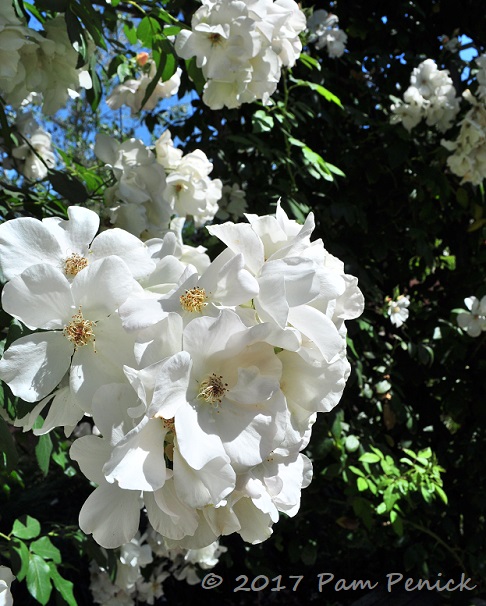 Love must be in the air.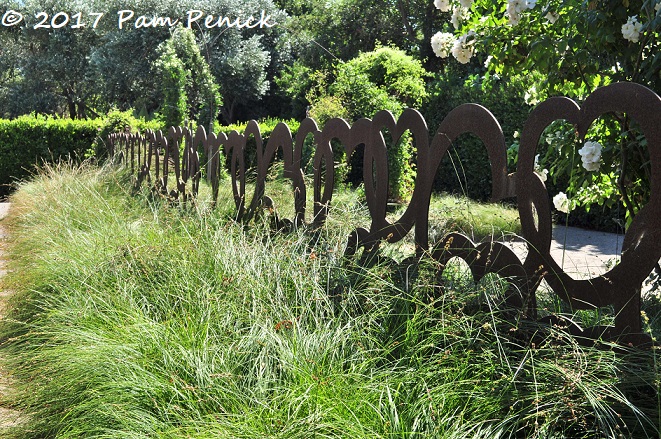 As Cornerstone describes it:
"In the Air intends to be playful and critical, spontaneous and composed. Air penetrates and circulates through all living organisms. It fills the in-between spaces and supports human life and emotions. The garden was created to reveal the form of air and in doing so help us understand and appreciate it."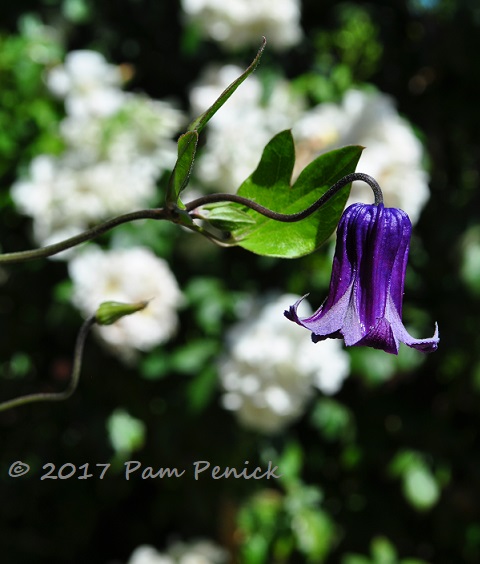 Purple clematis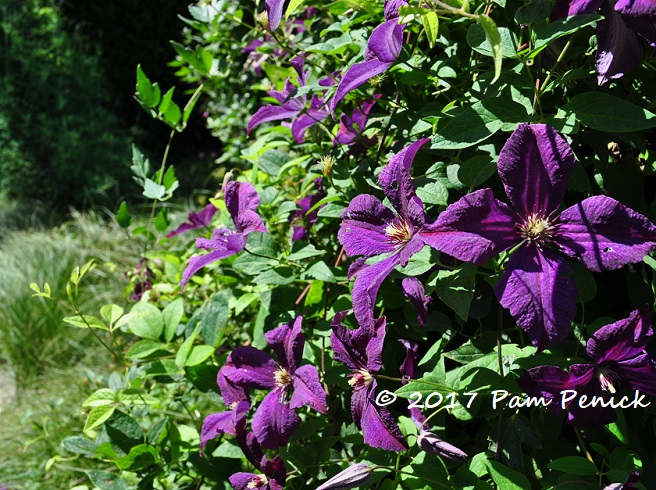 And another purple clematis
Small Tribute to Immigrant Workers by Mario Schjetnan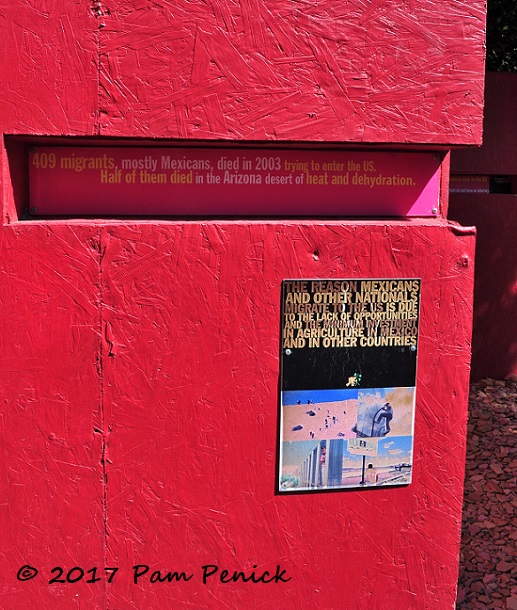 A memorial to Mexican agricultural workers, Small Tribute to Immigrant Workers is the creation of Mario Schjetnan.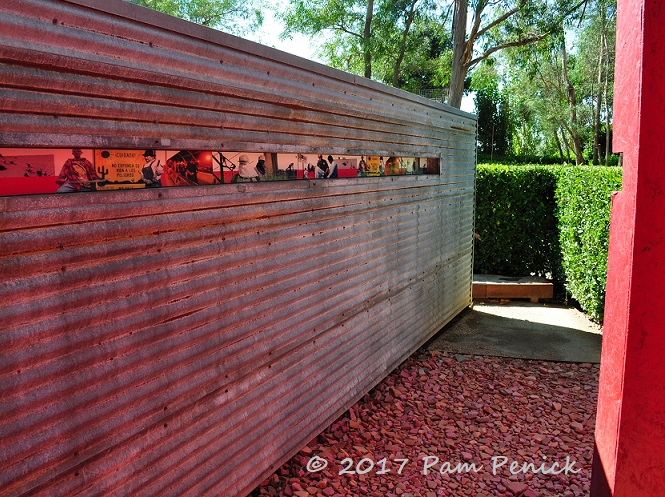 A maze of walls — red-painted plywood, corrugated steel, and rock-filled gabion — seems to reluctantly allow entry, each with photos and text about the dangers faced by migrants desperate to cross the border to find work.

Cuidado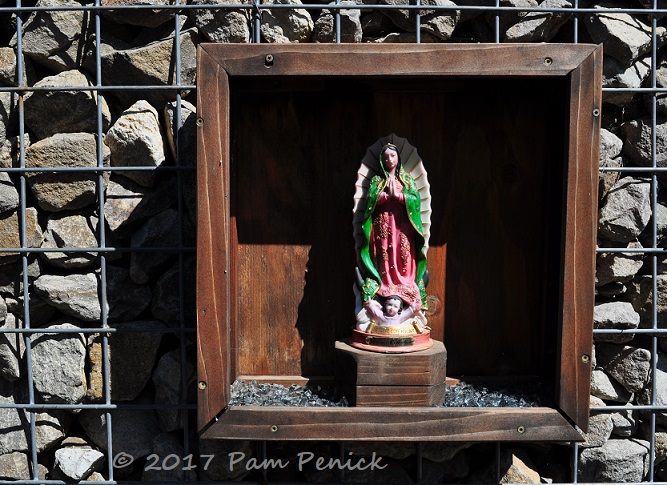 A simple shrine hangs on a gabion wall, offering a place for prayers.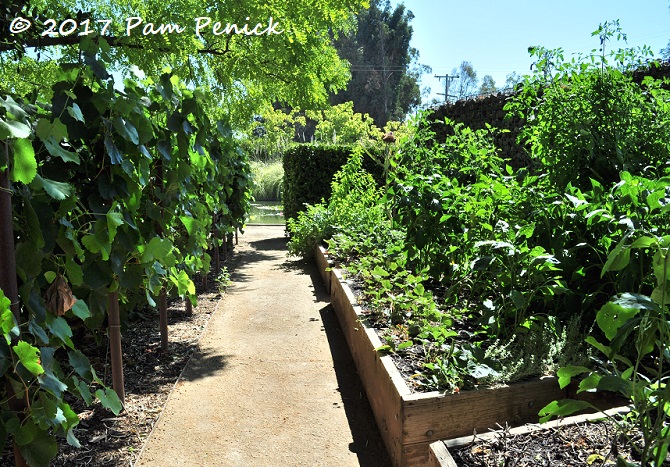 On the other side of the wall lie plots of edibles symbolizing the agricultural fields of California.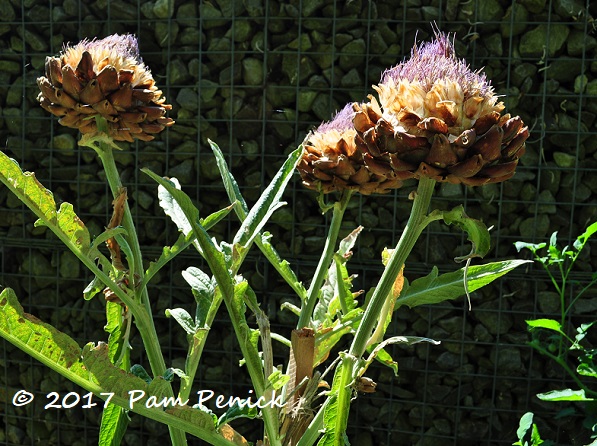 Artichokes
Eucalyptus Soliloquy by Walter Hood and Alma Du Solier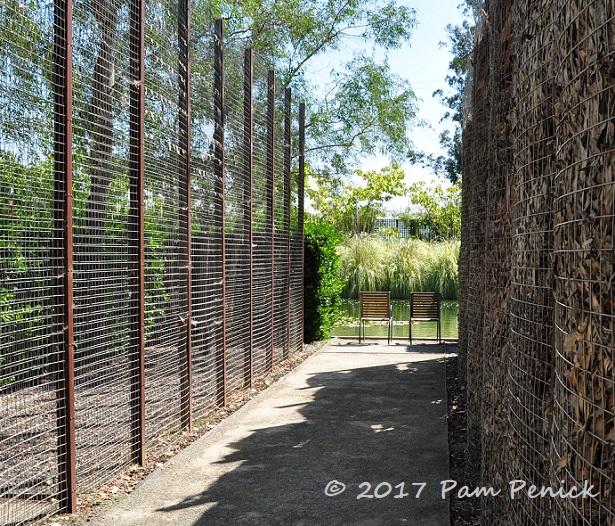 Towering eucalyptus trees line the roads in Sonoma, and Eucalyptus Soliloquy pays tribute to them. A gabion wall stuffed with eucalyptus leaf litter and a trellis screen of pinned eucalyptus leaves line a long path toward a view of a pond.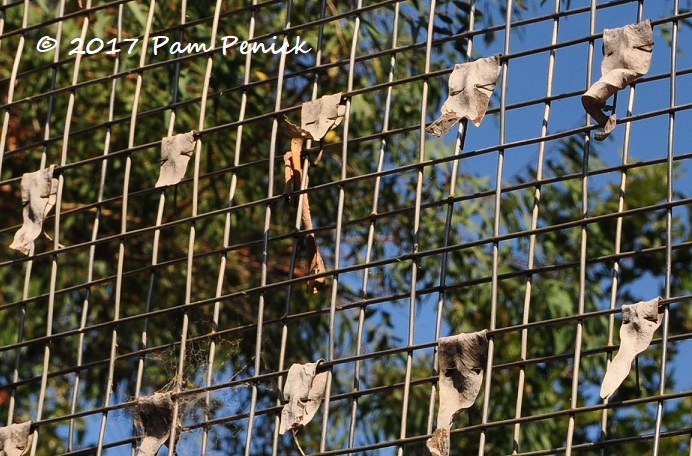 Cornerstone says, "The Sonoma landscape features eucalyptus windbreaks that divide field and vineyard. Eucalyptus Soliloquy is a conversation between distant groves and a built landscape of borrowed trees, orphan leaves, branches and seeds."
Rise by Roger Raiche and David McCrory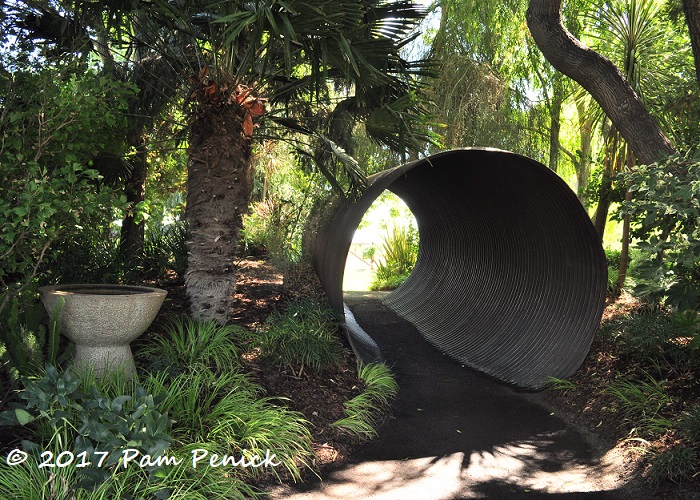 Rise, designed by Roger Raiche and David McCrory, is one of my favorite gardens at Cornerstone. Its iconic steel culvert tunnel makes a playful path through the garden and seems to shrink you, Wonderland-style, to childlike dimensions as you pass through.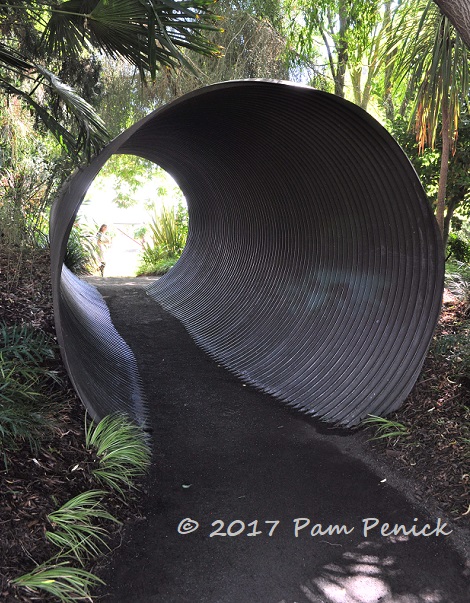 See what I mean? Cornerstone says:
"Rise is a celebration of color, texture, diversity, light, space and life. The plantings and landform, modeled on a natural landscape, are exaggerated to enhance the sense of separation from reality. Likewise the pipe exaggerates the sense of transition from one world into another."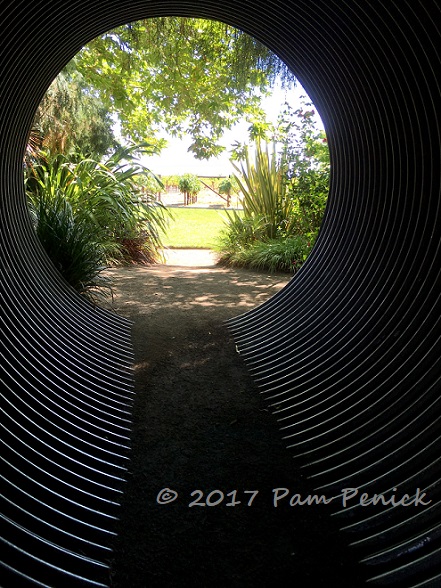 Walking through, you get a porthole view of a neighboring vineyard.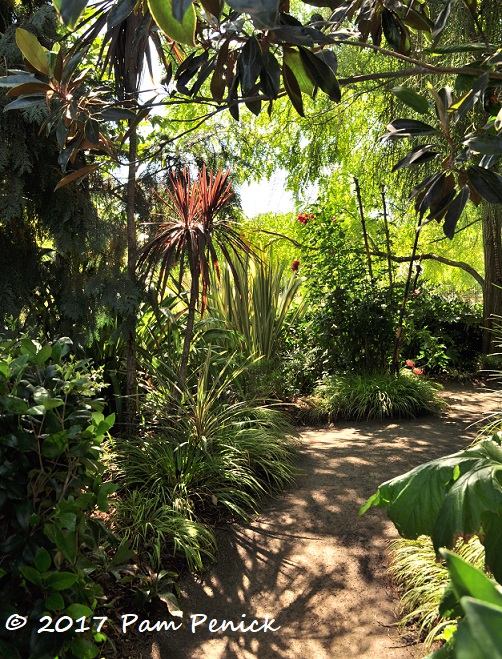 But the garden itself transports you to a tropicalesque jungle of dramatic foliage.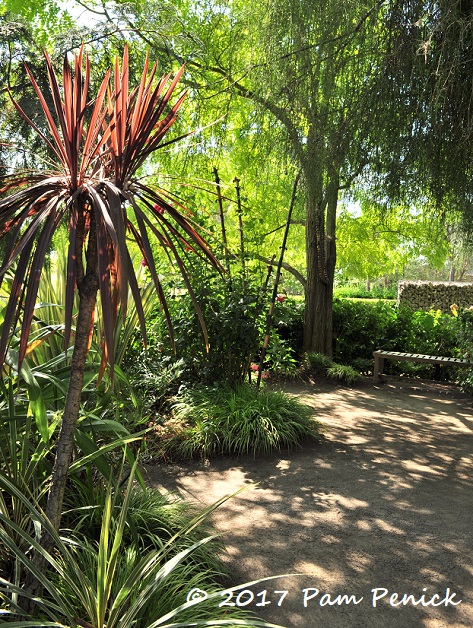 Sizzling! Later, Loree Bohl of Danger Garden asked me if I'd seen the Marcia Donahue garden at Cornerstone. I immediately knew she was referring to this distinctive garden.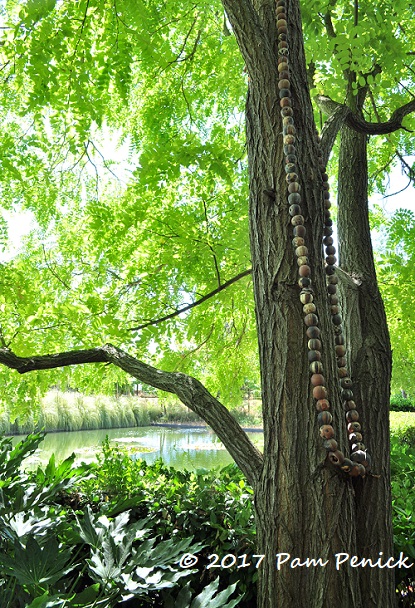 Donahue's artwork adorns the garden, like this tree necklace and some of her ceramic bamboo sculptures (previous photo).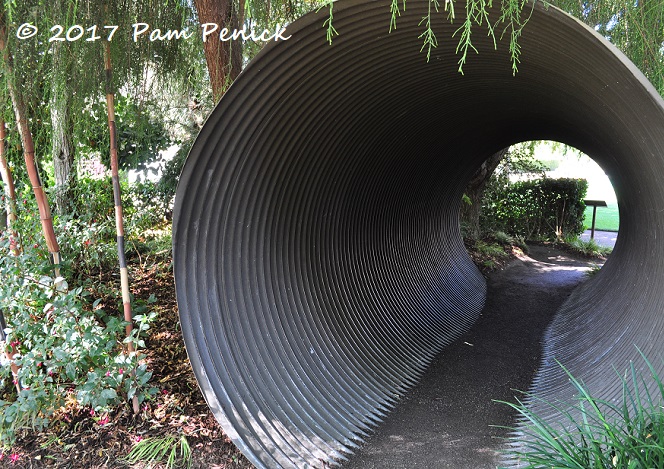 More of her bamboo, at left of the tunnel.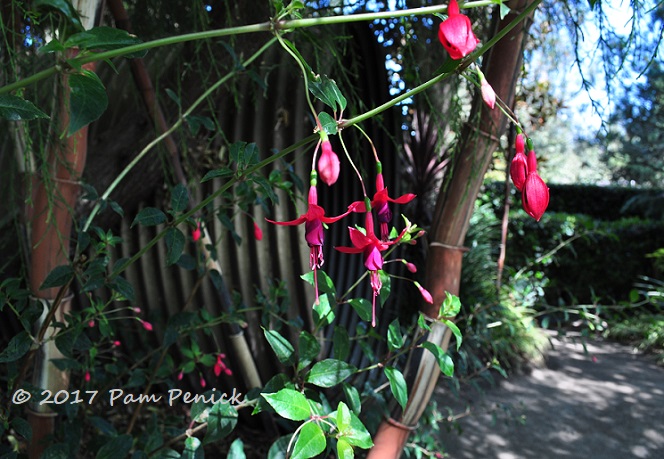 Flowering fuchsia adds its own bright adornment, like dangling earrings.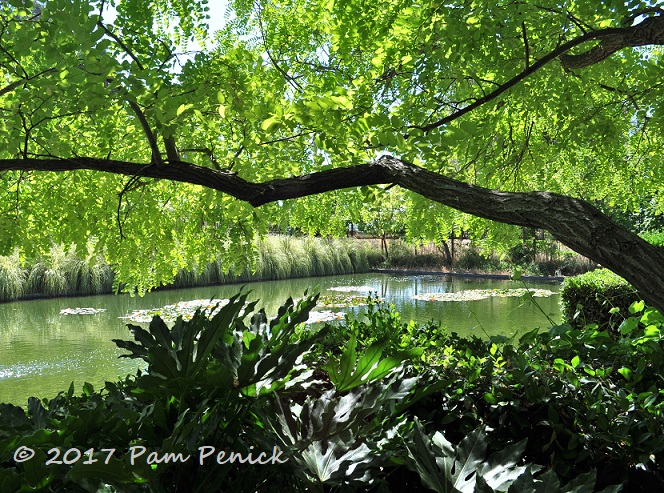 Rise overlooks a large rectangular pond that stretches invitingly behind several of the gardens.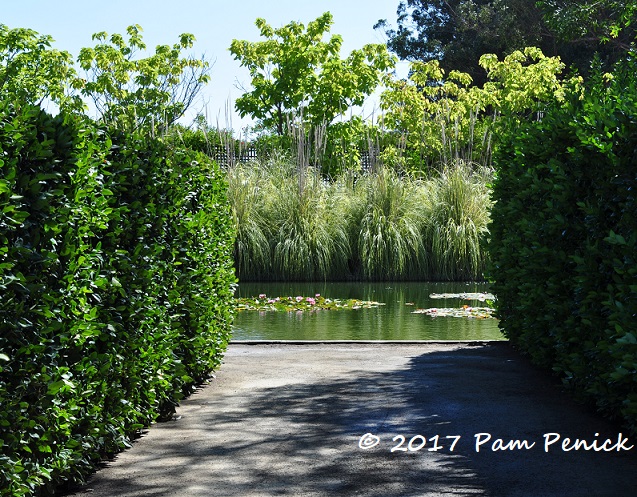 As you approach, hedges frame a view of the pond and ornamental grasses that overhang the far side.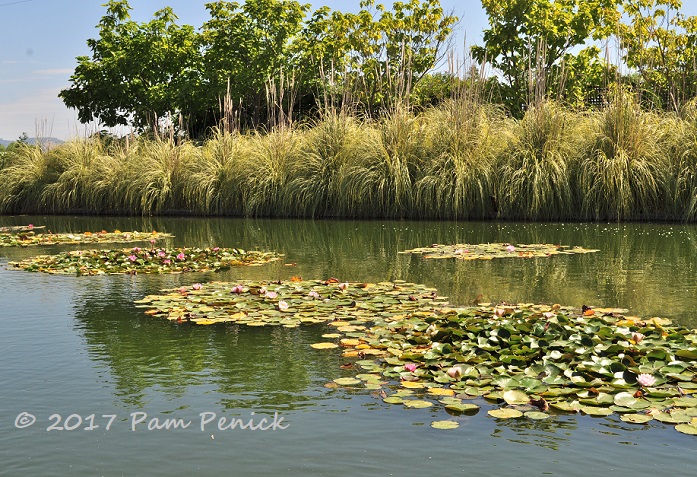 Waterlily circles seem to skip across the water, echoing the rhythm of the tall grasses.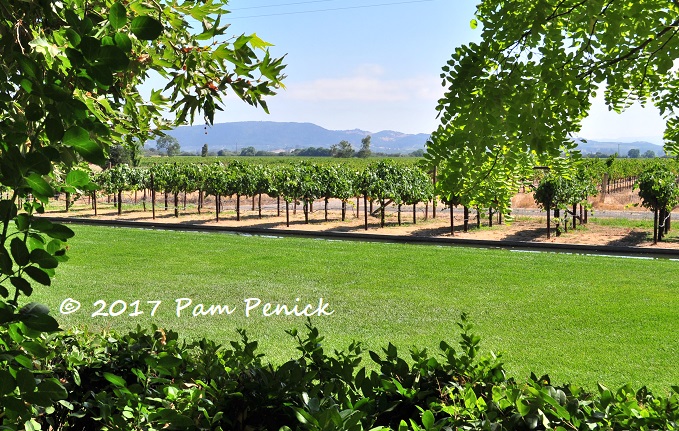 Beyond that, rows of grapevines establish their own rhythm, leading the eye to distant hills.
Bai Yun (White Cloud) by Andy Cao and Xavier Perrot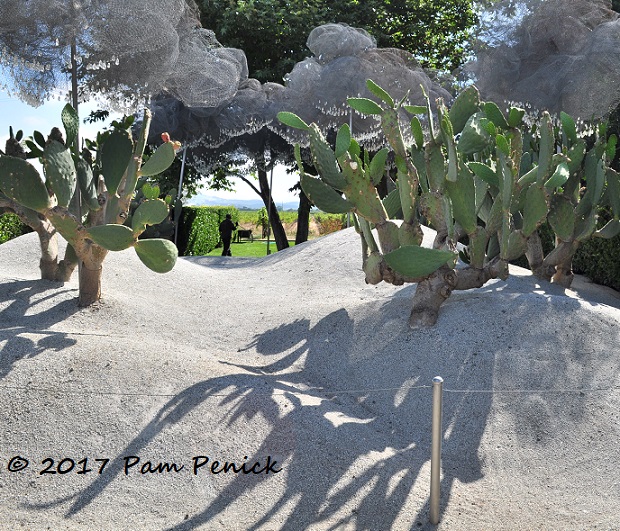 Bai Yun (White Cloud) is hard to photograph but absolutely mesmerizing in person. Fluffy clouds of wire mesh, suspended by metal posts, drip with hundreds of raindrop-like crystals over a desertscape of prickly pear and white dunes. Shadows are surely an intentional part of the design as well.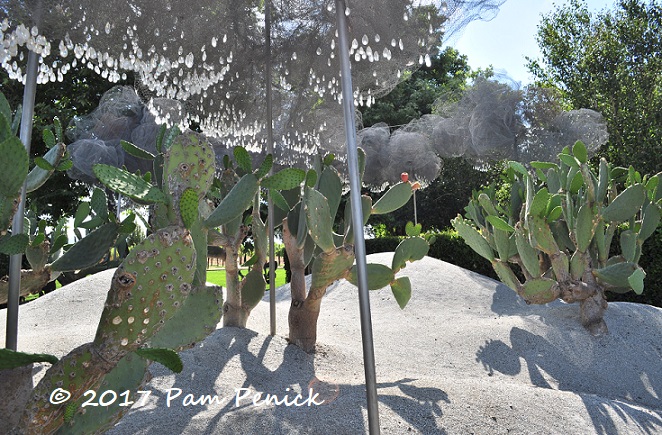 Such creativity!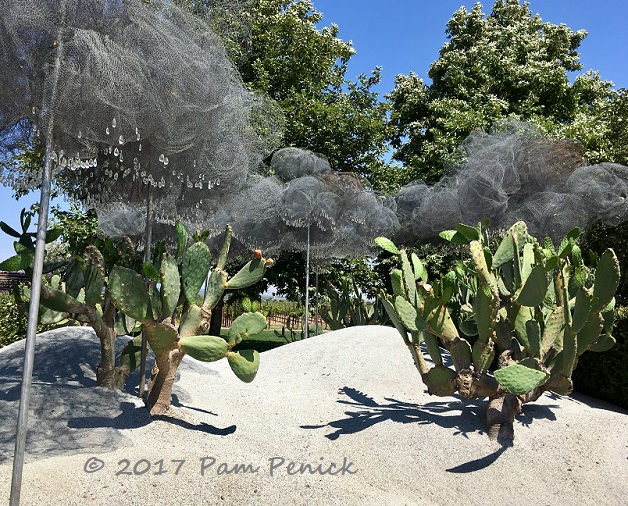 You can't help musing about drought, the preciousness of water, and gratitude for rain when you look at it.
Serenity Garden by Yoji Sasaki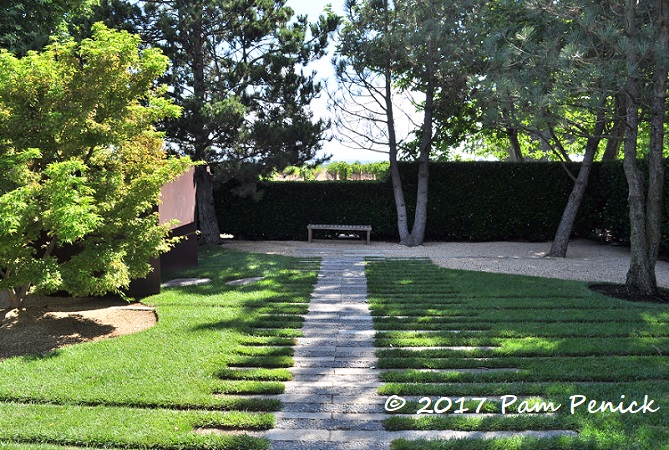 Along a straight main path, narrow paving strips extend on either side into a green lawn in Serenity Garden. Cornerstone says, "Each element in this garden has been carefully selected for its effect, particularly of its ability to point to or register the ever-changing aspects of nature — shadows, wind, borrowed scenery and material texture."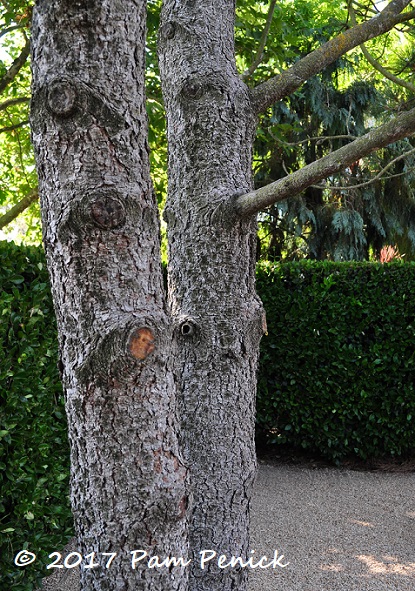 I wasn't moved by this garden, but I did stop to appreciate the rough bark of the pine trees along the back hedge.
Birch Bosque

On the other hand, I loved this bosque of birches in the garden next door. I have a thing for bosques. I find the simple geometry of tree trunks, open space, and (usually) a hedge enclosure to be very soothing.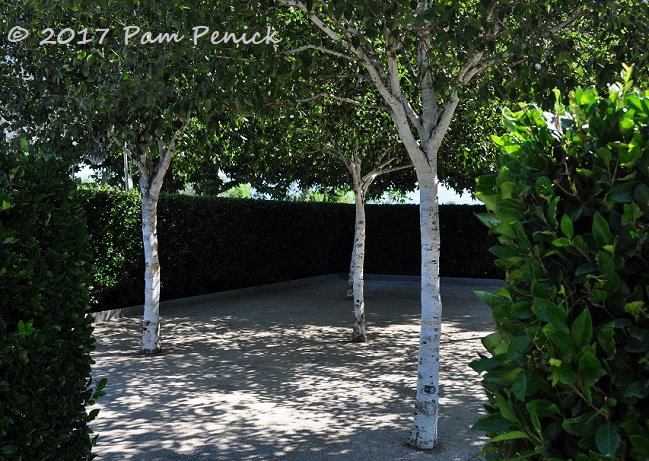 This garden lacked signage, and it's not included in Cornerstone's list of gardens. A little online sleuthing told me that it was formerly a garden by Topher Delaney called Garden Play. The original blue-striped wall and rope balls no longer exist, and an enclosing hedge now frames a view of a vineyard (previous photo).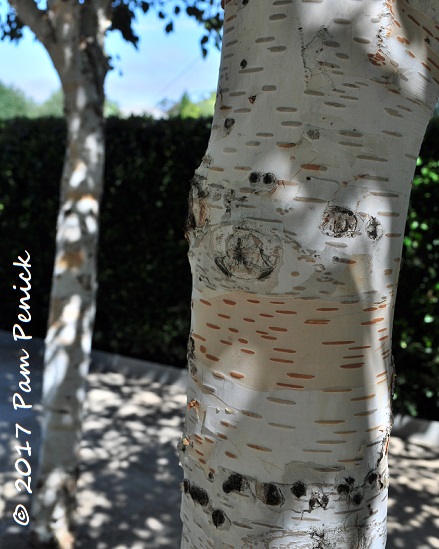 That settles it: I am going to have a bosque of my own one day. But what kind of tree, I wonder?
Pollinator Garden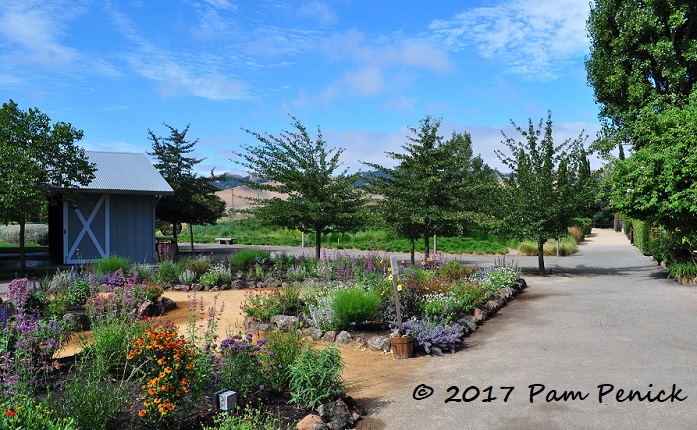 Another garden not listed on Cornerstone's website, as of this writing, is a brand-new space that I believe was labeled as a pollinator garden.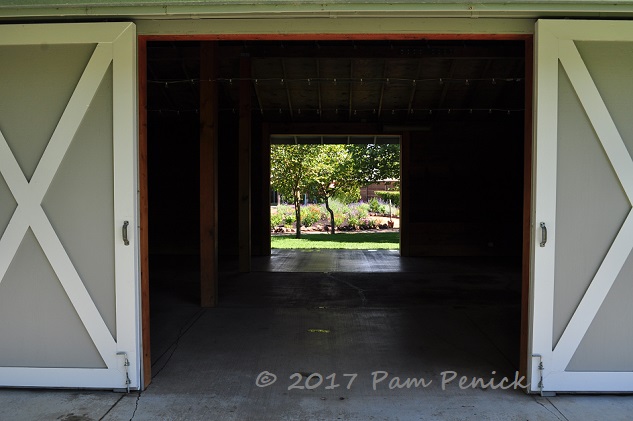 A barn-like structure (wedding venue?) with a central hallway frames it nicely.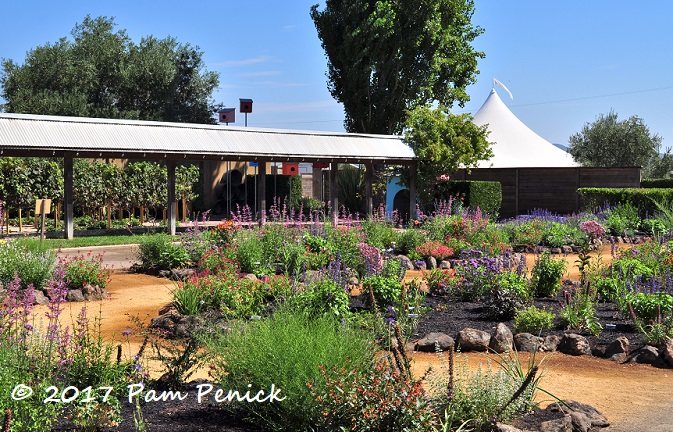 Bright with coneflowers, salvias and more, it's sure to be a hit with insects, birds, and people.
Children's Garden by MIG Incorporated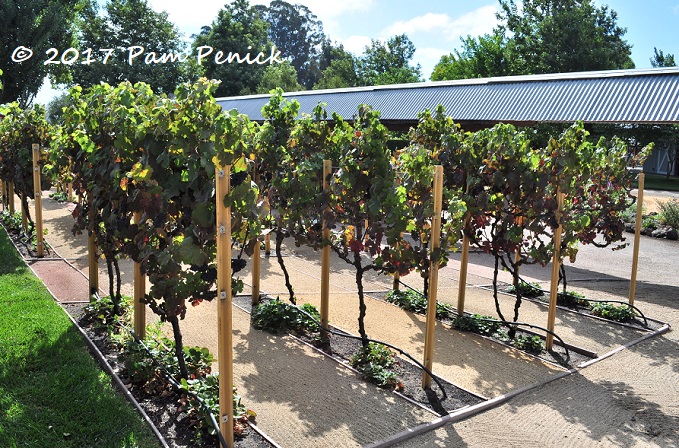 The last Cornerstone garden is a children's garden by MIG. I was struck by the fact that this kids' space is largely organized around a mini vineyard. Starting 'em young out in wine country!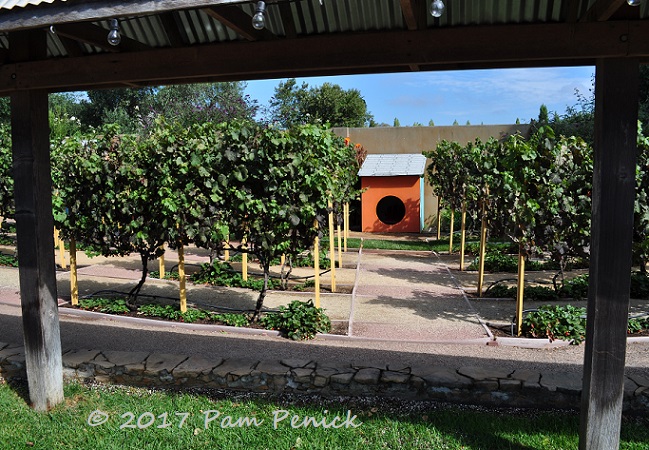 A few colorful playhouses and birdhouses on tall poles add a little kid flavor.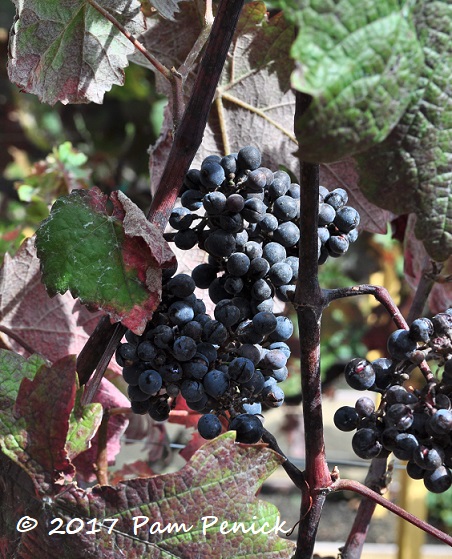 But really, this space is all about the grapes. Which is an appropriate way to end a post about a garden in Sonoma.
Up next: The picture-perfect Sunset Test Gardens at Cornerstone Sonoma.
I welcome your comments; please scroll to the end of this post to leave one. If you're reading this in a subscription email, click here to visit Digging and find the comment box at the end of each post.
_______________________
Digging Deeper: News and Upcoming Events
Get on the mailing list for Garden Spark Talks. Inspired by the idea of house concerts, I'm hosting a series of garden talks by talented designers and authors out of my home. Talks are limited-attendance events and generally sell out within just a few days, so join the Garden Spark email list for early notifications. Simply click this link and ask to be added.
All material © 2006-2017 by Pam Penick for Digging. Unauthorized reproduction prohibited.
posted in
Agaves
,
Arbors
,
Bamboo
,
Bosque
,
Botanic/Public Gardens
,
Cactus
,
Children's gardens
,
Design
,
Drought
,
Edibles
,
Flowers
,
Garden art
,
Garden structures
,
Garden tours 2017
,
Grasses
,
Groundcovers
,
Paths
,
Ponds
,
Prairie/Meadow
,
Rock
,
Roses
,
Sculpture
,
Seating
,
Travel
,
Trees
,
Trellis
,
Vines
,
Walls
,
Water features
,
Water gardening
,
Xeric plants