July 13th, 2017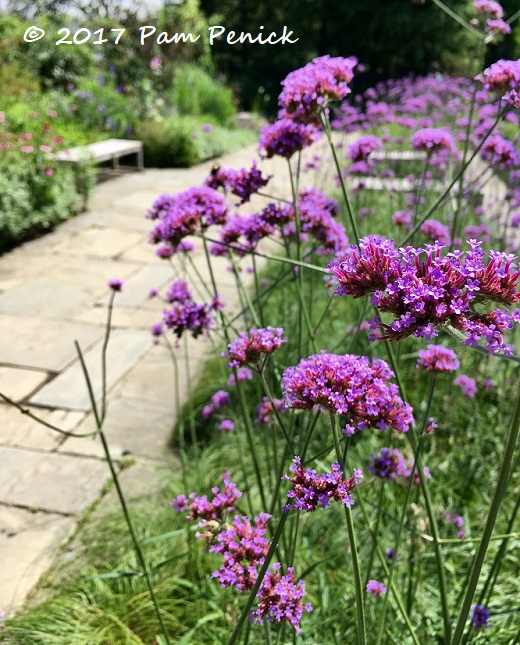 One of our stops on the Capital Region Garden Bloggers Fling was Brookside Gardens in Wheaton, Maryland, where I was smitten by a stand of Verbena bonariensis along a formal path.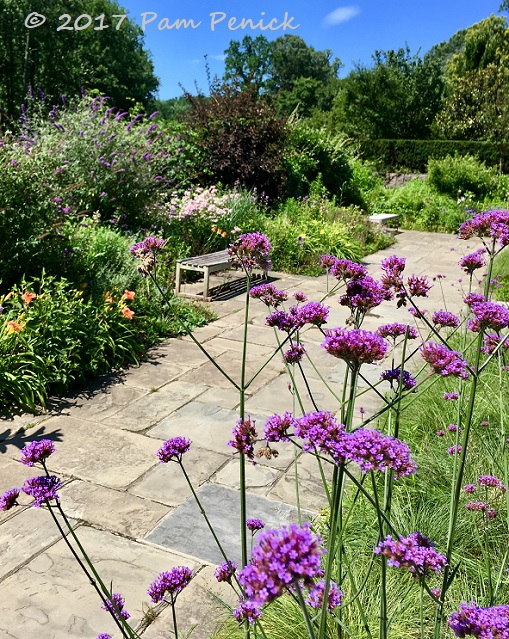 I didn't end up taking many pictures at this garden but rather just strolled through it until I happened upon the Purple.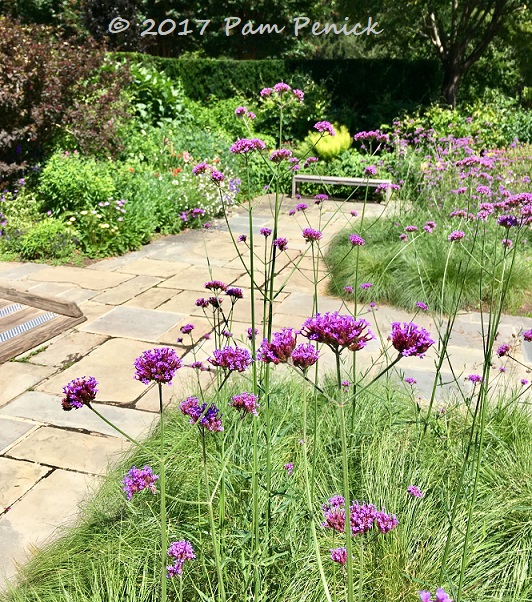 How pretty is that verbena, standing tall over tufts of grass?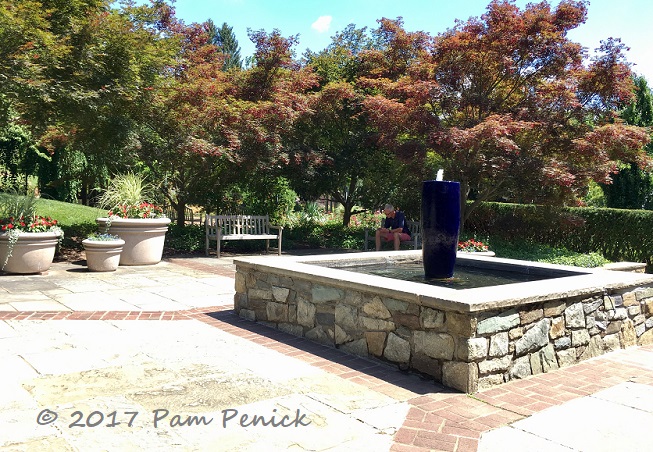 A few more random scenes, including this cobalt fountain backed by the burgundy leaves of several Japanese maples…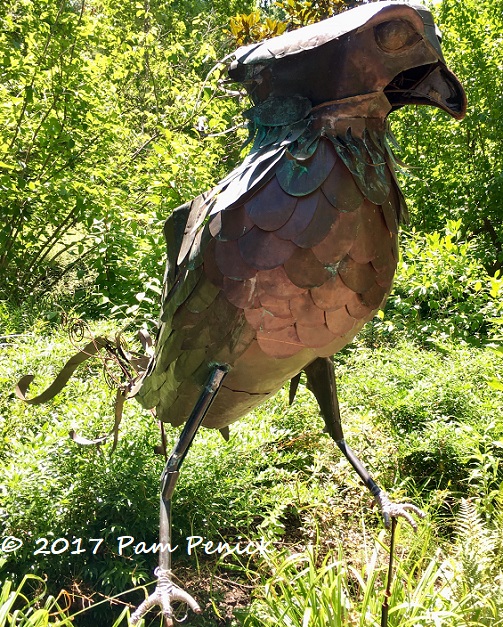 …and this Big Bird-sized sculpture.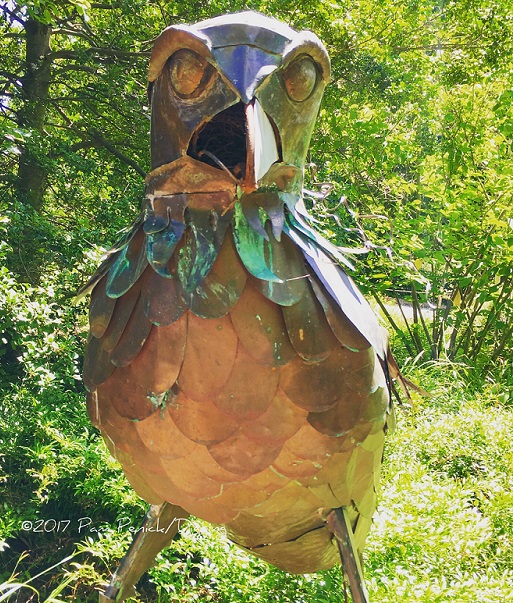 It also functions as a birdhouse! Half of its beak is open, and birds had nested in there.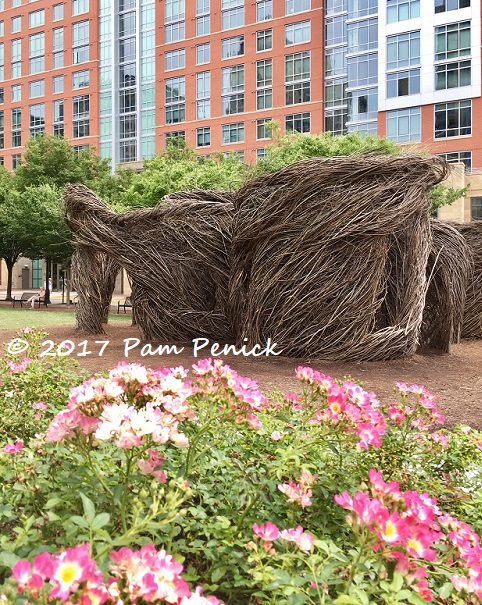 Speaking of big birds, this twiggy sculpture by Patrick Dougherty is big enough to house a pair of them.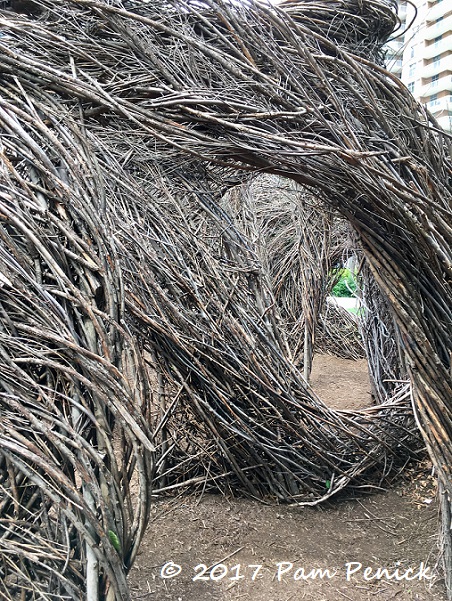 While strolling around Reston Town Center, where the Fling hotel was located, I immediately recognized the nest-like structure as a Dougherty sculpture, having seen another at McKee Botanical Garden in Florida.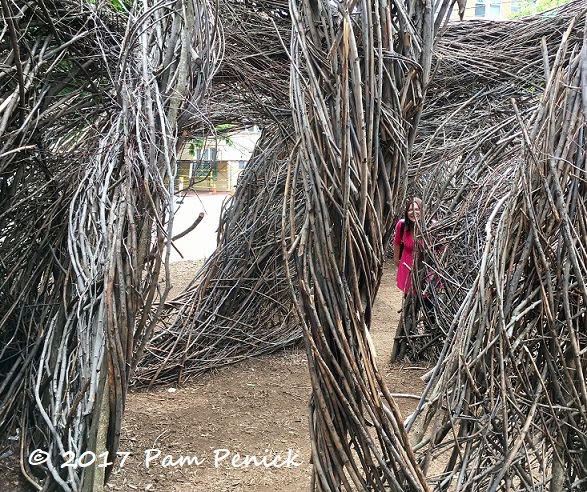 A Bird in the Hand consists of ash, red maple, hickory, willow, and other saplings and was woven on-site. As we explored its curved passages, we were nearly deafened by a chorus of chirping birds living inside the man-made hedgerow. The artist titled it well!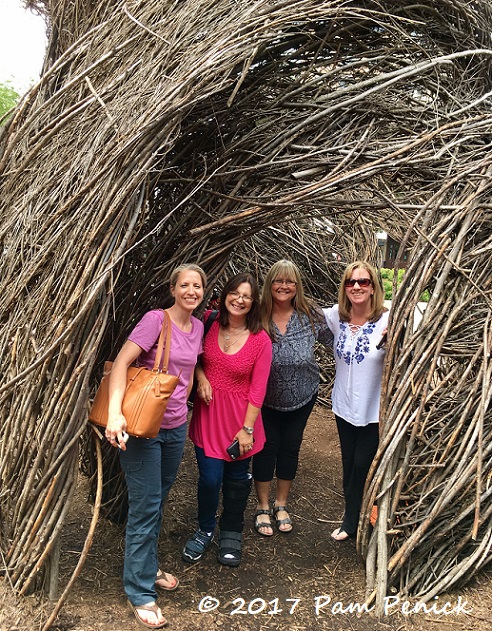 And here's our group, all smiles as we prepare to start Flinging the next day: Laura and Diana, who are my co-planners for the upcoming Austin Fling 2018 (woot!); Diana of Garden With Diana; and Julie of Garden Delights. Delightful blogging friends!
Up next: My visit to Hillwood Estate and its lovely Japanese garden. For a look back at the stunning hillside garden of Barbara Katz, click here.
I welcome your comments; please scroll to the end of this post to leave one. If you're reading this in a subscription email, click here to visit Digging and find the comment box at the end of each post.
_______________________
Digging Deeper: News and Upcoming Events
Book Giveaway! I'm giving away a copy of a fun new book, Potted, that'll inspire you to DIY your own uniquely cool garden planters for porch, patio, or deck. Just leave a comment on my giveaway blog post to enter (click the link and comment there), and good luck! The giveaway ends Friday, July 14, 2017.
Get on the mailing list for Garden Spark Talks. Inspired by the idea of house concerts, I'm hosting a series of garden talks by talented designers and authors out of my home. Talks are limited-attendance events and generally sell out within just a few days, so join the Garden Spark email list for early notifications. Simply click this link and ask to be added.
All material © 2006-2017 by Pam Penick for Digging. Unauthorized reproduction prohibited.