February 15th, 2008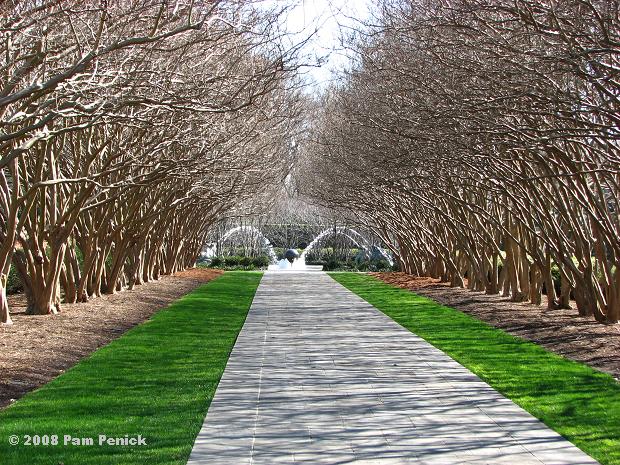 A glorious allee of crepe myrtles leads to a whimsical toad fountain at the Dallas Arboretum, which I visited on Wednesday.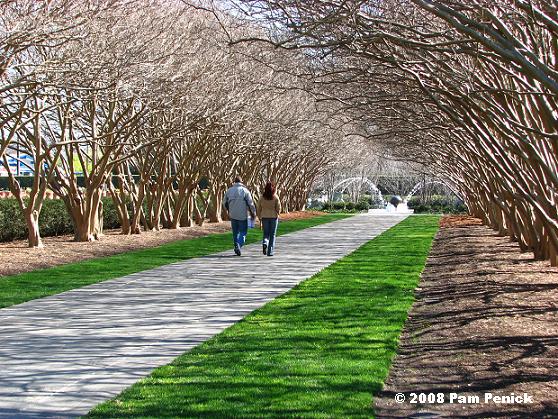 Another view. I'd never seen a crepe myrtle allee before, and their smooth trunks and twisting branches are well suited to this kind of display. I'm sure the allee is quite beautiful in summer bloom (I wonder what color?), but I think I might prefer this bare, winter view, with the interplay of light and shadow.
(While I most often see allees only in formal public gardens, a shorter allee works great in a smaller space—like your back yard. Check out these Austinites who've incorporated allees into their personal gardens: Tom Spencer's bald cypress allee and Deborah Hornickel's espaliered Bradford pear allee.)
Off on another tangent. If you've read all about "crepe murder" and can't bear one more rant, skip this paragraph. But for anyone who isn't sure how to care for a crepe myrtle, this is how it should look in winter: smooth trunks and branches, pruned up over time for openness and to eliminate limbs that cross and rub against each other, but with no ugly "knuckles" that come from lopping the tops off every trunk and branch. Crepe murder—the topping of a crepe myrtle in winter under the misguided assumption that it ensures good blooms the following summer—makes me cringe when I see the poor things afterward. All I can say is, Don't do it ! Once a crepe myrtle has been topped, it will never achieve the smooth, muscled limbs that make it as striking in winter nakedness as in summer bloom.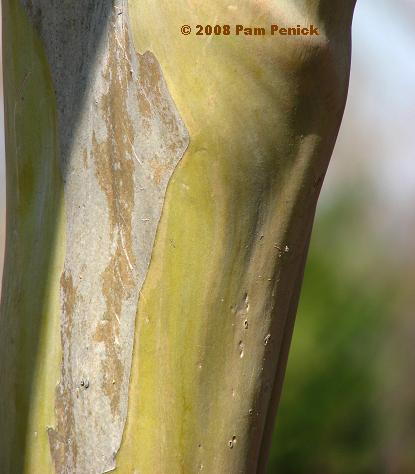 OK, enough ranting. Take a look at the bark on this one. Spring green, gray, and cocoa add color to a trunk that looks almost like a sinewy human limb. You can't help but run your hands over the smooth bark.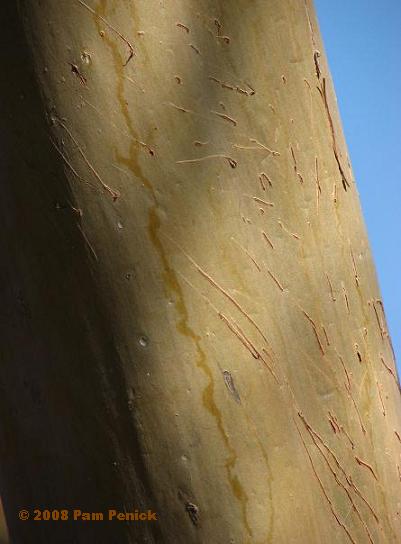 Another crepe myrtle had narrow, cinnamon-colored striations, or maybe peeling strips of bark.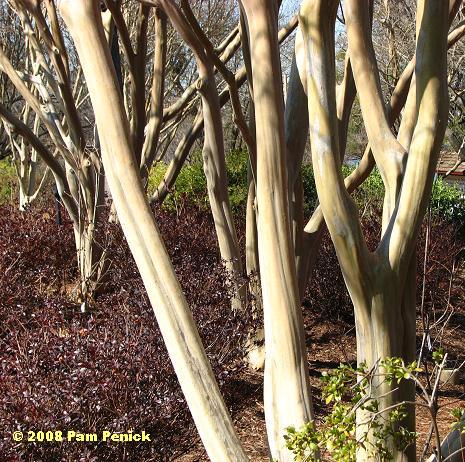 I often overlook crepe myrtles in summer because they are so commonly used around here, including, just recently, in my own garden. But for winter interest, properly pruned, they're the equal of any evergreen.
All material © 2006-2008 by Pam Penick for Digging. Unauthorized reproduction prohibited.