May 16th, 2017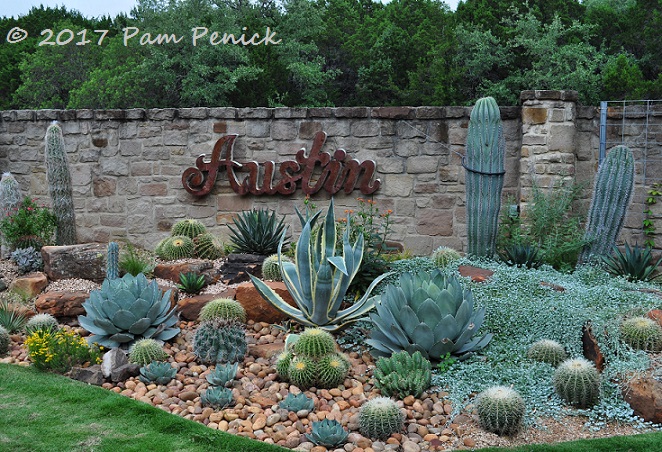 For Foliage Follow-Up this month, I'm taking you on a tour of Matt Shreves's garden near Lake Travis. A succulent and cactus lover (check out his spikealicious Instagram page), Matt has turned an ordinary yard into a tapestry of foliage texture, color, and bold form.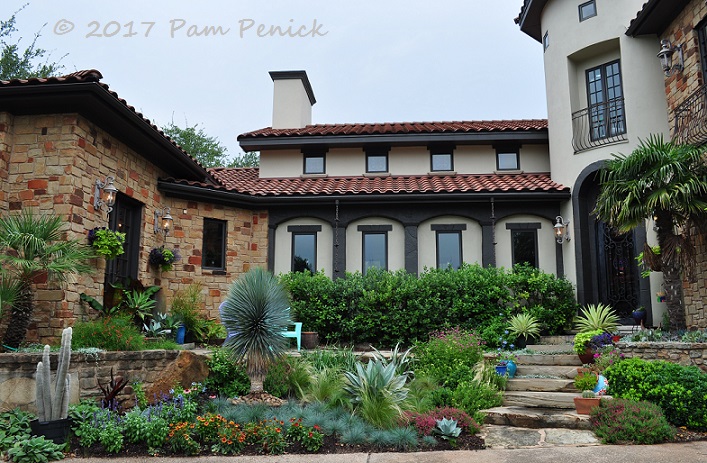 Let's start out front, where he's terraced a sloping entry garden to create multiple levels for planting. A spiky assortment of agaves, beaked yucca, and palms, softened with masses of Mexican feathergrass, salvias, skullcap, and blue oat grass blue fescue (which I've never seen in Austin), creates a colorful welcome.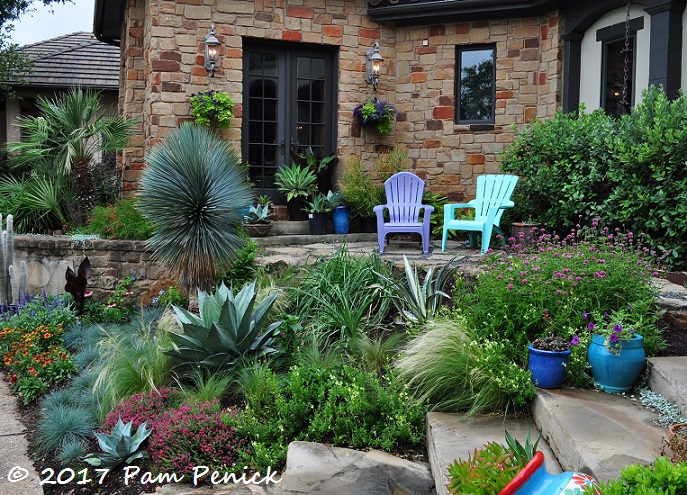 A small patio with colorful Adirondacks sits at the top level, a perfect spot from which to admire the garden.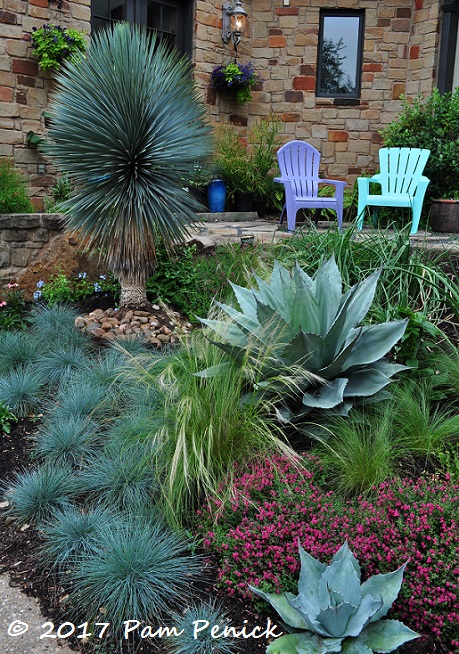 With those blue fescues, it reminds me of a California garden, although the whale's tongue agaves, beaked yucca, pink skullcap, and feathergrass are all perfectly at home here in Austin.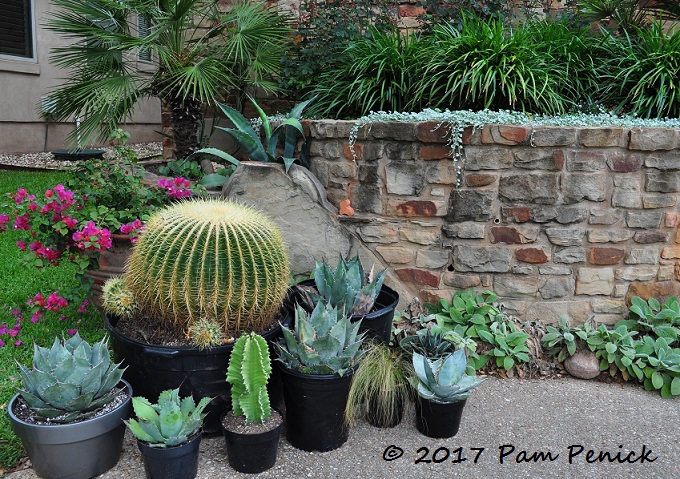 At the end of the driveway, a massive golden barrel cactus and other potted succulents await their forever home.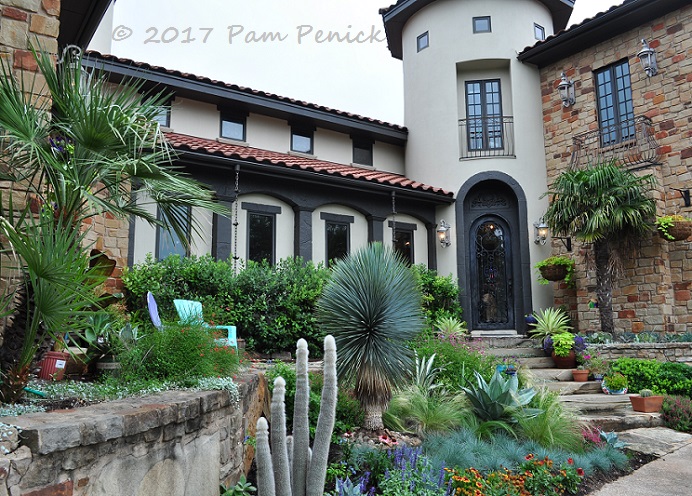 Palms bookend the garden, accenting the Spanish-style house.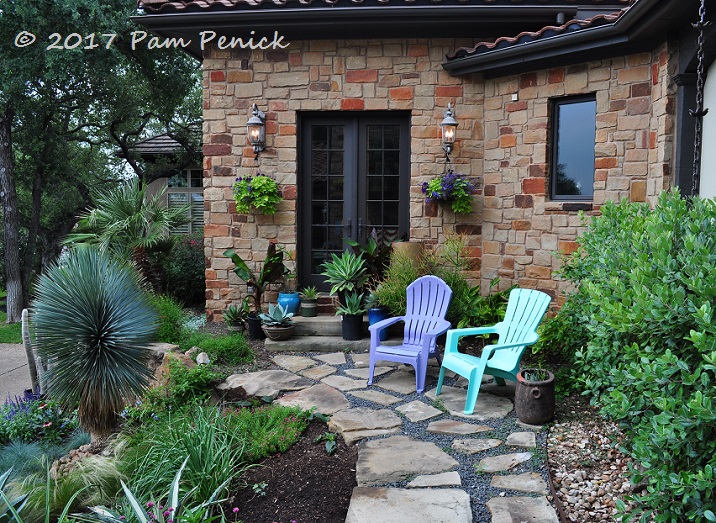 Climbing the steps to the front door, let's pause to admire the little patio. Plants fill every available space, including the steps to a pair of French doors, where chartreuse-leaved annuals fill baskets hanging from the porch lights.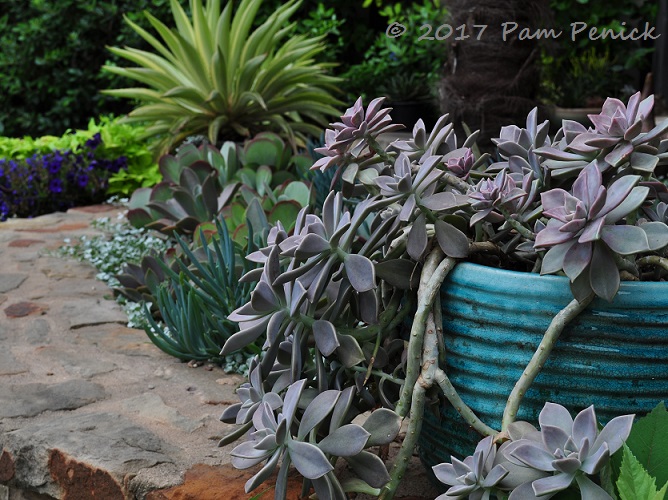 By the front door, purple-tinged ghost plant spills out of a turquoise pot, with a golden 'Joe Hoak' agave glowing in the background.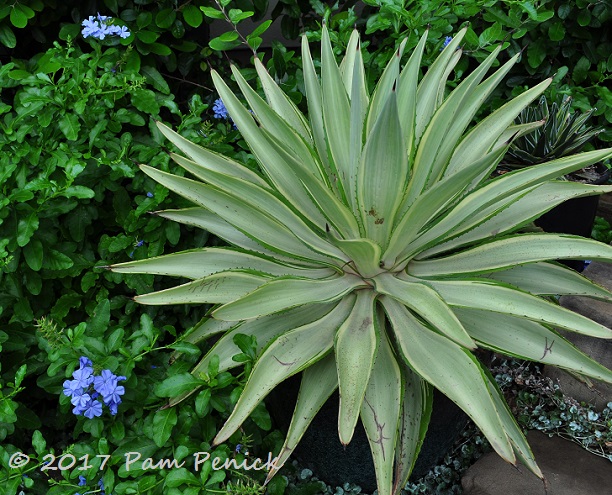 A closer look at that gorgeous 'Joe Hoak', with plumbago just starting to bloom alongside it.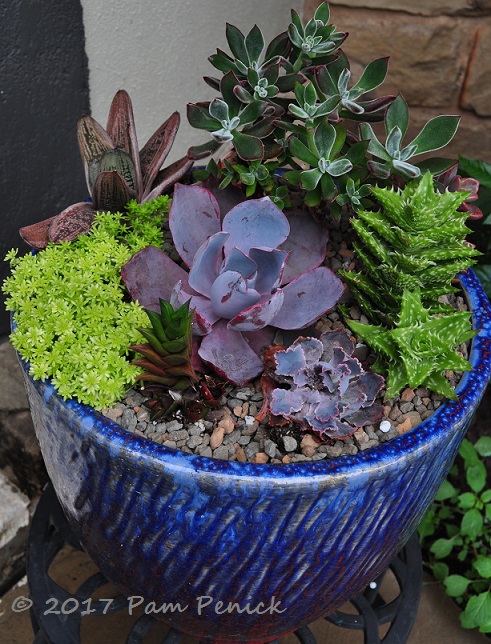 Another pretty succulent pot by the door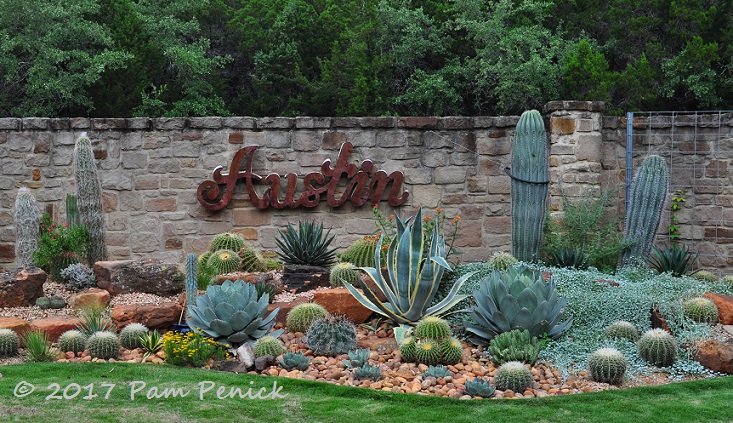 Passing through Matt's house, you enter the back yard to this focal-point scene: a mounded rock garden bristling with agaves, columnar cacti, and barrel cacti, with frothing silver ponyfoot spilling over the rocks. An Austin sign — the same one I have on my own blue wall — reminds you that you're in Central Texas, not Palm Springs.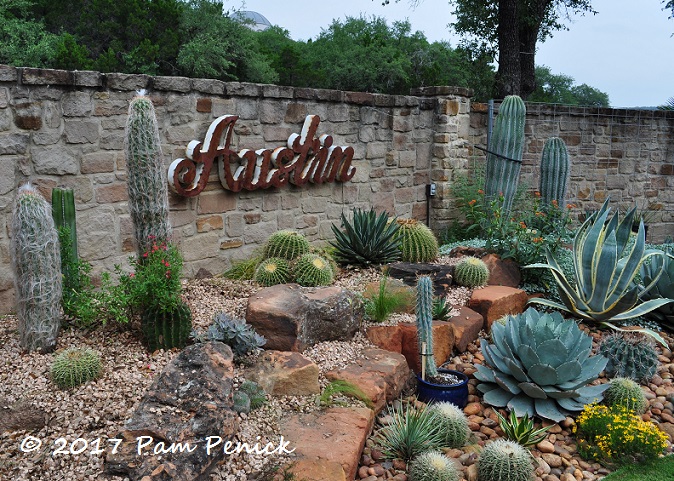 A side view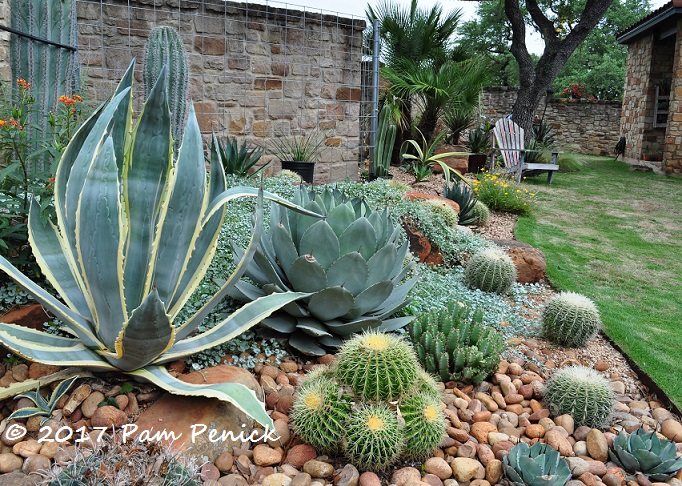 Neatly groomed agaves and cactus in silvery green, powder blue, and moonshine yellow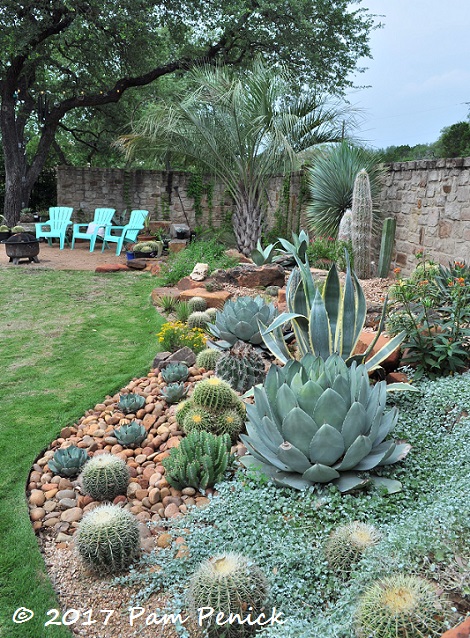 The long rock garden undulates along a stone wall, set off by a small lawn in front. At one end of the yard, a fire pit patio invites relaxation under a live oak draped with string lights.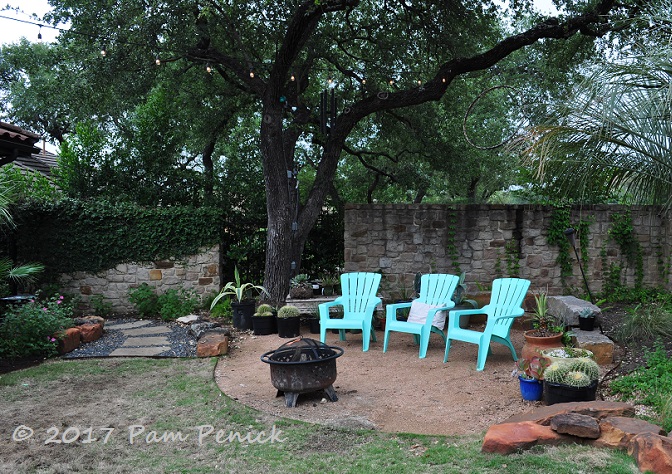 A perfect spot to enjoy the garden in the evening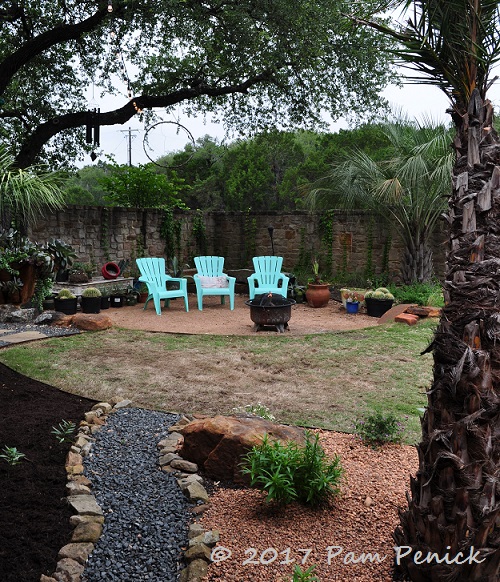 Another view from the back porch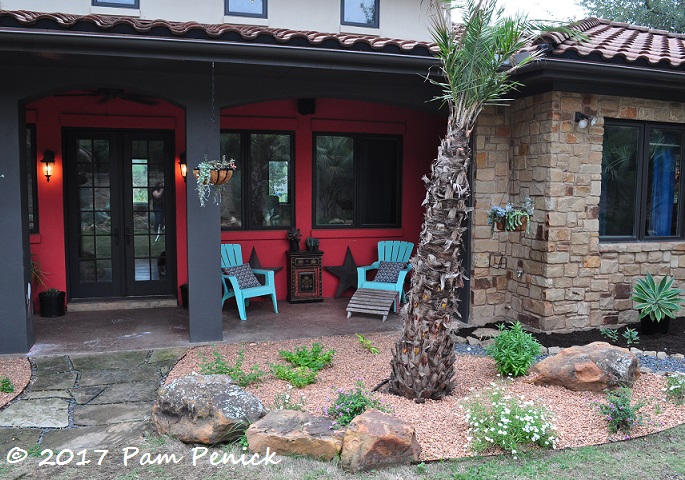 Looking back at the porch, where a red wall contrasts with turquoise chairs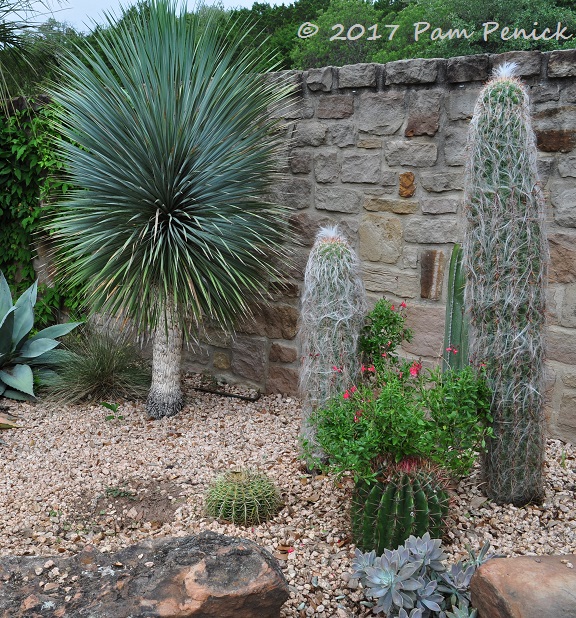 Old man cactus and beaked yucca are charismatic flora for a dry garden.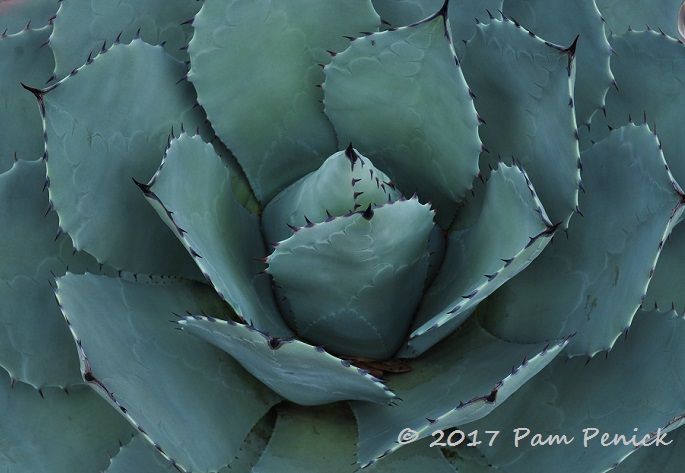 Beautiful blue-green agave leaves outlined by black teeth and spines. Notice the ghostly leaf imprints on the leaves, from when they were still furled.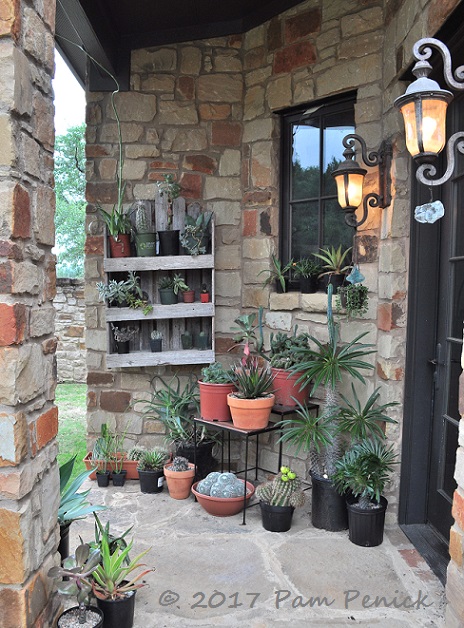 A small porch at the other end of the garden is home to an assortment of small potted succulents.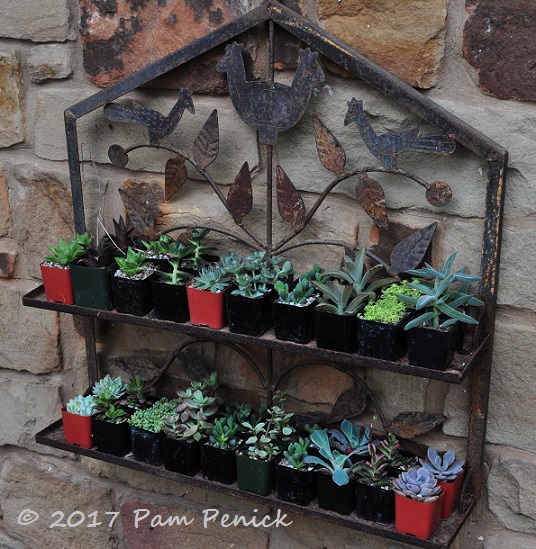 Two rows of tiny potted succulents adorn a hanging metal shelf.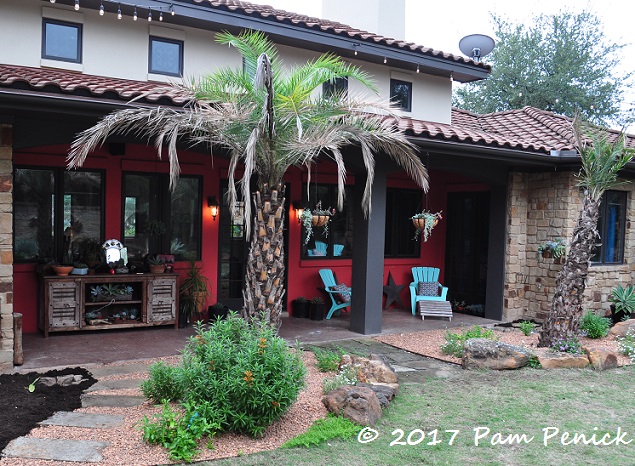 Heading back to the back porch…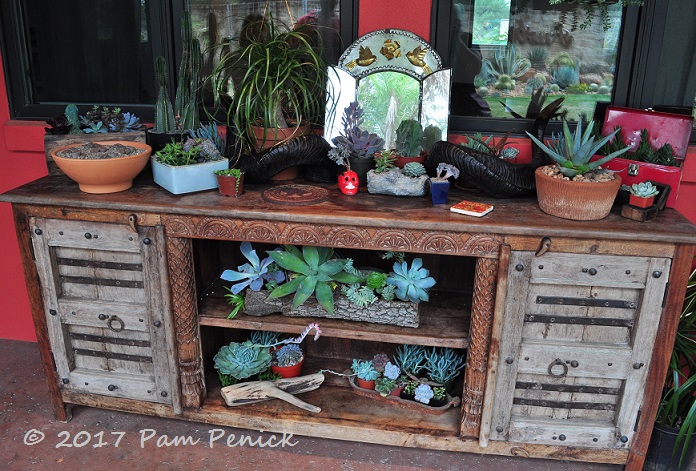 …you see a rustic wooden buffet that Matt has styled with an eye-catching collection of potted plants, a Mexican mirror, and faux water buffalo horns.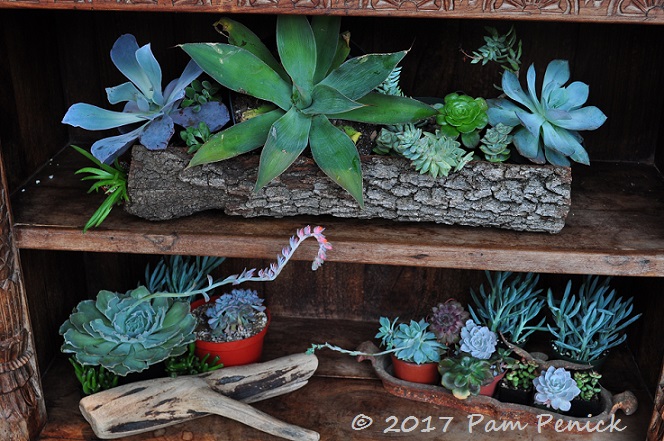 Two lower shelves contain beautiful arrangements that are deceptively simple. A section of tree trunk seems planted with succulents, but actually the plants remain in their nursery pots, tilted to look as if they're growing in the hollowed out trunk. On the bottom shelf, another branch (or driftwood) disguises the nursery pots of more succulents, and a narrow metal tray holds others.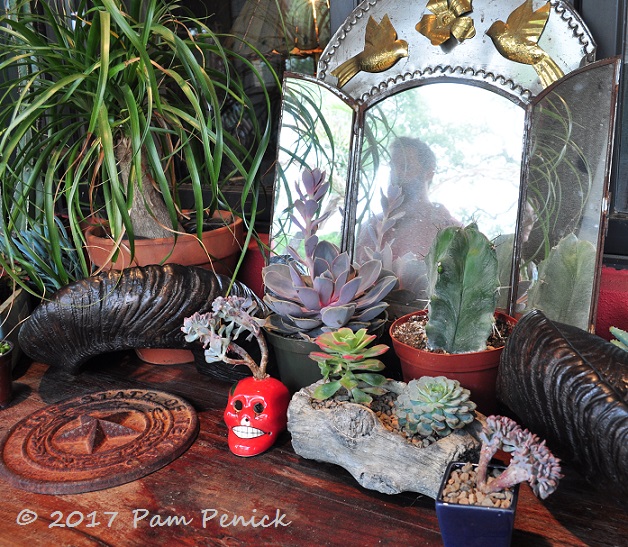 I caught a hazy portrait of Matt in the mirror as I photographed the fascinating arrangement on top of the buffet.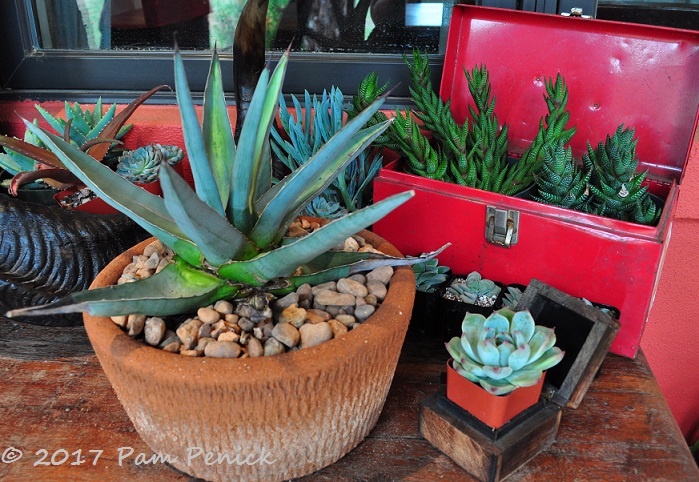 A red toolbox and small wooden box, with their lids thrown open, make fun cachepots.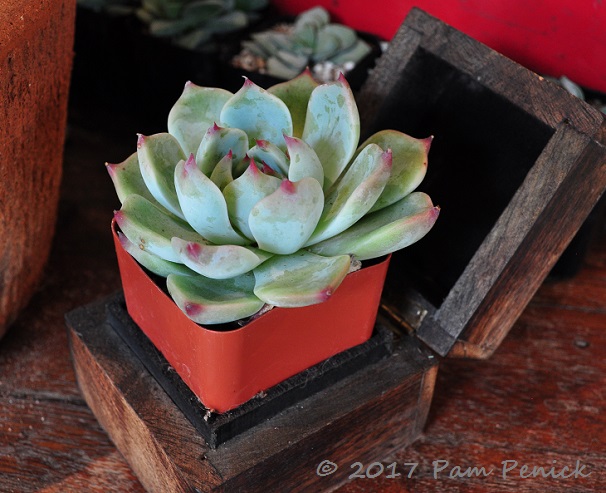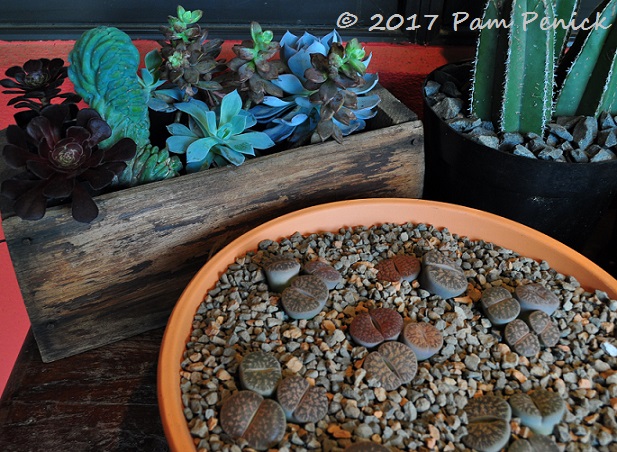 Earth-toned living stones (Lithops) cluster amid matching gravel in a terracotta pot — a striking display.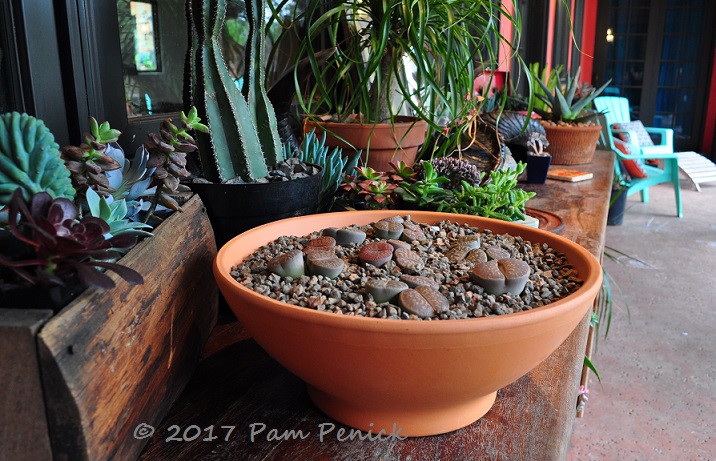 Matt has a great eye for arranging his collection of interesting and unusual plants, and for foliage form and texture, his garden really shines. Thanks for the garden tour, Matt!
This is my May post for Foliage Follow-Up. Fellow bloggers, what leafy loveliness is happening in your garden this month — or one you've visited? Please join me in giving foliage its due on the day after Bloom Day. Leave a link to your post in a comment below. I'd appreciate it if you'll also link to my post in your own — sharing link love! If you can't post so soon after Bloom Day, no worries. Just leave your link when you get to it. I look forward to seeing your foliage faves.
I welcome your comments; please scroll to the end of this post to leave one. If you're reading this in a subscription email, click here to visit Digging and find the comment box at the end of each post.
_______________________
Digging Deeper: News and Upcoming Events
The Austin Daylily Society will host a free garden tour on Sunday, May 28, from 10 am to 2 pm. Four private gardens featuring lots of daylilies will be open to the public, including Tom Ellison's lovely Tarrytown garden.
Get on the mailing list for Garden Spark Talks. Inspired by the idea of house concerts — performances in private homes, which support musicians and give a small audience an up-close and personal musical experience — I'm hosting a series of garden talks by design speakers out of my home. Talks are limited-attendance events and generally sell out within just a few days, so join the Garden Spark email list for early notifications. Simply click this link and ask to be added.
All material © 2006-2017 by Pam Penick for Digging. Unauthorized reproduction prohibited.
posted in
Agaves
,
Cactus
,
Color
,
Containers
,
Decor
,
Firepits
,
Foliage Follow-Up
,
Garden art
,
Garden tours 2017
,
Groundcovers
,
Hillside
,
Lighting
,
Palms/Cycads
,
Paths
,
Patios & decks
,
Porch
,
Rock
,
Seating
,
Signs
,
Succulents
,
Trees
,
Walls
,
Water-Saving Garden
,
Xeric plants
,
Yuccas