November 16th, 2016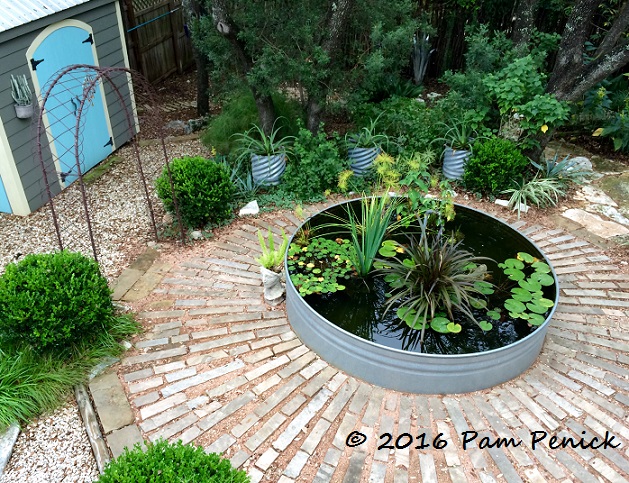 Today is Foliage Follow-Up, a day to celebrate great foliage after the flower celebration of Garden Bloggers Bloom Day. Let's take a spin around the back garden for my foliage faves this month, starting with the stock-tank pond garden. No flowers here since the water lilies slowed down. You're looking good, 'Winter Gem' boxwood underplanted with Texas sedge (Carex texensis), squid agaves (A. bracteosa) in culvert-pipe planters, and pond crinum (Crinum procerum 'Splendens')!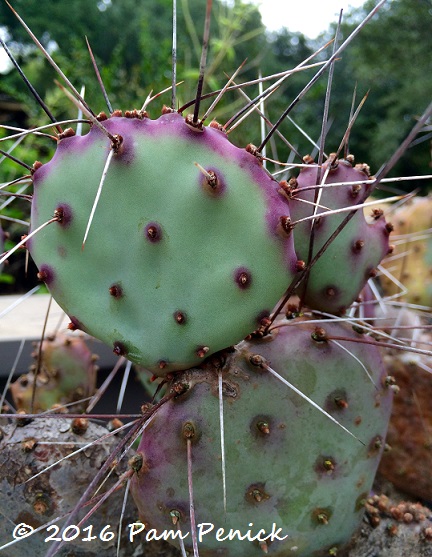 On the deck, potted prickly pear (Opuntia macrocentra) is taking on a purple edge thanks to cooler temps. Sewing needle-like spines are a bonus!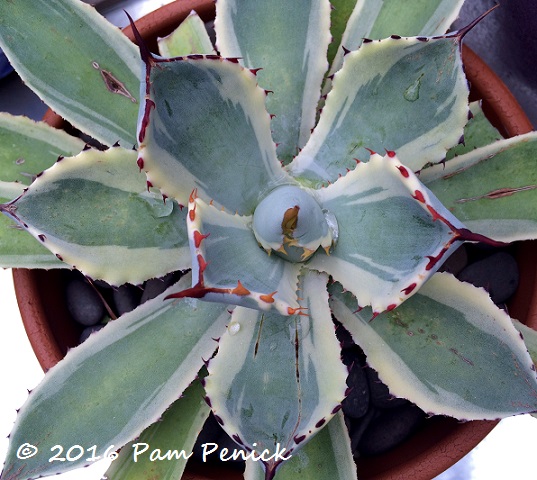 One of my favorite little agaves is 'Cream Spike', a passalong from Bob Beyer of Central Texas Gardening. I adore those red teeth.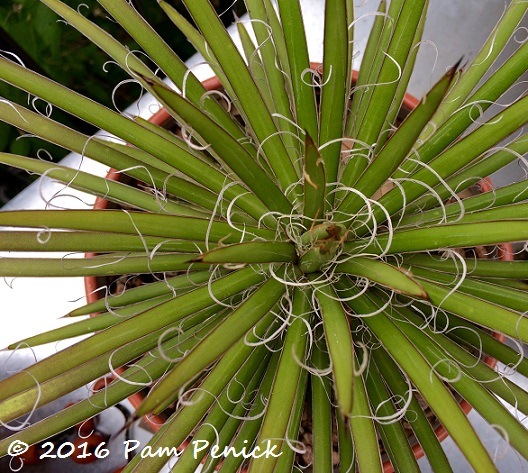 Agave x leopoldii, with cool curly white filaments. Both agaves pictured here must be brought inside during freezing weather.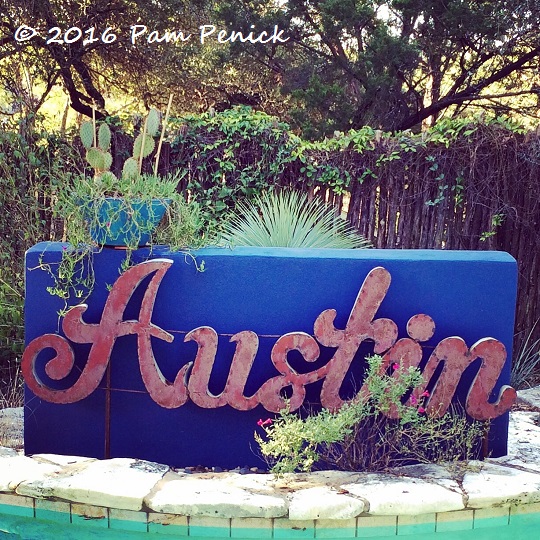 My Austin sign faded this year, but I like its new placement against the blue stucco wall. A prickly pear passalong from Shirley of Rock-Oak-Deer, 'Santa Rita' (Opuntia santa-rita 'Tubac'), is getting established in the blue pot, with balancing help from a few bamboo stakes. Yucca rostrata peeks over the wall.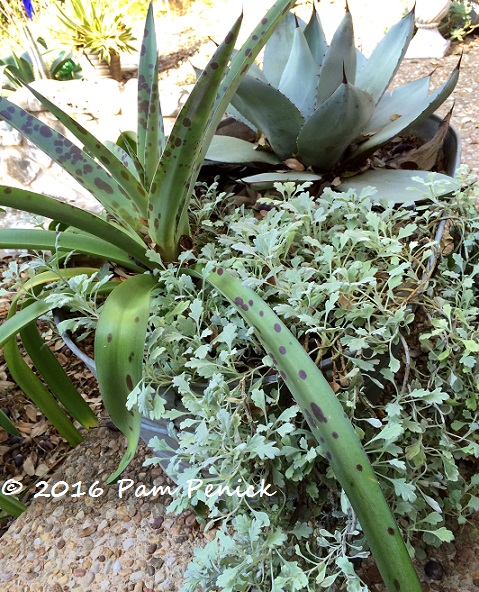 In a galvanized tub on the upper patio, I'm growing native Texas tuberose (Manfreda maculosa), artichoke agave (A. parryi var. truncata), and a new trial plant from Proven Winners: 'Quicksilver' artemisia (Artemisia stelleriana 'Quicksilver').*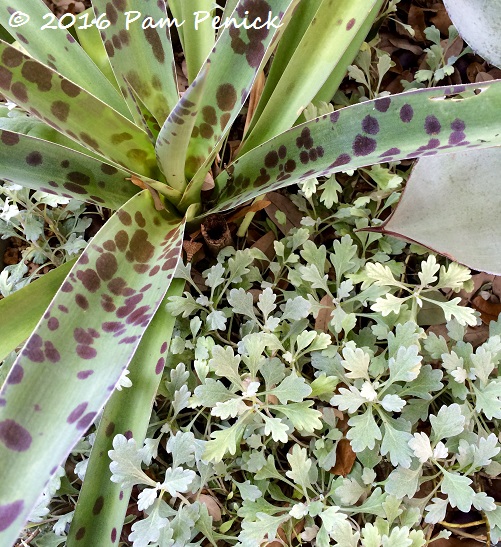 It's growing well in bright shade and needed very little water throughout the summer months, even with a late spring planting. It's described as "vigorous" on Proven Winners' website, and I'd treat it as such — i.e., I'd be very careful about setting it loose in the garden. Certain creeping artemisias, like 'Oriental Limelight', can be very aggressive, and 'Quicksilver' may prove the same.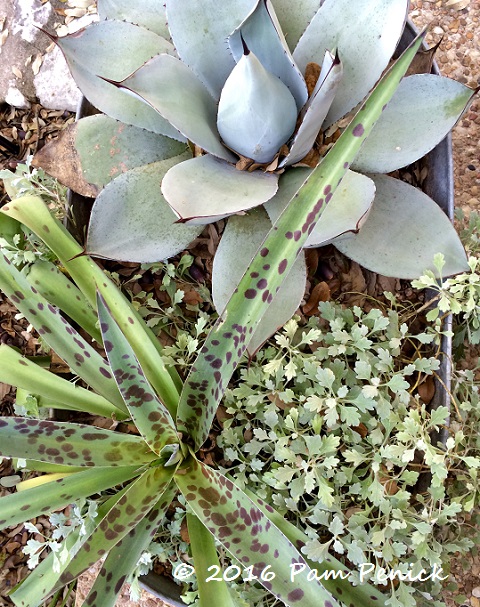 But for a container you don't want to water every day in the summer, it's a great choice as a spiller under a xeric "thriller" like an agave or manfreda.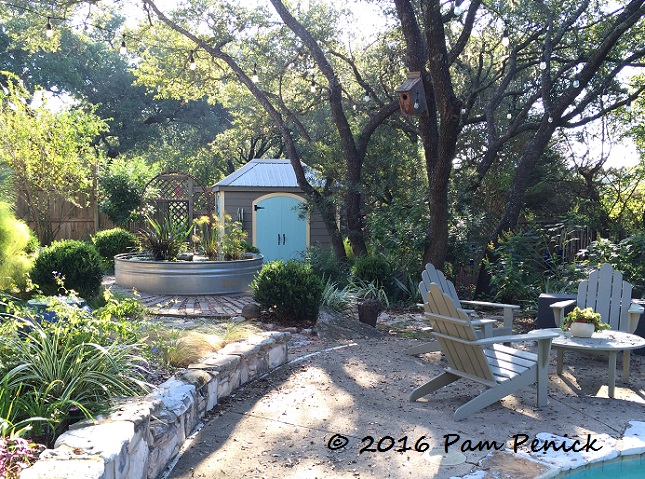 I'll close my foliage-focused post with a last look at the pond garden with 'Winter Gem' boxwood balls, my favorite sitting area, and plenty of still-green foliage.
This is my November post for Foliage Follow-Up. Fellow bloggers, what leafy loveliness is happening in your garden this month? Please join me in giving foliage its due on the day after Bloom Day. Leave a link to your post in a comment below. I'd appreciate it if you'll also link to my post in your own — sharing link love! If you can't post so soon after Bloom Day, no worries. Just leave your link when you get to it. I look forward to seeing your foliage faves.
*Proven Winners sent me this plant to trial in my garden. I'm writing about it at my own discretion and without any compensation. This post, as with everything at Digging, is my own personal opinion.
I welcome your comments; please scroll to the end of this post to leave one. If you're reading this in a subscription email, click here to visit Digging and find the comment box at the end of each post.
_______________________
Digging Deeper: News and Upcoming Events
What's hot in garden design — or about to be? I interviewed designers and retailers across the U.S. to find out! Natural dye gardens, hyperlocalism, dwarf shrubs, haute houseplants, sustainability tech, color blocking, and more — check out my 2017 Trends article for Garden Design and see if anything surprises you.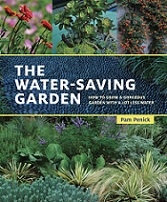 Do you review? Have you read my new book, The Water-Saving Garden? If you found it helpful or inspirational, please consider leaving a review — even just a sentence or two — on Amazon, Goodreads, or other sites. Online reviews are crucial in getting a book noticed. I really appreciate your help!
All material © 2006-2016 by Pam Penick for Digging. Unauthorized reproduction prohibited.
posted in
2nd garden--2016
,
Agaves
,
Arbors
,
Cactus
,
Containers
,
Foliage Follow-Up
,
Groundcovers
,
Lighting
,
Paths
,
Patios & decks
,
Plant trial
,
Ponds
,
Seating
,
Sheds
,
Shrubs
,
Signs
,
Stock tanks
,
Succulents
,
Trees
,
Walls
,
Water features
,
Water gardening
,
Xeric plants
,
Yuccas