January 1st, 2008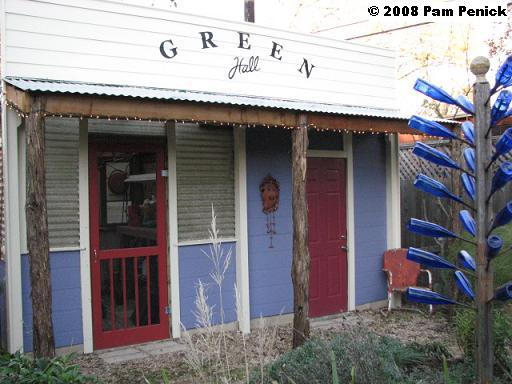 Many months after I set out to remodel my garden shed, its makeover is complete. Nearly. The frame around the new screen door still requires painting, but everything else is done, several months after starting this project. Isn't it amazing how seemingly simple projects get dragged out?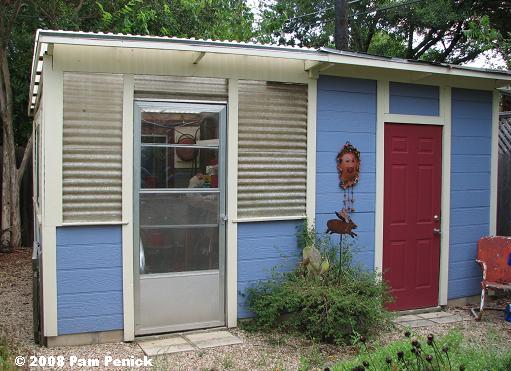 The humble shed looked like this in the summer of 2006. Thrown together by a previous owner, it did an OK job of protecting tender potted plants during Austin's light freezes, and it provided a sturdy potting table plus storage for the reel mower. But even with a fun coat of purple paint (faded into blue in this photo), it remained—let's face it—an eyesore. I took to staring at it, trying to figure out how to give it some character.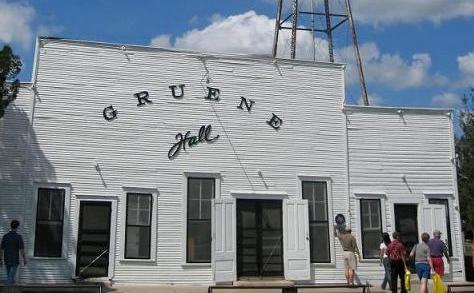 One day the old dance hall in Gruene, Texas, popped into my mind. Although it may not look like much from the outside, Gruene Hall (pronounced "green," not "grune") is one of my favorite places. If you've watched the movie Michael, you've already seen the dance floor; John Travolta's character shows off his moves on the worn, wooden floorboards.
Constructed around 1880, the false-fronted dance hall lays claim to being the oldest in Texas. Whether or not that's true, it's surely the most laid-back, friendly, and evocative dance hall anywhere. Nationally known acts are still booked in the barn-like, yet intimate space—we saw Lucinda Williams there a few years ago—and any weekend afternoon you'll hear live music spilling out the screened windows that provide the only air conditioning. Deep, shady eaves along the side walls, cross breezes, and an icy, cold beer in your hand do a pretty good job of keeping things cool on a hot, summer day. Admission is free on Saturday afternoons, and after you stop at the bar to get a cold one, you follow your ears into the dance hall, where you'll find folks of all ages and backgrounds—from cowboy-hatted country boys to hippies to leather-clad bikers to families with children—sitting on long benches, listening to some rollicking, twangy, fresh-faced band. A few couples might be twirling around the dance floor, and teens will be shooting pool over in the corner. Past the pool tables, you step out into a big, dirt yard shaded by cedar trees, where couples lean against each other at picnic tables and little kids run in circles and a few old boys are tossing horseshoes. Gruene Hall is the real deal. (Click here for the story of its rescue in 1974.)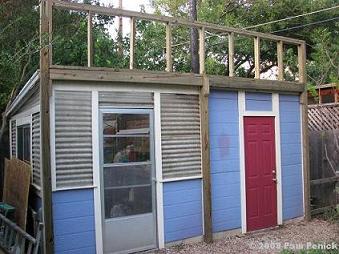 Once I started thinking about Gruene Hall, I couldn't get it out of my head, and I decided to use it as inspiration for my shed remodel. I sketched out a design and hired a carpenter friend to do the work. He built a Western-style false front to give it some height, securely attaching it to the shed to keep Austin's strong winds from blowing it over.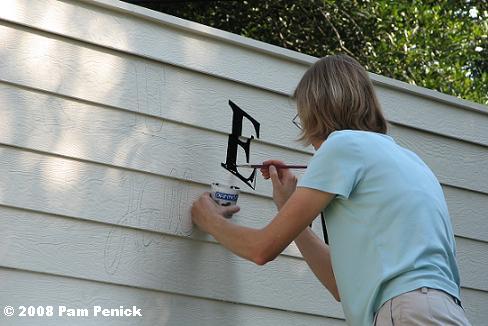 I applied several coats of white paint and hired Leslie Smith, an artistic friend who paints indoor murals, to do the lettering, which copies the style of Gruene Hall's sign. She did a great job, creating templates on paper, then tracing and hand-painting the letters from the top of a stepladder.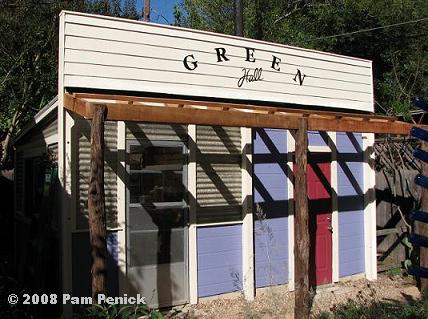 As you can see, I changed the name to Green Hall to reflect its use as a garden structure. The pronunciation is the same as the original, making it my little joke. Here you see the porch under construction, with big cedar posts (juniper, actually, though we call it cedar around here) providing the support.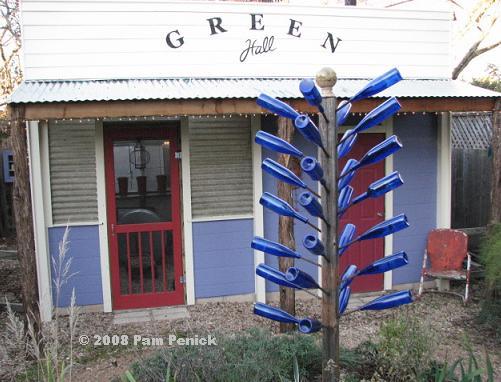 With the addition of the galvanized-metal roof, a new screen door, a fresh coat of paint, and string lights, the shed is now a reminder of one of my favorite places as well as a fun focal point in the back garden.
All material © 2006-2008 by Pam Penick for Digging. Unauthorized reproduction prohibited.