April 12th, 2016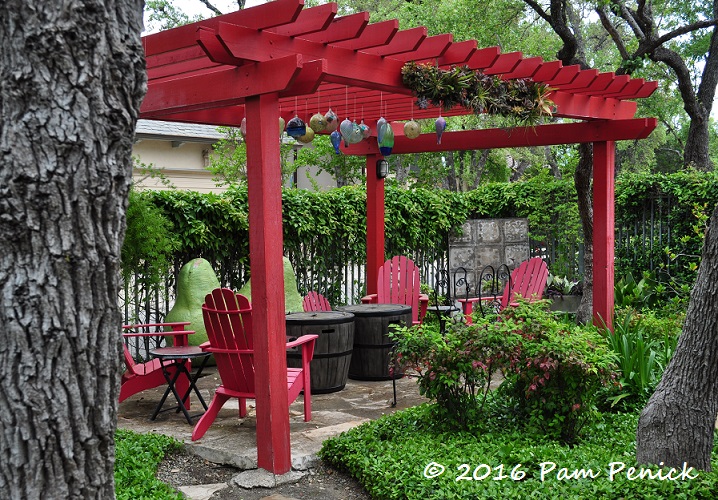 Last Saturday I joined Jenny of Rock Rose for a road trip to San Antonio. We rumbled down there in her pickup truck, making a quick detour to a San Marcos stoneyard, where she picked up a half-yard of gravel for her garden. Could there be a more Texas way to road-trip than in a big brown pickup truck with a load of gravel in the back? Jenny may be British-born, but she's a real Texas gal now.
Jenny and I were in San Antonio for the 2016 Watersaver Landscape Tour, a free event sponsored by San Antonio Water System (SAWS), Gardening Volunteers of South Texas (GVST), and San Antonio River Authority. Our friend Heather of Xericstyle works for SAWS and was running the event with a big smile and plenty of can-do enthusiasm.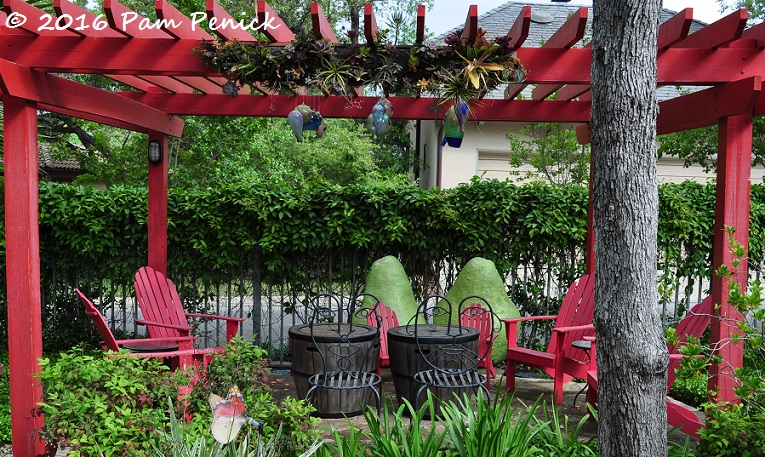 All the gardens were located in a single neighborhood: the luxury gated community of Inverness. The developer, we were told, preserves native plants in the green spaces and encourages homeowners to plant water-wise gardens.
We took a shuttle in and out of the neighborhood and walked a well-marked route to visit all 6 gardens. Along the way, we saw a number of pretty yards that weren't on the tour, and I include a few pics of those at the end of this post.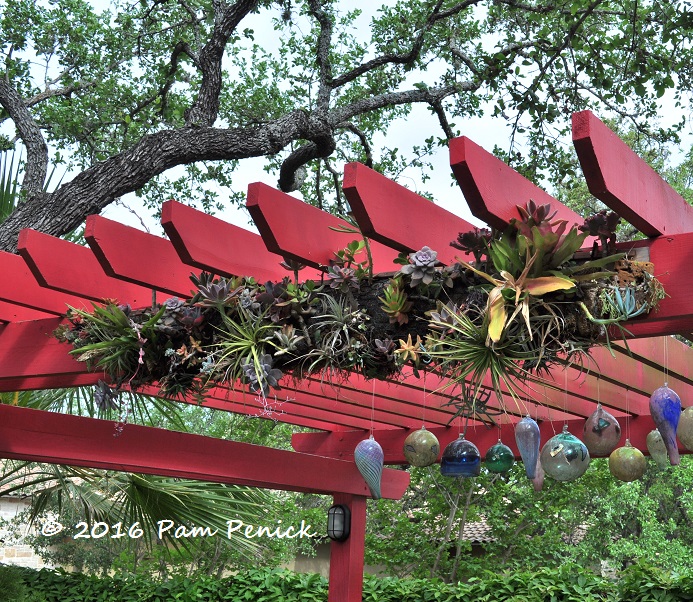 But first, here are my favorite scenes from the various tour gardens. In this lawn-gone back yard, a red pergola makes an eye-catching focal point and shades a flagstone patio. A swag of succulents along the front beam is what really caught my eye.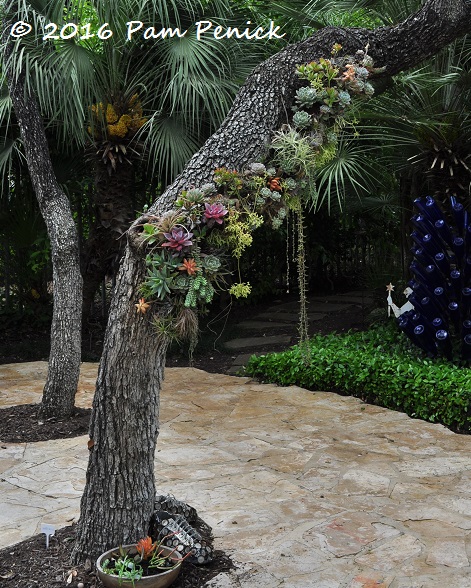 I spotted another one snaking up a live oak's trunk. The plants are growing in a black wire basket filled with soil and moss and attached to the trunk. Jenny vowed to make one of her own, which I look forward to reading about on her blog.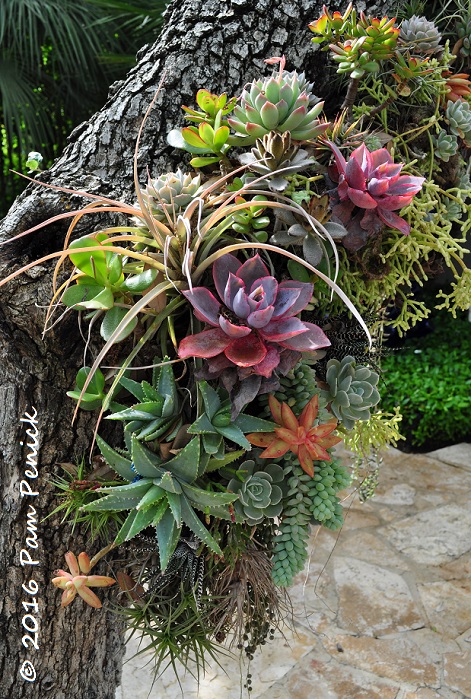 A little online sleuthing turned up the succulent designer in San Antonio who makes these beautiful creations, which she calls succulent vines: Abbey McKenna Succulent Designs.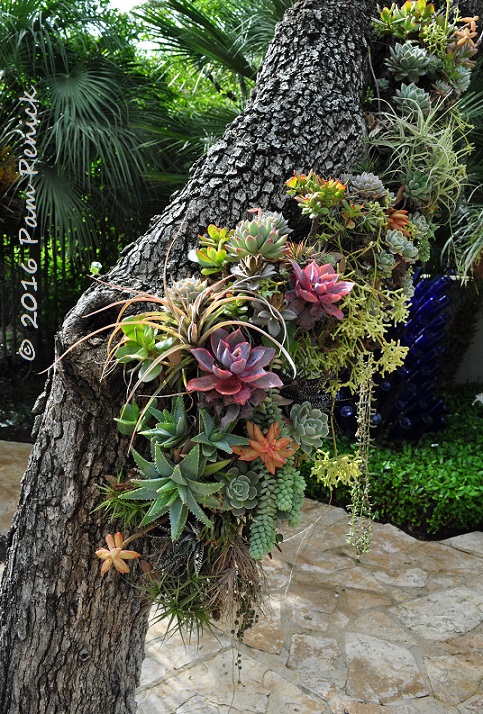 San Antonio's winter is a tiny bit warmer than Austin's, so I'm guessing the owner leaves this outdoors and takes her chances, simply replanting any succulents that don't make it through. That's the same approach I have with my succulent wall.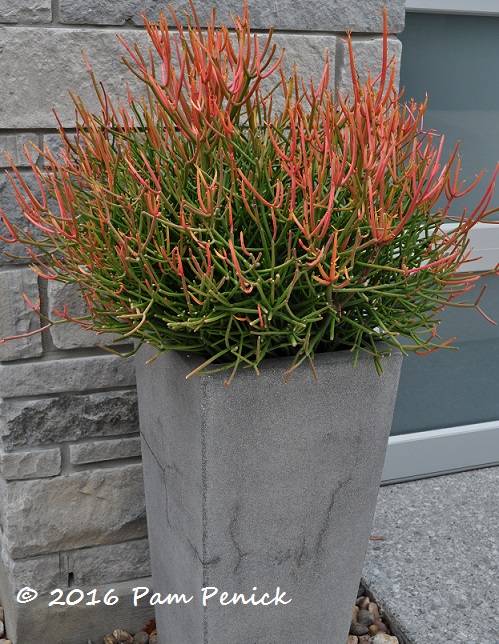 We admired other succulent planters in the garden of Susan Bhatia, a modern xeric garden I visited last summer. This pot of Sticks on Fire euphorbia brightens the garage parking area.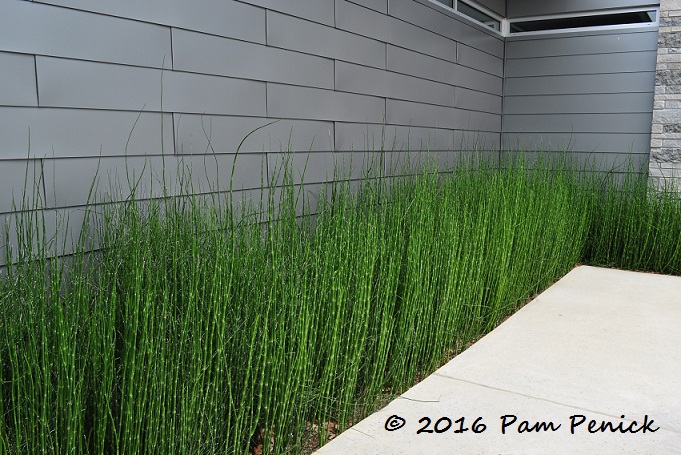 Nearby, a scrim of horsetail adds a lush modern line to the garage wall. (Plant this only where it can be fully root-contained, as here, where it's hemmed in by the house walls and the concrete driveway.)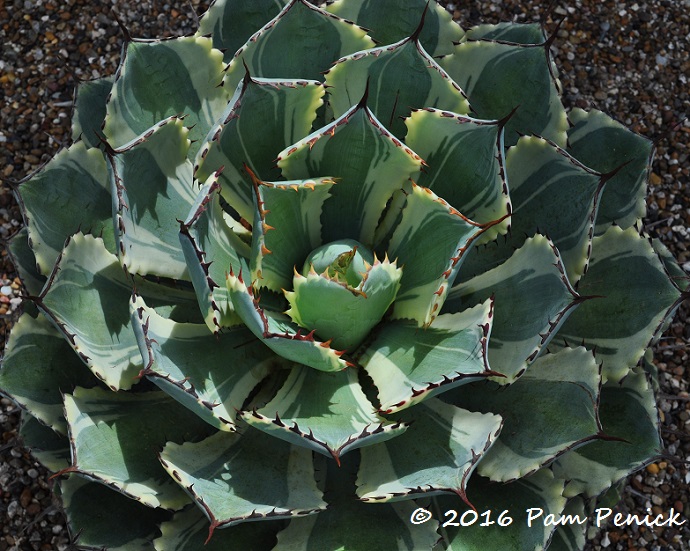 'Kissho Kan' agave. I love those orange teeth and celery-edged leaves.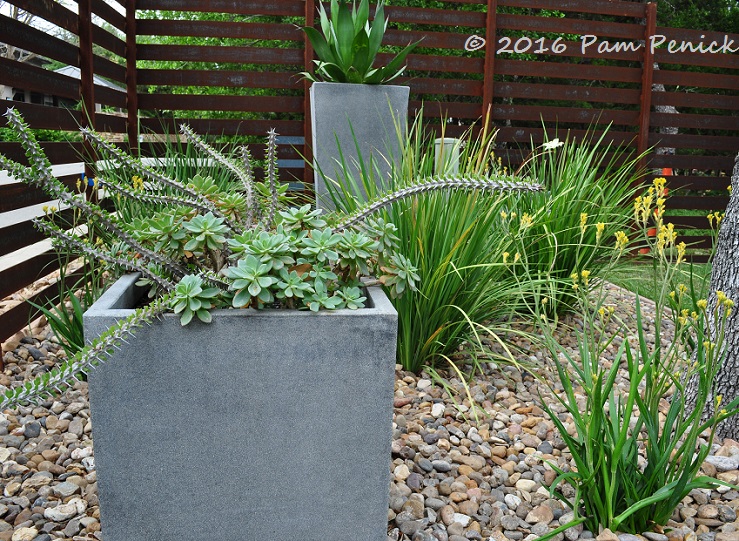 Here's a great solution for a common garden eyesore — those utility bollards and boxes that are so hard to disguise. Susan surrounded hers with a gravel garden planted with bicolor iris and kangaroo paws and accented with contemporary gray pots of agave and other water-thrifty succulents.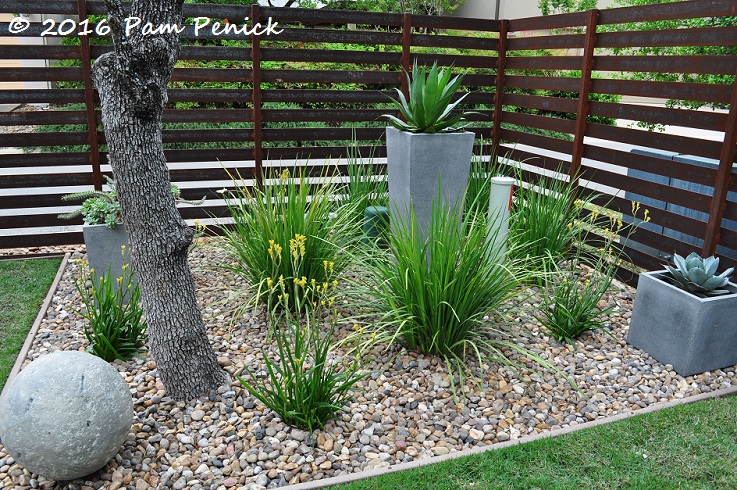 Here's a side view. You can still see the bollards, but the pots attract the eye instead and the irises help screen them. And yet access is preserved for the inevitable utility maintenance visits. I'm doubtful about whether those kangaroo paws will hold up once it gets hot and humid, but they sure look pretty right now.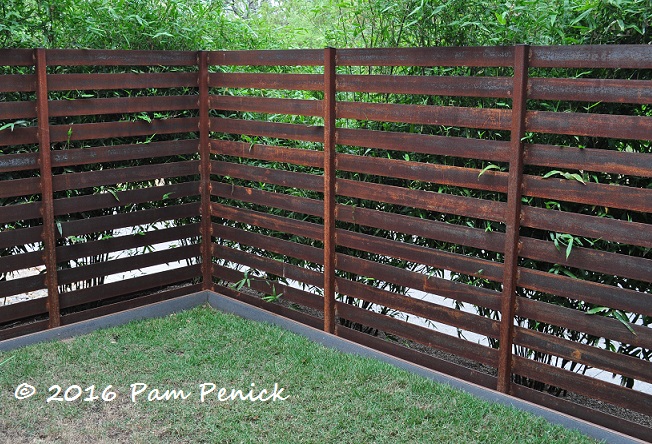 All around the back yard, a Corten horizontal fence provides security and privacy while still allowing light and breezes. Corten isn't inexpensive — not by a long shot — but it'll last forever. To my mind, this is a fence of dreams.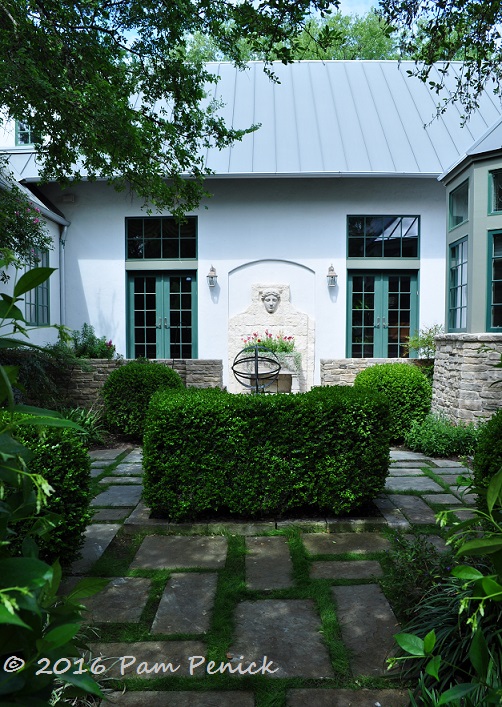 As a complete change of place, how about a formal, French-style side garden at a neighboring house down the street? Cool, shady, and green, this courtyard must make a pretty view for those looking out from inside.
Those were my favorite scenes from the tour gardens. Other interesting vignettes spotted as we walked through the neighborhood included…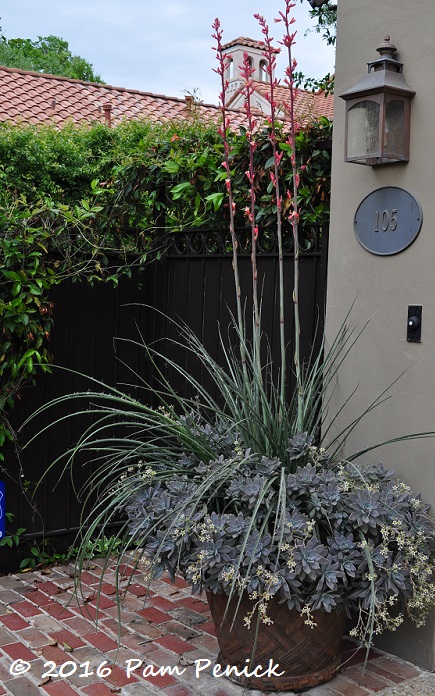 …this water-thrifty container, which I may one day replicate at home: red yucca (Hesperaloe parviflora) and ghost plant (Graptopetalum paraguayense).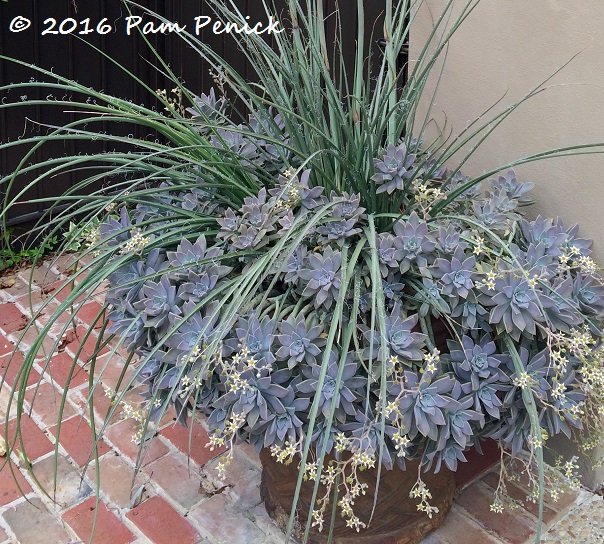 Simply beautiful!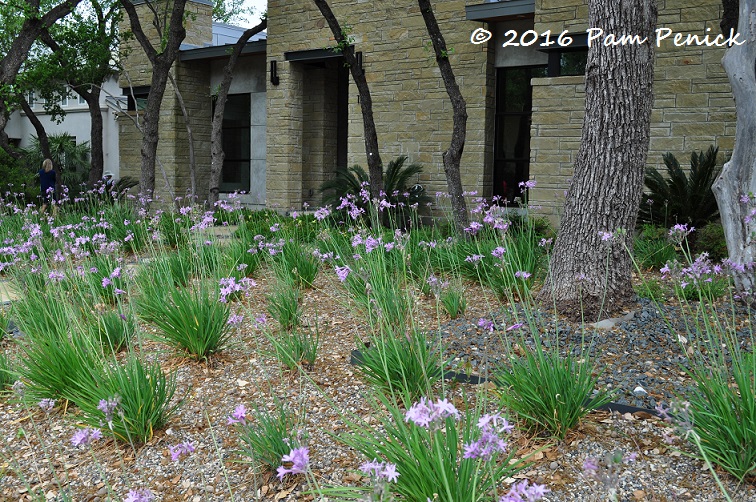 At another house, the homeowners planted tufts of society garlic (Tulbaghia violacea) instead of a front lawn. The plants were all flowering, to magical effect.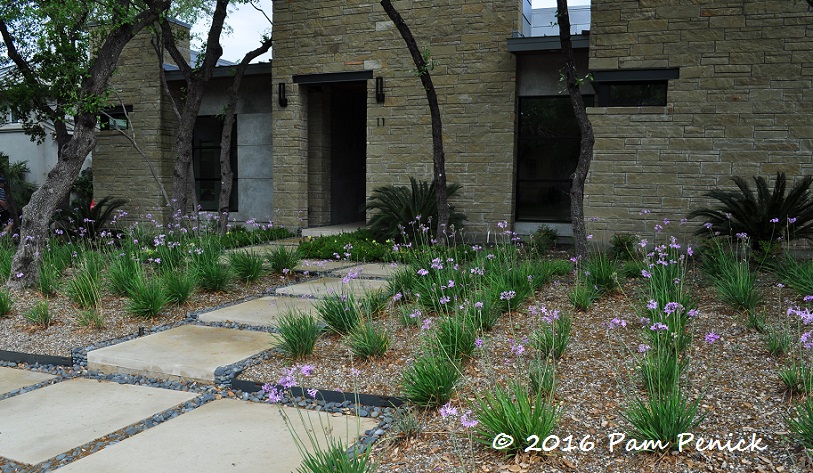 The grid-style planting echoes the lines of the contemporary paver walk.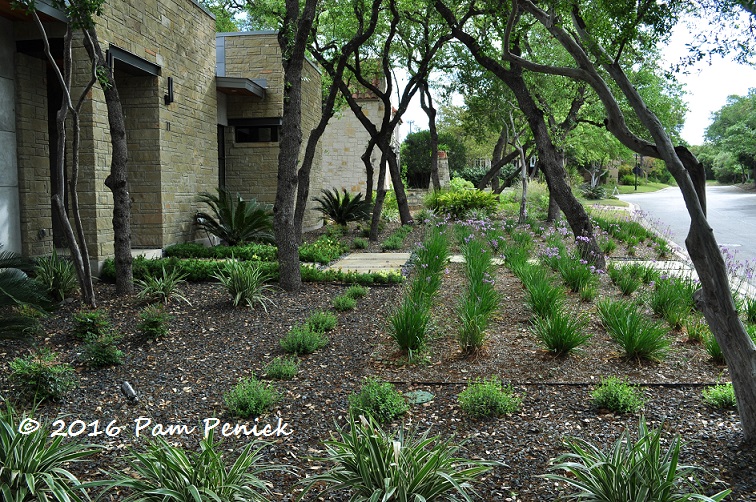 A side view reveals other plants arranged in rows: dwarf yaupon holly, variegated dianella, and skullcap. All are deer resistant, which seems to be an important issue for Inverness residents — that is, if the amount of electrical fencing around agaves is any indication.
Click here to read Jenny/Rock Rose's blog post about the tour. Next up: A return visit to Linda Peterson's stucco-walled garden in San Antonio.
I welcome your comments. If you're reading this in an email, click here to visit Digging and find the comment link at the end of each post.
_______________________
Digging Deeper: News and Upcoming Events
Come see me at Festival of Flowers in San Antonio, May 28, time TBA. Learn more about water-saving gardening during my talk at San Antonio's 19th annual Festival of Flowers. Get a signed copy of my book after the talk. Tickets to the all-day festival, which includes a plant sale and exchange, speakers, and a flower show, are available at the door: $6 adults; children under 10 free. Free parking.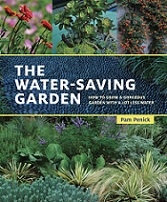 Do you review? Have you read my new book, The Water-Saving Garden? If you found it helpful or inspirational, please consider leaving a review — even just a sentence or two — on Amazon, Goodreads, or other sites. Online reviews are crucial in getting a book noticed. I really appreciate your help!
I'm on Instagram as pamdigging. See you there!
All material © 2006-2016 by Pam Penick for Digging. Unauthorized reproduction prohibited.