September 1st, 2015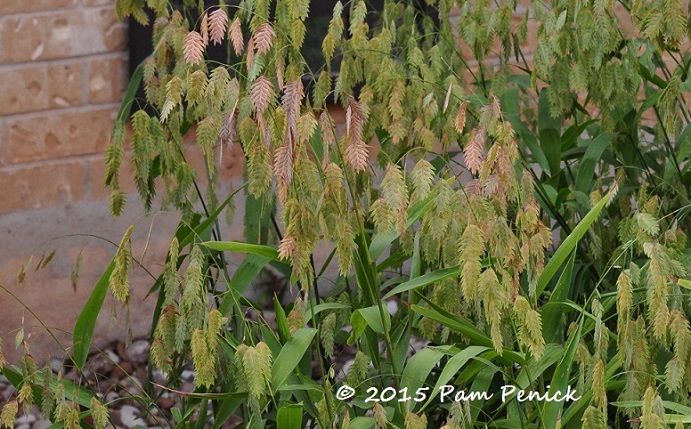 Are you hunting for a shade plant that looks good from April to January but especially shines during the challenging late summer? Try inland sea oats, also known as northern sea oats (Chasmanthium latifolium), a grass that's native to eastern and central North America, including central Texas. A riparian species — you'll see it growing wild along creeks in Austin's greenbelts — it's marketed as a good choice for rain gardens. But with plenty of shade it grows just as well in the dry soil under live oaks.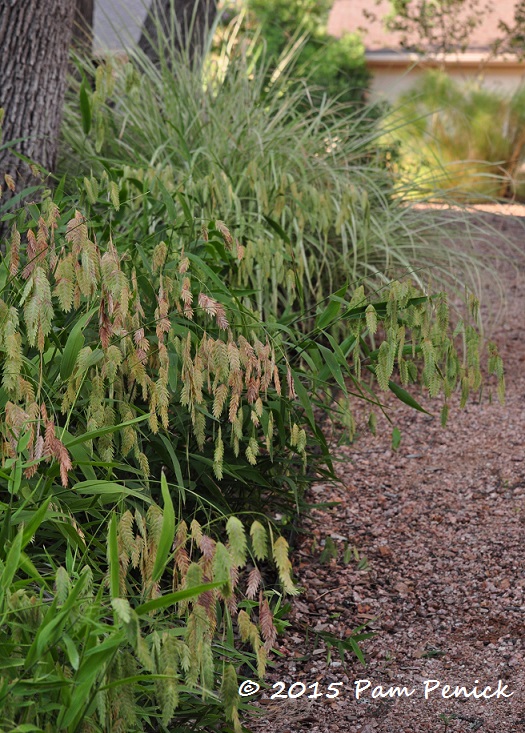 This is the time of year I love inland sea oats the best — and there aren't a lot of plants I can say that about. The oat-like seedheads, which to me resemble fish dangling from a line, begin changing from early summer's apple green to fall's bleached tan in late August and early September. The mix of soft colors is pleasing and adds interest to the late-summer garden, plus it's a welcome promise that fall is on the way!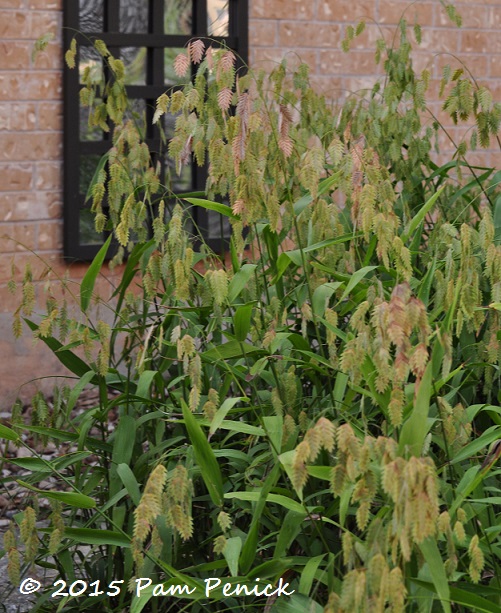 Inland sea oats grows in clumps, with erect but nodding stems that stand between 2 and 4 feet tall, depending on how much water it gets. Mine stays at about 2 feet under the live oaks, with once-a-week watering. It seeds out aggressively in moist conditions and can quickly form a spreading colony. This can be good or bad, depending on your goals; just be aware and be prepared. Seeds that fall into gravel (dry creeks or paving) will likely sprout in the spring, so plan on weeding to keep it in bounds. That said, seedlings pull easily after a rain, and once you have the spring volunteers weeded out, you're good to go all year, as this plant does not spread by runners.
By January or February, inland sea oats will be done. Whack it to the ground around Valentine's Day to clear out the freeze-dried stems and make way for the first green leaves of spring. Or, if you cut it back earlier, in the fall, you can use the stems and seedheads in dried arrangements — but then you'll lose the quiet winter beauty of rustling, dried grasses. Plan to leave some of them standing for cover for wildlife and winter interest.
With its graceful habit and vaguely bamboo-looking stems, it's especially nice in an Asian garden. But I love it as a dry-shade filler that deer won't touch. Try pairing it with our native Turk's cap (Malvaviscus arboreus var. drummondii) and American beautyberry (Callicarpa americana) for a shade-loving, wildlife-friendly power trio that provides plenty of fall color.
Note: My Plant This posts are written primarily for gardeners in central Texas. The plants I recommend are ones I've grown myself and have direct experience with. I wish I could provide more information about how these plants might perform in other parts of the country, but gardening knowledge is local. Consider checking your local online gardening forums to see if a particular plant might work in your region.
All material © 2006-2015 by Pam Penick for Digging. Unauthorized reproduction prohibited.