March 4th, 2015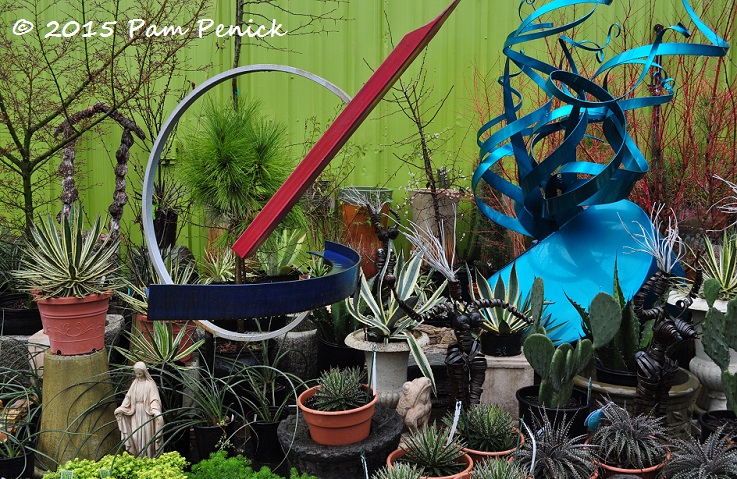 Shoehorned into a corner lot in the historic Heights neighborhood of Houston, Joshua's Native Plants and Garden Antiques is a treasure trove of interesting plants and unusual garden art that you won't find at every other nursery you visit. Despite a downpour that had me huddled under an umbrella last Saturday, I lingered over the eclectic inventory, pawing through bins of funky garden decor and admiring the variety of plants.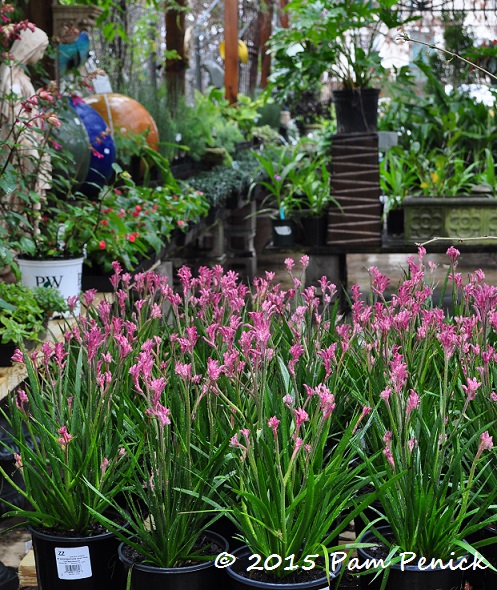 I loved the place. I have to point out, however, that the nursery's name is a bit misleading. For one thing, I didn't see a specialization in locally native plants. Instead the tables were packed with a world-ranging assortment: perennials from Australia, agaves from Mexico and the desert Southwest, succulents from Africa, tropicals from South America, Southern-adopted Asian natives, and grasses and trees from Central and West Texas, as well as traditional annuals.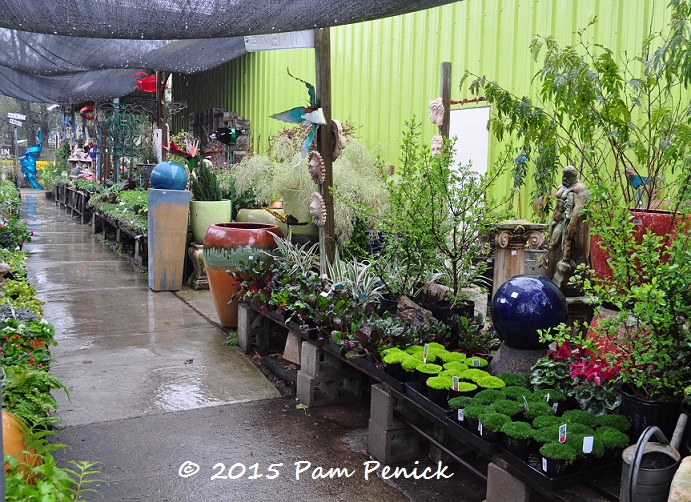 If there was a table of plants native to southeast Texas, I didn't see it.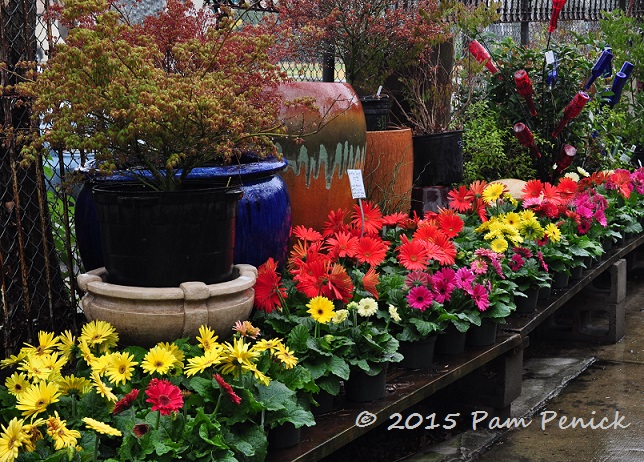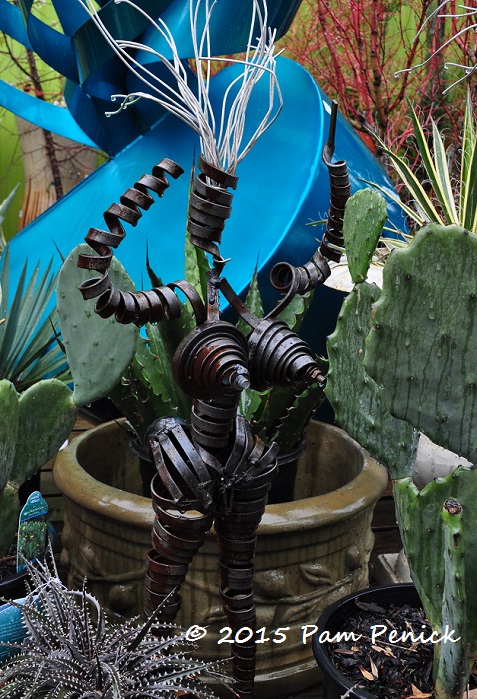 Also, "Garden Antiques" might lead you to expect classical statuary, and there is some. But there's also a crazy-wonderful collection of contemporary sculpture, funky yard art, Asian statuary, and, inside a cavernous warehouse, a mish-mash of architectural remnants, recycle-worthy junk, and old signage that Joshua, the owner, has found on buying trips around the world.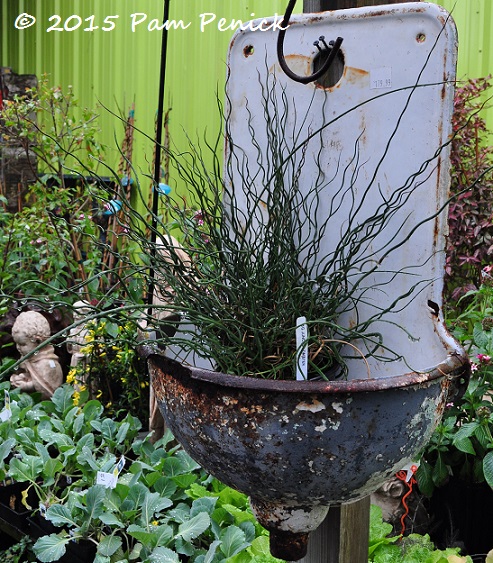 The owner's eclectic tastes have made Joshua's a funky Heights favorite and a place where you can find the perfect plant or ornament you never knew you needed.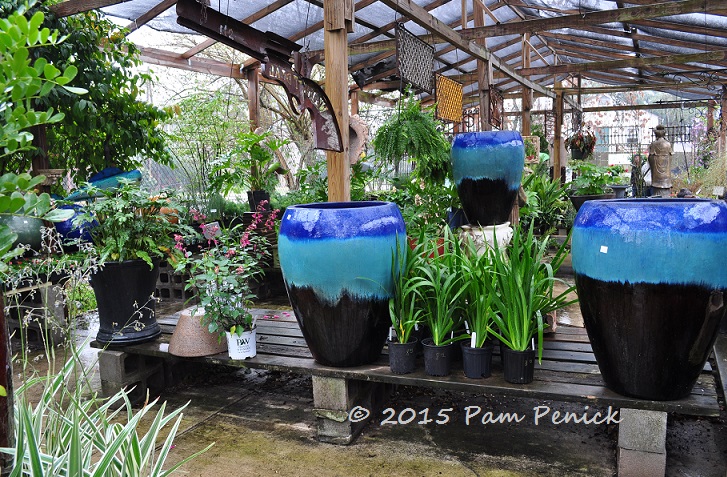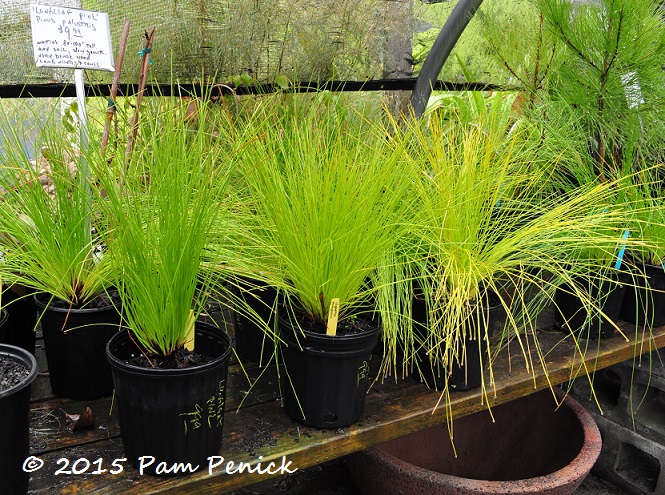 One Southern native that caught my eye was a collection of baby longleaf pines. At this size they resemble a Dasylirion or Xanthorrhoea, don't you think?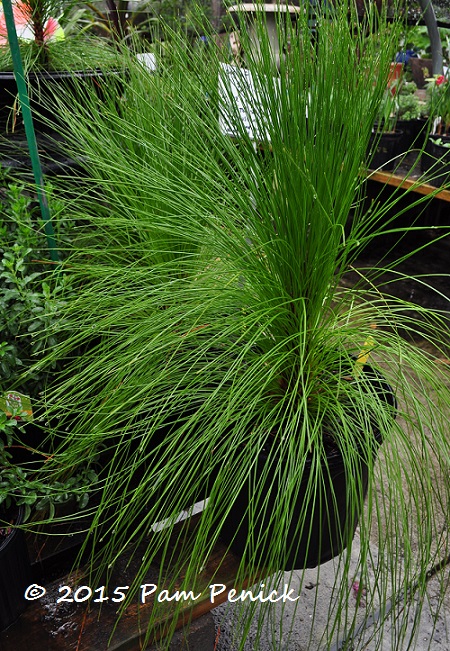 Here's a bigger one. I love that foliage!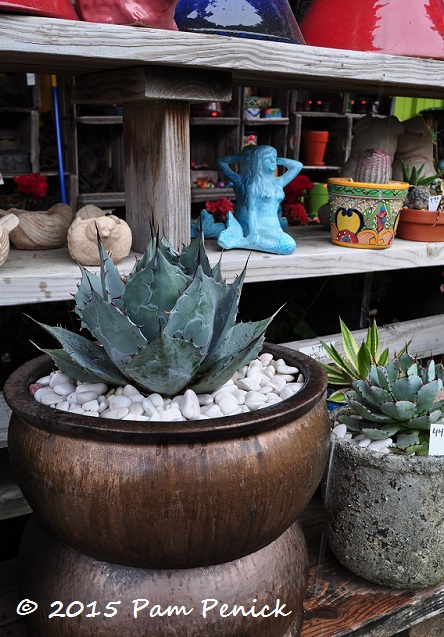 There were nicely potted agaves for those who don't want to pot their own.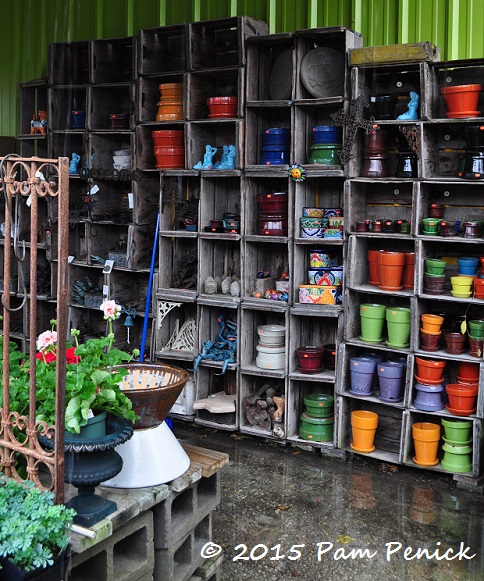 And cubbies of colorful pots and other small garden decor…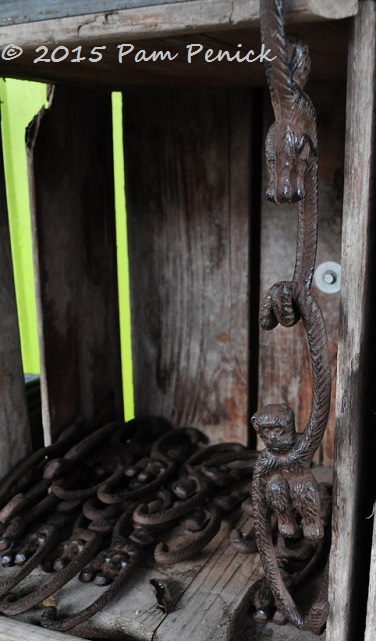 …like these fun monkey hooks…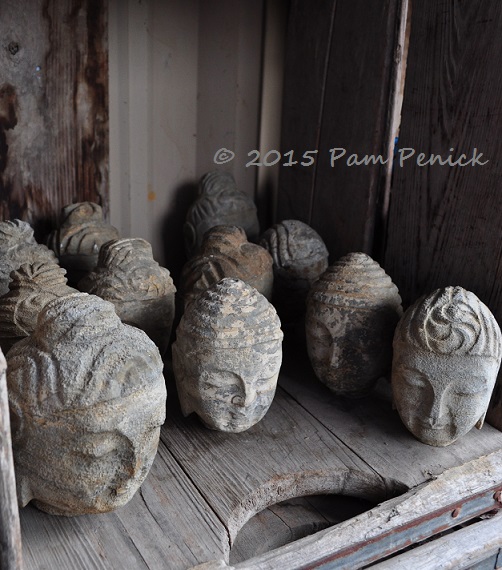 …and carved Buddha heads, each one slightly different.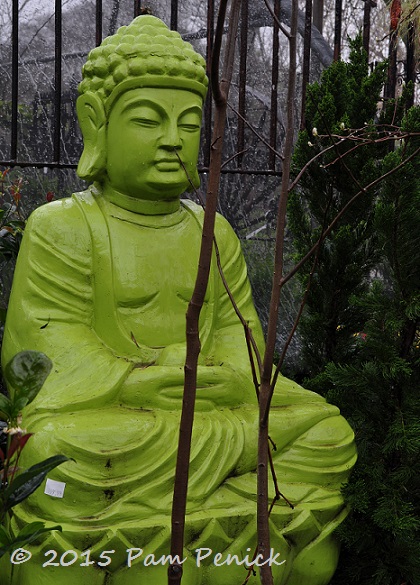 Amid the plant tables, Asian statuary…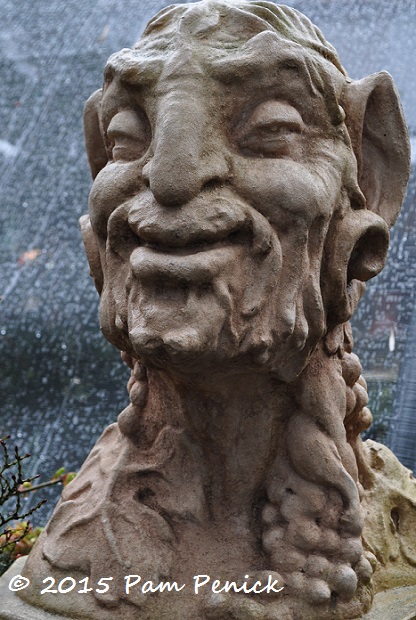 …classical statuary…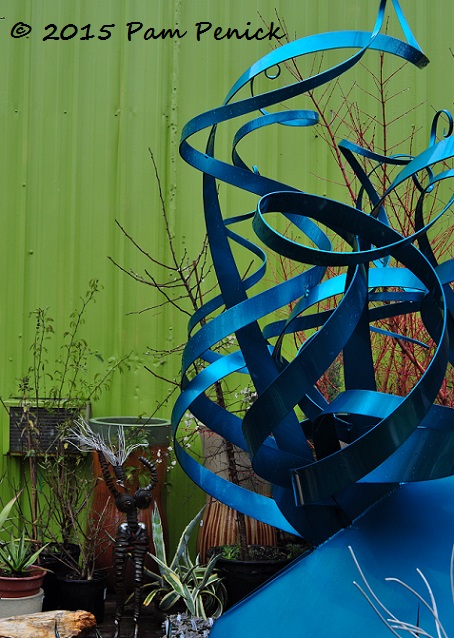 …and modern sculpture — garden art for every taste and style.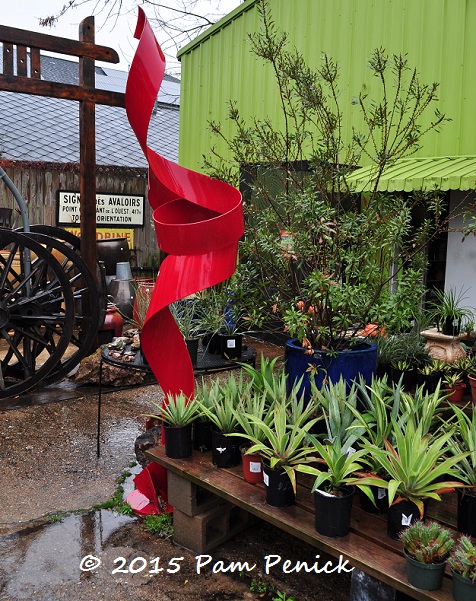 I asked Joshua about these colorful, ribbon-like pieces, and he told me they are made by a sculptor from Galveston who got "Iked" out by Hurricane Ike and now lives in Houston.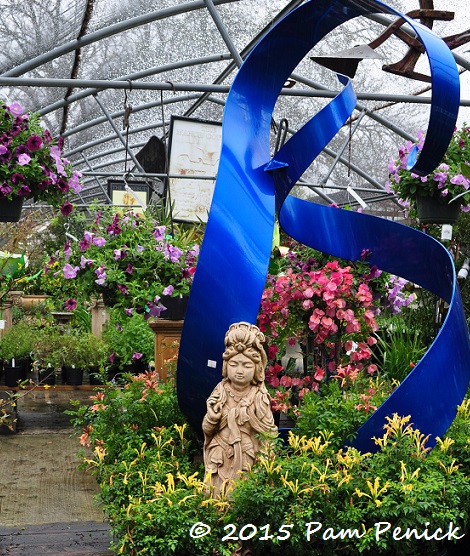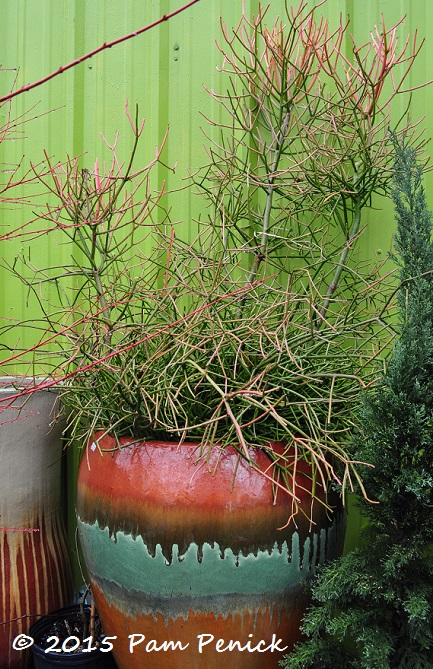 'Sticks on Fire' euphorbia in a Southwest-style glazed pot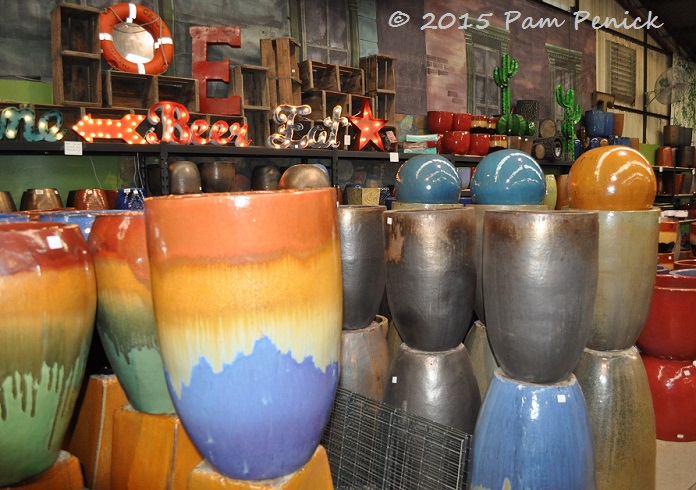 Inside the warehouse stuffed with all manner of garden decor, let the hunt begin.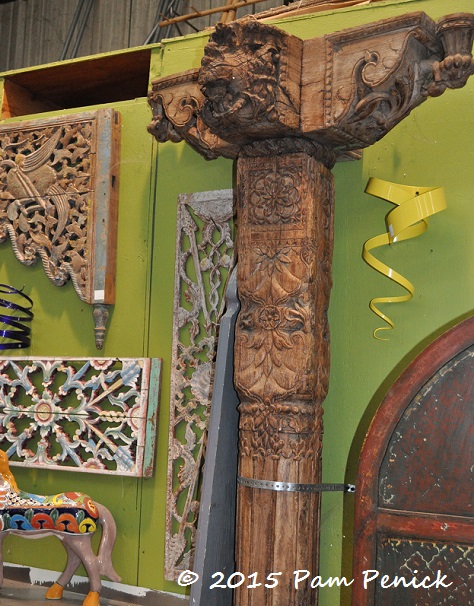 Architectural remnants from Indonesia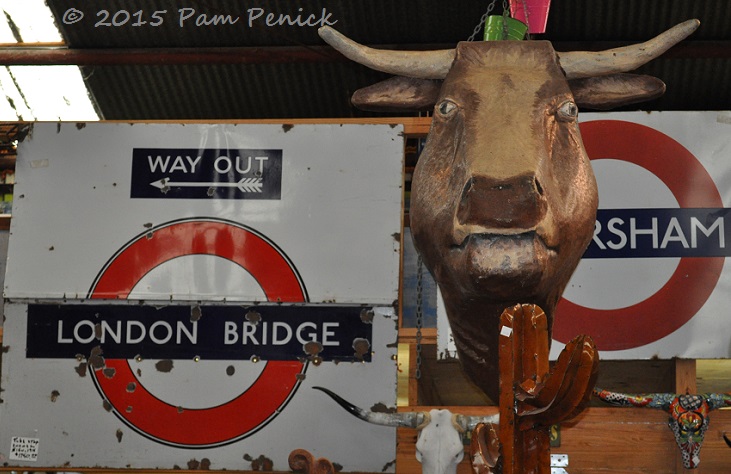 London Underground signs keep company with a metal steer head.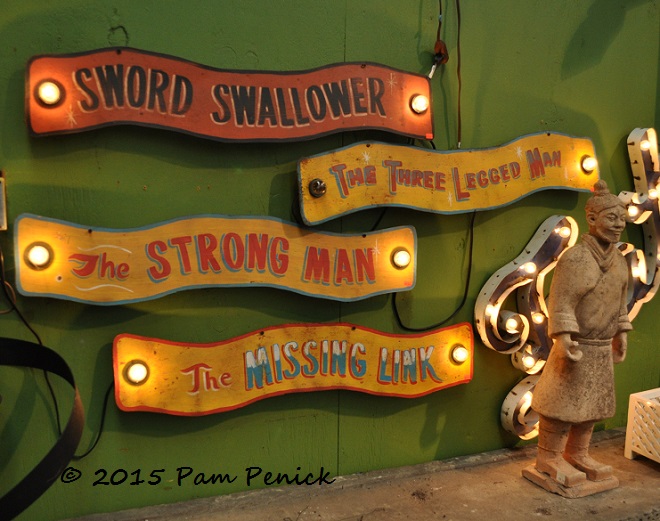 These lighted circus signs might be fun in a cabana or on a covered porch.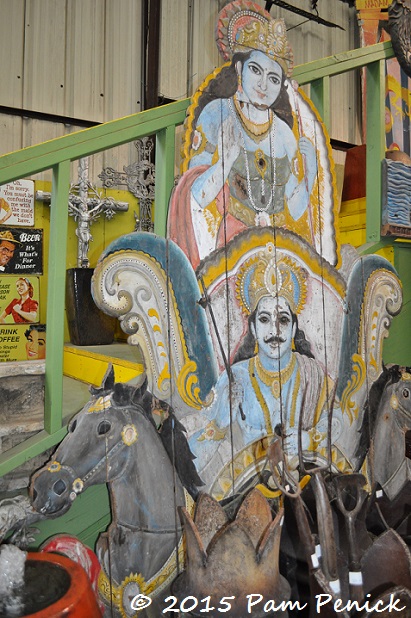 Or how about these oversized panels, from India perhaps?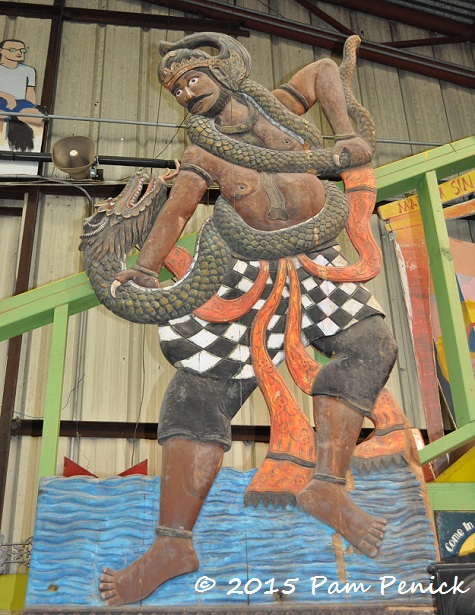 This would add an element of bohemian fantasy to the garden, wouldn't it?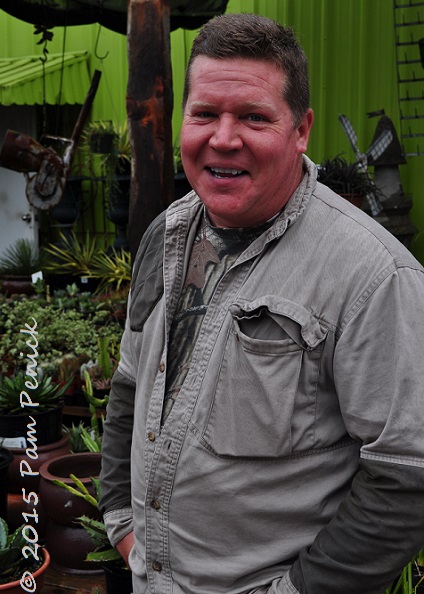 And here's the man who treasure-hunts for Houston and has the stories to prove it, the nursery's namesake owner, Joshua. What a fun place to poke around. I'll definitely be back the next time I'm in Houston.
__________________
I'd love to have your vote in the Better Homes and Gardens 2015 Blogger Awards. Skip through to the Gardening category, select Digging, and then skip to the last page for your vote to be counted. You can vote as much as you like. Thanks for your support!

All material © 2006-2015 by Pam Penick for Digging. Unauthorized reproduction prohibited.
posted in
Agaves
,
Annuals
,
Bottle tree
,
Containers
,
Decor
,
Dyckias
,
Garden art
,
Lighting
,
Native plants
,
Nurseries & Shops
,
Sculpture
,
Signs
,
Succulents
,
Travel
,
Trees