October 14th, 2014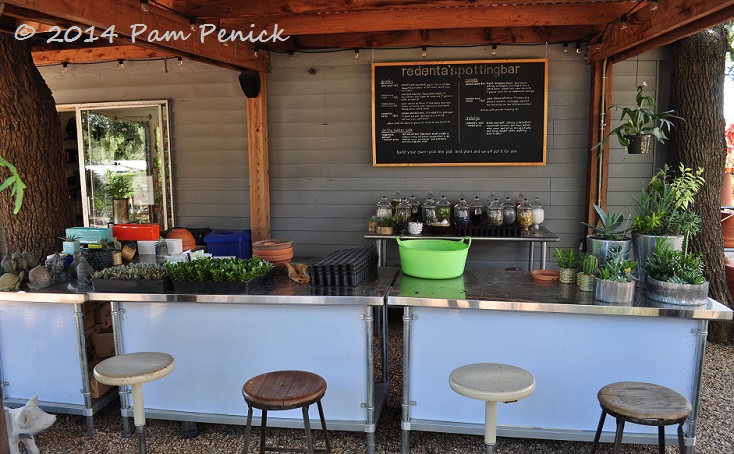 Whew! I just got home from a whirlwind trip to New York City to visit public gardens, and does Austin ever feel blissfully small and non-crowded in comparison to Manhattan. The High Line was the highlight, and I'll have pictures for you soon. But first I've been wanting to share my recent visit to Redenta's Garden in Arlington, between Dallas and Fort Worth.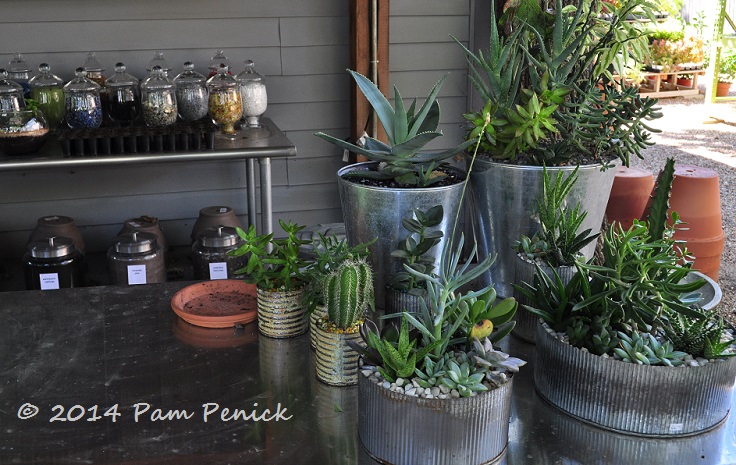 This is the second Redenta's location I've visited. The first was Redenta's smaller Dallas shop and urban nursery, which carries contemporary pots and accessories that reminded me somewhat of West Coast garden shops I've visited.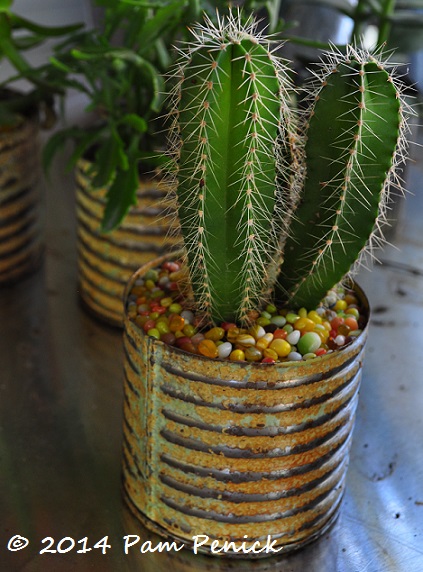 Both locations have a hip potting bar where you can plant up containers with succulents and cactus.

Fermob bistro sets and other colorful, contemporary garden seating can be found here as well.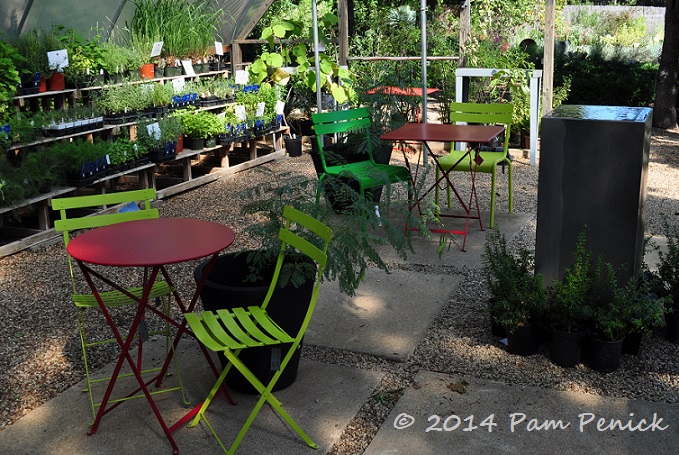 I imagine tender succulents are tucked in the greenhouse in the winter, but on this October visit it was open to refreshing breezes.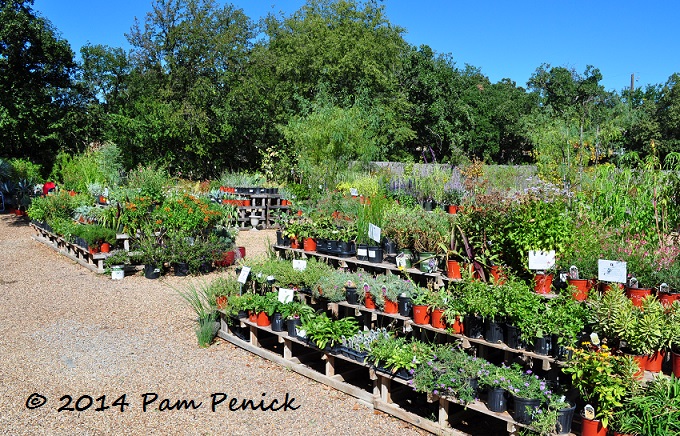 In addition to contemporary style, Redenta's is known for its native plant selection, and that's what the suburban Arlington location really offers: room for more plants.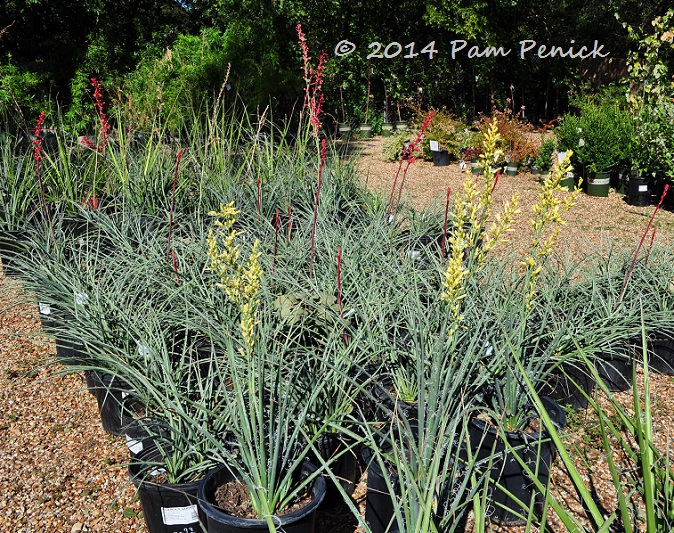 While Redenta's isn't as big as Austin's Barton Springs Nursery, not to mention The Natural Gardener, it does have a nice selection of drought-tolerant beauties like hesperaloe with yellow bloom spikes as well as the standard coral-pink. I think I see some red 'Brakelights' in there too.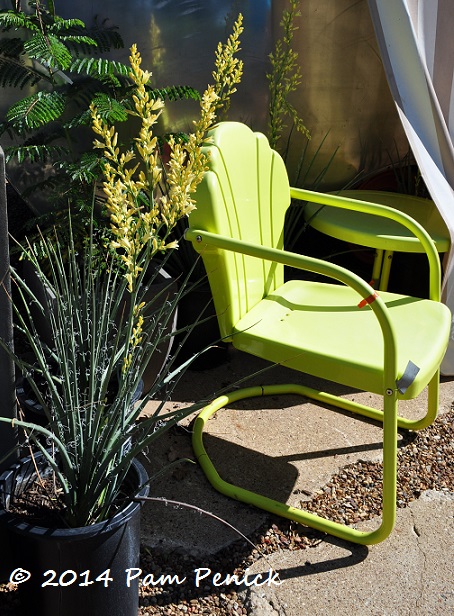 The yellow hesperaloe echoes the color of a classic motel chair sitting by a silver Airstream camper in the display yard. I could tell this area is usually a focal point of the grounds, with seating and pots on an urbanite (recycled concrete) patio, shaded by a striped awning. But we visited the day after a strong windstorm had hit the Dallas area, and the nursery was still picking up after the damaging winds.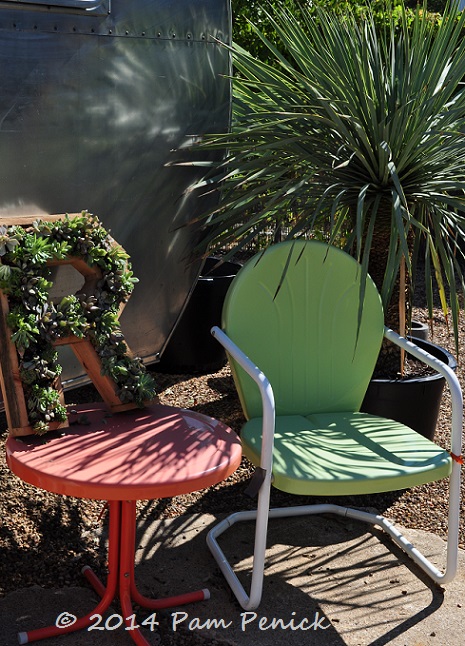 Yucca rostrata shadows and a succulent "R" for Redenta's add punch to this vignette.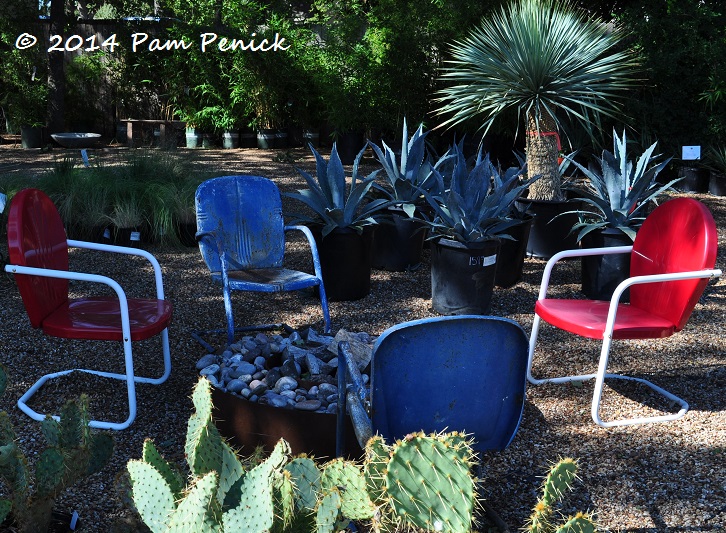 At the other end of the yard, more seating is grouped around a metal-ring fire pit, surrounded by pots of agave, yucca, and prickly pear.

This is very "Austin," don't you think?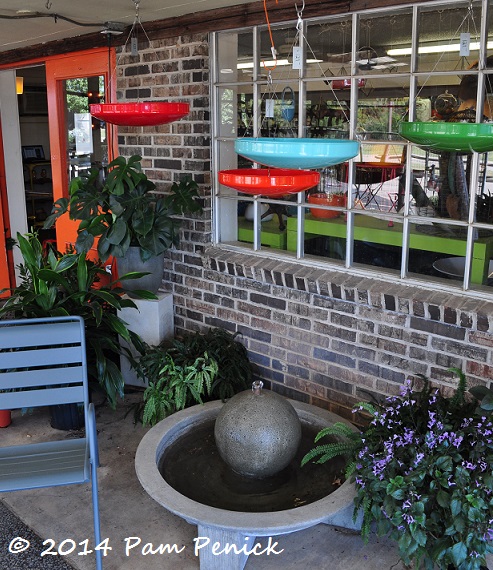 The Yucca rostrata were tempting, but how would I get one home? Instead I was drawn to the display of Hover Dishes on the front porch. I haven't found these for sale anywhere in Austin (although I've ordered one directly from the Vancouver manufacturer, Pot Inc.), but Redenta's had a great selection.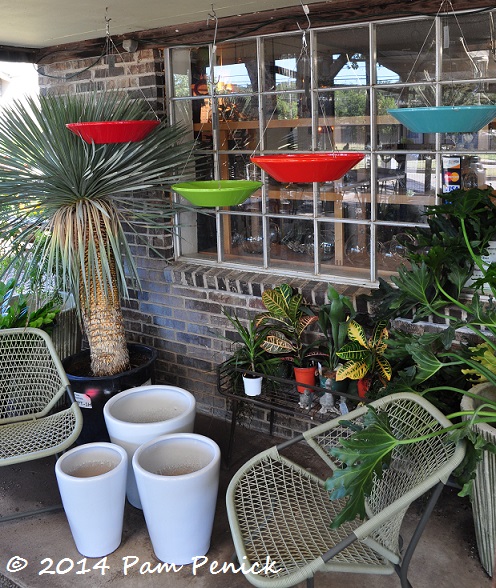 I selected the orange Dolga pot, and my DH gave it to me for my birthday, which just happened to be that day. Perfect timing for a visit, eh? I'm going to hold onto it over the winter and plant it up with succulents in the spring. Or maybe I'll fill it with pumpkins and hang it right now!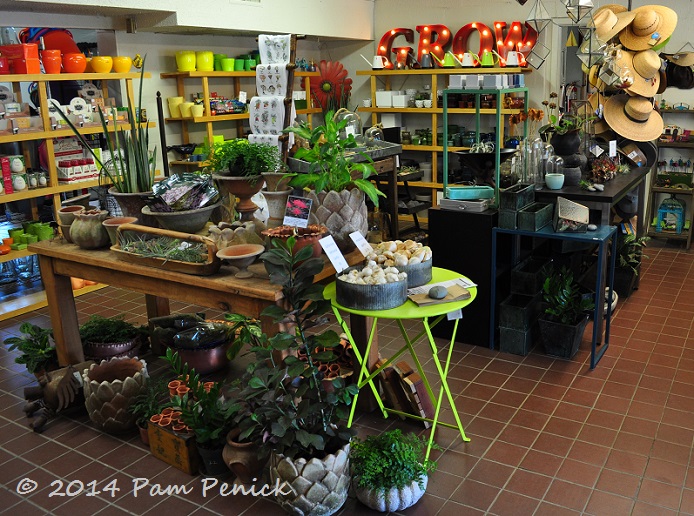 Inside the shop, Redenta's has more containers and garden accessories…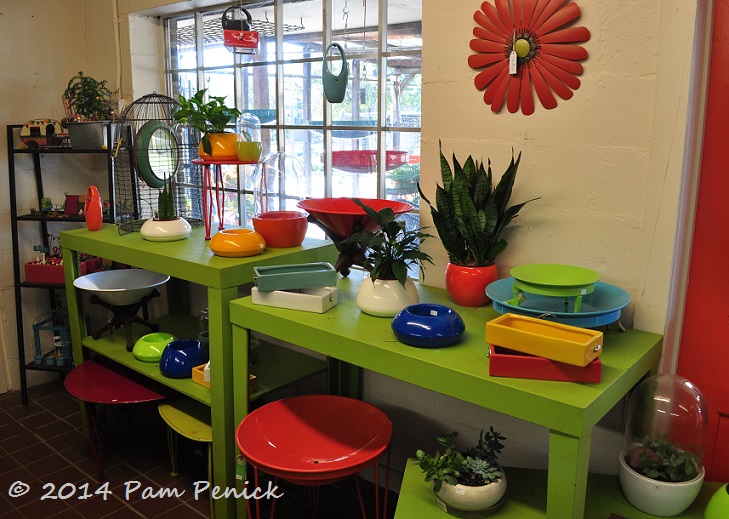 …including a selection of Steel Life containers, which are also hard to find at Austin nurseries.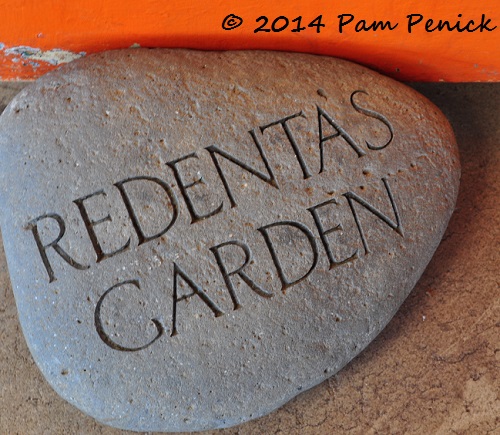 Overall I like the Dallas Redenta's better for their garden-shop offerings, but the Arlington location has a bigger plant selection and more outdoor furniture. Lucky Dallas-Forth Worth gardeners to be able to shop at both!
For a tour of the Dallas Redenta's, click here.
All material © 2006-2014 by Pam Penick for Digging. Unauthorized reproduction prohibited.