May 8th, 2007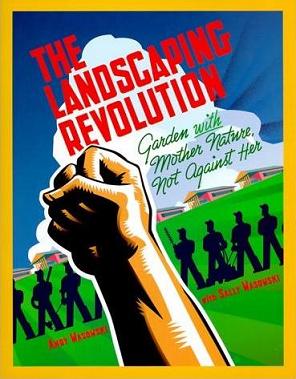 Last week a friend pulled this book off her shelf and insisted I read it, enthusing that it caused an awakening for her and changed the way she looks at traditional, lawn-centered landscaping. I'm glad she told me about it. It's a highly persuasive and entertaining book—although my awakening happened about ten years ago, thanks to the Lady Bird Johnson Wildflower Center, whose mission is to promote the use of native plants and educate the public regarding their utility and beauty.
For gardeners (or, perhaps more accurately, yardeners) who would rev their mowers threateningly at the idea of shrinking the lawn, this book would be a revelation. In The Landscaping Revolution: Garden With Mother Nature, Not Against Her, Andy and Sally Wasowski raise their fists against suburbia's sea of manicured lawns and one-size-fits-all landscaping—lawn, foundation hedge, exotic accent plants—and call on weekend warriors to put away the lawn mower and chemical fertilizers and go native. That is, to reduce or eliminate their lawns (or convert them to native grasses) and to grow naturalistic gardens full of native plants.
With chapter titles like "Your Lawn Has a Drinking Problem," "The Natives Are Friendly," Homogenize Milk, Not Landscapes," and "Who's Afraid of Virginia Creeper," the authors make a persuasive case for a new way of landscaping, while leavening their argument with plenty of humor, photos, and practical advice for would-be gardeners who aren't sure how to start ripping out lawns in favor of naturalistic gardens and who worry about what the neighbors will say.
You'll find all the usual reasons for ditching or reducing the lawn: eliminating heavy doses of chemicals from fertilizers and weed killers; conserving water by choosing native or well-adapted plants that thrive without pampering; providing a habitat for birds, butterflies, and other creatures that bring life to a garden. A less-tangible benefit is also promoted: giving your yard a sense of place, differentiating it from the cookie-cutter yards across North America that all look the same because they use the same formula and the same handful of plants. As Lady Bird Johnson put it, let Texas look like Texas, let Connecticut look like Connecticut, and let Oregon look like Oregon. Native plants give a distinctive sense of place to a garden.
For a sample chapter, check out this excerpt published in Audubon Magazine. Sassy and provocative, isn't it? It's also a fun read.
So, like my friend who lent it to me, I would definitely recommend this book to anyone who thinks there might be a better way, and who wants to connect with nature, not subdue it, with their yard/garden. There's only one problem: it's out of print. Originally published in 2000 under the Marxist-reminiscent cover pictured above, the book was reissued in 2002 with the less provocative, more evocative cover pictured below.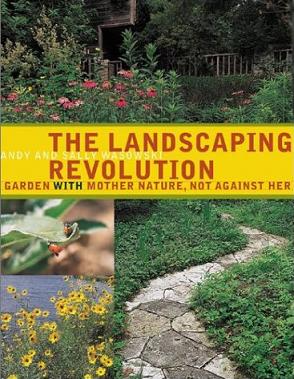 But this version is also out of print. It can still be found, however, through various sellers via Amazon. It's worth a hunt, and maybe if enough garden readers request it, it'll be brought back into print. The Wasowskis deserve it. They've authored a series of terrific books about native plants, including two on my bookshelf: Native Texas Plants and Native Texas Gardens. Texans can readily find both of these in garden shops and online. Native Texas Plants, in particular, is indispensable for Texas gardeners.
Formerly based in Dallas, Sally Wasowski is a writer and a pioneer in native-plant landscape design. Andy, her husband, is a writer, garden photographer, and speaker at gardening and environmental conferences. Today they live in Taos, New Mexico, where they no doubt still fight the good fight.
It's worth fighting. Viva la revolution!