July 27th, 2013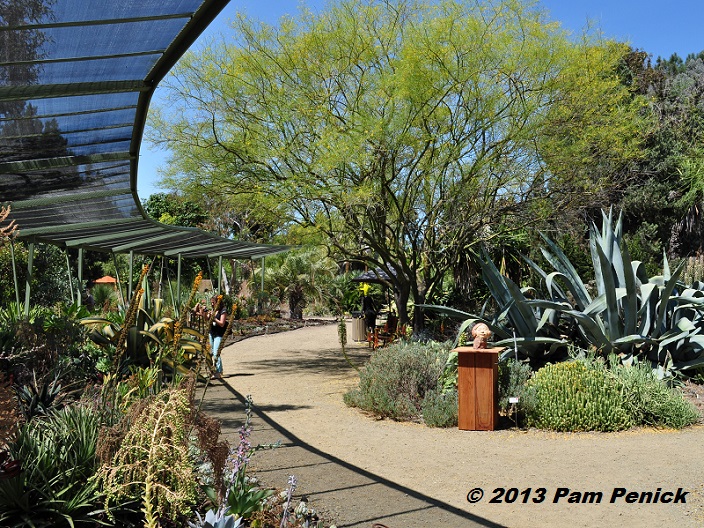 Our 1st stop on the 3rd and final day of the San Francisco Garden Bloggers Fling was the Ruth Bancroft Garden in Walnut Creek. It was about 100 degrees F in Walnut Creek that last week of June, but the heat and intense sunlight seemed appropriate for a garden composed of desert plants.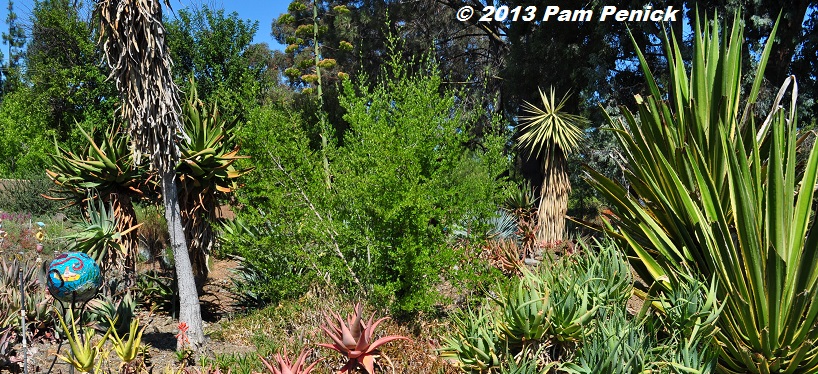 The garden occupies the site of a former walnut orchard owned by the family of Phillip Bancroft, Jr. When the orchard was cut down in 1971 to make way for housing developments, Phillip offered a 3-acre parcel near their house to his wife, Ruth, whose succulent collection had outgrown her greenhouses. Then in her 60s, she began planting a dry garden — unusual for the time — of cactus, succulents, and other water-thrifty plants from Mediterranean climates all over the world.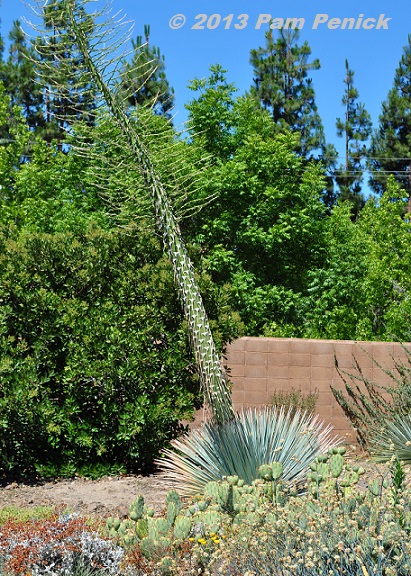 Her garden soon attracted the attention of other gardeners, horticulturists, and plant lovers, including Frank and Anne Cabot, who formed the Garden Conservancy in order to preserve Ruth's garden in perpetuity. In 1992 the Ruth Bancroft Garden opened to the public.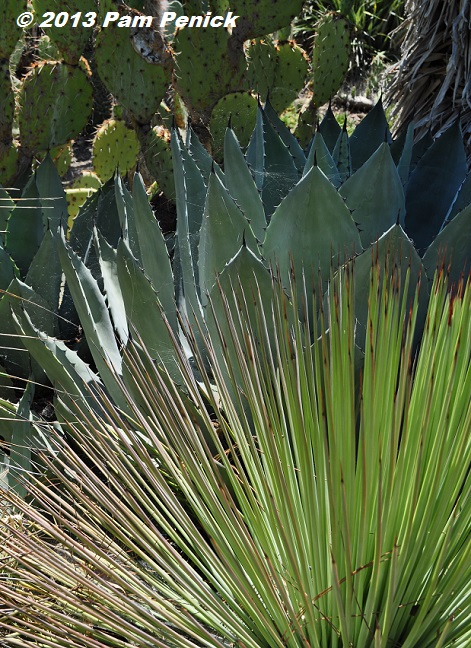 Born in 1908, Ruth is either 104 or 105 years old today. As recently as 2011 she was profiled by the Wall Street Journal, which characterized her as a "genuine dirt gardener" who "likes spiky and vicious things." Oh, so do I!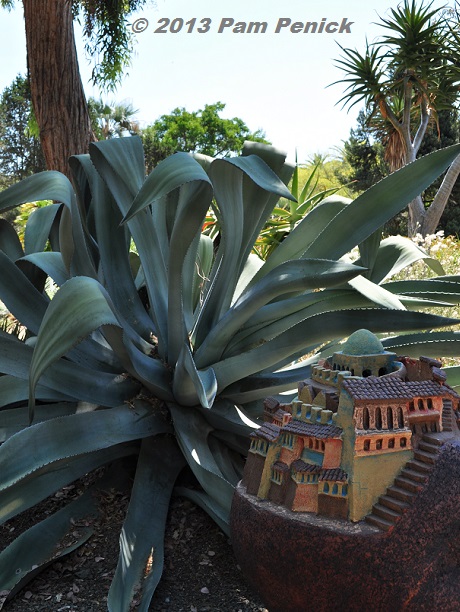 During our visit, we Flingers were lucky in that the garden's annual sculpture show was on display. Sculpture fits so well with sculptural plants like agave and cactus, each playing with strong form and bold texture.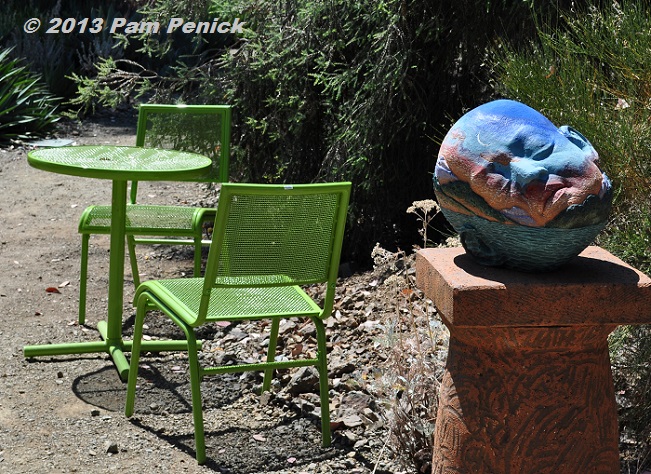 These pieces were for sale, and I admired several and coveted a couple. Most pieces were quite expensive, however — priced at thousands of dollars.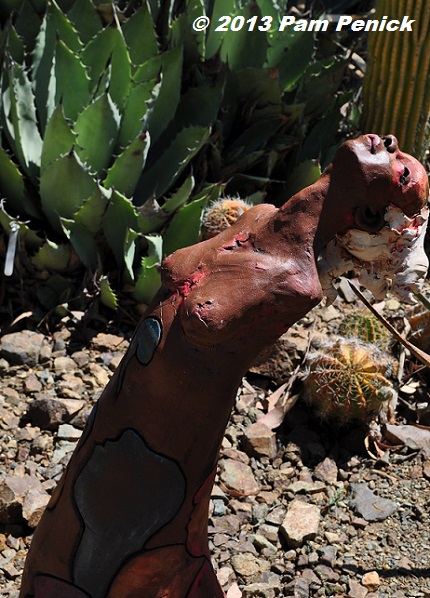 Here's one that resonated with me: "Ready for the Rain" by Lucy Beazley. I thought of all the Texas gardeners this represents.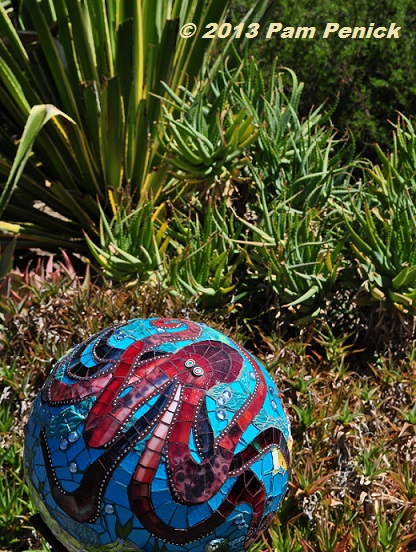 And how about "Octopus's Garden," a charmingly mosaicked globe.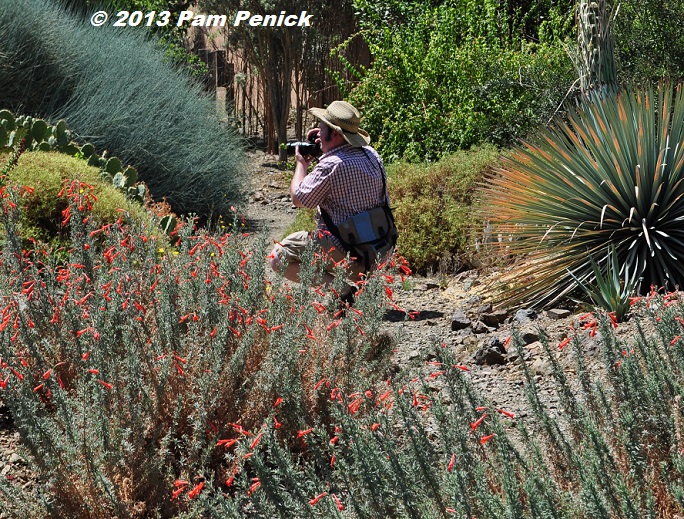 Scott of Rhone Street Gardens, a talented photographer, getting low for a good shot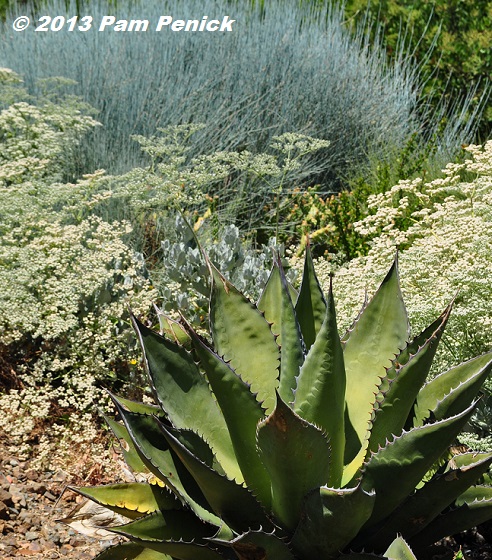 It was nice to see agaves paired with softer looking plants as well, like the blue, grass-like shrub in the background. Does anyone know what it might be? Update: It's Ephedra equisetina. Thanks to Greggo for the ID and Phoebe from the garden staff for confirming.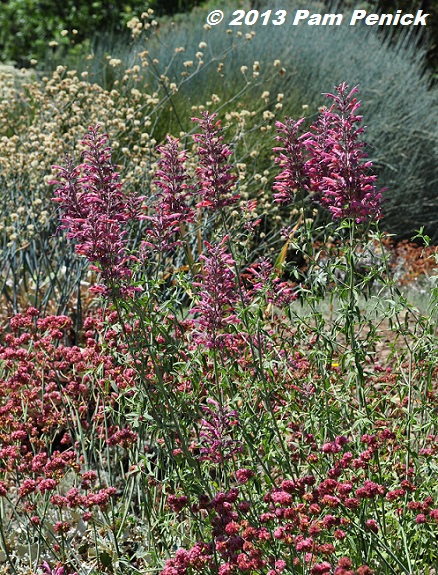 Agastache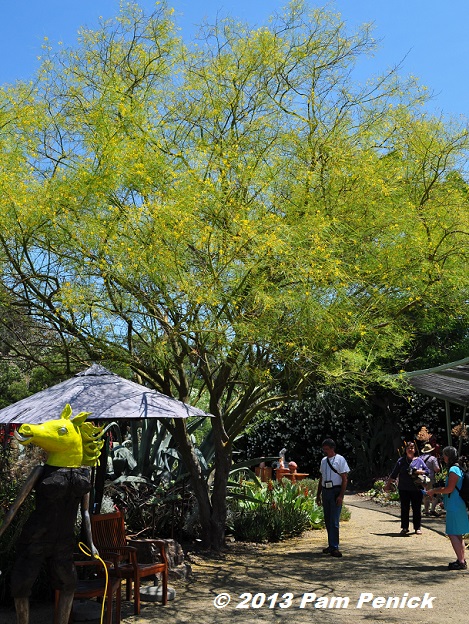 Palo verde trees were in acid-yellow bloom during our visit. A horse-head figure nearby matches in color.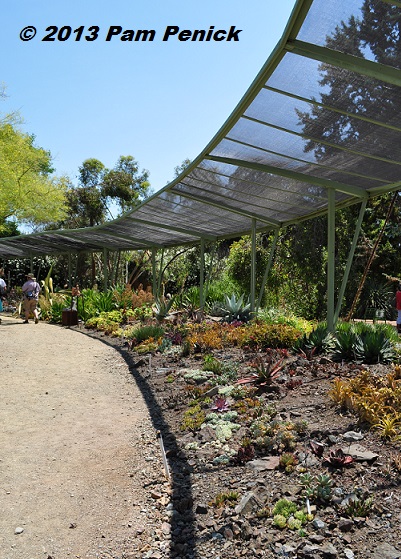 One long, curving berm is given some protection from the sun by a steel shade structure, which adds a bold line to the garden and interesting shadow play as well. See the photo at the top of this post for another angle.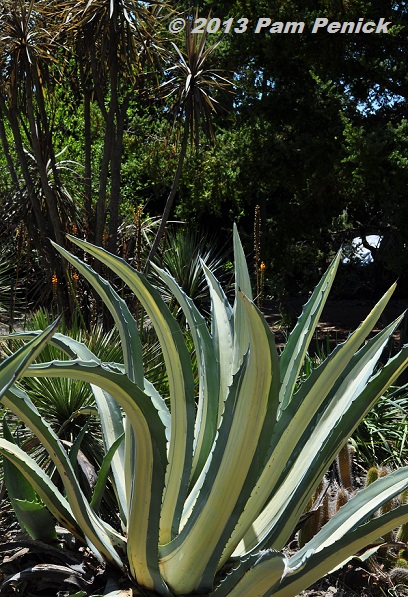 Agave americana mediopicta 'Alba', one of my favorites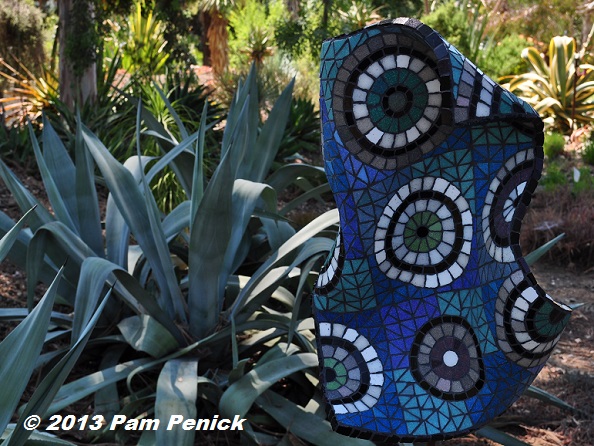 A study in blue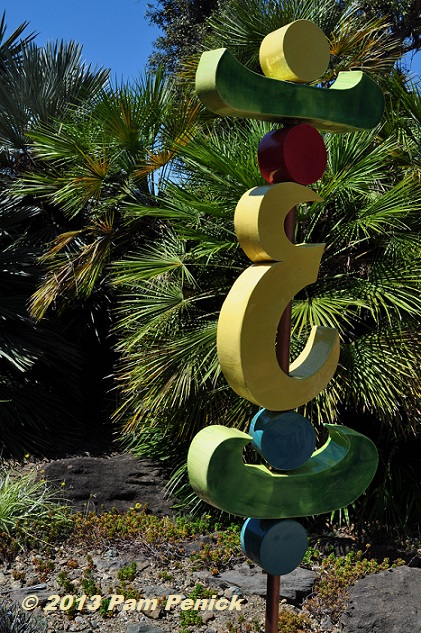 A colorful, ampersand-like totem pole pops against fan-leaved palms.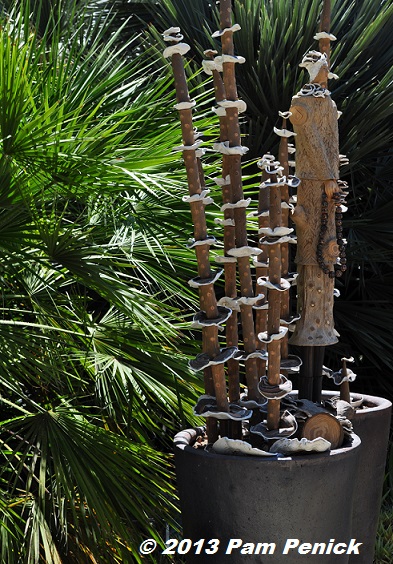 I'm fairly sure this is a Marcia Donahue sculpture. As it happens, I met Marcia and visited her Berkeley garden on the day after the Fling; click the link for my post about it.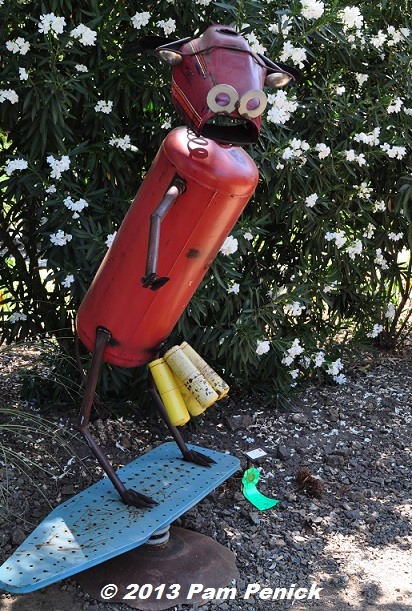 Surfing cow? Made of recycled materials, including an old ironing board, this is one of several humorous pieces on display.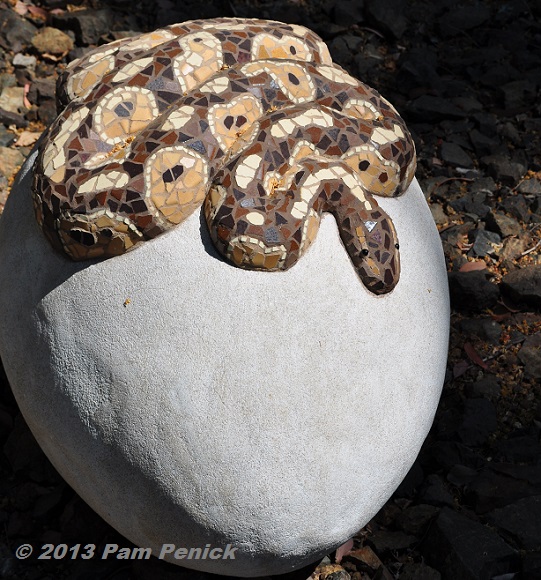 This piece by Eileen Fitz-Faulkner is titled "What came first?"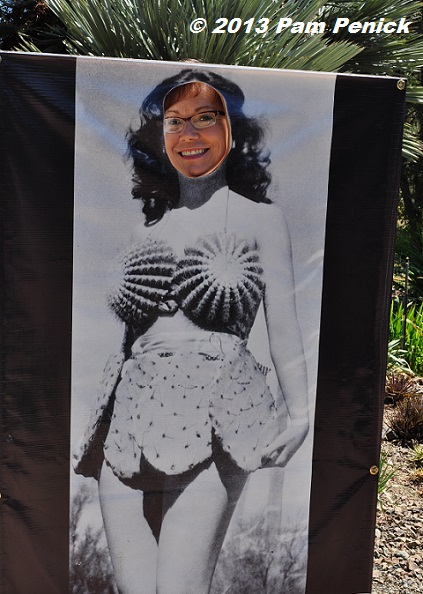 Ever the good sport, Kylee of Our Little Acre took advantage of a cut-out, life-size photo to model a cactus skirt and bra. I sure hope she removed the glochids on those prickly pear pads before suiting up.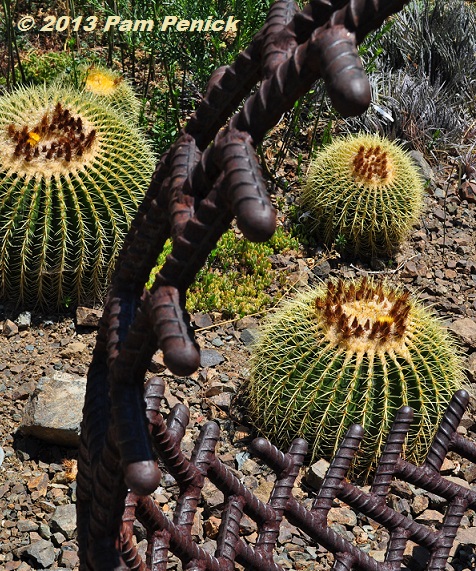 Golden barrels in a less delicate setting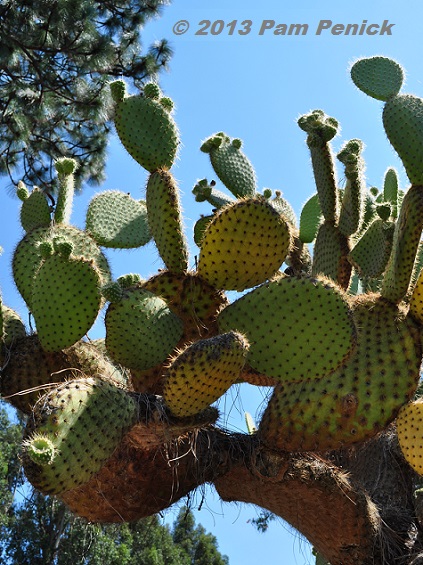 Of course, the plants are the best sculptural pieces in the garden, and they're always on display.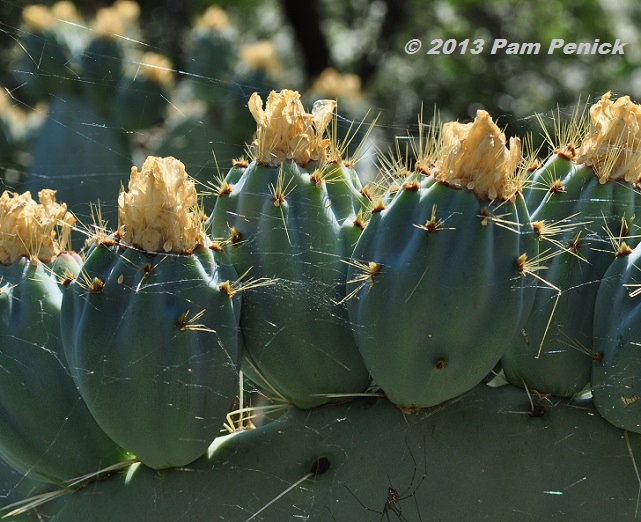 Opuntia tunas — the edible fruit of the prickly pear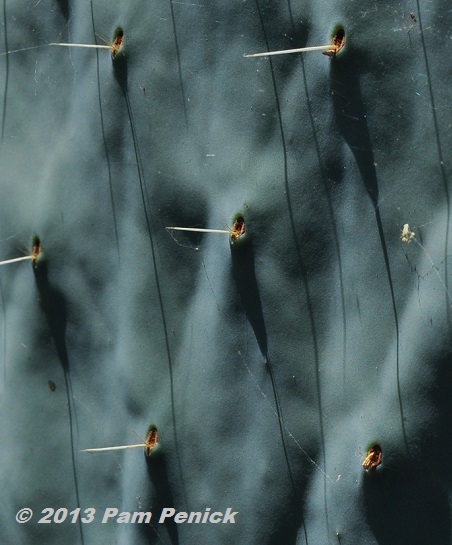 Wavy, spiny Opuntia skin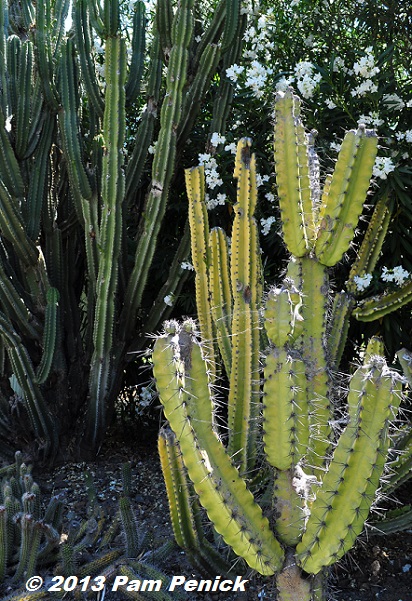 Cacti with oleander in bloom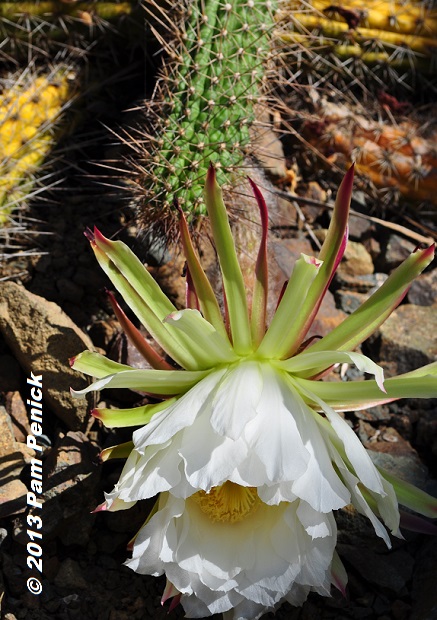 Some of the cacti were in bloom as well, producing stunning flowers.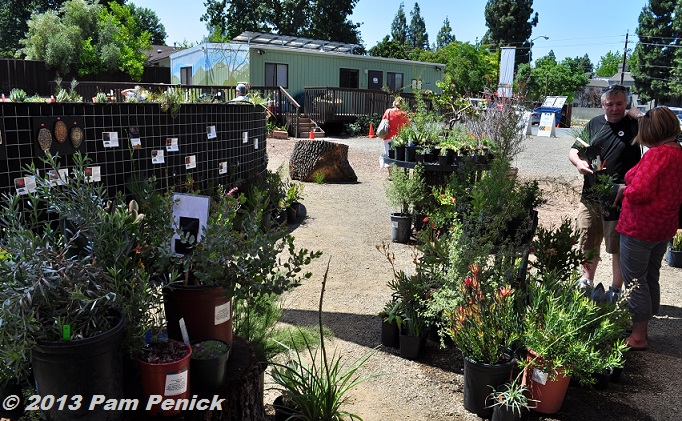 A plant sale was being set up, and Loree of Danger Garden was already perusing the offerings. She'd arranged to meet up in the garden with Davis, CA, blogger Gerhard of Bamboo, Succulents & More, who was unable to attend the Fling. Here they are comparing plants.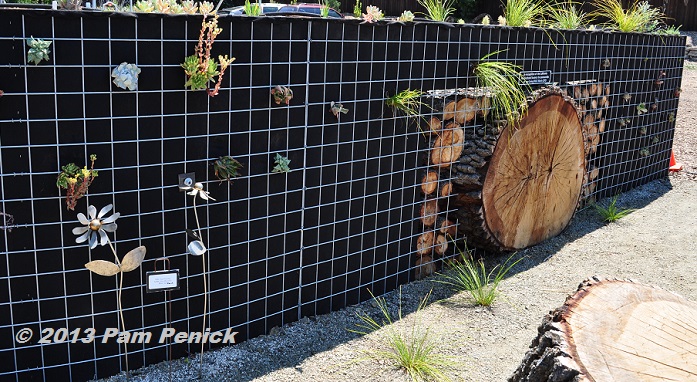 A wall made of cattle panel and landscape fabric, filled with soil and built around a large tree stump, was planted with small succulents. Interesting, but I'd like it better if there were more succulents in the grid. Perhaps they just weren't finished with it.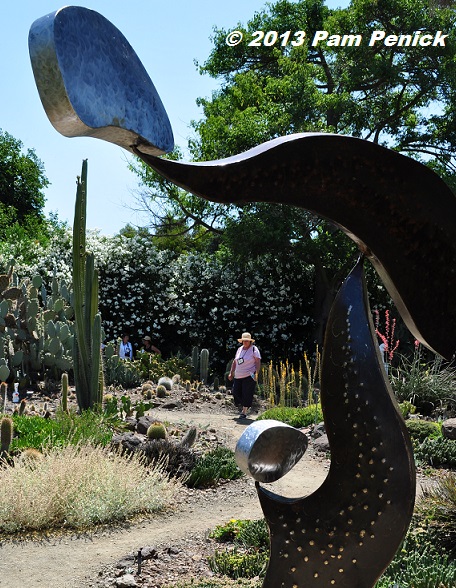 If you're not familiar with desert gardens, you must, as Tucson designer Scott Calhoun advises, "put your desert eyes on" to see the beauty that's all around you.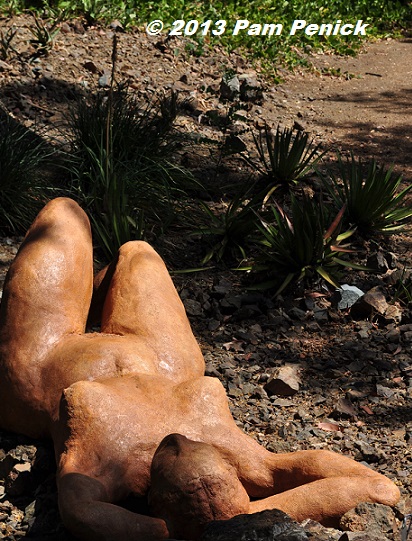 Take your time. Soak it in.
Up next: The hilltop Dudan Garden. For a look back at the Bernard Trainor-designed Testa-Vought Garden, click here.
All material © 2006-2013 by Pam Penick for Digging. Unauthorized reproduction prohibited.