May 6th, 2013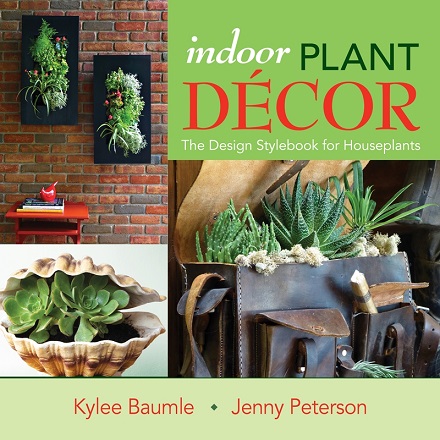 My friends Kylee Baumle (Our Little Acre) and Jenny Peterson (J Peterson Garden Design) have co-authored a brand-new book called Indoor Plant Decor: The Design Stylebook for Houseplants. To celebrate and help publicize its release, I'm participating in their cyber book party. And you know what a party means: prizes! But before you jump to the giveaway listing at the end of this post, I hope you'll stick around for my review of their book.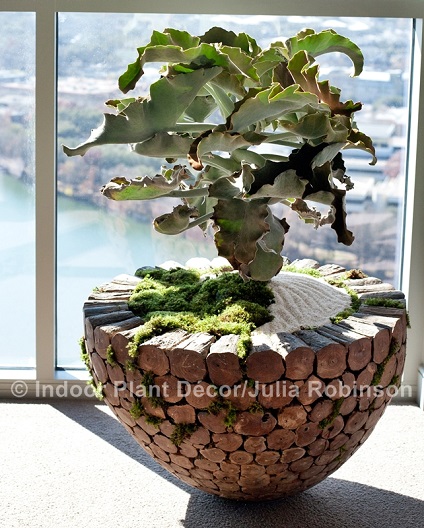 First a confession. I have to admit that while I was happy for my friends for writing a book, I wasn't initially all that interested in the topic. Regular readers know I'm not a houseplant gardener. I have one spindly dracena in the living room and a small aloe on the kitchen windowsill, and that's it. In general I feel that plants, like animals, belong outdoors. (And yet I have an indoor dog too. What gives?)
But while reading Indoor Plant Decor, I began to have a change of heart. Jenny and Kylee show a variety of ways to showcase commonplace houseplants. With chapters organized by decorating style — Cheap Chic, Peaceful Zen, World Beat, and Vintage Vibe, to name a few — the book shows how to complement your interiors by choosing appropriate plants and containers or other methods of display. Simply changing out a ho-hum pot for something different, like the wood planter pictured above, groomed with moss and raked sand on top, can make an ordinary plant into a standout accessory for your home.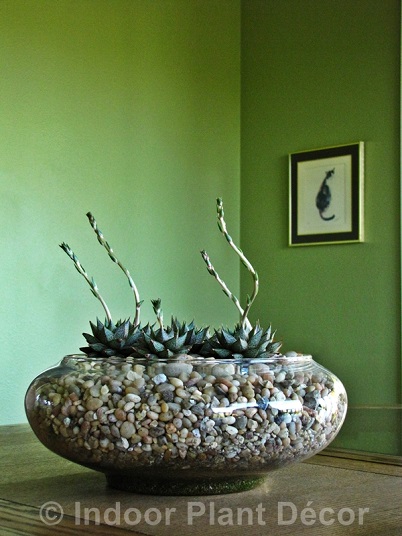 Based on their chapter descriptions, I'd say my style is modern eclectic. But I was particularly drawn to the plant displays shown in their Haberdashery chapter — houseplant style especially for men. I imagine it's partly because they show bold-foliage plants here, but I also admire the earthy and striking, no-fuss display methods, like this clear glass bowl filled with pebbles and topped with succulents. I love this!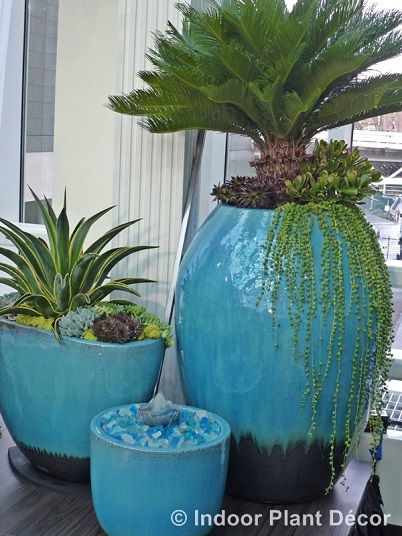 The book is small, gift-book sized, and packed with appealing photos, and would make a nice housewarming or college graduate gift. You won't find a lot of how-to info on growing houseplants — there are other books on the market that fill that niche — but if you're looking for a book of ideas and images to get you thinking about new ways to display your plants and update your decor, this book is for you.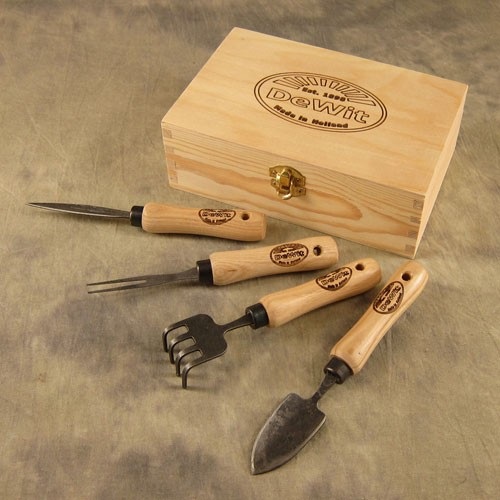 And now for the giveaway! My prize offering is a handsome Bonsai Tool Set from DeWit Tools. Here's the description from the company website:
This Bonsai tool set (really more of a small garden tool set) is just the right size for maintenance of your Bonsais or other small plantings. Don't let the size fool you, these tools are made with the same quality materials as the larger DeWit tools. All four tools have blade made of Swedish boron steel and fitted with an Ash hardwood handles from FSC Certified forests. Comes with wood storage case and Guaranteed a Lifetime! All tools are 6-7 inches long. Total value: $75.00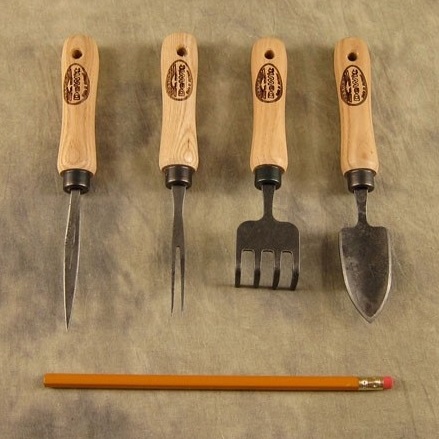 How to enter:
Leave a comment on this post to enter my giveaway of the bonsai tool set (FYI, another blogger is giving away a 2nd set). The giveaway runs through Sunday, May 12, at 11:59 pm. I'll announce the winner on Monday the 13th. Please note that this giveaway is open to U.S. residents only. Update 5/13/13: The winner, selected by a random number generator, is Danny! Congratulations, Danny, and my thanks to everyone who took the time to comment.
Ten Eleven bloggers are participating in this fun virtual book tour, each offering a prize related to houseplant gardening. Visit each blog and leave a comment on the giveaway post for a chance to win that specific prize. The more blogs you visit, the more chances to win! Good luck!
Carolyn Binder – Cowlick Cottage Farm
Shawna Coronado – Shawna Coronado
Charlotte Germane – Dirt Du Jour
Stacy Risenmay – Not Just a Housewife
Erin Schanen – The Impatient Gardener
Rebecca Sweet – Gossip in the Garden
Christina Salwitz – Personal Garden Coach
Steve Asbell – The Rainforest Garden
Debra Lee Baldwin – Gardening Gone Wild
Robin Horton – Urban Gardens
Pam Penick – Digging
Disclosure: St. Lynn's Press sent me a copy of Indoor Plant Decor for review. I reviewed it at my own discretion and without any compensation. This post, as with everything at Digging, is my own personal opinion. The giveaway prize has been donated by DeWit Tools.
All material © 2006-2013 by Pam Penick for Digging. Unauthorized reproduction prohibited.