April 16th, 2013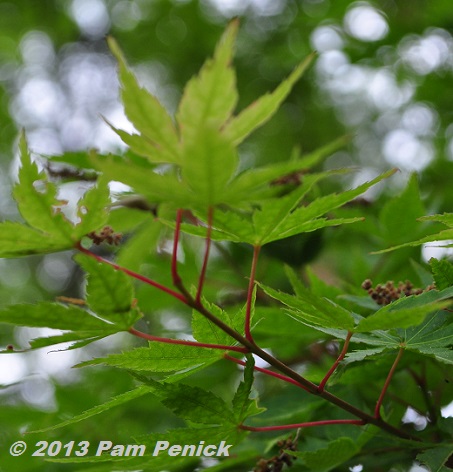 In the wake of the bombing in Boston yesterday, putting together a Foliage Follow-Up post seemed awfully trivial, and I didn't have the heart for it last night, even though I'd already taken my photos that morning. As the wife of a former marathoner, I've stood at many finish lines with my children, cheering runners as they lift their arms and sail or stagger across the line. I can't fathom the evil in a person's heart that would lead him to maim innocent people waiting for their loved ones in a finish-line ritual that's inherently celebratory.
We'll find out who did it and try to understand why. But all that matters is that people's lives were destroyed yesterday, senselessly. And yet responding with despair about the world or with fear is giving the bomber exactly what he wants. So, as trivial as it is, I'm going on with my post and my daily work, and maybe I'll make time for a stroll through my garden at the end of the day. And when my son comes home from school, we'll celebrate his 17th birthday and I'll give him an extra-long hug and remind myself how precious each day is.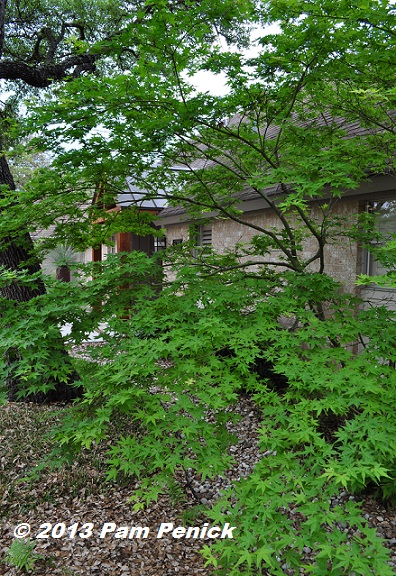 So…Foliage Follow-Up. I bet a lot of readers don't associate my mostly xeric garden with Japanese maples. I inherited a beautiful one with the house, tucked under the north eave of the house, in the shade of live oaks. Cloaked in fresh green leaves with delicate, rosy stems, the little tree is delightfully lush and graceful as it bends over a dry streambed and a bank of river ferns, which are just beginning to unfurl their fronds.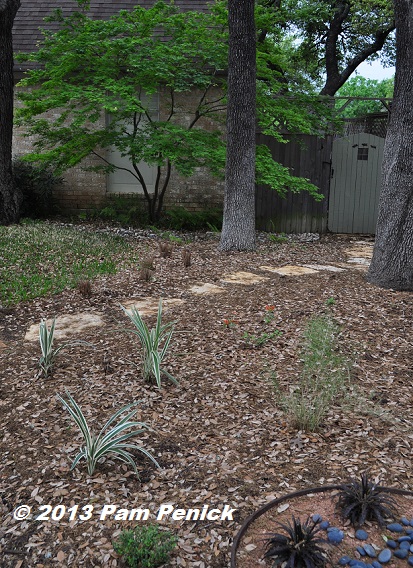 A wider view from the driveway shows one of my new planting beds. (Yes, it's covered in leaves and pollen tassels; this is the "drop" season for live oaks.) This used to be all lawn, except for a strip along the foundation of the house. I ran a flagstone path to the gate, making it easier to get the trash bins in and out from behind the fence, and I planted up the whole strip along the drive with low-maintenance, deer-resistant foliage plants like variegated dianella, bamboo muhly, 'Red Rooster' carex (I'm trying this out for the first time), Lindheimer muhly, and Chinese mahonia. More pics to come as the plants begin to fill in.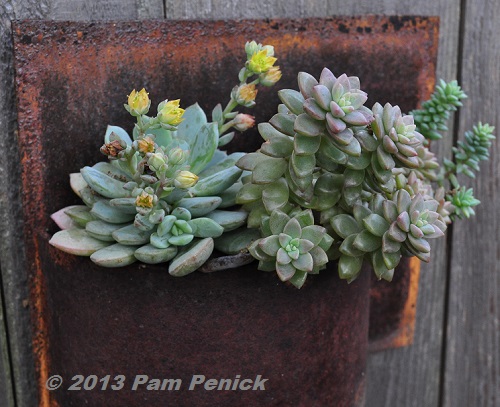 I'm still loving my steel, wall-hanging succulent planters.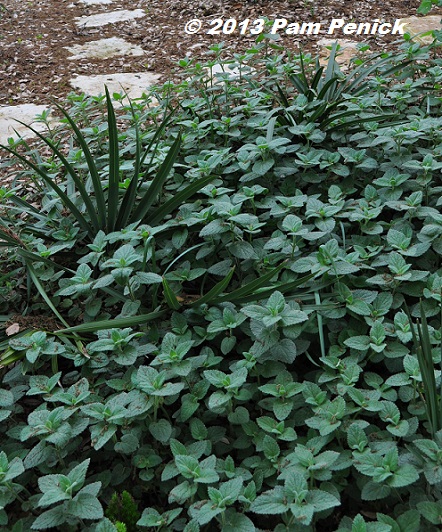 In the island bed, heartleaf skullcap (Scutellaria ovata) cloaks the ground with its blue-green leaves, wrapping even the Texas dwarf palmettos (Sabal minor) in its velvety embrace. It'll send up bloom spires soon.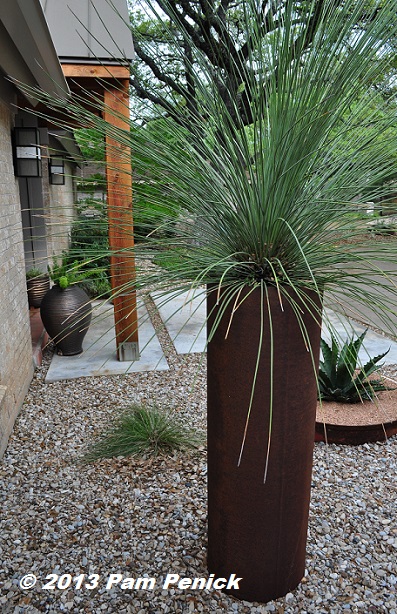 And in the gravel garden to the left of my front door, where grass once struggled to survive, foliage plants reign supreme, like this sparkler-shaped toothless sotol (Dasylirion longissimum) in a steel pipe planter.
Join me in posting about your lovely leaves of April for Foliage Follow-Up, a way to remind ourselves of the importance of foliage in the garden on the day after Bloom Day. Leave your link to your Foliage Follow-Up post in a comment. I really appreciate it if you'll also include a link to this post in your own post (sharing link love!). If you can't post so soon after Bloom Day, no worries. Just leave your link when you get to it.
All material © 2006-2013 by Pam Penick for Digging. Unauthorized reproduction prohibited.