July 24th, 2012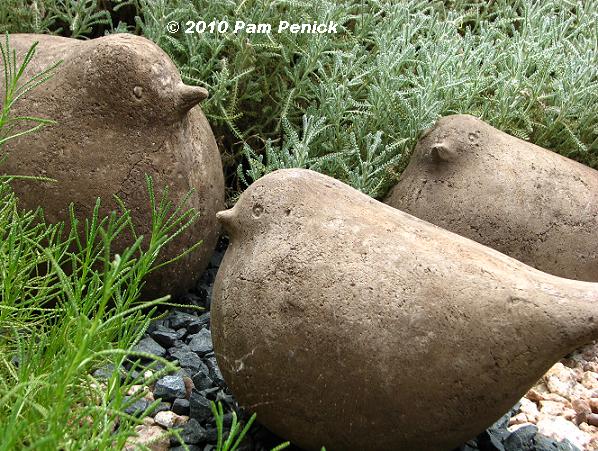 Garden Designers Roundtable talks art today. A discussion of art in the garden can go in so many directions: Plants as art. Homemade garden art. Making sure your art is the proper scale for the site. Child-safe installation of heavy sculpture. Functional garden art. What is art? Entire books could be—and have been—written about using art in the garden, but since this is just one post I'm going to focus on harmonizing your art with your garden.
First, however, I do want to spell out my three very strict rules about using art in the garden. Ready?
1. Display what you love.
2. Use what you have. Make your own art! Why not?
3. Less is more. Except when more is more. You know which type you are—go for it! Art is a personal expression.
Easy, right? And no matter what kind of garden art you gravitate toward, finding the perfect spot for it—or making the perfect spot for it—is easy when you harmonize it with the plants or hardscape in your garden. Let's look at some fun examples.
Play up a theme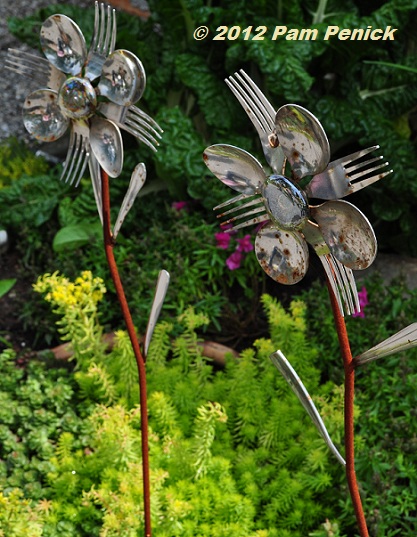 In this Asheville, North Carolina, vegetable garden, flowers made of forks and spoons are a sly accompaniment to the salad greens.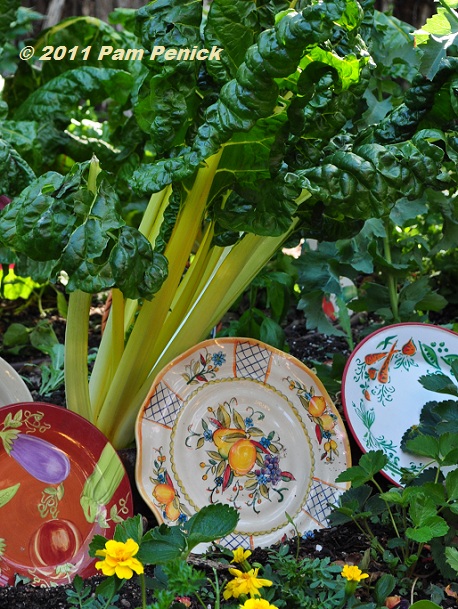 So are salad plates "growing" among the chard, as seen in Lucinda Hutson's Austin garden.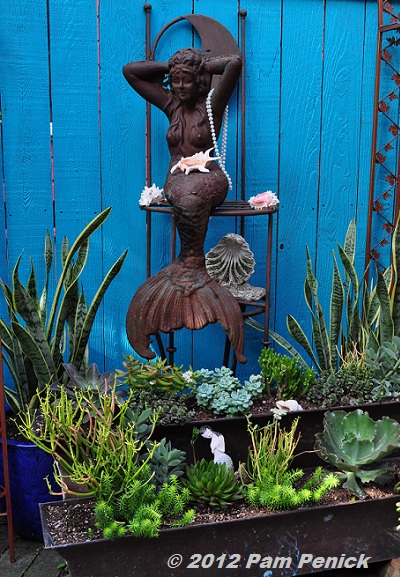 Lucinda also has a mermaid-themed garden, in which this iron mermaid is paired with coral-shaped succulents and Sanseveria to create an under-the-sea garden scene.
Echo the texture of plants or hardscape in your art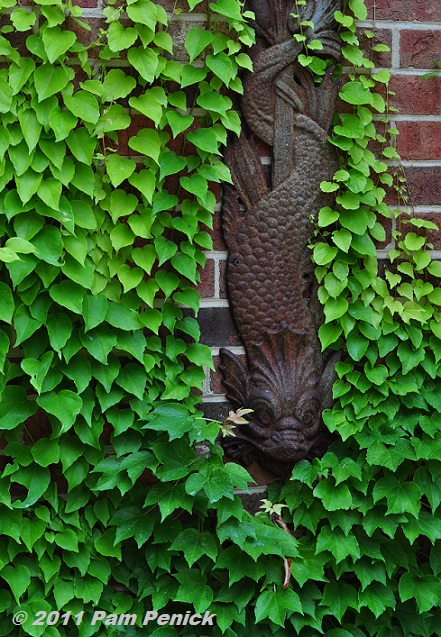 In Helen Yoest's Raleigh garden, green ivy scales the brick wall of her house, echoing the pattern of scales on the metal fish that hangs there.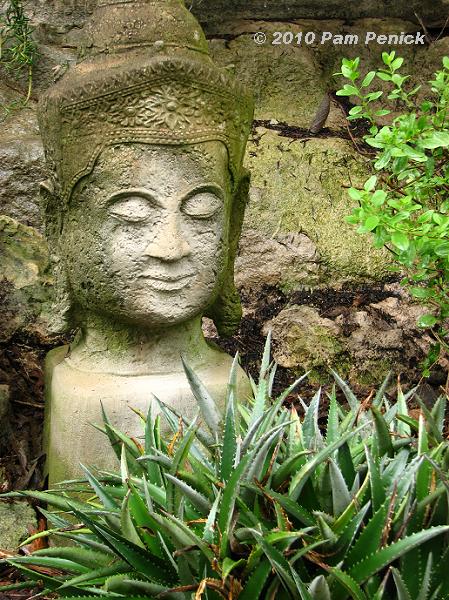 Likewise, a stone Buddha head matches the texture of the limestone wall behind it in Jeff Pavlat's Austin garden. It's almost as if the rock has come to life.
Emphasize a plant's shape or color by repeating it with garden art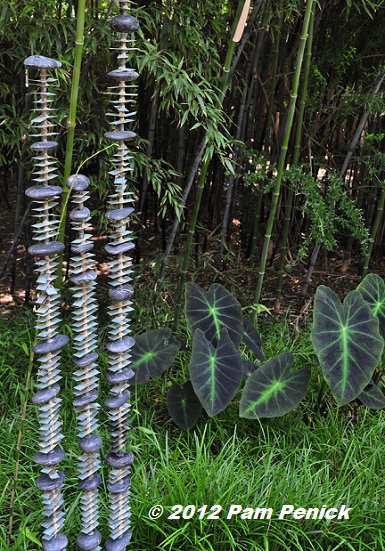 This idea is masterfully illustrated in the Middleton Farm Garden in Dallas, where a vertically stacked pebble sculpture echoes the shape and color variation of black bamboo growing behind it.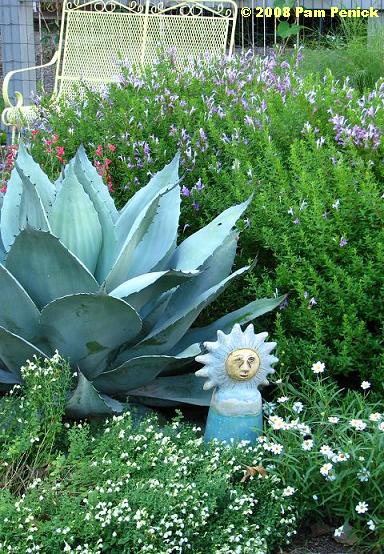 A blue, spiky-haired figure echoes the spiky, blue leaves of an Agave ovatifolia in my own former garden.

Yellow and orange glass globes harmonize with the sunny leaves of Japanese forest grass in the Lane Garden in Seattle.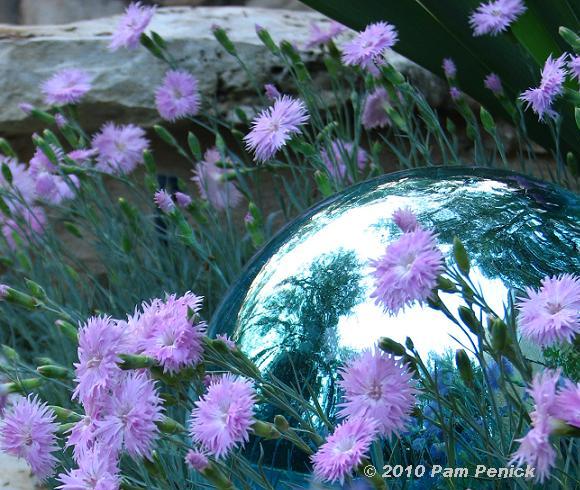 And a blue gazing globe reflects the blue stems and leaves of 'Bath's Pink' dianthus in my current garden.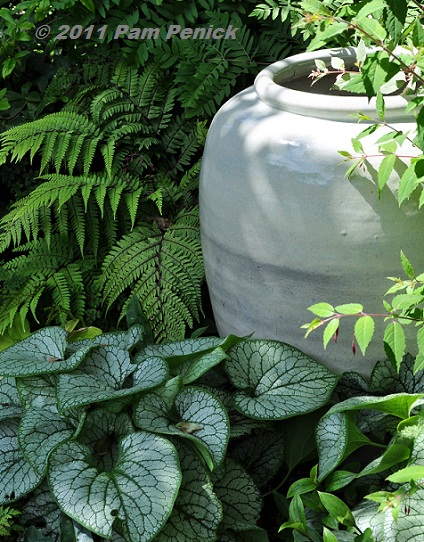 A white pot is a natural choice to brighten a shade garden, especially if you plant a white-variegated plant in front of it, as in the lovely Birrell Garden in Seattle.
Humorously riff on the nature of your plants with garden art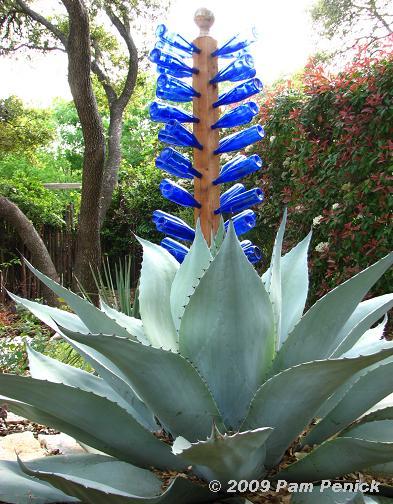 Art can be beautiful, colorful, eye-catching, and thought-provoking, but it can also be funny. In my garden, a bottlebrush-style bottle tree, strategically placed, stands in for an agave bloom spike, which will not occur until the plant has reached the end of its life. I'm not in any hurry for that to occur, so it's fun to enjoy this fantasy bloom spike until then.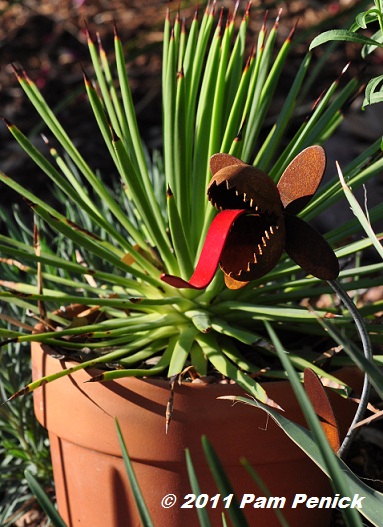 And when I found this toothy, Audrey-style plant stake, I knew it'd be a perfect match with a similarly dangerous plant with "teeth"—in this case, a spiky Agave stricta. Feed me, Seymour!
This is my contribution to today's posting on Art and Sculpture in the Garden by Garden Designers Roundtable. Click for links to other designers' posts from around the U.S. and England.
Susan Cohan : Miss Rumphius' Rules : Chatham, NJ
Jocelyn Chilvers : The Art Garden : Denver, CO
Mary Gallagher Gray : Black Walnut Dispatch : Washington, D.C.
Lesley Hegarty & Robert Webber : Hegarty Webber Partnership : Bristol, UK
Jenny Peterson : J Petersen Garden Design : Austin, TX
Deborah Silver : Dirt Simple : Detroit, MI
Rebecca Sweet : Gossip In The Garden : Los Altos, CA
All material © 2006-2012 by Pam Penick for Digging. Unauthorized reproduction prohibited.