May 21st, 2012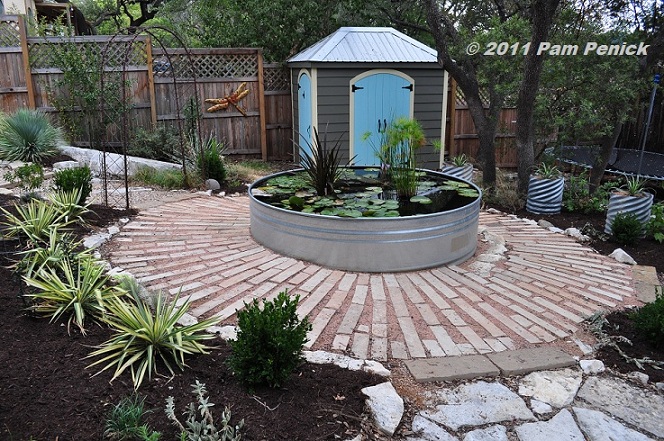 Regular readers know that I often post about my own garden projects and my garden's evolution. Heck, when I started blogging 6 years ago, that was the whole point. Today I have a good excuse for posting home-garden pics because it's this month's topic for Garden Designers Roundtable. It can be fun to see what garden designers are up to in their own gardens, especially high-end, design-build folks who install fabulous gardenscapes for their well-heeled clients and may do something creative and extravagant on their own back forty—if they're one of the rare designers who gets paid at that level.
That's not me, though, nor 99% of the designers I know. I'm a do-it-yourselfer (or hire-it-yourselfer) with a limited budget, just like most of my clients. I have a wish list for my own garden, and I've checked off a few projects during the 3-1/2 years we've lived in our current house, and I've put a lot of sweat equity into the garden. But my list still contains the bigger projects I dream of, mostly involving wall building or patio roofing—expensive projects that will just have to wait until the piggy bank is fuller. So, without further ado, here are a few before-and-after shots of my garden, which is always "in progress," just like yours, I imagine.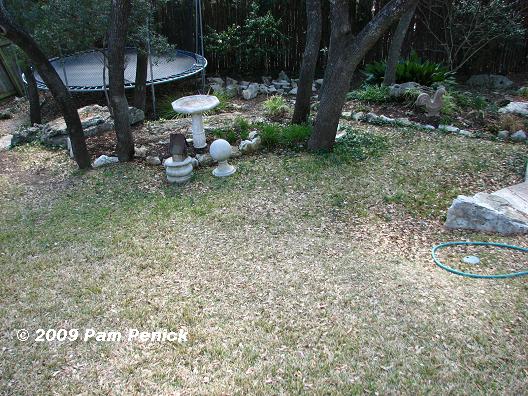 Before: A small lawn surrounded by live oaks occupied the middle level of our back yard when we moved in.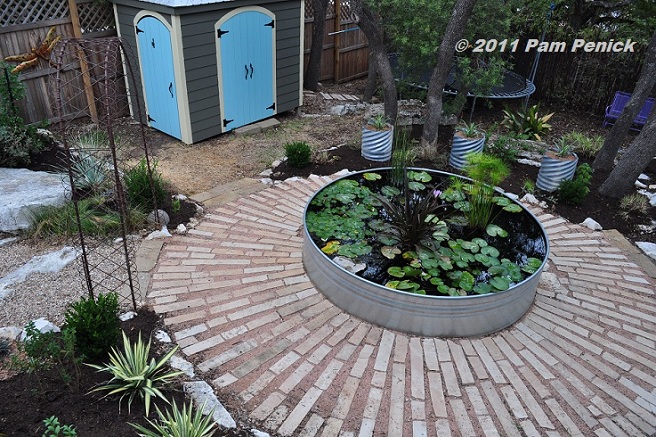 After: I laid a sunburst stone path that radiates out from a stock-tank pond focal point, with new garden beds under the trees and a shed built by my handy husband to hide the swimming pool mechanicals.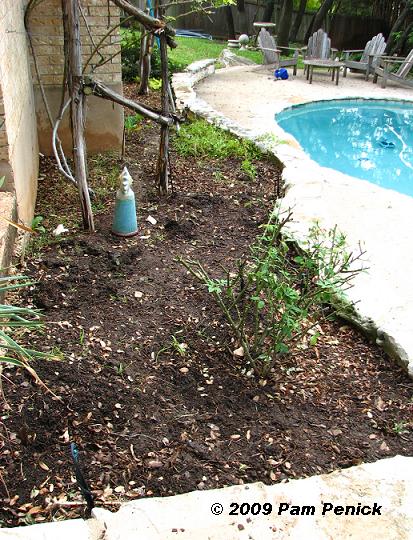 Before: We were fortunate to inherit limestone-faced raised beds along the back of the house, but they were a mishmash of scrawny and overgrown plants when we moved in. I pulled out everything and added several inches of good soil.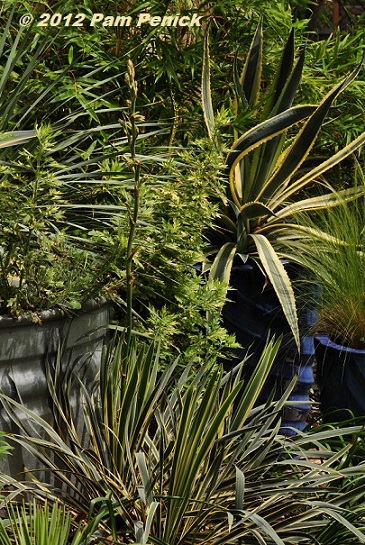 After: Now it's a crazy jungle of spiky and variegated plants that I love.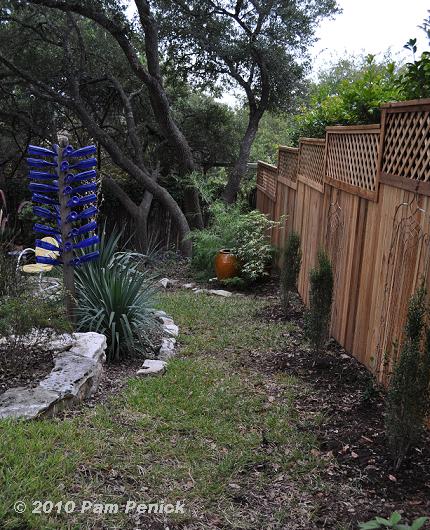 Before: Slippery grass led down a steep slope on both sides of the back yard. I'd already started adding beds when this picture was taken, and we'd recently installed a wood fence in front of a patchy redtip photinia hedge, gaining privacy.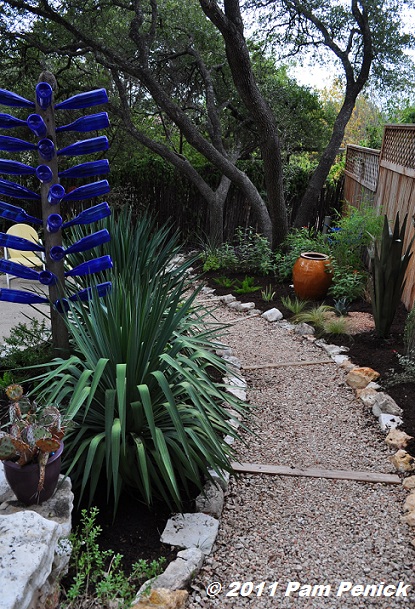 After: A crushed-gravel path edged in free rock from the local cemetery, with drought-tolerant beds on either side, makes a safe, pretty passage through the garden.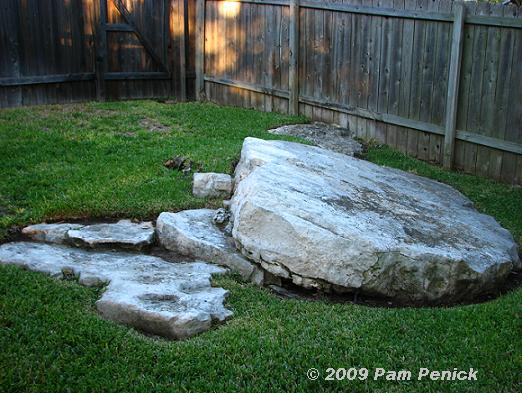 Before: Looking up the other grassy slope in the side yard, a fence blocked the view, and those fantastic boulders were wasted, just sitting in the lawn.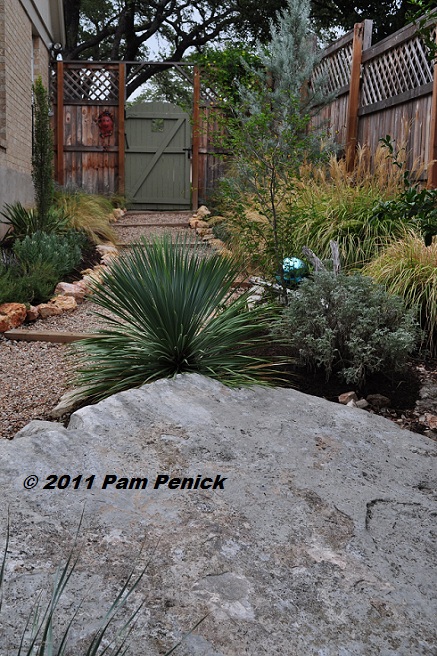 After: A crushed-gravel path provides no-slip footing, and I moved the fence up-slope, closer to the street, to gain more back-yard space. New beds and the path flow around the boulders, giving them natural presence.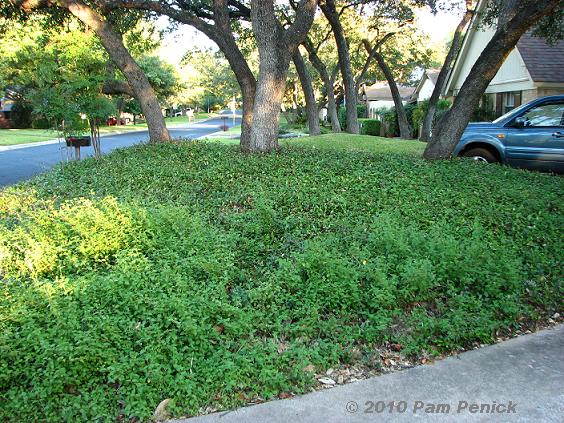 Before: Out front, Asian jasmine and star jasmine carpeted a live oak berm in the center of the circular drive. Easy-care but boring.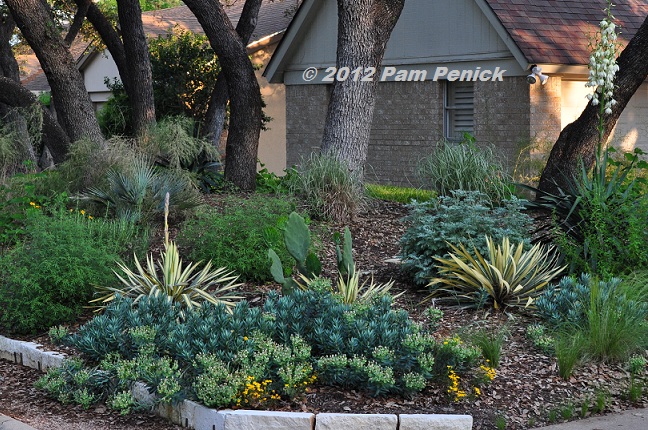 After: A new deer-resistant, drought-tolerant garden is still filling in. The blue, green, and gold garden contains 'Color Guard' yucca (Y. filamentosa 'Color Guard'), softleaf yucca (Y. recurvifolia), gopher plant (Euphorbia rigida), Mexican feathergrass (Nassella tenuissima), Mexican oregano (Poliomintha longiflora), foxtail fern (Asparagus densiflorus 'Meyersii'), bamboo muhly (Muhlenbergia dumosa), Texas dwarf palmetto (Sabal minor), heartleaf skullcap (Scutellaria ovata), 'Sparkler' sedge (Carex phyllocephala 'Sparkler'), Turk's cap (Malvaviscus drummondii), variegated Miscanthus grass, majestic sage (Salvia guaranitica), silver Mediterranean fan palm (Chamaerops humilis var. argentea), Artemisia 'Powis Castle,' copper canyon daisy (Tagetes lemmonii), spineless prickly pear (Opuntia), rosemary (Rosmarinus officinalis), damianita (Chrysactinia mexicana), Lindheimer nolina (Nolina lindheimeri), and Texas nolina (Nolina texana). I usually also add annual 'Senorita Rosalita' cleome and red cordyline for long-season, drought-tolerant color.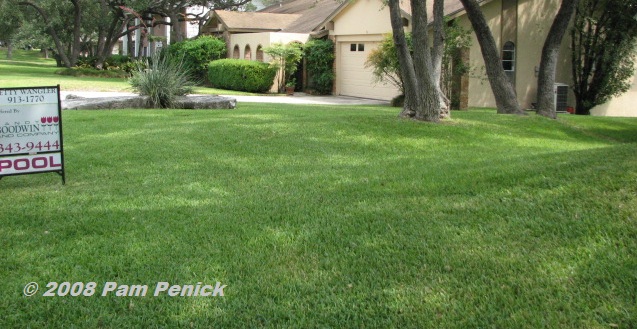 Before: An expanse of St. Augustine grass out front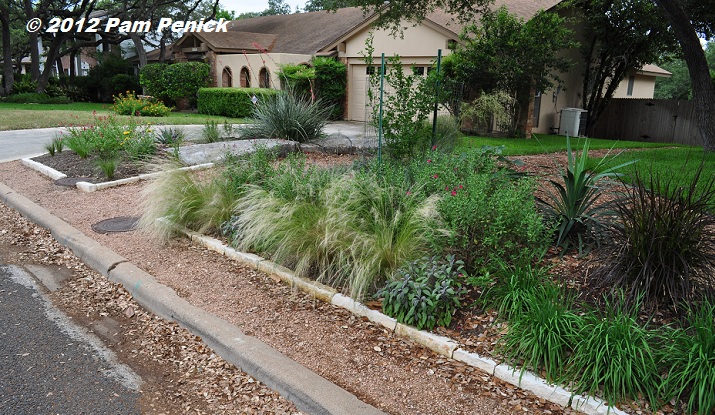 After: A new streetside garden, with a gravel parking strip in front and generous path behind, welcomes visitors at the curb, gives me a place to stroll through the garden, and eats up a whole lotta lawn.
Want to see what other designers around the country are doing in their own gardens? Please visit Garden Designers Roundtable for links to the other Roundtable participants, or click below:
Susan Morrison : Blue Planet Garden Blog : East Bay, CA
Rebecca Sweet : Gossip In The Garden : Los Altos, CA
Mary Gallagher Gray : Black Walnut Dispatch : Washington, D.C.
Jocelyn Chilvers : The Art Garden : Denver, CO
Deborah Silver : Dirt Simple : Detroit, MI
Debbie Roberts : A Garden of Possibilities : Stamford, CT
Christina Salwitz : Personal Garden Coach : Renton, WA
Andrew Keys : Garden Smackdown : Boston, MA
Rochelle Greayer : Studio G : Boston, MA
All material © 2006-2012 by Pam Penick for Digging. Unauthorized reproduction prohibited.
posted in
2nd garden--2012
,
Agaves
,
Containers
,
Design
,
Designers Roundtable
,
Hillside
,
Lawns
,
Paths
,
Ponds
,
Sheds
,
Stock tanks
,
Texas natives
,
Water features
,
Xeric plants