March 22nd, 2011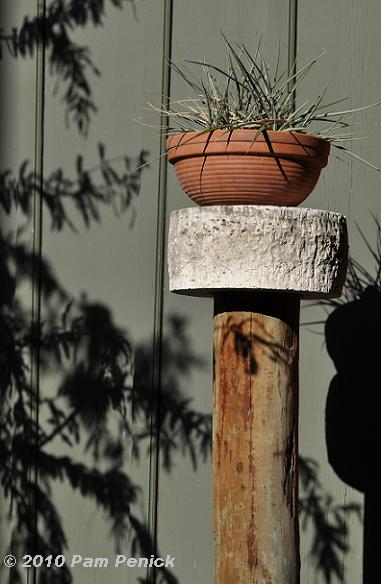 I'm joining my colleagues at Garden Designers Roundtable today on the topic "Vertical." Introducing vertical elements into the garden is a time-honored technique for bridging the gap between earth and sky. You can do so much more than just plant a tree! Here are my favorite techniques.
Plants in narrow places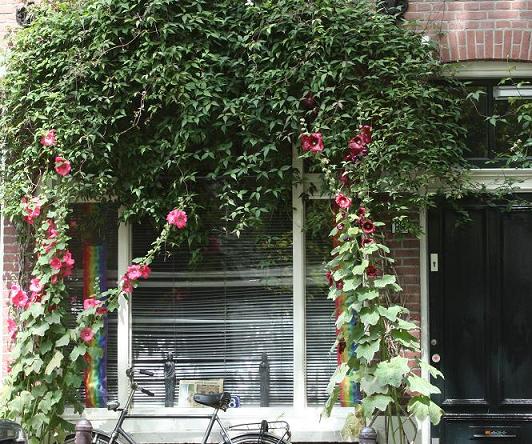 Planting up a narrow space is the most economical way of going vertical. Most of us have narrow strips somewhere around our house, whether it's the side yard, along the driveway, or on a balcony or patio. A few tall, skinny plants, like these hollyhocks, and a vine add vertical greenery and eye-level beauty.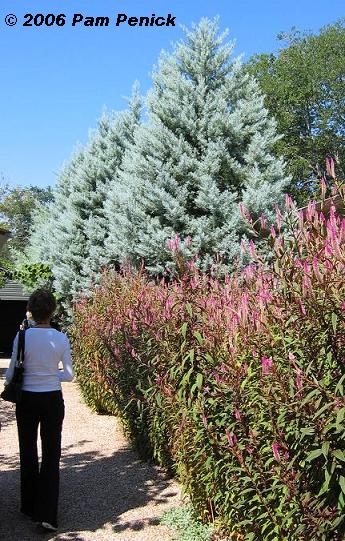 Do your research to find plants with vertical habits and narrow profiles, and you can turn a boring strip of lawn or unused side yard into a lovely space that offers both privacy and pretty views from the interior of your home.
Window Boxes and Containers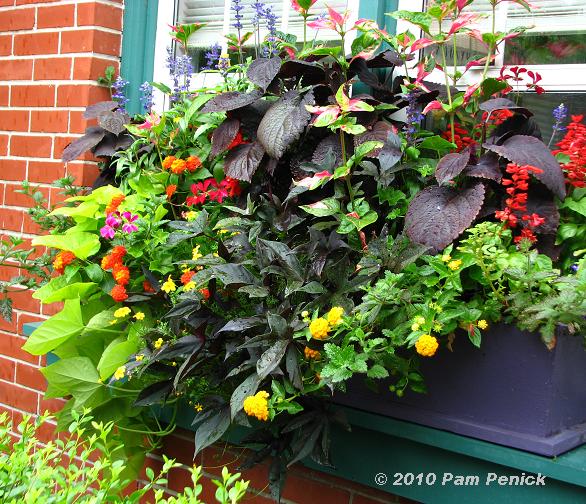 Window boxes spilling over with beautiful foliage and flowers lift the eye from the ground and create a garden view for those inside.

Or try placing a few large containers in a garden bed to break out of a horizontal rut.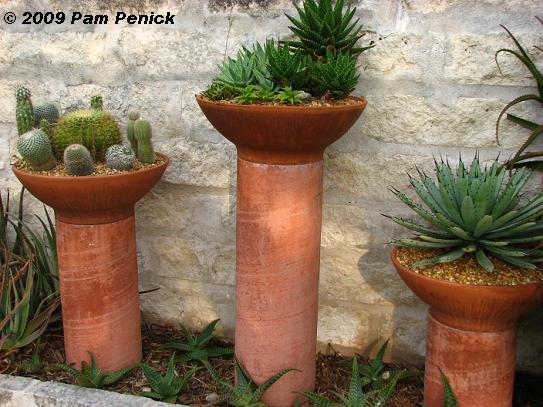 You can even elevate your containers for added drama and height.
Terracing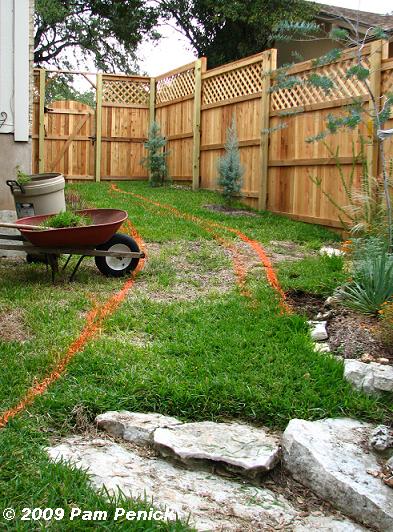 A slope is fine, but to add more interest to your garden, play up any elevation changes by adding terracing and/or steps. Here's how this sloping side yard looked before.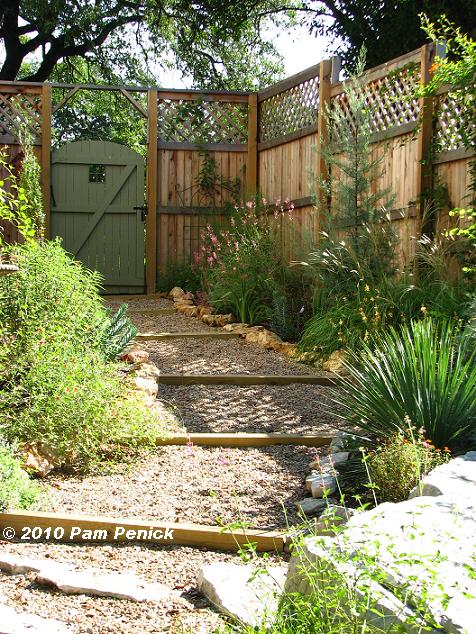 After, with steps of timber and gravel. They serve not only a practical purpose of sure footing but remind the viewer of the hillside.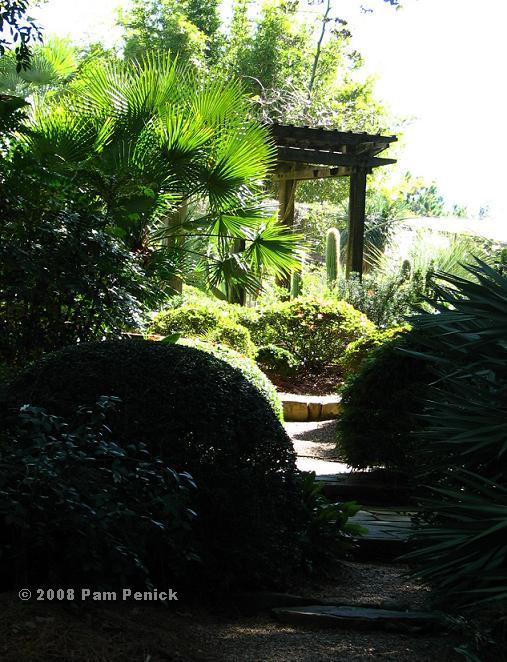 Just so with this garden path at Peckerwood Garden. Additional vertical elements include a pergola and tall plants.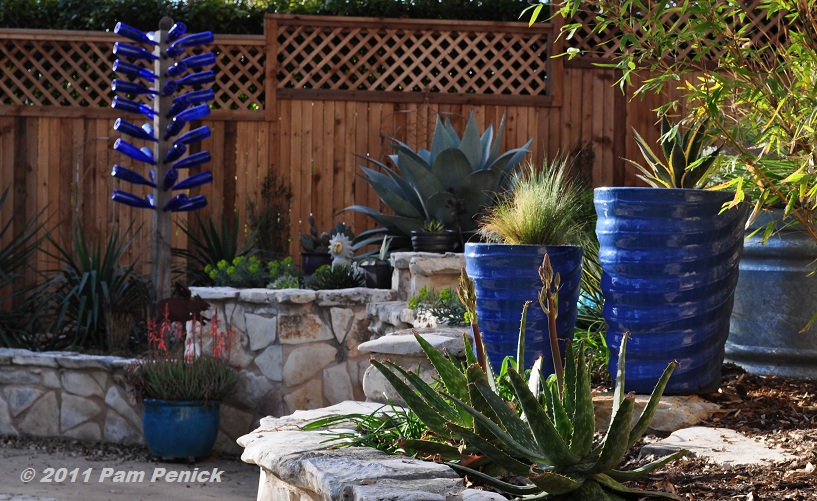 In my own garden terraced walls tame a steep slope behind the house and create garden beds and sitting spaces.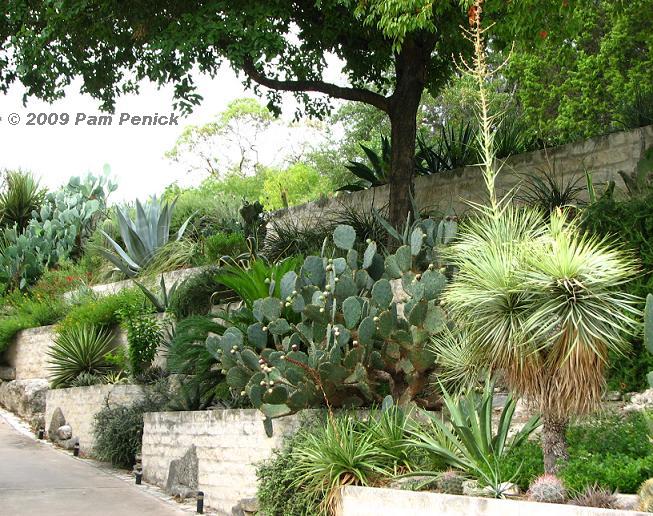 And if you have a seriously steep lot? Just look what you can do with creative terracing. Jeff Pavlat and his partner hand-built a series of narrow terraces across the length of their sloping front yard. Now they have room for a stunning garden, with winding stairs and even a small patio halfway up.
Pergolas and Vertical Structure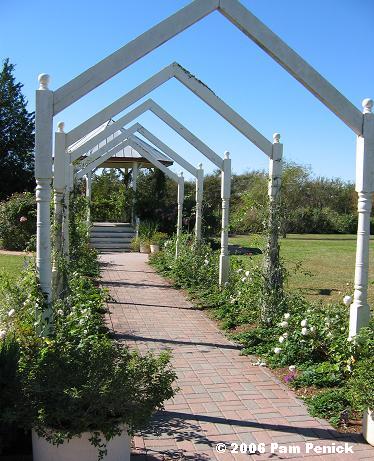 Vertical gardening isn't just for those challenged by a lack of gardening space. If you are lucky enough to have a large property, vertical structure can give human dimension to a wide, open space, like this series of peaked arbors leading to a gazebo at the Antique Rose Emporium.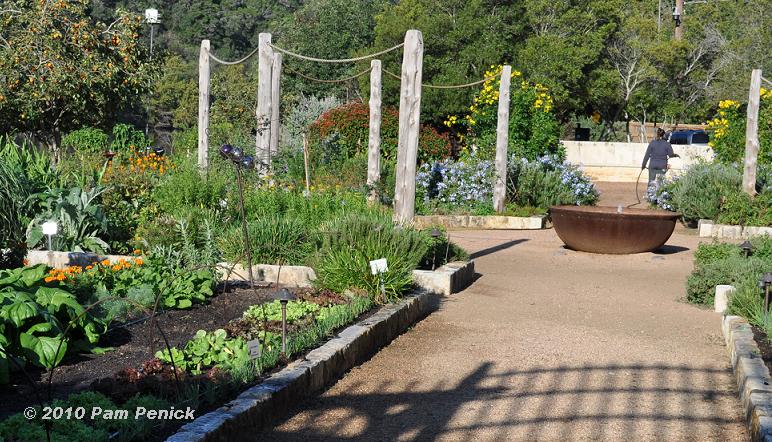 Vertical structure also is wonderful in a relatively flat vegetable garden, like this one at Lake Austin Spa, adding year-round interest and even the sense of a human-scaled "ceiling" in a wide outdoor space.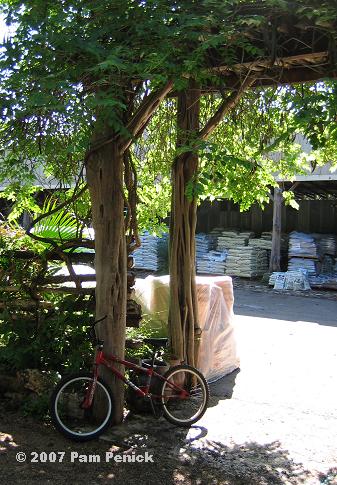 Arbors and pergolas create a sense of entry as well as a place to grow vines.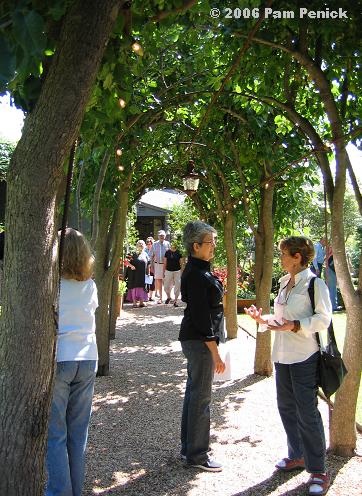 An allee can add a sense of intimacy in an open space. Deborah Hornickel planted an allee of Bradford pears and espaliered them to create a green tunnel that frames a view and pulls visitors along a path. It would also be a delightful spot for an alfresco dinner party.
Walls and Fences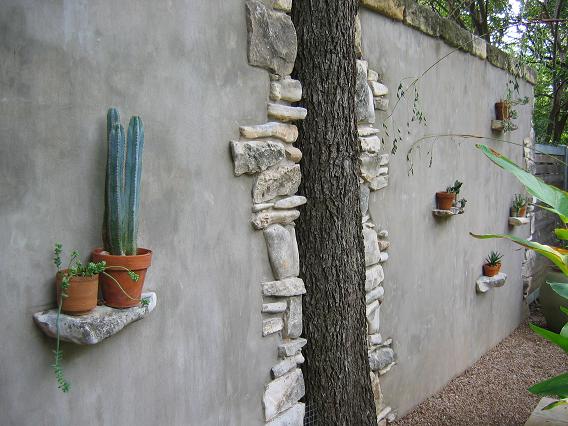 Walls may be the most romantic vertical garden feature. They do what fences do but are monumental, permanent, and, if well-crafted, a work of art in the garden. They can also be playful, like this wall in the Poth-Gill garden built around a tree and studded with tiny shelves for the display of potted plants.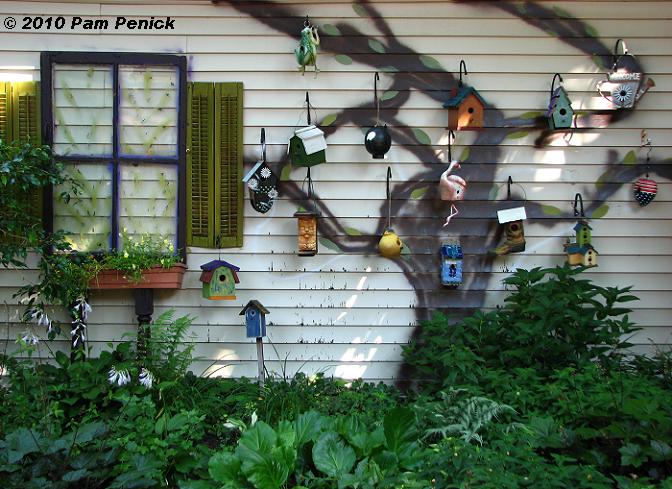 Even more playful, not to mention economical, the owner of this Lancaster Avenue garden in Buffalo creatively turned a neighbor's wall into a fun focal point for her own garden.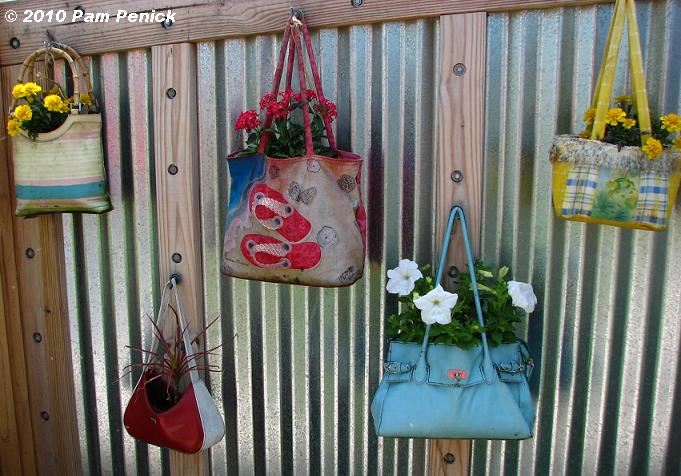 Or how about these tongue-in-cheek purse planters hanging on a fence in the children's garden at Naples Botanical Garden? What a clever way to bring the garden up to eye level in a narrow space.
Incorporating even a few of these vertical elements will add dimension to your garden. Give it a try—be creative. See how different your garden feels as you fill in the middle layer of your garden and lift your eyes from the horizontal plane.
When you have time, please check out the posts of my fellow Roundtablers to see how they've interpreted the topic of "Vertical." I always learn so much from my fellow designers.
Susan Morrison — Blue Planet Garden Blog — East Bay, CA
Rebecca Sweet — Gossip in the Garden — Los Altos, CA
Scott Hokunson — Blue Heron Landscapes — Granby, CT
Lesley Hegarty and Robert Webber — Hegerty Webber Partnership — Bristol, Avon, UK
Tara Dillard — Vanishing Threshold — Atlanta, GA
Shirley Bovshow — EdenMakers — Los Angeles, CA
All material © 2006-2011 by Pam Penick for Digging. Unauthorized reproduction prohibited.