February 16th, 2011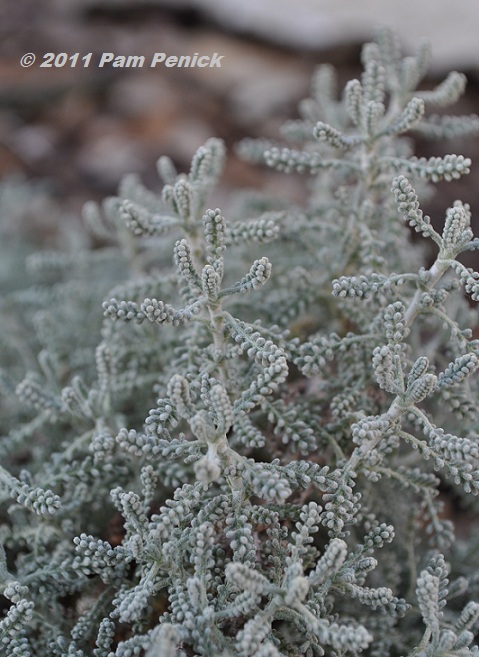 February 14 marks the transition between winter and spring in central Texas gardens. Around Valentine's Day, Austin gardeners do their big cut-back of summer- and fall-blooming perennials and grasses in preparation for spring growth. We may still get a couple of freezes (the last average freeze date for central Austin is February 23), but spring in all its exuberance is right around the corner.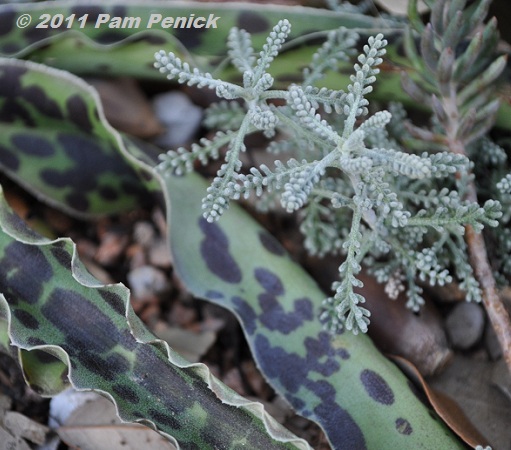 Gray Santolina chamaecyparissus (pictured at top as well) provides ever-silver color in the xeric garden and mixes well with the wavy, spotted leaves of 'Chocolate Chips' manfreda.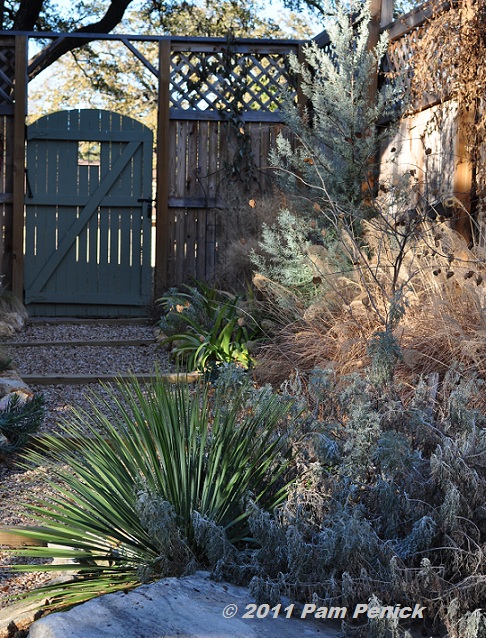 Late fall lingers in the sunny hillside garden, where silvery blues mingle with tawny grasses. Notables include 'Blue Ice' Arizona cypress, frost-bitten 'Powis Castle' artemisia, and 'Sapphire Skies' Yucca rostrata.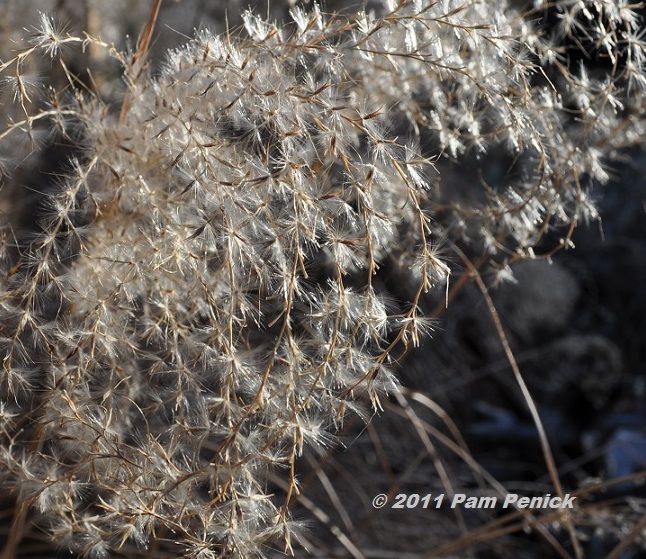 The fluffy plumes and coppery leaves of 'Adagio' miscanthus grass are scheduled for cut-back next weekend. It's time to get ready for spring growth.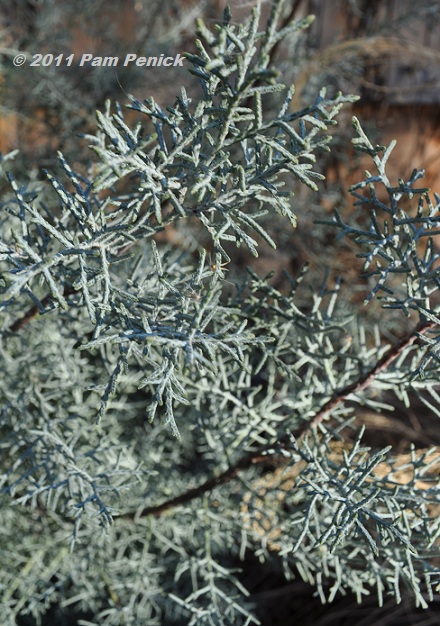 'Blue Ice' Arizona cypress offers year-round, eye-catching color.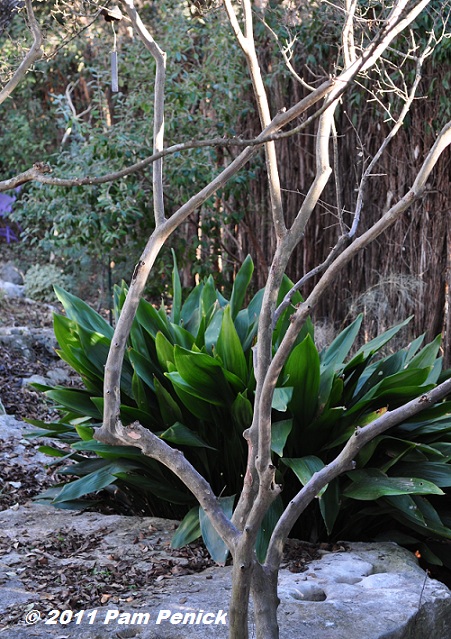 The shapely, silvery gray trunks of native Texas persimmon (Diospyros texana) stand out against evergreen cast-iron plant (Aspidistra elatior), which I just pruned.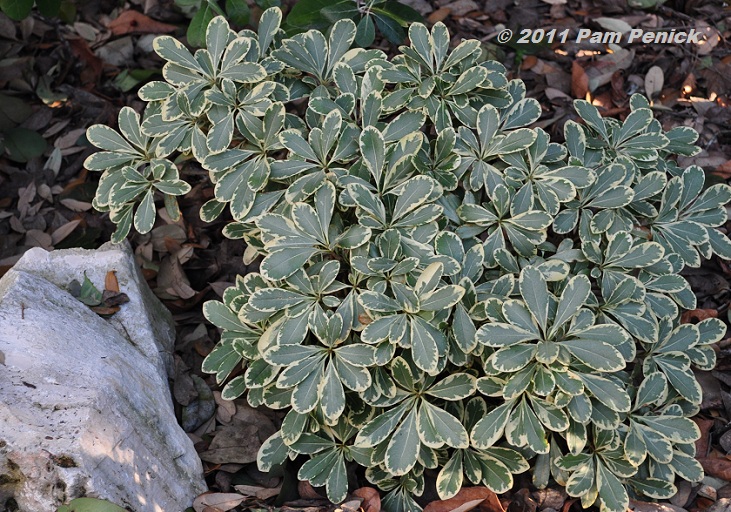 'Cream de Mint' pittosporum is a neat mound of ivory-and-green leaves in the shade. No damage occurred during the extended cold snap.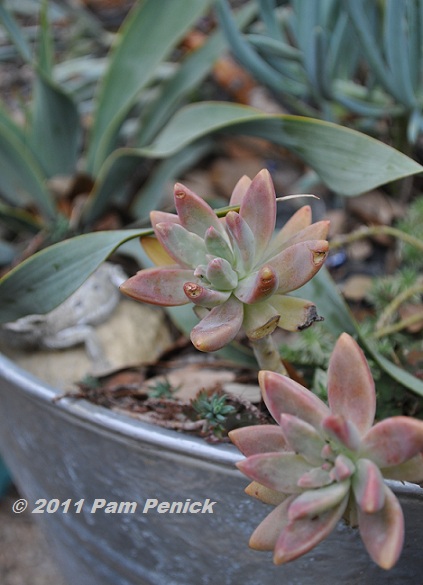 Ghost plant (Graptopetalum paraguayense) looks a little ragged after the freezes, but it's still alive.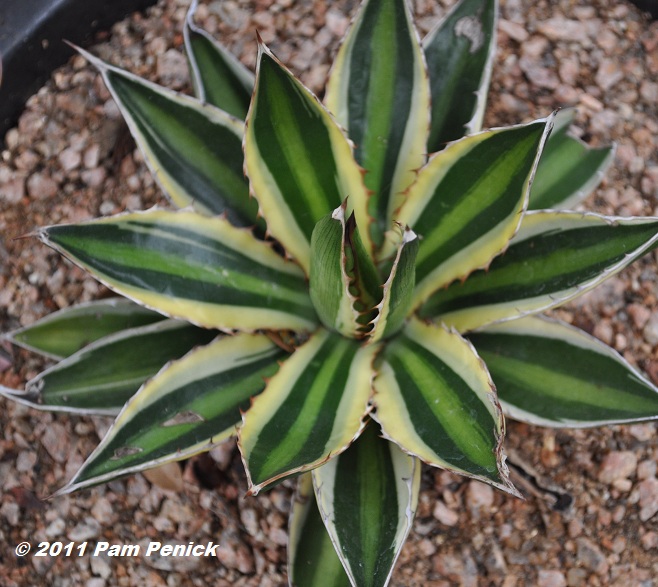 The snazzy, mellow-yellow stripes of Agave lophantha 'Quadricolor' offer lasting color, and it came through the cold snap with no damage.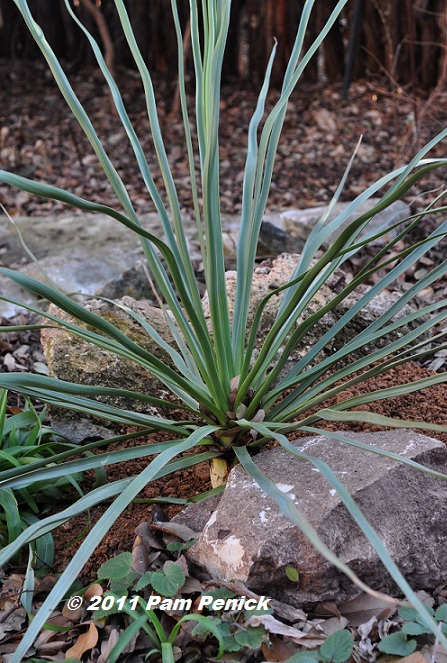 As did blue nolina (Nolina nelsonii), which is growing in the dappled shade and late-afternoon sun of live oaks.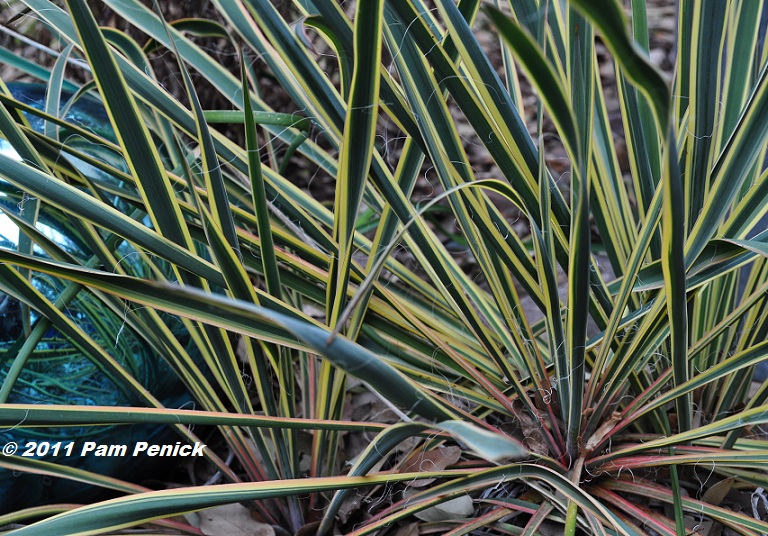 While so many agaves around Austin suffered in the cold snap, the nolinas and yuccas proved hardier. This is Yucca filamentosa 'Bright Edge.'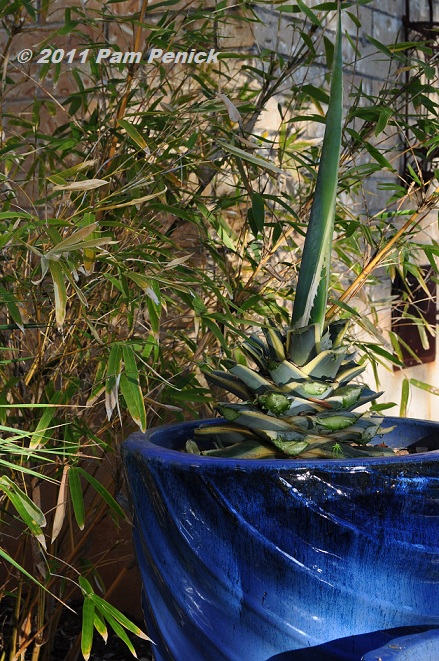 A subterranean rhinocerous emerging from winter dormancy? No, it's just my freeze-damaged variegated American agave, after I pruned back all the mushy leaves. Only the cone in the middle is still firm. I think it might recover if we don't get hit by another hard freeze. 'Alphonse Karr' bamboo stands behind it.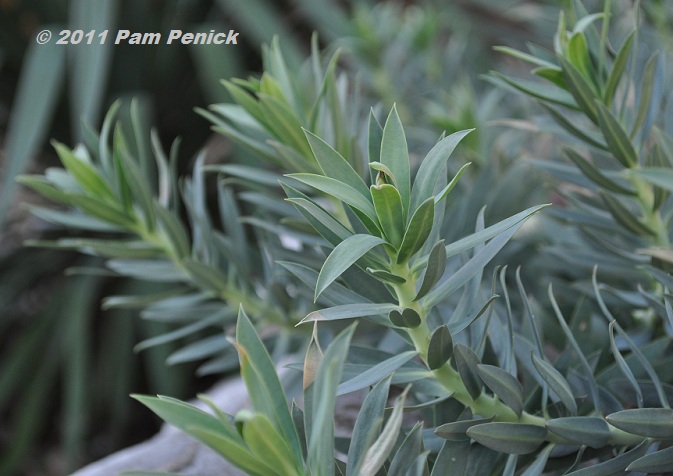 Amid the reminders of winter, signs of spring are appearing. The ends of gopher plant (Euphorbia rigida) are tipping up and getting ready to set buds.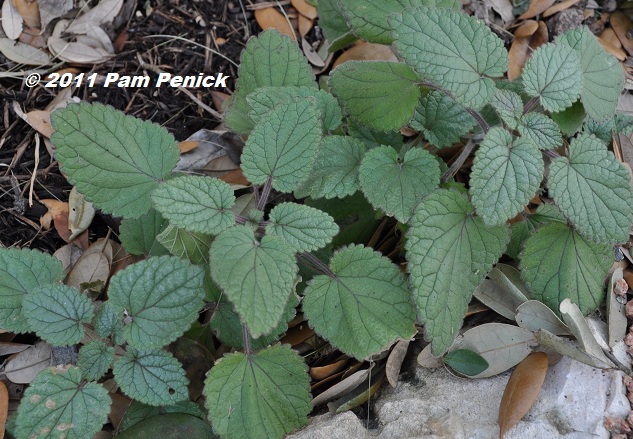 The fuzzy, oily leaves of heartleaf skullcap (Scutellaria ovata), a cool-weather native groundcover, are carpeting the shade garden. In another month or so, lavender bloom spikes will appear.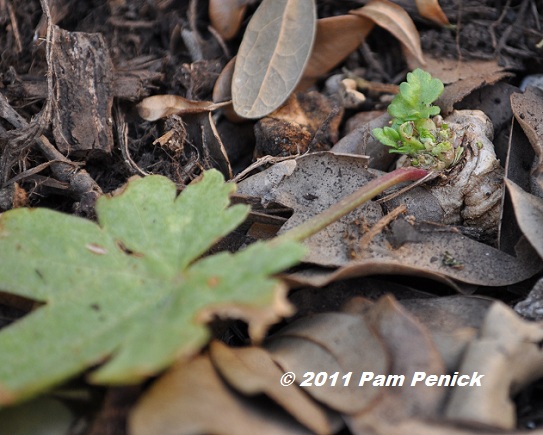 Winecup (Callirhoe involucrata), a native wildflower, is leafing out again.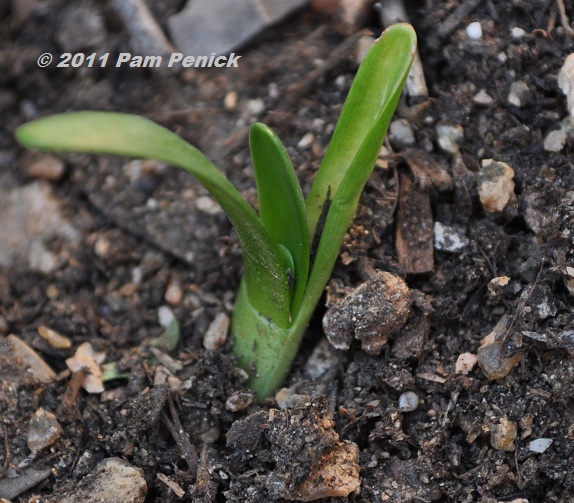 Tulipa clusiana 'Cynthia' leaves are nosing up.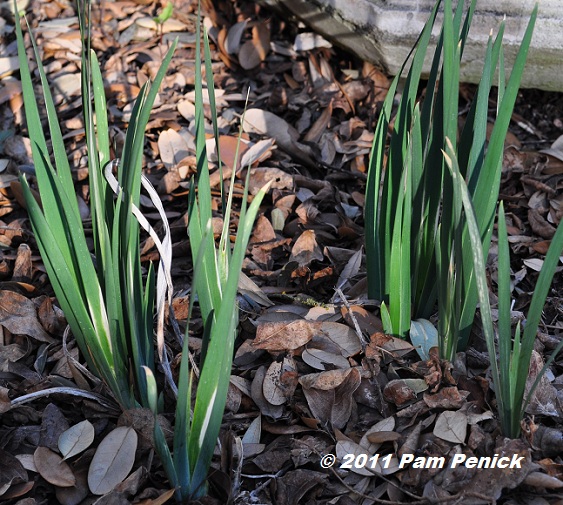 So are the spuria irises, passalongs from Linda of Central Texas Gardener.
So what foliage is marking the end of winter or possibly the beginning of spring for you? Post about it (please include a link to this post, if you would), and leave your link here in the comments so I can find you. I look forward to reading your Foliage Follow-Up leaf love.
All material © 2006-2011 by Pam Penick for Digging. Unauthorized reproduction prohibited.
posted in
2nd garden--2011
,
Agaves
,
Bamboo
,
Bulbs/Rhizomes
,
Foliage Follow-Up
,
Grasses
,
Groundcovers
,
Succulents
,
Texas natives
,
Trees
,
Wildflowers
,
Xeric plants
,
Yuccas