December 12th, 2017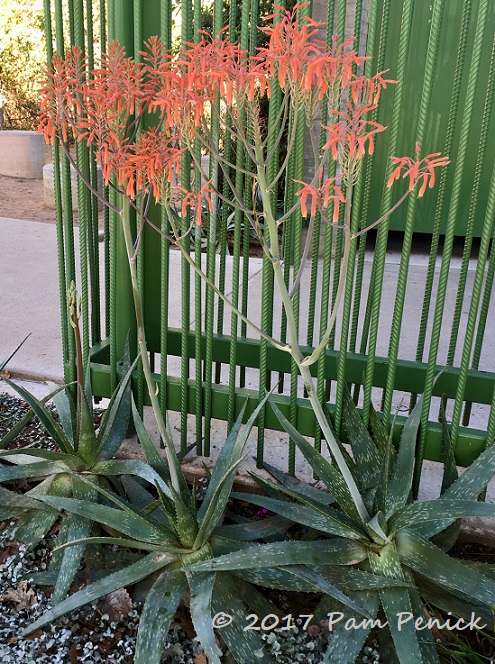 Aloe there! (Anyone else into horticultural puns? Add yours in the comments, and show us aloe you can go.) I spotted this row of speckled soap aloes still blooming at Lady Bird Lake last weekend. Their coral-red candelabra blooms look especially pretty against a lime-green rebar fence.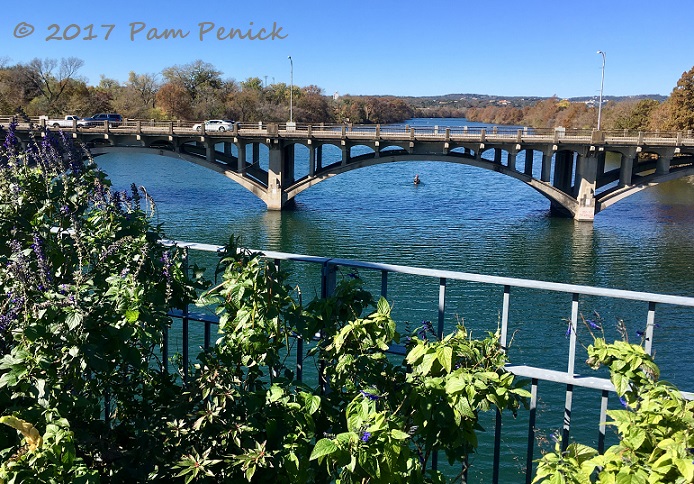 I also enjoyed the view of Lady Bird Lake and the Lamar Bridge from the Pfluger pedestrian bridge. Someone is taking good care of a planter box on the bridge.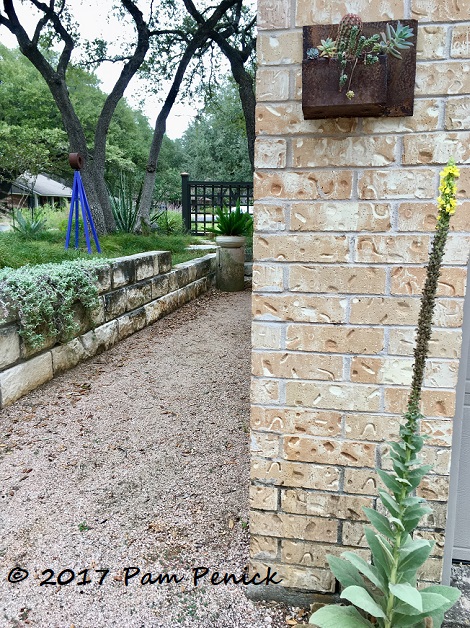 Back at home, I've been mullin' where to add a few more mullein plants since my friend Tait Moring gave me some seeds this fall. This mullein is still blooming post-snow.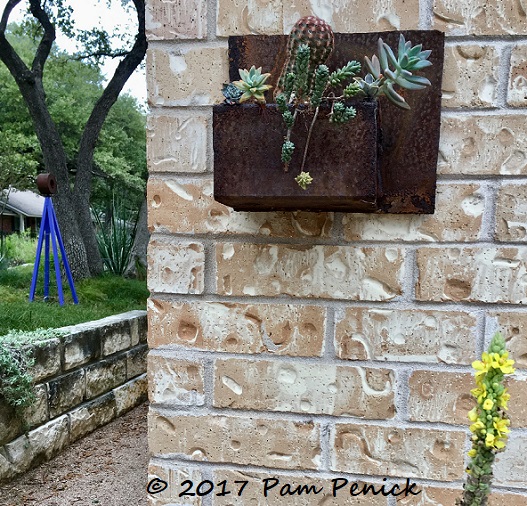 The little succulent planter is still doing fine too. With good drainage, Coahuila lace cactus and ghost plant can take our Central Texas winters in stride. The smaller sedum in the middle does well too.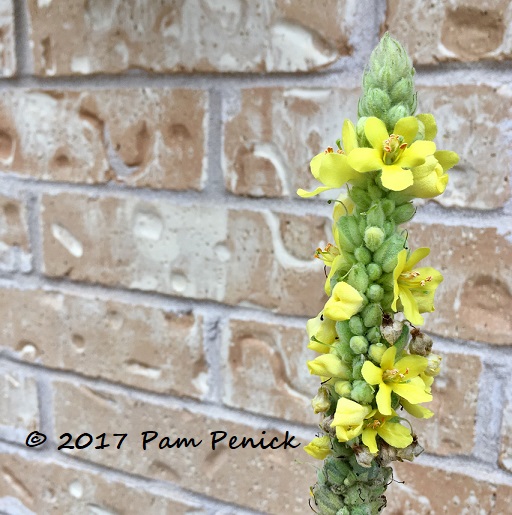 Mullein sunshine. An Instagram reader recently advised that mullein is terribly invasive in drier regions like West Texas and beyond. I haven't found it to be so in my own garden, although it does seed itself around like native Mexican feathergrass and inland sea oats. At any rate, it's always smart to check your region's invasive species list or ask a knowledgeable plant person before introducing a new plant into your garden.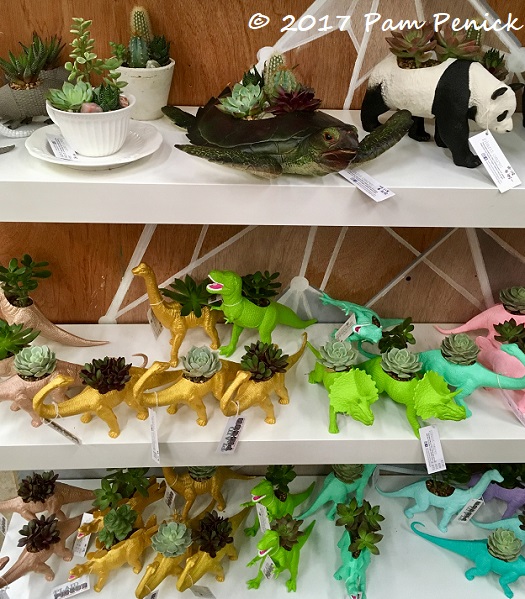 I leave you with a menagerie of succulent planters I spotted at Blue Genie Art Bazaar. An Instagram reader saw this on my IG (@pamdigging) and expressed horror that anyone would kill a sea turtle and make a planter out of it. Hee hee — well, they DO look pretty real. But no, these are plastic animals that someone has been rather creative with.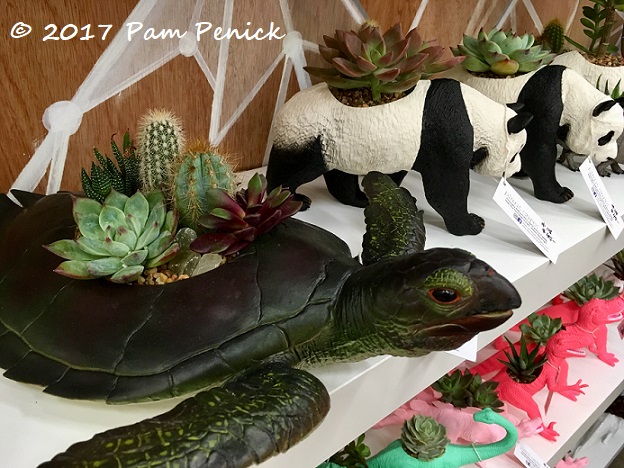 They're turtley fun! What a great way to add a little pandamonium (see what I did there?) to your windowsill garden this year.
All you pun-lovers, there are some amazing aloe and horticultural pun gifts on Etsy. Check 'em out.
I welcome your comments; please scroll to the end of this post to leave one. If you're reading this in a subscription email, click here to visit Digging and find the comment box at the end of each post.
_______________________
Digging Deeper: News and Upcoming Events
Calling all garden bloggers! You're invited to register for the annual Garden Bloggers Fling tour and meetup, which will be held in Austin next May 3-6, 2018! Click this link for information about registering, and you can see our itinerary here. Space is limited, so don't delay. The 2018 Fling will be the event's 10th anniversary, which started in Austin in 2008.
Join the mailing list for Garden Spark Talks! Inspired by the idea of house concerts, I'm hosting a series of garden talks by inspiring designers and authors out of my home. Talks are limited-attendance events and generally sell out within just a few days, so join the Garden Spark email list for early notifications. Simply click this link and ask to be added.
All material © 2006-2017 by Pam Penick for Digging. Unauthorized reproduction prohibited.
posted in
Aloes
,
Bridges
,
Containers
,
Decor
,
Fences
,
Flowers
,
Garden art
,
Lakes
,
Paths
,
Succulents
,
Trees
,
Trellis
,
Views
,
Walls
,
Xeric plants