March 22nd, 2015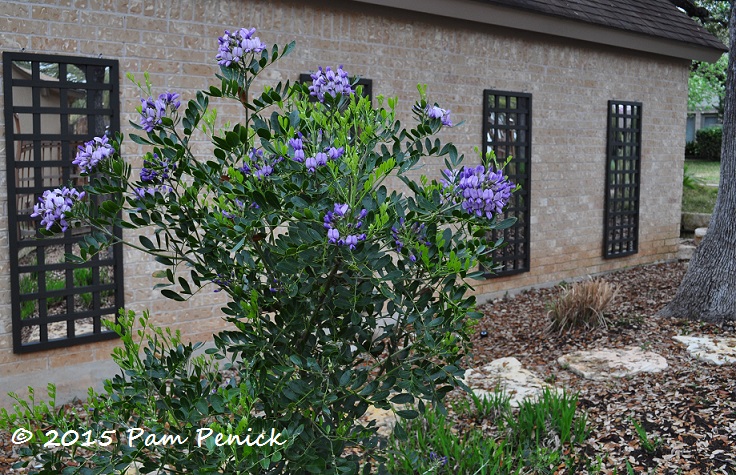 There's something new in the side garden. Yes, the Texas mountain laurel (Sophora secundiflora), my favorite native ornamental tree, is blooming and wafting the sweet fragrance of grape Kool-Aid through the air. Does anything say springtime in Austin as much as that smell?
But something else is new. And I'm not talking about the 3-inch layer of live oak leaves on the ground.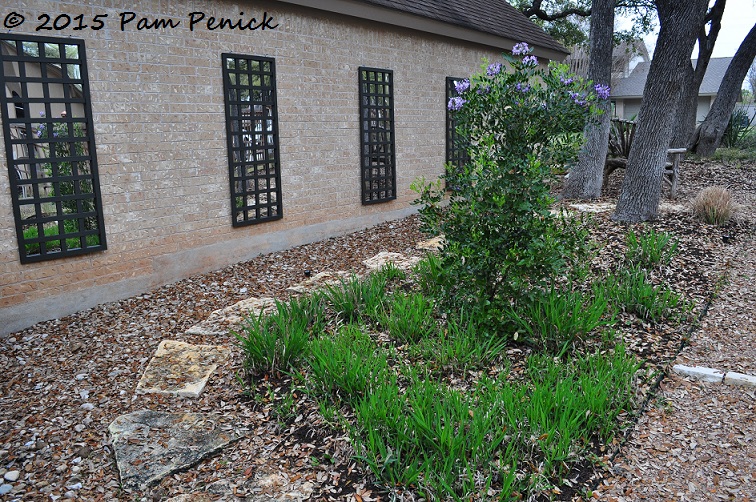 I've hung five mirrored-acrylic trellises along the long brick wall at back of the garage. I'd been looking for something to liven up that boring stretch of brick and add the illusion of depth to a side garden of bowling-alley proportions when I saw these DIY trellises on Design Sponge.
I didn't take smiling in-process pictures like author Grace Bonney did (I would have looked a lot more grumpy at certain points), but you can see hers and read her how-to if you're interested in the nitty-gritty. My only addition to her instructions is to drill through the plexiglass very carefully so that you don't crack it. I learned this the hard way.
I bought inexpensive wooden trellises at Home Depot and cut the legs off before painting them. Mirrored plexiglass isn't exactly cheap, but it is lightweight and you can drill through it to attach it to the trellis, which is handy. I found it locally at Regal Plastics, where it can be sized to your exact specifications. Regal suggested coating the cut edges of the plexiglass with silicone caulk for durability outdoors, but I found it didn't easily stick. Plus I was making an unholy mess of things. Since they're hanging on a shady wall and under an eave, I'm hoping they'll have sufficient protection from the elements as-is.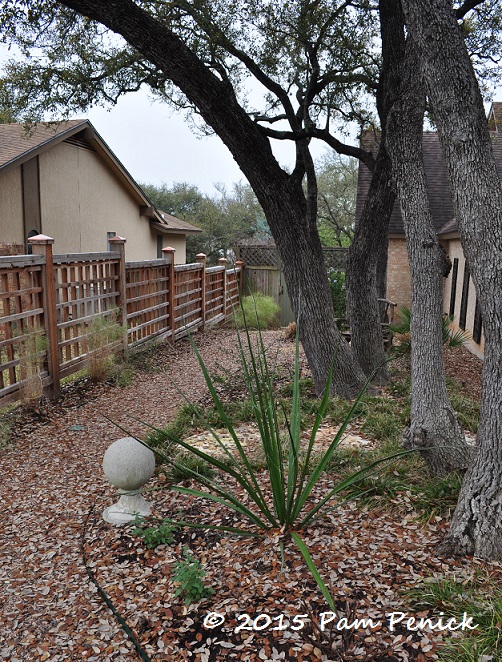 My plan is to stain the lattice fence that borders this space the same color as the trellises: Sherwin-Williams Black Alder. That will unify the square lattice on each side and give the whole space more depth. This is the entry to the back garden that I take visitors through (the other side is a working space with trash storage), and I want it to look as appealing as any other part of the garden, not just a pass-through. Plant choice is very simple, mainly grasses, yucca and hesperaloe, and shade-tolerant herbs and perennials due to frequent deer browsing, so I'm going with mass plantings for impact. Visible here: bamboo muhly (Muhlenbergia dumosa), wide-leaf giant hesperaloe (Hesperaloe funifera ssp. chiangii), Texas betony (Stachys coccinea), and Berkeley sedge (Carex divulsa). Planted around the Texas mountain laurel, in the 2nd photo from the top, is inland sea oats (Chasmanthium latifolium).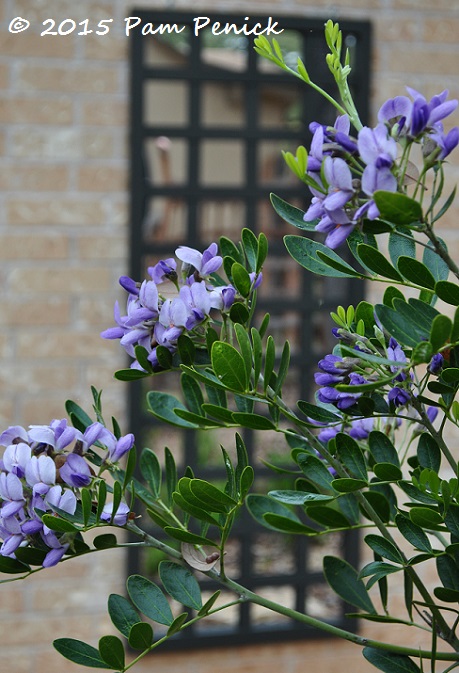 I'm pleased with how it turned out and can now check one spring project off my list. I have many still to go! How about you?
Update 8/15: I'm sorry to report that the acrylic mirrors have bowed and sagged, even with plenty of screws to hold them in place, causing a slight funhouse-mirror effect. Therefore, I'm giving a thumbs-down to this project and recommend using regular glass mirrors instead. Live and learn!
__________________
I'd love to have your vote in the Better Homes and Gardens 2015 Blogger Awards. Skip through to the Gardening category, select Digging, and then skip to the last page for your vote to be counted. You can vote as much as you like. Thanks for your support!

All material © 2006-2015 by Pam Penick for Digging. Unauthorized reproduction prohibited.