December 15th, 2016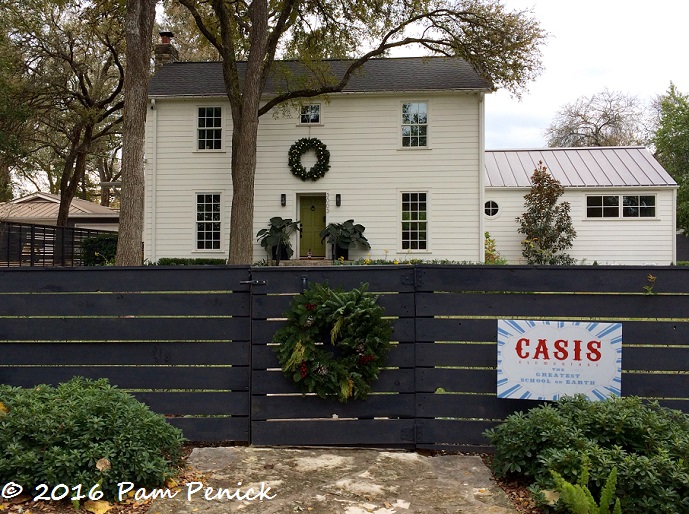 Cruising through tony Tarrytown neighborhood in West Austin last week, I slowed to a crawl to admire several houses with appealing front-yard style. For understated Christmas pizzazz, I like the way these homeowners hung a big, green wreath over their moss-green front door flanked by dramatic pots of — what is that? — black Colocasia? Another wreath hangs on a nearly black, horizontal-board gate on the fenced front yard, with mounding pittosporum shrubs on either side. Classic with a modern twist.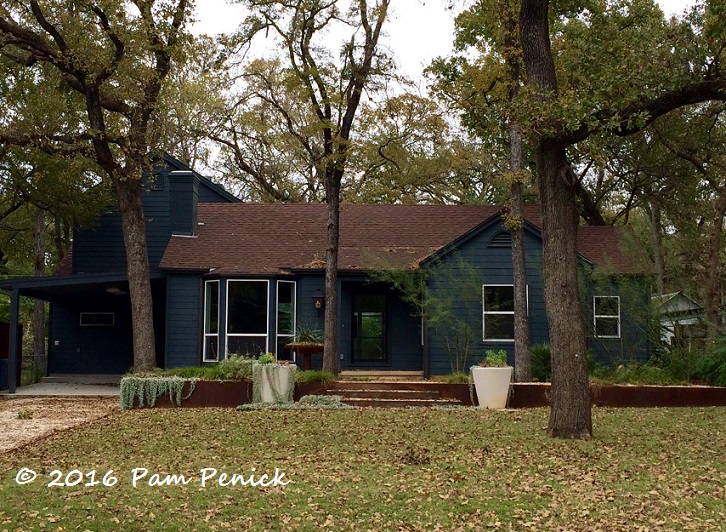 This sapphire-colored ranch gets contemporary style from Corten-edged porch stair risers and planters that stretch the width of the house, gracefully connecting home and lawn. Large white planters draw the eye to the steps, and an elevated steel dish planter by the door adds a focal point.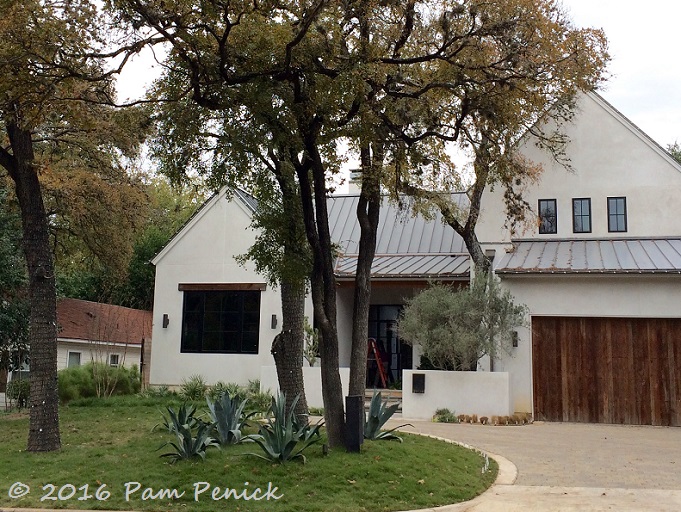 This stucco house with a contemporary-farmhouse vibe has a shaggy, eco-lawn of some kind — maybe Habiturf. A half-dozen steely blue agaves congregate under the live oaks in the lawn — an arrangement that wouldn't be practical if you had to mow frequently. Happily, Habiturf requires minimal mowing. The bigger question, to my mind, is how do they keep deer from antlering these beauties to smithereens in the fall? The poor, battered agaves and hesperaloes in my own front garden would love to know.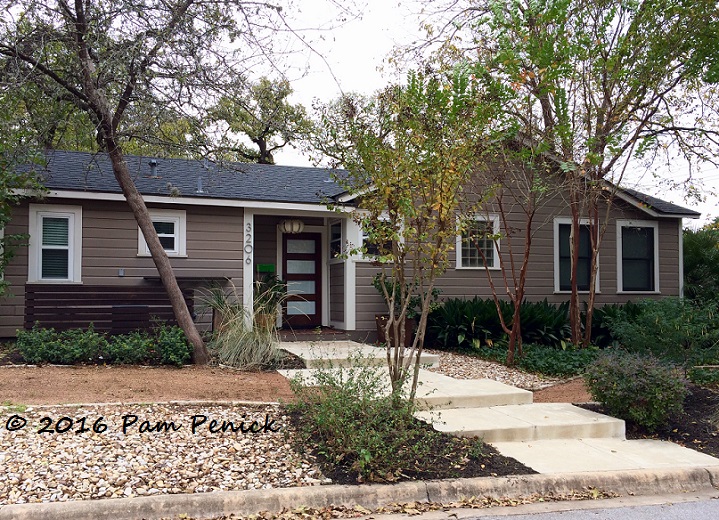 This mushroom-colored ranch welcomes visitors with an updated front walk: a wide, zigzagging path of poured-in-place concrete. Masses of groundcovers and low-growing perennials alternate with curvy swaths of river rock (along the curb) and decomposed granite (for a cross path).
It's always fun to see what people are doing with their yards, and these four are eye-catching in different ways. Have they given you any ideas?
I welcome your comments; please scroll to the end of this post to leave one. If you're reading this in a subscription email, click here to visit Digging and find the comment box at the end of each post.
_______________________
Digging Deeper: News and Upcoming Events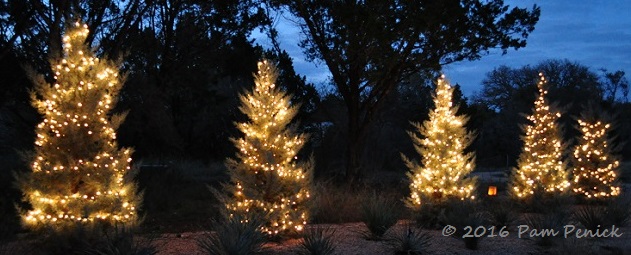 Need a holiday gift for the gardener, new homeowner, or environmentalist on your list?
Please consider giving one (or both!) of my books. They're packed with plenty of how-to info for newbies as well as lots of inspirational photos and design ideas for more experienced gardeners! Order today from Amazon (Water-Saving Garden / Lawn Gone!) or other online booksellers (Water-Saving Garden / Lawn Gone!), or find them anywhere books are sold.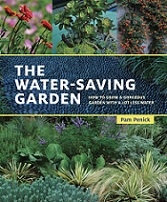 "In an era of drought and unpredictable weather patterns, The Water-Saving Garden could not come at a better time. With striking photographs and a designer's eye, Penick shows us just how gorgeous a water-wise garden can be. This is the must-have garden book of the year!"
— Amy Stewart, author of The Drunken Botanist and Wicked Plants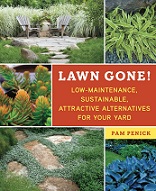 "This thoughtful, inviting, and thoroughly useful book should be required for every new homeowner at closing. It has the power to transform residential landscapes from coast to coast and change the world we all share."
— Lauren Springer Ogden, author of The Undaunted Garden and coauthor of Waterwise Plants for Sustainable Gardens
All material © 2006-2016 by Pam Penick for Digging. Unauthorized reproduction prohibited.
posted in
Agaves
,
Containers
,
Doors
,
Drive-By Gardens
,
Fences
,
Gates
,
Grasses
,
Groundcovers
,
Lawn Gone!
,
Lawns
,
Paths
,
Porch
,
Trees