August 4th, 2017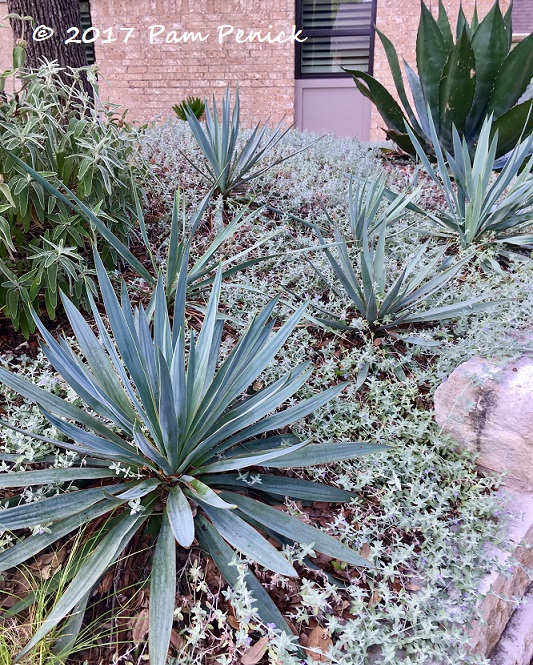 Like a woman who's grown tired of covering up the gray, I'm letting my silver self shine — in the garden, that is. Instead of bemoaning the dominant silver-green to olive-green palette that comes so naturally to Austin's hot, often droughty climate, I'm letting it rip.
And I couldn't be happier. Arranged en masse, our native paleleaf yucca (Yucca pallida), paired here with a silver carpet of woolly stemodia (Stemodia lanata), is visually cooling during a hot summer and needs little water and no pruning or fussing to look its best.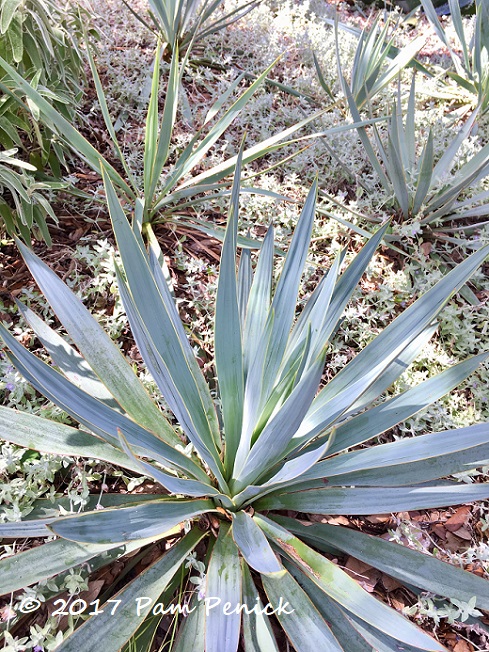 The dusty blue, sword-like leaves have a pale stripe along the leaf margins, giving them a little extra "shine" in dry dappled shade. Like most yuccas, it thrives in sun too. I often see it growing wild along rocky trails around Austin, so you know it won't be begging for TLC in your garden, provided it has good drainage.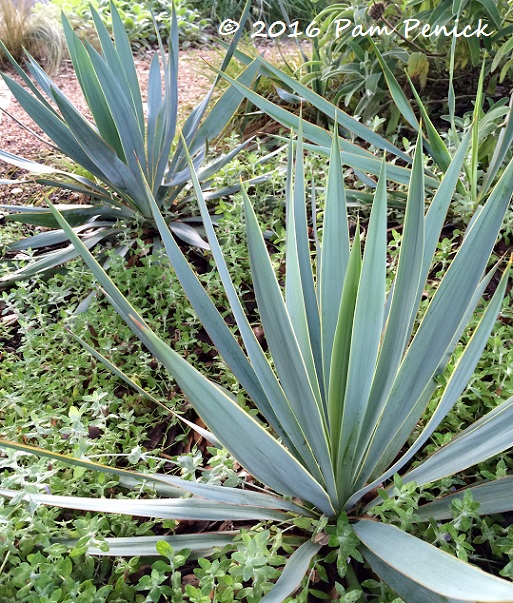 While it does tend to offset (produce new plants that cluster alongside the mother plant), rather than remaining in star-shaped, solitary form, it doesn't grow so large as to overpower smaller spaces. Individual plants grow to about 1 to 1-1/2 feet tall and wide. Bloom stalks bearing bell-shaped white flowers shoot up in spring, but the deer mow these down in my garden. No matter. I'm growing these silver belles for their foliage.
It's hardy to zone 6 or 7, according to online sources, which probably depends on having sharp drainage to avoid the dreaded cold-and-wet that so many xeric (dry-loving) plants dislike.
Note: My Plant This posts are written primarily for gardeners in central Texas. The plants I recommend are ones I've grown myself and have direct experience with. I wish I could provide more information about how these plants might perform in other parts of the country, but gardening knowledge is local. Consider checking your local online gardening forums to see if a particular plant might work in your region.
I welcome your comments; please scroll to the end of this post to leave one. If you're reading this in a subscription email, click here to visit Digging and find the comment box at the end of each post.
_______________________
Digging Deeper: News and Upcoming Events
Get on the mailing list for Garden Spark Talks. Inspired by the idea of house concerts, I'm hosting a series of garden talks by talented designers and authors out of my home. Talks are limited-attendance events and generally sell out within just a few days, so join the Garden Spark email list for early notifications. Simply click this link and ask to be added.
All material © 2006-2017 by Pam Penick for Digging. Unauthorized reproduction prohibited.