June 3rd, 2012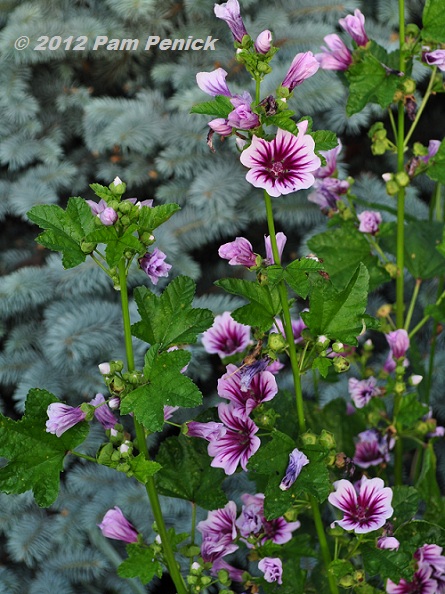 While not an official part of the recent Garden Bloggers Fling in Asheville, North Carolina, the garden of the White Gate Inn, just down the street from our hotel, was suggested as a must-see if we had any spare time. So one morning I got up early and walked a few blocks into a quiet neighborhood of bungalows to see it. Its charms were evident from the street, especially with French hollyhocks in bloom.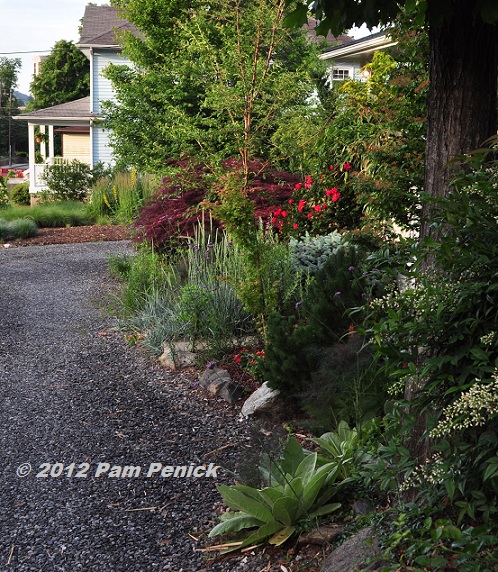 The gray-gravel parking area is wrapped by garden on two sides, helping to blend it into the scene.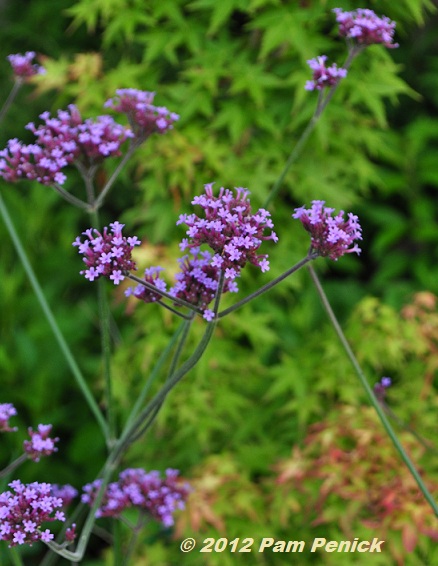 Verbena bonariensis was flowering.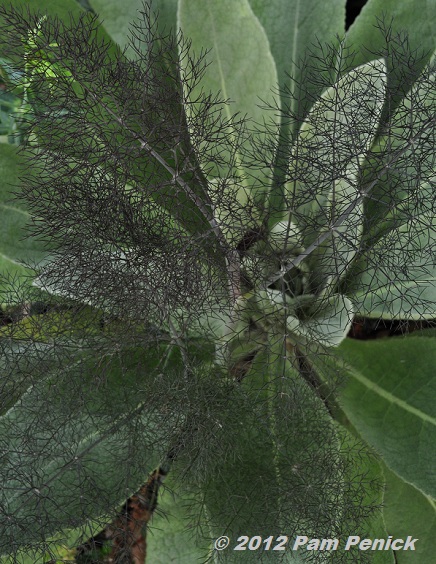 Airy bronze fennel and felt-leaved mullein made a pretty combo.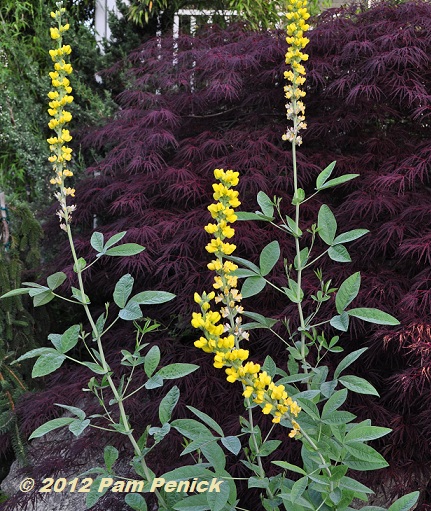 But the foliage stars were the blue spruce pictured in the top photo and this purple Japanese maple, against which these yellow flower spires absolutely popped. Christopher has ID'd the yellow flower as Carolina or redneck lupine (Thermopsis caroliniana).

A closer look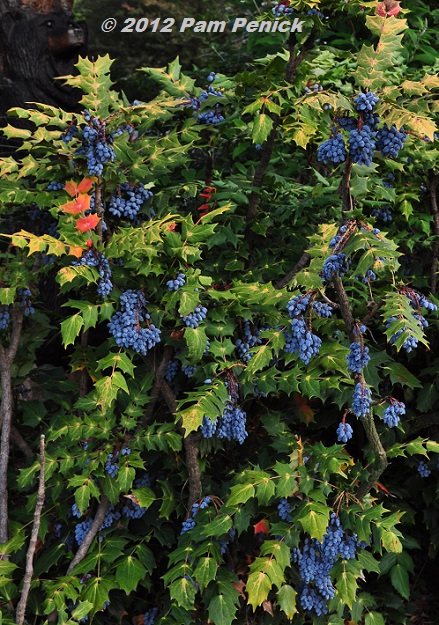 Dripping with frosted blue berries, this Oregon grape holly (Mahonia aquifolium) was a traffic-stopper along the sidewalk.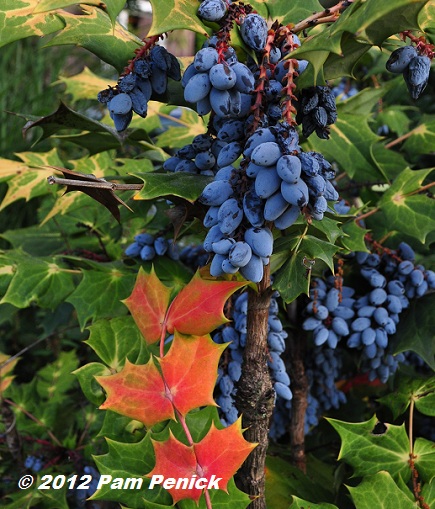 What a handsome shrub!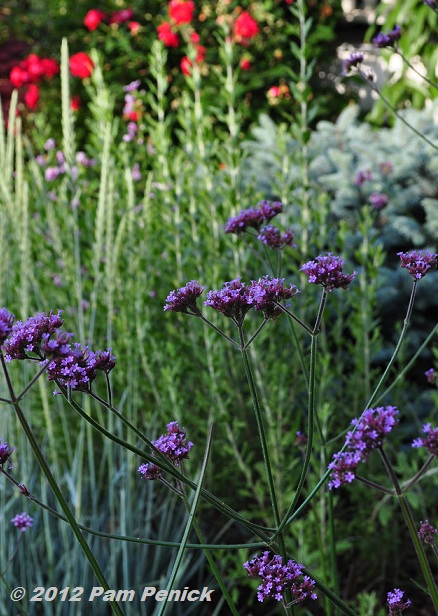 With clusters of purple flowers held aloft on airy stems, Verbena bonariensis makes everything around it look prettier.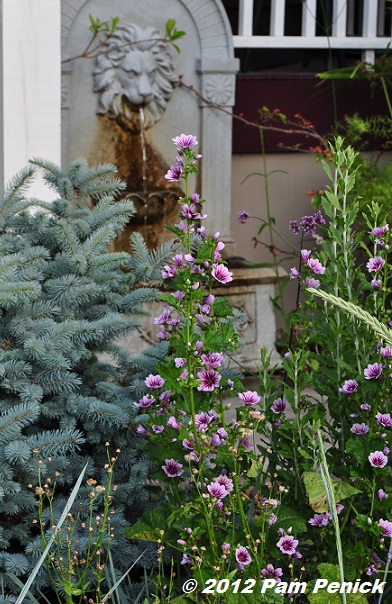 Blue spruce and more of those sweet French hollyhocks (Malva sylvestris 'Zebrina')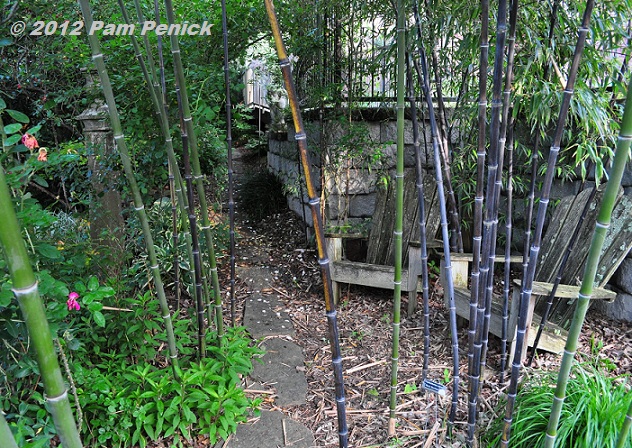 A narrow side path beckoned through a stand of bamboo, inside which two Adirondacks offered a secret hideaway. I was tempted to explore the back garden, but it was so early and the place so quiet that I felt as if I would be intruding, so I didn't. Later, when I saw photos from the other bloggers who stopped by and did visit the back garden, I regretted my hesitancy. If you go, do take the path not taken.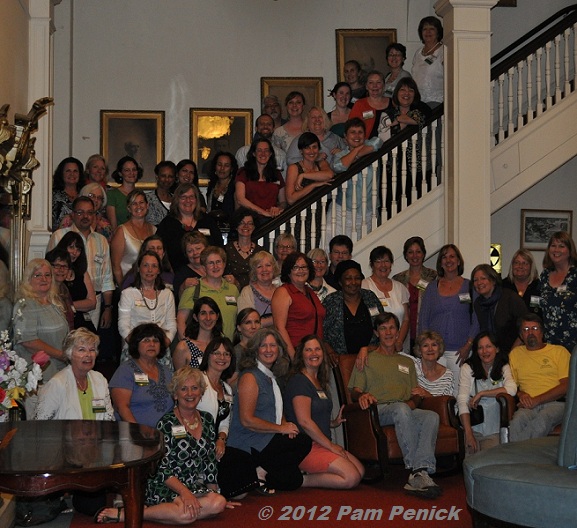 And that concludes my posts about the 5th annual Garden Bloggers Fling. Here's a group shot, taken after our big dinner on Saturday evening, just before the blogging discussion that followed. (Unfortunately, not everyone was able to stick around after dinner, and the photo was an impromptu affair—I wanted a group shot and asked a helper to take our picture—so at least 20 attendees missed the photo op.) There were approximately 84 bloggers at this year's Fling, and what a great group it was. Meeting new attendees, renewing old friendships, touring beautiful gardens, and sharing meals together—the Asheville Fling was a big success. My thanks to the hard-working volunteer hosts who worked for months to create this fun event for us: Christopher, Frances, Helen Yoest, Lisa Wagner, Nan Chase, Rebecca Reed, and Ana Calderin. You are awesome! Thank you!
For a look back at the North Carolina Arboretum and Amy Stewart's Wicked Plants exhibit, click here.
All material © 2006-2012 by Pam Penick for Digging. Unauthorized reproduction prohibited.