January 29th, 2013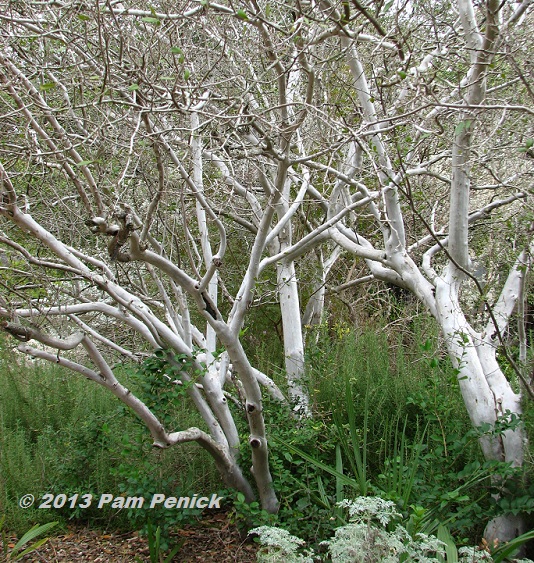 One of my favorite small trees for winter interest is Texas persimmon (Diospyros texana), which occurs naturally in central and south Texas but is found as far east as Houston and as far west as Big Bend National Park. This picture, which I took at a client's house yesterday, shows why you'd want it in your garden: just look at those milky white, muscular trunks and branches! They attract attention all year but really stand out during our quieter winters, when gray-green and tan are the dominant hues. I like how these homeowners have planted deep-green rosemary beneath their stand of persimmons, offering a nice contrast with the white trunks.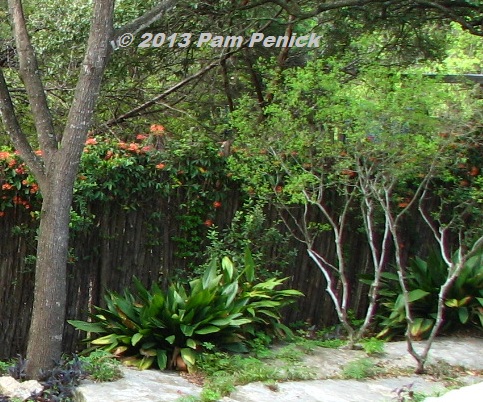 In my own garden, I inherited a number of Texas persimmons, several of which are growing in cracks between huge slabs of limestone. This is, as you can see, a tough, drought-tolerant tree. Growth is slow, and so it's probably priced higher than faster-growing trees at the nursery. Give it well-drained soil and full sun to part sun.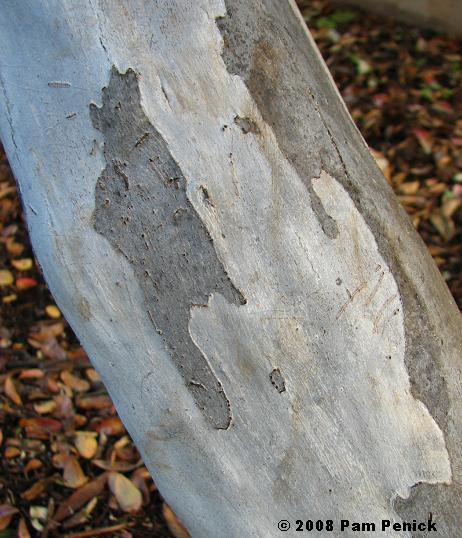 I think Texas persimmon looks best pruned up into a multi-trunked small tree, like a crepe myrtle, the better to show off the white trunks and branches. Unlike a crepe myrtle, however, Texas persimmon lacks showy, colorful flowers, and its leathery, small leaves aren't much to write home about either. It's really all about the bark and shapely limbs.
Texas persimmon is described as semi-evergreen. In Austin some trees drop their leaves in winter (like the ones pictured at top) and others, like mine, simply thin out and then drop their leaves in late winter, with only a month of bare branches before the new leaves appear. Others, especially further south, hold onto their leaves all winter and only drop them as the new leaves come in, just as live oaks do.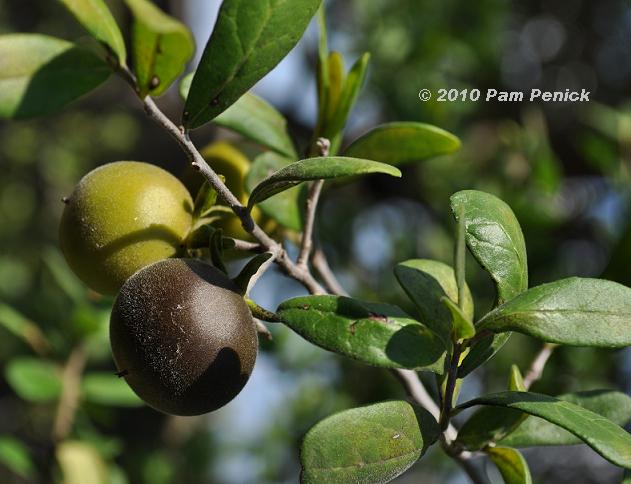 The small black fruit (about 1 inch diameter), which appears in early fall, occurs only on female trees. All my trees are male, apparently, because I never see any of the dark, berry-like persimmons, which are edible and also a favorite of wildlife. That's fine with me, since my biggest Texas persimmon hangs partially over our pool. Update 8/15: One of the trees does actually produce fruit, so I know it's female.
So if you need a 10-15 ft. tree for a hot, sunny spot with rocky soil, or even a well-drained spot with some clay and some shade, try Texas persimmon. Look for it at Barton Springs Nursery, the Natural Gardener, or the Wildflower Center's spring native-plant sale.
Note: My Plant This posts are written primarily for gardeners in central Texas. The plants I recommend are ones I've grown myself and have direct experience with. I wish I could provide more information about how these plants might perform in other parts of the country, but gardening knowledge is local. Consider checking your local online gardening forums to see if a particular plant might work in your region.
All material © 2006-2013 by Pam Penick for Digging. Unauthorized reproduction prohibited.