July 2nd, 2017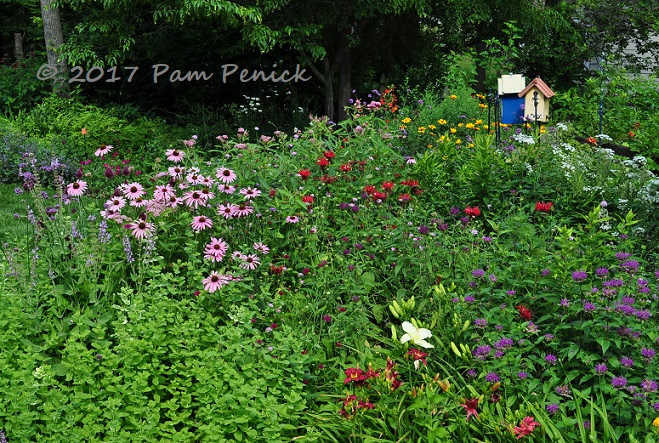 Casa Mariposa
With a garden called Casa Mariposa, you know it's going to be welcoming to butterflies — and, as it turns out, all pollinators. Tammy Schmitt, head planner of this year's Garden Bloggers Fling, bravely included her suburban D.C.-area garden on the tour. I say bravely because planning a Fling requires a LOT of time and effort, which only ratchets up in the weeks just before the event. To find time to tidy and fluff one's own garden in preparation for 100 visitors, all the while making sure everything else is running smoothly, is impressive. I suspect Tammy does not sleep.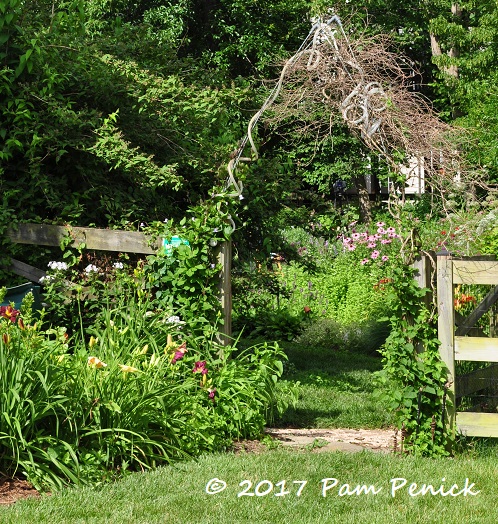 Tammy welcomes not just pollinators but human visitors with a whimsical, ribbon-like arbor over her back gate. I didn't stop to see how she made this, so I'm hoping she'll chime in on the comments and let us know. Update: Tammy shared her DIY method with me:
"It's four threaded rods with couplers at the end that fit into an elbow joint that form the 'Suburban Gothic' arch. One end of each rod is sunk into the ground about a foot. The lightweight plastic tubing provides more surface area for the vines to cling to, as does the dead wood from the invasive honeysuckle whose roots I dug out after cutting the main stem. Hops and cup and saucer vine are climbing each side. It should be covered by the end of July. This is my own crazy design to solve the problem of 'I want an arbor but don't have any room.'"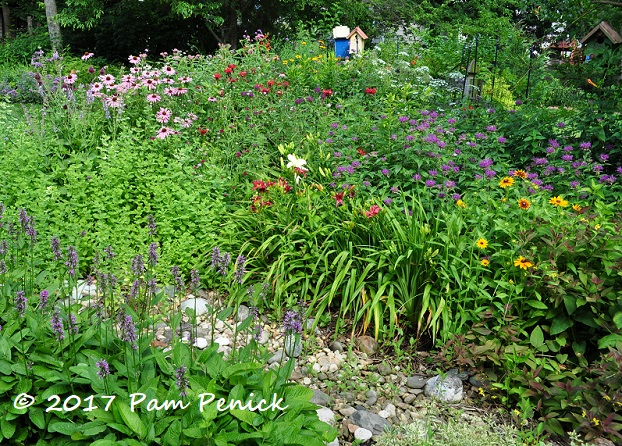 You walk through into a floral exuberance of coneflowers, daylilies, verbena, zinnias, and more — anything that a butterfly, bee, or other pollinator might find attractive.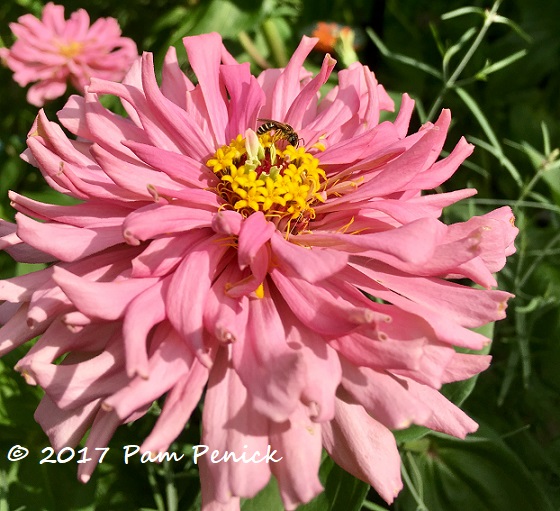 See?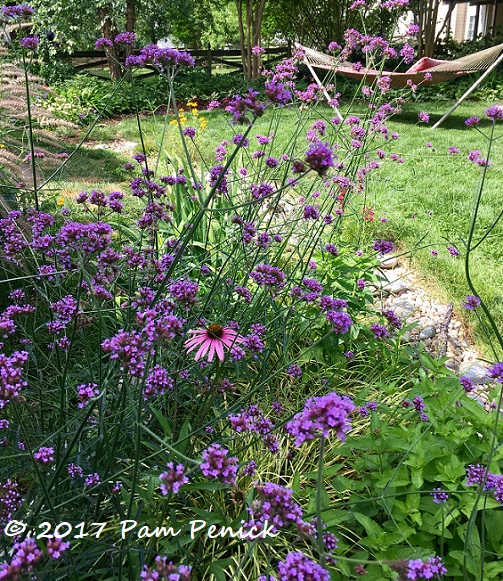 Of course, these flowers attract the human eye too.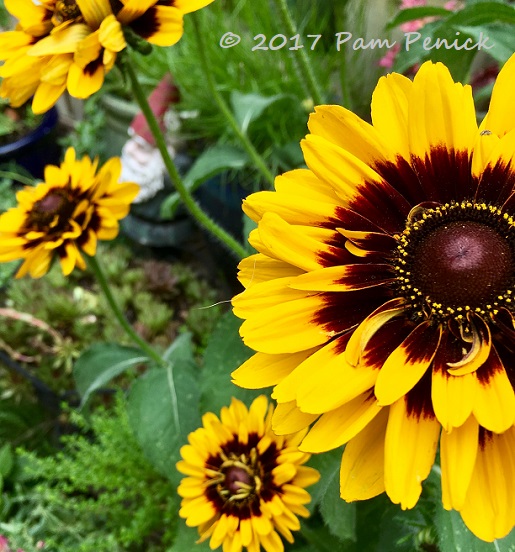 And gnomes! I think this pretty flower is Rudbeckia 'Solar Eclipse' — correction 'Denver Daisy'. It definitely has wow power.
Stone Tower Winery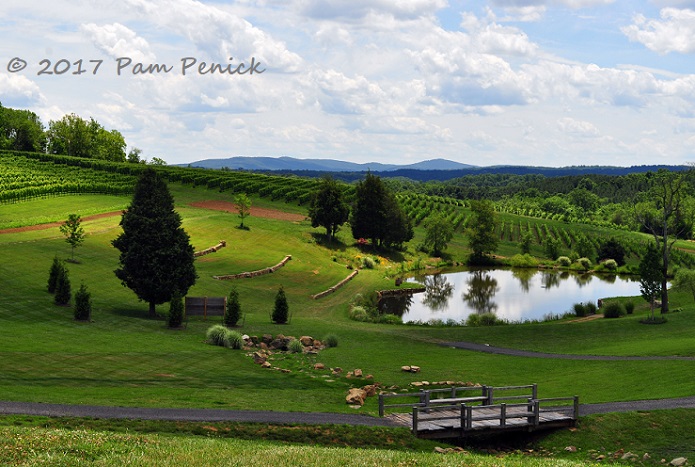 On this day, we were bused into northern Virginia's rolling wine and horse country, and we stopped at a local winery for a catered lunch. Stone Tower Winery sits on a hilltop overlooking fields of grapes and the Blue Ridge Mountains in the hazy distance.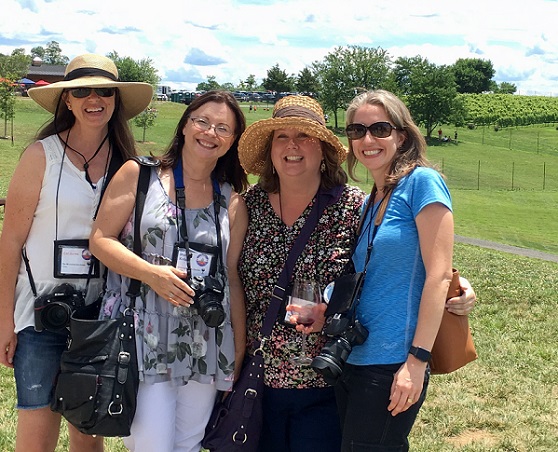 A group of Austin bloggers posed here for a photo: first-time Flinger Cat of The Whimsical Gardener, Diana of Sharing Nature's Garden, yours truly, and Laura of Wills Family Acres.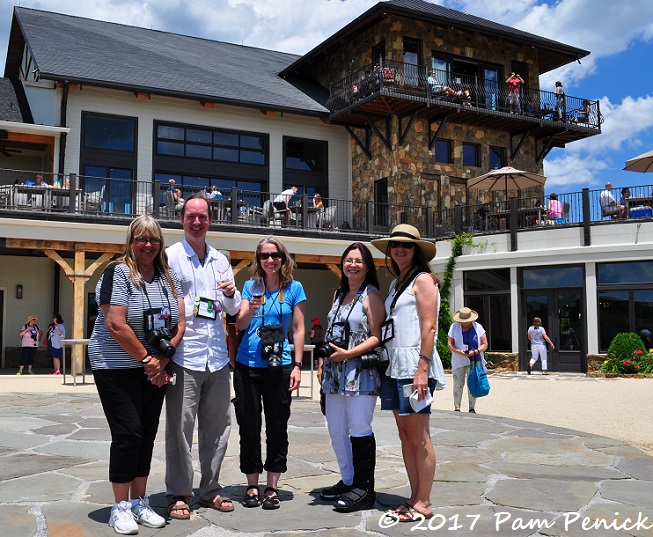 Turning around to face the winery, you can see how busy it was, with lots of lunching and wine tasting happening on multiple patios. Bloggers here include new friend Diana Stoll of Garden With Diana and Houstonian Shawn Schlachter of Ravenscourt Gardens, plus Laura, Diana, and Cat.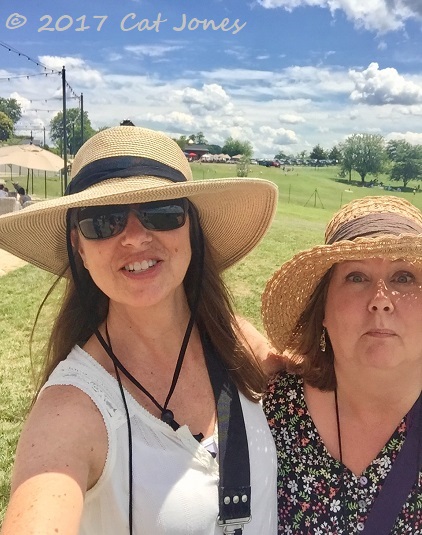 It was an appealing spot for selfies, even unintentionally goofy ones (thanks, Cat).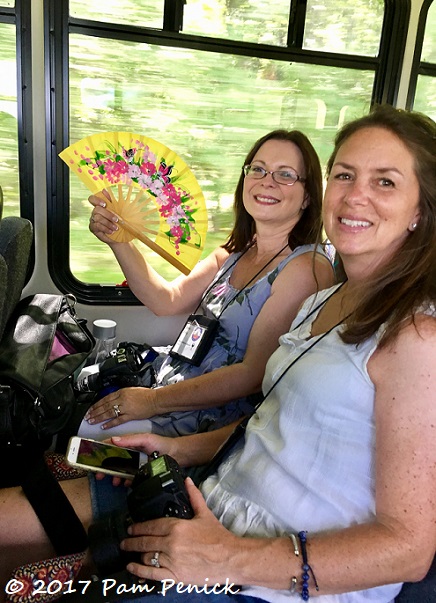 I like this one of Diana and Cat relaxing on the bus en route to our next destination.
Merrifield Garden Center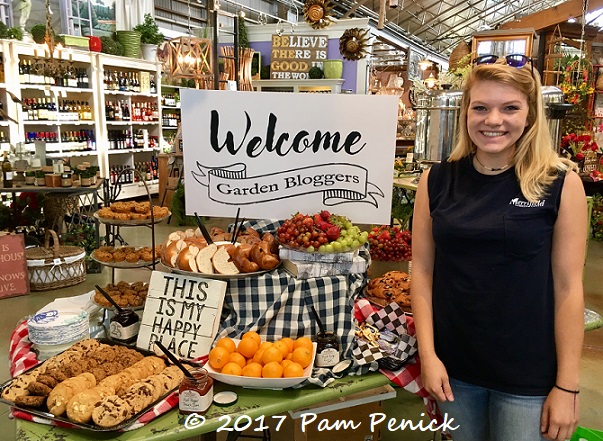 One of those destinations was Merrifield Garden Center in Gainesville, Virginia, which generously put out this delicious spread for us. How nice!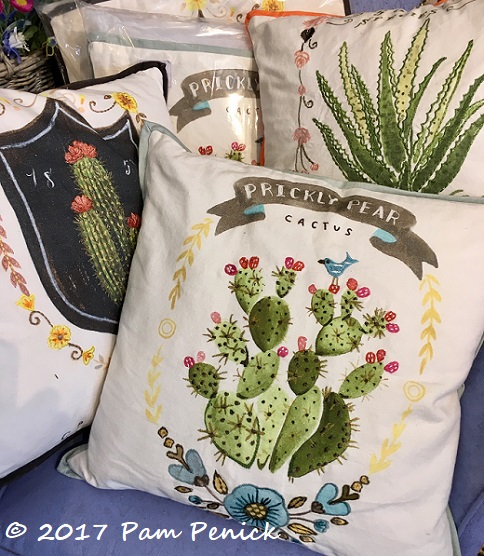 The place is enormous, with lots of garden decor and gift items, like these cactus-themed botanical pillows…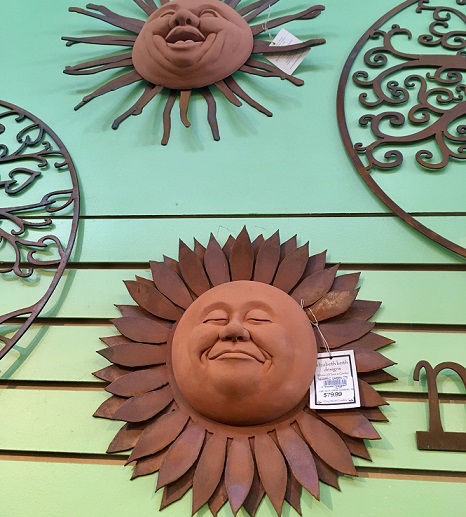 …and charming sun ornaments by Elizabeth Keith Designs (not blazing-hot Death Stars by any stretch), not to mention more plants than you can shake a stick at. After we'd noshed and made our purchases, we were back on the buses and ready for more gardens.
Up next: The beautifully delineated garden rooms of designer Scott Brinitzer. For a look back at the colorful and plant-rich garden of Viginia designer Linda Hostetler, click here.
I welcome your comments; please scroll to the end of this post to leave one. If you're reading this in a subscription email, click here to visit Digging and find the comment box at the end of each post.
_______________________
Digging Deeper: News and Upcoming Events
Get on the mailing list for Garden Spark Talks. Inspired by the idea of house concerts, I'm hosting a series of garden talks by talented designers and authors out of my home. Talks are limited-attendance events and generally sell out within just a few days, so join the Garden Spark email list for early notifications. Simply click this link and ask to be added.
All material © 2006-2017 by Pam Penick for Digging. Unauthorized reproduction prohibited.
posted in
Annuals
,
Arbors
,
Bees
,
Cactus
,
Daylily
,
Decor
,
Edibles
,
Farms
,
Fling DC/VA
,
Flowers
,
Garden art
,
Garden blogging
,
Garden tours 2017
,
Nurseries & Shops
,
Patios & decks
,
Ponds
,
Restaurants
,
Seating
,
Travel
,
Views