September 27th, 2015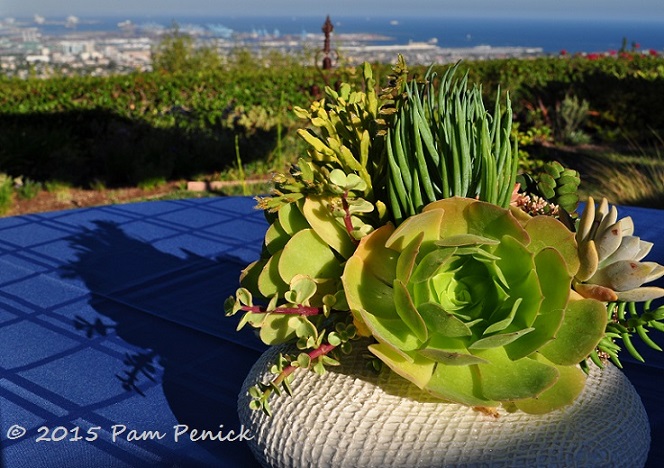 Kris Peterson, Los Angeles blogger at Late to the Garden Party, saw her blog title unexpectedly come true last week. Or rather, my friend Diana and I did. With flight complications, we arrived in L.A. four hours later than planned and were indeed late to the garden party that Kris had generously planned for us: lunch on her patio with two other L.A. garden-blogging friends, Denise of A Growing Obsession and Hoover Boo of Piece of Eden. By the time we got our rental car and fought our way through traffic, it was closer to dinnertime and Denise and HB had naturally had to go home.

Luckily, this story has a happy ending! Kris was still at home and welcomed us into her garden, which enjoys a spectacular view of the Port of Los Angeles, dotted with cruise and container ships.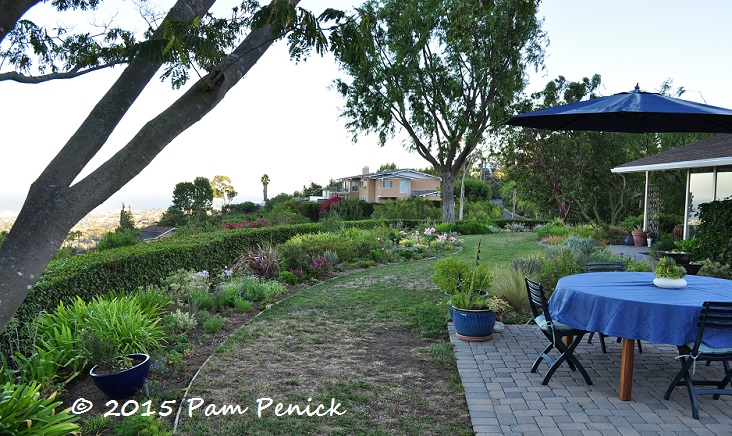 The view is enjoyed from the rear garden, and Kris has managed the difficult trick of making an interesting and lovely garden that complements rather than competes with the view. A paver terrace juts into the center of the garden, capitalizing on the view and offering a pleasant place to take it in. A low clipped hedge serenely repeats the line of the horizon and protects visitors from the hillside drop just beyond. In front, low-growing perennials, grasses, and succulents enliven the curving border. An echoing bed runs alongside the house, with turf functioning as a path in-between. Hard hit by the drought, the lawn was scheduled for removal on the day after our visit, and I'll be reading Kris's blog to see what she does with the space instead.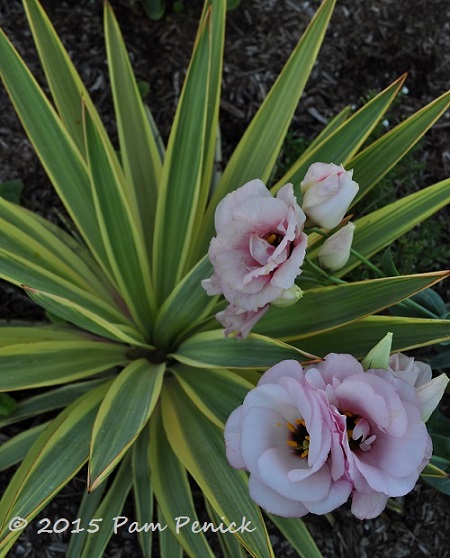 Kris has a knack for combining structural yuccas and agaves with softer plants. Here, 'Bright Star' yucca makes a surprising contrast with frilly Eustoma grandiflorum 'Echo Pink'.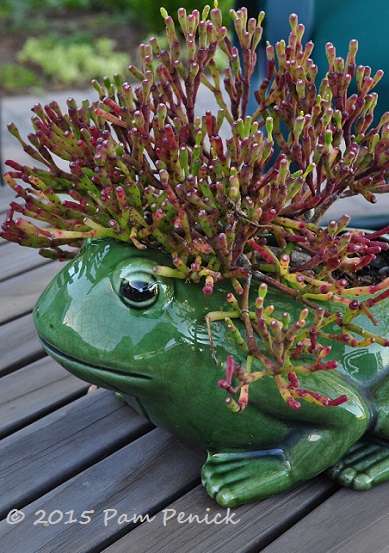 She also has a number of pots filled with low-water succulents, like this cute frog planter.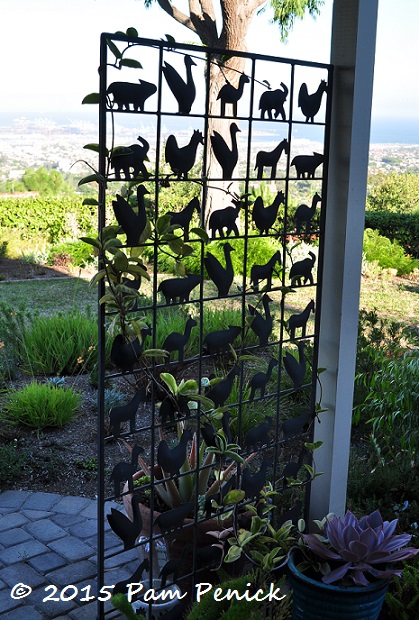 A delicate vine climbs an animal-motif trellis on the back porch.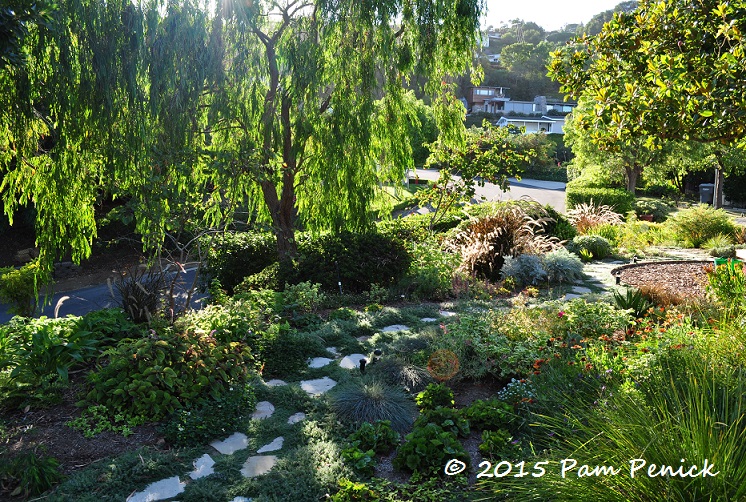 The back garden may have the most arresting view, but the front garden is lovely as well, especially in the glowing light of late afternoon. A curvy stepping-stone path leads through the lawnless garden…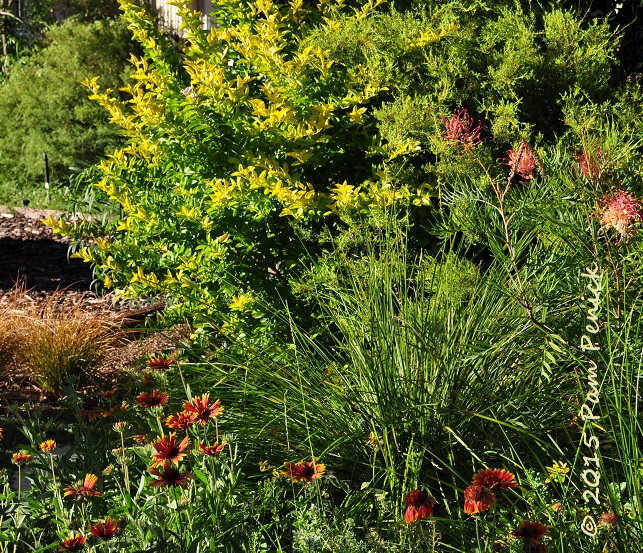 …past flowering grevillea and gaillardia…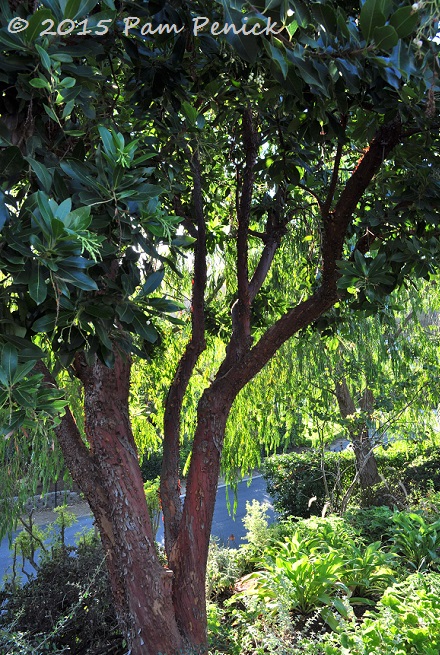 …and a strawberry tree (Arbutus) with its flaky, cinnamon-colored bark.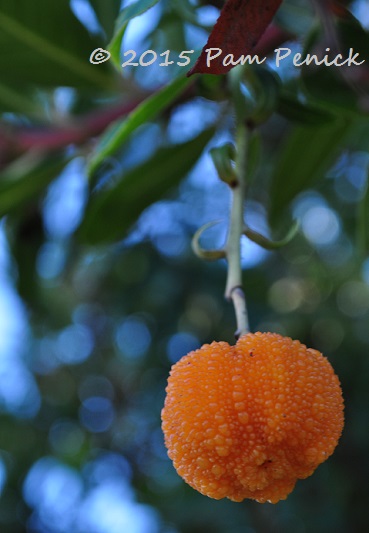 There were even a few orange fruits hanging from the strawberry tree. Do they resemble strawberries to you? Only in the bumpy skin, I think.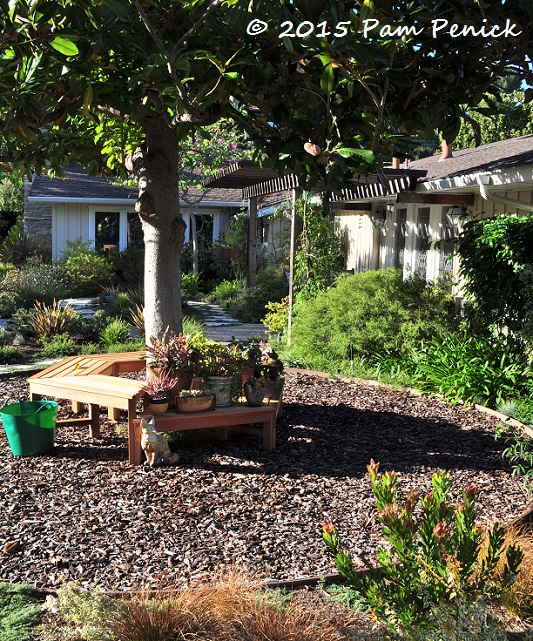 A wide circle of mulch around a large magnolia tree not only protects and cools the roots but makes a casual patio. A bench around the tree provides occasional seating and a place to display potted plants.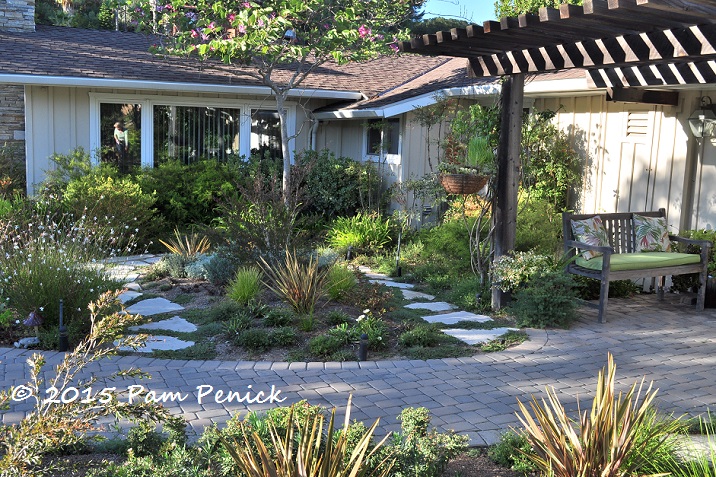 Here's the pretty entry garden, with an arbor-shaded bench by the door and a welcoming garden on either side of the walk.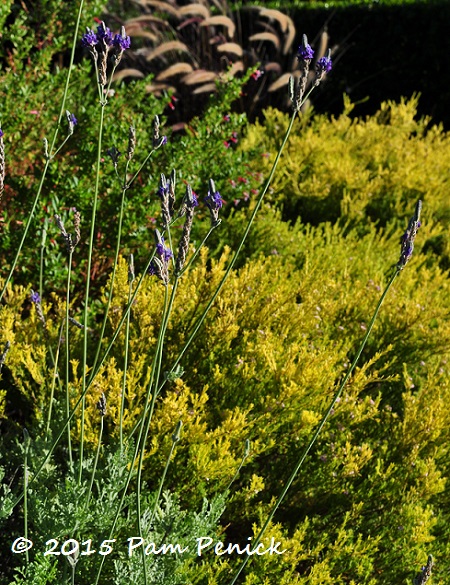 Lavender looks especially purple against golden foliage.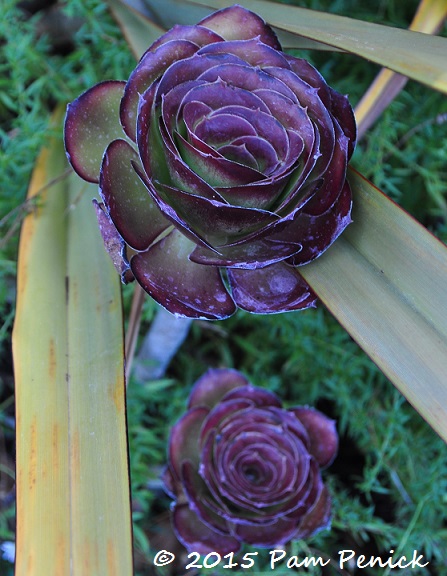 Aeonium (I think) glows purple too.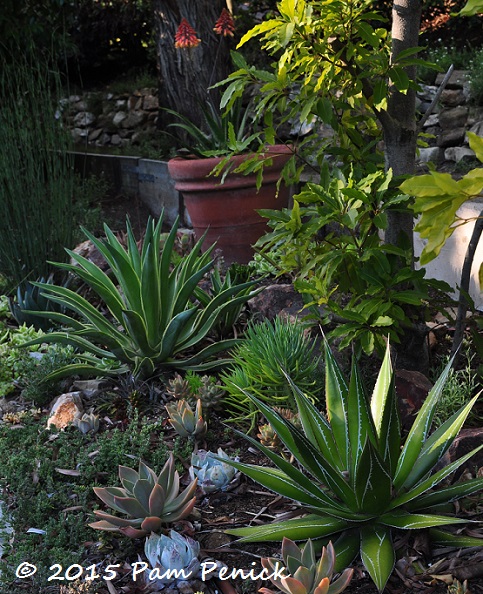 In the baking hot strip that slopes to the street, Kris has planted agaves, aloes, and other succulents to take advantage of the good drainage and dry conditions.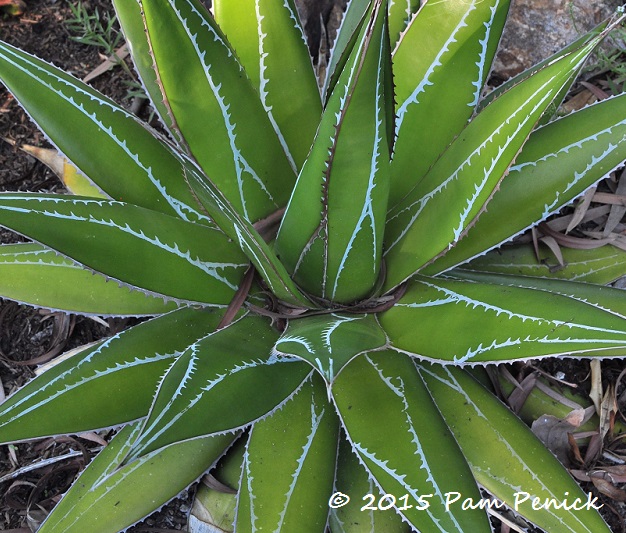 I love the crisp white margins and teeth on this agave.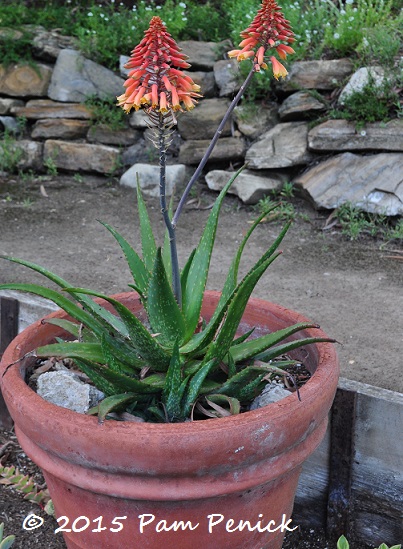 Hummingbird magnet — an aloe in bloom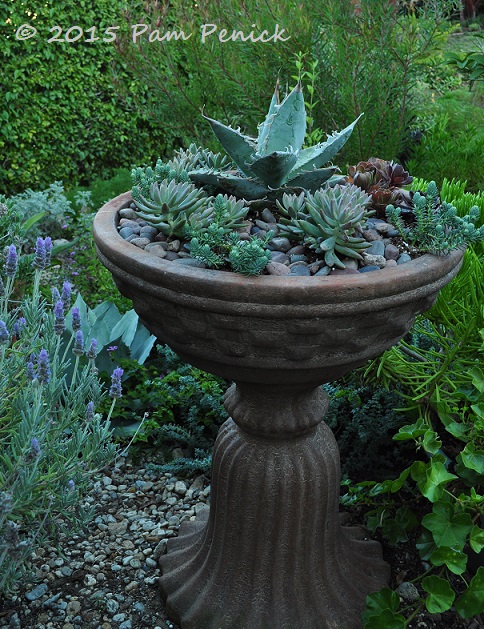 Kris has so many nice succulent planters in her garden beds, and this one may be my favorite. Notice how the blue-gray and rose-hued pebbles match the plant colors.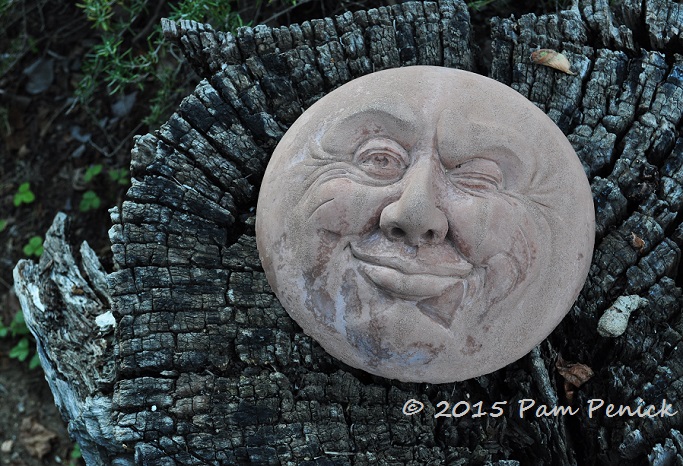 As the sun set behind the hills, it was time to say goodbye to Kris and her garden. Despite our late arrival, and though we were sad to miss Denise and Hoover Boo, it was a wonderful start to our L.A. visit. Thanks so much for the late but lovely garden party, Kris!
Up next: Designer Dustin Gimbel's experimental and artistic Long Beach garden. For a look back at the colorful bungalow garden of Annette Gutierrez, click here.
All material © 2006-2015 by Pam Penick for Digging. Unauthorized reproduction prohibited.
posted in
Agaves
,
Aloes
,
Containers
,
Decor
,
Garden art
,
Garden tours 2015
,
Lawn Gone!
,
Lawns
,
Moon
,
Ocean
,
Paths
,
Patios & decks
,
Seating
,
Succulents
,
Travel
,
Trees
,
Trellis
,
Views
,
Xeric plants
,
Yuccas