July 20th, 2014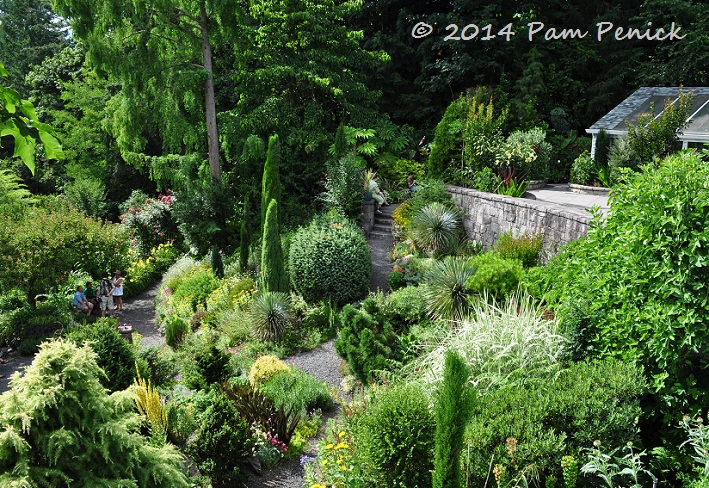 The first private garden on the Portland Garden Bloggers Fling tour last weekend was, at 2 acres, large enough to accommodate our entire group of approximately 80 bloggers. Old Germantown Gardens, created over 23 years by Bruce Wakefield and Jerry Grossnickle, is a masterpiece of a garden built on a steeply sloping hillside.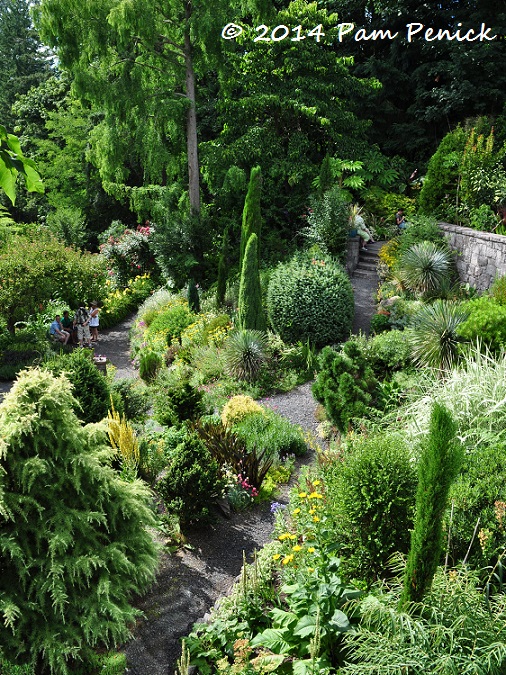 The garden drops off sharply behind the house, and a 2nd-floor deck overlooks the sunny spaces below. Here's a slightly different view. Just look at the wonderful use of form — all those spheres, pillars, and cones — which adds structure in counterpoint to billowing perennials.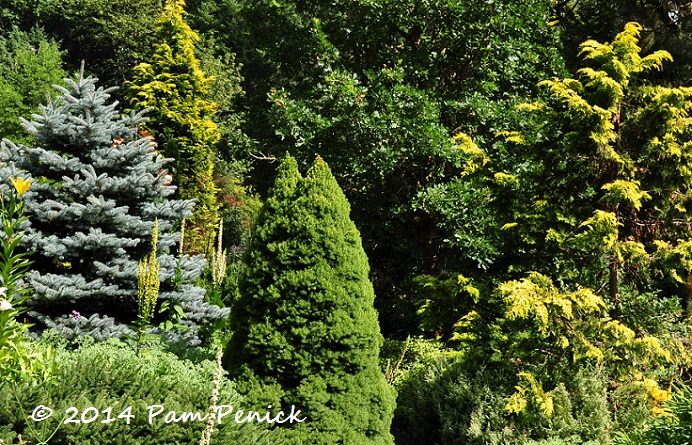 Also, I'm smitten by the golden hues of the conifers used in such abundance throughout the garden.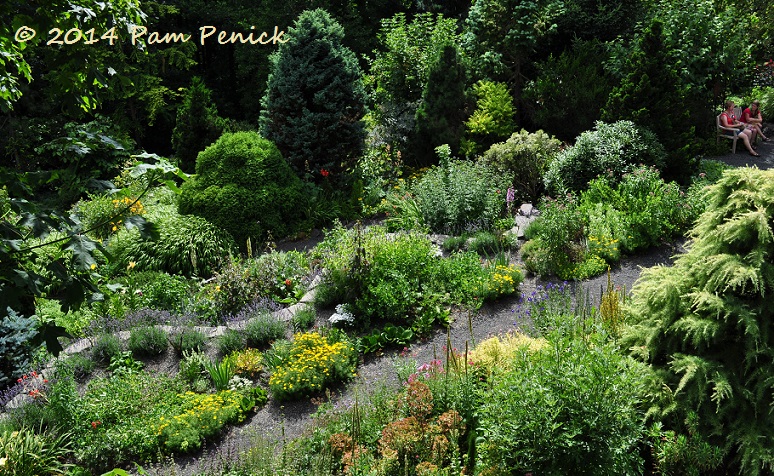 Undulating terracing laid by the owners tames the slope. They designed, built, and planted the entire garden themselves and unbelievably still maintain it as well, which takes 20 hours per week from each of them. (See Portland Monthly's 2009 story about the garden's evolution.)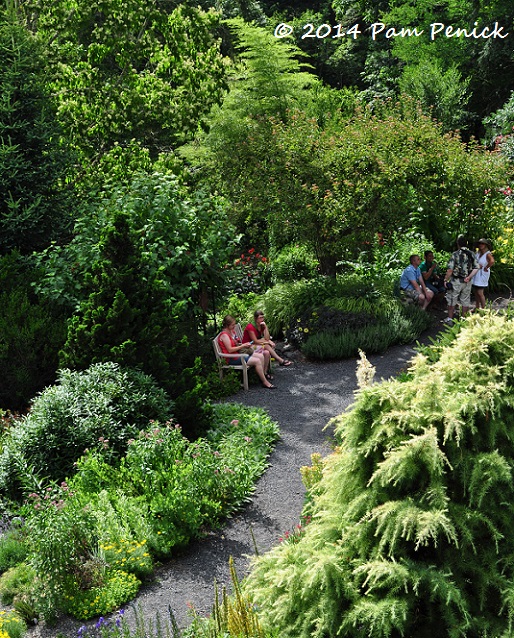 Eighty people can find solitude in this spacious garden, or they can enjoy numerous seating areas strategically positioned high and low.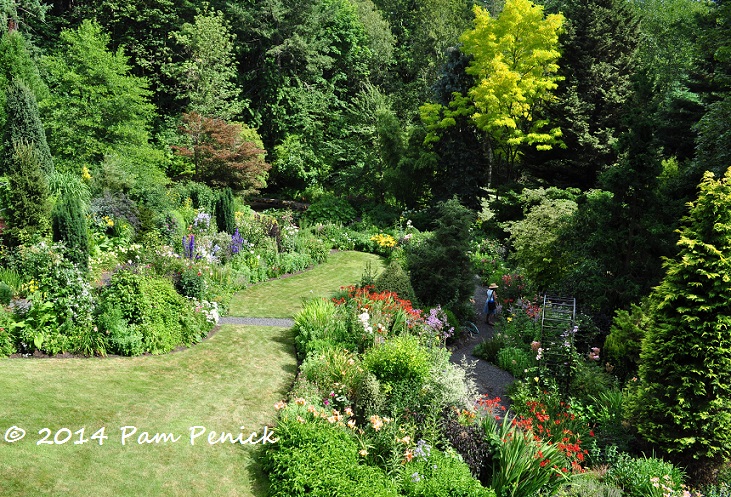 Looking the other direction from the upper deck, you see a narrow lawn surrounded by English-style flowering borders, with a backdrop of tall evergreen and deciduous trees.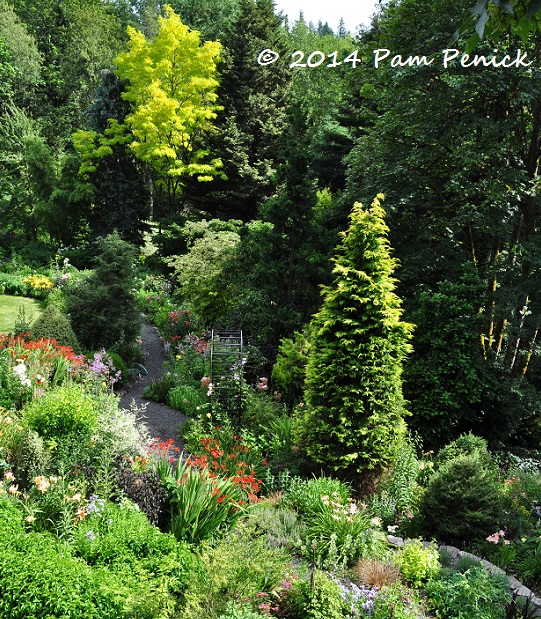 A conical punctuation mark echoes the golden tree in the background.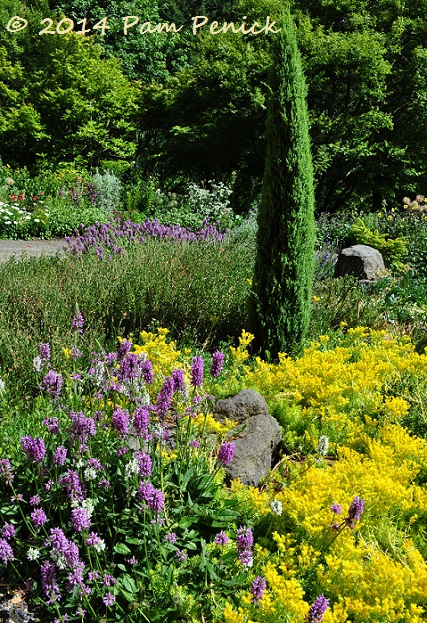 It's reminiscent of this smaller-scaled scene in the entry garden, so let's go back out there and start our tour, as I did, along the front walk and onto the patio hugging the rear of the house.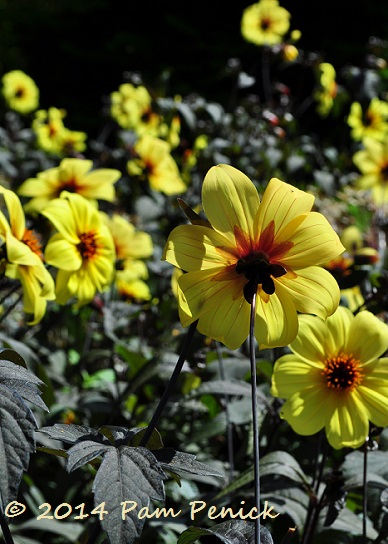 Sunlight floods this area in the afternoon, turning yellow dahlias into miniature suns, their dusty-black leaves adding dark drama below.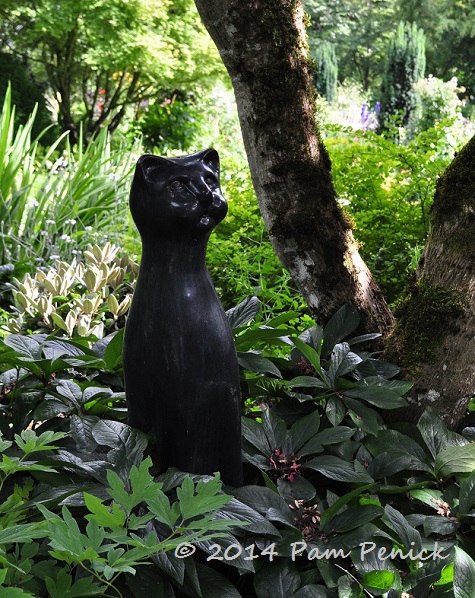 In a shady bed by the front door, a sleek cat sculpture stands watch.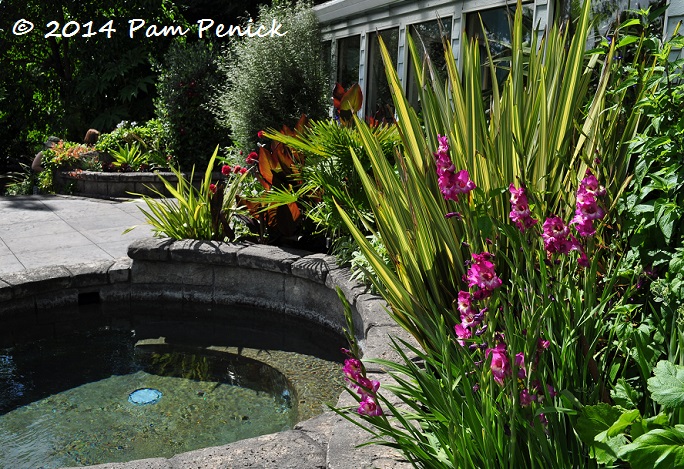 The garden spreads out behind the house, accessed via a spacious patio that contains a plunge pool and a large greenhouse. The pool would have felt wonderful on this hot day, but it was more fun to explore.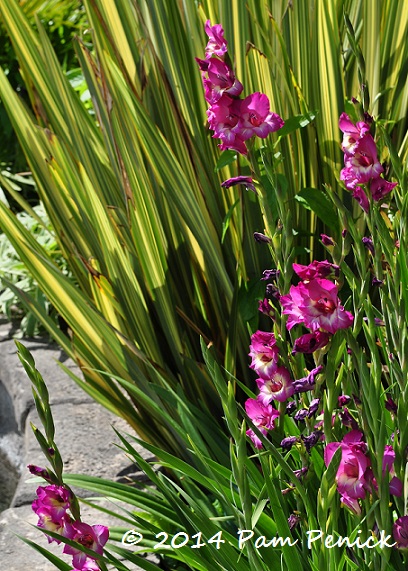 Bold, tropical foliage and luscious blooms demand one's attention.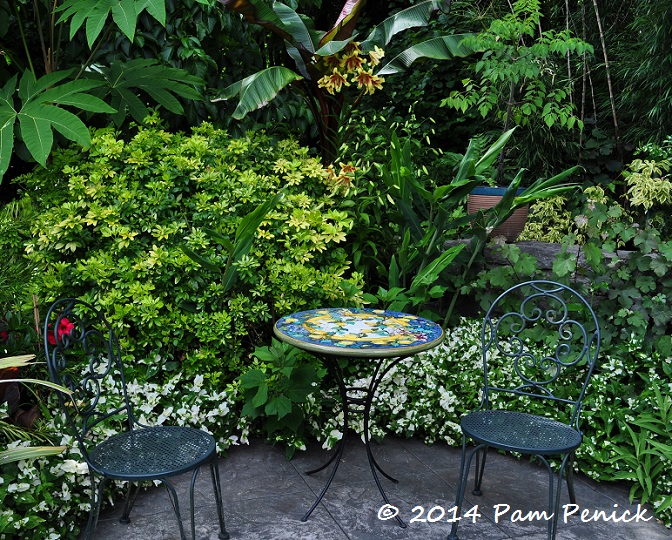 A few steps down, a bistro table and chairs offer an invitation to rest amid tropical lushness.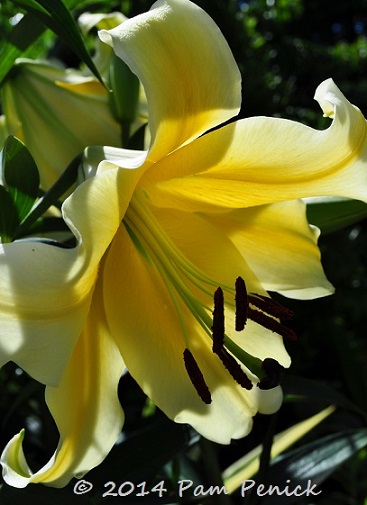 Lilies scent the air.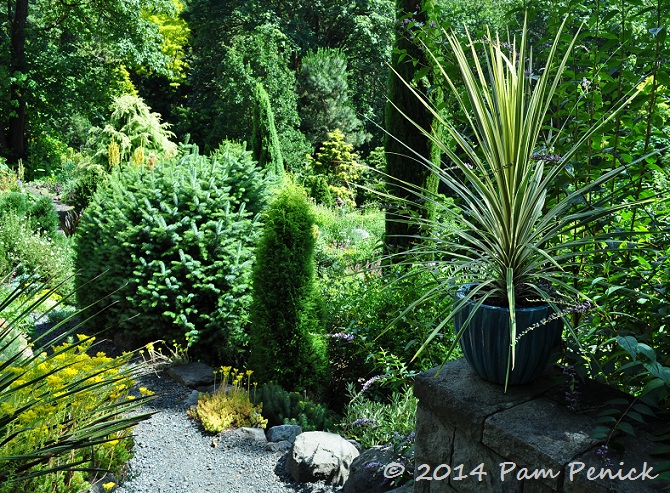 Now it's time to take the plunge, down into the terraces. This is a garden you can explore for hours and still not see everything — but I did try.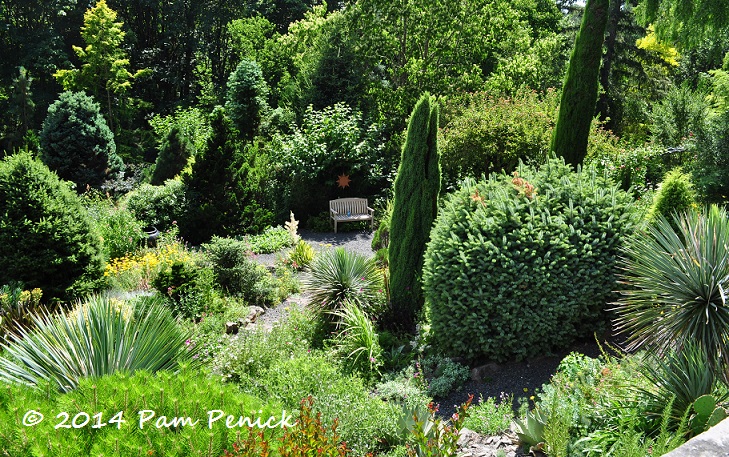 As you descend, thoughtful focal points, like this bench and sun under an arching hedge, are placed so as to entice you onward. Anyone who thinks they don't like formal elements in a garden might take a close look at how these columnar and rounded plants are used for structure amid looser planting beds. You just know this garden is equally stunning in winter.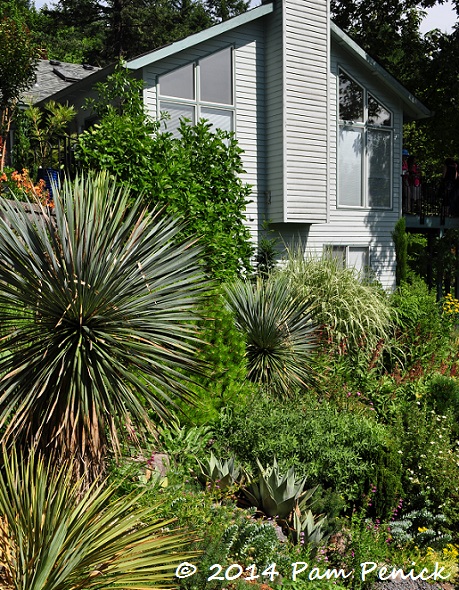 On the hottest, sunniest slope, a dry garden reminded me of Austin, with Yucca rostrata, agaves, euphorbia, grasses, and drought-tolerant perennials.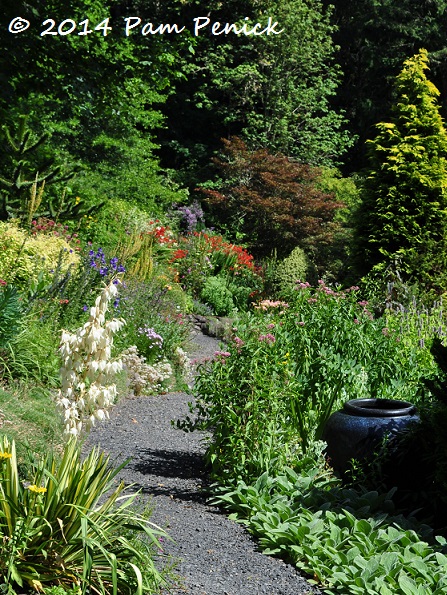 Below that, however, golden conifers showed that we weren't in Texas anymore.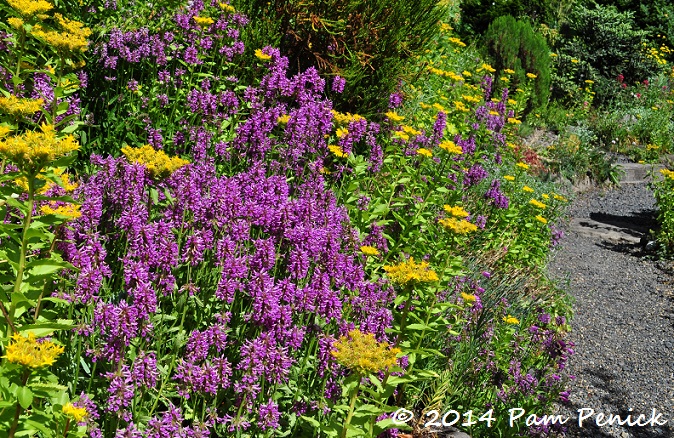 Hot-colored flowers soaked in the sunshine.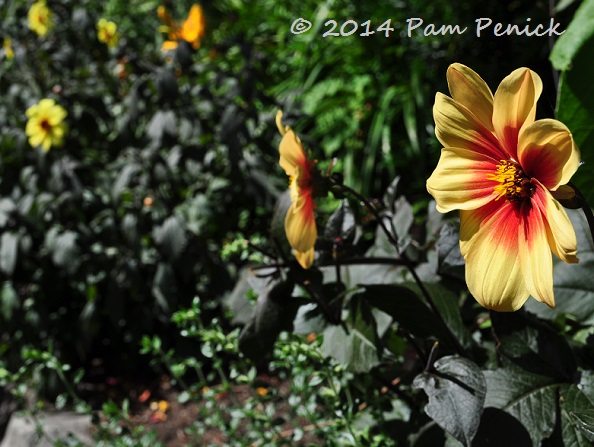 As did peach dahlias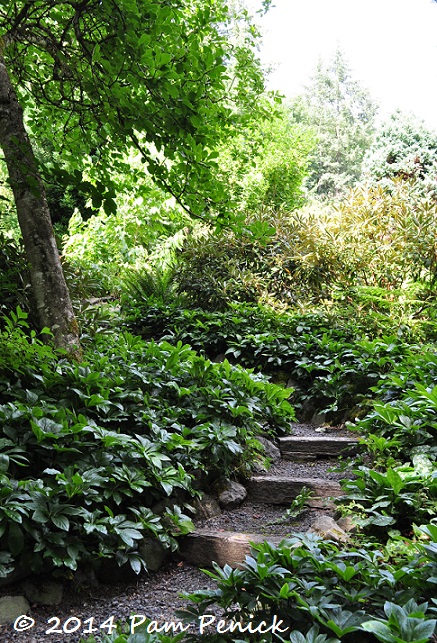 Continuing to descend the sloping paths, I entered a shady, forested garden. Curving gravel-and-timber paths lead down and down…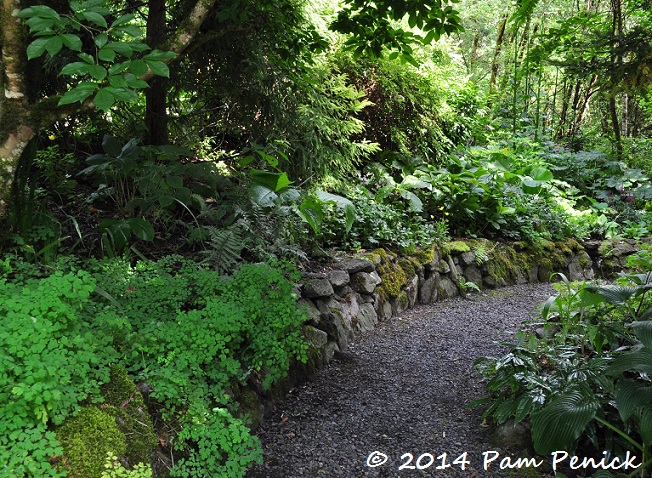 …past stacked-stone walls crested by waves of lush greenery…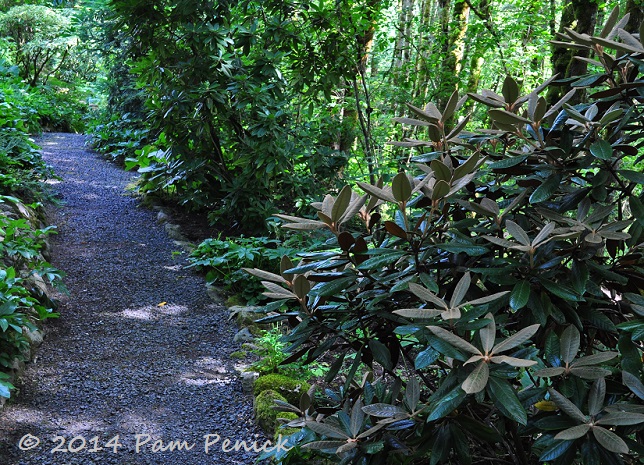 …surrounded by luxuriant groundcovers and shrubs…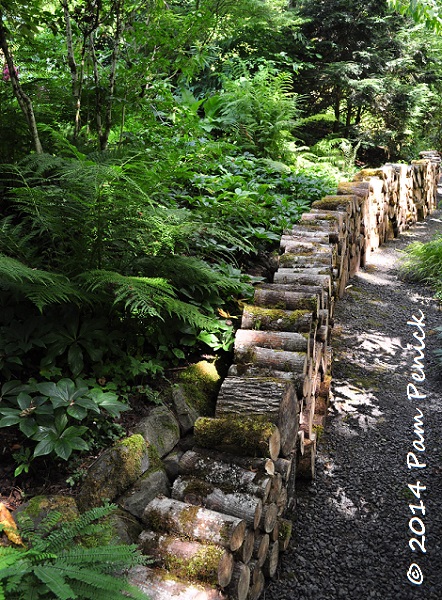 …and along a sinuous line of precisely stacked firewood. Seriously, is this an art installation? It's too far from the house to be useful on a daily basis.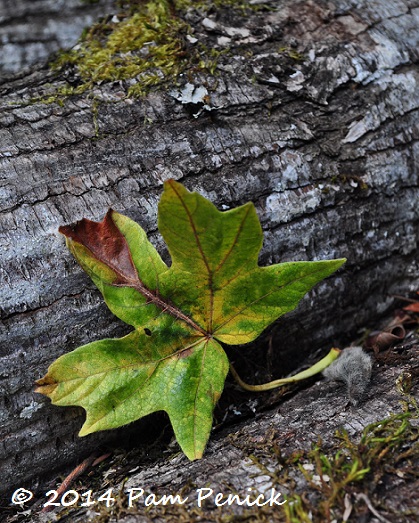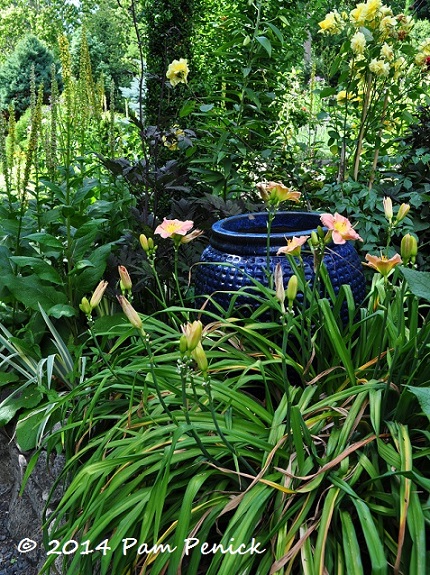 Soon the path climbed again. As the sunlight increased, daylilies appeared.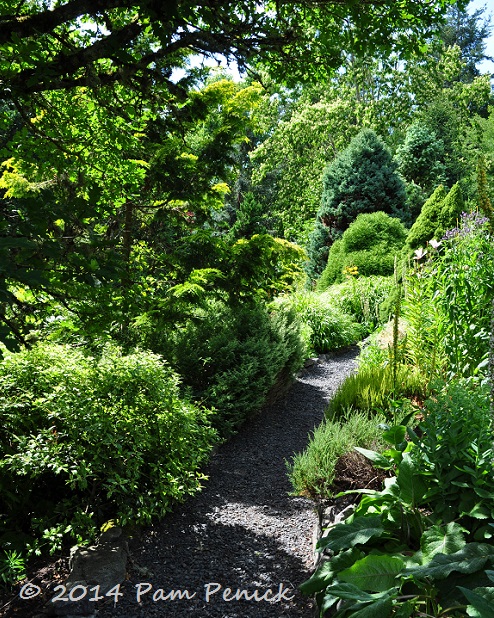 From shade to sun — a golden aura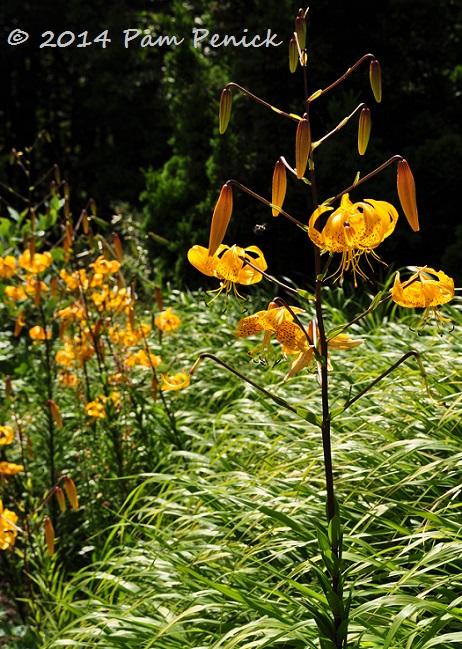 Lilies rose above chartreuse grasses, their golden flowers filled with sunlight.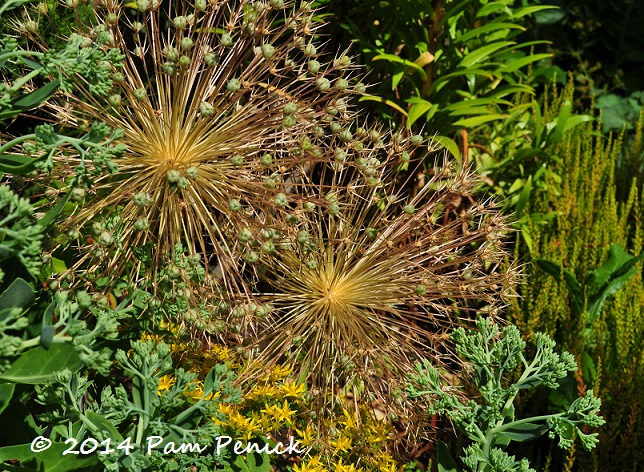 Sparklers of allium heads seemed to sizzle amid golden-flowering perennials.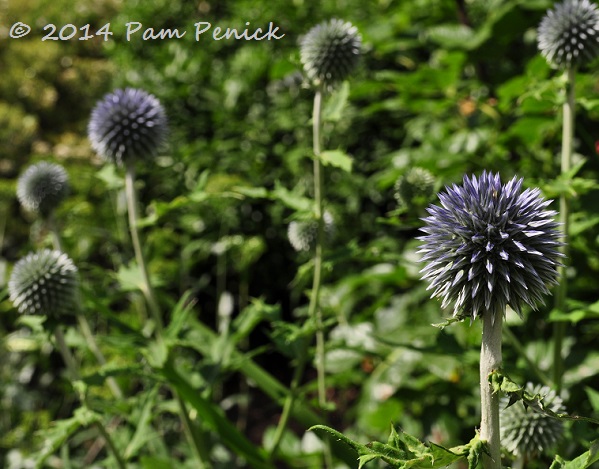 Steely blue globes — so touchable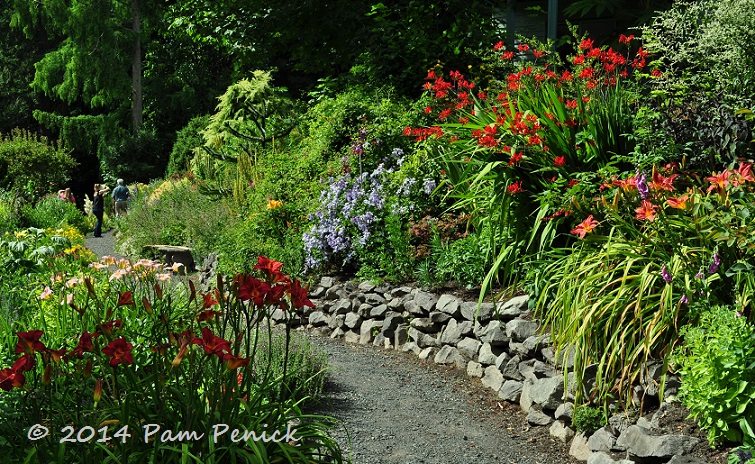 I'm a sucker for red though, and crocosmia and daylilies along this path stood out so beautifully among the green foliage.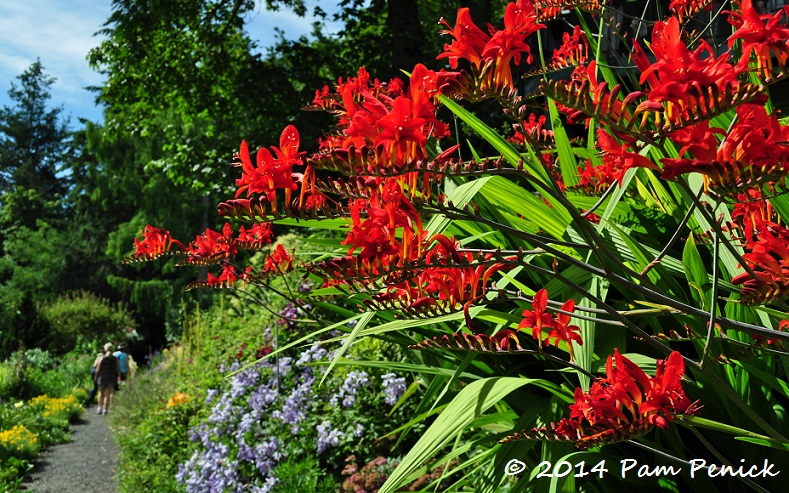 More crocosmia — like the inquisitive heads of a flock of birds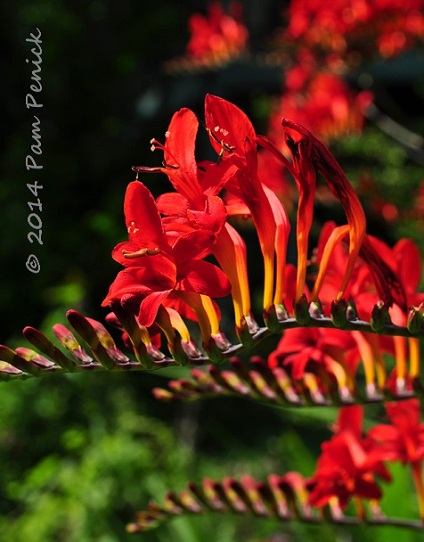 One more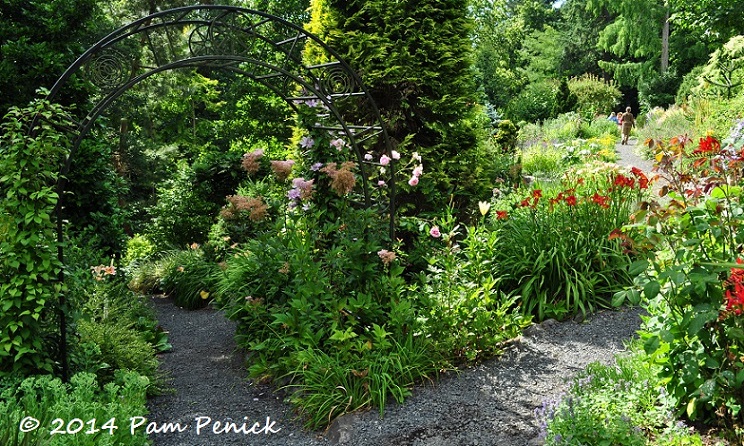 This arbor leads down to the shady forest garden. To the right is the path to the crocosmia.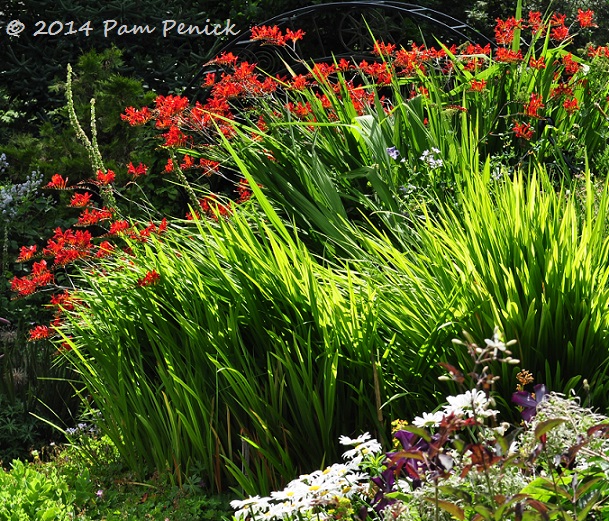 Oh, okay, one more!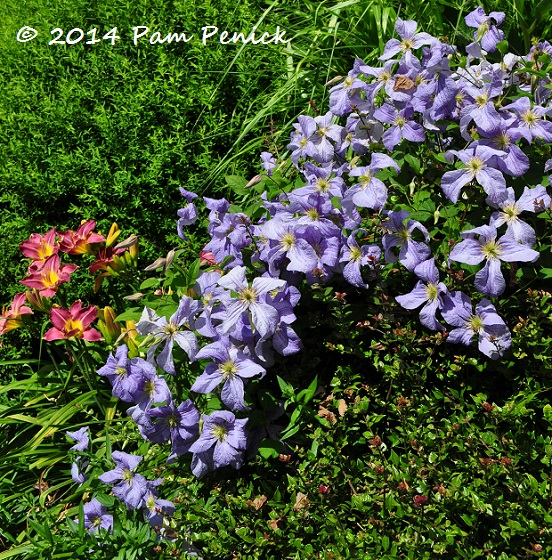 Lavender clematis is awfully pretty too.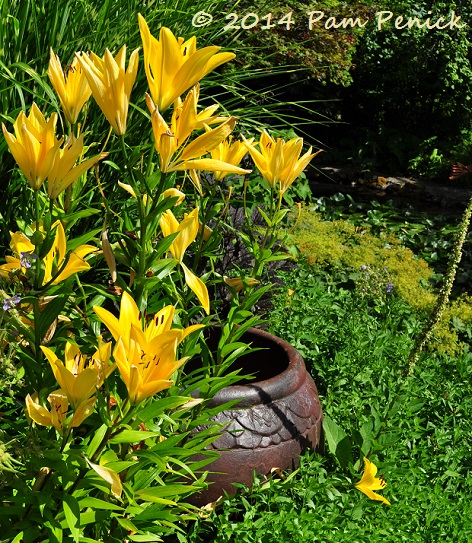 Banana-yellow lilies overlook a small pond and wetland garden.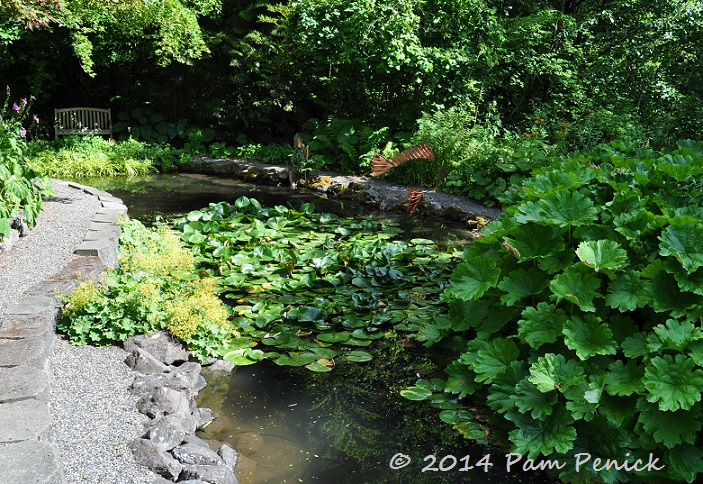 Water lilies offer their starry blooms, and a bench a place to enjoy them.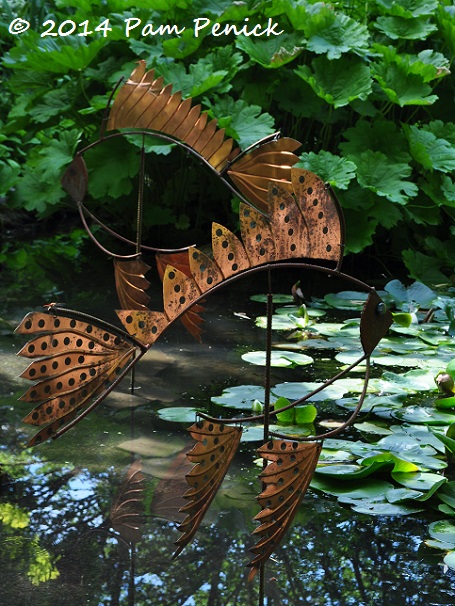 These copper-finned fish stood in the water and turned in the breeze.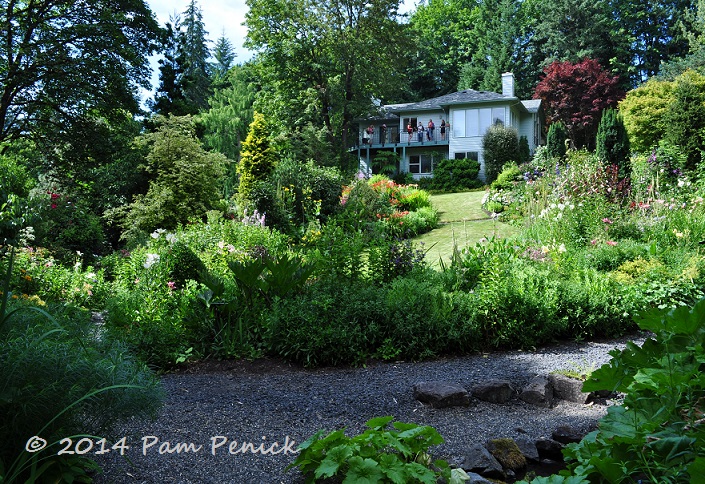 Looking back up at the house from here you see the deck from which I shot the first pictures in this post.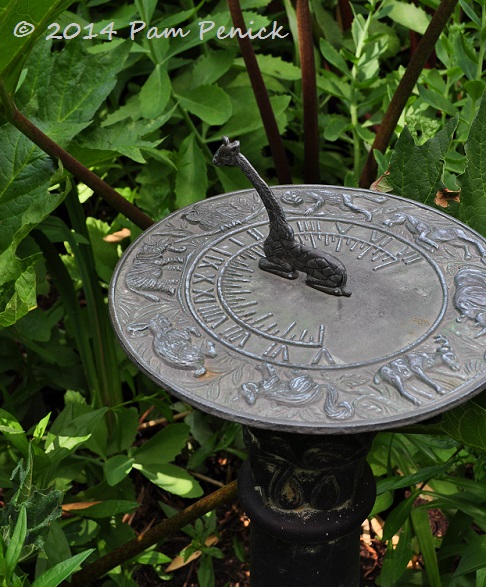 But plenty of smaller vignettes along the paths were awaiting discovery as I made my way back up, like this giraffe sundial…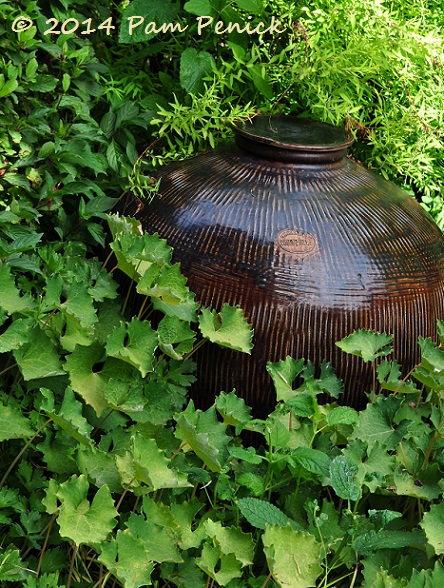 …and textural, walnut-colored pot half-hidden in greenery.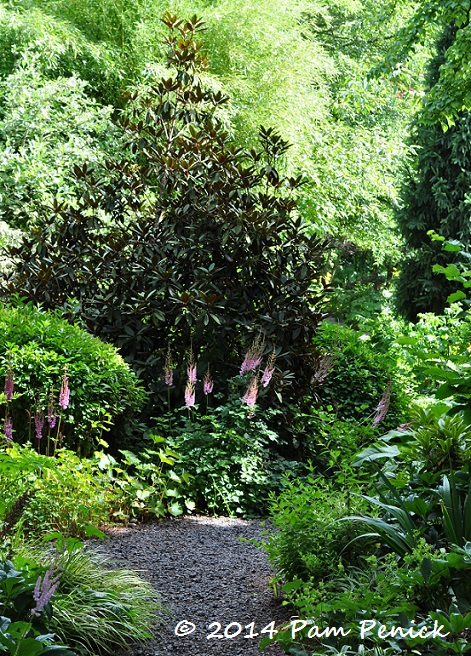 I loved this combo of pink spires and mossy-brown magnolia.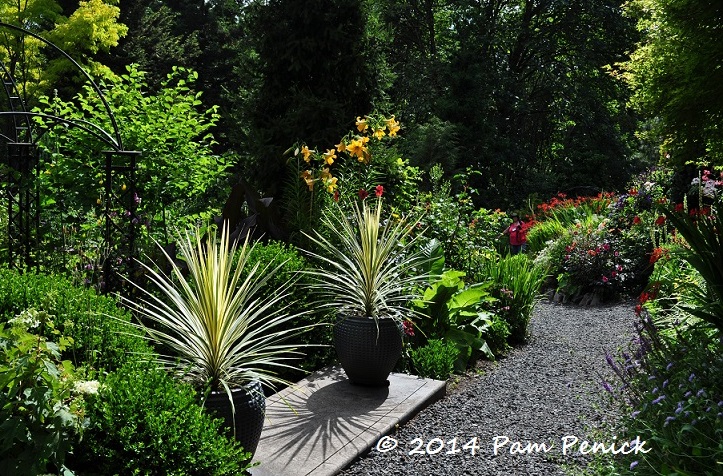 Just when you think you must have seen all the major features in this garden, this appears: a pair of variegated yuccas in pots flanking a short stair, their spiky shadows etched on the paving.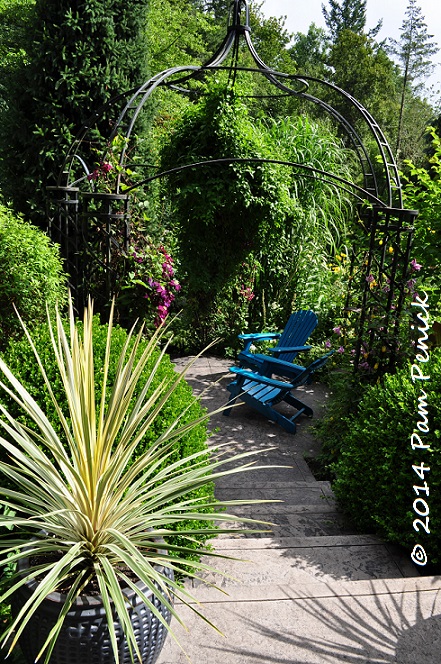 Looking down you see a hidden conversation area with a pair of blue Adirondacks sheltered under an arching, iron gazebo.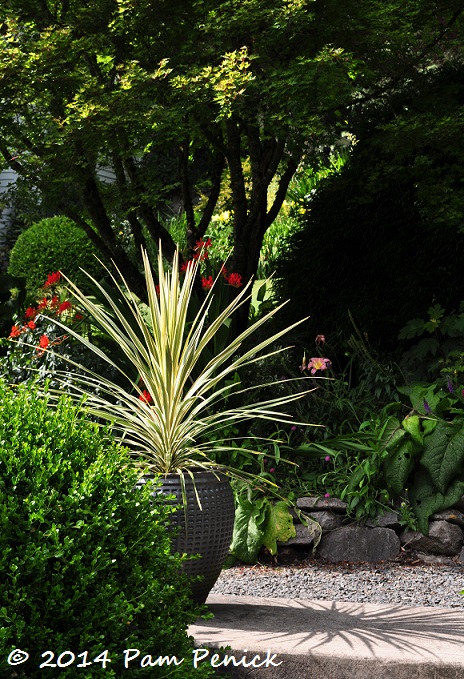 The yuccas, glowing in late afternoon sunlight, were magnificent.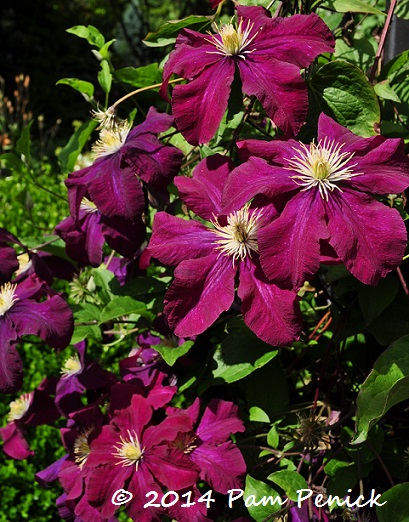 More clematis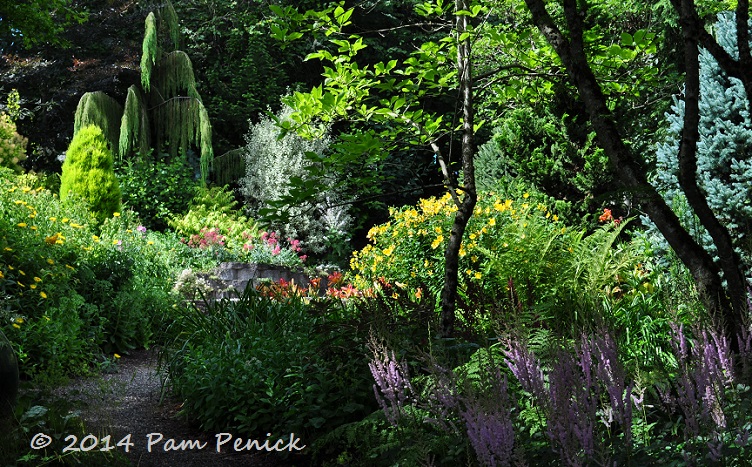 And now we're looking back up toward the entry garden again, a weeping cypress (maybe; I know better than to attempt plant IDs away from home) marking the edge of the driveway. Wow, what a garden! I could have spent another hour or two here, as I had time for only one pass through.
But we were off to the last garden of the day, and could it possibly be as amazing as this one? Come along and find out.
Up next: Westwind Farm Studio gardens, designed by ornamental-grasses guru John Greenlee. For a look back at the bucolic gardens of Joy Creek and Cistus nurseries, click here.
All material © 2006-2014 by Pam Penick for Digging. Unauthorized reproduction prohibited.
posted in
Arbors
,
Cats
,
Containers
,
Daylily
,
Fish
,
Fling Portland
,
Garden art
,
Garden tours 2014
,
Grasses
,
Groundcovers
,
Lawns
,
Paths
,
Patios & decks
,
Ponds
,
Rock
,
Seating
,
Travel
,
Trees
,
Trellis
,
Views
,
Vines
,
Walls
,
Water features
,
Water gardening
,
Xeric plants
,
Yuccas