July 29th, 2015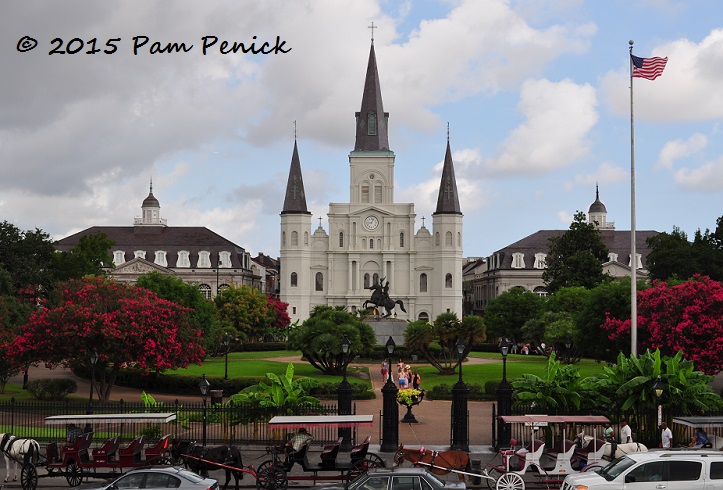 If you want to feel that you've traveled to a foreign city without leaving the country, visit New Orleans and stay in the historic French Quarter. We made the 8-hour drive from Austin a couple of weeks ago — our first stop on a family road trip across the South — and stayed two nights in this genteel, relaxed, living-easy city.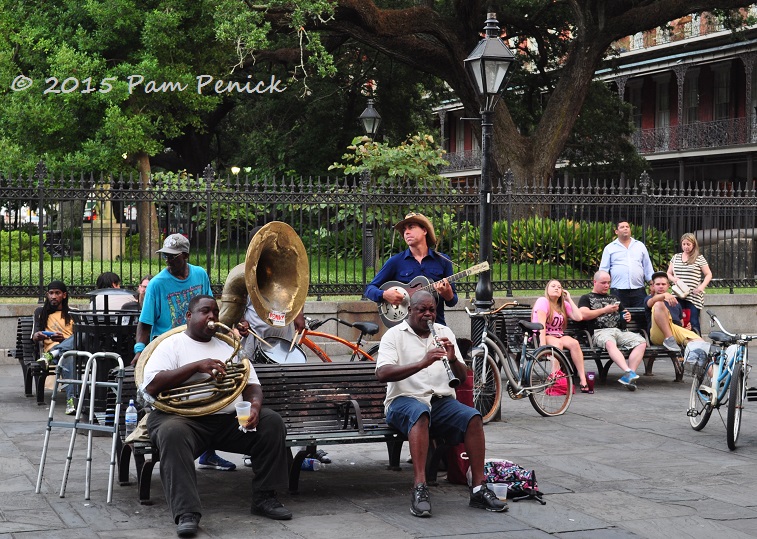 What do you do in New Orleans? Well, you eat good food, admire the lacy ironwork and sunset-hued architecture of the Quarter, and listen to jazz players on every street corner. Doesn't that sound nice?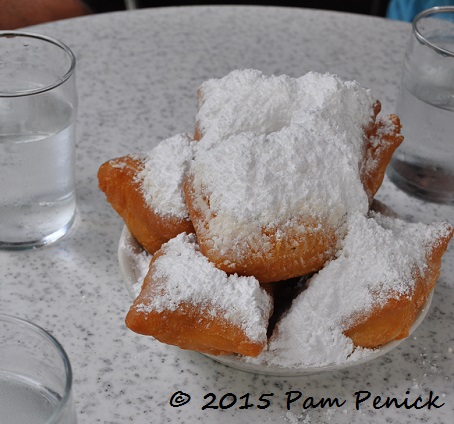 The first morning we rose early to beat the heat (mission not accomplished) and strolled to the famous Cafe Du Monde, within spitting distance of the mighty Mississippi River, for an order of sugar-powdered beignets. After this decadence, we walked past Jackson Square and the magnificent St. Louis Cathedral, pictured at the top of this post.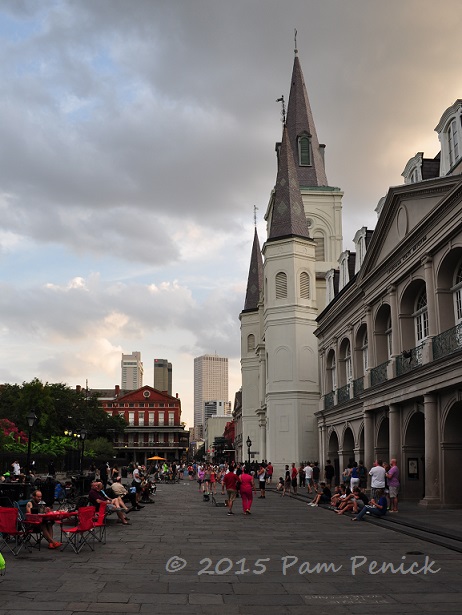 The back of the church overlooks a plaza where fortune tellers, portrait sketch artists, and jazz bands gather, attracting throngs of tourists.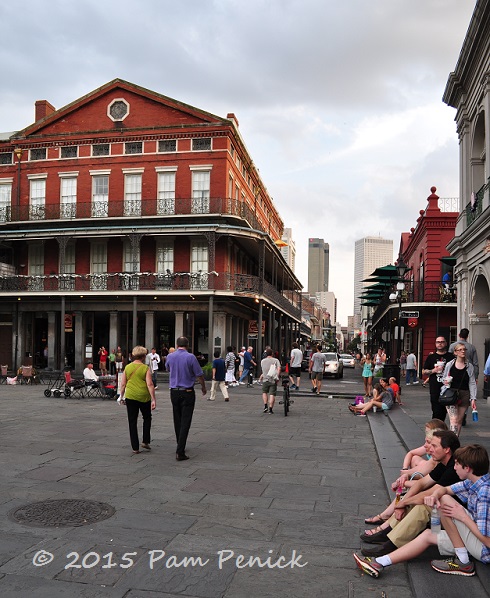 It's a good place to people watch.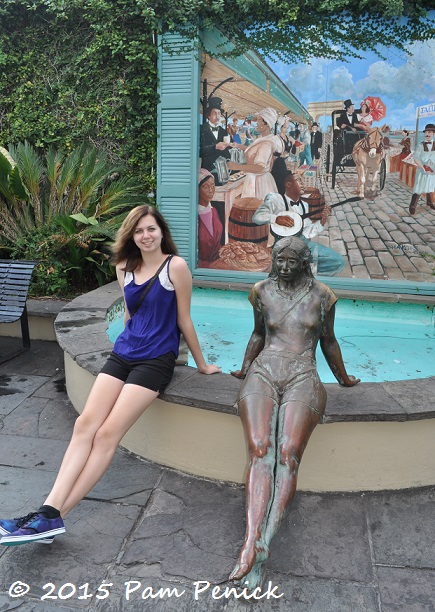 I spotted a statue near Cafe Du Monde that I recognized from 30 years ago, and asked my daughter to pose…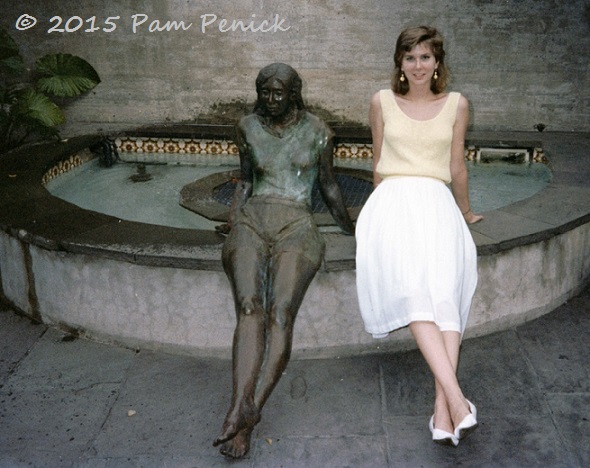 …echoing this 1985 photo of her much-younger mama.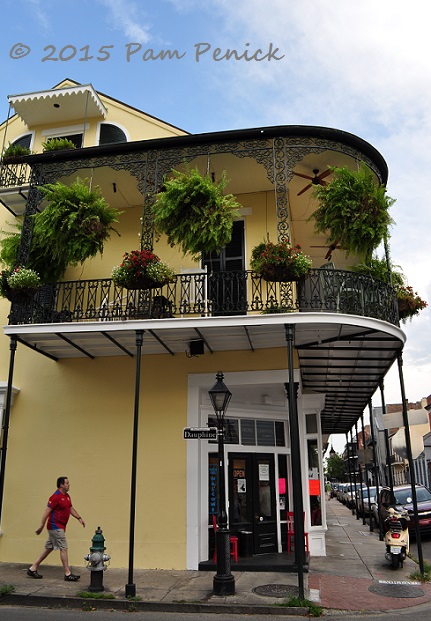 I did a lot of gawking at the fern- and ivy-bedecked balconies throughout the French Quarter.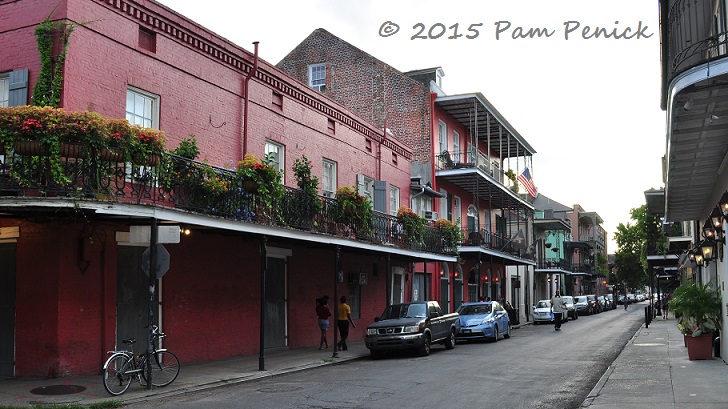 Balcony gardening is a way of life here.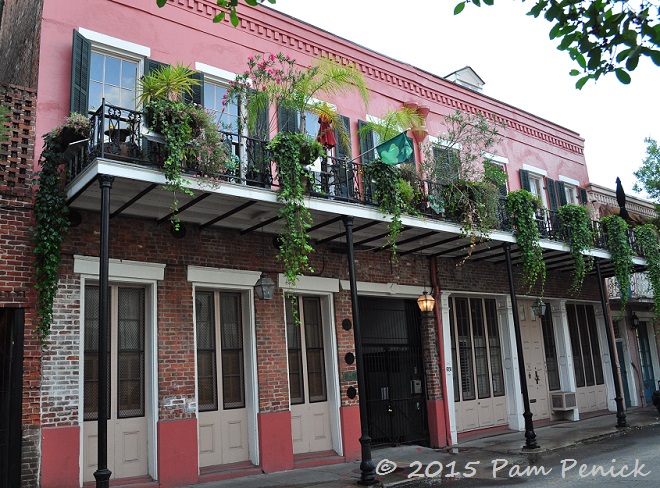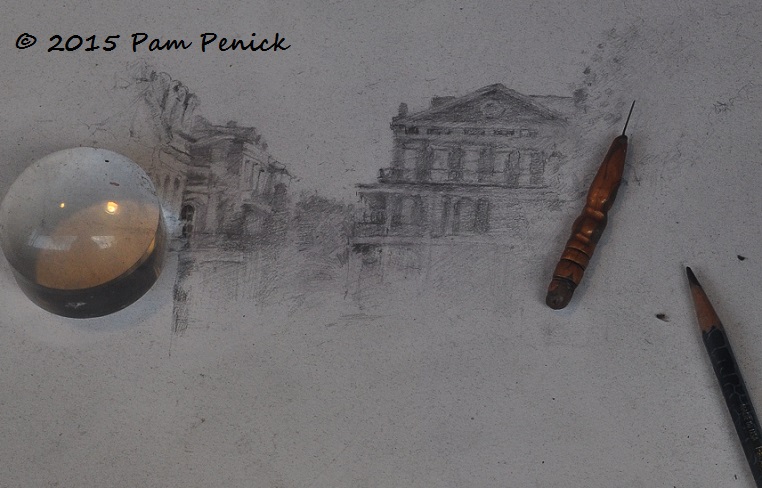 I caught a glimpse of an architectural sketch in the window of one local business.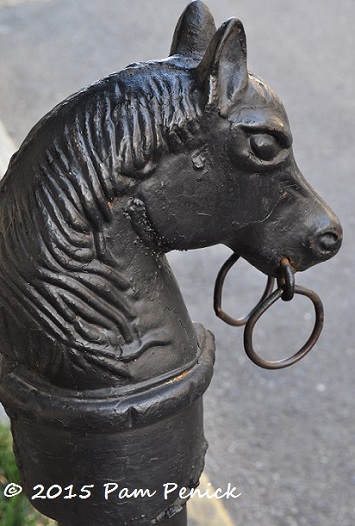 Horse-head hitching posts line streets throughout the Quarter.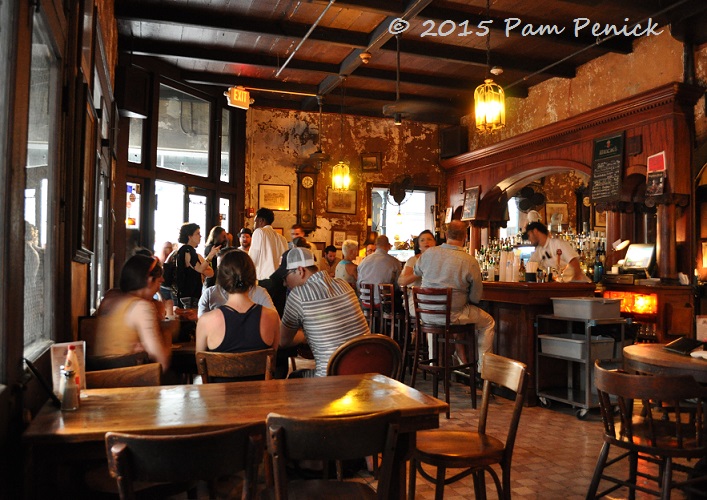 When the sun grew too hot, we ducked into Napolean House for muffalettas and a Pimm's Cup. The building is a 200-year-old landmark, its aged walls hung with dozens of portraits of its namesake.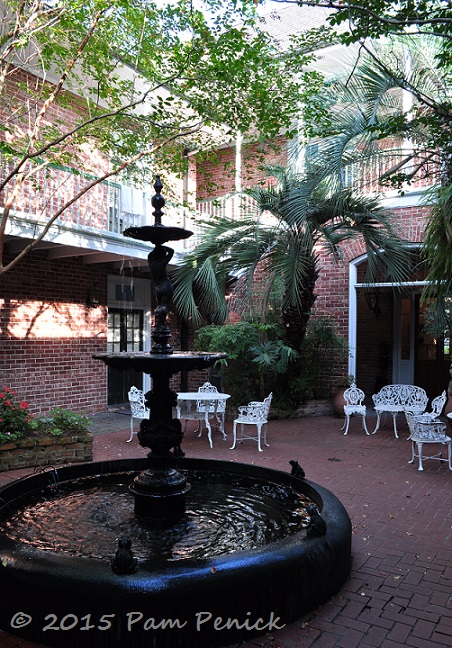 Hotel Provincial offered a shady respite during the heat of the afternoon, with a pretty courtyard fountain…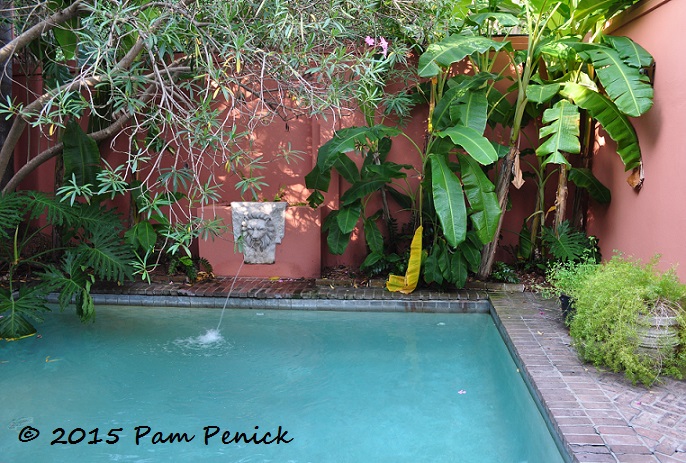 …and two swimming pools.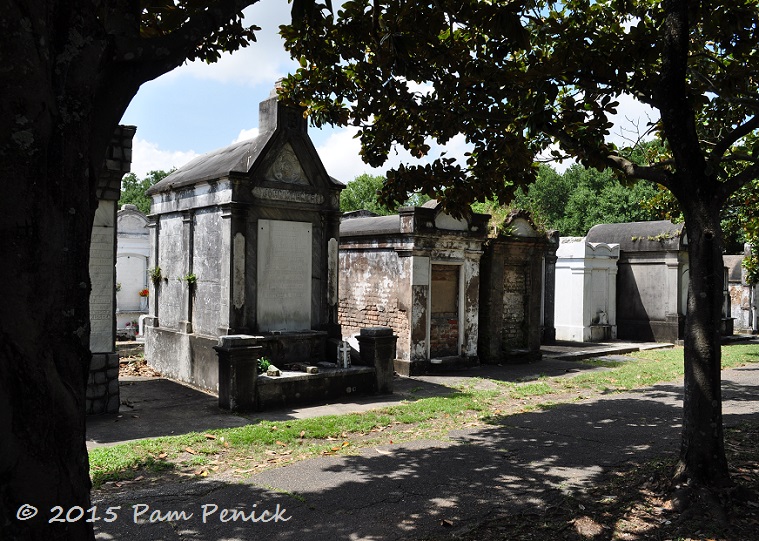 The French Quarter isn't the only neighborhood worth exploring. The Garden District also beckoned. We took a streetcar (it was, disappointingly, a less picturesque substitute bus on that day) along a pleasant, 45-minute route to reach this new-money, American-settled neighborhood (as opposed to the older, French-Creole Quarter) of glamorous, 19th-century mansions. I didn't take a single photo, despite the beauty of the neighborhood — not even when we passed vampire novelist Anne Rice's childhood home.
I did take photos in the spooky Lafayette Cemetery No. 1, which borders the Garden District. Established in 1833, it's one of several "cities of the dead" found throughout the older neighborhoods. Because New Orleans sits below sea level and the water table is high, the dead weren't buried (legend says coffins would pop out of the ground when it rained) but laid to rest in above-ground tombs that contain entire families or fraternal groups.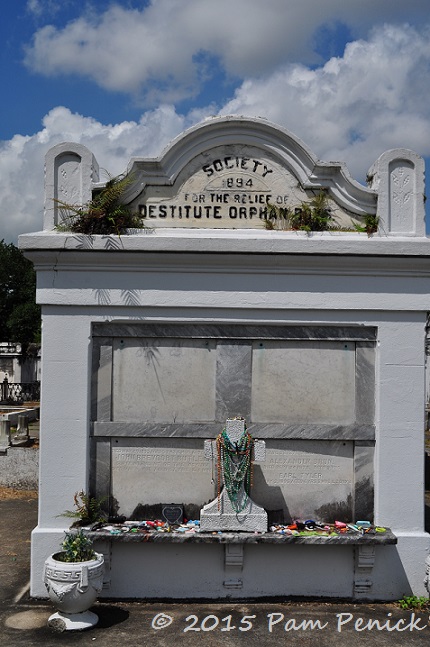 I've always loved touring old cemeteries. Ironically, they seem to bring a city's history to life.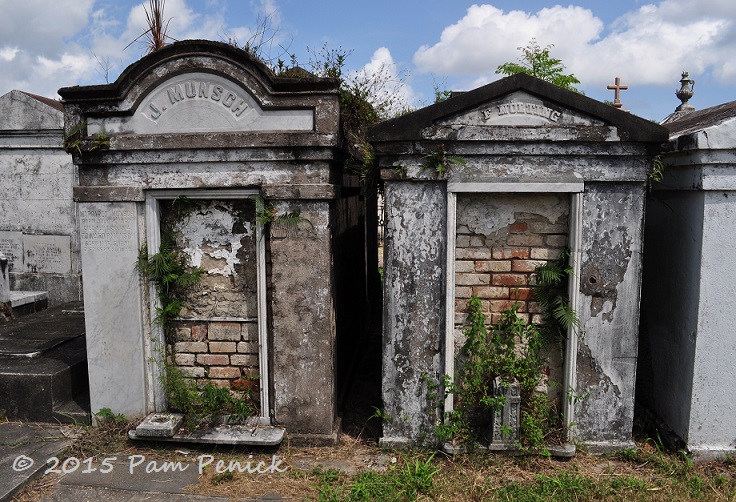 Plants are colonizing the tombs, gaining toeholds in crevices and crumbling mortar.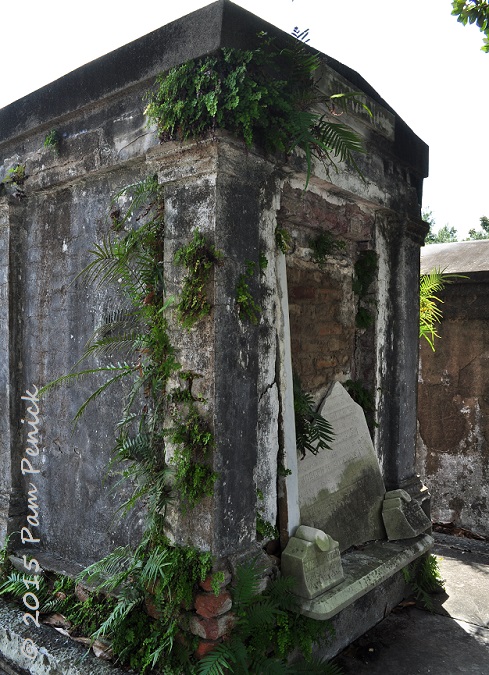 These ferns seem to grow out of bare stone.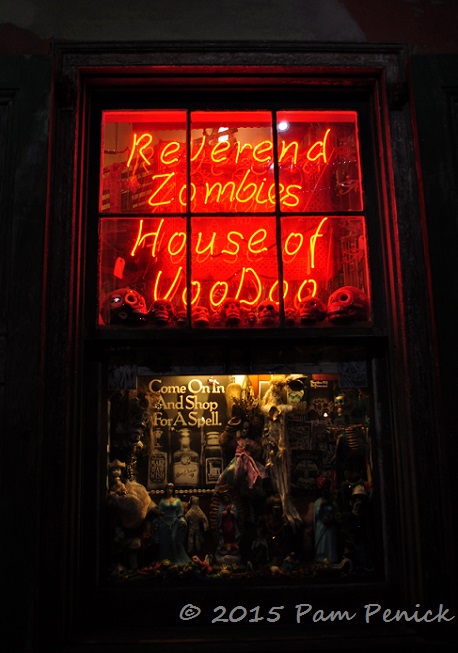 New Orleans has plenty of spookiness to go around, and our first evening we explored the House of Voodoo, where picture-taking was forbidden — so no shrunken head pics for you (just kidding, but we did see lots of voodoo dolls).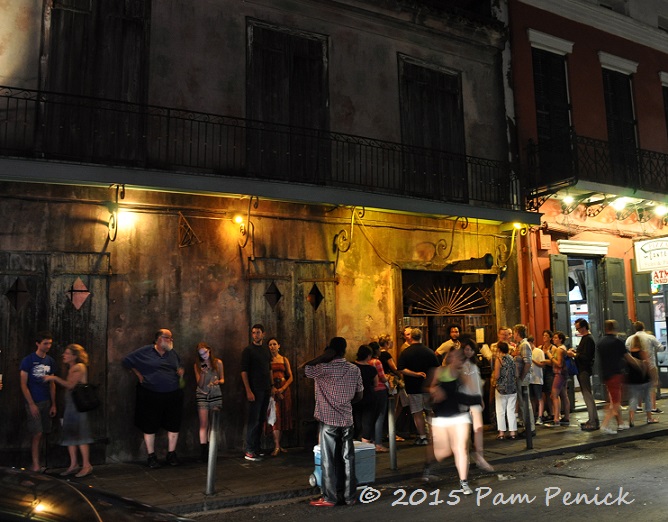 The House of Voodoo sits across the street from what we really came for: a jazz show at Preservation Hall. I'd last been here during my college years and was ready to make another pilgrimage.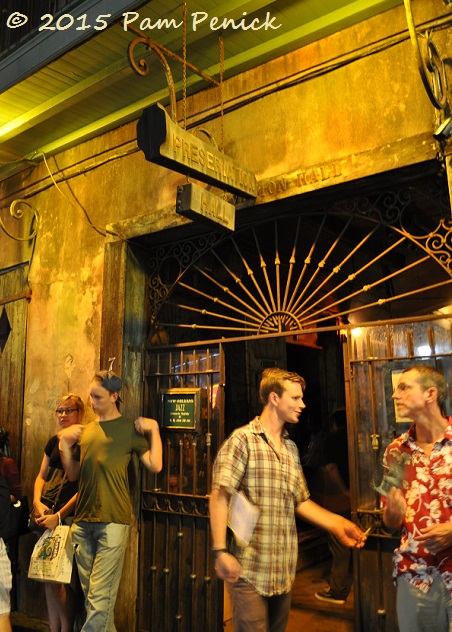 Preservation Hall hosts nightly, 45-minute concerts of traditional, swinging jazz, performed acoustically by jazz veterans. It's open to all ages, and I'd purchased VIP tickets ahead of time so that we could get a seat right up front.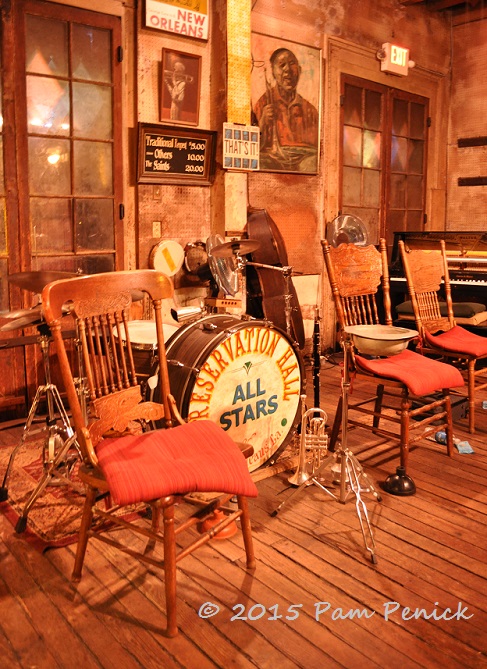 The place is charmingly rustic: a few rows of bench seating and pillows on the floor for the audience. No air conditioning — that's right, in New Orleans in the summer. You'll sweat through the show, but it's worth it. Photos and video are forbidden during the performance, but here's where the band played: trombone on the left, cornet and vocals in the middle, clarinet on the right, and piano, bass, and drums in the back.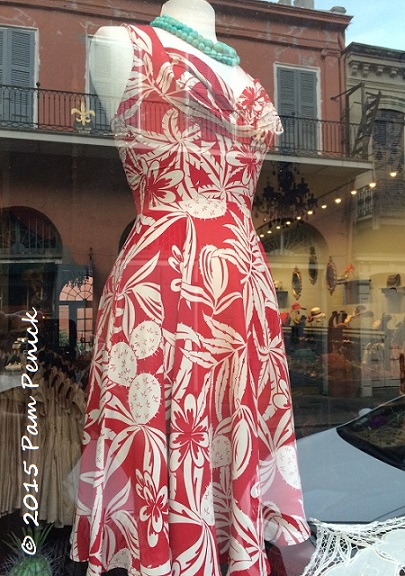 I'll end my New Orleans travel post with a pretty, garden-pattern dress I spotted in a shop window. Look carefully, my fellow hot-climate gardeners: those are prickly pear pads along with tropical foliage — fun!
Next up: Exhibits at Atlanta Botanical Garden and Georgia Aquarium in Atlanta.
All material © 2006-2015 by Pam Penick for Digging. Unauthorized reproduction prohibited.
posted in
Cactus
,
Cemeteries
,
Containers
,
Fountains
,
Parks & greenbelts
,
Porch
,
Public art
,
Sculpture
,
Signs
,
Swimming pools
,
Travel
,
Walls
,
Water features
,
Windows