Local Nurseries and Garden Shops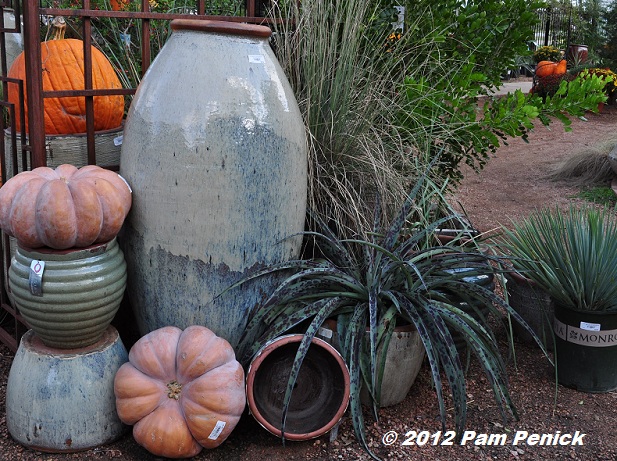 These are nurseries I frequent in Austin—the first three in particular. Also included are regional online nurseries and destination garden centers. Click here for more posts about nurseries and garden shops I've visited across the U.S.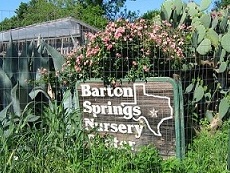 Barton Springs Nursery
This is my favorite nursery in Austin for its selection of native perennials, quality of service, and prices. BSN propagates a lot of its native plants, so small sizes are often available if you're trying to save money. They carry a great selection of glazed pots, outdoor furniture, and garden ornaments. They also have a large outdoor bird cage that houses a dozen parakeets, which my children enjoyed visiting when they were younger. Located at 3601 Bee Caves Rd. (512) 328-6655. Click for my 2007 tour of Barton Springs Nursery, an updated post about BSN in 2011, and a third post about BSN in 2012.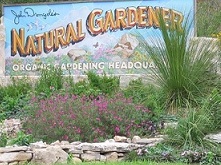 The Natural Gardener
The Natural Gardener's display gardens alone are worth a long visit. Every time I go, a new garden has been added. There's a sunny labyrinth, a colorful butterfly garden, an orchard, a stream, a beautifully designed herb garden, Willy Nelson's guitar-turned-landscape-art, plus numerous attractions for children, including a tepee, a chicken coop, and rustic wooden swings hanging from trees. Delightful. They have a really nice gift shop and bookstore and a wonderful selection of native and adapted plants, including an enticing succulent collection. Owner John Dromgoole, a local legend, hosts the radio show "Gardening Naturally" on Saturdays and Sundays and appears regularly on Central Texas Gardener. Located in Oak Hill at 8648 Old Bee Caves Rd. (512) 288-6113. Click for my 2006 tour of the Natural Gardener and my updated tour of N.G. in 2012.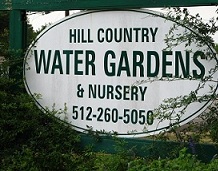 Hill Country Water Gardens & Nursery
This was for many years my pond source, but these days it's a fine, fully stocked nursery in its own right. HCWG is the best place I've found for water plants and fish, thanks to excellent service. The pretty grounds include numerous ponds complete with bridges, native and adapted garden plants, succulents galore, and unique garden ornaments. You'll also find a great selection of pots for planting or turning into fountains. The nursery hosts multiple festivals throughout the growing season, with live music, speakers, plant sales, and food and drink, which are fun to attend. Located in Cedar Park at 1407 N. Bell Blvd. (512) 260-5050. Click for my 2008 tour of Hill Country Water Gardens, my updated tour of HCWG in 2012, and my latest HCWG tour in 2016.
Vivero Growers
Vivero is known mainly as a wholesale nursery, so it carries a lot of large, mature-size plants for landscapers and designers, but it also sells to retail customers and is well worth the drive to far-south Austin. The selection and quality of the plants is excellent, as is the customer service. Its greenhouses are stocked with all manner of small succulents, and co-owner Katherine sells her beautiful potted arrangements. Located at 12000 Highway 290 W. (512) 587-4476. Click for my tour of Vivero.
East Austin Succulents
A succulent lover's paradise, East Austin Succulents offers a Dr. Seussian assortment of tender and hardy plants, including a nice selection of agaves, yuccas, and cactus. A huge greenhouse allows them to grow all kinds of fascinating succulents and cactus. They also specialize in succulent arrangements. You can bring in your favorite container and have them fill and arrange it for you, or you can purchase a succulent container ready-made, often with a seasonal theme. Since they share a pecan tree-shaded lot with another nursery, Tillery Street Plant Co. (below), you'll need to look for their sign — and the big greenhouse — when you arrive. Located at 801 Tillery St. (512) 947-6531. Click for my tour of East Austin Succulents.
Tillery Street Plant Co.
This relaxed, funky, eastside nursery shares space with East Austin Succulents (above), and although they have some overlap in plant selection Tillery Street focuses more on larger landscaping plants than tender succulents. Still, a funky selection of unusual pots planted up with succulents and cacti can be found by the silver Airstream trailer that serves as the retail headquarters. Located at 801 Tillery St. (512) 567-1090. Click for my tour of Tillery Street Plant Co.
Thompson+Hanson
This tiny boutique nursery is an in-town destination for porch-pot plants, as well as classic garden ornament like fine pots, grapevine orbs, and rabbit statuary. Inside, a gift shop offers home goods like serving bowls, linens, and candles, plus a small selection of women's clothing, hats, and jewelry. Next door, Tiny Boxwoods cafe (opening soon) makes a perfect spot to enjoy a salad or sandwich and a famous chocolate chip cookie. Located at 1508 W. 34th St., Suite 100. (512) 327-7424. Click for my tour of Thompson+Hanson.
Articulture
This botanical boutique and design studio is located in an old turquoise house in south Austin. The owner's creative and cleverly planted living pictures, wall-planter arrangements, and planted tables make enticing gifts, and you'll find plenty of fun and funky decorative objects just waiting for your own creative compositions. Out back, in a large, rentable event space, the shop hosts classes on succulent arranging, yoga, and more. Located at 6405 Manchaca Rd. (512) 762-5228. Closed Mondays. Click for my tour of Articulture.
Shoal Creek Nursery
This neighborhood nursery is located in north-central Austin, kind of off the beaten track. It offers a good selection of plants, especially succulents and shade shrubs, and a variety of glazed pots and garden decor. Located at 2710 Hancock Dr. (512) 458-5909. Click for my tour of Shoal Creek Nursery.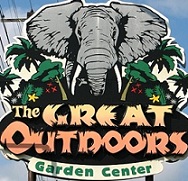 The Great Outdoors
An old Austin favorite with a mouth-watering selection of plants and a hip, contemporary vibe. There's also a casual restaurant on-site, the Garden District Cafe. Located in South Austin at 2730 S. Congress Ave. (512) 448-2992. Click for my 2010 tour of The Great Outdoors and my updated tour of TGO in 2012.
Green 'n Growing
This family-owned nursery in Pflugerville, north of Austin, operates out of an old house painted bright turquoise. It offers a modest selection of succulents, native and adapted plants, and edibles, as well as pots, decor, and other garden accessories. Located at 601 West Pecan Street, Pflugerville. (512) 251-3262. Click for my tour of Green 'n Growing.
Jardineros
Co-owned by local designer Mark Word, Jardineros offers up the xeric plants, ornamental grasses, succulents, and Deep South-meets-Southwest shrubs and trees that his designs use to such great effect. This is a fairly bare-bones, East Austin lot stuffed with plants. String lights and a metal framework overhead and colorful wall murals add a cool eastside vibe. Located at 2320 East Caesar Chavez St. (512) 774-7443. Click for my tour of Jardineros. Update 5/16: I'm not sure if Jardineros is still open. It's hard to tell from their very basic website, which is, nevertheless, still online.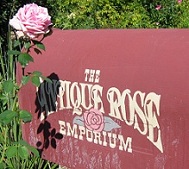 Antique Rose Emporium
If this nursery were located in Austin, I'd go every day just to stroll around the Emporium's display gardens. The 21-year-old gardens at the Brenham location are beautiful, especially in spring and fall. Antique roses and many other flowering shrubs and trees, accented by sturdy cedar trellises, old buildings, and garden ornaments, are arranged in exquisite "rooms" over the large grounds. Little gift shops abound. It's worth the hour-and-a-half drive from Austin. (Closed in 2012: A second ARE in north San Antonio offered many of the same attractions, with the addition of adobe walls as a backdrop.) You can order heirloom roses from their excellent website. Located in Independence (near Brenham) at 10,000 Hwy. 50. (979) 836-5548. Click on the links above for my tours of both locations.
Living Desert Ranch
Part cactus and succulent nursery and part art gallery, Living Desert Ranch is a fun stop on the way from Austin to Marble Falls. The owner's art creations, many of which feature chunks of colorful slag glass, are displayed among hundreds of cacti and succulents for sale in the greenhouse. Located in Spicewood at 22701 Hwy 71 West. (512) 264-2830. Closed Mondays and Tuesdays. Click for my tour of Living Desert Ranch.
Wildseed Farms
Late spring is the best time to drive out to the Hill Country to see rolling fields of wildflowers and to visit this behemoth garden center and wildflower seed farm just east of Fredericksburg. Truly a destination nursery, Wildseed Farms offers lots of native and adapted plants, cacti and succulents, garden art, and pots, plus a huge gift shop, a gourmet food market, an ice cream counter, a beer garden (the BrewBonnet Biergarten), live music on weekends, and extensive display gardens in an almost theme-park-sized expanse. I've visited several times on the way to or from Fredericksburg, and by far the best show of wildflowers on the road and at Wildseed Farms was in April 2010. In late winter, by contrast, it can be very quiet; click for my off-season tour of Wildseed Farms. Located on Highway 290 east of Fredericksburg, Texas. 1-800-848-0078.
Lady Bird Johnson Wildflower Center
Best known for its beautiful native-plant display gardens, educational center, scientific research, and public advocacy for native plants, the Wildflower Center also holds a spring and fall plant sale, opening on Friday to members and on Saturday and Sunday to the general public. Unless you're a member, you'll have to pay to shop (check the link for details), but it's all for a good cause, and you can score some difficult-to-find native plants. Be sure to come early and bring a wagon to haul your purchases back to the car. Located at 4801 La Crosse Avenue. (512) 232-0100. I've posted numerous times about the Wildflower Center, though not specifically about the plant sales. Click for a sample post.
Oracle Gorge Nursery
Operated by collector and propagator Dr. Bob Barth out of his Westlake home, Oracle Gorge opens to the public twice yearly for a sale that delights succulent and cactus lovers. Reasonably priced divisions of hardy and rare agaves, aloes, and many other succulents and cacti are arranged along his driveway and on tables. You can also tour some of Bob's four greenhouses full of Dr. Seussian plants. My advice is to bring a wagon and to get there early on Saturday, before all the good stuff is snapped up by eager collectors. You'll also find little freebies available at the sales table for those making a purchase. To be added to Bob's email list for sale notifications, contact him at bbarth at mail dot utexas dot edu. Click for my tour of Oracle Gorge.
Southern Bulb Company
An online nursery located near Tyler, Texas, that specializes in Southern and heirloom bulbs. Here's how they describe what they do: "Many of our bulbs were brought over to this country by the first settlers. We found them at old, historic locations where they had been neglected, thriving and multiplying naturally. Our bulbs are grown close to your home, in the heat and humidity of the South. They do very well here in drought and adverse conditions—which is why our farm is in Texas."
Big Red Sun — CLOSED (Dec. 2012)
This hip boutique nursery in East Austin used to be a gift-buying destination for me, and I loved to visit its contemporary, traffic-stopping display garden on Cesar Chavez. And then, abruptly, it closed. I moped about its loss for a while, even though I'd seldom bought a plant there; it was more the loss of that hip vibe…and a great gift shop. But in 2011 Big Red Sun reopened down the street from its original location. It's mostly a design studio now (Big Red Sun's retail store closed again in Dec. 2012), but they have an assortment of succulents, cacti, and other sculptural plants for sale, as well as pots and furniture. Located at 1311 East Cesar Chavez Street. (512) 480-0688. Click for my post about Big Red Sun's reopened boutique nursery and for my tour of the original Big Red Sun.