Garden Books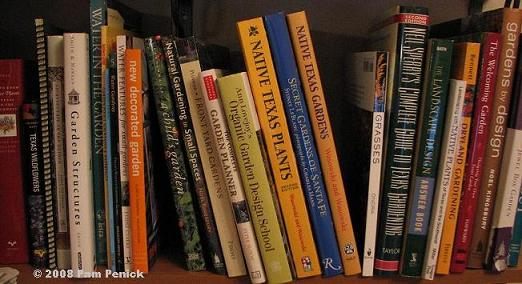 I review many garden books here at Digging, and I haven't had time to list them all on this page. Click on my Books category to browse my book posts.
PLANT GUIDES
Native Texas Plants: Landscaping Region by Region, by Sally Wasowski and Andy Wasowski
My bible for native Texas plants. With great photographs and thorough descriptions of each plant, this book is indispensable.
Native and Adapted Landscape Plants: An Earthwise Guide for Central Texas, by the City of Austin's Grow Green Program
This excellent, full-color guide is published by the city's Grow Green water conservation program and is available for free at area nurseries and home-improvement stores and online as well. It contains photos of every plant listed, plus essential details of height, spread, light and water requirements, bloom, deer resistance, maintenance requirements, and more. If you're new to Austin and are ready to start gardening, you need this guide. Here's my review of the 2009 Grow Green Guide.
How to Grow Native Plants of Texas and the Southwest, by Jill Nokes
Sparingly though beautifully illustrated, this book is great for those who wish to propagate or learn more about the habits of native Texas plants. Written by local designer Jill Nokes, who helped popularize the native-plant movement.
Neil Sperry's Complete Guide to Texas Gardening, by Neil Sperry
This is a popular guide with a lot of good general information. As it covers plants that grow throughout Texas, many of the plants listed will not do well in Austin. But it's a useful general guide with practical information for beginning gardeners, and a color picture is provided for each plant listed.
DESIGN
Ann Lovejoy's Organic Garden Design School, by Ann Lovejoy
Seattle-area garden designer and gardening instructor Lovejoy lays out her philosophy of organic design, which she defines as gardening with nature, not against it. She advocates persuasively for the use of flowing lines rather than straight edges, many plant species rather than monocultures, native or adapted plants rather than fussy imports, and natural shapes rather than formal, as well, of course, as traditional organic practices like composting, avoiding chemicals, and the protection of beneficial insects in the garden. Ideal for new gardeners, this book gives step-by-step directions and worksheets on how to design your own garden; it also provides plant lists, but considering our regional differences, these were not helpful to me. However, Lovejoy's design ideas are sensible, encouraging, and forgiving—the latter being especially important in gardening.
Natural Gardening in Small Spaces, by Noel Kingsbury
Like Lovejoy, Noel Kingsbury wants us to plant gardens like Mother Nature, using naturalistic plant combinations and creating wildlife-friendly habitats. He argues that this can be accomplished on a small scale on urban lots, or even in rooftop and container gardens. Naturalistic does not mean sloppy, however, and he insists on the firm hand of the gardener in maintaining naturalistic gardens. He discusses how to combine plants from different regions of the world, so long as the regions have similar climates. A native-plant fascist he is not. Wonderful photos of small gardens will inspire you. If you want to get away from the obligatory row of boxwoods along the front of the house, this book is for you.
The Landscaping Revolution: Garden With Mother Nature, Not Against Her, by Andy Wasowski and Sally Wasowski
Down with chemically perfect lawns and cookie-cutter landscapes! Up with native plants and naturalistic plantings! Persuasive, enthusiastic, and humorous, this book will attempt to free you from lawn worship. I reviewed this book—unfortunately, out-of-print but available if you search—here.
Architecture in the Garden, by James Van Sweden
Legendary landscape architect Van Sweden lays out his design principles in this handsome book. You get a photo tour of several of his gardens as well as a practical tutorial on how to build some of the architectural features he describes. Although these gardens grace large estates and very expensive city homes, the principles he advocates can be applied to smaller, more modest gardens.
Inside Out: Relating Garden to House, by Page Dickey
This beautiful book explores the interplay between house and garden.
Front Yard Gardens: Growing More Than Grass, by Liz Primeau
With more than two hundred color photographs, this book is packed with ideas on how to transform your lawn into a garden. Mostly Canadian gardens, but also a couple in Austin and others in the U.S., are showcased.
New Decorated Garden: Transform Your Garden with Contemporary Elements, by Elspeth Thompson and Melanie Eclare
This book features seven distinctive gardens and provides detailed information about "setting the garden scene." Lots of good ideas here.
Native Texas Gardens, by Sally Wasowski and Andy Wasowski
The authors of Native Texas Plants showcase regional gardens in this helpful book. If you aren't sure how to incorporate native plants in your Texas garden, this is a good resource.
Water Features for Small Gardens, by Ethne Clarke
This book provides numerous ideas with plenty of photo illustrations for those who want water in their garden but don't have room for a large pond or stream. Container ponds, fountains, and small pools of all sorts are featured.
A Child's Garden: Enchanting Outdoor Spaces for Children and Parents, by Molly Dannenmaier
I love this book's combination of exuberance and earnestness. It tells you what makes kids happy in a garden and illustrates how to incorporate these features into your garden. Dannenmaier's description of how children really play in a garden is a good eye-opener for those who design gardens that children will use.
MEMOIRS
Mrs. Whaley and Her Charleston Garden, by Emily Whaley in conversation with William Baldwin
Delightful, charming, and funny as hell. I love this little book. It does for gardening what Harvey Penick's Little Red Book did for golf: present garden advice that is philosophically relevant to life in general.
Yard Full of Sun: The Story of a Gardener's Obsession that Got a Little Out of Hand, by Scott Calhoun
Talented plantsman, designer, and writer Scott Calhoun tells with humor and charm the story of how he created a desert garden for his family in Tucson, Arizona. Great ideas for those of us in more-arid climates than are usually featured in garden books.
From the Ground Up: The Story of a First Garden, by Amy Stewart
I've been following Amy Stewart of Garden Rant for a while, so I decided to give the former Austinite's garden memoir a try. Funny, self-deprecating, and joyful, the book chronicles a year in the life of Stewart's boardwalk-hugging Santa Cruz garden, her hits and misses, plus evocative descriptions of the beach town and its seasonal changes. What's more, Stewart tosses in a few recipes along the way. It's a pleasure to curl up with this book and relive the excitement and enthusiasm, not to mention occasional bafflement, of making one's first garden.
FICTION and POETRY
The Secret Garden, by Frances Hodgson Burnett
Children's book extraordinaire. If you never read this as a child or to a child, you don't know what you're missing. Plot: a lonely, spoiled, orphaned girl is sent to live at her rich, absentee uncle's manor on the moors of England. She discovers a secret, walled garden on the grounds and begins caring for it. Eventually she shares the secret with two other children, and the garden helps her to find joy, purpose, and friendship for the first time. When the narrator describes the garden unfurling in spring, you can almost smell the roses and the sun-warmed soil and feel the cool grass underfoot. Living in Austin, where it just doesn't get that cold and the garden never goes completely dormant, it's hard to imagine the rapture of springtime, but this book brings it to life.
A Child's Calendar: Poems by John Updike, illustrated by Trina Schart Hyman
First of all, this is not just a child's book. One of my favorite authors, Updike brought his considerable literary gifts to each poem in this collection. Though written simply enough for a child to read, the depth of meaning and lovely evocation of the seasons would be lost on most children. This is for their parents too. Consider June's play on money—gold, silver, greenbacks—only the currency here is time:
"The sun is rich
And gladly pays
In golden hours,
Silver days,
And long green weeks
That never end.
School's out. The time
Is ours to spend."
Or November :
"The stripped and shapely
Maple grieves
The loss of her
Departed leaves. . . .
And yet the world,
Nevertheless,
Displays a certain
Loveliness—
The beauty of
The bone. Tall God
Must see our souls
This way, and nod."
Written in 1965 and illustrated by Hyman in 1999, this slim book stays on my bedside table for perusal through the seasons. Hyman's expressive, watercolor illustrations are the perfect complement to each poem. Together they move me to appreciate the natural world and our place in it.