Book Reviews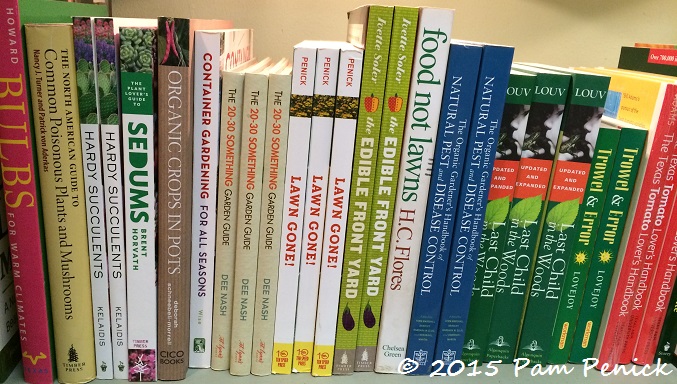 The only thing better than gardening or visiting gardens is reading about gardening! I review many books here at Digging, favoring those about garden design (which is universal) and gardening in Texas or the Southwest (where regional info is essential). But I also branch out into general gardening books, memoirs, garden-project books, and even a little fiction and poetry. Here you'll find an alphabetized list of all the books I've reviewed, with blue hyperlinks to my posts about them; click through for a full review. I've also merged in a handful of one-paragraph reviews I wrote when I started this blog.
If you click on my Books category, you'll be able to browse all my blog posts that mention gardening books, including those without reviews.
Happy reading!
___________________
101 Organic Gardening Hacks: Eco-friendly Solutions to Improve Any Garden, by Shawna Coronado (2017, Cool Springs Press)
Agaves: Living Sculptures for Landscapes and Containers, by Greg Starr (2012, Timber Press)
The American Meadow Garden: Creating a Natural Alternative to the Traditional Lawn, by John Greenlee (2009, Timber Press)
Ann Lovejoy's Organic Garden Design School, by Ann Lovejoy (2004, Rodale Books). Seattle-area garden designer and gardening instructor Lovejoy lays out her philosophy of organic design, which she defines as gardening with nature, not against it. She advocates persuasively for the use of flowing lines rather than straight edges, many plant species rather than monocultures, native or adapted plants rather than fussy imports, and natural shapes rather than formal, as well, of course, as traditional organic practices like composting, avoiding chemicals, and the protection of beneficial insects in the garden. Ideal for new gardeners, this book gives step-by-step directions and worksheets on how to design your own garden. It also provides plant lists, but considering our regional differences, these were not helpful to me. However, Lovejoy's design ideas are sensible, encouraging, and forgiving — the latter being especially important in gardening.
Architecture in the Garden, by James Van Sweden (2003, Random House). Legendary landscape architect Van Sweden lays out his design principles in this handsome book. You get a photo tour of several of his gardens as well as a practical tutorial on how to build some of the architectural features he describes. Although these gardens grace large estates and expensive city homes, the principles he advocates can be applied to smaller, more modest gardens.
Armitage's Vines and Climbers: A Gardener's Guide to the Best Vertical Plants, by Allan M. Armitage (2010, Timber Press)
The Art of Gardening: Design Inspiration and Innovative Planting Techniques from Chanticleer, by R. William Thomas (2015, Timber Press)
The Artful Garden: Creative Inspiration for Landscape Design, by James van Sweden, with Tom Christopher (2011, Random House)
Backyards: A Sunset Design Guide, by the editors of Sunset Books (2009, Sunset Books)
The Beast in the Garden: The True Story of a Predator's Deadly Return to Suburban America, by David Baron (2005, W. W. Norton & Company)
Bloom's Best Perennials and Grasses: Expert Plant Choices and Dramatic Combinations for Year-Round Gardens, by Adrian Bloom (2010, Timber Press)
The Bold Dry Garden: Lessons from The Ruth Bancroft Garden, by Johanna Silver (2016, Timber Press)
The Bulb Hunter, by Chris Wiesinger and William C. Welch (2013, Texas A&M University Press)
The Cancer Survivor's Garden Companion: Cultivating Hope, Healing and Joy in the Ground Beneath Your Feet, by Jenny Peterson (2016, St. Lynn's Press)
Chanticleer, A Pleasure Garden, by Adrian Higgins, photographs by Rob Cardillo (2011, University of Pennsylvania Press)
Chasing Wildflowers: A Mad Search for Wild Gardens, by Scott Calhoun (2007, Rio Nuevo)
A Child's Calendar: Poems by John Updike, illustrated by Trina Schart Hyman (2002, Holiday House). First of all, this is not just a child's book. One of my favorite authors, Updike brought his considerable literary gifts to each poem in this collection. Though written simply enough for a child to read, the depth of meaning and lovely evocation of the seasons would be lost on most children. This is for their parents too. Written in 1965 and illustrated by Hyman in 1999, this slim book is wonderful to peruse through the seasons. Hyman's expressive, watercolor illustrations are the perfect complement to each poem. Together they move me to appreciate the natural world and our place in it.
A Child's Garden: Enchanting Outdoor Spaces for Children and Parents, by Molly Dannenmaier (1998, Simon & Schuster). I love this book's combination of exuberance and earnestness. It tells you what makes kids happy in a garden and illustrates how to incorporate these features into your garden. Dannenmaier's description of how children really play in a garden is a good eye-opener for those who design gardens that children will use.
The Cocktail Hour Garden: Creating Evening Landscapes for Relaxation and Entertaining, by C.L. Fornari (2016, St. Lynn's Press)
The Complete Kitchen Garden: An Inspired Collection of Garden Designs & 100 Seasonal Recipes, by Ellen Ecker Ogden (2011, Stewart, Tabori and Chang)
Concrete Garden Projects: Easy & Inexpensive Containers, Furniture, Water Features & More, by Camilla Arvidsson and Malin Nilsson (2011, Timber Press)
The Cultivated Wild: Gardens and Landscapes by Raymond Jungles (2015, The Monacelli Press)
Cultivating Garden Style: Inspired Ideas and Practical Advice to Unleash Your Garden Personality, by Rochelle Greayer (2014, Timber Press)
Designer Plant Combinations: 105 Stunning Gardens Using Six Plants or Fewer, by Scott Calhoun (2008, Storey Publishing)
Designing with Succulents, revised 2nd edition, by Debra Lee Baldwin (2017, Timber Press)
Designing with Succulents, by Debra Lee Baldwin (2007, Timber Press)
The Drunken Botanist: The Plants That Create the World's Great Drinks, by Amy Stewart (2013, Algonquin Books)
The Edible Front Yard: The Mow-Less, Grow-More Plan for a Beautiful, Bountiful Garden, by Ivette Soler (2011, Timber Press)
Elements of Garden Design, by Joe Eck (2005, North Point Press)
The Essential Garden Book: Getting Back to Basics, by Terence Conran and Dan Pearson (1998, Clarkson Potter)
Fearless Color Gardens: The Creative Gardener's Guide to Jumping Off the Color Wheel, by Keeyla Meadows (2009, Timber Press)
Fine Foliage: Elegant Plant Combinations for Garden and Container, by Karen Chapman and Christina Salwitz (2013, St. Lynn's Press)
From the Ground Up: The Story of a First Garden, by Amy Stewart (2000, Algonquin Books). Funny, self-deprecating, and joyful, this memoir by former Austinite Amy Stewart chronicles a year in the life of her boardwalk-hugging Santa Cruz, California, garden, including her hits and misses and evocative descriptions of the beach town and its seasonal changes. What's more, Stewart tosses in a few recipes along the way. It's a pleasure to curl up with this book and relive the excitement and enthusiasm, not to mention occasional bafflement, of making one's first garden.
Front Yard Gardens: Growing More Than Grass, 2nd edition, by Liz Primeau (2010, Firefly Books). With more than 200 color photographs, this book is packed with ideas on how to transform your lawn into a garden. Mostly Canadian gardens, but also a couple in Austin and others in the U.S., are showcased.
The Garden Bible: Designing Your Perfect Outdoor Space, by Barbara Ballinger and Michael Glassman (2016, Images Publishing)
Garden Up! Smart Vertical Gardening for Small and Large Spaces, by Susan Morrison and Rebecca Sweet (2011, Cool Springs Press)
The Gardener's Guide to Cactus: The 100 Best Paddles, Barrels, Columns, and Globes, by Scott Calhoun (2012, Timber Press)
Gardening with Foliage First: 127 Dazzling Combinations that Pair the Beauty of Leaves with Flowers, Bark, Berries, and More, by Karen Chapman and Christina Salwitz (2017, Timber Press)
Gardenista: The Definitive Guide to Stylish Outdoor Spaces, by Michelle Slatalla (2016, Artisan)
Gardens Are for Living: Design Inspiration for Outdoor Spaces, by Judy Kameon (2014, Rizzoli)
Gardens of Awe and Folly: A Traveler's Journal on the Meaning of Life and Gardening, by Vivian Swift (2016, Bloomsbury)
Gardens of the High Line: Elevating the Nature of Modern Landscapes, by Piet Oudolf and Rick Darke (2017, Timber Press)
Gardens in Detail: 100 Contemporary Designs, by Emma Reuss (2014, The Monacelli Press)
Hand-Built Outdoor Furniture: 20 Step-by-Step Projects Anyone Can Build, by Katie Jackson (2016, Timber Press)
Handmade Garden Projects: Step-by-Step Instructions for Creative Garden Features, Containers, Lighting & More, by Lorene Edwards Forkner (2011, Timber Press)
Hellstrip Gardening: Create a Paradise Between the Sidewalk and the Curb, Evelyn Hadden (2014, Timber Press)
The High Line: Foreseen/Unforeseen, by James Corner Field Operations and Diller Scofidio + Renfro (2015, Phaidon Press)
Home Outside: Creating the Landscape You Love, by Julie Moir Messervy (2009, Taunton Press)
The Hot Garden: Landscape Design for the Desert Southwest, by Scott Calhoun (2009, Rio Nuevo)
How to Grow Native Plants of Texas and the Southwest, revised edition, by Jill Nokes (2001, University of Texas Press). Sparingly though beautifully illustrated, this book is essential for those who wish to propagate or learn more about the habits of native Texas plants. Written by Austin designer and landscape restoration expert Jill Nokes, who helped popularize the native-plant movement.
Hummelo: A Journey Through a Plantsman's Life, by Piet Oudolf and Noel Kingsbury (2015, The Monacelli Press)
Hummingbird Plants of the Southwest, by Marcy Scott (2015, Rio Nuevo Publishers)
Indoor Plant Decor: The Design Stylebook for Houseplants, by Kylee Baumle and Jenny Peterson (2013, St. Lynn's Press)
Inside Out: Relating Garden to House, by Page Dickey (2000, Stewart, Tabori and Chang). This beautiful book explores the interplay between house and garden.
Japanese Zen Gardens, by Yoko Kawaguchi (2014, Aurum Publishing Group)
Landprints: The Landscape Designs of Bernard Trainor, by Susan Heeger (2013, Princeton Architectural Press)
The Landscaping Revolution: Garden With Mother Nature, Not Against Her, by Andy Wasowski and Sally Wasowski (2002, McGraw-Hill/Contemporary)
The Monarch: Saving Our Most-Loved Butterfly, by Kylee Baumle (2017, St. Lynn's Press)
Mrs. Whaley and Her Charleston Garden, by Emily Whaley in conversation with William Baldwin (1997, Algonquin Books). Delightful, charming, and funny as hell. It does for gardening what Harvey Penick's Little Red Book did for golf: present gardening advice that is philosophically relevant to life in general.
Native and Adapted Landscape Plants: An Earthwise Guide for Central Texas, by the City of Austin's Grow Green Program (booklet updated regularly)
Native Texas Gardens: Maximum Beauty Minimum Upkeep, by Sally Wasowski and Andy Wasowski (2003, Taylor Trade Publishing). The authors of Native Texas Plants showcase regional gardens in this helpful book. If you aren't sure how to incorporate native plants in your Texas garden, this is a good resource.
Native Texas Plants: Landscaping Region by Region, 2nd edition, by Sally Wasowski and Andy Wasowski (1997, Lone Star Books). My bible for native Texas plants. With great photographs and thorough descriptions of each plant, this book is indispensable to the Texas gardener.
Natural Gardening in Small Spaces, by Noel Kingsbury (2006, Timber Press). Noel Kingsbury wants us to plant gardens like Mother Nature, using naturalistic plant combinations and creating wildlife-friendly habitats. He argues that this can be accomplished on a small scale on urban lots, or even in rooftop and container gardens. Naturalistic does not mean sloppy, however, and he insists on the firm hand of the gardener in maintaining naturalistic gardens. He discusses how to combine plants from different regions of the world, so long as the regions have similar climates. A native-plant purist he is not. Wonderful photos of small gardens will inspire you. If you want to get away from the obligatory row of boxwoods along the front of the house, this book is for you.
Neil Sperry's Complete Guide to Texas Gardening, 2nd edition, by Neil Sperry (1991, Taylor Trade Publishing). This is a popular guide with a lot of good general information. Because it covers plants that grow throughout Texas, many of the plants listed will not do well in Austin. But there's plenty of practical information for beginning gardeners, and the color pictures of each plant listed are handy.
New Decorated Garden: Transform Your Garden with Contemporary Elements, by Elspeth Thompson (2002, Ryland Peters & Small). This book features seven distinctive gardens and provides detailed information about "setting the garden scene." Lots of good ideas here.
New Garden Design: Inspiring Private Paradises, by Zahid Sardar, photographs by Marion Brenner (2008, Gibbs Smith)
The New Low-Maintenance Garden: How to Have a Beautiful, Productive Garden and the Time to Enjoy It,, by Valerie Easton (2009, Timber Press)
The New Southern Living Garden Book: The Ultimate Guide to Gardening, edited by Steve Bender (2015, Oxmoor House)
The Nonstop Garden: A Step-by-Step Guide to Smart Plant Choices and Four-Season Designs, by Stephanie Cohen & Jennifer Benner (2010, Timber Press)
Outside the Not So Big House: Creating the Landscape of Home, by Julie Moir Messervy and Sarah Susanka (2006, Taunton Press)
Outstanding American Gardens: A Celebration: 25 Years of the Garden Conservancy, by Page Dickey (2015, Stewart, Tabori and Chang)
Patio & Stone: A Sunset Design Guide, by the editors of Sunset Books (2009, Sunset Books)
People with Dirty Hands: The Passion for Gardening, by Robin Chotzinoff (1996, Wiley)
The Perennial Care Manual: A Plant-by-Plant Guide: What to Do & When to Do It, by Nancy Ondra (2009, Storey Publishing)
Photographing Austin, San Antonio & the Texas Hill Country: Where to Find Perfect Shots and How to Take Them, by Laurence Parent (2012, The Countryman Press)
Plant-Driven Design: Creating Gardens that Honor Plants, Place, and Spirit, by Scott Ogden and Lauren Springer Ogden (2008, Timber Press)
Plants with Benefits: An Uninhibited Guide to the Aphrodisiac Herbs, Fruits, Flowers & Veggies in Your Garden, by Helen Yoest (2014, St. Lynn's Press)
Planting in a Post-Wild World: Designing Plant Communities for Resilient Landscapes, by Thomas Rainer and Claudia West (2015, Timber Press)
Potted: Make Your Own Stylish Garden Containers, by Annette Goliti Gutierrez and Mary Gray (2017, Timber Press)
Refresh Your Garden Design with Color, Texture & Form, by Rebecca Sweet (2013, Horticulture Books)
The Roses at the End of the Road, by Pat Leuchtman (2011, Fiftyshift.com)
The Secret Garden, by Frances Hodgson Burnett (1911). Children's book extraordinaire. If you never read this novel as a child or to a child, you don't know what you're missing. Plot: a lonely, spoiled, orphaned girl is sent to live at her rich, absentee uncle's manor on the moors of England. She discovers a secret, walled garden on the grounds and begins caring for it. Eventually she shares the secret with two other children, and the garden helps her to find joy, purpose, and friendship for the first time. When the narrator describes the garden unfurling in spring, you can almost smell the roses and the sun-warmed soil and feel the cool grass underfoot. Living in Austin, where it just doesn't get that cold and the garden never goes completely dormant, it's sometimes hard to feel the rapture of springtime, but this book brings it to life.
Secret Gardens of the Cotswolds: A Personal Tour of 20 Private Gardens, by Victoria Summerley (2015, Quarto Publishing USA).
So You Want to Be a Garden Designer: How to Get Started, Grow, and Thrive in the Landscape Design Business, by Love Albrecht Howard (2010, Timber Press)
The Spirit of Stone: 101 Practical & Creative Stonescaping Ideas for Your Garden, by Jan Johnson (2017, St. Lynn's Press)
Succulent Container Gardens: Design Eye-Catching Displays with 350 Easy-Care Plants, by Debra Lee Baldwin (2010, Timber Press)
Succulents: The Ultimate Guide to Choosing, Designing, and Growing 200 Easy-Care Plants, by Robin Stockwell (2017, Oxmoor House)
Succulents Simplified: Growing, Designing, and Crafting with 100 Easy-Care Varieties, by Debra Lee Baldwin (2013, Timber Press)
Sugar Snaps and Strawberries: Simple Solutions for Creating Your Own Small-Space Edible Garden, by Andrea Bellamy (2011, Timber Press)
Sunset Backyards for Kids: Playhouses, Sandboxes, Tree Forts, Swing Sets, Sports Areas, and More, by the editors of Sunset Books (2008, Oxmoor House)
Sunset Big Ideas for Small Gardens: Featuring Dave Egbert's Garden Notebook, by the editors of Sunset Books (2007, Oxmoor House)
Sunset Hillside Landscaping: A Complete Guide to Successful Gardens on Sloping Ground, by editors of Sunset Books (2007, Oxmoor House)
Sunset Sheds & Garages: Building Ideas and Plans for Every Shape of Storage Structure, by the editors of Sunset Books (2008, Oxmoor House)
Sunset Trellises & Arbors: Over 35 Step-by-step Projects You Can Build, by the editors of Sunset Books (2008, Oxmoor House)
Sunset Walks, Walls & Patio Floors: Build with Brick, Stone, Pavers, Concrete, Tile and More, by the editors of Sunset Books (2008, Oxmoor House)
Sunset Western Garden Book of Easy-Care Plantings: The Ultimate Guide to Low-Water Beds, Borders, and Containers, by the editors of Sunset Books (2015, Oxmoor House)
Sunset Western Landscaping Book, 2006 edition, edited by Kathleen Norris Brenzel (2006, Oxmoor House)
Taming Wildflowers: Bringing the Beauty and Splendor of Nature's Blooms into Your Own Backyard, by Miriam Goldberger (2014, St. Lynn's Press)
Texas Getting Started Garden Guide: Grow the Best Flowers, Shrubs, Trees, Vines & Groundcovers, by Mary Irish (2013, Cool Springs Press)
Texas Month-by-Month Gardening: What to Do Each Month to Have a Beautiful Garden All Year, by Robert "Skip" Richter (2014, Cool Springs Press)
Tomorrow's Garden: Design and Inspiration for a New Age of Sustainable Gardening, by Stephen Orr (2011, Rodale Books)
The 20-30 Something Garden Guide: A No Fuss, Down and Dirty Gardening 101 for Anyone Who Wants to Grow Stuff, by Dee Nash (2014, St. Lynn's Press)
The Undaunted Garden: Planting for Weather-Resilient Beauty, 2nd edition, by Lauren Springer Ogden (2010, Fulcrum Publishing)
Water Features for Small Gardens, by Ethne Clarke (1998, Ward Lock Ltd). This book provides numerous ideas with plenty of photo illustrations for those who want water in their garden but don't have room for a large pond or stream. Container ponds, fountains, and small pools of all sorts are featured.
Waterwise Plants for Sustainable Gardens: 200 Drought-Tolerant Choices for All Climates, by Lauren Springer Ogden and Scott Ogden (2011, Timber Press)
Why Grow That When You Can Grow This? 255 Extraordinary Alternatives to Everyday Problem Plants, by Andrew Keys (2012, Timber Press)
The World of Garden Design: Inspiring Ideas from Around the Globe to Your Backyard, by Susan Dooley and the editors of Garden Design magazine (2000, Chronicle Books)
Yard Full of Sun: The Story of a Gardener's Obsession that Got a Little Out of Hand, by Scott Calhoun (2005, Rio Nuevo). Talented designer Scott Calhoun tells with humor and charm the story of how he created a desert garden for his family in Tucson, Arizona. Great ideas for those of us in more-arid climates than are usually featured in gardening books.
Yards: Turn Any Outdoor Space Into the Garden of Your Dreams, by Billy Goodnick (2013, St. Lynn's Press)