Meet Pam
Lawn Gone!
and
The Water-Saving Garden
, roving photographer, and the owner of
Penick Landscape Design
(on hiatus) in Austin, Texas.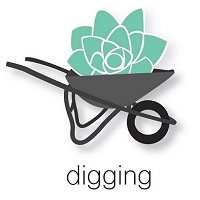 I launched Digging in 2006 in order to share my love of gardening and appreciation for the marvelous beauty of plants, gardens, and nature, and to chat it up in cyberspace with other gardeners. Long frustrated by the absence in national publications of gardens that I could relate to—that could handle the challenging climate of central Texas and the U.S. Southern Plains, where summers are long and hot, soil is alkaline, periods of drought are broken by flooding rains, and mild winters are punctuated by killing freezes—I also saw blogging as a way to share information about tough native and adapted plants, drought-tolerant (xeric) gardening, and general gardening information for this region.
Beyond such practicalities, I also enjoy writing about garden design, garden tours, alternatives to lawn, garden books, and pretty much anything else that has to do with plants.
Above all, I love the interaction with readers that a blog affords, and so I'm very glad you're here! If this is your first visit, please see my New? Start Here page. Or just click the buttons below and sample some of my favorite topics. You can contact me here.
Hello! I'm Pam Penick, an avid gardener, author of