My Gardens

Raised in the azalea belt of the Southeast, I only became a gardener after I moved to central Texas in 1994. When my husband and I bought our first house in Austin, I started planting ornamentals and looked first to those familiar plants from my childhood: azaleas, camellias, etc. Yeaaah. They didn't thrive in Austin's alkaline soil and hot, dry summers. Instead of being discouraged, however, I started to pay attention to the landscape and the climate where I'd landed.
I visited local gardens often, especially the Lady Bird Johnson Wildflower Center, and jotted names and took photos of plants I liked. I read a whole bookshelf of regional gardening books and took classes in native-plant design and garden design in general. Above all, I kept planting, experimenting with native and adapted plants, and tinkering with the design of my garden, until one day I looked up and realized I'd become a capable gardener.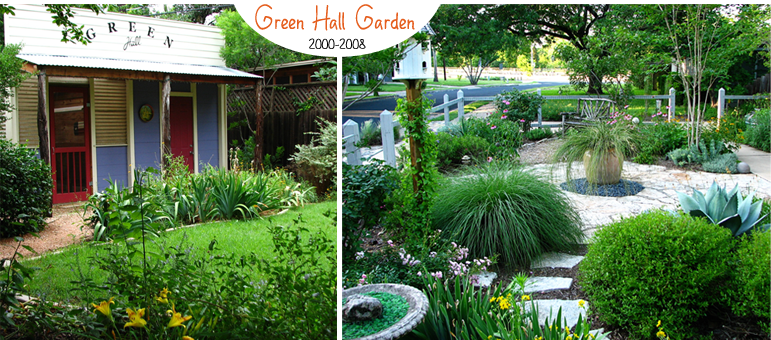 We've moved twice since that first experimental garden, and at both houses I started creating extensive gardens almost before the movers had backed out of the driveway. From 2000 to 2008 I cultivated a colorful, sun-loving, Texas-style cottage garden in the black gumbo clay of midtown. Part of this blog chronicles the evolution of that garden, which I called Green Hall Garden —a word play on Gruene Hall, a wonderful, old-timey Hill Country dancehall where I had some fun times.
In the fall of 2008, we moved to the limestone hills of northwest Austin, where I'm currently making a deer-resistant garden under the dappled shade of live oaks. The property, level with the street out front, slopes sharply in back toward a forested greenbelt visited daily by deer, armadillos, raccoons, and owls. A fence in back keeps out the deer and sometimes the armadillos, but we love that screech owls call our garden home. Several families of screeches have nested in the garden over the years, and in honor of them I named my new garden Tecolote Hill. "Tecolote" is Spanish for "owl" and just sounds right for my Tex-Mex garden.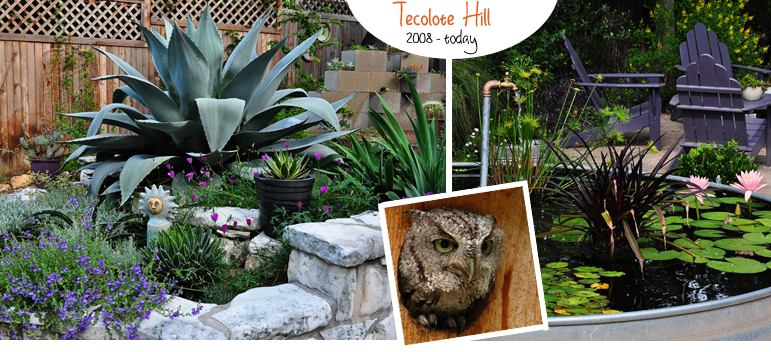 To keep my water bills as low as possible while still sustaining a garden, provide habitat for wildlife, and give my garden a regionally appropriate look, I enjoy growing plants native to central Texas, supplemented by well-adapted and drought-tolerant non-natives, many from northern Mexico.

Mixing it up with architectural agaves and colorful salvias, feathery ornamental grasses and golden yuccas, I'm striving for a garden with four-season interest and cat-like tendencies—meaning it doesn't need my attention every single day. I like to play and relax in the garden, not just tend to it.
My garden is an essential part of my home, and I'm pleased to invite you into it through this blog. Thanks for visiting!