November 16th, 2010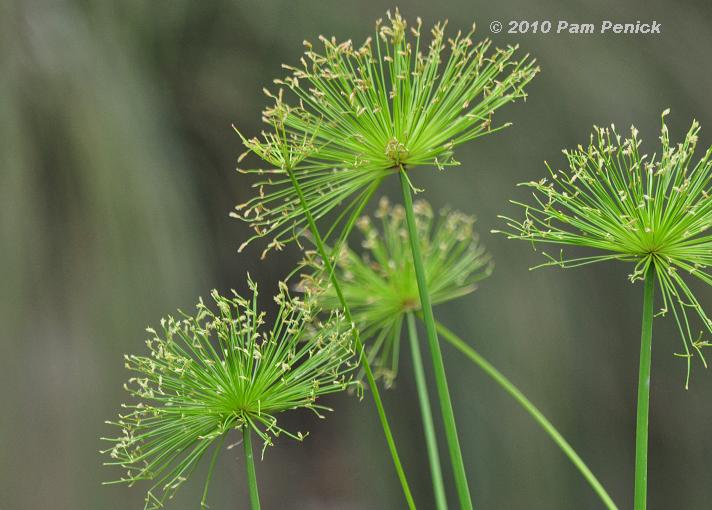 The day after Bloom Day is all about leaves, bark, stems, cones, seedheads, etc. here at Digging, and maybe on your blog as well. Join me for Foliage Follow-Up, a celebration of non-flowery plant beauty.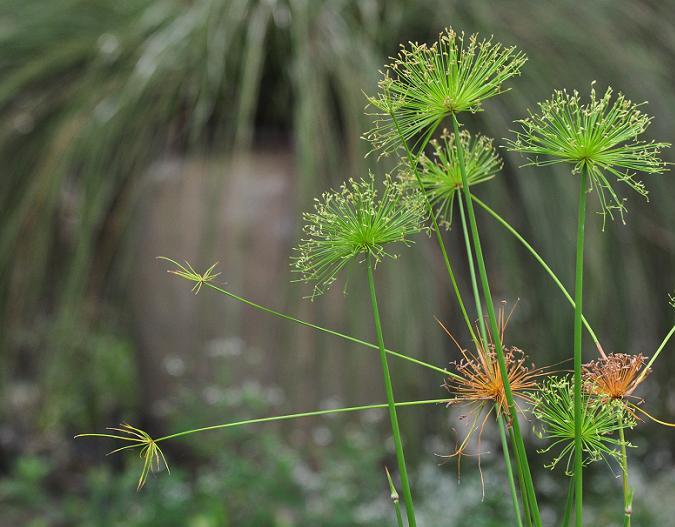 Pictured here is dwarf papyrus (Cyperus papyrus 'Nanus'), a bog plant growing in my stock-tank pond. Soon the green will turn to rusty brown, and it will go dormant through the winter.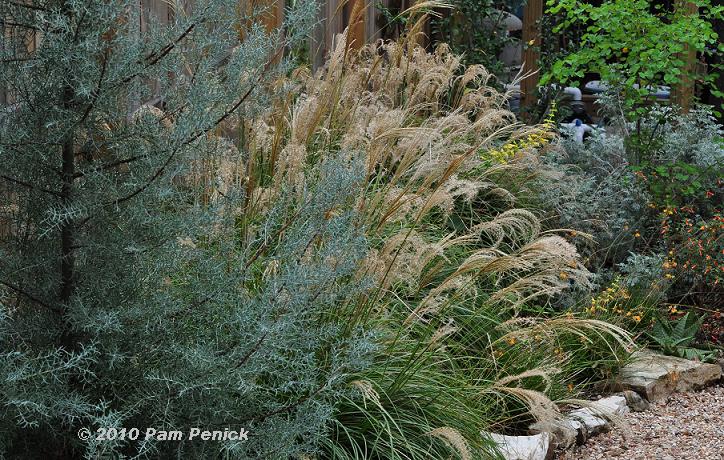 I know I keep showing the frosty foliage of 'Blue Ice' Arizona cypress (Cupressus arizonica), but I just can't help it. It's so gorgeous, especially in contrast with the coppery 'Adagio' miscanthus grass next to it. There's more silver just past the miscanthus: 'Powis Castle' artemisia.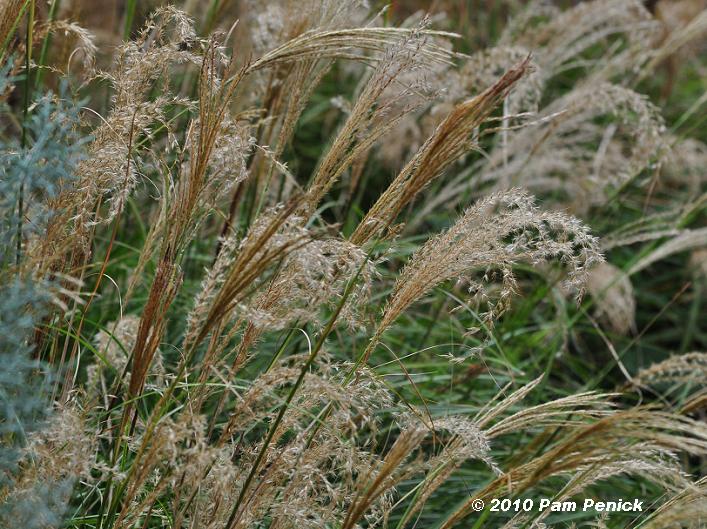 Soon the miscanthus leaves will turn shades of burgundy, orange, and gold, but for now the curling seedheads are stealing the show.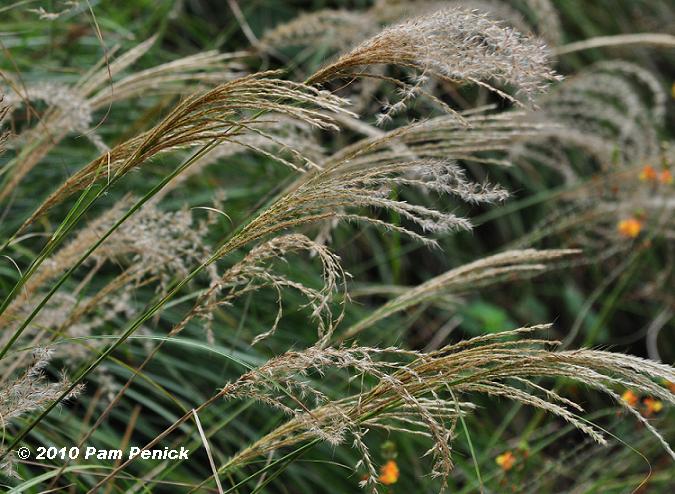 The finger-like inflorescences fan open and then curl over as they reveal the seeds.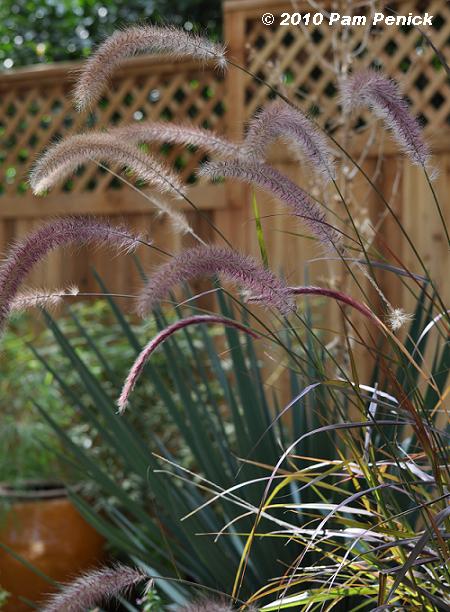 Purple fountain grass (Pennisetum setaceum 'Rubrum'), in contrast, has a fuzzy, bottle-brush inflorescence, and just look at its soft pink and purple coloring.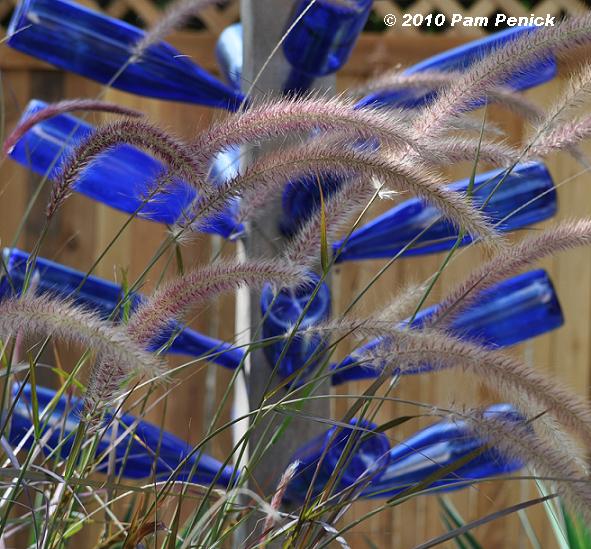 The bottle brushes are standing by to scrub out the blue bottle tree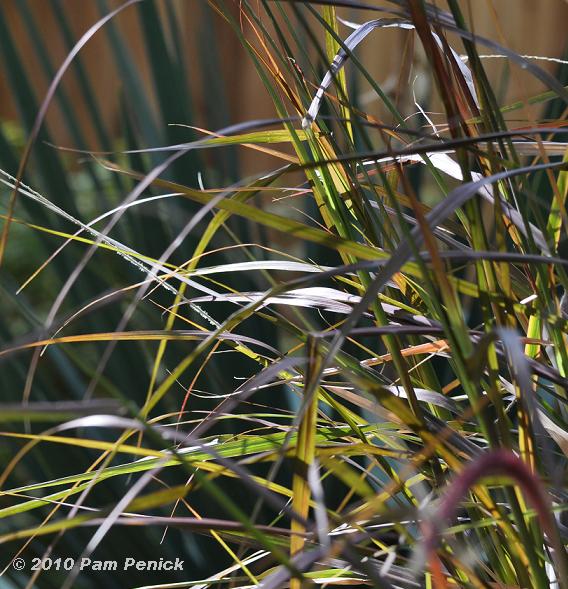 This grass's leaves go all yellow and purple in fall. Who says trees get to have all the fun with autumn foliage?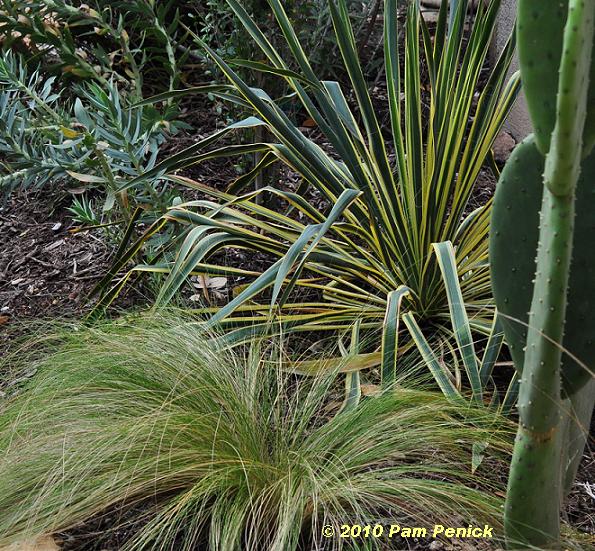 Spring-blooming Mexican feathergrass (Nassella tenuissima), in the foreground, doesn't put on a big fall display. In fact, none of the plants in this xeric grouping changes much from season to season, although the 'Bright Edge' yucca will intensify in color in cold weather. I hope to have a picture of that in a couple of months. No hurry though.
I hope you'll join me in posting for Foliage Follow-Up. If you do, please leave your link in a comment on this post so we can find it.
All material © 2006-2010 by Pam Penick for Digging. Unauthorized reproduction prohibited.