September 2nd, 2008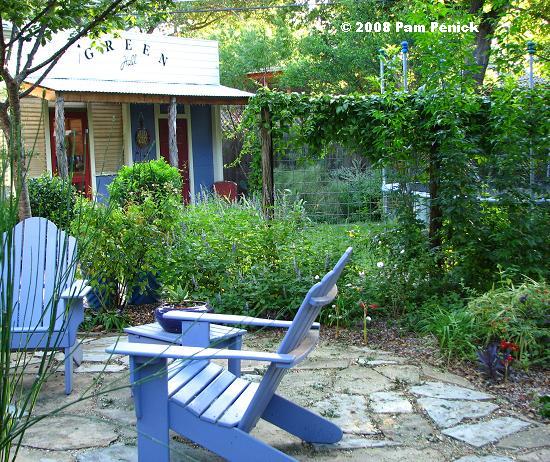 Trellis screen and crossvine after a year of growth
A year ago last spring, I built a simple trellis screen out of a heavy-gauge wire panel, three T-posts, and three cedar posts in order to separate the back patio garden from the kids' play area. I particularly wanted to hide, or at least disguise, the view of the trampoline.
The Gardening Gone Wild folks recently invited people to write about their trellises and screens, so I included a link to the post I'd already made. Brian at Meadowwood Garden was kind enough to comment on it, and he asked whether I had any photos of the screen after the vine had filled in.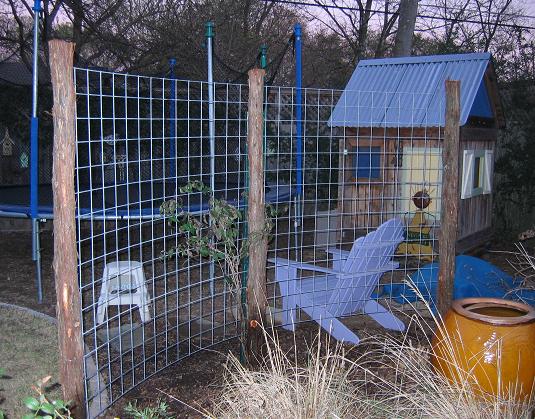 So Brian, this is for you. Here's a "before" picture, taken on the day I built it.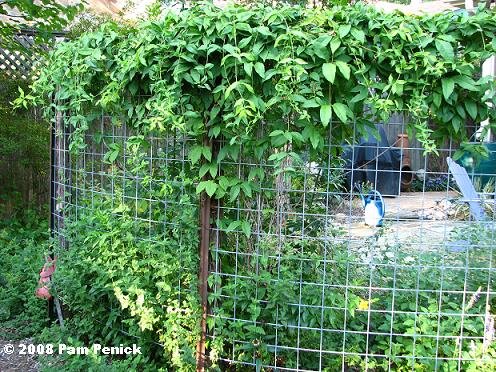 In addition to the photo at the top of the page, here's another "after" image, taken from the back (the trampoline side). The vine has filled in nicely across the top, though I should have done more threading early on to cover the midsection.
Tall yellow bells (Tecoma stans ) has shot up on the inside of the trellis, and it'll be blooming soon; it doesn't flower until late summer in my garden because it grows in the cedar elm's shade. At the base of the trellis, blue mistflower (Conoclinium coelestinum ) will also soon add to late summer's show.
The trellis screen adds background to these plants, which were growing here before, and helps support some of them. As far as garden constructions go, this has been one of the easiest, most useful, and least expensive.
All material © 2006-2008 by Pam Penick for Digging. Unauthorized reproduction prohibited.