October 14th, 2010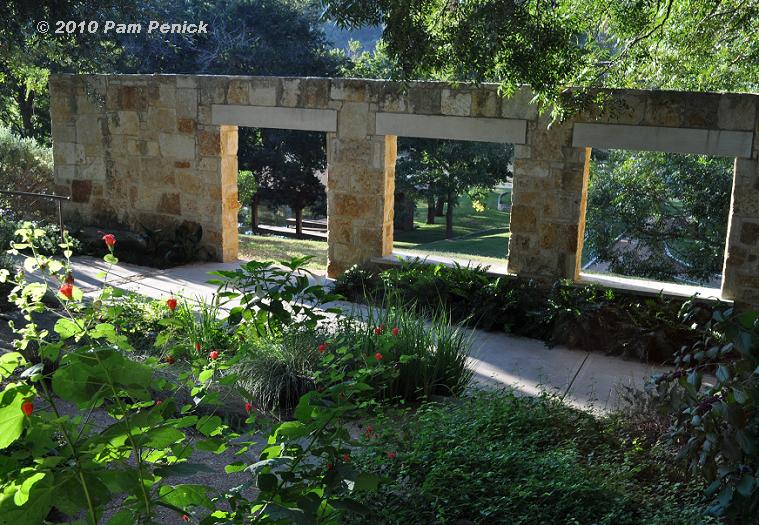 Yesterday the Director of Flora & Fauna at Lake Austin Spa, the talented Trisha Shirey, gave me an early morning tour of the spa's gardens, which she has tended for more than 26 years. A staff of nine full-time gardeners assists her in organically maintaining and updating the gardens, a 2-acre mix of common space and private courtyards, all of which is open only to guests of the spa. Landscape architect Eleanor McKinney designed the lake-side gardens, and landscape architect Patrick Smith designed the gardens in the upper grounds, including the wall and surrounding garden pictured above.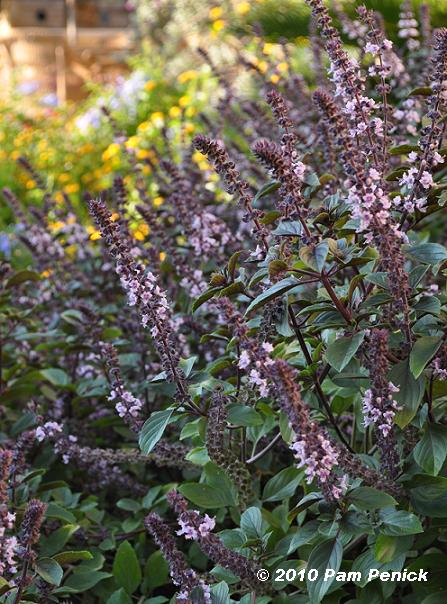 I arrived at 8:30 am and met Trisha in the main building. She led me outside to a sunny terrace where I stopped to admire an enormous, purple-tinged clump of African basil. Trisha told me that she grows it ornamentally and for the bees; she prefers other basil varieties for taste.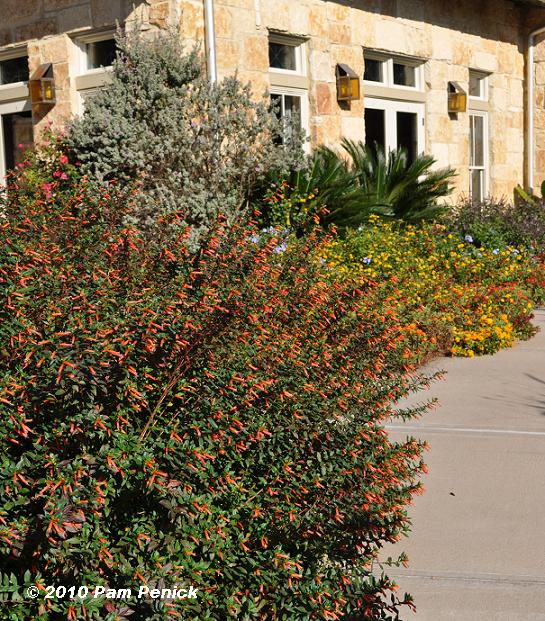 Cigar plant (Cuphea ignea) adds its orange heat and attracts hummingbirds.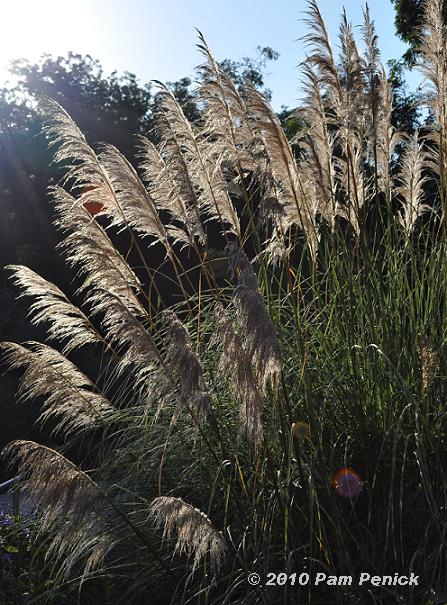 The horse tail-like plumes of pampas grass (Cortaderia selloana) catch the morning light.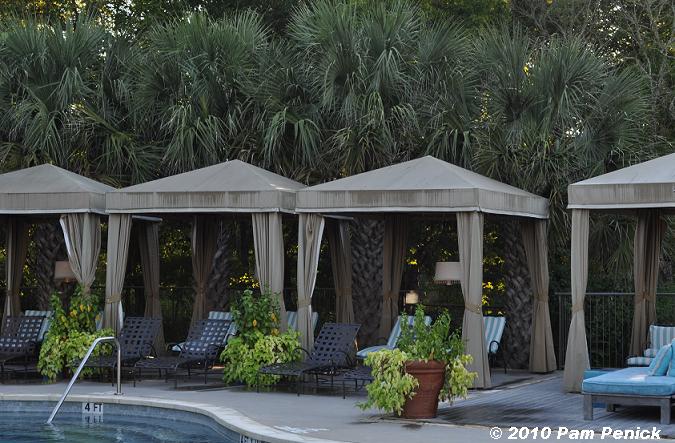 Enclosing the outdoor pool, a line of palms adds tropical flavor…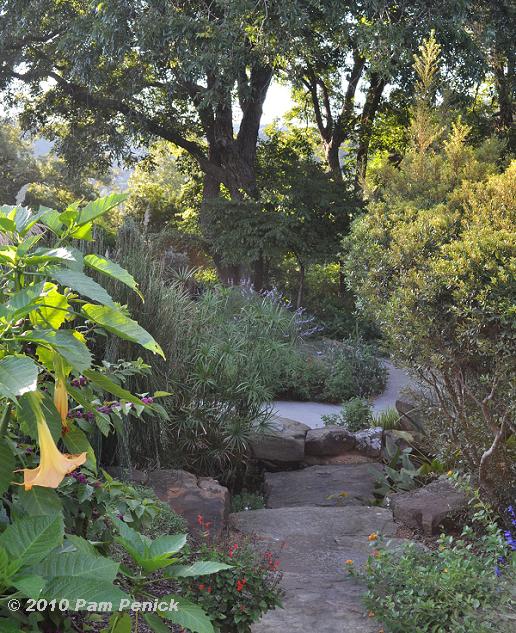 …as does a yellow brugmansia in this scene. But the majority of the plants in the gardens are tough native and adapted selections that also attract butterflies, bees, and birds. Leaf-cutter ants are Trisha's nemesis. They love the sandy, deep soil, she says, and are nearly impossible to eradicate. She uses diatomaceous earth to try to keep them at bay.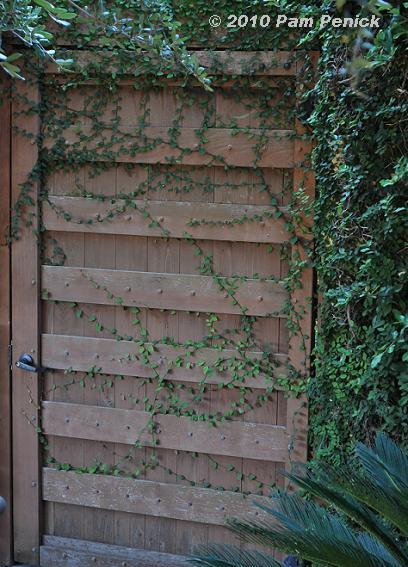 Fig ivy trails its fingers picturesquely across a gate.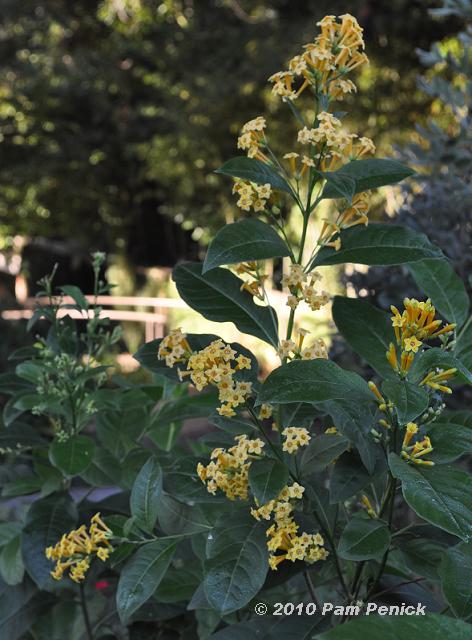 I really like the look of this yellow Cestrum. Trisha uses it throughout the gardens.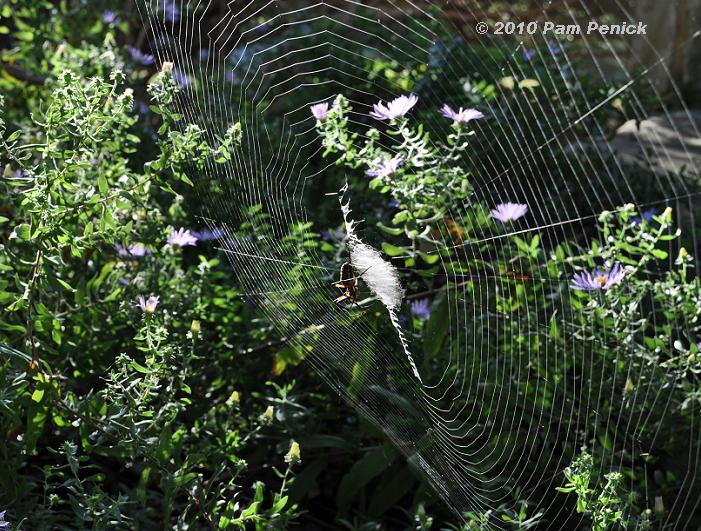 The morning light sparkles in each strand of a spider's web built in the fall aster.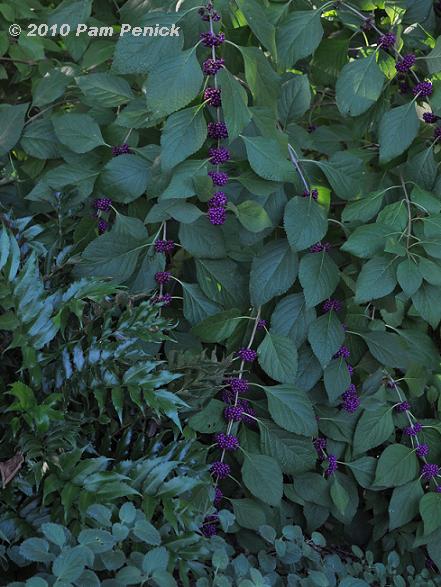 The mix of shiny, matte, and fuzzy foliage in this shady combo appealed to me: American beautyberry, holly fern, and heartleaf skullcap.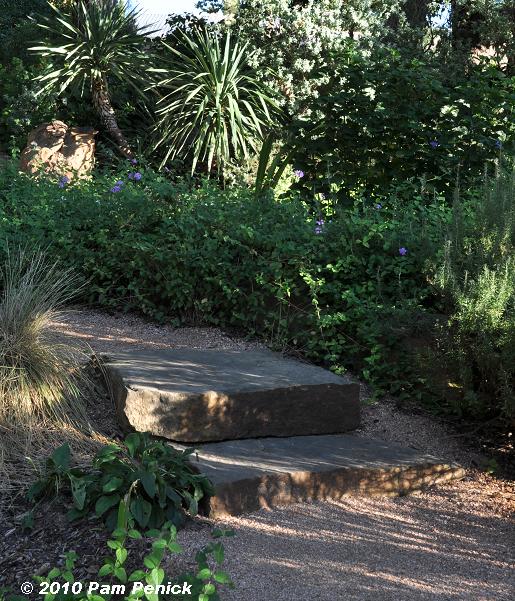 Most of the paths are decomposed granite with stone edging and large stone slabs for steps.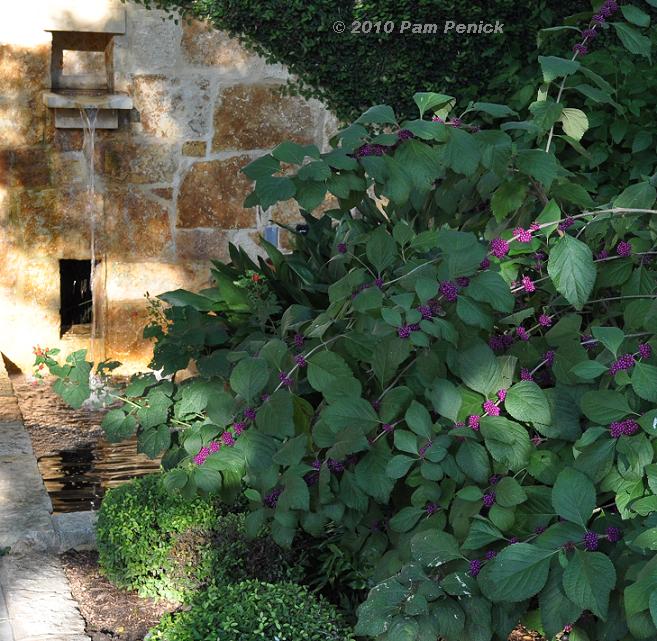 American beautyberry (Callicarpa americana) and a wall fountain add interest to a shady spot.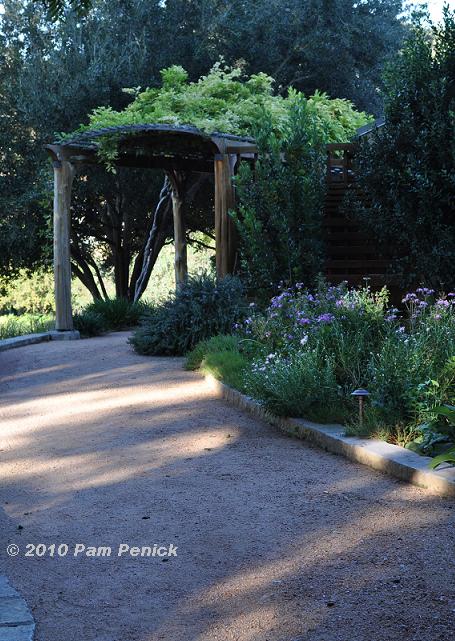 Leading to the guest accommodations, a wisteria-covered pergola offers shade for hotter days.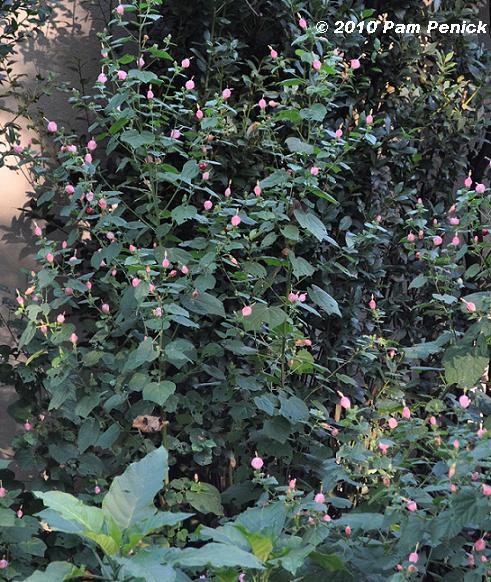 'Pam Puryear' Turk's cap (Malvaviscus arboreus var. drummondii), the largest I've seen, in full bloom.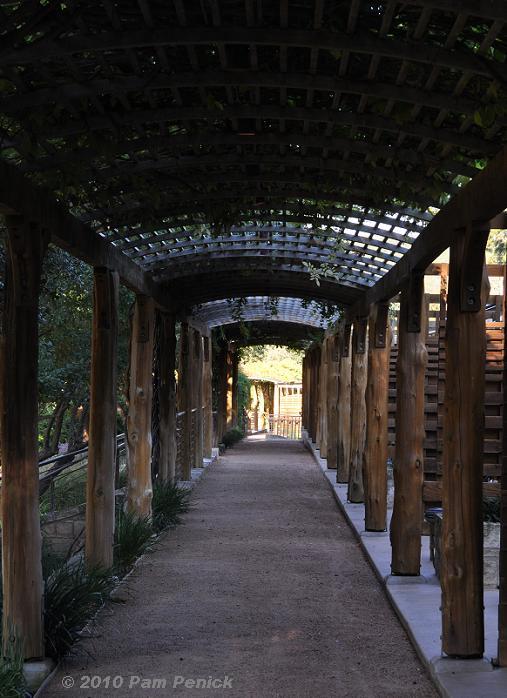 I love this structure. Along the right are openings to the guest suites, each with a semi-private patio and mini-garden overlooking Lake Austin.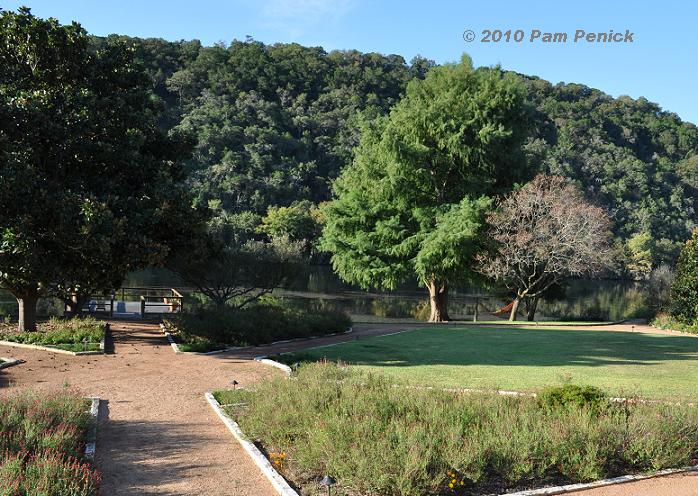 Here is the view some of them enjoy. Even in the sunniest spaces, spiky agaves and the like are conspicuously missing, and when I asked Trisha about it, she said the goal was a soft, touchable garden that wouldn't feel dangerous to the guests.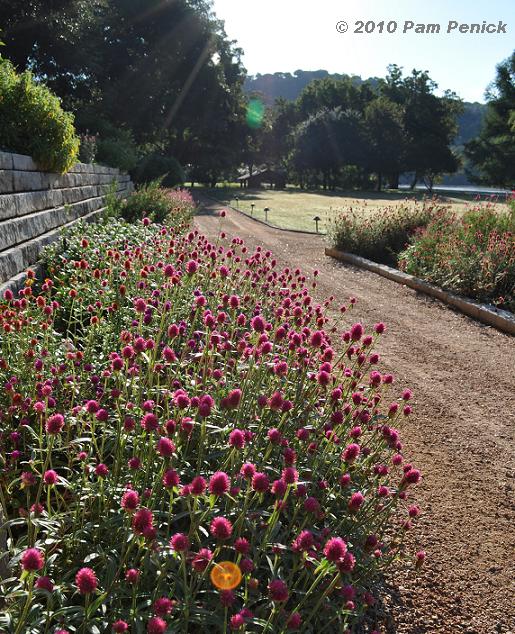 Bachelor's buttons (Gomphrena globosa) line a gravel path at the base of the retaining wall.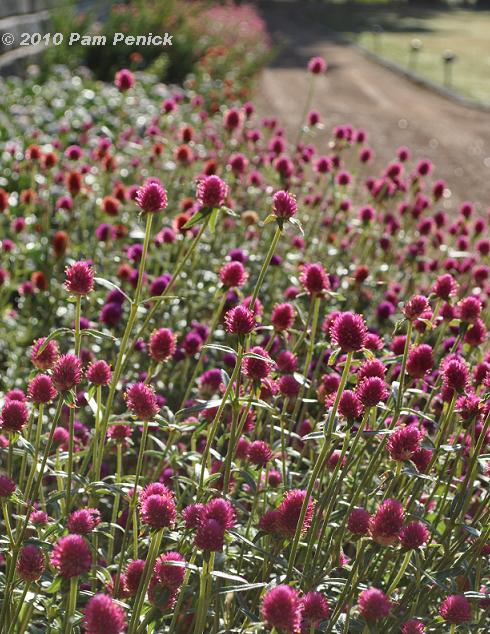 A closer look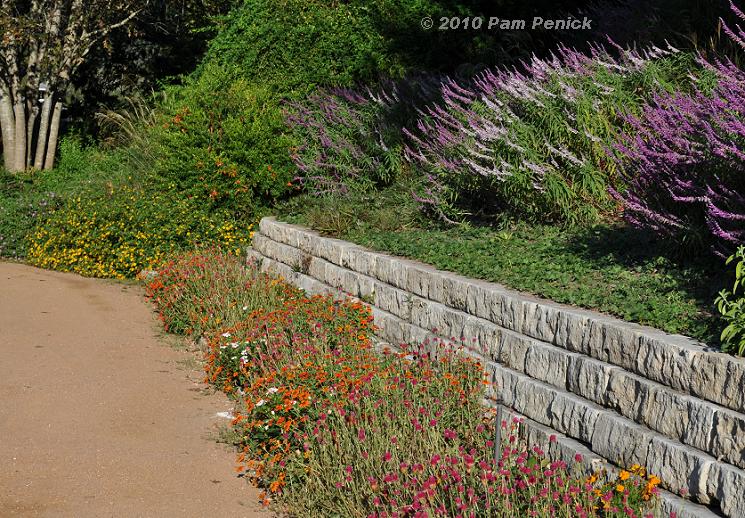 Mexican bush sage (Salvia leucantha) leans appealingly over the wall. All the plants in the lower garden must be deer resistant, Trisha told me.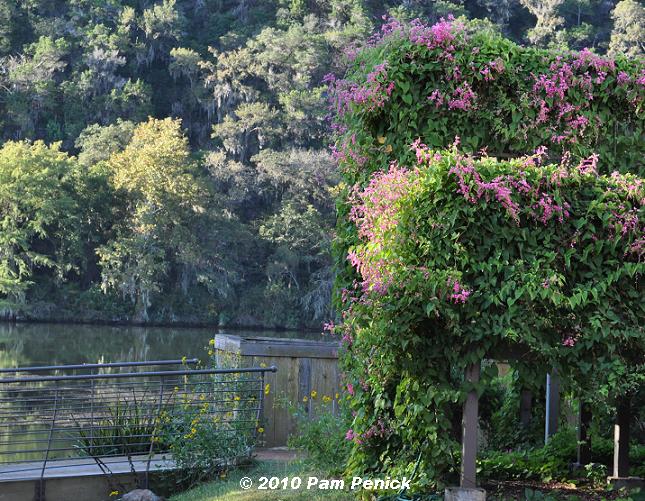 Coral vine (Antigonon leptopus), sometimes called queen's wreath, entirely drapes a stairway to an upper story. They have to whack it back hard in order to use the stairs.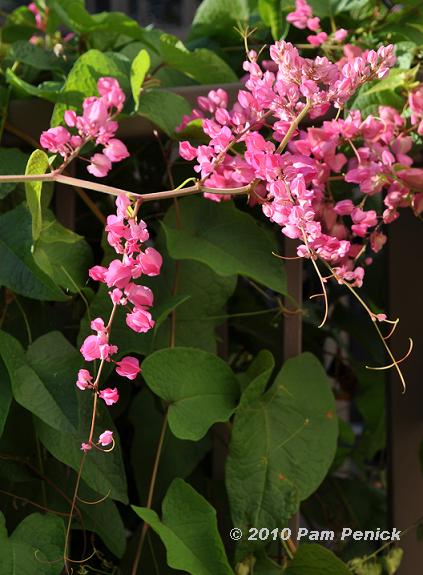 Its delicate tendrils of pink flowers (not coral, despite the name)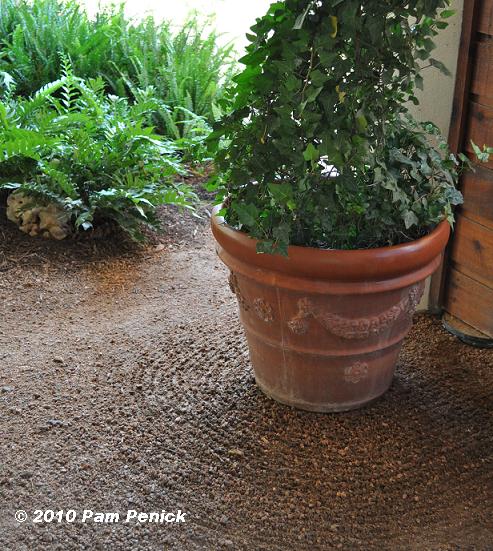 Under a building raised on piers for flood protection, a shady garden includes this ivy topiary set in a raked circle of gravel.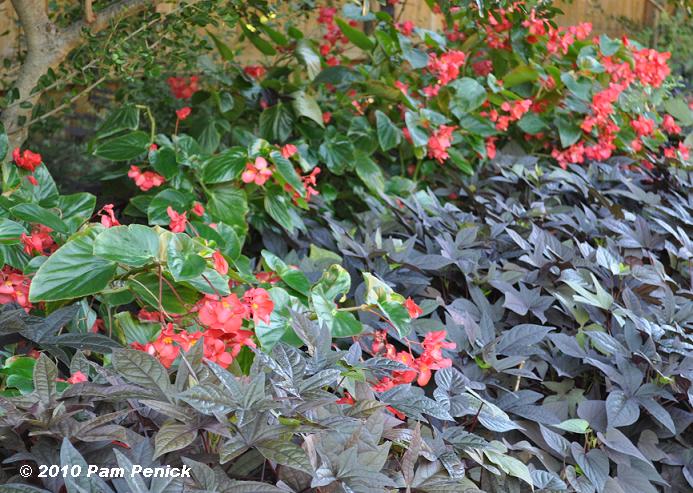 Annual color: angel-wing begonia and sweet potato vine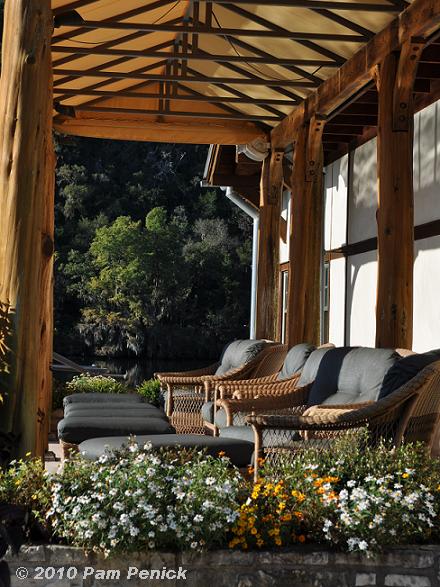 A comfortable terrace for watching the sun rise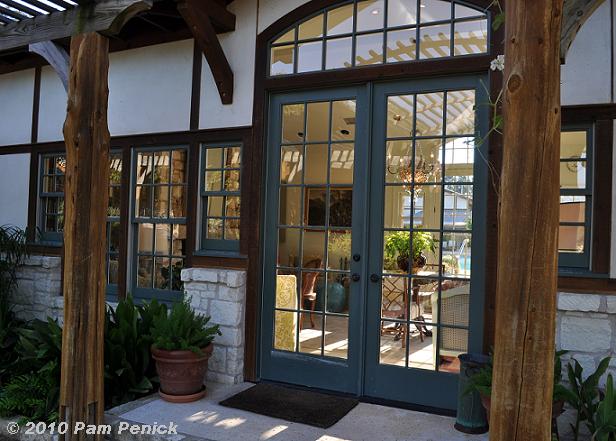 I couldn't resist a peek inside this building. I like the blue-green doors.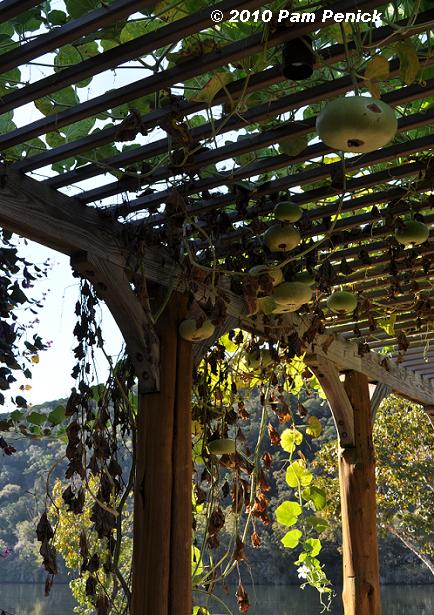 Growing up the pergola, ripening gourds dangle overhead.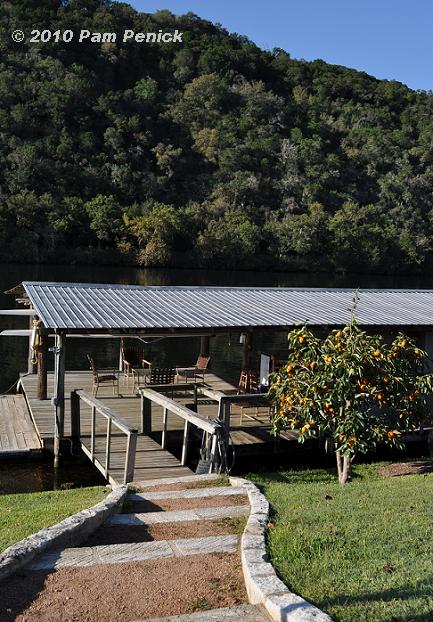 Steps lead down to a covered dock. That's a persimmon in full fruit beside it. Trisha said that as lake levels are managed, this whole space can be flooded for weeks at a time. The entire dock has been submerged, and she's had to prune lakeside fruit trees in hip waders.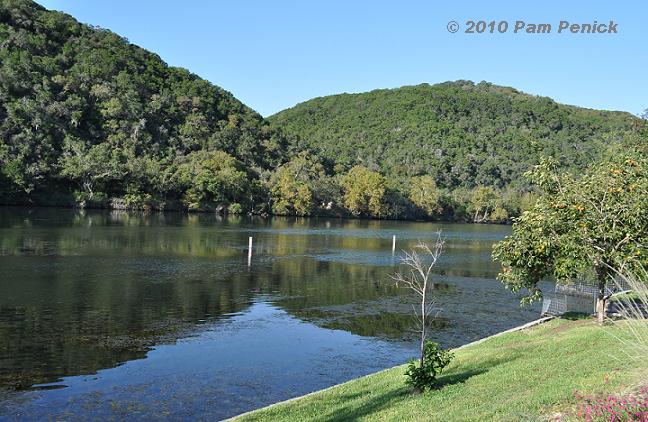 I am always struck anew by the beauty of Austin's lakes. This is Lake Austin, which becomes Lady Bird Lake (formerly Town Lake) after the dam and goes through downtown.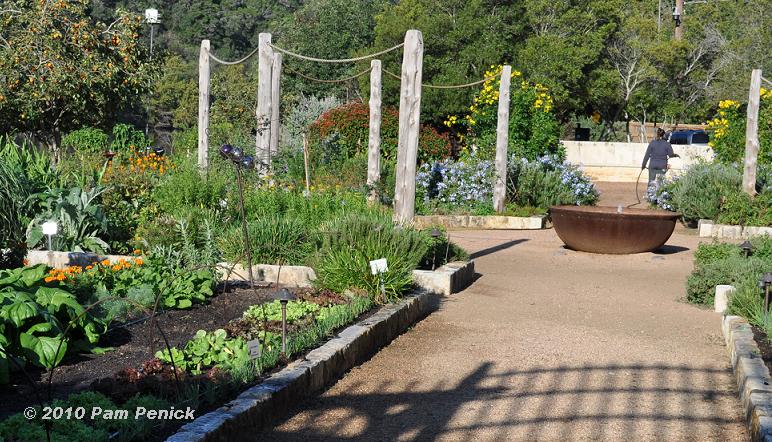 A large vegetable garden is tended near the lake. To my surprise it was unfenced and open to deer. Trisha explained that they use scents and sprays to repel deer and interplant tasty items with strong-smelling herbs and other plants that deer don't like. I was still amazed that it worked.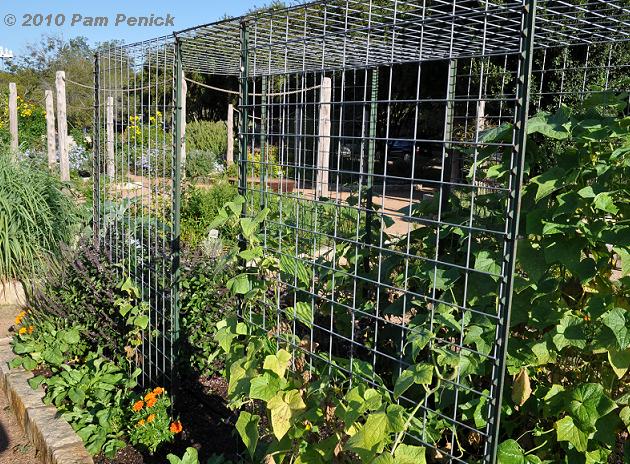 A nifty use for cattle panel—support trellises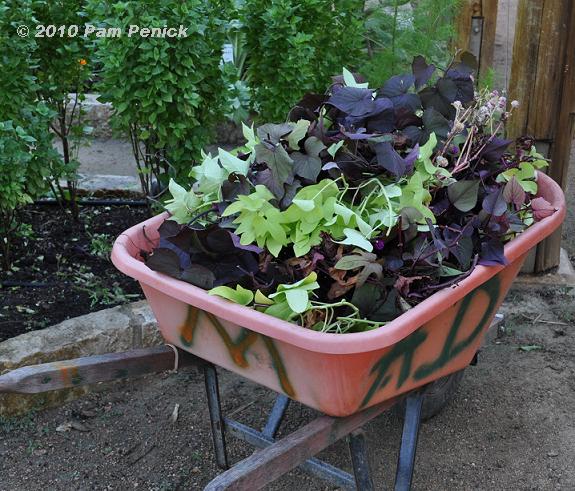 Staff were busy in the garden. Fading sweet potato vines were being pulled out.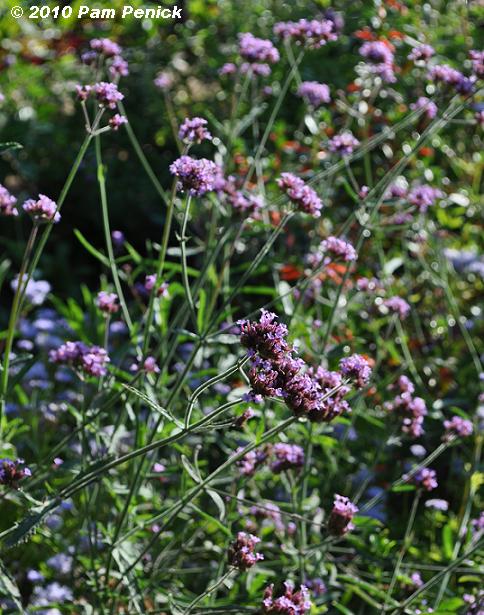 Verbena bonariensis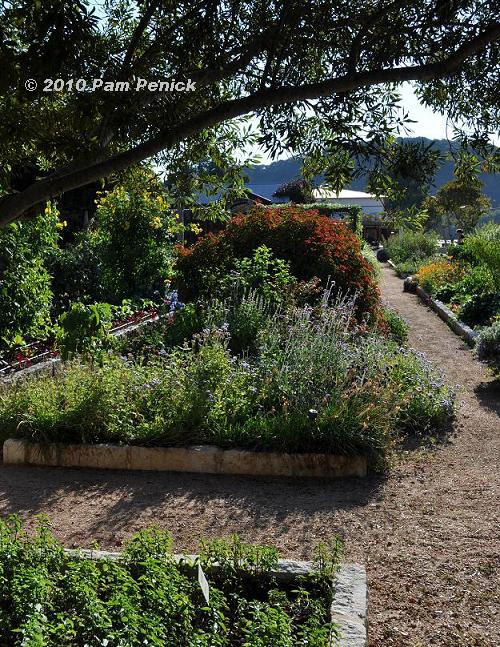 The vegetable garden has generous helpings of ornamental plants mixed in, like salvias and firebush.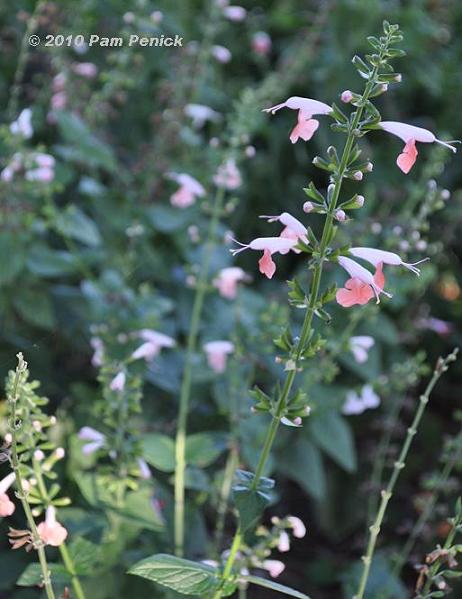 Salvia coccinea 'Coral Nymph' adds soft color to a tree-shaded bed. I think this would look smashing with the pink Turk's cap, don't you? Don't be afraid of pink.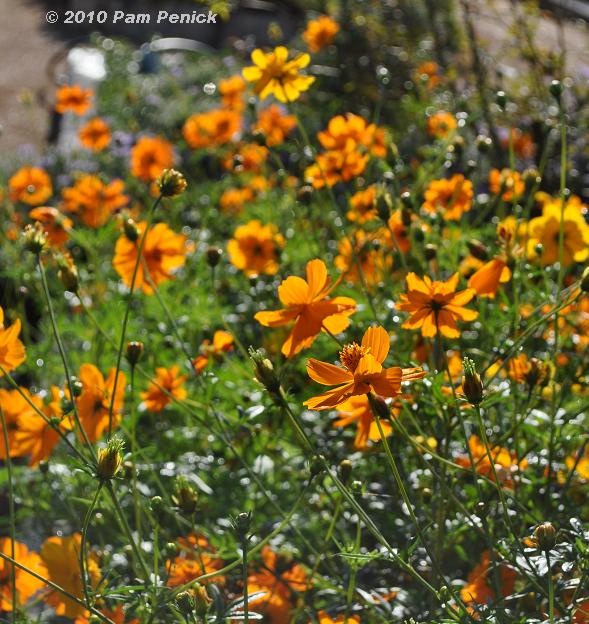 Don't be afraid of orange either.
OK, you can be a little afraid of orange cosmos, which seeds out prolifically.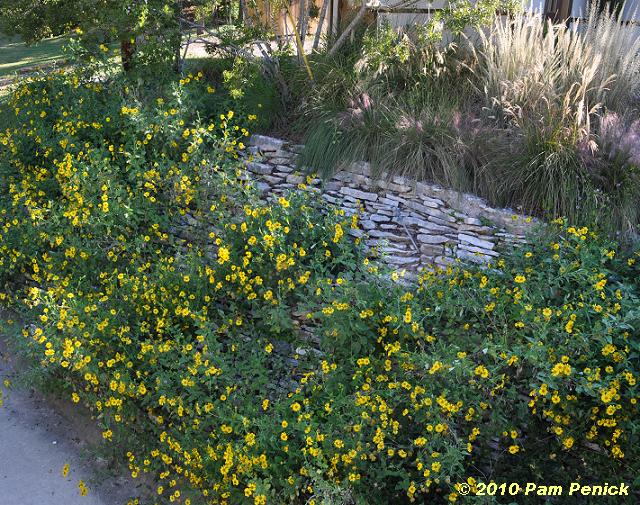 Below a bridge, growing wild in a limestone-edged drainage area, cowpen daisy (Verbescina enceloides), also known as golden crownbeard, makes a beautiful show. Trisha says that "it is invasive as heck but blooms like crazy. Loves fertile soil, hence the cowpen name. It is a larval food for the bordered patch butterfly, and sometimes there will be several hundred caterpillars per plant."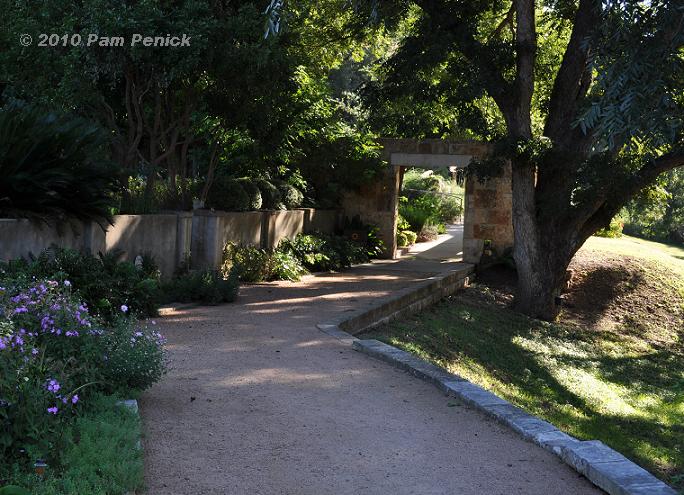 Heading back. I love these stone doorways.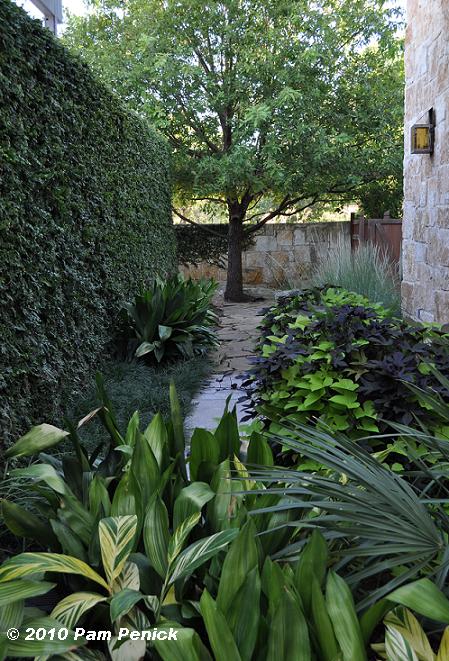 With thanks to Trisha, I said goodbye and departed through a shady courtyard.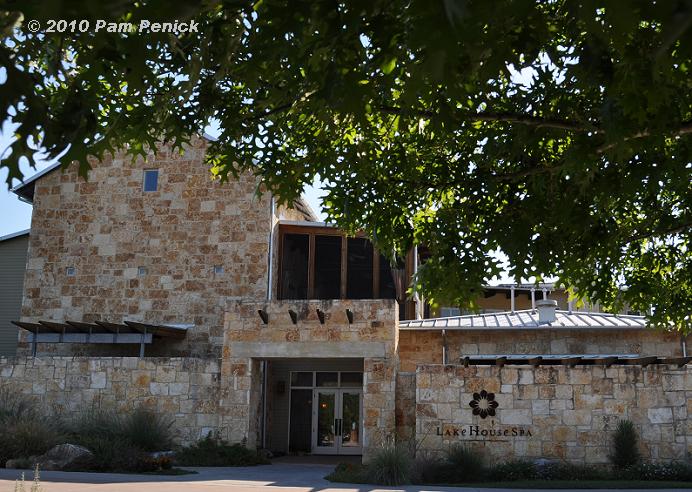 What a beautiful garden Lake Austin Spa offers its guests. Once a dull sweep of lawn beneath a pecan orchard, the grounds have been transformed over the years into gardens that complement the character and increase the appeal of the rustically elegant buildings. Thank you, Trisha, for your time in showing me the gardens!
All material © 2006-2010 by Pam Penick for Digging. Unauthorized reproduction prohibited.
posted in
Arbors
,
Berries
,
Bugs
,
Containers
,
Doors
,
Edibles
,
Fall color
,
Fountains
,
Garden tours 2010
,
Gates
,
Grasses
,
Lakes
,
Palms/Cycads
,
Paths
,
Seating
,
Sustainable Gardening
,
Vines
,
Walls
,
Water features