September 15th, 2010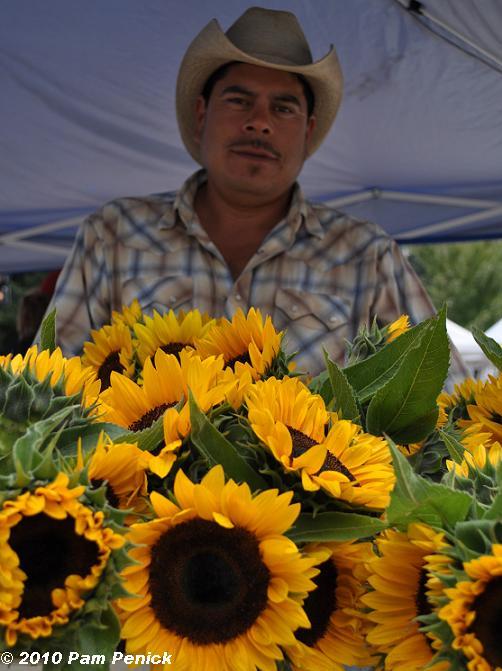 Having just returned from a trip to Madison, Wisconsin, where my husband competed in his first Ironman triathlon, I want to treat you to pics from the delightful Dane County Farmers' Market on the Capitol Square last Saturday.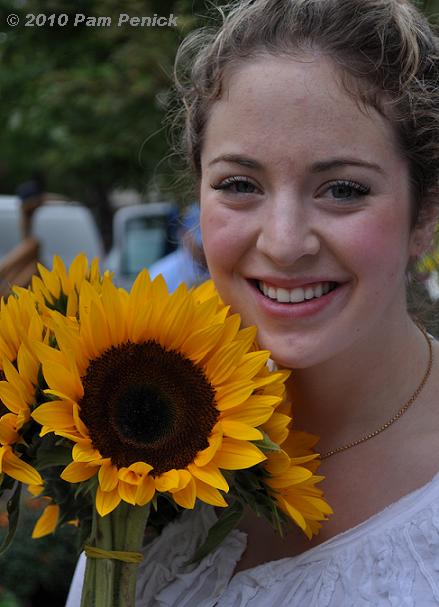 Overcast skies and a little rain could not dampen shoppers' spirits that morning, not with so many brightly colored, homegrown bouquets to tempt them.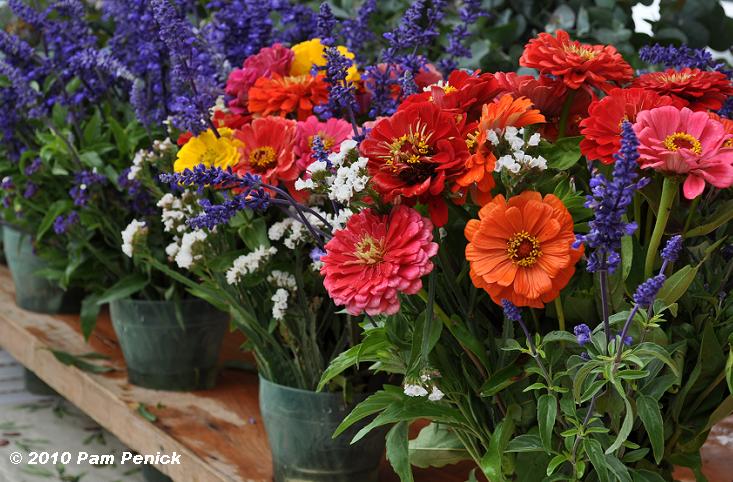 The market's website proclaims it to be the largest producer-only farmers' market in the country. All the flowers, vegetables, and other wares must be produced locally "by the vendor behind the table."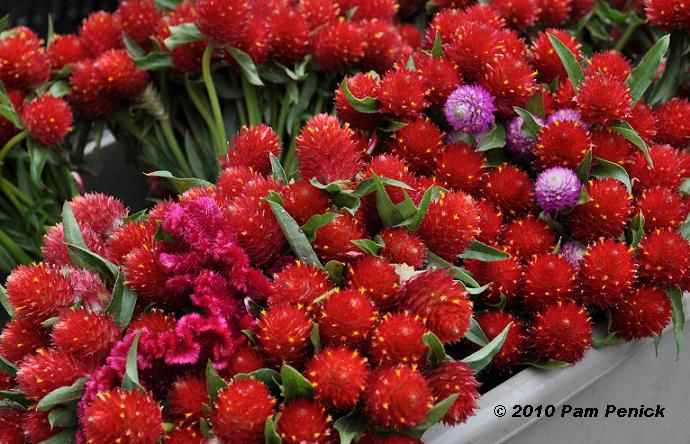 Gomphrena stood out among a sea of zinnias, Salvia, and sunflowers.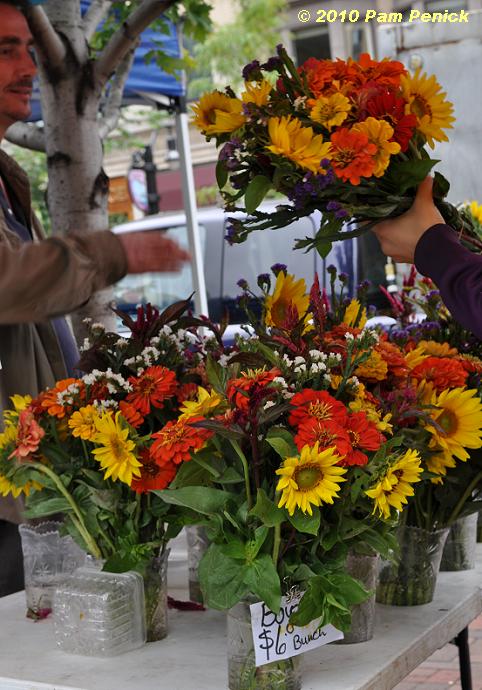 For $6, on average, you got a big handful of bright flowers for your table.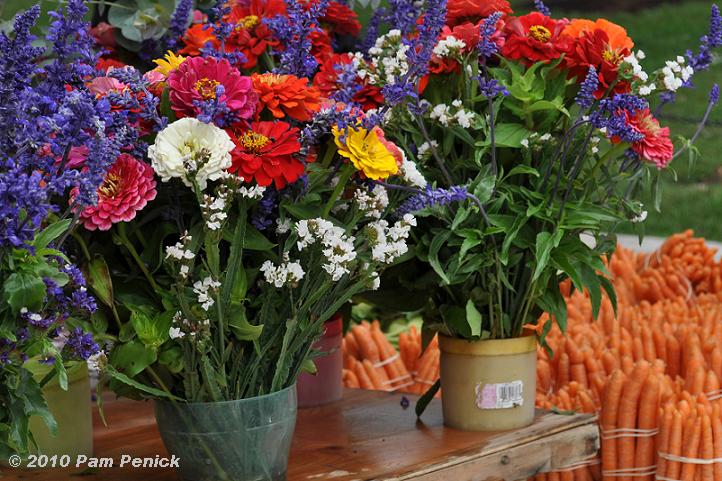 Is there anything sweeter than a homegrown bouquet?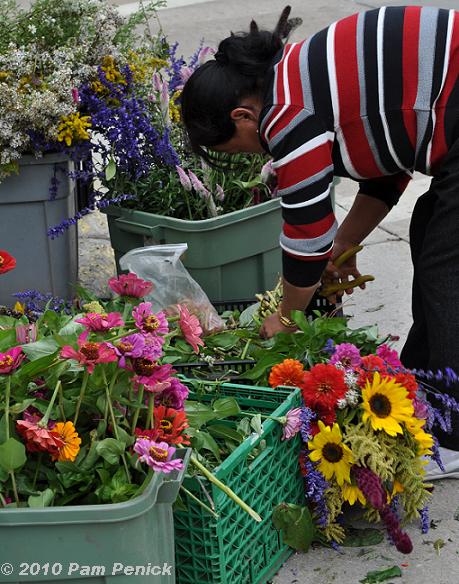 Fresh posies were being assembled by family members as sales were brisk at the tables.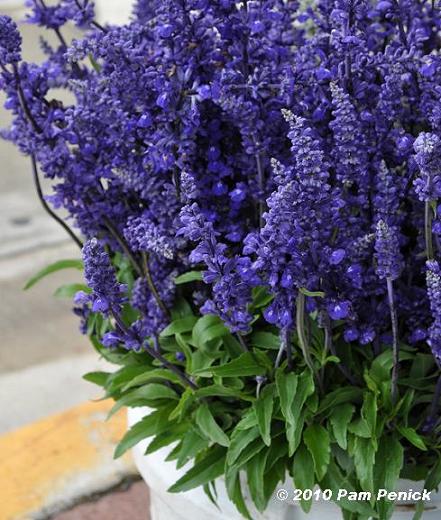 A bucket full of Salvia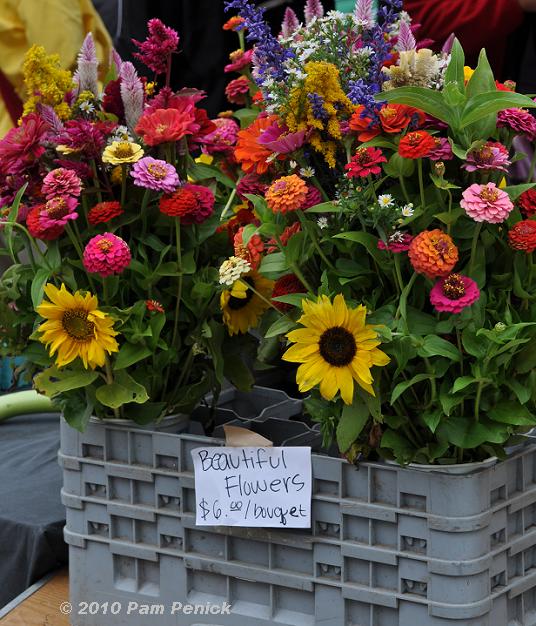 Beautiful flowers, indeed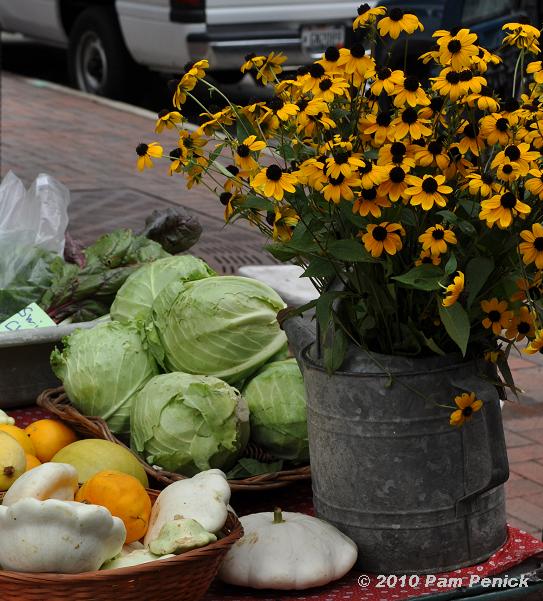 Black-eyed Susans brighten a table of squash and cabbages.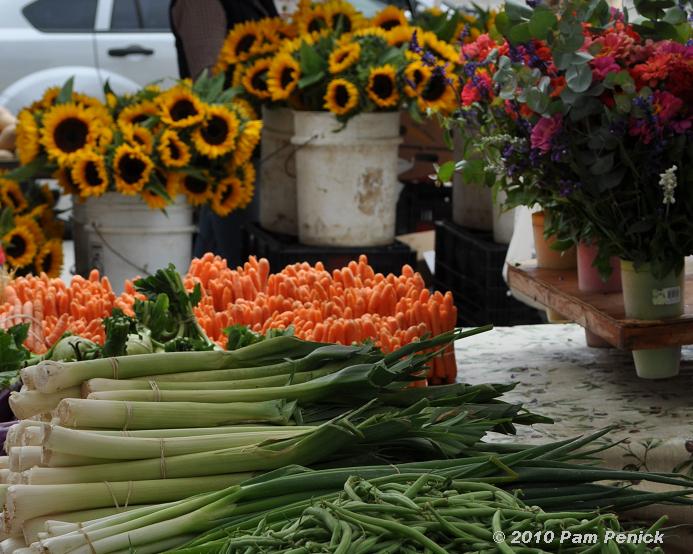 The vegetables were equally as tempting as the flowers.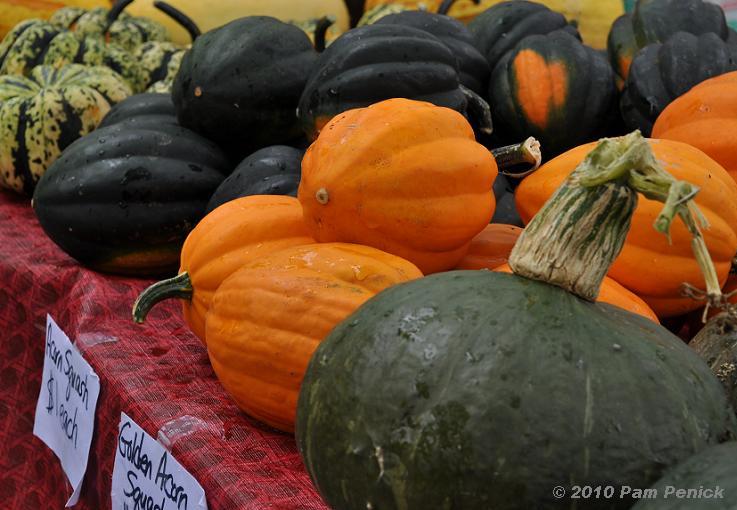 Squash offers the first taste of fall.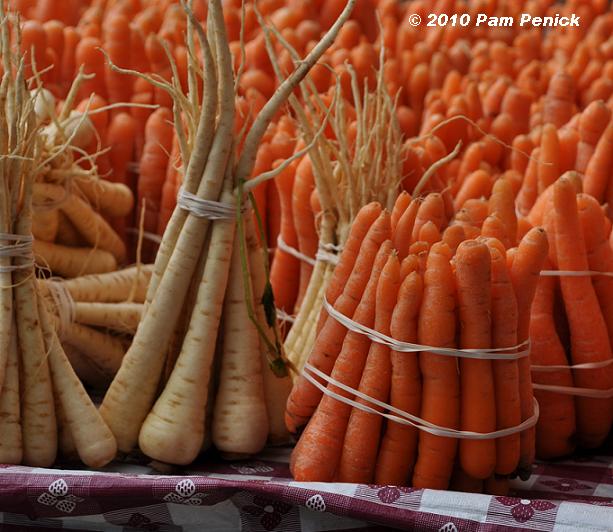 Parsnips and carrots, bundled like haystacks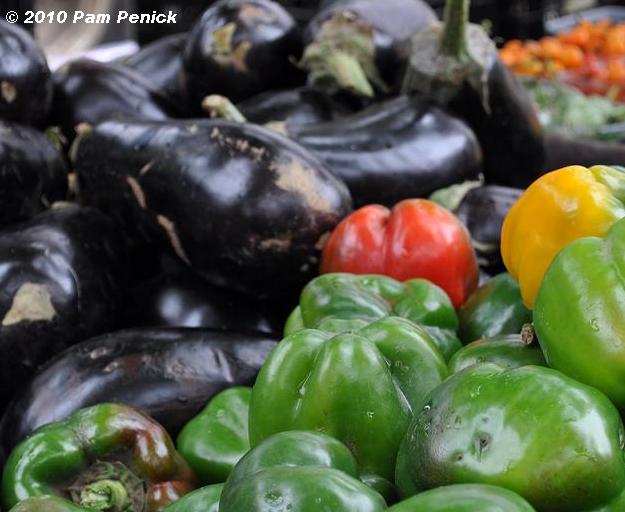 Eggplants and bell peppers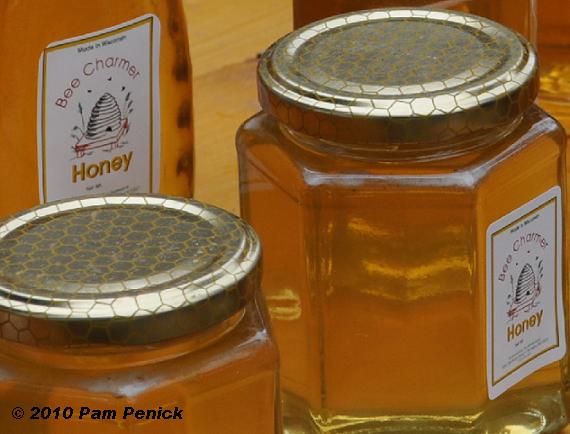 Bee Charmer honey, charmingly canned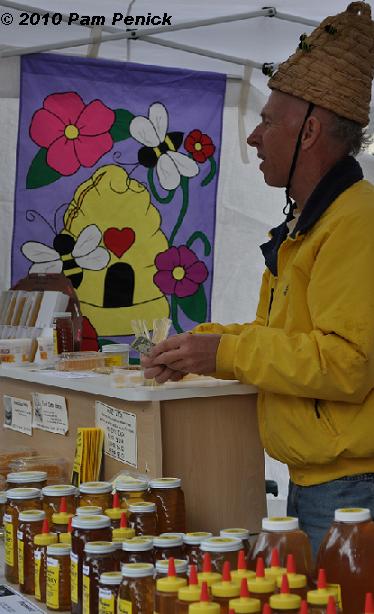 Another honey vendor wore an amusing bee skep hat.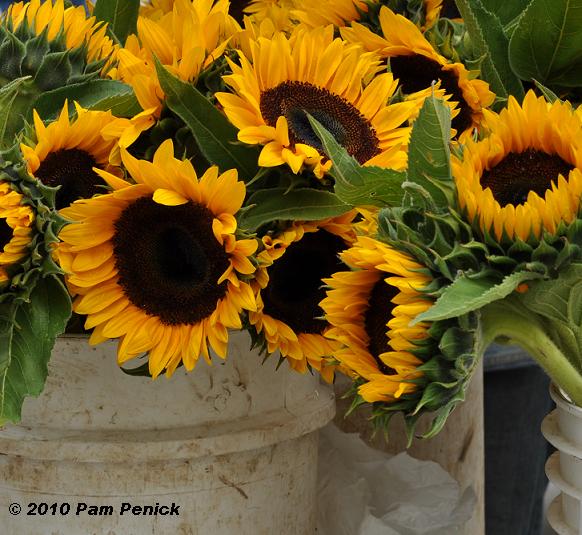 But for me, it all came back to the sunflowers.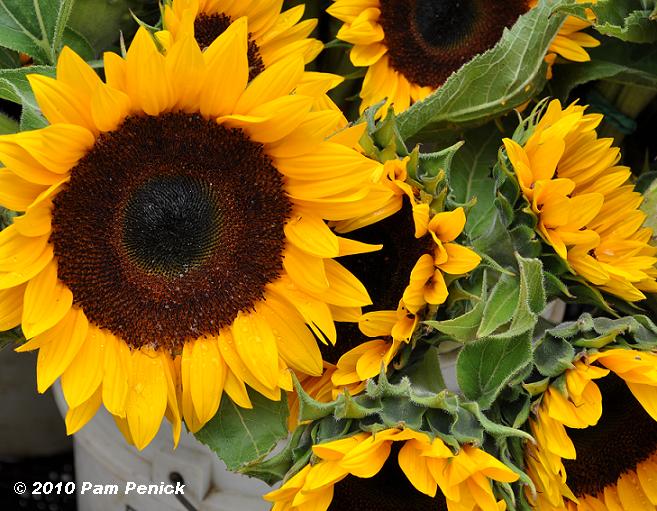 Bold and bright, the color of sunny, golden autumn days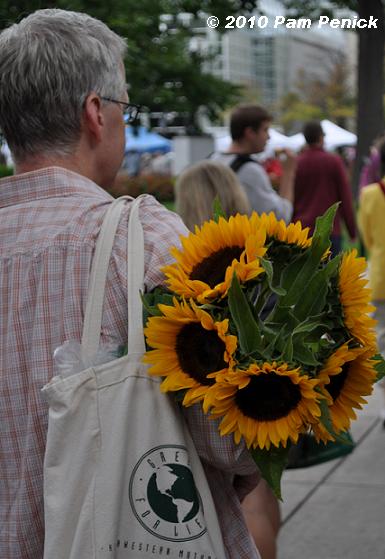 Irresistible, aren't they?
To see what's blooming in gardens around the world, visit May Dreams Gardens for more Bloom Day posts. Remember that tomorrow is Foliage Follow-Up, in which bloggers are invited to post about their favorite foliage, bark, seedpods, etc. for this month. Please leave a link to your post in my comments tomorrow so that I can find your foliage post.
All material © 2006-2010 by Pam Penick for Digging. Unauthorized reproduction prohibited.