August 24th, 2010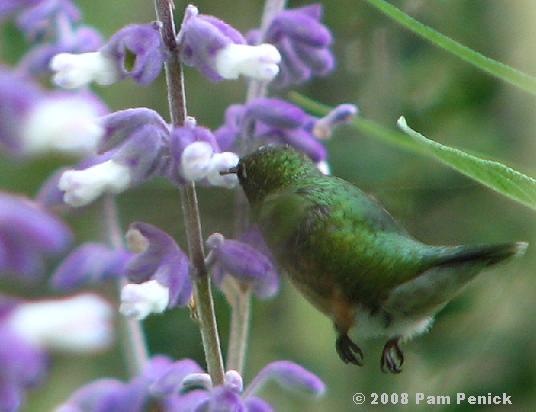 Just in from a morning stroll through my garden, and what delights I witnessed. A tiny, blurry-winged hummingbird making the rounds from Mexican oregano to flame-leaf acanthus to Turk's cap to Agastache. Honeybees spelunking for pollen. A leggy, spotted fawn tucked into a stand of bamboo muhly in the unfenced front garden, who bolted skittishly because I unknowingly stood too long near his hiding place.

Had I a typical expanse of flat, featureless lawn (like this example on Watersaver Lane at San Antonio Botanical Garden), relieved only by a few shade trees and a line of evergreen foundation shrubs, devoid of insect- and bird-attracting flowers and seeds, empty of plants that provide shelter, nurseries, and food for wildlife, I would not see many such visitors. Why would they visit a virtual desert, particularly if it were sprayed regularly with pesticides? And if they wouldn't, why would we want to?
So how does one go about inviting wildlife into the garden from a design perspective?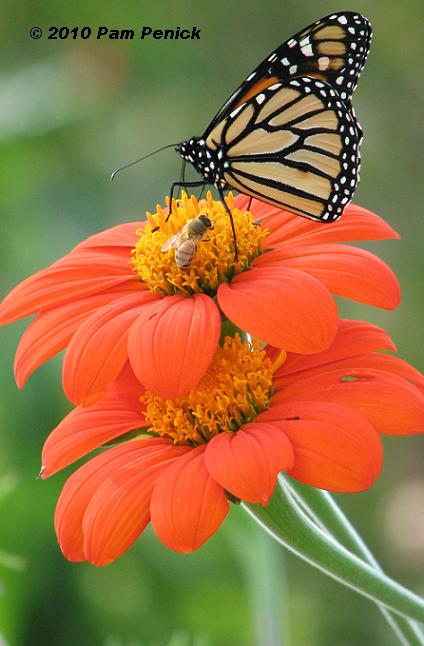 1. Plant a variety of plants that change with the seasons, offering flowers for nectar or pollen, foliage for food or nests, and seeds for late-season food supplies. Using a very limited palette of plants may provide that clean, contemporary look you see in certain design magazines, but it won't be as attractive to wildlife.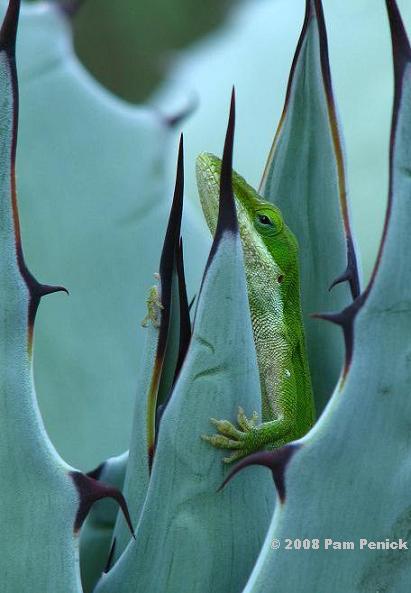 2. Add a mid-level of plants that fill the niche between lawn and shade trees. These plants provide shelter and food for wildlife. Think small trees; small to medium-sized shrubs, particularly those with fall or winter berries; ornamental grasses; and flowering perennials.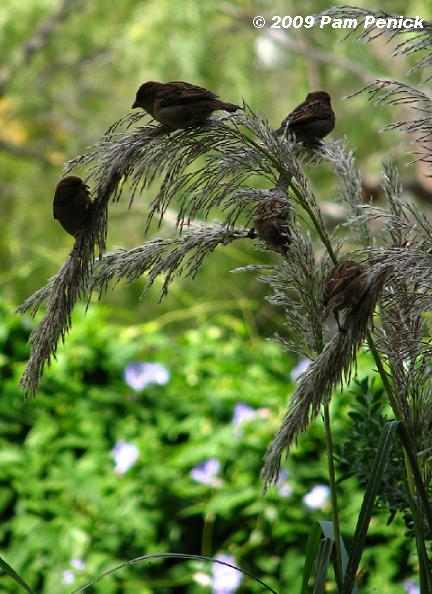 3. Don't be in a hurry to "clean up" the garden in winter. Seedheads left standing provide food for birds, and even shriveled foliage and leaf litter offer protection for beneficial insects, lizards, etc.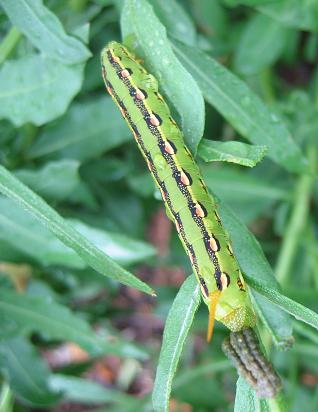 4. Be tolerant when a plant gets "attacked" by caterpillars. Without caterpillars we wouldn't have butterflies—or sphinx moths in this case.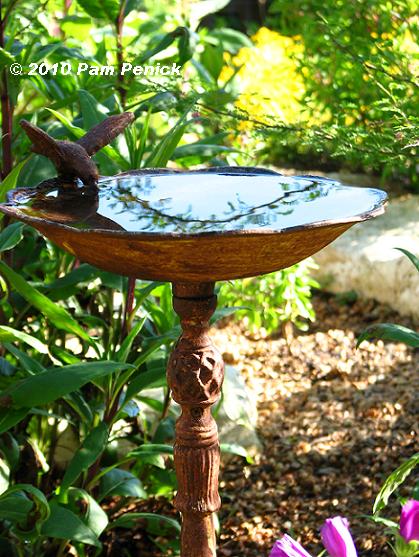 5. Add water to your garden. Birds and insects get thirsty and need a safe place to drink. Provide a bird bath or small pond, and they will come.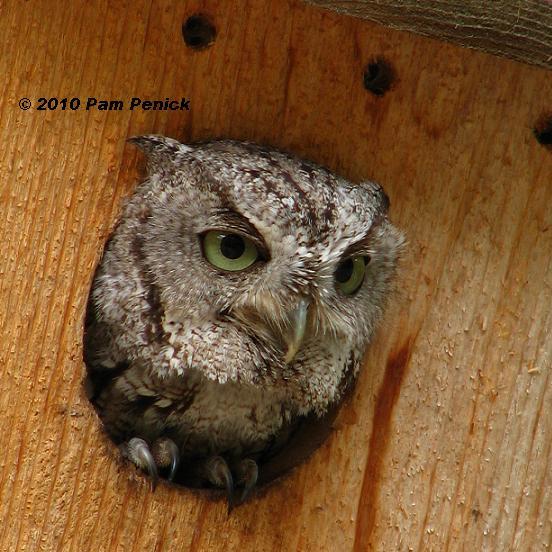 6. Add nesting boxes to your garden. They not only offer birds a safe place to raise chicks but provide hours of enjoyment for you as you watch them get fed and learn to fly.
Visit all the participants in this month's Garden Designers Roundtable for more posts about Gardening with Nature:
Debbie Roberts : A Garden of Possibilities : Stamford, CT
Douglas Owens-Pike : Energyscapes : Minneapolis, MN
Genevieve Schmidt : North Coast Gardening : Arcata, CA
Pam Penick : Digging : Austin, TX
Rebecca Sweet : Gossip In the Garden : Los Altos, CA
Scott Hokunson : Blue Heron Landscapes : Granby, CT
All material © 2006-2010 by Pam Penick for Digging. Unauthorized reproduction prohibited.
posted in
2nd garden--2010
,
Bees
,
Berries
,
Birds
,
Bugs
,
Butterflies/Moths
,
Design
,
Designers Roundtable
,
Lawns
,
Lizards
,
Sustainable Gardening
,
Wildlife