June 3rd, 2006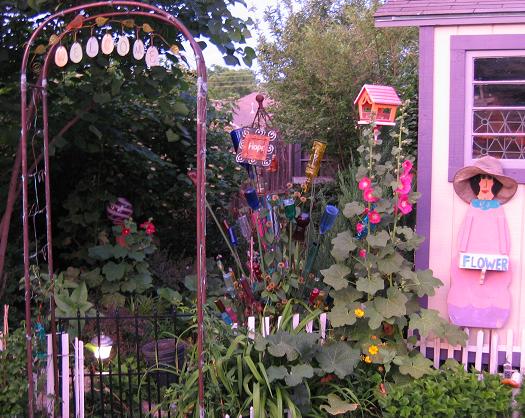 I've been away for a week in Tulsa, Oklahoma, visiting my mom. We spent several pleasant (mosquito-free!) afternoons in her cottage garden brimming with hollyhocks. Crowded around her purple garden shed, towering more than 6 feet tall, with flowers as broad as salad plates, Mom's hollyhocks bloom in a rowdy mix of colors ranging from blush peach to hot pink.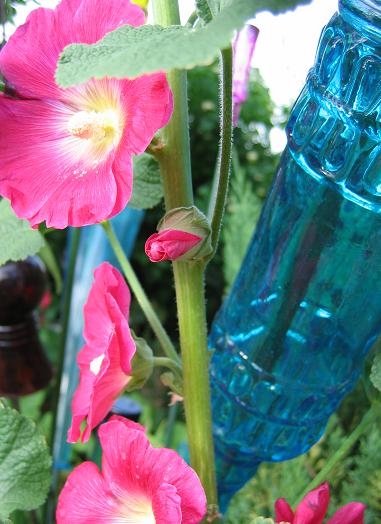 I can't grow hollyhocks in my hot, dry Austin garden. Man, am I jealous now. Her garden is full of these exuberant, old-fashioned beauties, jumbled willy-nilly among her garden art. Here are some of the hot pinks next to a blue bottle on her bottle tree.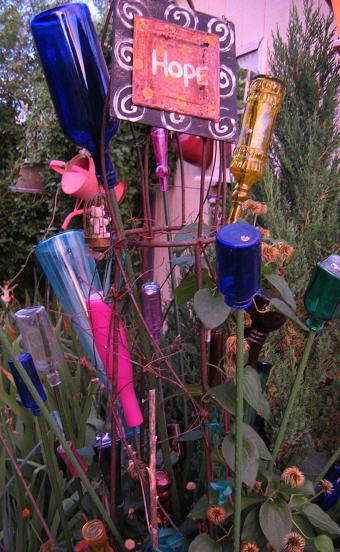 It's more of a bottle bush. Mom created her version of this Southern yard-art tradition by poking garden stakes in the ground and sliding colored-glass bottles upside-down on the ends. Now I've got to have a bottle tree too. More on this later.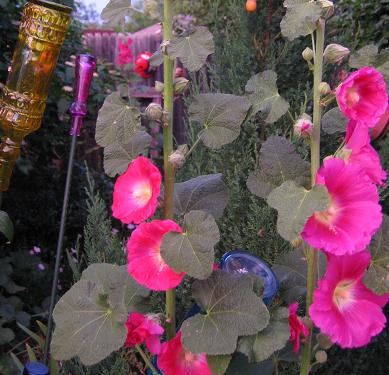 More pink hollyhocks . . .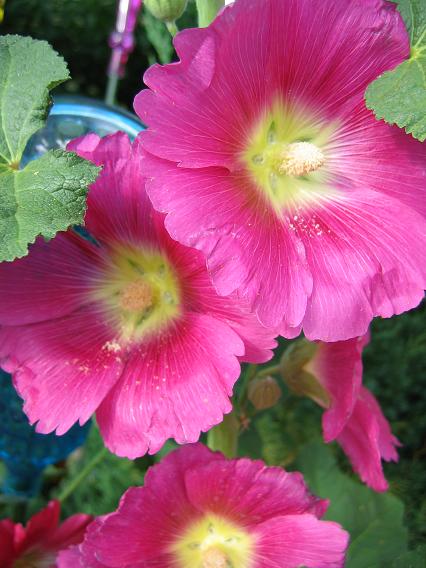 and more . . .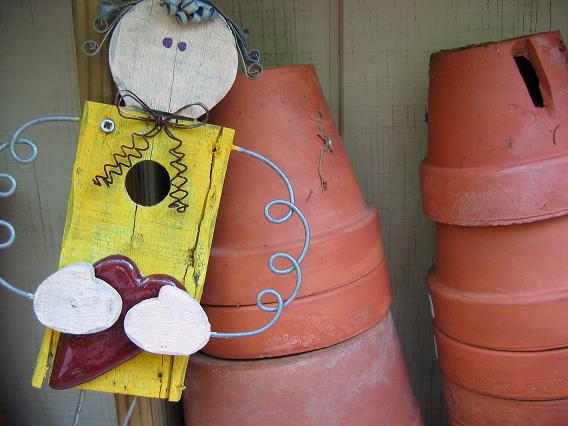 Even the potting bench is cheerfully decorated.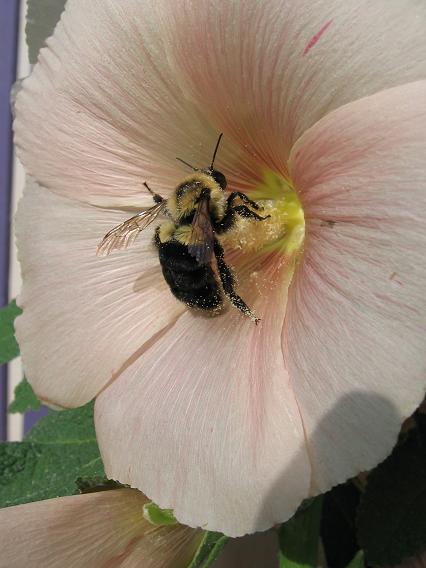 This bumblebee staggered from hollyhock to hollyhock, completely covered in pollen, seemingly drunk on the stuff. It would crawl into a blossom and wallow around, then buzz over to the next flower.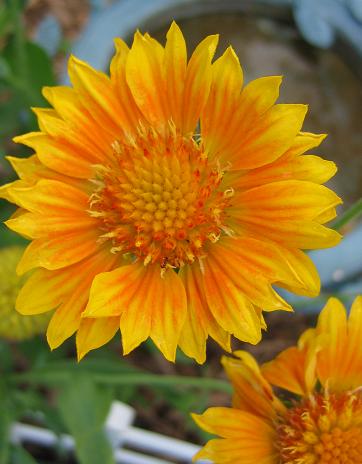 A blanket flower, I think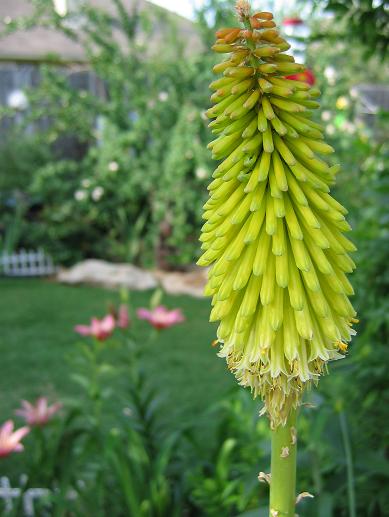 A red-hot poker blossom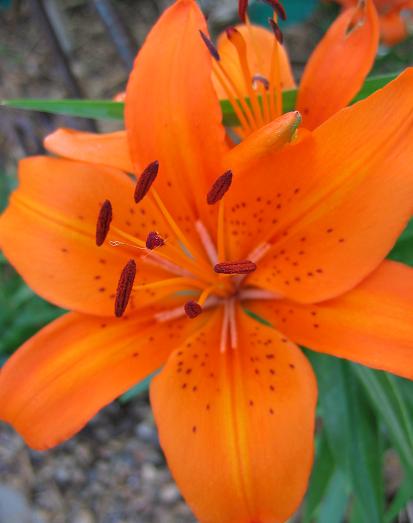 Mom has even more lilies than hollyhocks. A few spring bloomers were still going, but the daylilies hadn't quite started when I was there. Here is an orange lily that reminds me of the freckled tiger lilies we used to see growing wild on roadsides in the Smoky Mountains on family trips when I was a child.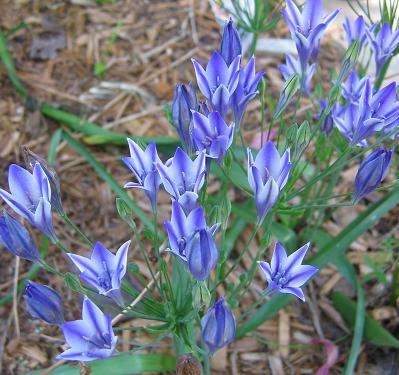 Blue flowers—I don't know what they are.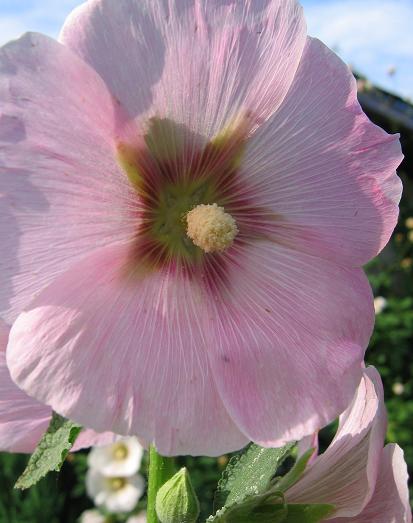 Another hollyhock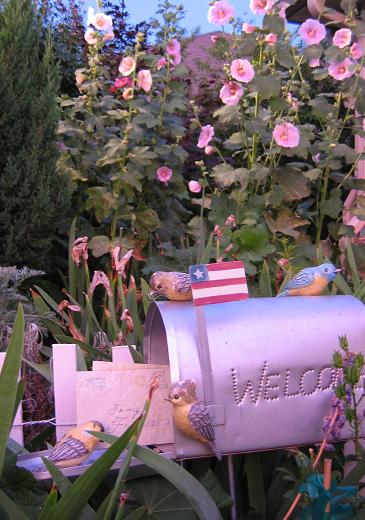 Birdhouse with more "hollies." Mom's garden is noisy with birdsong. Wrens and sparrows nest in numerous birdhouses tucked all through the garden.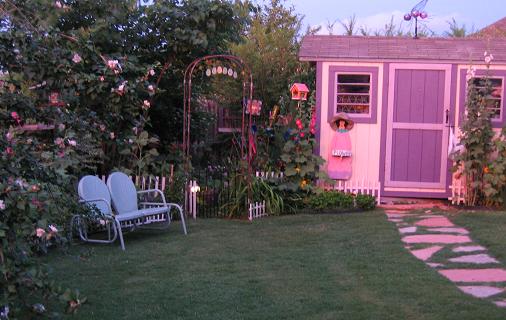 Her garden at sunset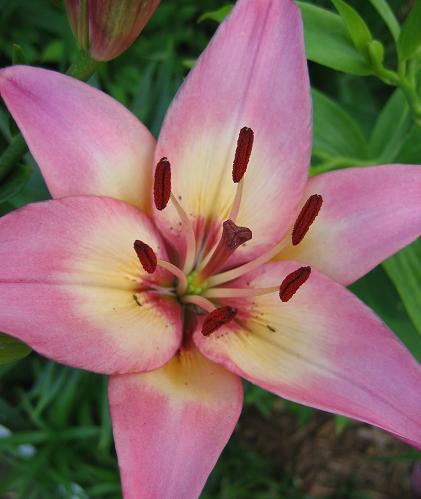 A pink lily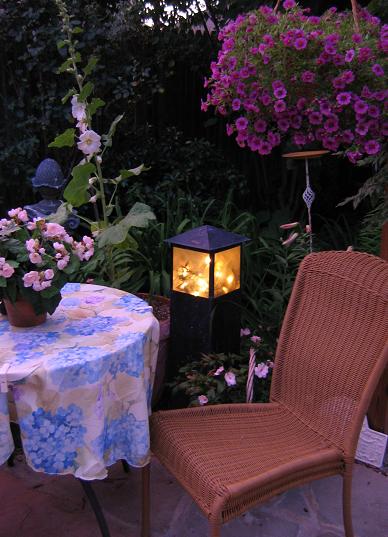 Dusk in the garden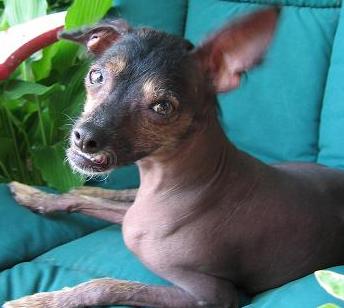 The beast amid beauty: Minnie, a Chinese crested. Yes, she is nearly hairless, except for a scruff of fur on her head, around her paws, and on the tip of her tail. I think she looks a bit like a hyena. But what she lacks in comeliness, she makes up for with her sweet temper.
When we returned I found my own garden looking fairly fresh. An inch of water in the rain gauge and a full pond told the tale: recent rains have refreshed the garden. As always I came home with garden plans in my head. Having completely removed the lawn in front and in back, I'm now itching to put a little grass in the back garden—a very small, token lawn. Kind of like a pet lawn. A small space to rest the eye and tickle the toes. I have some designs on my garden shed/greenhouse too. I'll keep you updated.
posted in
1st garden--2006
,
Arbors
,
Bees
,
Birds
,
Bottle tree
,
Decor
,
Dogs
,
Garden art
,
Garden tours 2006
,
Seating
,
Sheds